The 12th Walk Around Philadelphia starts August 25th!
With 12 days of walks to choose from over four weekends (Fri/Sat/Sun) along with virtual events & in-person happy hours at Cherry Street Pier alongside the accompanying exhibit, there's a lot of ways to plug into the perimeter walk this fall!
See the full calendar & learn more about Walk Around Philadelphia on the project page, or see below for previews of the itineraries around the city's edge. We'd love to see you out there!
August 25 – Baltimore Ave towards Airport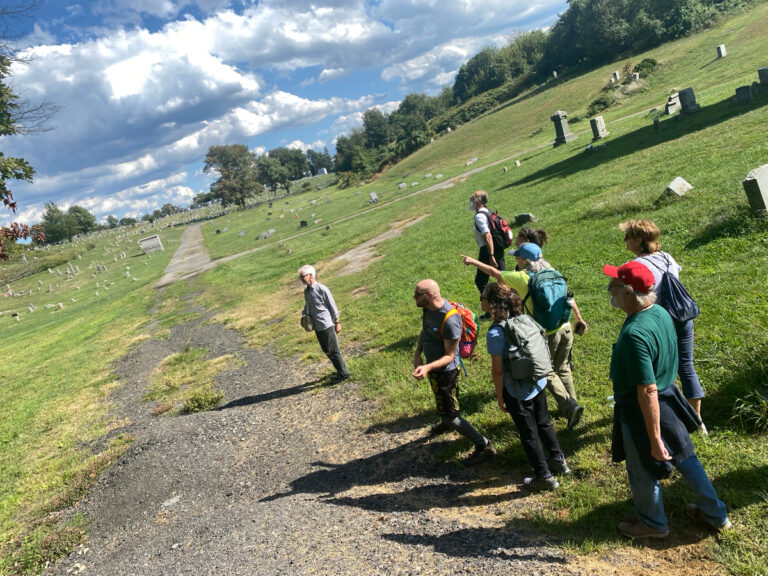 Starting at 61st & Baltimore, this itinerary takes us South towards the airport.
The western border of the city is defined by the waterways of Cobbs Creek & Darby Creek, with one notable exception that we might encounter along the way. Along the way are Cobbs Creek Park, Mt Moriah Cemetery, the John Heinz National Wildlife Refuge & more.
This segment is estimated to take roughly 9-10 miles and 5-6 hours*
August 26 – Around the Airport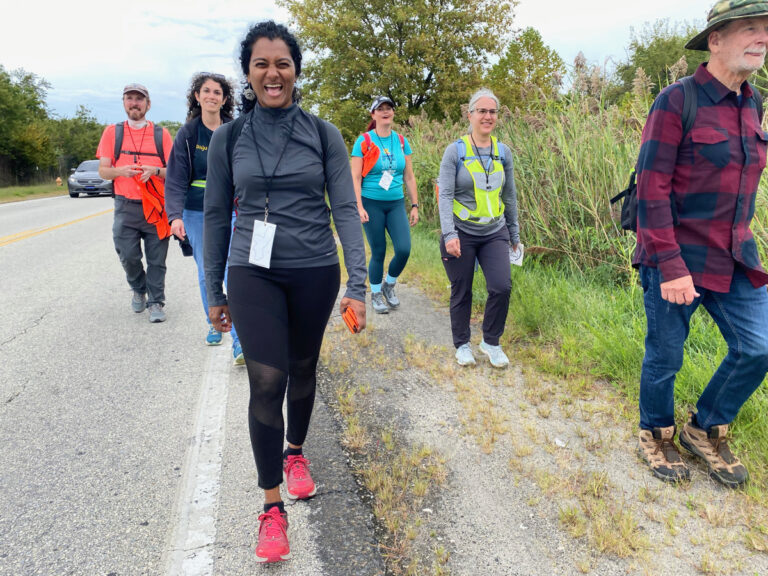 Starting and ending at the Airport, this walk segment will only encounter the actual city perimeter at two points at either end of the airport as we walk all the way around it.
(The border cuts straight across the airport, and TSA wouldn't like us trying to walk across active runways.)
Detouring outside of Philadelphia into Tinicum Township is a long slog, but will allow for some special encounters at the river's edge, along with some glimpses of airport infrastructure.
This segment is estimated to take roughly 11 miles and 6 hours*
August 27 – Airport towards Navy Yard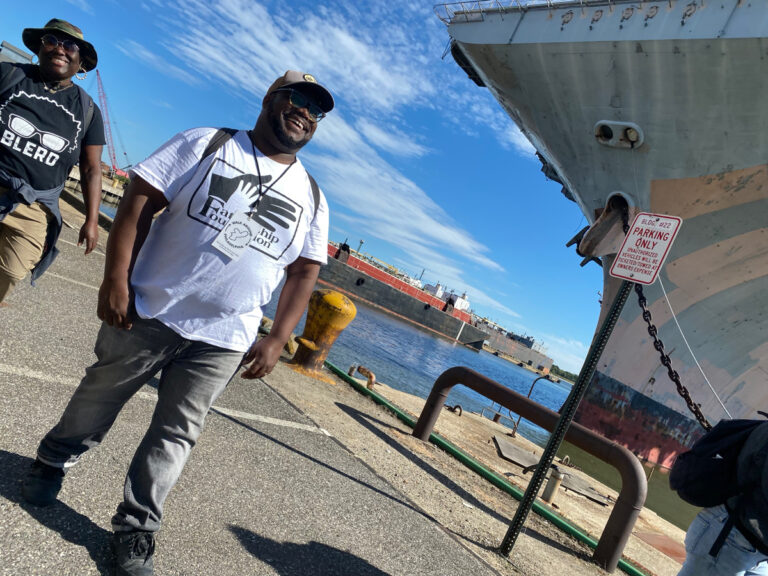 From the Airport, we'll head towards the Navy Yard. This segment of the walk includes the challenge of crossing the Schuylkill River, which is usually accomplished via the spectacular (and sometimes intimidating) Platt Bridge.
Other highlights of this segment include the abandoned economy parking lot, the Tastykake factory, and the many surprises of the Navy Yard itself.
This segment is estimated to take roughly 12-13 miles and 6-7 hours*
September 1 – Navy Yard towards Cherry Street Pier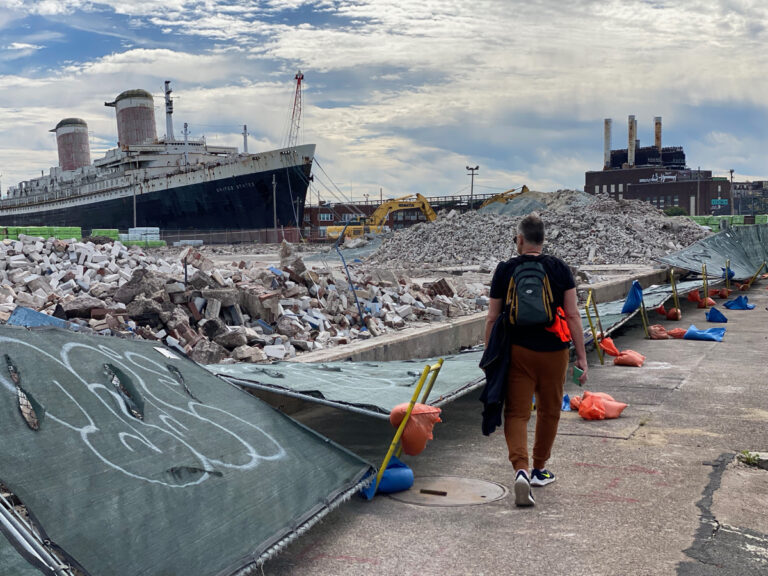 The Southeastern corner of the city is one of the trickier places to follow the border, and different groups have found many different paths around obstacles on this segment.
Along the way, one might encounter stadiums, shipyards, wastewater treatment plants, parking lots full of newly imported cars, and more…
This segment is estimated to take roughly 10 miles and 6 hours*
September 2 – Cherry Street Pier towards Bridesburg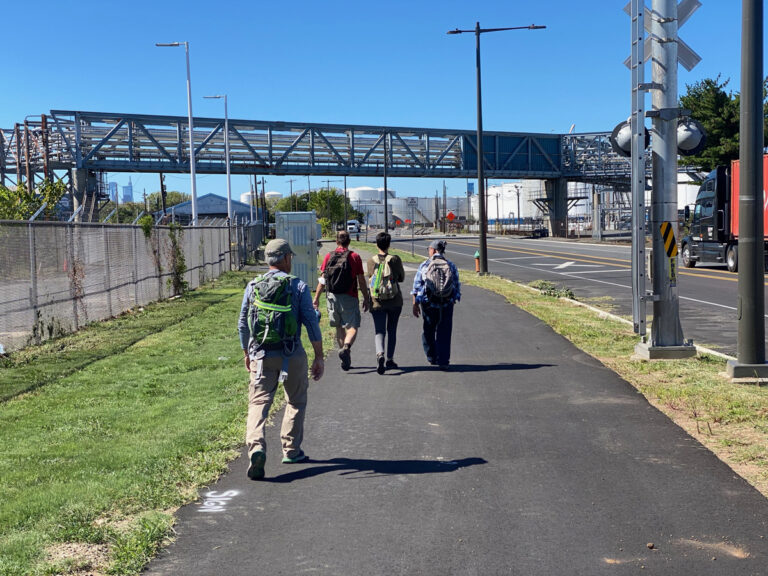 Following the border up past the Benjamin Franklin Bridge, this segment might include fancy new housing developments, crumbling industrial ruins, glimpses of petroleum infrastructure, and the future site of the new Bridesburg Park.
Since we'll be starting at Cherry Street Pier, there'll be a chance to catch the Walk Around Philadelphia exhibit there before getting underway!
This segment is estimated to take roughly 10 miles and 6 hours*
September 3 – Bridesburg towards Torresdale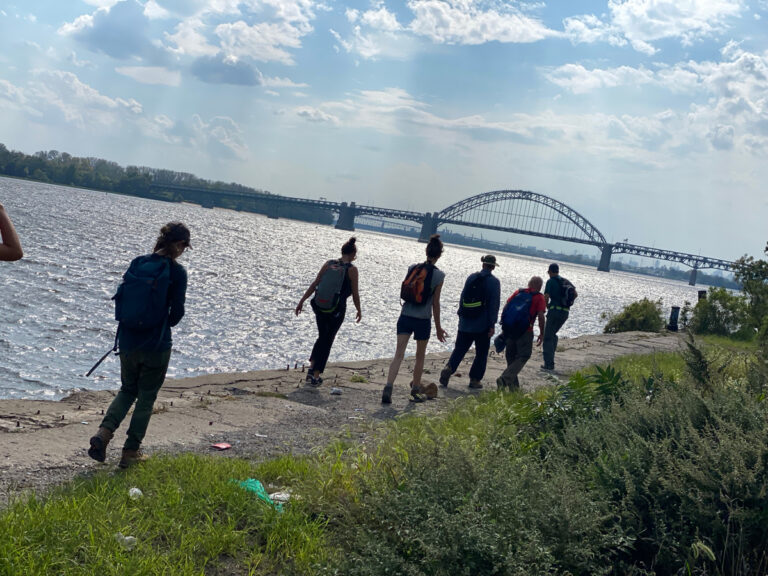 You might have caught some news coverage about the I-95 interstate collapse in Northeast Philadelphia – that's along this segment of the route, as is the ever-popular Four Seasons Total Landscaping.
There's also a brand new chunk of Delaware River Trail to explore which was newly developed by our friends at Riverfront North Partnership. Once we've made it past the scrapyards, the historic Glen Foerd mansion awaits us near our target destination.
This segment is estimated to take roughly 10-12 miles and 6 hours*
September 8 – Torresdale towards Somerton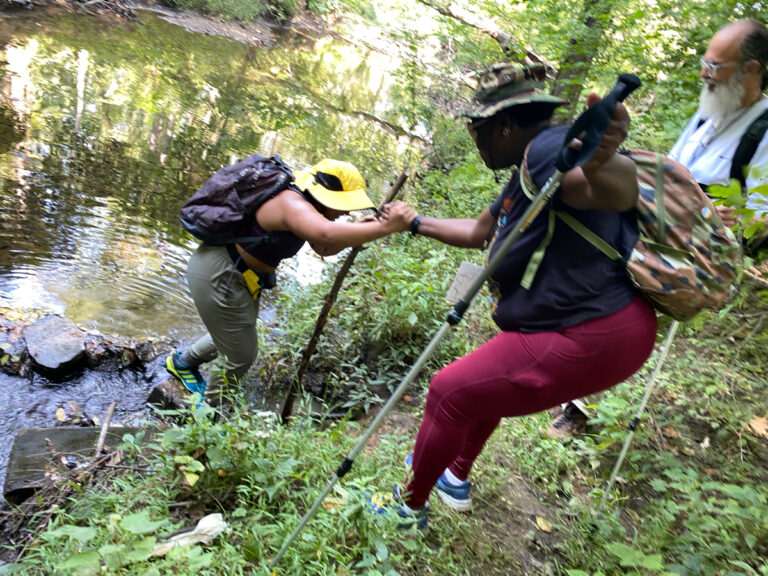 The City of Philadelphia is working on a feasibility study to develop a new segment of trail along the Poquessing Creek border of Northeast Philadelphia. That will take a few more years to bring to fruition, but we'll head out and make our own trail here.
Highlights of this route may include some ruins in the woods, a shopping mall (and associated graveyard of abandoned shopping carts), the city's last potter's field (and associated graveyard of abandoned human remains) evidence of beavers, the secret abandoned mystery bridge & more.
This segment is estimated to take roughly 10-12 miles and about 6 hours*
September 9 – Somerton towards Fox Chase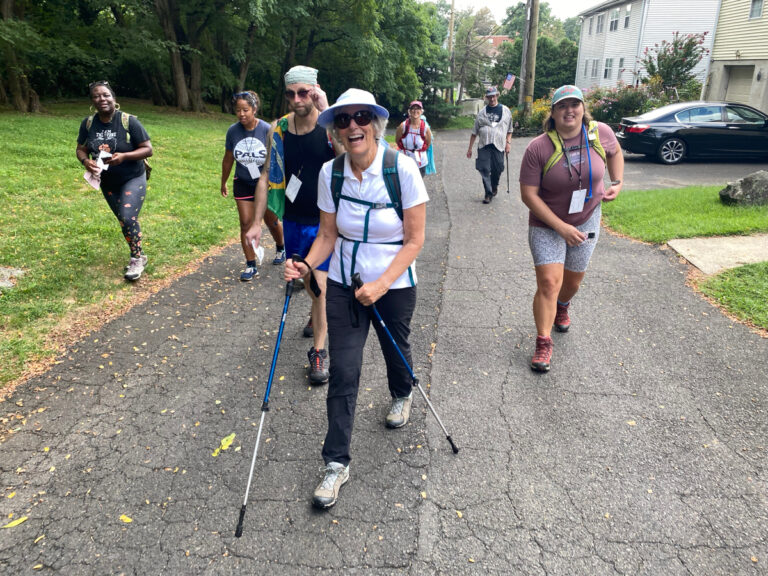 There's a couple tricky choices on this route, and some interesting spots where the perimeter seems to actually cut directly through the middle of neighbors' homes.
Along the way we might encounter a spectacular graveyard, a petroleum pipeline, a great taqueria, a farm & more.
Optional bathroom break at Bonnie's house.
(Thank you Bonnie!)
This segment is estimated to take roughly 10 miles and 5 hours*
September 10 – Fox Chase towards H-Mart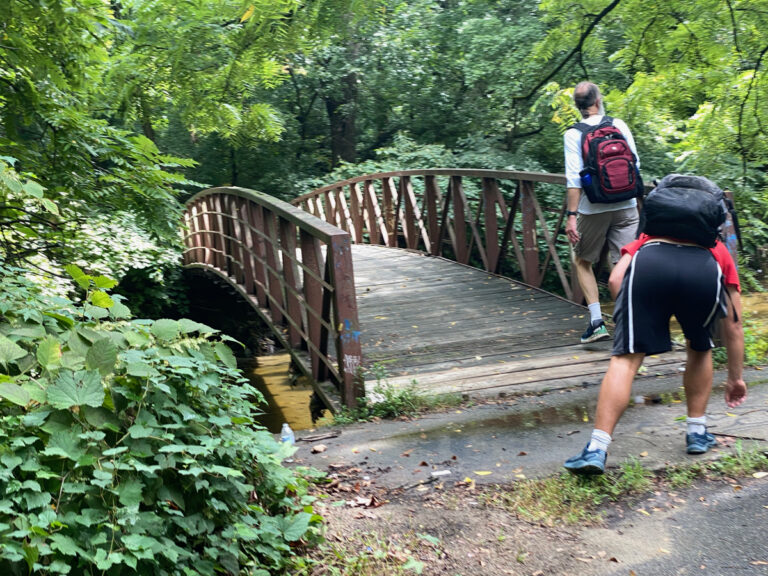 One of our shorter segments, this one might include some pretty magical neighborhoods, and a sweet transition through the TTF watershed. Plus, ending at the H-Mart food court offers the prospect of tasty treats to celebrate our end of day with our fellow walkers.
This segment is estimated to take roughly 5.5 miles and 4 hours*
September 15 – H-Mart towards Schuylkill Center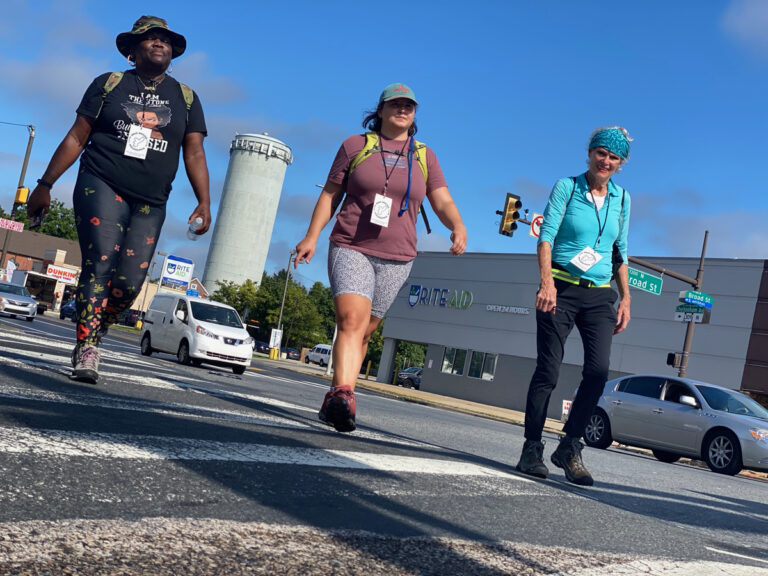 After an optional lunch gathering at H-Mart, we'll set our sights on the Schuylkill Center for Environmental Education, where I curated the 'Walking the Edge' exhibit earlier this year.
We'll follow the Northwestern zigzags of Cheltenham, Stenton & Northwestern Aves, passing by the Morris Arboretum & Gardens and Wissahickon Environmental Center among other special spots.
This segment is estimated to take roughly 10.5 miles and 5-6 hours*
September 16 – Schuylkill Center towards St Joe's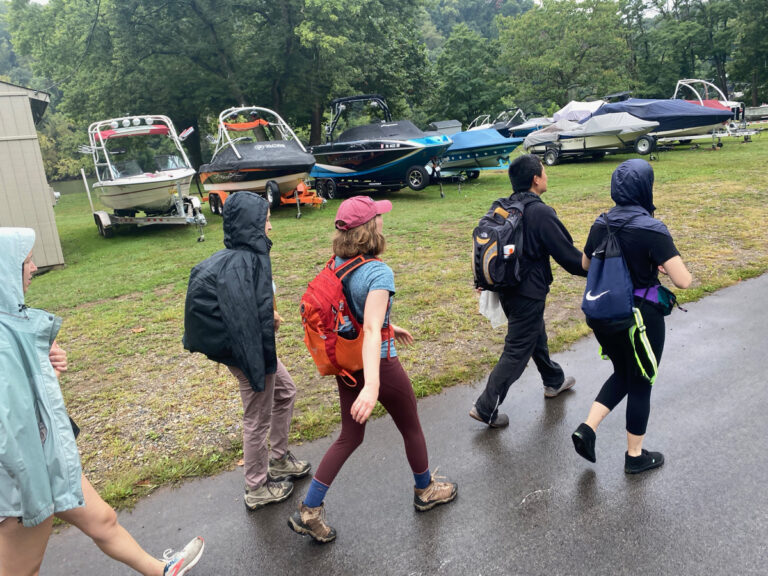 Our penultimate segment takes us from the Schuylkill Center along the Schuylkill River border; depending on the group's choices, we may pass by the strange and magical floodplain community that is River Road.
As with our 3rd segment, we'll have to navigate crossing the river on this itinerary. There's many different ways to do it here, and the group will choose the route that works best for all.
This segment is estimated to take roughly 10.5 miles and 5 hours*
September 17 – St Joe's towards Baltimore Ave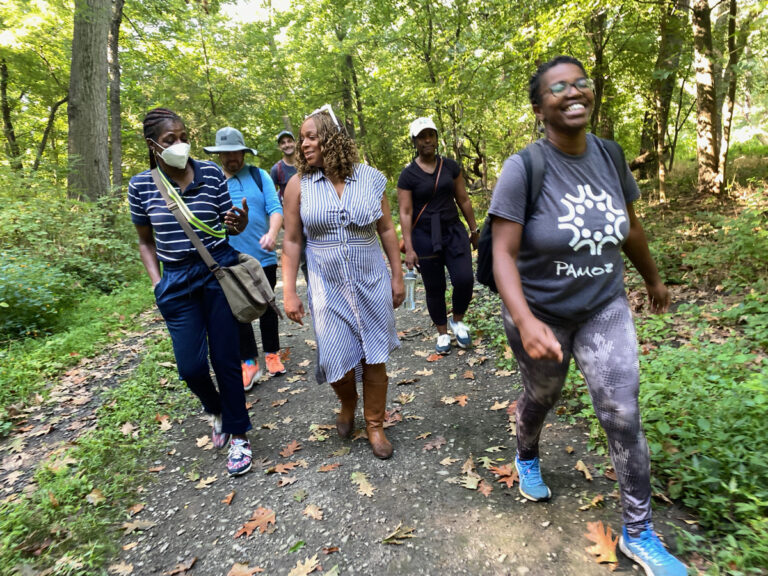 Our last segment will bring us along City Ave back to Cobbs Creek Park, with some golf courses to navigate along the way.
Having come full circle, we'll be back where we began… but with new experiences, new relationships, and new stories to share.
This segment is estimated to take roughly 8.5 miles and 5 hours*
* About mileage estimates
*Your mileage and terrain encountered may vary depending on choices made by your group, and there will be options to walk a partial segment & depart / get picked up along the way. See the FAQ for more info!
Can't join us for a walk this time?
There's also a DIY option to organize your own, and ways to plug in as a Trail Angel & more…
Catch the exhibit at Cherry Street Pier!
The new Walk Around Philadelphia exhibit upstairs at Cherry Street Pier features an expanded panorama of my own photographs from the city's furthest reaches alongside images created by artists who've set out to explore the city's border on foot and other artworks inspired by walking.
There's also a video installation that will take you all the way 'round the city!(multiple times, in a variety of weather…)
On view through Sept 23, you can catch the show anytime that the pier is open (until 9pm most days, and 11pm on Fridays & Saturdays!)
Join us there!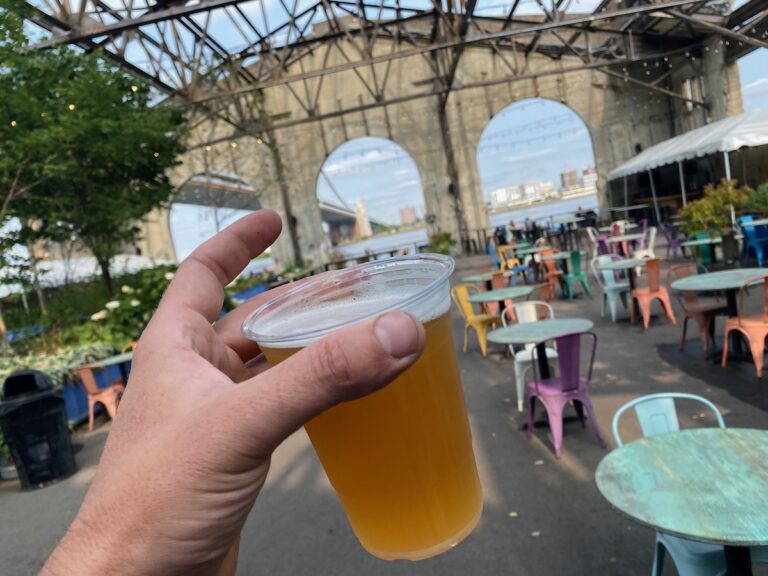 If you'd like to join us at the pier for happy hour, and have a chance to connect with the artists & walkers in-person, we'll be there 5-7pm on Thursdays as well as for a special exhibit closing on Sept 23rd:
Join us online via Zoom!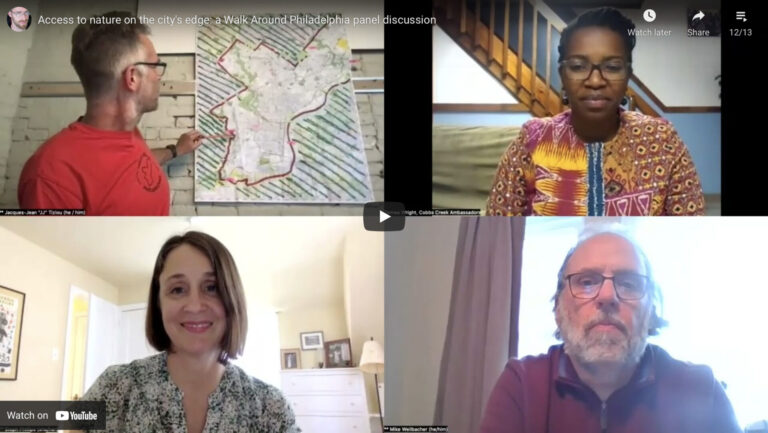 Join us online for series of 5 virtual walk talks in order to…
Get a virtual guided tour of the city's border
Meet the artist/organizer & fellow perimeter walkers
Get answers to FAQ & learn about the walk's evolution
Hear stories from the most recent segments
Consider joining an upcoming segment!
Register now: