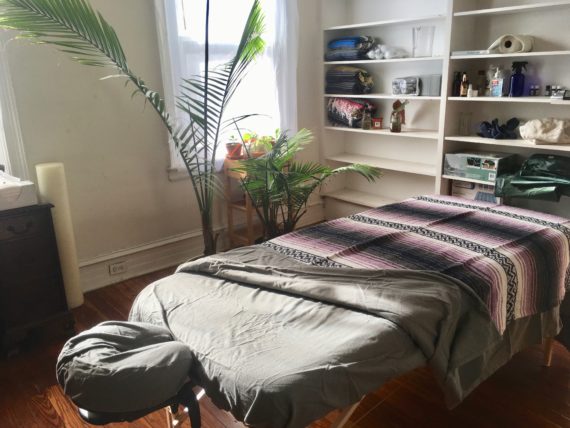 My rates are based on a fairly wide sliding scale in order to help me balance valuing my time and also making some discounted sessions available to those who need them.
Here is a real quick self-assessment that will help you decide how to interact with my sliding scale:
How many people are you close to who have vacation homes or travel internationally?
How many people are you close to who have been incarcerated or are unsheltered?
If you know more of the former than the latter, consider a higher end of the sliding scale between my 'standard' and 'supporter' rates.
If you know more of the latter, consider asking for the community or pro-bono sessions.
If you have the means, you can even pay more than this top tier – I am often volunteering my time and investing in community projects and always fundraising to support that work, so every bit helps.)
I encourage you to pay as high a rate as you are able while also allowing you to make massage a regular part of your budget and self care practices.
Rates for full body sessions:
| | | | | |
| --- | --- | --- | --- | --- |
| | standard | supporter | community | pro-bono |
| 60 min | $115 | $140+ | $65+ | $0 |
| 75 min | $140 | $170+ | $75+ | $0 |
| 90 min | $150 | $180+ | $85+ | $0 |
| 120 min | $190 | $240+ | $110+ | n/a |
| 180 min | $280 | $360+ | $165+ | n/a |
People who pay higher rates help me to provide care to others who require the discounted & pro-bono services.
Rates above the supporter rate also help sustain my public art & community projects.
Additional options:
Extend a full-body or Thai session by 15 min: +$20
Emergency relief / last minute scheduling: 2x rate
On-location / house calls: variable
Rates for on-site / special event chair massage:
$150-200/hr, 2hr minimum + transportation costs (including $25/hr for transportation time greater than 30mins)
Fees for transportation time & costs can be waived for all day events.
Gift Certificates:
A gift certificate for a massage is a *wonderful* thing to share with someone that you care about, and I'm always honored when folks entrust their loved ones to me in this way. I ask that folks use the 'standard' or 'supporter rates on my sliding scale when purchasing gifts for others.
As of right now I don't have an online gift certificate system, so the way to set this up is to send me some $$ (cash, check, @venmo, $cashapp) and telling your friend that they've got a credit with me.
Make sure to connect us via text & email, and ask them to please take a look over info including FAQ & policies at http://jjtiziou.net/massage before reaching out to schedule.
Scheduling:
If you'd like to work together after having reviewed rates, policies & FAQ, get in touch via email: jj@jjtiziou.net or text message to 267-251-5464. When reaching out, please let me know a few times when I might be able to catch you for a quick ~5 minute introductory call before a first session working together.
Sign up for Massage & Bodywork updates & other invites from JJ: