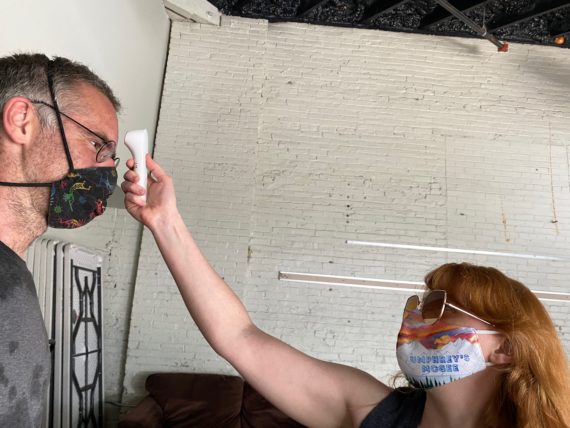 Massage during a pandemic:
Covid-19 requirements & precautions
In this new public health context, massage is not without risk. It is my intention to offer this service cautiously, with as many precautions as possible to minimize risk in order to keep us both safe and minimize transmission in our communities while providing much needed care to those who need it.
Vaccination status:
I'm fully vaccinated against Covid-19 and have a strong preference for my clients to be vaccinated.
That said, I understand that some folks have reasons for not being vaccinated. Please let me know your vaccination status. I'm open to working with unvaccinated folk, but will take additional precautions to keep myself & my other clients and you as safe as possible.)
Requirements of clients:
Commit to following public health guidelines and minimizing your exposure risks with universal masking and sociable distancing.
Provide an honest assessment of your exposure risks.
Understand that in this context, I may not be able to offer all of the services that I'd like to everyone all the time. If you have a higher exposure risk, it might affect when / how we work together. 
Make every effort to avoid any potential larger exposure risk during the few days before our session and get tested after potential exposures.
Notify me immediately of any known exposures or changes to your exposure risk.
Prior to the session, if you or someone that you have contact with exhibit any symptoms of or are diagnosed with covid-19, notify me immediately for a no-cost cancellation / rescheduling.
If, within the week after our session, you or anyone you have contact with exhibits symptoms of or is diagnosed with covid-19, notify me immediately so that I can get tested and begin contact tracing. 
Protocol modifications:
I will wear a mask at all times, but am ok with you not wearing one during the massage if you're fully vaccinated. (Please wear one while walking through the common area of my house if coming to the home studio space)
Bring your own water bottle
Commitments to clients:
I will leave extra time in between clients to allow fans & filters to work
I will get tested for covid-19 regularly
I commit to best practices for hygiene & infection-control including following CDC disinfection guidelines as well as AMTA & FSMTB's covid-19 guidelines. 
I will maintain transparency about my own risk exposure
(These currently include one housemate & their partner, may include an intimate partner of my own at some point, and also include outdoor distanced socializing, some indoor activities with small groups of vaccinated folk, occasional brief time in stores, and of course, work with other massage clients who're committing to similar precautions.)
I commit to continue to minimize exposure risks and follow public health guidelines
I will notify you and cancel / reschedule if I or anyone that I have contact with exhibit any symptoms or are diagnosed with covid-19 prior to our session. 
I will notify you immediately if, within the week following our session, I or anyone that I have contact with any symptoms or are diagnosed with covid-19.
Studio space will have fans & HEPA air filter for air flow & purification
Scheduling:
If you'd like to work together after having reviewed the info above, get in touch via email: jj@jjtiziou.net or text message to 267-251-5464.