Gather together with neighbors to share in music and community.
---
I've been hosting house concerts for over a decade in my home in West Philadelphia.
Over that time, I've welcomed dozens of bands and hundreds of guests.
Performers have included, a 6-piece country band, a tango quintet, a Balkan a-cappella quartet, a Celtic trio, a hip-hop duo, a harpist-songwriter, and plenty more…
It's a pretty magical environment that's evolved and I'd love to have you there.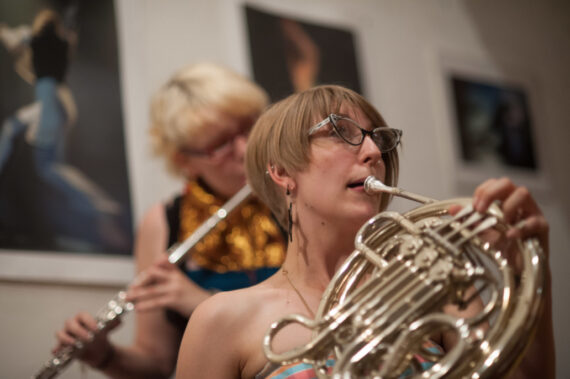 "We had so much fun singing in your house! You're a wonderful, gracious host, and draw an incredible and interesting mix of people. It was a pleasure to sing for such an open-minded and appreciative crowd."

–Avery Book, Starry Mountain Singers
General info & RSVP:
The house concerts are generally held at my home on the 4500 block of Osage in West Philly. Make sure to check the venue, as I occasionally host events at The Cedar Works, Studio 34, or Neighborhood House in Old City.
Check Eventbrite for specific event details & RSVP.
Please remember that this space is not a regular venue and does not have a dedicated event staff, so my housemates and I greatly appreciate your help in keeping things tidy and running smoothly.
It's two blocks from either the #42 bus or #34 trolley, and an 8 min walk from the 46th & Market El stop. If you're driving, street parking is generally available within a few blocks.
Who is welcome & what to bring:
These are family-friendly inclusive community events.
Friends/Neighbors/Youth/Elders/Anyone – all are welcome, with the note that the space is not 100% accessible and being able to climb a few steps is required. If you have specific questions or concerns, don't hesitate to reach out.
Contributions are encouraged to help support the musicians but no one is ever turned away for lack of funds. The biggest gift that you can bring is your presence. Please make sure to have friends RSVP if you are bringing them along.
Get invited to the next event:
RECIPE FOR SUCCESS
Food & drink & neighborliness:
It's great to be able to share a meal with our neighbors.
I generally prepare a large pot of lentil soup & some rice, so come hungry.
It's vegan, gluten-free, and the recipe is included at the bottom of this post.
Hot cider on the stove provides a warm ambiance; I'll also generally have some mulled wine & a few beers available for folks who are of age and consume alcohol responsibly. You're also welcome to bring food & drink to share.
As you meet new neighbors, I invite you to consider alternatives to the usual "What do you do?" question.
A couple alternatives to get started with:
"What's something or someone that's inspired you?"
"Is there anything you're struggling with these days?"
"What are important elements of home for you?"
"How did you come to be here this evening?"
(You never know who you'll meet here. Two folks in the adjacent photo met that evening and later got married and had a baby together. I can't promise similar accidental matchmaking results for you, but you might make a new friend and that'd be lovely.)
FORMAT & RULES
The format:
7pm – Doors open.
7pm to 7:45/8pm: Meet neighbors, get food & drink, claim the best seats.
by 8pm: First set starts, followed by a brief break for bathrooms and replenishing of food&drink
by 9pm: Second set starts, followed by another brief break
by 10pm: Third set starts
~11pm: Concert wraps up. Another hour or two of neighborly hanging out may ensue as we clean up & move the furniture back into place.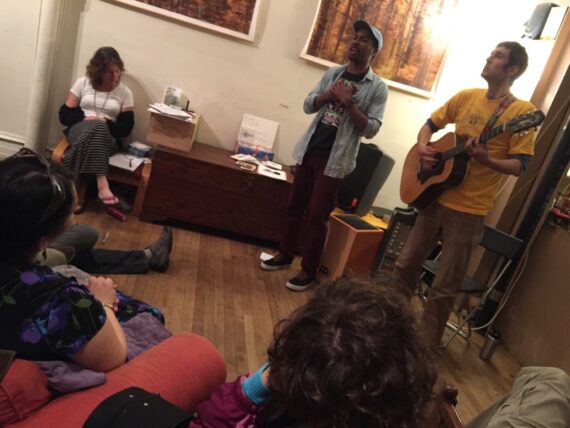 Basic ground rules:
Please be respectful of the house and housemates, fellow guests and neighbors, and obviously keep it legal. Help clean as you go!
When performances are in progress, please keep conversations to the front and back porches. When the rest of the audience is being perfectly silent, even a whispered conversation at the back of the house will carry and will be distracting for the rest of the audience.
WAYS TO CONTRIBUTE
There are many ways to contribute to these events:
Just show up & bring your beautiful presence & attention!
Help spread the word / bring a friend.
Put some $ in the contribution jar.
(suggested: $10-20 for the music, plus an additional $5-10 for food & drink)
Support this series & the rest of my community & artistic practices by joining me as a backer.
Be hospitable to the folks around you. Help welcome them, make a new friend.
Tidy up as we go, to make for an easier cleanup.
Stay late to help with end-of-night cleanup & furniture rearranging.
Refer us musicians that might be a good fit for future shows.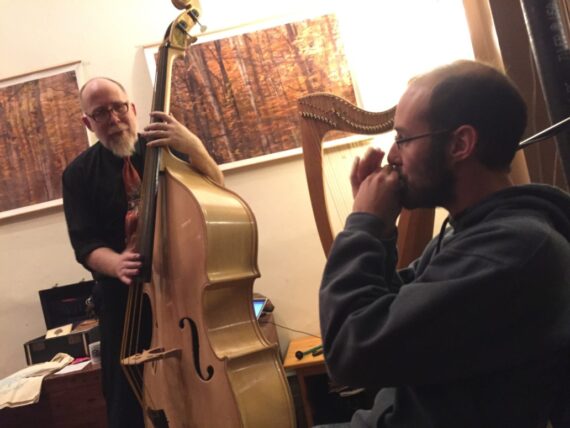 "Just wanted to say thanks for the amazing house show this weekend. It was such a friendly, welcoming space… I really appreciated the vibe and the effort I could tell you put into making it an intentionally communal space."

– Julie L.
Q: Can you have [My Favorite Band] play one of your shows?
By all means feel free to send them my way! Most of the great acts that have come our way have been through word of mouth.
If you know a band that you'd like to see play one of my house concerts, send them a link to this page and invite them to get in touch with me if they think that it would be a good fit.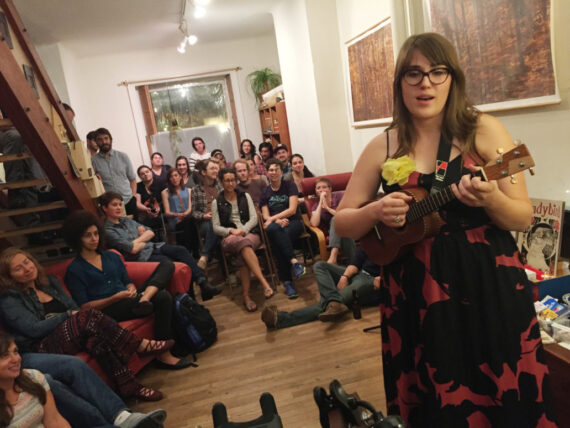 ---
"I wanted to drop you and email to say how much I enjoyed the house concert last Friday! You truly know how to create a spectacular event full of amazing people, both in the audience and performing."

– Michael R.
FAQ FOR PERFORMERS
"Getting connected to JJ's whole concert series changed the concert experience for us […] There's no other way for a young band like us to be able to mass a huge crowd consistently—and every time it's a different group of people."

– The David Wax Museum
---
Interested in playing a show?