How Philly Moves is a multi-faceted public art experience that uses dance to celebrate diversity and cultivate inclusivity.
The most visible manifestations of How Philly Moves is the 85,000 sq ft mural at PHL International Airport: the largest piece of public art in Philadelphia.
The HPM mural was recognized as one of the nation's best public art projects by Americans for the Arts in their 2012 Public Art Network Year in Review.
The project has had several high-profile manifestations in public space including the dusk-to-dawn projection project at the Kimmel Center for the Performing Arts commissioned for the Philadelphia International Festival of the Arts, but at its heart it is all about the photo sessions.
These special intimate events create a welcoming and inclusive space where all can feel safe to dance as they please while celebrating our common humanity together.
Participants come from every zip code in the city—youth and elders, students and professionals, in and out of wheelchairs, social dancers and performers of every imaginable body type and style of movement.
Over the course of my career, I found myself photographing dancers through two parallel paths: professional dancers in Philadelphia's performing arts community, and everyday folks dancing at celebrations—whether it was my friends' weddings, or the culmination of the work of social justice activists.
While I saw dancers of all sorts, I also saw how often our culture defined "dancer" as a narrow, specialized, inaccessible stereotype; how many people struggled with the idea of thinking of themselves as a dancer.
I knew from my photographic explorations that joy and love of movement is innate to all of us, that we can all be dancers.
I wanted my community to be able to see themselves and their neighbors the way that I saw them through my lens.
And so, I invited anyone who loves to dance to special community events where all were photographed in the same light.
Thus, How Philly Moves was born.
The resulting images are as diverse and beautiful as our population is.
The How Philly Moves photo sessions are magical three-day events where participants from all over the city are welcomed to be photographed in the same light as they dance however they please.
Some bring recorded music or live accompaniment; some make their own music as they go, or dance in silence. I have only a few minutes with each participant and I never know what to expect. I only know that it's going to be beautiful.
I make a point of never telling any of the participants what to do; instead I try to move with them and create intuitive images that convey a sense of their movement.
The How Philly Moves mural at Philadelphia International Airport has transformed a set of ordinary parking garages into a visually stunning gateway for the city, much like the projection project from the same series transformed a static brick wall into a magic nighttime celebration in the heart of the city.
DESIGN
The mural design process was incredibly complex. With angled facets, ridges and gaps, the walls of the parking structures aren't an easy canvas.
In laying out the figures, I had to balance including a diverse and representative set of images, and making a cohesive flowing composition while making sure that the images were readable across the open decks of the garage.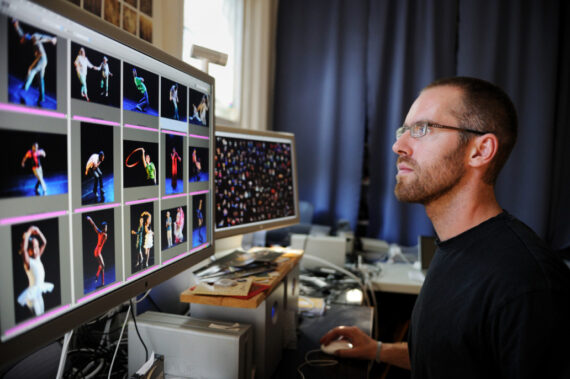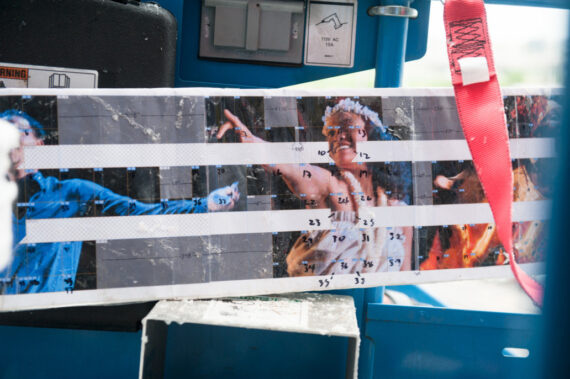 TRANSLATION
Once the design was set, I carved it into 1,504 separate image files that would each represent one 5′ x 5′ segment of the completed piece. Parts of the images were stretched to compensate for the perspective shifts caused by the angled facets of the walls.
I collaborated with lead muralist Jonathan Laidacker to translate my color palette into one that he could work with.
PAINTING
The mural was painted in a studio setting. Jon and his assistants traced each image and turned it into a giant paint-by-numbers project.
Thanks to several community paint days, more than 1,000 Philadelphians have had a personal hand in bringing this mural to life. The whole painting process took approximately three months.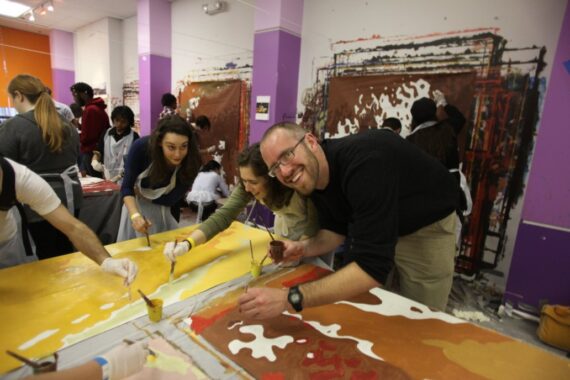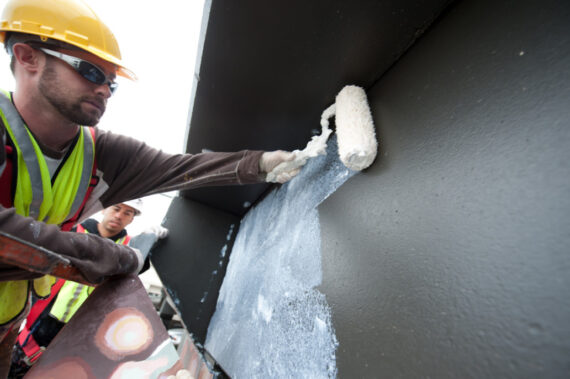 INSTALLATION
Once the panels were painted, they were adhered to the wall like giant sheets of wallpaper.
This part of the process took an additional three months, and the mural was dedicated in October of 2011.
Now, when people drive by the airport on I-95, the largest images aren't another set of advertising billboards… they're 85,000 square feet of beautiful Philadelphians dancing.
"What a complete and total privilege to spend the past three days watching you dance, meeting friends of yours who so lovingly support you and your work, and all the beautiful dancers who shared their spotlight with you and introduced me to forms of dance I never even knew existed. […] What an amazing city, what a fabulous idea of yours to explore and celebrate it through dance … I can't wait to see what comes next. … you are so incredibly gifted…and so incredibly generous."

—Judy Hellman, Mural Arts
"I've gotten about 18 million emails about this from different sources. My inbox is abuzz."

—Baylor Harton
"jj, it is all so amazing. i can't wait for the day when i do the 95 drive-by and see your work there — a gift for all those coming to our city — letting everyone know of our diversity, our strength, our beauty, our joy…. i enjoyed helping on sunday. thanks for letting me be a part of your magic."

—Aseel Rasheed
"I was thoroughly impressed with the staff/volunteers at the HPM photo shoot. Everyone was very professional and helpful. I think the project is great since it will showcase many forms of dance in such a prominent location in the city. Also, I was excited to have had the opportunity to be photographed by J.J. His work is phenomenal and it is indeed an honor to have been selected to be a part of the project."

—Yolanda Sample
"JJ, you are the most amazing spirit I have met in a very long time. I appreciate your spirit and energy! I will be there on Thursday…..thanks for being you!"

—Vena Jefferson
"You guys are the best!!!!! MAP is right when they forseen this project as the best ever. I Just wanted to congratulate JJ and his team for been able to embrace such a huge diverse community and make them be part of one of the greater experiments on human collaborations. The energy moving around Painted Bride was electrifing, everybody taking part felt like a winner already, because the positiveness of their souls irradiate a mile around…the fact that it was not a performance, nither an audition,but a real 7 minutes of fame while sharing who you are ,how you feel while owning the stage and becoming part of the history of charming philadelphia. Thanks to JJ who exemplary humanism has had a dream not just to share , but to keep it real and endless…. good faith everyone."

—Cesar Viveros
"The whole experience was wonderful, every person I came in contact with was nicer than the next and everyone really seemed to go out of their way to answer questions and make me feel super comfortable."

—Monica Herrera
"Seriously, tho, I wanted to say thank you for involving me in the shoot yesterday. It really did leave me with a stronger feel of what the project is really about, and moreover it touched me personally. Me getting up anywhere and dancing in front of people on a stage would not have crossed my mind before yesterday. I'm still a little embarrassed to think of how I must have looked so clumsy and out-of-sync with my sudden dance partner. (If you got even one decent picture out of it, you're a magician!) But even that embarrassment does not detract from the amazing sense of community and artistic unity I walked away with—what a special thing that, a year from now, when this whole big mural is up and dedicated, I'll be able to say (and feel) 'I was a part of that.' Very cool, JJ. VERY cool."

—Rachel Estrada Ryan
"I thought that it was an amazing experience, the people were all amazing, and J.J. is extremely talented. I felt very welcome, appreciated and accepted amongst the staff and very different array of dancers that participated. It also gave us a venue to come together and have a sort of dance fellowship, to be creative, share, learn, and sweat together. I felt very connected to the mission of the project and I believe this was expressly shown through my performance. I was on a sort of high in which my body and spirit took control, giving it all up and saving nothing, leaving me breathless. The genre(s) of dance I performed, being so expressive, as well as the receptive environment, really allowed me to release and give my all, hopefully giving J.J. an experience to capture. I really felt a sense of value, meaning, and worth in being able to contribute to the project."

—Roshelle Lennon
"It was such a pleasure getting to support you while your worked last weekend. The shoot felt like a real celebration of our community — helping out felt like giving thanks for this fabulous community of creative people that I am blessed to be a part of. Congratulations to you for not only taking over 10k images, but also for modeling how to do a job while staying relaxed, appreciating your crew, and having fun. Hurrah and three cheers."

—Erin Foreman-Murray
"I think this is an amazing project with a great concept really reaching out to all different cultures and backgrounds. JJ made me feel very calm and free to just move in what i was feeling. He gave just as much energy as I did if not more and he pushed me to leave my all on the dance floor and that's what i did."

—Rebecca Savage
MURAL TEAM
LEAD ARTIST,PHOTOGRAPHER AND DESIGNER
Jacques-Jean Tiziou
PROJECT MANAGER
Judy Hellman – Director of Special Projects
City of Philadelphia Mural Arts Program
MURALISTS
Jon Laidacker – Lead muralist
Tjai Abdullah – Assistant muralist
Efrain Viveros-Herrera – Assistant muralist
Charles Newman – Assistant muralist
Anthony Peel – Assistant muralist
Virgilio Perez – Assistant muralist
Laura Velez – Assistant muralist
Tom Walton – Assistant muralist
PARTNERS
THE CITY OF PHILADELPHIA MURAL ARTS PROGRAM
The Mural Arts Program is the nation's largest mural program. Since 1984, the Mural Arts Program has created over 3,000 murals and works of public art, earning Philadelphia international recognition as the City of Murals. The Mural Arts Program engages over 100 communities each year in the transformation of neighborhoods through the mural-making process, while award-winning, free art education programs serve nearly 2,000 youth at sites throughout the city and at-risk teens through education outreach programs. The Mural Arts Program also serves adult offenders in local prisons and rehabilitation centers, using the restorative power of art to break the cycle of crime and violence in our communities. Each year, nearly 10,000 residents and visitors tour the Mural Arts Program's outdoor art gallery, which has become part of Philadelphia's civic landscape and a source of pride and inspiration.
For further information, call (215) 685-0750 or visit www.muralarts.org.
PHILADELPHIA INTERNATIONAL AIRPORT
Philadelphia International Airport is owned and operated by the City of Philadelphia. The Airport is a self-sustaining entity that operates without the use of local tax dollars. It is one of the largest economic engines in Pennsylvania, generating an estimated $14.2 billion in spending to the regional economy and employing a workforce of nearly 42,000.
Visit the official Philadelphia International Airport website at www.phl.org.
PHILADELPHIA PARKING AUTHORITY
The Philadelphia Parking Authority is an integral part of the City's efforts to provide an efficient, well-organized transportation system that serves the needs of the public and encourages economic development. As such, the PPA's responsibilities range from managing parking and related traffic management programs on the streets of Philadelphia, to building and operating parking lots and garages.
Visit www.philapark.org.
SUPPORTERS
Funding for the How Philly Moves mural project is generously provided by:
Philadelphia International Airport
Philadelphia Parking Authority
Bank of America
PTS Foundation
US Airways.
Our artists studio space in The Gallery at Market East has been donated by Pennsylvania Real Estate Investment Trust. Special thanks to Local 21 for its preparation of the garage walls in advance of the mural's installation beginning April 2011.
The How Philly Moves installation during the Philadelphia International Festival of the Arts projected a series of still images, stop-motion animation and video from the project across the facade of the Kimmel Center for the Performing Arts from dusk to dawn during the whole month of the Festival.
The Kimmel Center produced these three lovely videos documenting the journey to the Festival:
The How Philly Moves permanent exhibit is located in the baggage claim area of the B/C terminal at Philadelphia International Airport.
It includes 162 images from the series, alongside a video documentary reel on the project produced by the Big Picture Alliance.
A duplicate set of the panels is available as a traveling installation.
If you'd like to display this work, please get in touch.
Thank you for giving us the honor of participating in your project. Nicole and I had a wonderful time dancing for you.

From start to finish, the experience was a positive one. Everyone was enthusiastic and supportive, and the facility was great. During the photo session of our dance, it sometimes felt as though you were dancing with us. That was especially nice.

Driving home on I-95, I was treated to a beautiful view of your mural. The perfect end to a lovely experience.

– Bonnie Reese
"Story & Mission" photo by Joe Longo Photography • "Airport Mural" photo by Steve Weinik for Mural Arts Philadelphia • Community paint day photos by Jon Laidacker • All other photographs © JJ Tiziou