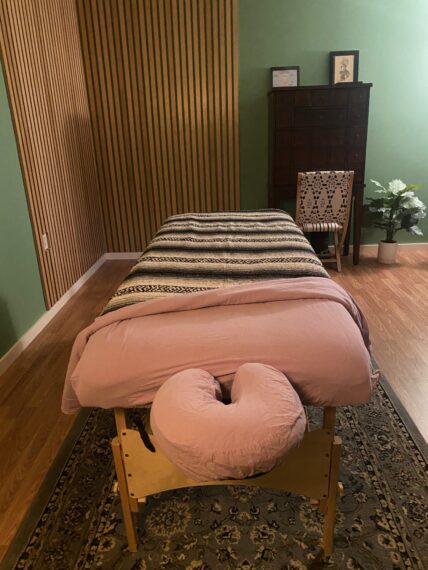 Before your massage:
Arrive on-time (and allow a few minutes extra for your first time)
Make sure you've had a chance to use the restroom
Provide updates on any injuries, conditions, medications, allergies or preferences
Remove watches, jewelry including earrings, bracelets & rings if possible
Completely power down any digital devices – they need some rest too!
Disrobe to your comfort level and get under the sheet (bottom undergarments optional, removing tops helpful for access to back.)
Provide feedback as to your comfort level:

How does the face cradle & angle of your neck feel?
Would a bolster under your ankles, knees or chest be helpful?
How is the temperature?
During your massage:
Relax… You don't have to do anything right now – I'll take it from here, but you can:
Provide feedback anytime on your comfort level at any time (pressure levels, temperature, bolstering, smells, sounds, draping, etc.)
Feel free to request more pressure or let me know if a spot feels like it wants particular attention.
For any moments involving deeper pressure, assisted stretches or traction (pulling) on limbs, let me know as you approach the edge of your comfort level. The goal might be to come within 80 or 90% of that edge of discomfort and take a few good deep breaths there, but we never want to hit or exceed that edge.
Communicate any discomfort immediately – you can pause or stop the session at any time. You are the authority on your own experience and should never "endure" any pain or "tough it out" if something feels too intense or uncomfortable.
If you notice any thoughts arise, use that as an opportunity to take a big deep breath and focus on the present moment and sensation.
Move slowly and carefully when getting up and off the table: it is not uncommon to feel dizzy or clumsy for a moment after receiving a massage.
After your massage:
Drink plenty of water.
Share any questions or observations that you'd like.
If you can take some time before turning devices back on, do so.
Take it slow and easy, give your body time to integrate the session.
Take note of how you feel immediately after, and in the following days.
Feel free to provide feedback – reviews and referrals are always appreciated.
Take anything that you've learned about your body (tight spots etc) and make plans to integrate wellness practices (stretches, exercises, self-massage) into your routines.
Schedule your next session.
Other FAQ:
Scheduling:
If you'd like to work together after having reviewed rates, policies & FAQ, get in touch via email: jj@jjtiziou.net or text message to 267-251-5464. When reaching out, please let me know a few times when I might be able to catch you for a quick ~5 minute introductory call before a first session working together.
Sign up for Massage & Bodywork updates & other invites from JJ: