Full body integrative massage
Guided by my intuition and your feedback, practiced on a massage table, generally disrobed and draped, these sessions may integrate various techniques from my training (swedish, deep tissue, myofascial release, thai, shiatsu, pre-natal, etc…)
These sessions are available at my home studio space near 45th & Osage, as well as at The Cedar Works (4919 Pentridge, ADA accessible) and occasionally at Studio 34 in West Philly.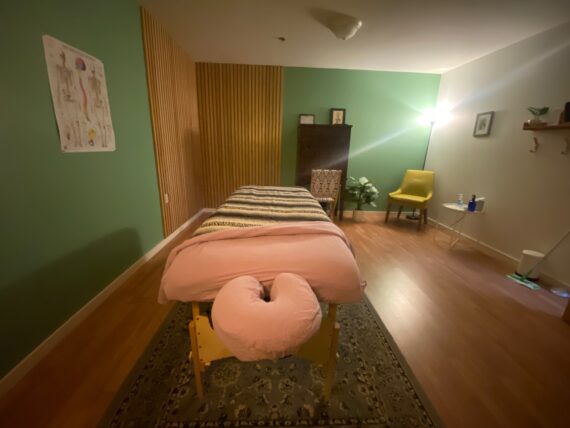 Thai massage
Practiced in loose fitting clothes on the ground or a mat, this technique emphasizes compressions and assisted stretches and supported movements. Great for increasing some range of motion, clients who'd rather not disrobe, or folks who'd feel more comfortable able to sprawl out on a mat rather than on a massage table.
Thai massage also offers great options for pregnant clients, allowing for a range of positions that are supportive to the body as it changes throughout pregnancy.
I generally offer Thai sessions out of my home studio space, or occasionally at Studio 34. In nicer weather, I can occasionally do this work outdoors in a park or your garden.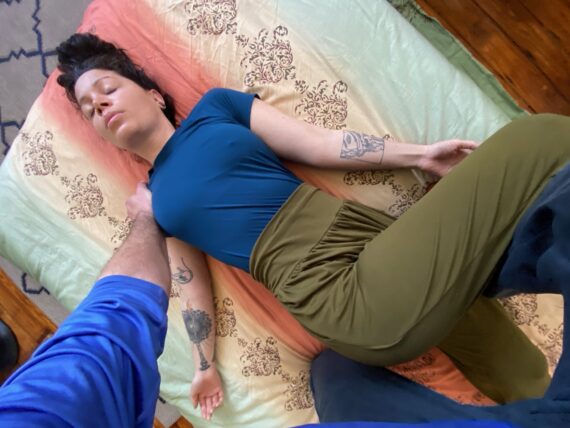 Chair / seated massage
I was surprised by how much I took to chair massage during our studies, where I was delighted to learn techniques to access most of the body from a massage chair. Added bonus is the ability to do this in public places, without the vulnerability of having clients lying down / disrobed.
Bringing me in to offer a day of chair massage at your workplace or event can be a great gift to your community. It's also a wonderful way to introduce the people that you work with to massage while offering them a needed bit of care and opportunity to recalibrate their day while learning about their body.
I can generally work with a maximum of 5 clients per hour (minimum ~10 minute sessions + transition time) for on-site chair massage events, and try to offer everyone that I work with a little take-home stretch or followup exercise. A few of my clients opt for longer private chair massage sessions instead of sessions on the table or mat and that's great too!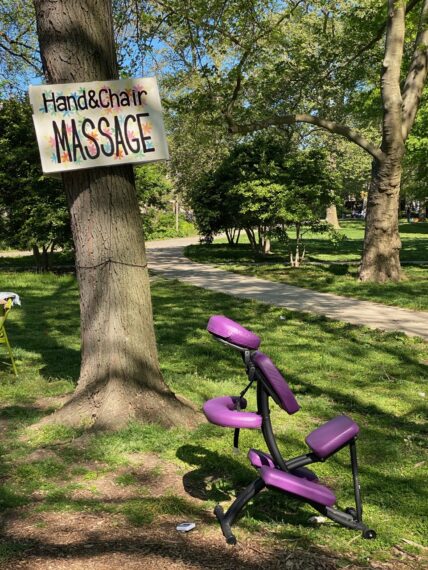 Scheduling:
If you'd like to work together after having reviewed rates, policies & FAQ, get in touch via email: jj@jjtiziou.net or text message to 267-251-5464. When reaching out, please let me know a few times when I might be able to catch you for a quick ~5 minute introductory call before a first session working together.
Sign up for Massage & Bodywork updates & other invites from JJ: