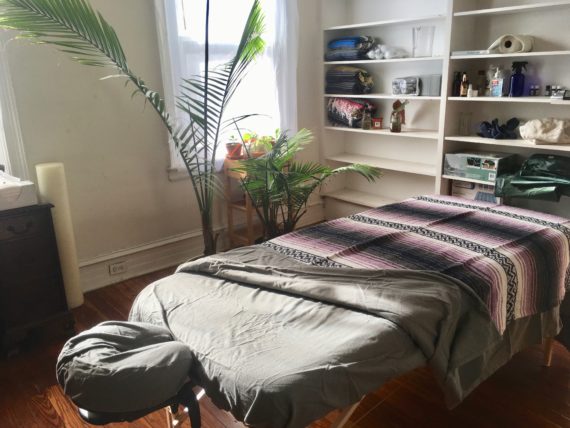 I'm working with a smaller group of trusted clients, committing to adhering to specific guidelines, and limiting some of my services until the pandemic is behind us.
Full body integrative massage
Guided by my intuition and your feedback, practiced on a massage table, generally disrobed and draped, these sessions may integrate various techniques from my training (swedish, deep tissue, myofascial release, thai, shiatsu, pre-natal, etc…) 
In warmer weather, I'll be able to offer some full body work outdoors. Over the winter time, I'll be offering some of these sessions out of my studio at The Cedar Works with much ventilation and air filtration.
Thai massage
Practiced in loose fitting clothes on the ground or a mat, this technique emphasises compressions and assisted stretches and supported movements.
My Thai massage training is somewhat limited, so you'll likely find me repeating the same sequence, but because it can more easily be practiced outdoors, this is a good offering during the pandemic.
Chair / seated massage
I was surprised by how much I took to chair massage during our studies, where I was delighted to learn techniques to access most of the body from a massage chair. Added bonus is the ability to do this in public places, without the vulnerability of having clients lying down / disrobed.
In the future, I hope to bring a chair massage station to places like SEPTA's Hub of Hope and Broad Street Ministry to offer some pro-bono work to some of our most vulnerable neighbors. For right now, I've been able to offer some good therapeutic work in situations as simple as sitting above someone else on a set of outdoor steps, and this has been immensely helpful for a neighbor recovering from a concussion.
Hand massage
Easiest to offer in a pandemic. I've gotten a plexiglass counter guard with room for a hand to slide below it. That plus masks plus outdoors plus a bottle of hand sanitizer on each side feels like the safest way to share a bit of therapeutic touch with the general public.
I'll be occasionally set up in the park on warmer days, and can bring this setup to other venues.
Scheduling:
If you'd like to work together after having reviewed the info above, get in touch via email: jj@jjtiziou.net or text message to 267-251-5464.