Nothing lasts forever…
It's been a while since any updates on How Philly Moves, but it's worth noting that the 'permanent' exhibit in the B/C baggage claim at Philadelphia International Airport is no more.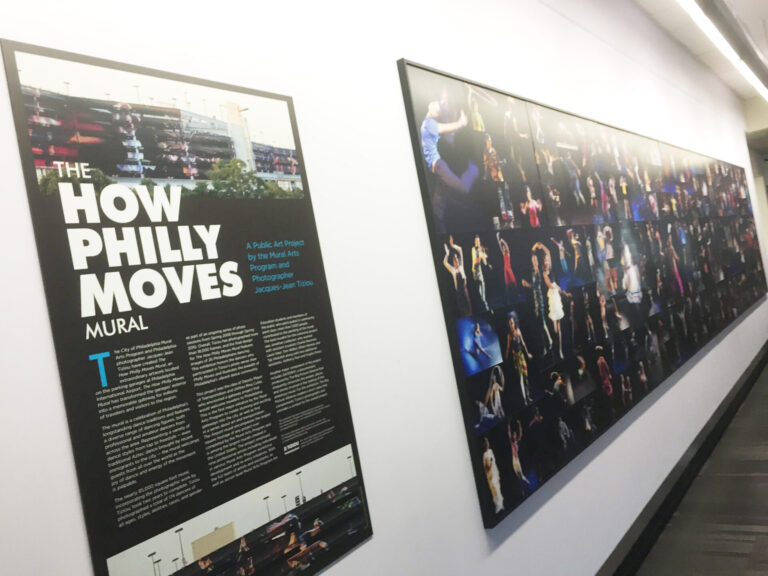 In many ways, I loved this installation even more than the massive mural on the airport parking garages, as these 162 images represented every single participant who had shared their love of dance via How Philly Moves community dance photo sessions up until that point.
(It didn't however include the many other amazing movers who participated in the later 2014 event.)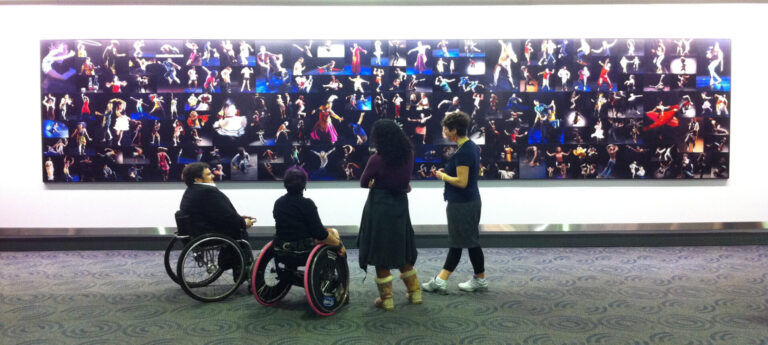 It's been a real treat having this installation welcoming visitors to the city (and welcoming Philadelphians home) for over a decade…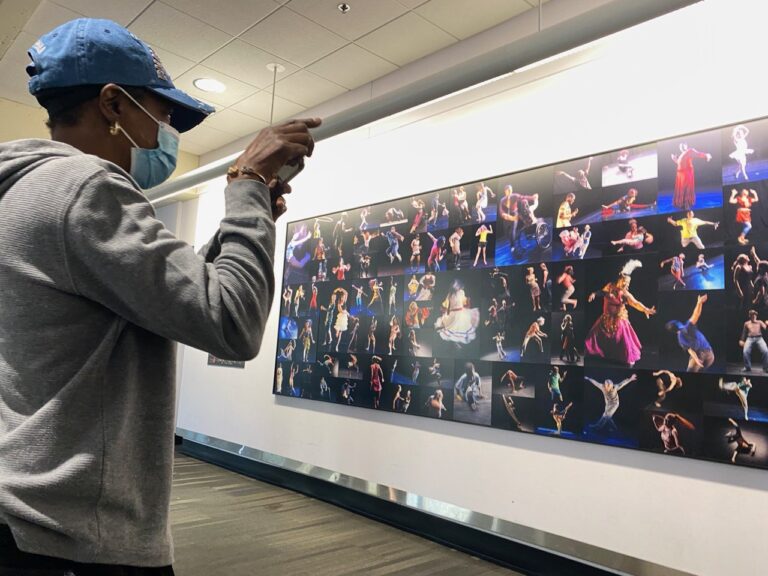 … and as I've been developing my Walk Around Philadelphiaperimeter walk project, the 'permanent exhibit' was our rendezvous segment for walks starting at the airport: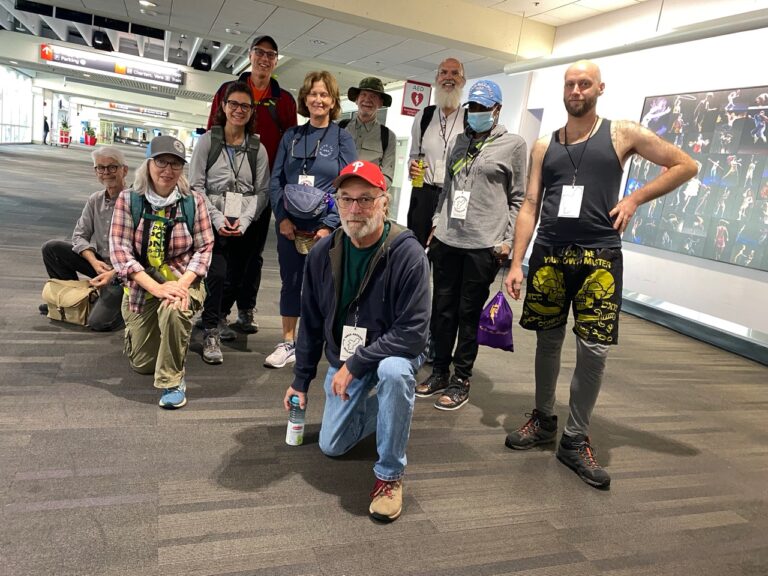 I had us meet here not just for convenience and to show off my other favorite project, but to use the amazing inclusive diversity of the How Philly Moves photo sessions to contrast the still more limited demographic of the (mostly white) participant pool of Walk Around Philadelphia…
(Thank you to all of you out there who are helping me work to change that!)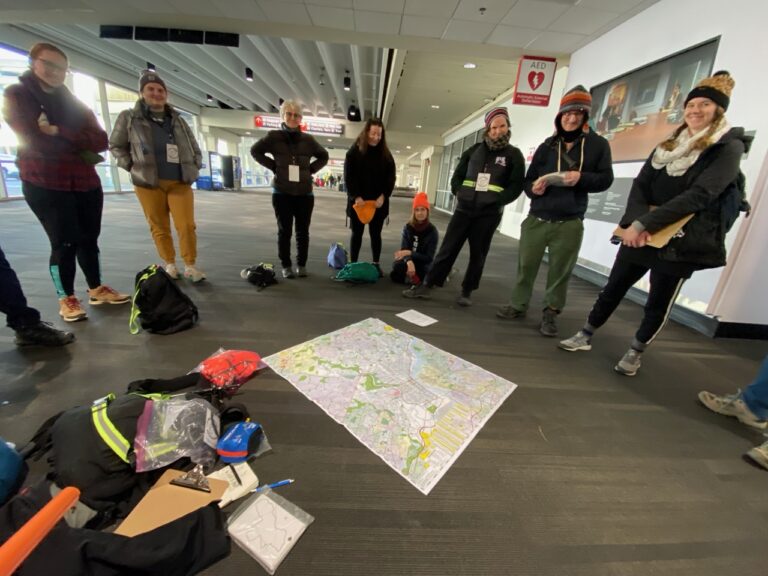 A sweet unfolding of connections is that Megan Quinn (on the right) who's been helping me with some tiny bits of admin around the walk and just walked her first three segments last month was one of the participants in the final round of How Philly Moves photo sessions in 2014. (You'll catch her ~8 mins in to that sweet video recap)
It had always been referred to as a "permanent exhibit"; while I know that nothing is actually permanent, it still grieves me to see it dismantled…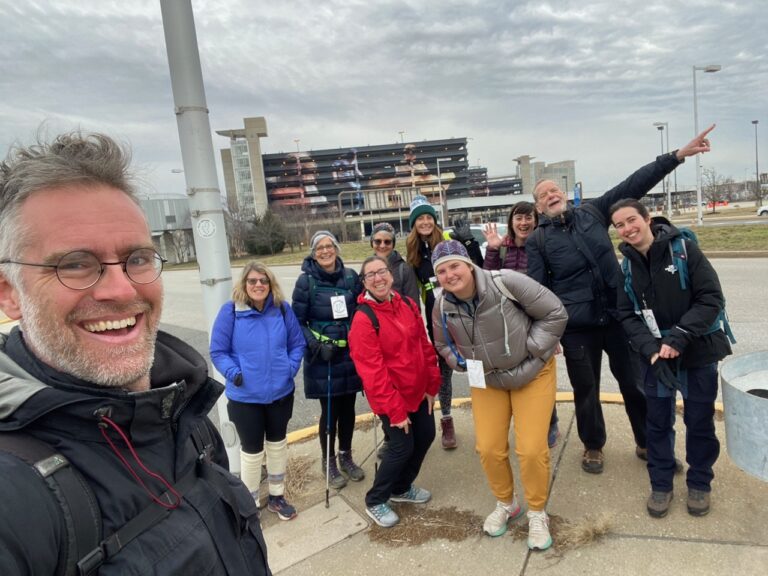 … but the airport mural is still there!
(For now – even parking garages aren't forever…)
I do love that my two biggest projects literally intersect in physical space:
This mural that celebrates the whole city's movements
this pilgrimage adventure that literally encircles the whole city
(If you haven't been following it, I invite you to find out more about Walk Around Philadelphia, and to check out the exhibit at the Schuylkill Center that I recently curated – it's up for a few more weeks through April 1st!)
Dilemma / opportunity: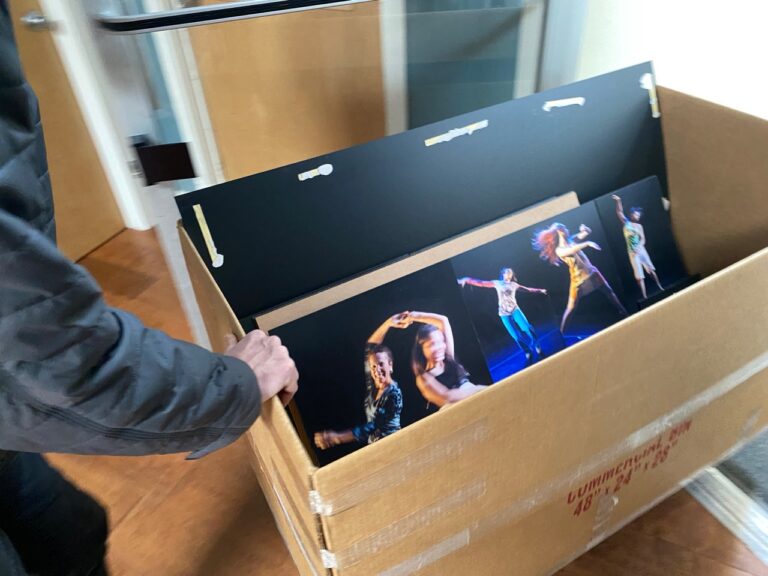 I now find myself with the sets of panels from the installation, taking up a bunch of space in my office.
(They were just delivered the other day.)
In fact, I have *two* sets of all but one of the images, as the airport art folks had printed a backup set of the panels, which they'd already handed off to me (and are also already taking up storage space.)
One set is individual panels, unmounted. The other is sets of images mounted to a backing board with a cleat system, ready to be hung on a big wall somewhere.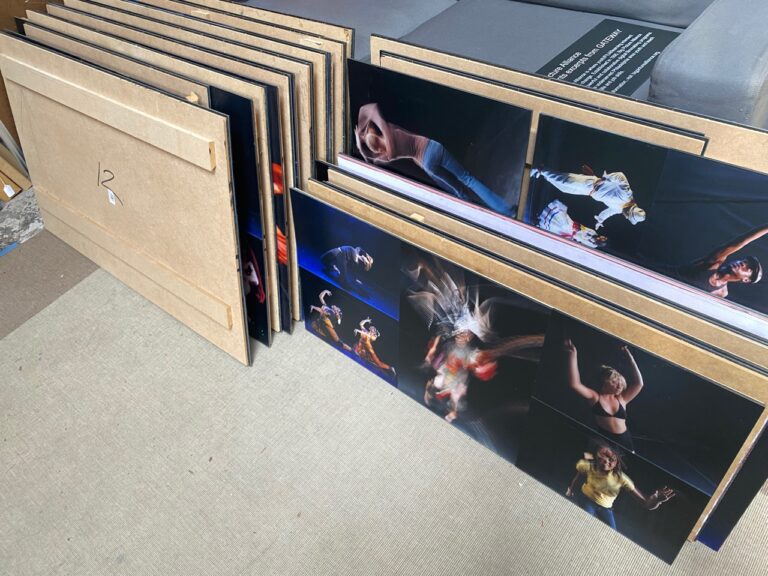 I'd love to find another semi-permanent home for the installation… maybe there's a big office lobby somewhere that would want to feature this work? Or a wall in a community center somewhere in the city? A wealthy arts patron out there who wants a big installation in their house? Anything'd be better than just taking up space and gathering dust…
I also love the idea of tracking down all the dancers and mailing the individual unmounted panels to them or gifting them to their family members etc – but that's a *whole* other pile of admin and shipping expense, and some of them will be easier to get in touch with than others.
Doing anything with them will be a pile more work, and at some point it might be simplest to just trash them / let them walk away to the street.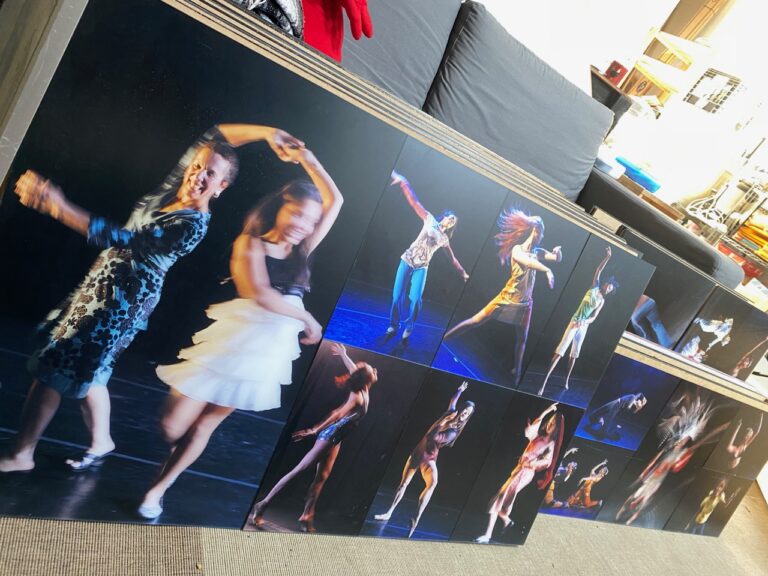 All to say, at some point there may be a big weird photo panel giveaway event, but I'd also love if you could reach out to your networks if you know of anywhere that might be a good home for these.
And while you're at it, I'd love if you could invite folks to check out that exhibit at the Schuylkill Center!
I'm ever grateful for all of the generous folks who participated in and/or supported this project back in the day, and your kind presence in the world.
Thank you,
-jj
PS Thanks also to those of you who've continued to participate in & support my work over the years. This isn't exaclty a fundraising solicitation, but if you'd like to become a backer of my current endeavors, it can help make awesome stuff like this happen.
Sign up for the next things: