A growing network of trail signs will invite Philadelphians to explore the city's edge… and we need your help!
Last summer, we installed the first Walk Around Philadelphia wayfinding sign installation at Independence Seaport Museum, right by the Liberty Point bar & Spruce Street Harbor Park.
I've now got the opportunity to install several more signs, and I'd appreciate your input in their design via this quick survey.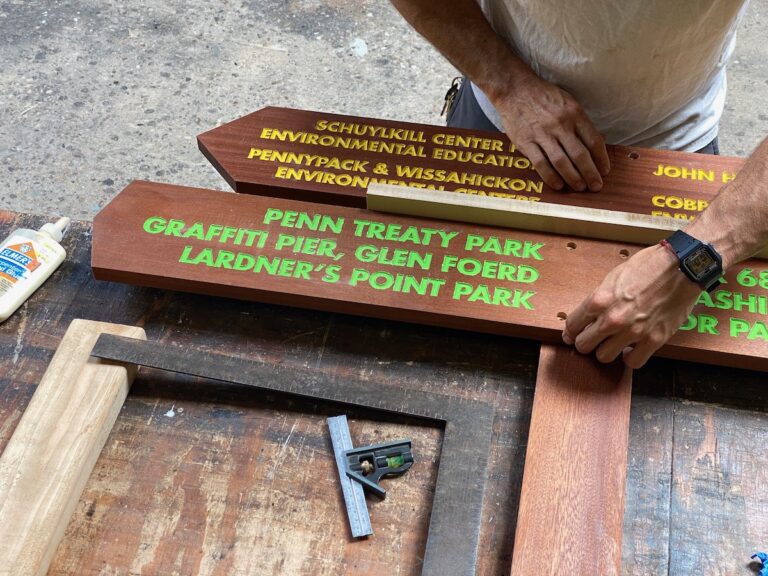 (Huge thanks to the Delaware River Waterfront Corporation, Penn Program in Environmental Humanities, Independence Seaport Museum & everyone else who helped make the first sign possible!)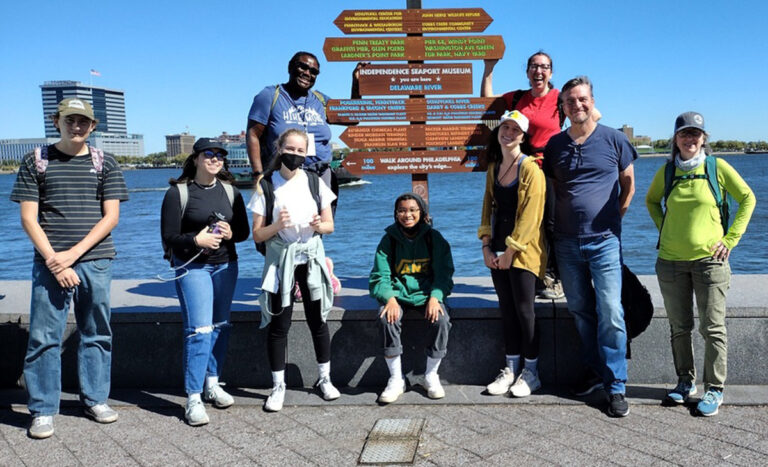 The signpost has been a highlight for groups of walkers who are off participating in Walk Around Philadelphia…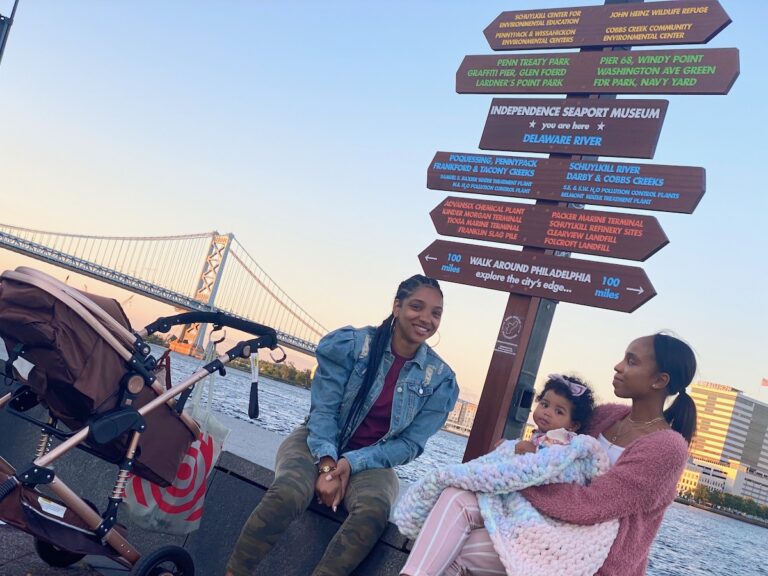 … and it also provides a point of information & education, and an invitation for the countless Philadelphians and visitors who enjoy Penn's Landing on a daily basis to set out and learn more about Philadelphia by exploring its furthest margins…
If you're not already familiar with Walk Around Philadelphia, the participant quotes in this great article might give you a sense of the kind of unique and powerful experiences that arise when you set out to explore the city by walking its margins with others. Every time is an adventure!
One down… many more to go!
Now, we've got the opportunity to really start building out this trail.
I've identified a series of locations that would be ideal to install the next round of wayfinding installations to help build the network and here's the exciting part:
GOOD NEWS!
I've already received approvals from several partners in strategically placed locations around the city's edge: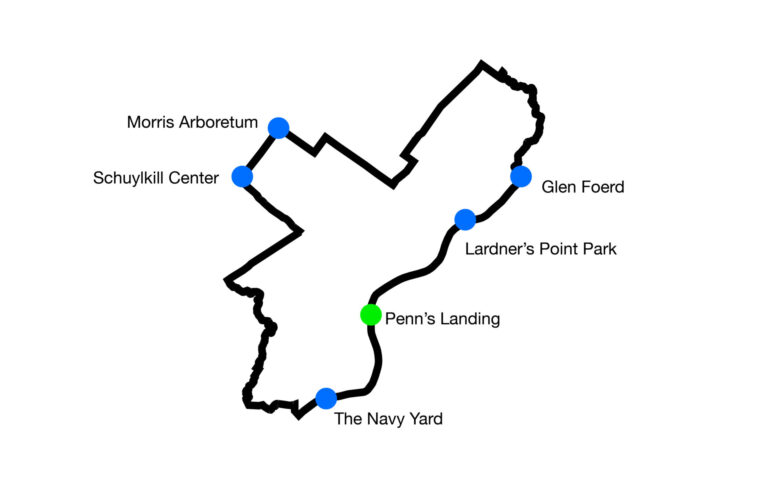 (Huge thanks to these great orgs for supporting this initiative!)
I'm also in conversations with the Delaware River Waterfront Corporation & the Philadelphia Parks & Recreation Department about other potential locations at their sites.
Each sign is a custom creation, hand-painted hardwood designed to weather the elements.
With the perimeter walk covering ~100 to 120 miles, there's a lot of other potential locations that would be great for signs.
Here's where you come in:
Please take a few moments to complete this survey to help inform both what we include on these signs, and where we look to install the next ones.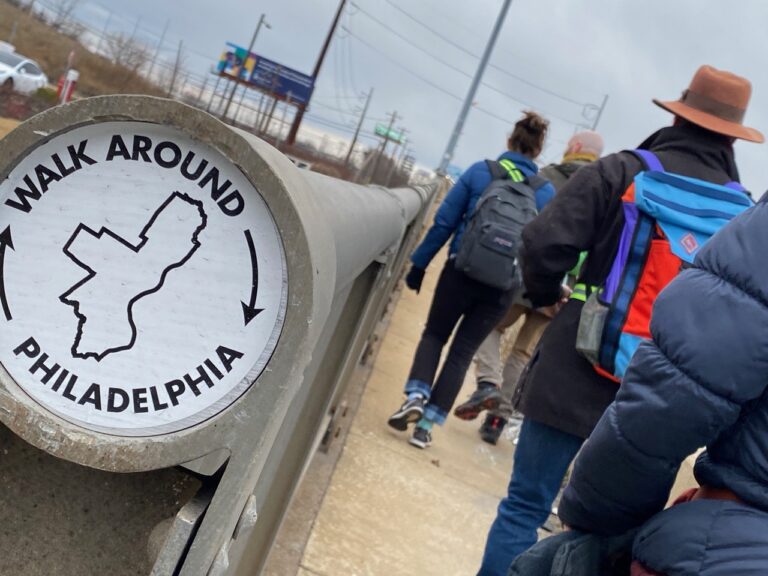 Participants have already blazed a trail around the city's perimeter with stickers that have been distributed to walkers as they set out to explore the border… and the stickers in turn have invited new participants into the project, as well as helped other walkers & passers-by know that they are near the city's edge.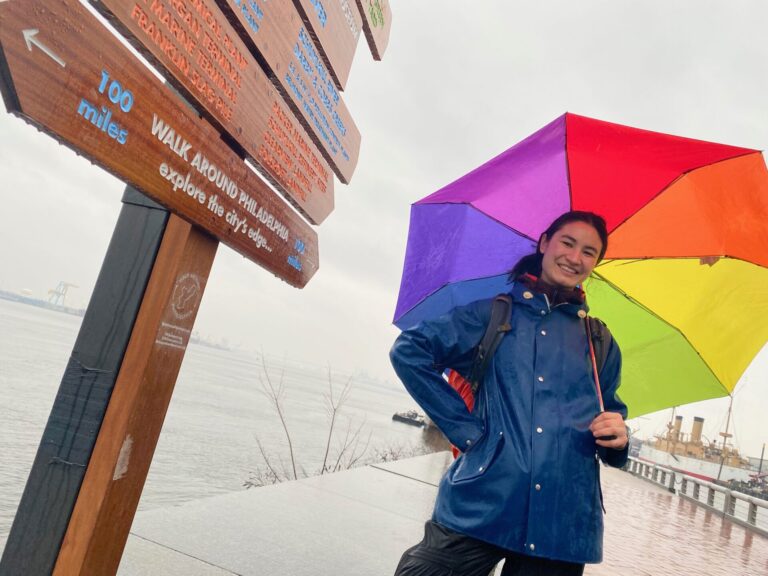 Building these signs out of high quality materials to withstand the elements is no small undertaking – they cost ~$2-3k each to design, produce & install.
So there's also a question in the survey asking for suggestions & connections to organizations, foundations, businesses and/or individuals with access to wealth who might be interested in investing in the continued development of this project.
Again, these are questions that you can leave blank if nothing comes to mind.
But also, if you'd like to make a financial contribution towards the walk or to support my work in general, you can do so via my fiscal sponsor or directly via my website and I'd be most grateful – every little bit helps.
Thank you for reading this far… now please take the survey if you haven't yet!