Quick updates about my massage & bodywork practice:
I've been working as a Licensed Massage Therapist in West Philly for nearly three years now; it's been an incredibly rewarding contrast and complement to the other facets of my life, and I'm grateful that my work has been incredibly well received by my clients. (Check out their reviews!)
As we head into the fall, I've got new expanded rates, and some availability constraints as I head into a busy season of facilitating events around my 12th Walk Around Philadelphia (you're invited!)
New expanded rates
Q: Why "expanded" instead of "increased"?
A: I've increased the upper end of my sliding scale while maintaining the lower end. This allows for an even wider scale, and shifts the "standard" rate up.
I'd set my rates in 2020, when I was newly licensed and pandemic related inflation hadn't yet kicked in.
The increase of my standard rate reflects the increase in cost of, well, just about everything, and is in line with what I've seen from other practitioners that I respect. It also reflects that many of my clients were already electing to pay $150-175 for a 90 minute session voluntarily.
By leaving the lower end of my sliding scale unchanged, I'm affirming my commitment to maintaining accessibility for those in need.
| | | | | |
| --- | --- | --- | --- | --- |
| Fall 2023 rates | Standard | Supporter | Community | pro-bono |
| 60 min | $115 | $140+ | $65+ | $0 |
| 75 min | $140 | $170+ | $75+ | $0 |
| 90 min | $150 | $180+ | $85+ | $0 |
| 120 min | $190 | $240+ | $110+ | n/a |
| 180 min | $280 | $360+ | $165+ | n/a |
People who pay higher rates help me to provide care to others who require the discounted & pro-bono services. Rates above the supporter rate also help sustain my public art & community projects.
Gratuities are never expected. Tipping is basically the same as going higher up the sliding scale.
Q: What does this mean for existing clients?
A: Absolutely no change, unless you want it to.
If you're financially secure with a cushy remote gig with good benefits, a property owner with family wealth and assorted other privileges and feel excited to pay higher on the sliding scale to help support things like my Walk Around Philadelphia project & local community organizing work, go for it!
If you've been paying the regular rate but haven't come in for a session in a while because you've been feeling some financial stress, I encourage you to consider a session at a discounted rate. I'd much rather you get the care that you need; you can always refer me some other folks able to pay the higher rates.
Availability constraints Aug 23 – Sept 23
The programming for the 12th Walk includes virtual events on Wednesday evenings, in-person happy hours at Cherry Street Pier on Thursday evenings, and 12 days of walk segments on Fridays/Saturdays/Sundays.
Accordingly, I will not be available to work with clients at those times.
My primary availability for sessions during that season will be:
Monday & Tuesday evenings
Wednesday daytimes
Thursday mornings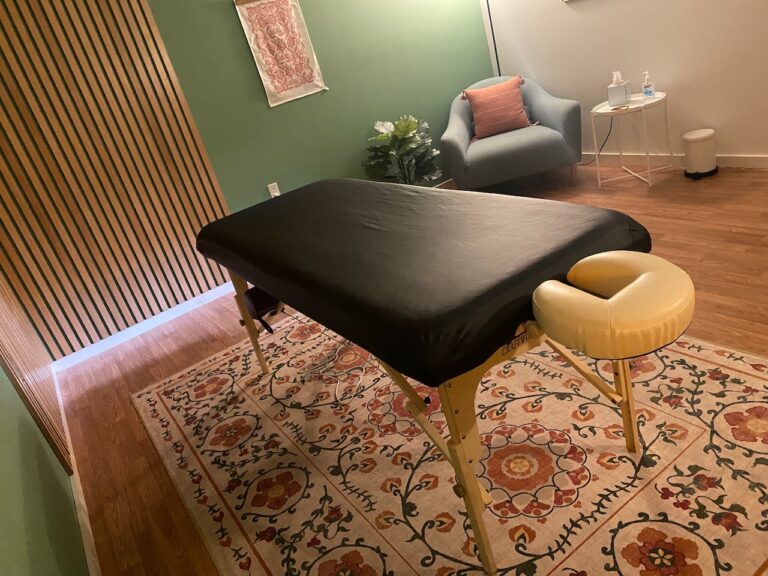 New(ish) studio space
I've been seeing many of my clients out of my home massage studio space in West Philly (45th & Osage) and occasionally out of the wellness rooms at Studio 34, but also have a space at The Cedar Works (4919 Pentridge) that I am now sharing with my dear friend and colleague Kimberly Vice.
This space features easy parking and an ADA-accessible wellness room for those who'd rather not have to navigate the stairs of the other two locations.
I'm also available to do on-site chair massage to support your colleagues & community members. Those rates remain unchanged at $125/hr with a 2hr minimum
See what they've been saying…
JJ is an outstanding massage therapist. The combination of his knowledge, compassion, intuition and technique manifest in bringing healing on a number of levels. I've been a massage therapist for 30 years and feel very fortunate to have found a massage therapist with his gifts.

– Kevin H
I honestly felt 10 years younger when I left. Can't recommend him highly enough!

– Liz F
I first met JJ at an employee wellness event and was so impressed by his short chair massage that I reached out to set up a full massage. He cared for various aches and my general well-being through my pregnancy with attention to detail, thoughtfulness, and expertise. I appreciated the way he communicated about how our sessions were going in real time and that he always sent me home with ways to continue the work he had started on my own. I cannot recommend him more highly.

– Jessica P
Find out more: