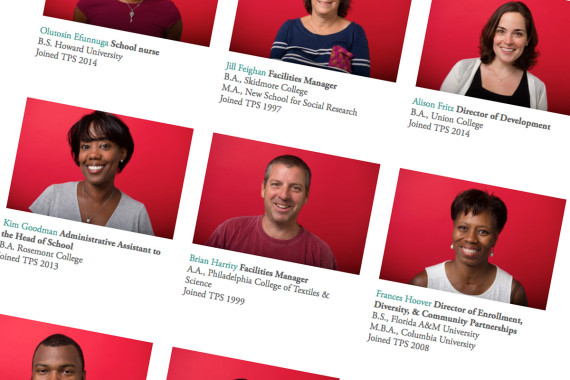 I want to give a quick shoutout to The Philadelphia School, one of my favorite new partners, for their gorgeous new website.
The Philadelphia School is a pretty magical little enclave of smart, kind, enthusiastic and well resourced teachers in the heart of the city. Its vibe and culture reminds me a good bit of the school where my mother taught that I had the privilege to attend (Washington International School.)  If only every student in the City of Philadelphia was so well resourced! (Sadly, the state of affairs is quite different, but that's another, sadder story… )
I was referred to the beautiful folks at TPS by one of my kickstarter backers who's also a parent there (thanks Glenn!) – They were planning a website redesign and wanted to really highlight their greatest resource, which is their own people.
I loved making the images…
(It was intense! 94 portraits in under three hours in the midst of the hectic back-to-school season…)
… but even more, I love what they've done with them: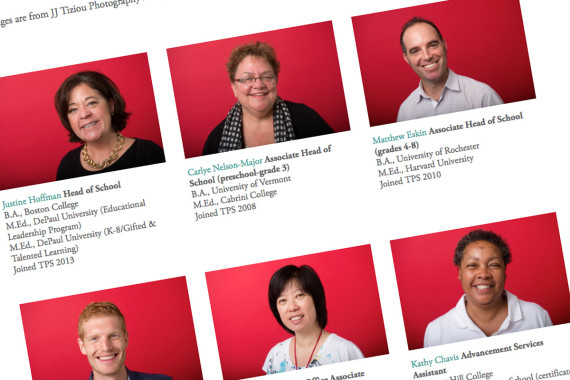 The whole site's clean, elegant and well laid out, highlighting the unique facets of their approach to education. But of course my favorite part is the Faculty & Staff section, which profiles not just their Teachers but also their Learning Resources Team, the After School Programing Team, and the Administrative Team.
Besides a bold layout featuring big, clear images, what I love is that their *entire* staff was photographed in the same light. And is displayed in the same way. From the head of the school to the janitor who's only been working there for a few weeks, from the first year teachers to the twenty year veterans. They're all there side by side.
This resonates so strongly with my 'Everyone Is Photogenic' message. It's always great when folks bring me in to make portraits, and I always do my best to make compelling, honest and joyous images of everyone that I have the honor of photographing. But once the images are made, it's always up to the client to decide how they want to use them. I think that it speaks volumes to The Philadelphia School's convictions and priorities that they chose to feature their whole team like this.
It reminds me a bit of work that I did over at Hangley, Aronchick, Segal, Pudlin & Schiller, but unfortunately businesses that value their people like this are more the exception than the rule.
Ok, enough here. Click on over to the site and check out all four sections. It'll take just a moment to scroll through all of them, and I bet that seeing all beautiful humans faces will see you smile.
peace,
-jj
PS WARNING: If you take the moment to read or listen to one of their "why I teach" essays, it might even make you cry.