I've been documenting the Coalition of Immokalee Workers since 2003. Their work for human rights in the agricultural industry is critically important.
UPDATE:
As this project was successfully funded, I'm on site shooting, and posting daily updates here. 
They're now embarked on a two-week, 200 mile march from Tampa to Lakeland: the March for Rights, Respect & Fair Food. Can you help me get there?
With your help, on super short notice, I'll head down there next week and add my efforts to their documentation of this historic event. I've only got a few days to pull this together, so please share this with any and all friends who'd be interested in supporting this project.
What's involved: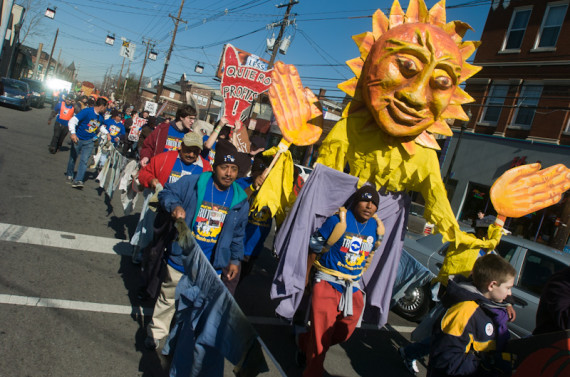 The CIW events are joyous community events: pageants that use song, puppetry, theater, music, and visual art to draw attention to the human rights abuses in the agricultural industry. It's been amazing to document this movement as it's evolved.
What I'm proposing is more than just taking a few pictures.
We're talking about an intense bit of photo documentation. To get a sense of what this is like, check out either one of my rapidfire animated recaps or a slideshow.
Everyone is Photogenic, but not everyone has a photography budget. I'm happy to volunteer some time and images, but need your help to cover some of the rest of the costs. Through Kickstarter, you can help me get down there to continue chronicling this movement. In return, you'll get access to images as they're posted, and a host of other goodies at different reward levels.
Furthermore, I'll make basic web versions of every shot available in my community archive, allowing supporters of the movement to share them far and wide. Project backers will get first crack at these archives!
Fundraising goals:
$3,500 covers travel and basic overhead costs.
(While many people think of photography as free, they haven't thought about their next lens repair bill or other costs of sustaining a professional operation.) – $3,500 is the bare minimum that I need to be able to afford to bring my gear, carry insurance, etc.
If we raise $4,500 – We're starting to get a bit above just basic costs. Amazing! Thank you for your generosity!
At this rate, I'll start pulling the late nights necessary to provide next day turnaround on the images to contribute to daily updates on the CIW site, and you'll get sneak peak updates of our image selections before those reports even go live.
If we raise $6,000 – I'm probably going to take over 6,000 pictures while there, and it'd be swell to have $1/frame in support.
If we hit this target, I'll make 10 max resolution optimized files available for download. They'll be available to the whole world for personal use, and I'll also share them with the CIW for their publications. If you know how savvy they are with media, you know they'll make good use of these!
If we raise $10,000 – Now we're talking!
(OK, if you know me, you know that I'll probably shoot more than 6,000 frames while there, and it would still be really swell to have $1/frame in support.)
If we hit this target, I'll send the CIW DVDs of max resolution versions of all of the images for their use. In that package, I'll include a letter naming all of the backers who helped make it possible. (That's you!)
In addition, I'll enable free larger resolution downloads of all the images from this march. FURTHERMORE, I'll go back and re-upload higher res versions (1500px) of all of the older CIW images in my archive, and make those available for free downloads too!
($10,000 is slightly more than twenty-five cents per picture for every frame already in my archive of CIW images. To make it $1/image, we'd need to raise $36,687… )
There's just a few days to make this happen, but if you take a second now to share/tag with all of your friends, we can do it overnight. Here's the link: http://kck.st/XSJmSl
Thank you!
-jj