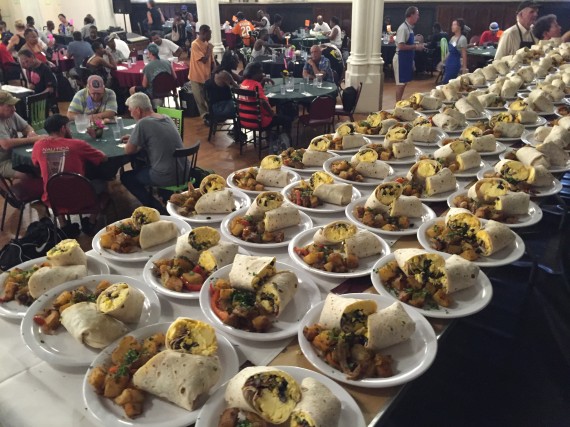 An invitation:
The other day, Chef Steve taught me a better way to wrap a burrito.
Rather than reveal his secret technique of burrito wrapping, I'm going to invite you to learn from him directly… not just about burritos, but about radical hospitality.
Steve works at Broad Street Ministry, located right across the street from the Kimmel Center at Broad & Pine. It's a faith community, but also an amazing hub for social services. 3,000 of our housing-insecure neighbors get their mail there.
Hundreds are fed there every week, and it's not just stand in line, soup-kitchen style. Meals are provided with dignity, with sit-down table service provided by yours truly and a host of other volunteers. It's a rare moment of safety and care in the lives of our most vulnerable neighbors, and it nourishes not just the belly but the soul. (And all the more the souls of those who serve there.)
 A quick aside re: "faith", "souls", etc…
These words can mean all sorts of things to all sorts of folks.
There's a lot of different takes on religion in our society, and the very topic can be off-putting for a lot of folks.
If religion is something that you actively avoid, I'd invite you to reconsider how you engage with it…
Chris Stedman's book "Faitheist: How an Atheist Found Common Ground with the Religious" is a good place to start.
So if you've got three hours to spare sometime in the coming months, I'd invite you to join in serving up a meal there. They're amazingly well organized, the volunteer signup is super intuitive, and there's opportunities at all sorts of times so there's no doubt a time when you could go help serve a meal, sort some mail, or help provide some other much needed services.
Another quick aside re: religious communities…
The service component at Broad Street Ministry has no overtones of religion… it's strictly about providing service and care, not about proselytizing or converting folks. If it wasn't for the fact that the building is a church, you'd have no idea that the services are hosted by a religious community.
But if you're a member of a different religious tradition, and hesitant to get involved with spending a shift working in a church community, I'd invite you to join the Interfaith Center of Greater Philadelphia for some of their programming (their Encountering Other Faiths worksop is a good place to start) – Also, this book by the Dalai Lama, or this one by Eboo Patel are great ways to engage from Buddhist or Muslim starting points.
One more time:
Here's that volunteer signup link.
Check out the schedule, and find a time when you (alone or with a group of friends) can come and lend a hand… I promise you won't regret it.
Plus the folks there are just so darn photogenic… here's a fave animation from their 5yr anniversary: