The 8th Walk Around Philadelphia is halfway complete!
This fall's 10×10 edition of the perimeter walk is divided into ten segments that are roughly ~10 miles each. With five of them done, there's still five more opportunities to register via FringeArts join a group walk in this exploration of the city's margins.
Sept 25/26/27 take us along the Delaware River border, and Oct 2/3 take us 'round the Airport and back up Cobbs Creek to 61st & Baltimore, right back where we began… You can also register to join us that same evening (7pm on Oct 3rd) to join us via zoom to hear and share stories from city's edge via the virtual reportback.
But first, let's talk about last weekend, when we tackled the Northeast section of the border…
Segment 4:
Fox Chase towards Somerton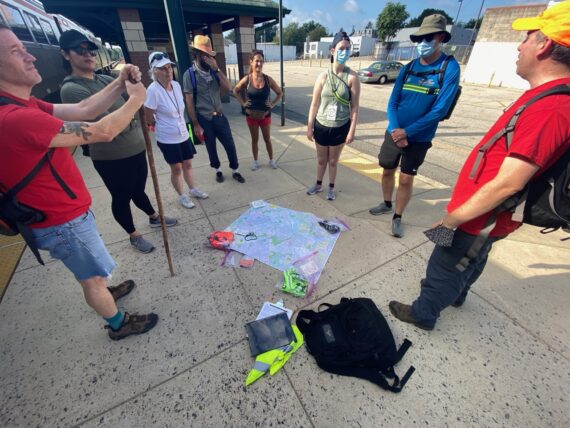 Group one gathered at the Fox Chase regional rail station…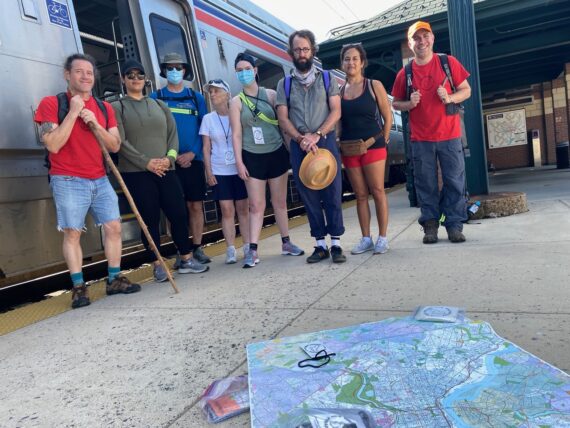 Since Mike & Greg both wore their stylish red Walk Around Philadelphia T-shirts and have both completed the entire walk themselves (Mike did it solo last fall, and Greg joined this past Feb's walk through snow & ice) it would be easy to think of them as "guides" or "leaders" or "authorities"…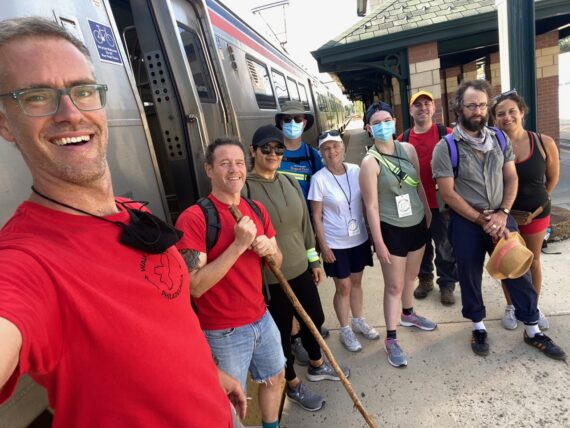 I reminded the group that even though this was my 8th time around the perimeter of Philadelphia, I wasn't an authority either – the city is always changing, and the paths that we take around it always vary in response to circumstances that we encounter and decisions that the group collectively makes.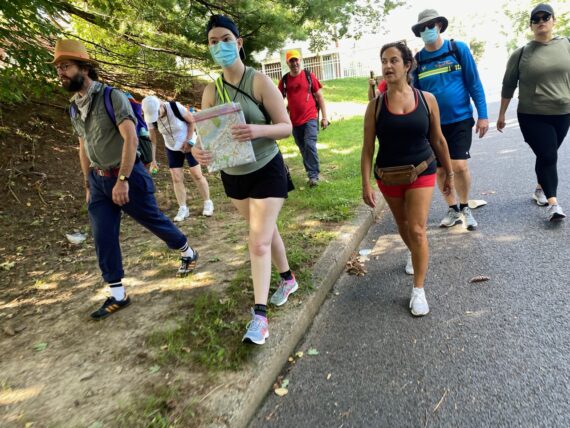 And so I handed off the map & navigation to the group, and we set off led by Ollie, a student from Temple University whose "Sustainable Cities" class has integrated Walk Around Philadelphia into this fall's curriculum.
(Isn't that pretty cool? If you've got any potential for other institutional partnerships with the walk, please get in touch!)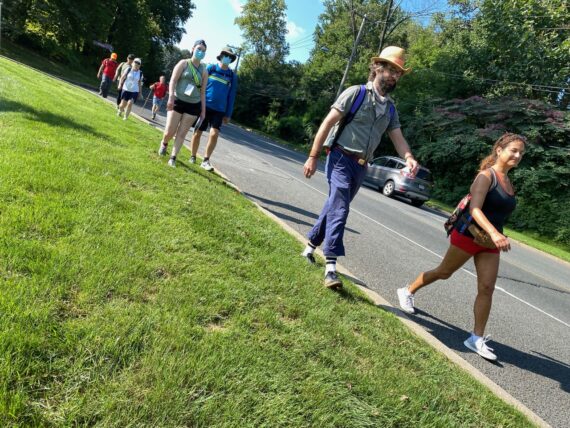 The first bit down Pine Road here doesn't have a sidewalk, but it's wide enough to feel pretty safe.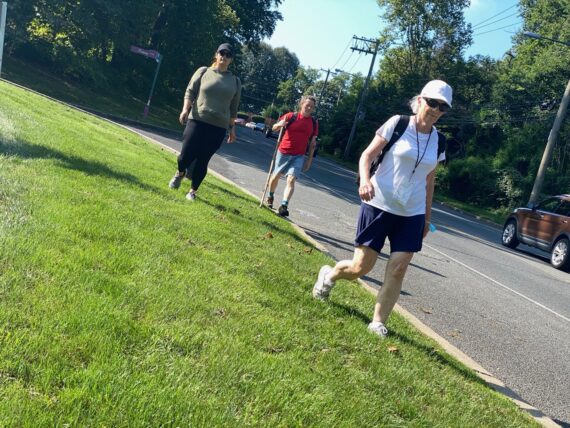 We were joined again by Mimi, who'd go on to complete almost the entire perimeter in this go!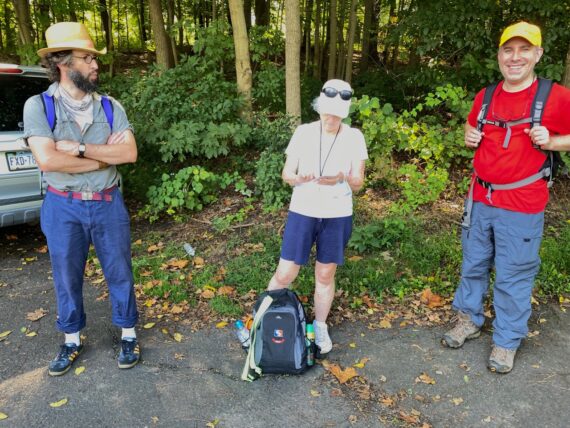 As we hit the edge of Pennypack Creek Park, it was already time for me to bid this group good adventuring so that I could double back and meet the second group…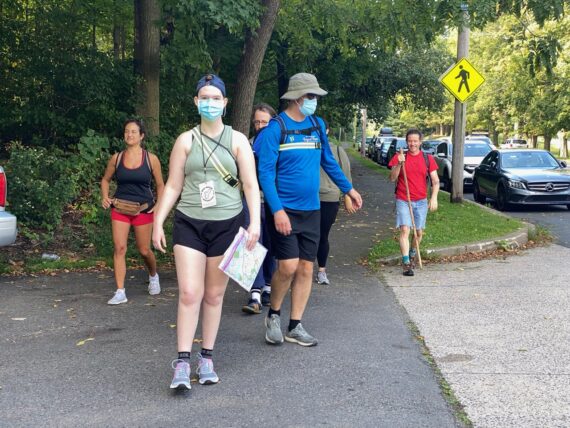 … and so the the first group continued up Pine Road…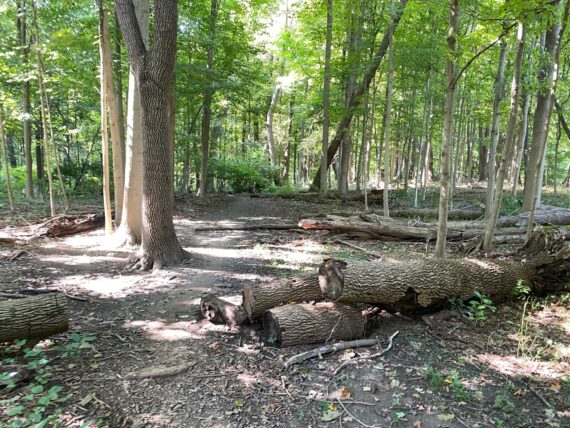 … while I doubled back, taking the shadier path through the woods on the crest of the hill at the edge of the park.
(I think it wasn't until my 5th or 6th time of walking this perimeter segment that I discovered this trail parallel to the road… the discoveries are always unfolding!)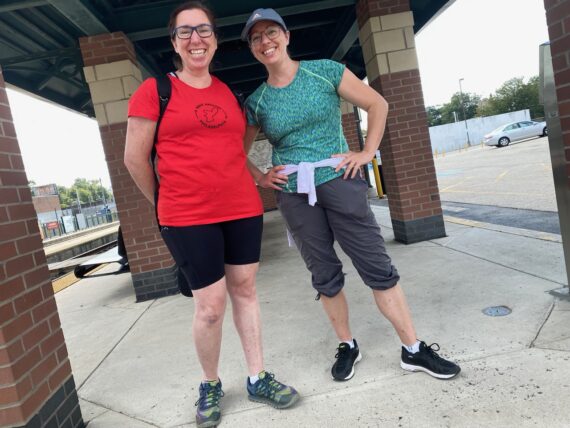 Back at Fox Chase station, I found Bonnie (who'd already gotten her walk shirt when participating in last year's pandemic 'organize your own pod & choose your own adventure' version of the walk.
She was joined by her sister Barb, and it only took a few moments of chatting to realize that I'd served barb brunch sometime ages ago in the early 2000's when I worked at Carman's Country Kitchen…
(The walk is ever full of these strange tiny coincidences, because for as vast as Philly is, it is also in many ways a small town and these connections never fail to delight me…)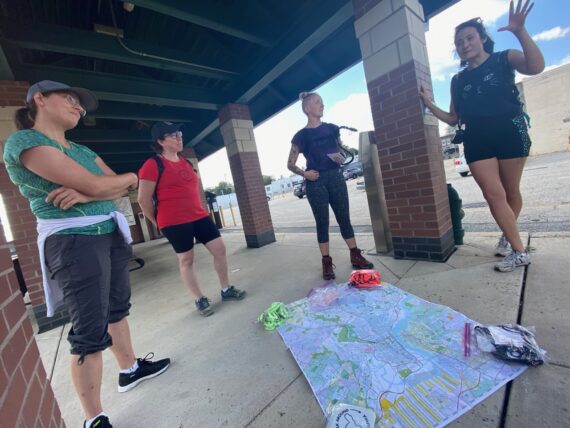 The rest of our crew joined us shortly and we began with introductions…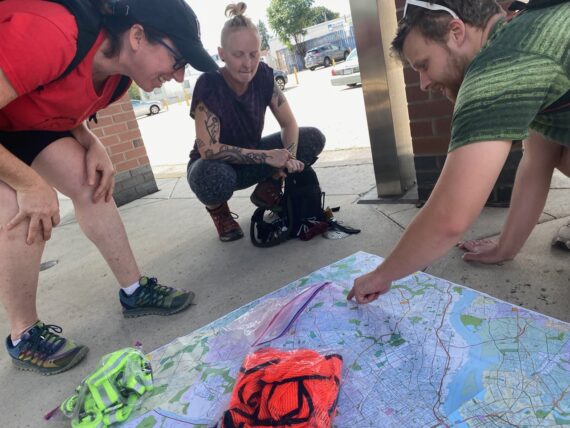 … and as we started to review the map, Ben shared that he had some family on the not-Philadelphia side of the border and so had driven across the border many times.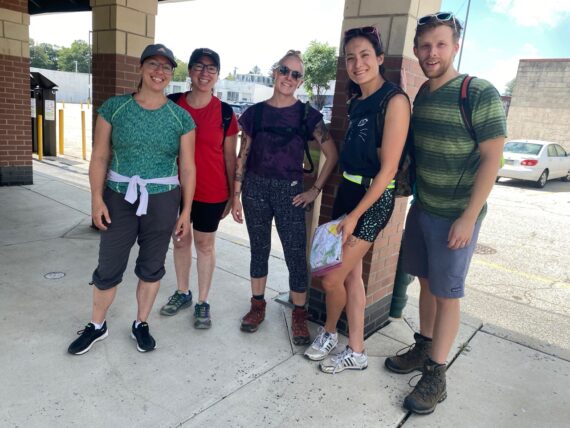 Here's group two ready to set out and encounter whatever the perimeter had to reveal to us today…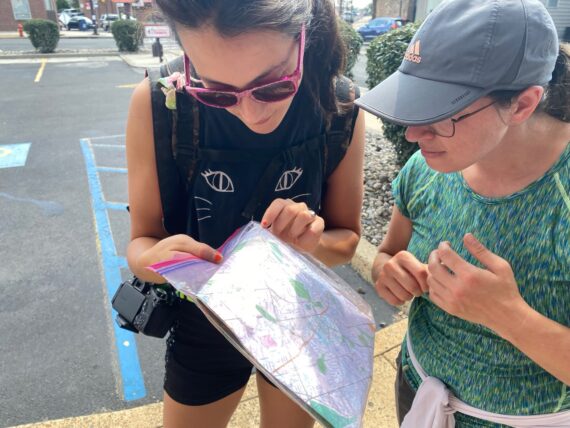 … and this day would hold some extra surprise for me, because as our group looked at the very start of the map, they decided to stay as close as possible to the perimeter right at the get-go..
This meant that instead of heading down Pine Road as I had in my first seven times 'round the perimeter and as the first group had gone…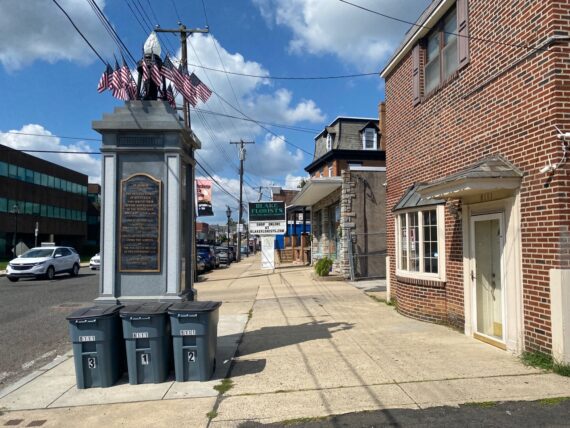 … we instead followed Oxford Ave northwest to the closest point on the perimeter…
(can you see it there? Just beyond that monument, it's not Philly anymore…)
… and we walked to Blake Ave which would take us along the perimeter.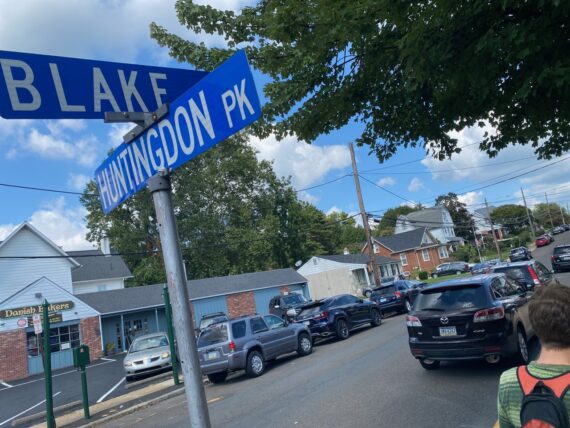 Somewhere right around there Oxford Ave (in Philadelphia) turns into Huntington Pike (in not-Philadelphia, which here is Rockledge, PA.)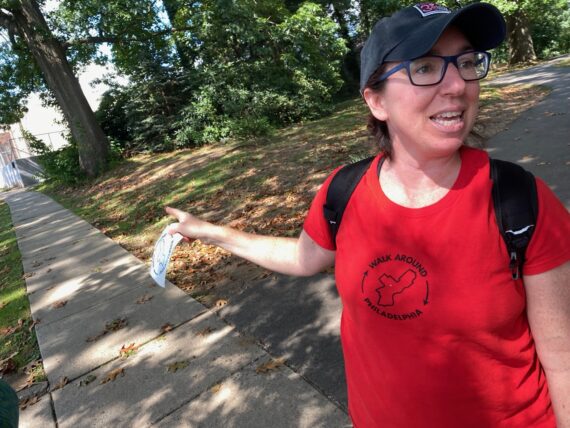 Bonnie's also from NorthEast Philadelphia, and knows this area well, and so was able to tell us that we'd find our way towards Lorimer park behind Fox Chase Farm.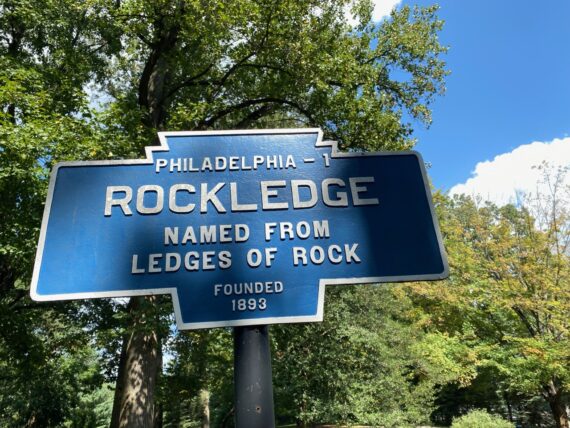 As we headed into the park, we saw this sign, which I found quite comical, and explains the region's name.
I'm not quite sure what the " – 1″ on this sign means… nor the "Philadelphia" here, as we're pretty definitely across the border on the "not-Philadelphia" side here.
Also a sidenote re: accessibility here:
Most of the time as I'm thinking about accessibility initiatives for the walk, I'm thinking about terrain, mobility devices, and the like.
But also, if someone who's blind or has low vision is engaging with these accounts using a screen reader or other adaptive tech, a comment like the one above ("this sign, which I found quite comical") could be kind of frustrating if you can't see the text in the image.
In this case, I put the text of the sign into the alt-text for the image, but for real accessibility there'd be alt-text descriptions for all of the images.
That's something that I don't have capacity for right now especially for these lengthier recaps, but will bear in mind as I redesign / tidy up the walk web presence and plan future accessibility initiatives.
If you'd like to help me continue to develop this project and find ways to facilitate access to this project for others, please consider signing up as a backer!)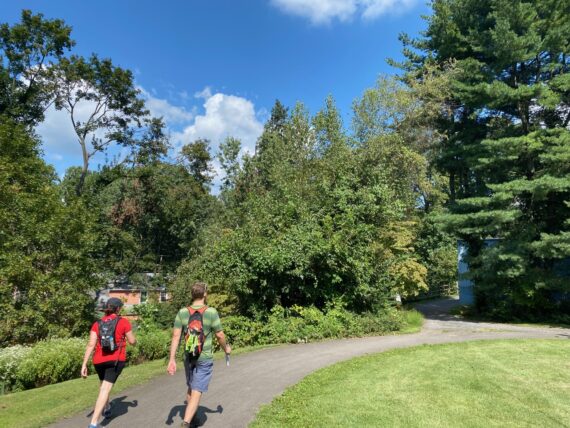 We continued on through the park…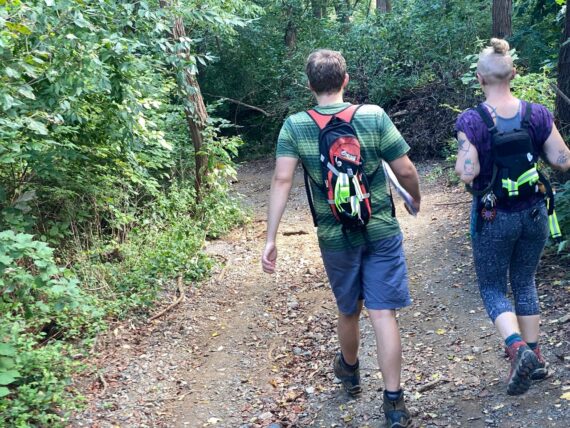 … taking a path that dipped down through a wooded area…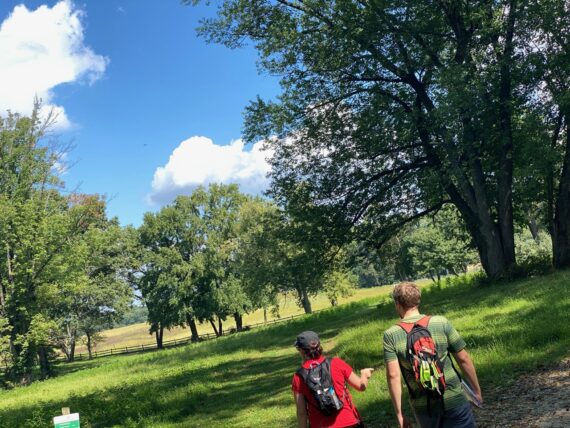 … before bringing us out towards a clearing with fields ahead.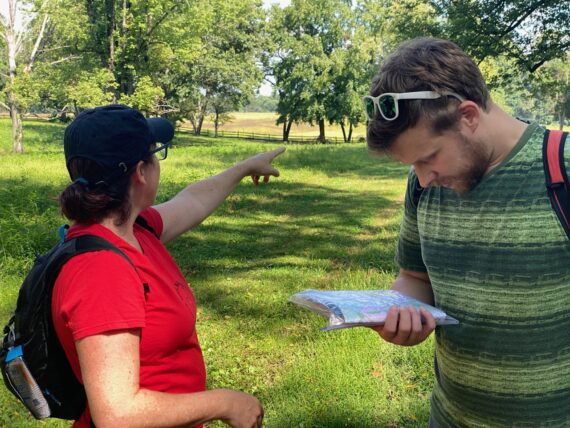 Again, Bonnie knew the way here, and pointed us towards a path hugging the edge of Fox Chase Farm's fields…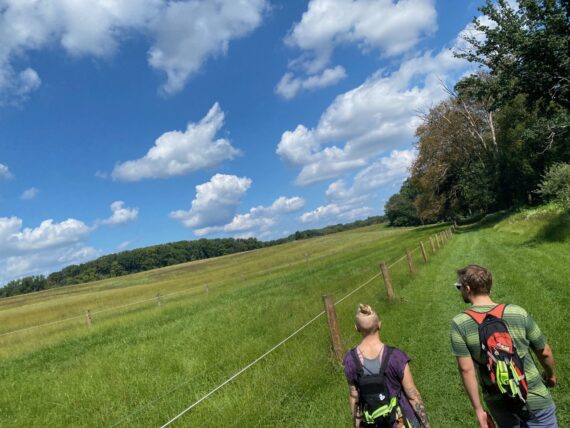 I loved these vast expanses here…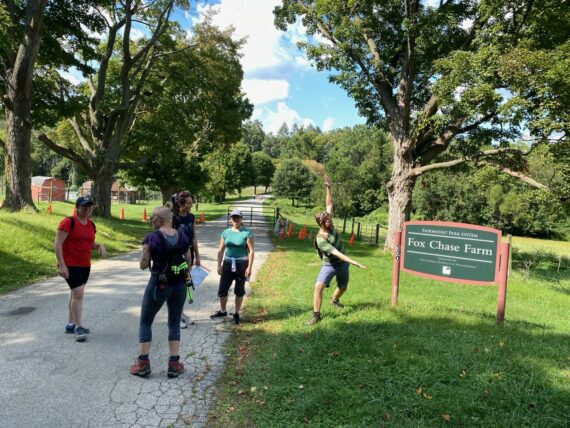 … and finding myself back at a place that was familiar to me, having approached it from a completely different angle.
This happens when you're walking the perimeter, especially as you undertake the adventure again (and again!) with new fellow walkers…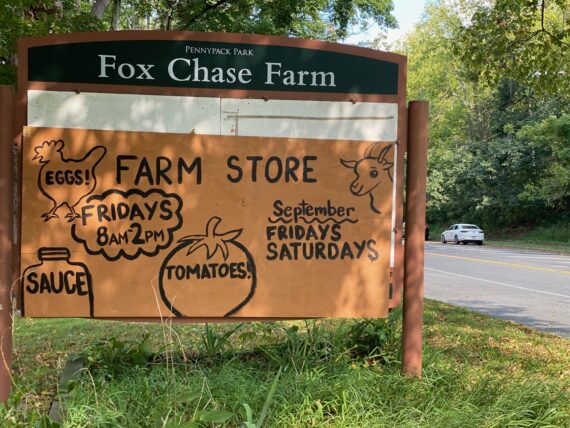 And there seem to be new things going on here, with a new farm store situation. We thought about detouring to check it out, but it was in fact 2:13pm already, and the sign says it closed at 2… so next time!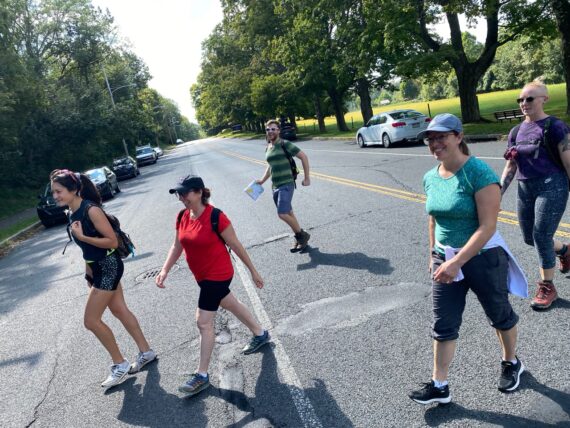 And so we crossed Pine Road again, and I tried to think up a clever "Why did the perimeter walkers cross the road?" joke…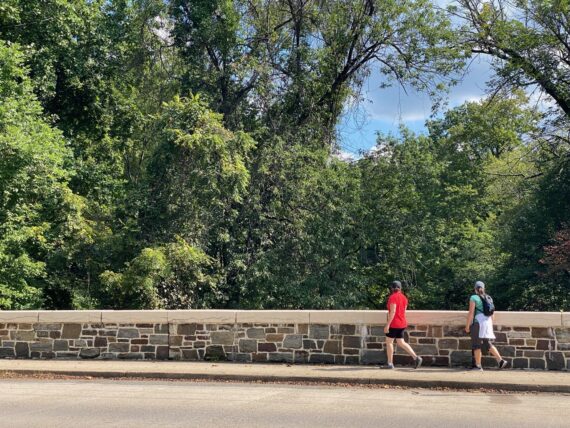 After we crossed the road, we crossed over the Pennypack Creek, and then crossed the road again…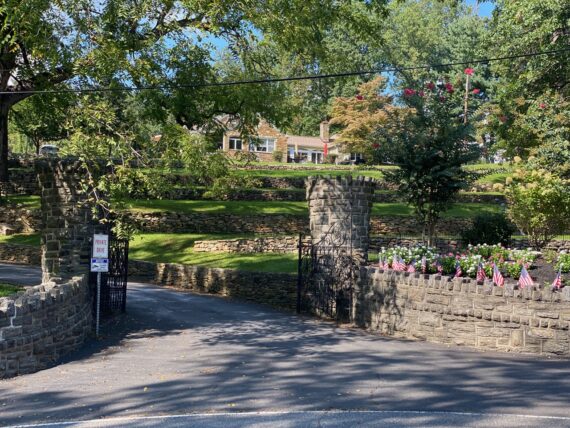 … this time to venture down some small side roads that seemed, on Google Maps, to offer a way to walk even closer to the perimeter…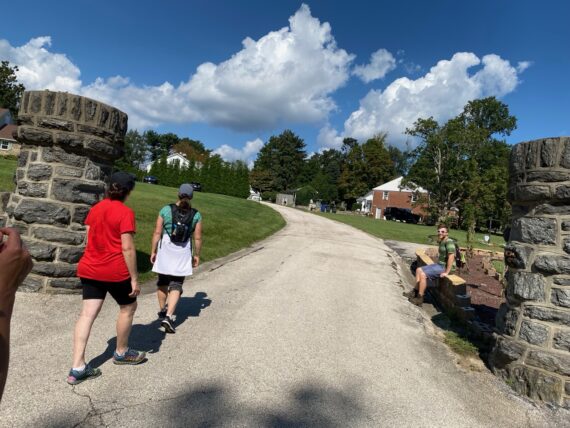 … but after a few zigzag detours it became clear that there were some private driveways and that we wouldn't be able to make it through, so we doubled back towards Pine Rd…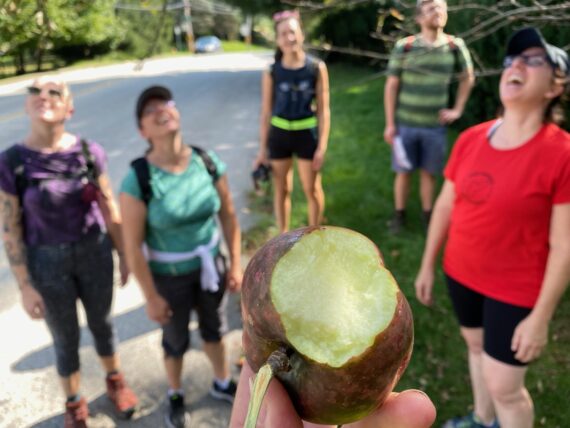 … where I caught sight of an apple tree loaded with fruit…
… and we all took turns drawing down the branches and picking apples…
Funny story: Bonnie & her sister Barb had tentative plans to go apple picking this afternoon if the walk wrapped up early. They'd already scrapped those plans as over-ambitious when they realized how long we'd be walking this day, but turns out they still got some apple picking in… Thanks Philadelphia!
(yes, we're squarely back in Philadelphia at this point, having crossed back over the actual perimeter near Fox Chase Farm)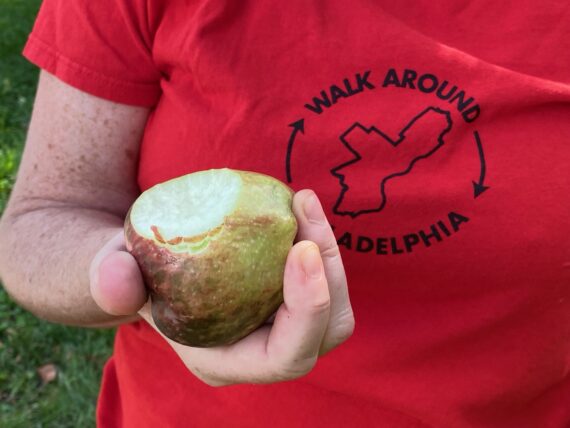 "How do you like them apples?"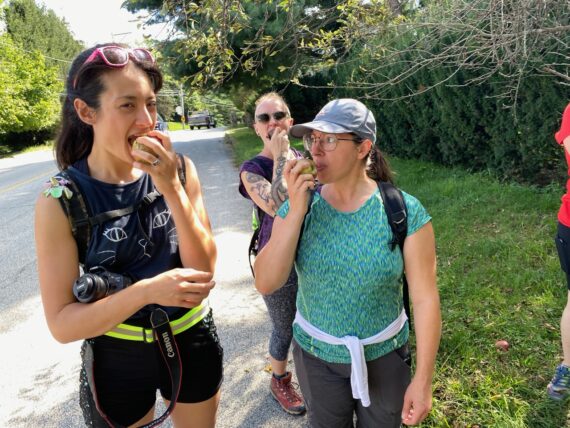 Turns out, there were just enough within reach for one for each of us, and everyone quite enjoyed them. 🙂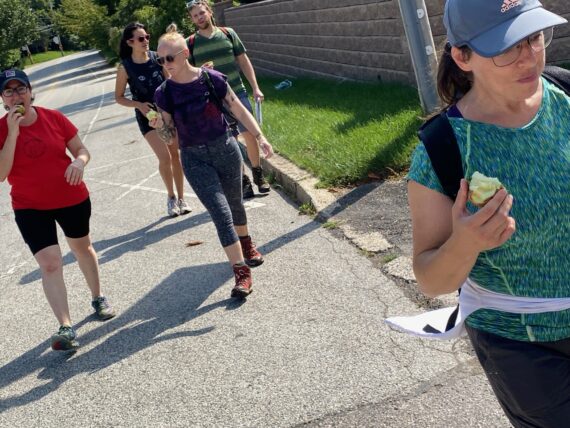 And so, we continued on…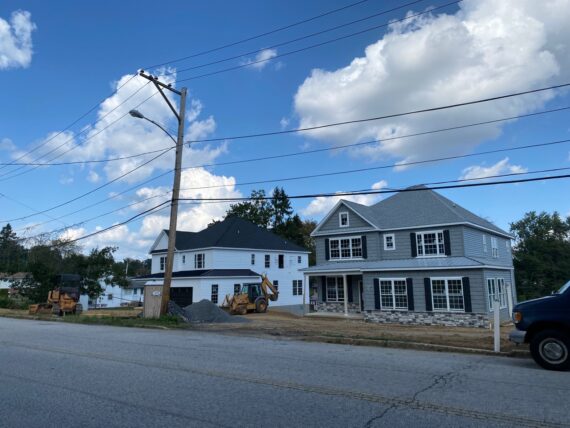 … passing by some newly build houses that I'd seen under construction during previous perimeter walks…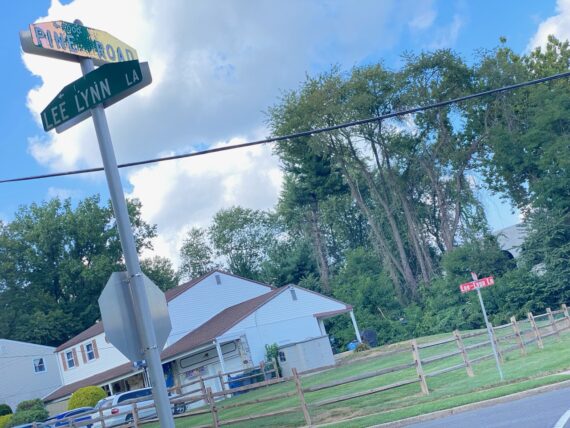 … and up to one of those funny border spots where you see two sets of street signs for the same intersection – the green ones from Philadelphia right across from the red Montgomery County ones.
According to my map, both of those signs are actually technically in Philadelphia, as is part of that house's yard.
But the house itself?
*Not* in Philadelphia.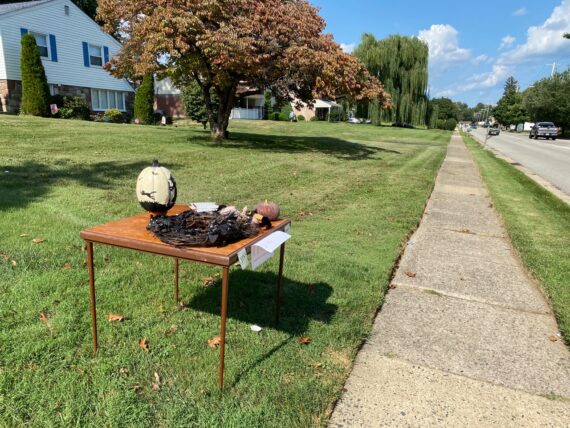 Continuing up Pine Rd, we encountered an unusual sight of a table of free Halloween decorations being given away…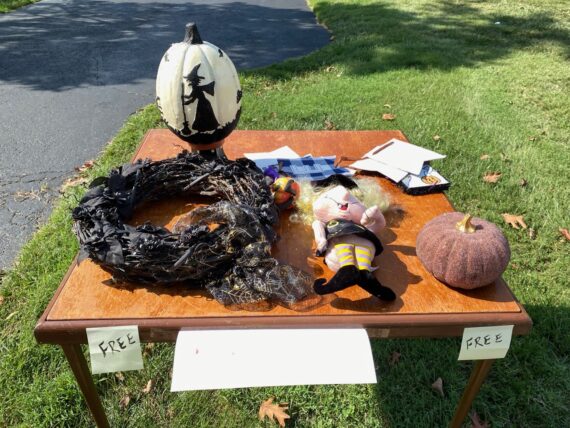 Where I live in West Philly, where there's a bit more density and a lot of pedestrian traffic, it's not uncommon to see free piles like this outside of houses – but I haven't ever seen anything like this in Northeast Philly!
(But surprise surprise, we'd encounter another similar thing before the day was over…)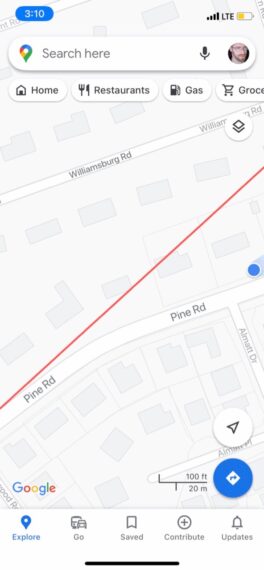 Up ahead I draw the group's attention to the detailed map, because this is another one of those strange corners where the perimeter seems to run *directly through* some yards and even corners of some houses.
We ponder what this means for things like property taxes, school districts, sewer line services and the like…
(If you know anyone who lives or works directly on the perimeter and might have stories to share about these unique border situations, please put me in touch with them…)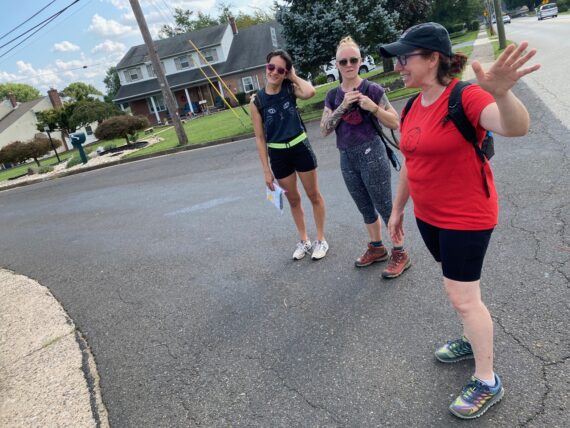 Here we start talking about some choices to navigate ahead…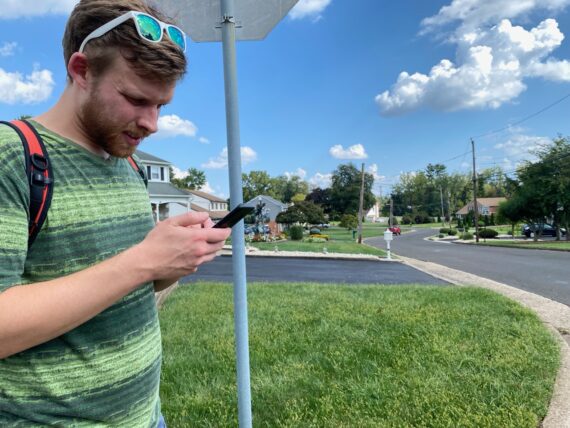 … and Ben notices that instead of just staying on Pine Road, we can loop down Steven Dr for a block or two…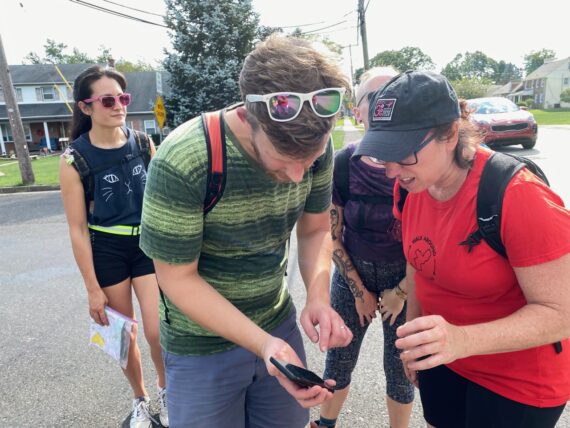 … this not only gets us a tiny bit closer to the perimeter for a few blocks…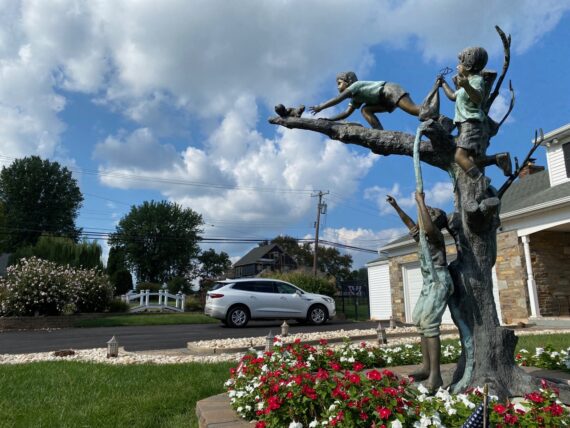 … but also gives us an up-close perspective on this cool sculpture of children climbing a tree and chasing squirrels…
Every single other time that I've walked the perimeter, I've followed Pine Rd here, and so many of my earlier photo blogs show the little bridge in the background there and the gazebos near it…
I'd probably technically seen this sculpture before in the background, but never really *noticed* it or gotten a good look at it.
This is yet another example of how the perimeter is a fresh experience with new discoveries every single time you undertake it… thanks for leading ups this way this time Ben!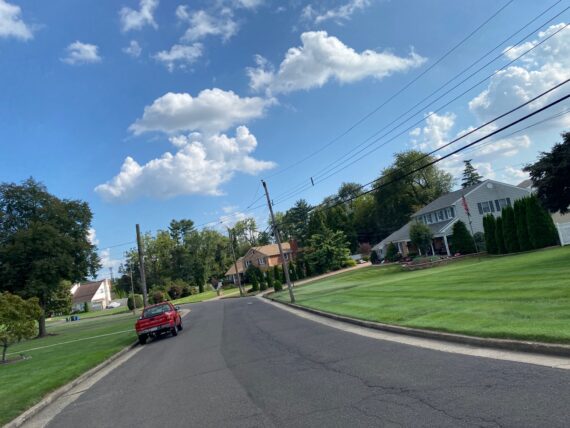 Continuing down around the curve of Steven Dr…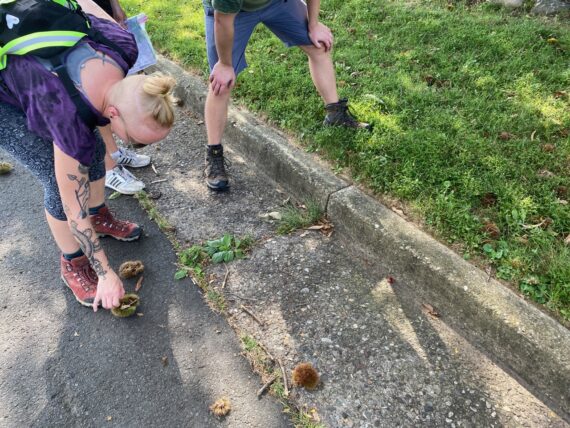 … we stop to notice some prickly balls on the ground.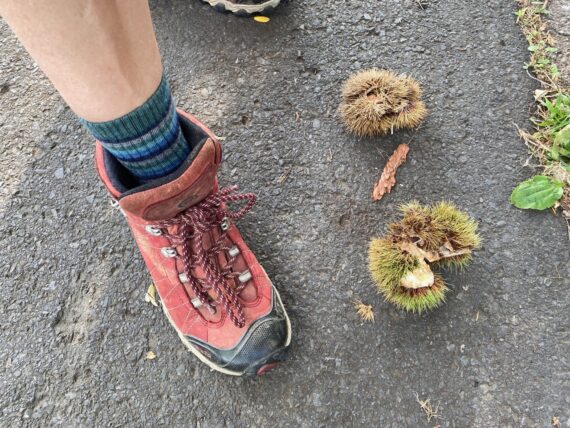 They're chestnuts!
We didn't eat any, but there would definitely be more tasty foraging before the day's end too…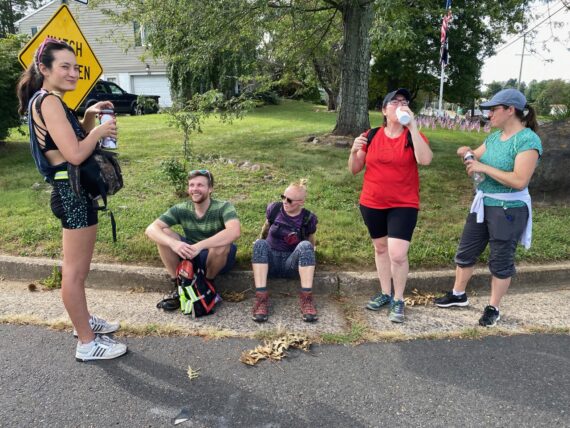 As we approached Red Lion Rd, we paused to hydrate…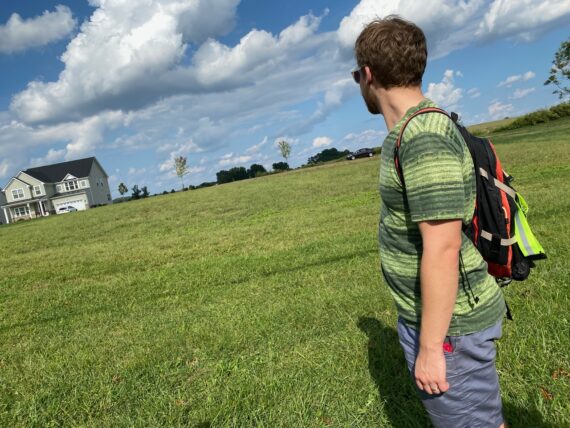 … and ponder the choices ahead.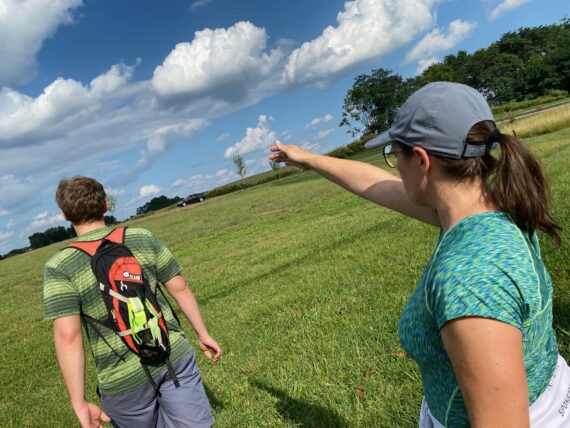 The perimeter line cuts right across this field, where on the "not Philadelphia" side…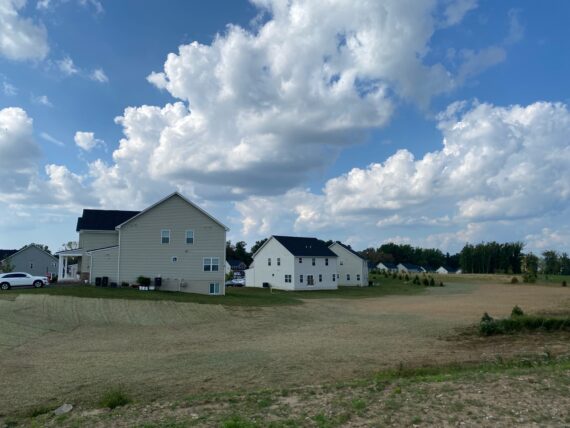 … I've watched this housing development be built over the past few years.
From "Coming soon signs" on the first walk in 2016 to a lived-in neighborhood now, the city keeps changing.
(Development & Decay are definitely on the theme list when I talk about the many lenses that one can see the city though when participating in Walk Around Philadelphia…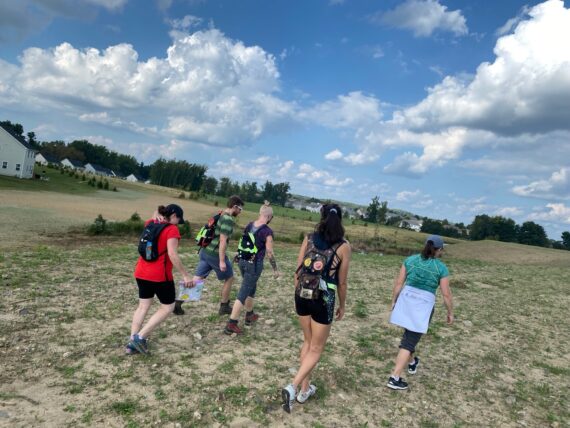 We think that all of this land was once industrial… and then a golf course… there's talk that some of the soil might contain some toxic stuff…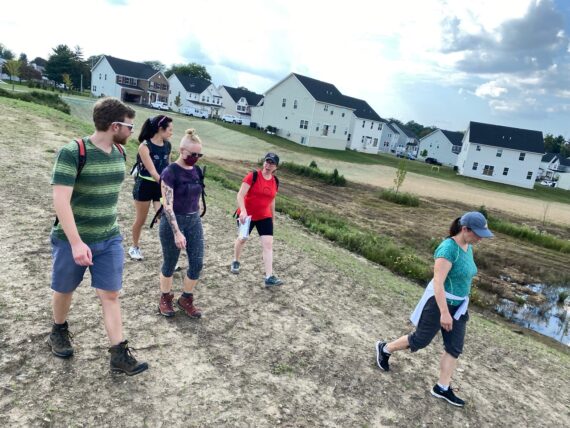 … which prompts one of our walkers to put their mask back on as we navigate the dusty ground.
(I don't know about toxins, but there were some golf balls in the dirt!)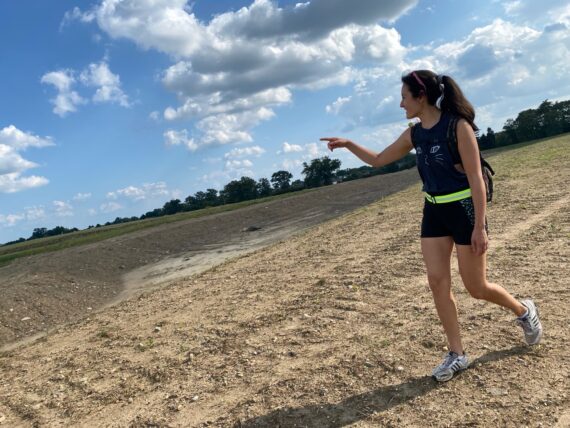 To our right, on the "Philadelphia" side, the land is still pretty barren – this is where I'd seen some other signs of building in past walks, and know that…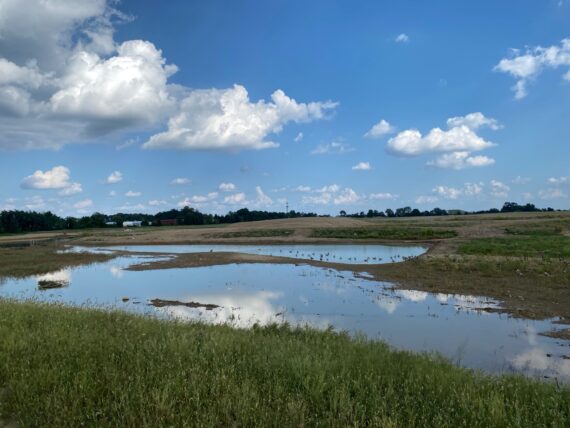 … under this little pond lie some large newly installed pipes & stormwater infrastructure.
I'm told that this Philly side of the vacant land is slated to be developed into a UPS shipping facility. Here's another situation where what was one large open tract of land gets two very different types of use based on which side of the border the land is on.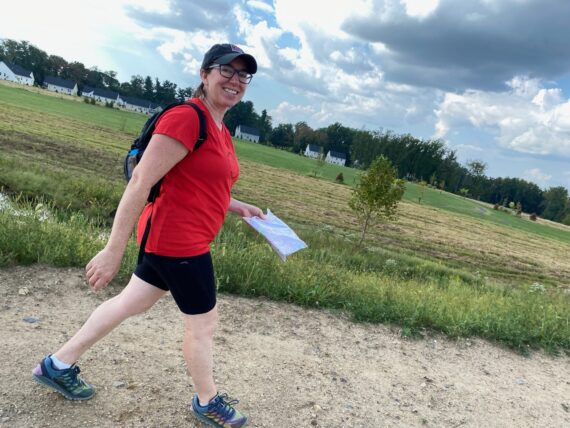 As we walk the ridge-line that is the perimeter, Bonnie is delighted to be discovering so many unexpected sights in this area that she thought she knew!
At the end of the field there's a choice:
The perimeter continues through a fenced in residential area, so one either has to detour west into 'Not Philadelphia', or east deeper into the city.
(I've had good adventures going either way, and once was able to pass through the fences and stay closer to the perimeter when a kind neighbor let me through their backyard…)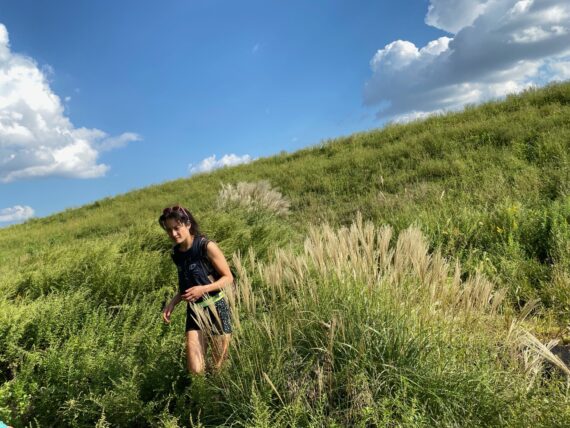 We opt to go West, making our way down the hill through some tall grasses…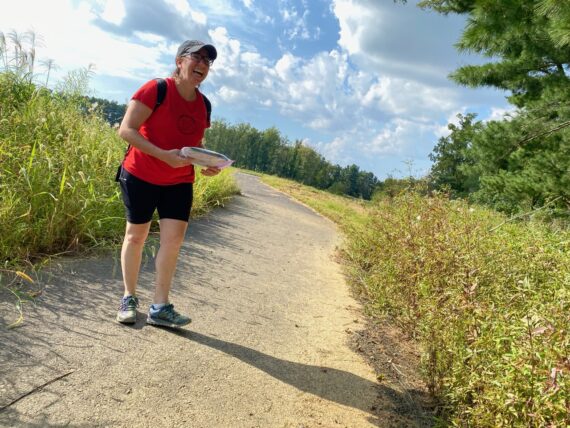 Bonnie has told us that if we head further up Pine Road, we'll come to an amazing taqueria near the Philmont station, and that's a tempting incentive to take this path…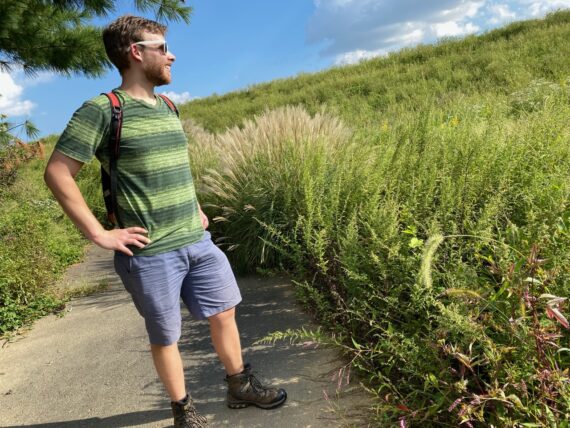 … meanwhile, Ben is delighted by the day's adventures and says that he'll never look at this part of the Northeast in the same way.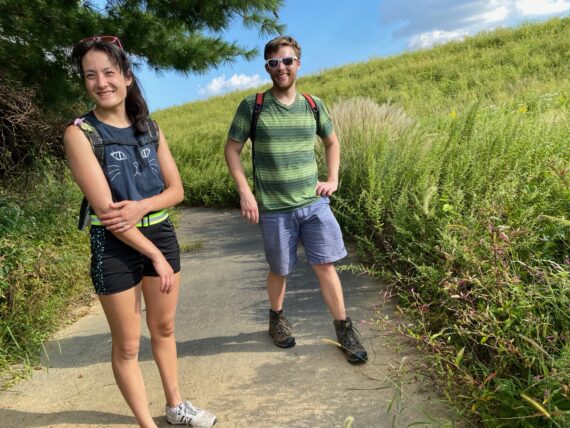 He's glad that Rebecca dragged him along for this spontaneous adventure instead of doing computer work today!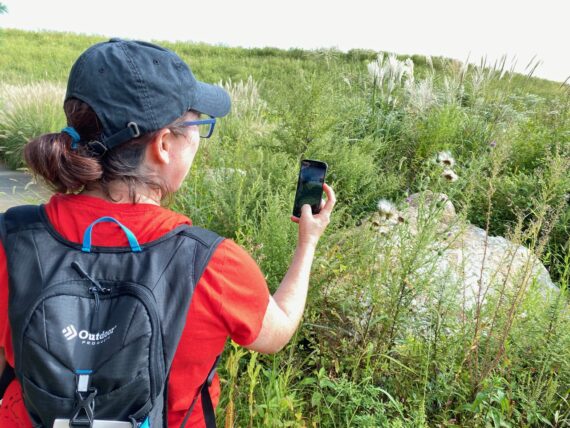 One more snapshot of some pretty wildflowers…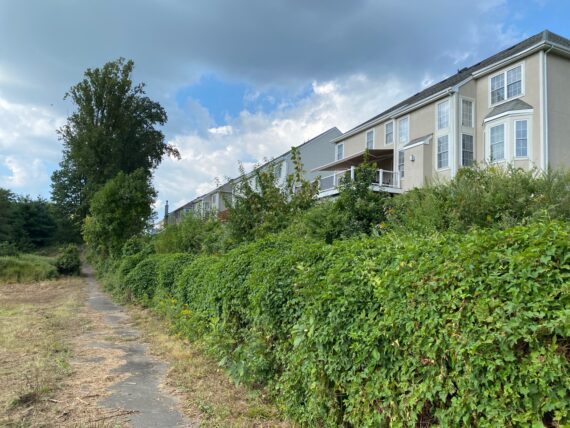 … and we're off along this path that follows the fence line.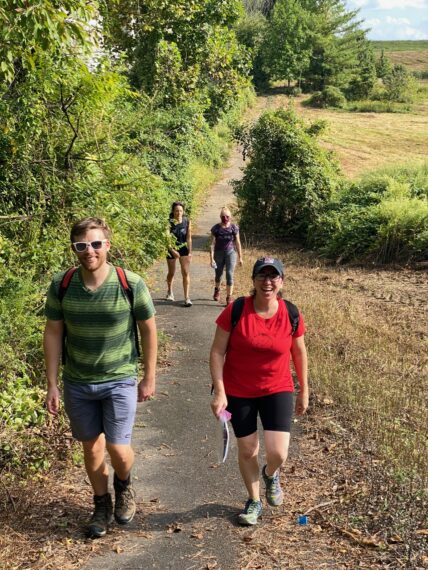 I've gone this general way before, but I don't think I've actually ever been on this particular path…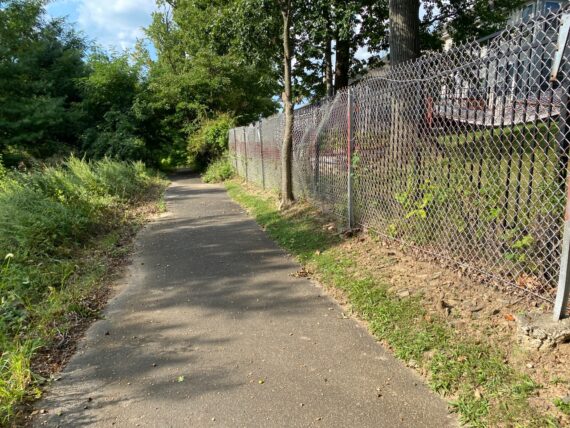 … it clears up a little bit more further ahead…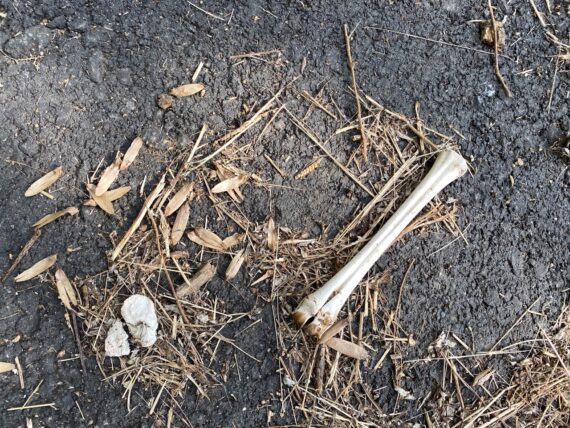 … and we encounter a set of bones on the path.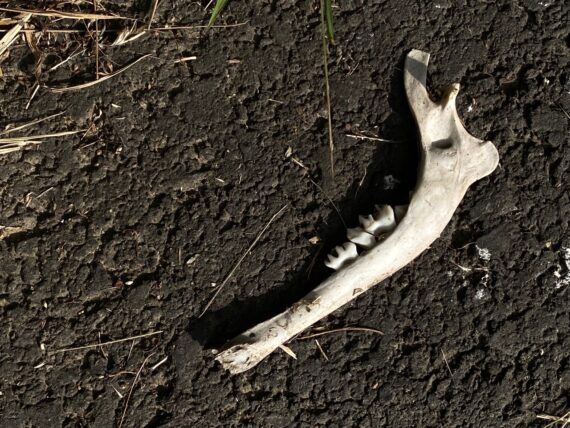 This is another regular theme of the walk: one encounters roadkill, bones, etc… a good reminder to contemplate mortality & the preciousness of our fragile time-bound lives as fleshy creatures.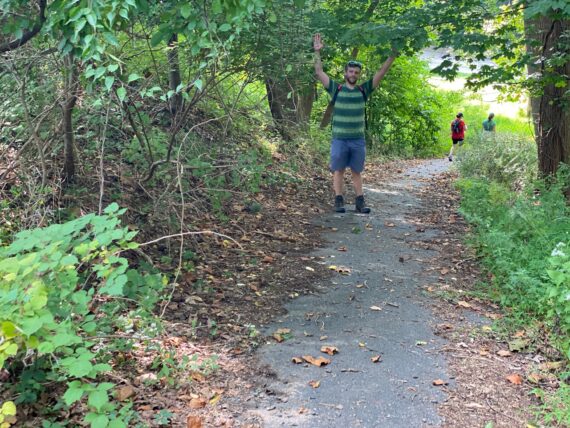 Here's the final slope down out of this semi-wild area…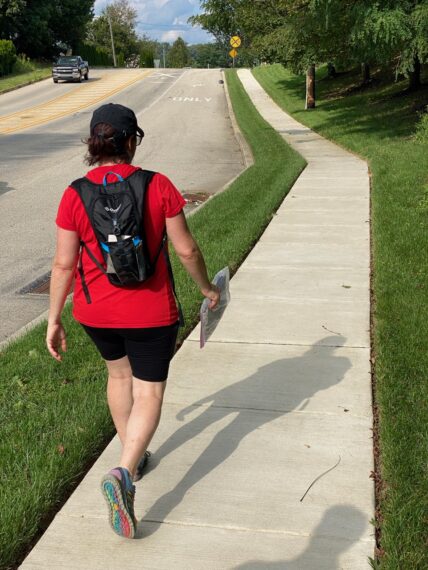 … and we're back on the pavement on Pine Road (but definitely not in Philadelphia on this part of it…)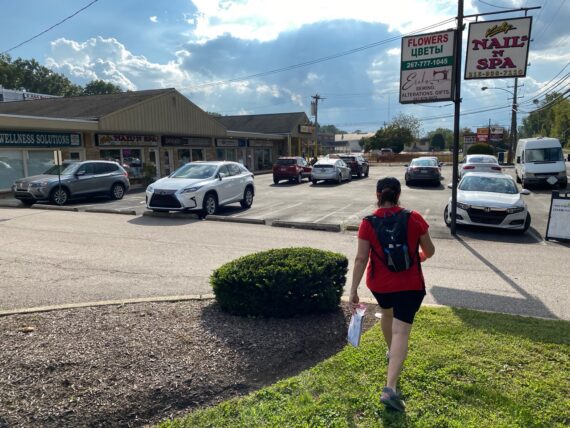 Bonnie leads us on a tiny detour to a nondescript strip-mall…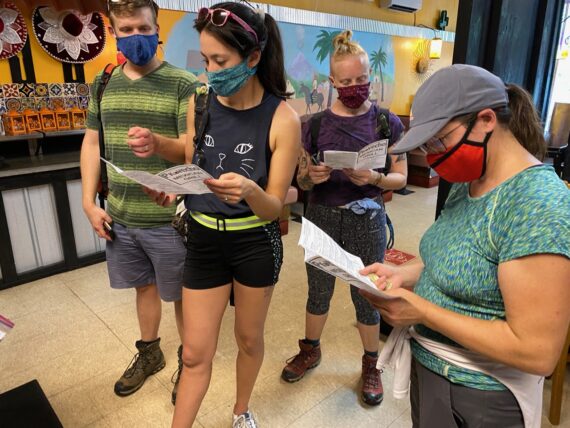 … where we have an opportunity for tasty snack of mexican food.
Here's an interesting perimeter / border thing in pandemic times: we've been used to wearing masks indoors and seeing restaurant patrons / workers masked as well with Philadelphia's current mask mandate, but here just outside the border, the workers & other patrons weren't wearing them.
Of course viruses don't really care about mandates or borders, but I probably wouldn't have noticed differences in public health policy across the border before the pandemic.
(Although one doctor friend has spoken of the significant differences across the border segment that we'll be walking next weekend: the Delaware River that separates Philadelphia from New Jersey)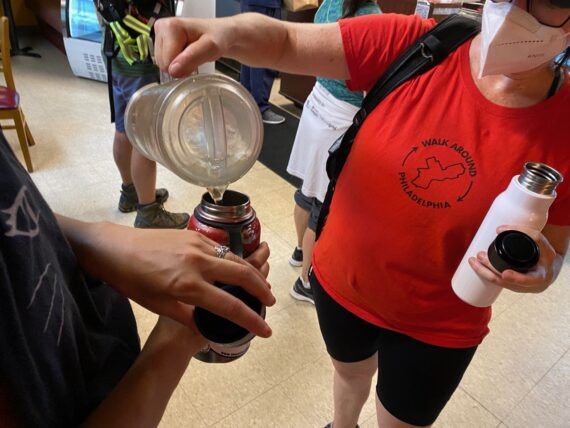 This is also a great opportunity to refill our water…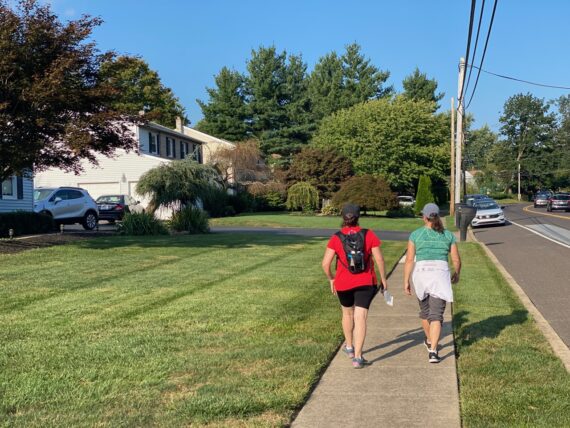 … before continuing on our way, now on Philmont Ave to stay closer to the border.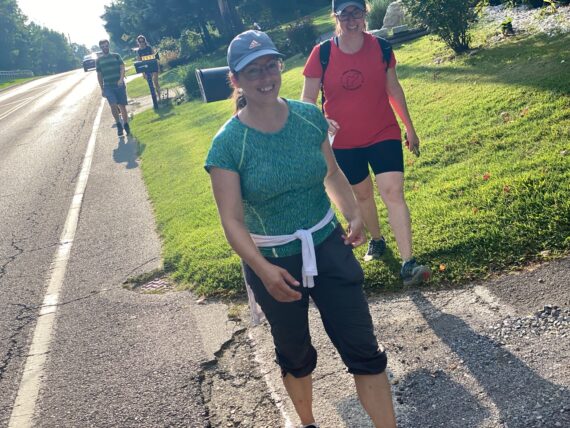 We're getting close to Bonnie's house, which is quite close to the perimeter on the Not-Philadelphia side. She & Barb are going to have to peel off here…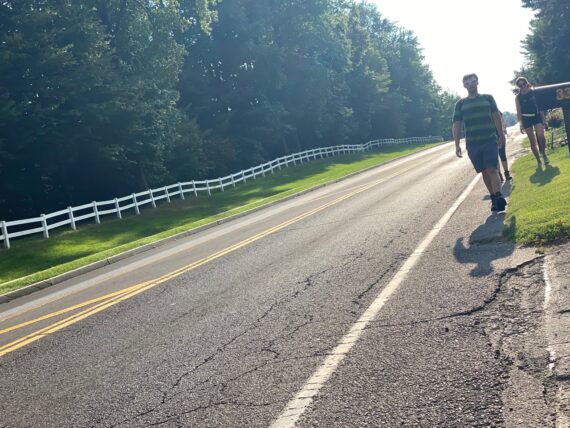 … and so instead of continuing on the straight line road that I've walked before…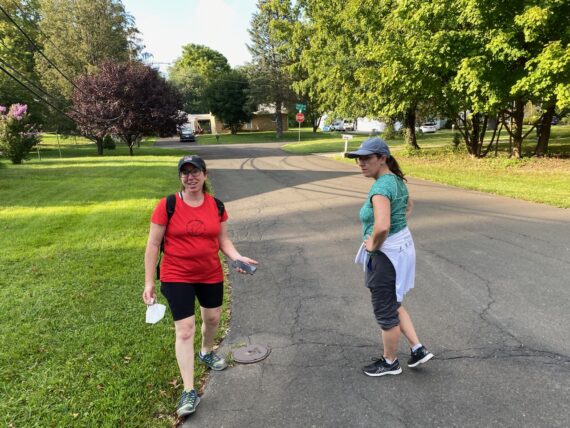 … we peel off into this little residential neighborhood…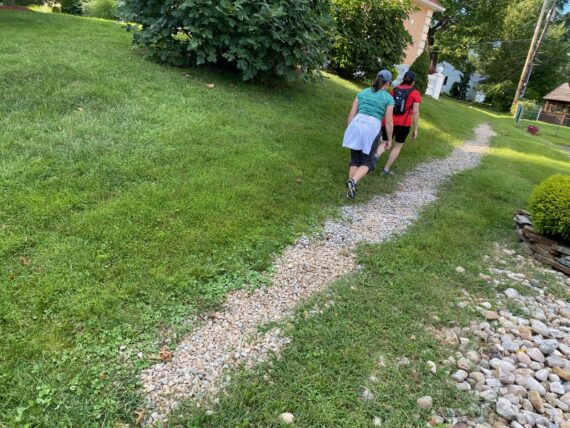 … taking a little trail up between some houses…
(This is the kind of place where it would definitely feel inappropriate to be traipsing through someone's backyards as random walkers if we didn't have a neighborhood guide who lives right there inviting us.)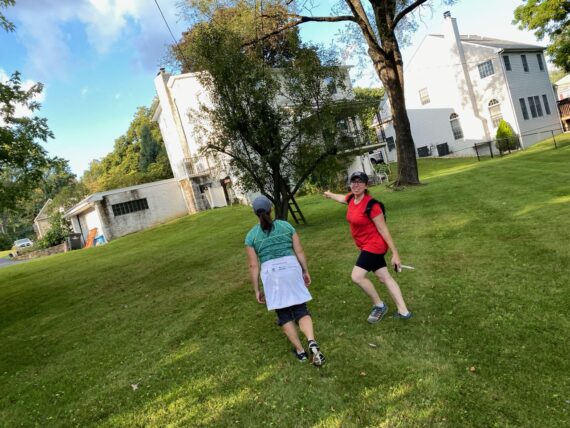 … the path leads straight to Bonnie's backyard, where there's a pear tree with some tasty pears to be picked.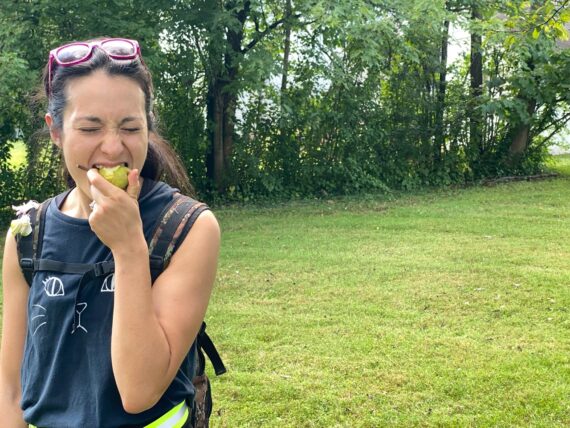 Yum!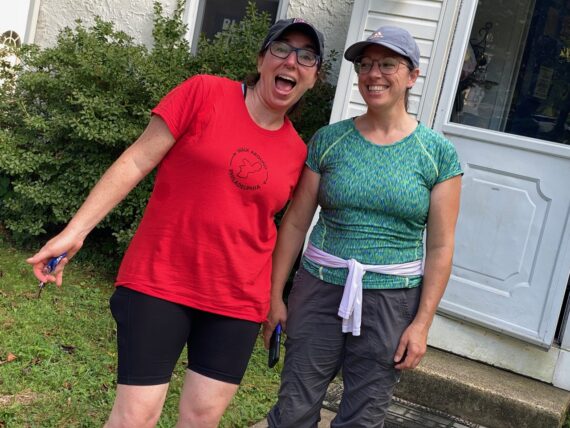 We bid farewell to Bonnie & Barb, as Barb has to drive back to NYC this evening, and we continue on towards Forrest Hills Cemetery, which lies right on the upper edge of Northeast Philly.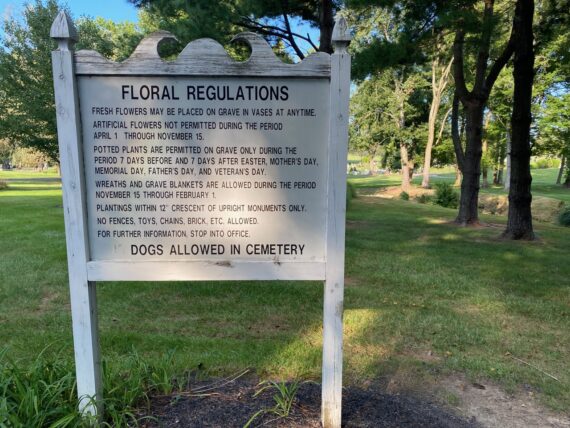 Entering the cemetery from this western approach is new to me – I've never seen this sign about the specific floral regulations …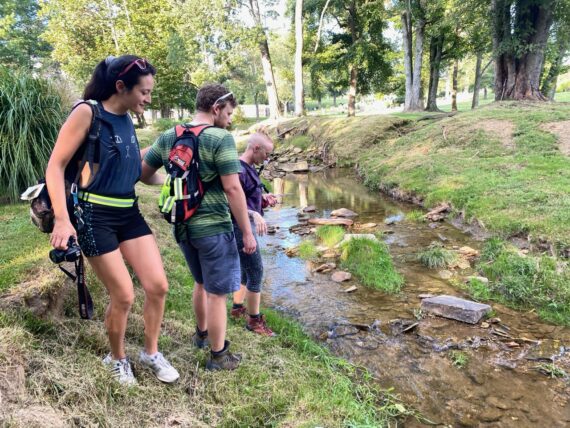 … nor this creek that passes through the cemetery.
Not pictured: the magical moment where, as we approached the creek, a great blue heron burst out from the creek bed and flew away.
There's lots of those magical moments of nature in this pilgrimage, but I'm just taking some snapshots to tell you about the project, not trying to be a nature photographer here…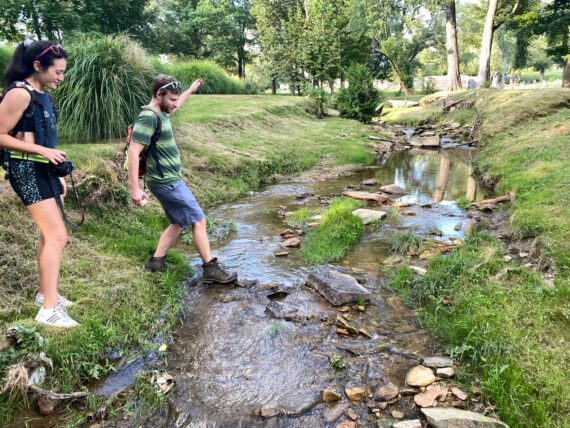 We could certainly find a bridge further upstream, but test our balance on the rocks …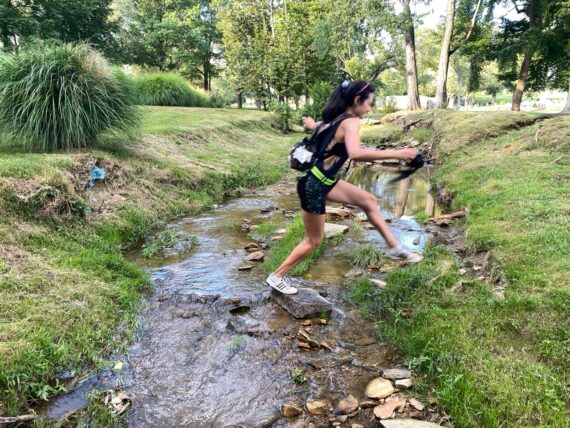 … and make our way across the creek right here.
(The potential for these little impromptu water crossings are the reason why the Walk Around Philadelphia packing list suggests 2 plastic bags to wrap around your feet to keep your shoes dry if needed…)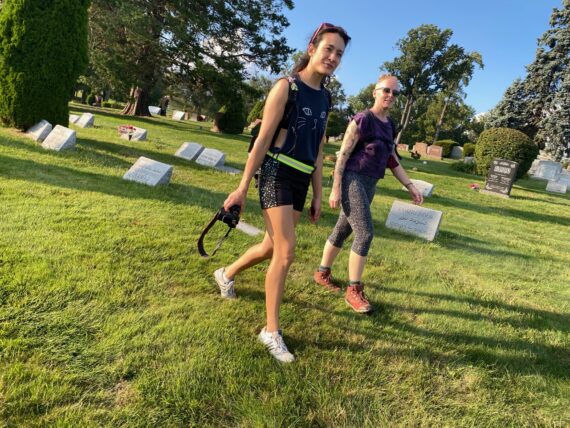 We make our way back towards the actual perimeter line which bisects the eastern edge of the cemetery…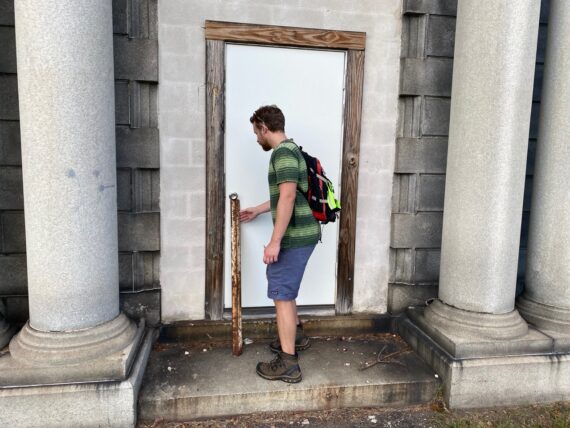 … stopping to check this tempting door into a crypt, which is of course locked.
( Except for that one time, in February 2020, when it WAS open. That was kind of amazing. )
For a glimpse of what's in there, bookmark my essay The Edge published in The Pennsylvania Gazette or download the pdf for the beautiful layout that the Gazette's art director Cathy designed.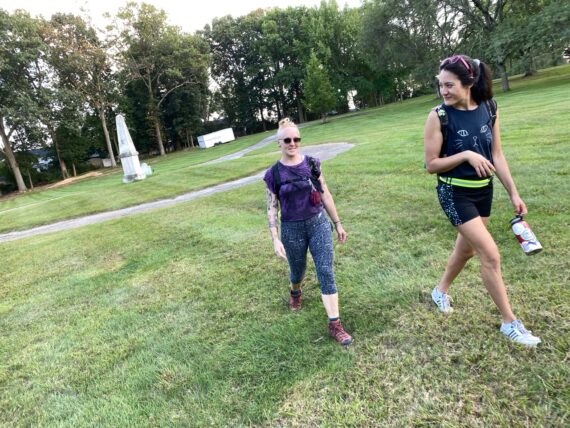 We find our way to the edge of the cemetery…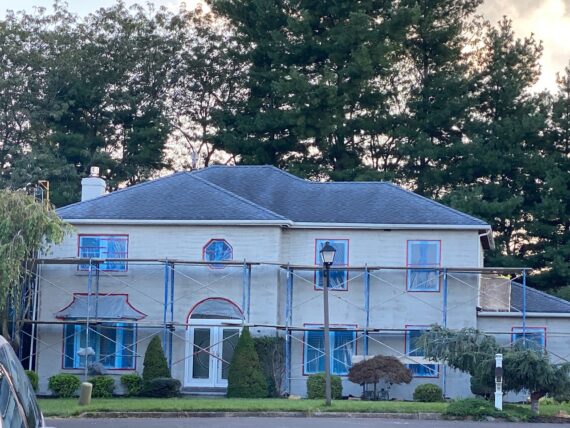 … and into a neighborhood where this one house is undergoing some sort of work on its facade.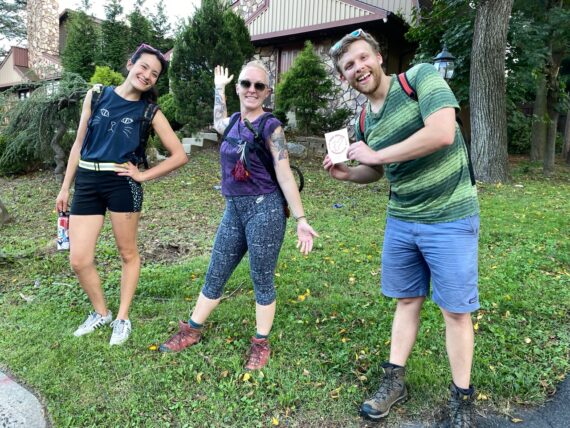 We stop for a photo op in front of the northernmost house in Philadelphia, at the tip top of NorthEast Philly..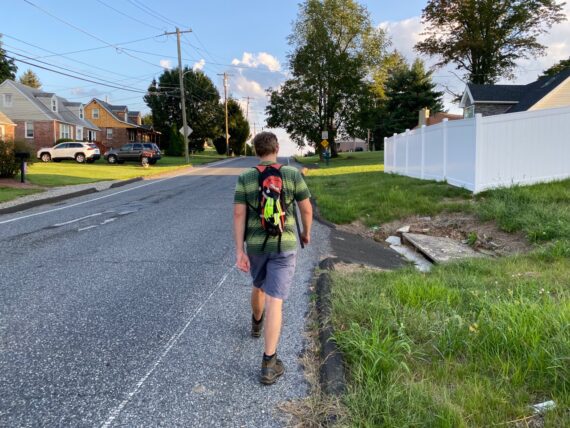 … before covering the last little bits of today's journey towards the Somerton regional rail stop.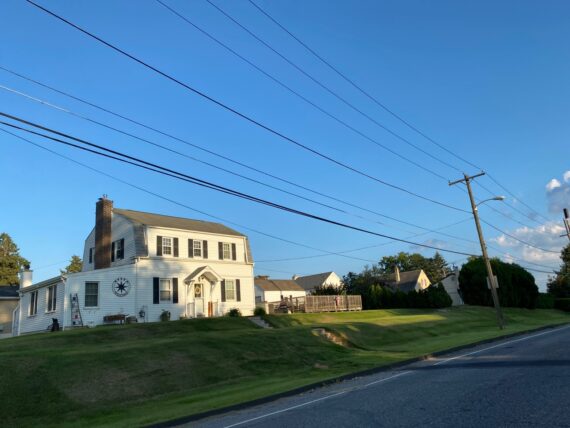 Since past itineraries have been longer walks continuing on along County Line Road, this little set of roads towards the Somerton station are brand new to me…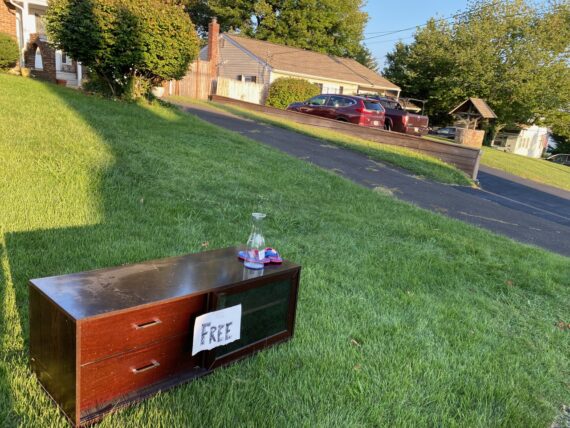 … and here's one more random free giveaway!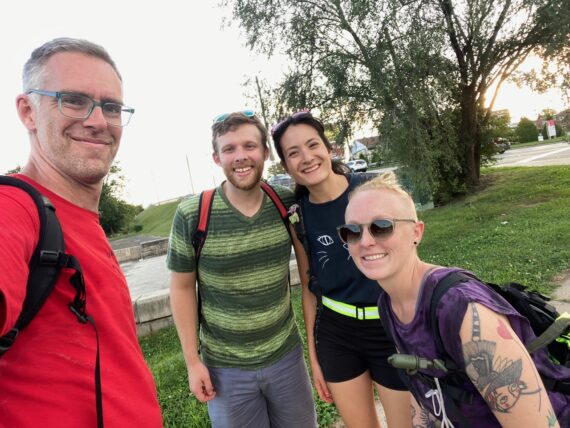 … here it's time to say farewell, as Ben, Rebecca and Maegan are catching a rideshare car back to where they'd left their own car at Fox Chase…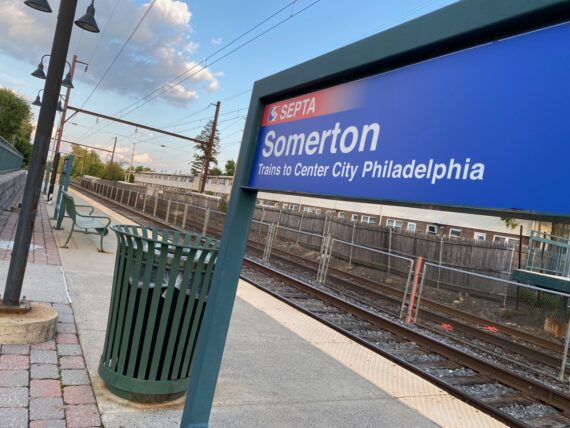 … while I'm catching the train all the way back home. Segment 4: DONE!
Segment 5:
Somerton towards Torresdale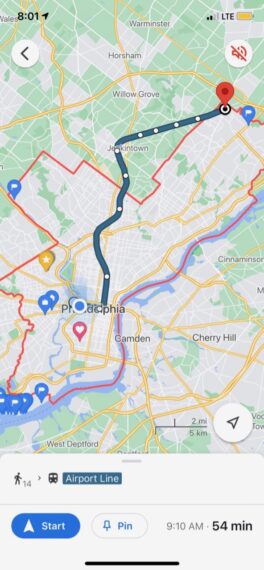 I caught the train right back to Somerton the next morning to resume where I'd left off.
One of the great things about using SEPTA while doing the walk is that there are many public transit options all around the perimeter, and taking bus & rail across the city to the various start and stop points gives you opportunities to see other facets of the city contained within the perimeter. This might inspire other future walking adventures…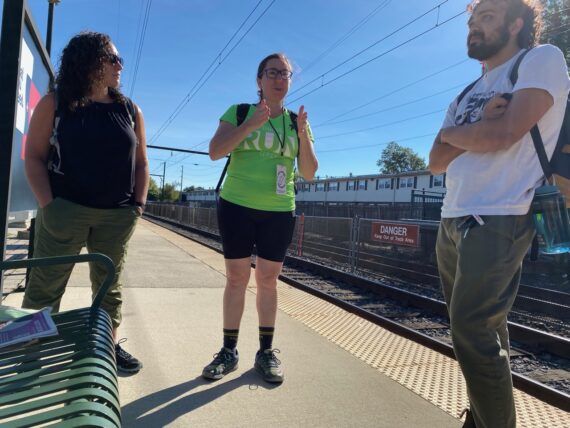 Bonnie was able to join us for a second day of walking to catch the other part of the perimeter that starts close to her home… this time instead of her sister she brought another friend…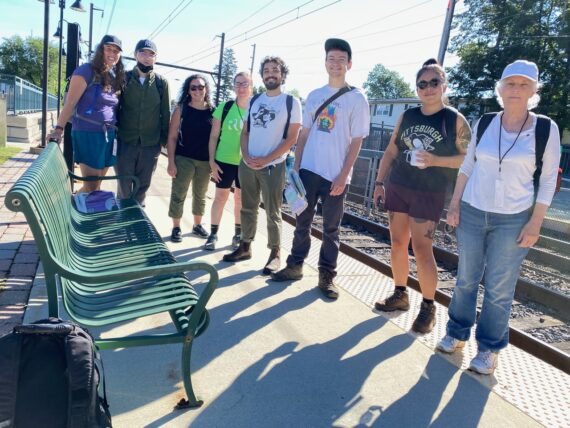 We were joined by a few other veteran perimeter walkers and a few more students from that Temple University sustainable cities class.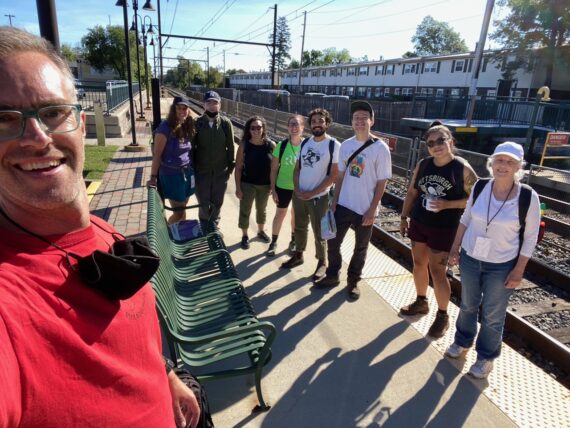 One quick selfie with the group before heading out…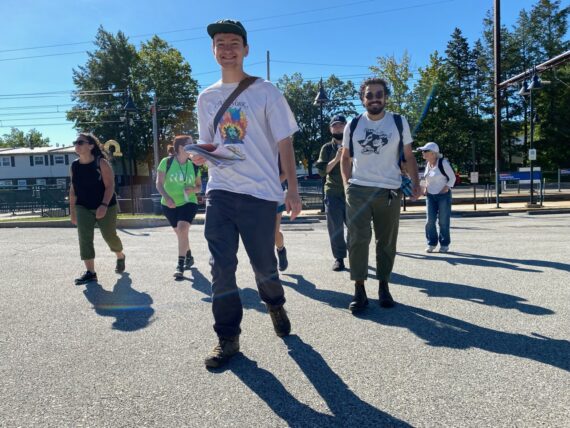 … and I again left it to the students to make our initial navigation decisions…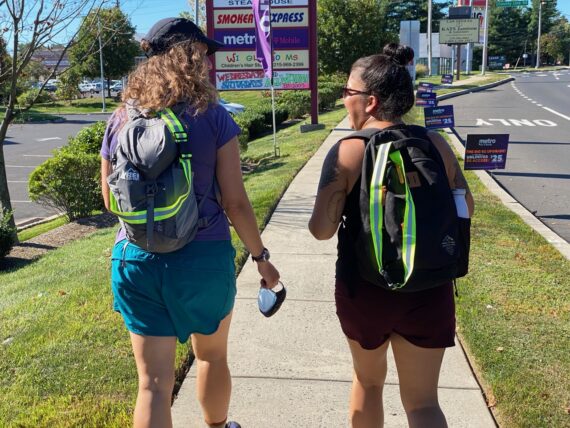 … while Karen & Michelle, who'd walked together in the Feb 2020 walk, had an opportunity to reconnect.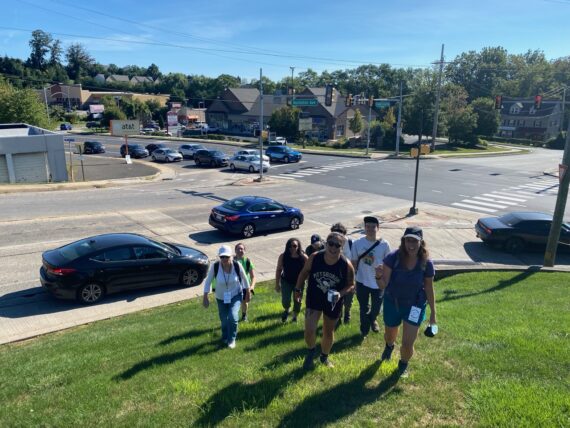 In this snapshot at County Line Road, the group is walking directly away from the perimeter…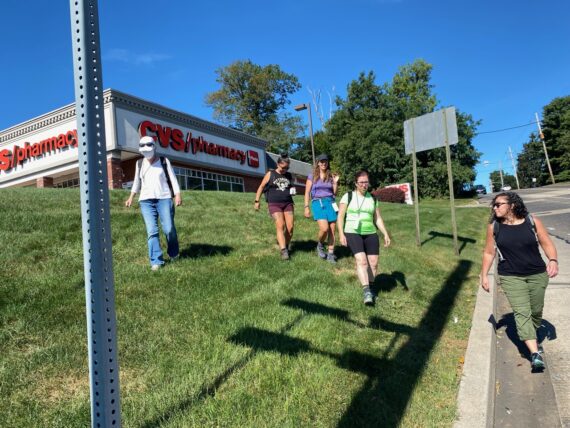 … that's because there was some pressing early morning business to attend to in the pharmacy's bathrooms.
Accessibility of public restroom facilities is another issue that the walk gives us an opportunity to contemplate. What privilege is required to be able to wander into a pharmacy to use their bathroom? Who might not be allowed to?
Where are the places where there's no bathrooms to be found? We might be inconvenienced or have to poop in the woods for one day because we've elected to go tromping around the city's edge, but for others these are the challenging realities of everyday life…
Here's a funny thing: Our fold-out paper map shows County Line Rd continuing all the way across to the Poquessing Creek Park, but in reality it stops at Bustleton Pike and we find ourselves at a lawn with a picnic table…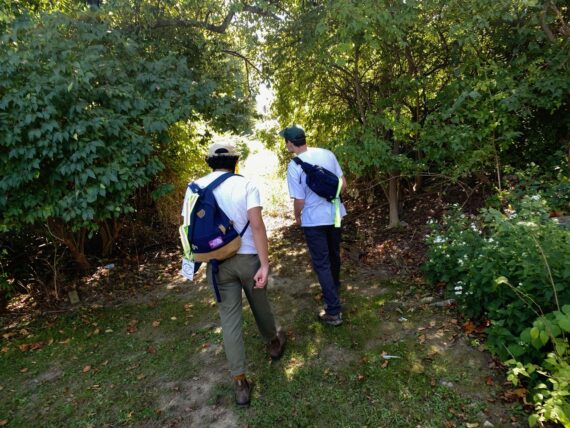 … but our intrepid explorers have a good sense of where the perimeter line is and spot a way forward…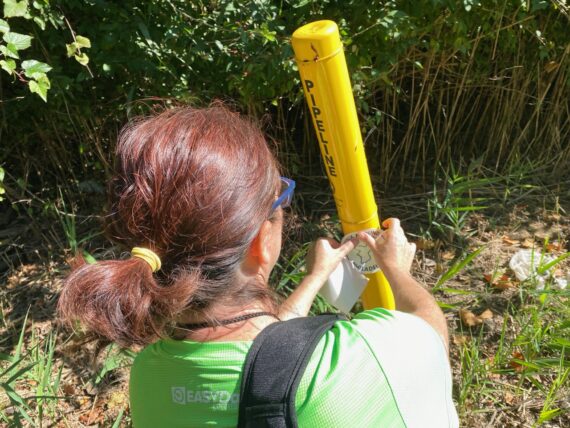 … where these yellow posts indicate that there's a petroleum pipeline following the perimeter here…
… and so we adventure forth into the clearing…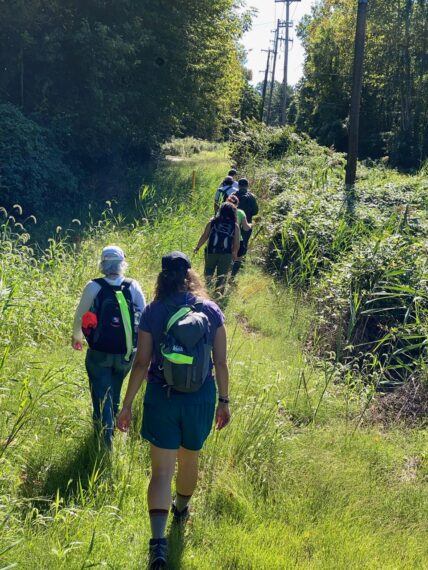 … and make our way through the tall grasses along the pipeline and power lines.
We come to a creek crossing up ahead…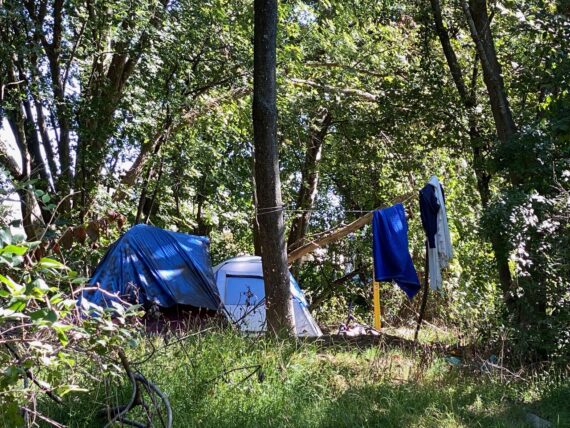 … nearby is a spot where a neighbor's established their shelter…
This is the way that I've gone most times but we want to give whoever lives here a wide berth. Those living on the margins of society (here both literally and figuratively) are generally more vulnerable than most members of our group and we're probably a greater threat to them than they are to us.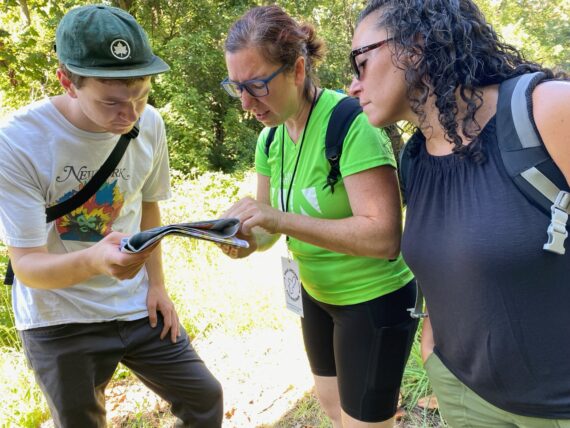 The group takes some time with the map, trying to figure out how to tackle the approach ahead. They opt to ask me for a hint from my past experience…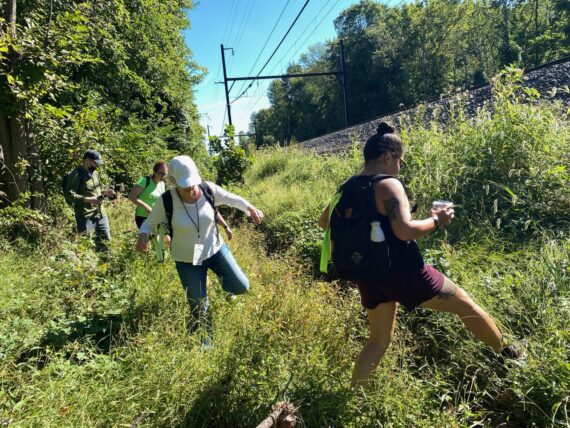 … so I point them around to a place where the creek is just a trickle and much easier to cross.
Note: my hints aren't necessary. If I hadn't been there, the group would have simply applied our "Roomba Rule", navigating new terrain like a little robot vacuum cleaner bumping its way around obstacles.
Turns out, with enough perseverance, there's always a way around any obstacle, and that's part of the adventure of the many winding zigzags of the walk…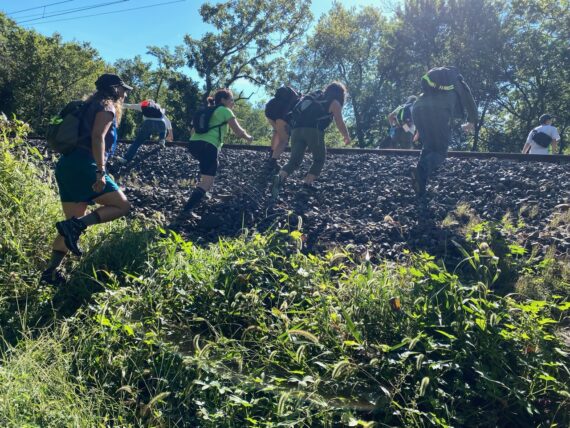 From here it's a scramble up to a rail bed…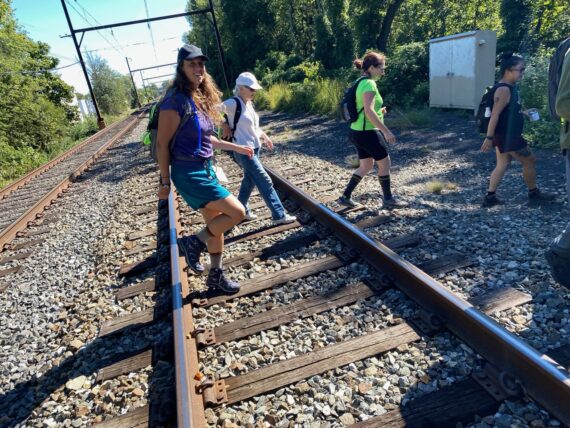 … and swiftly across the tracks with extreme caution!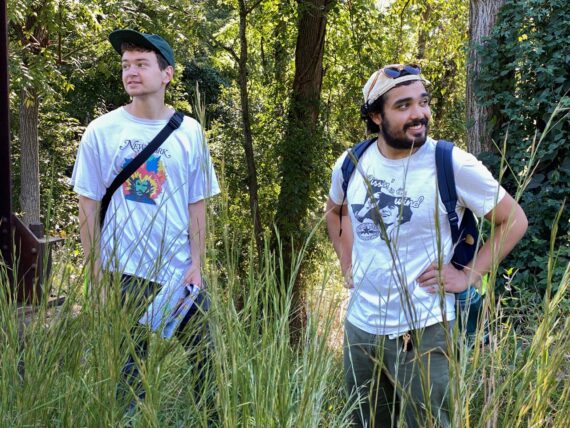 Kinda great to have this kind of adventure and discovery as part of your homework for class, right?
Thanks Prof. Pearsall @ Temple for partnering with Walk Around Philadelphia for your class!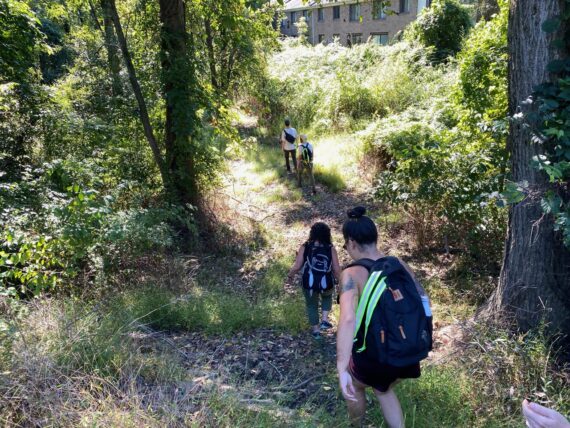 Heading back down from the railed…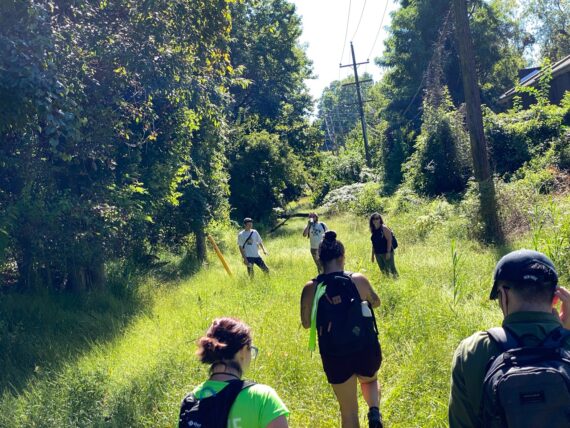 … it's another stretch of pipelines and power lines and…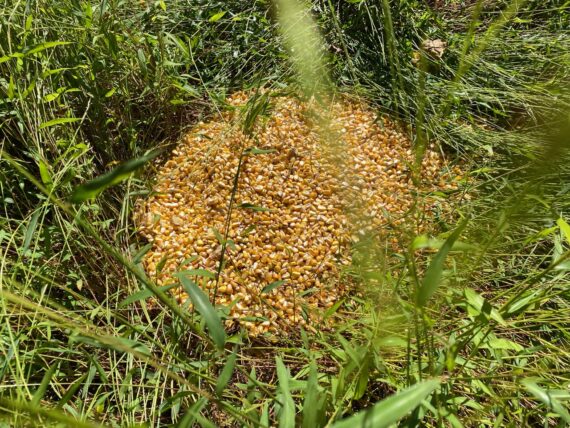 … corn?
There were two big piles of corn kernels out here… rather strange surprise, but then again strange surprises are par for the course on the perimeter walk…
My guess is that someone put these out to attract deer for them to watch from their back windows…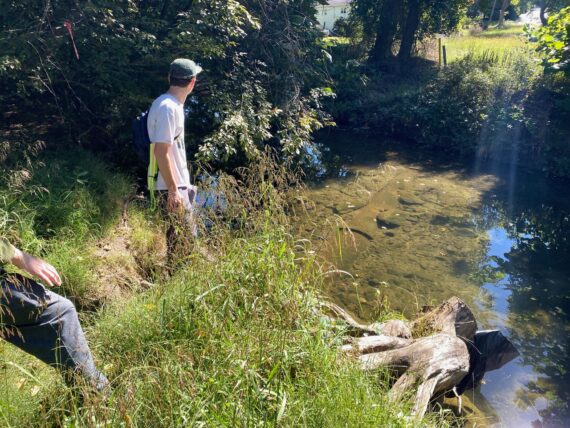 Up ahead is another creek, this one looking even wider than the first.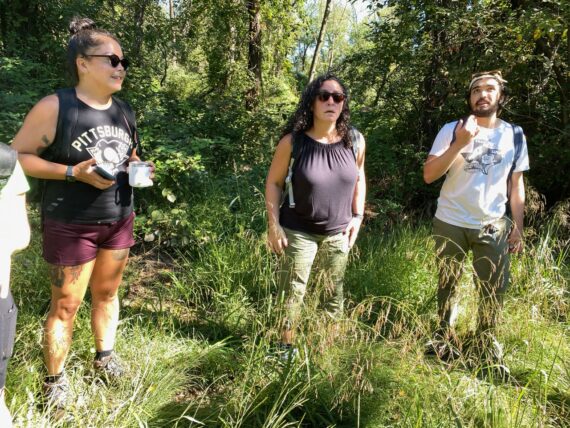 Another moment of hesitation here, as this looks too deep to ford easily.
But a little bit further along….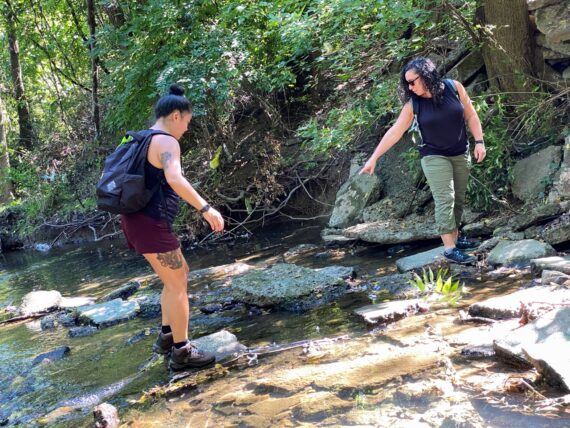 … is a part that, while tricky, seems manageable.
This is where I bid the group farewell, and doubled back to the starting point to meet the day's 2nd group. I would have just backtracked, but someone pointed out that I could take a shortcut…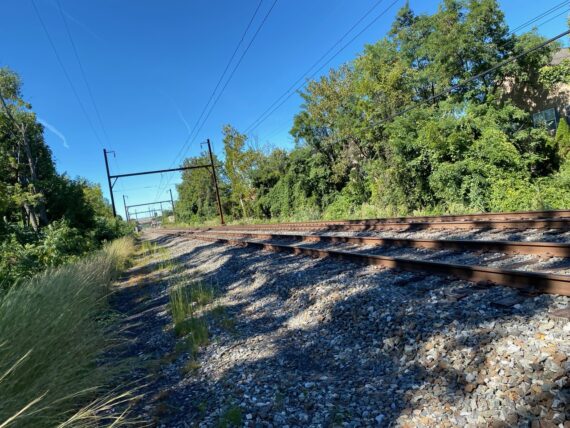 … by following the rail tracks directly back to Somerton Station to rendezvous w. Group 2.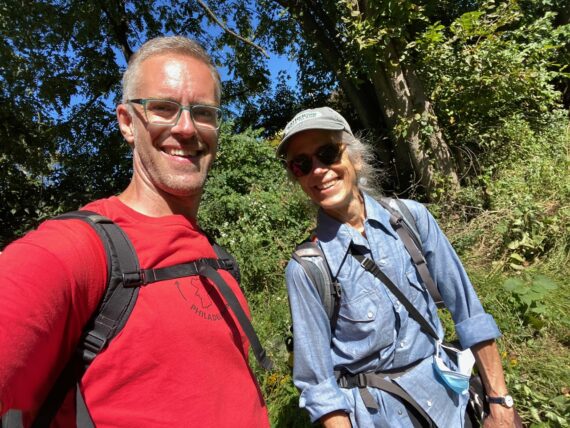 And it turns out that today's 2nd group is just Jenny & I – which would be great except for one thing…
Walking with just one other person is great for the potential for rich conversation & experience together…
It's not so great for safety though, which is why the recommended minimum for groups setting out to participate in Walk Around Philadelphia is groups of 4.
Unfortunately I wasn't able to get the FringeArts ticketing system to set minimum participant numbers, and here we were just the two of us…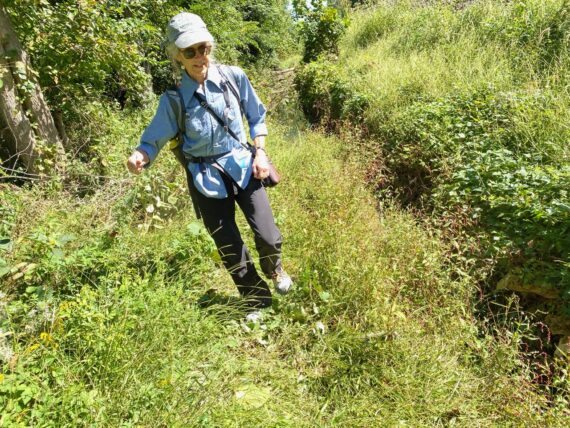 I mention this because as we set out along the same path, and tried to cross that second stream…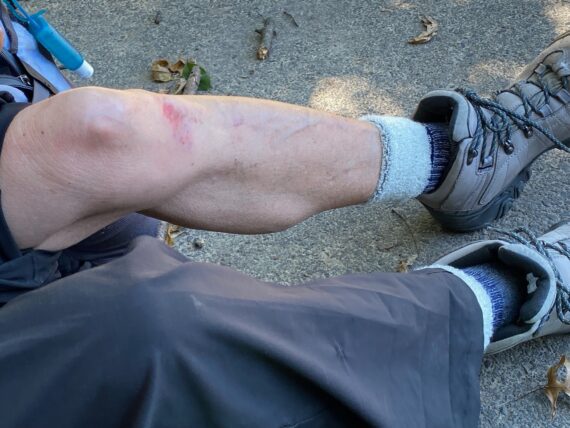 … Jenny took a spill on the wet rocks, fell in the creek and banged her knee hard.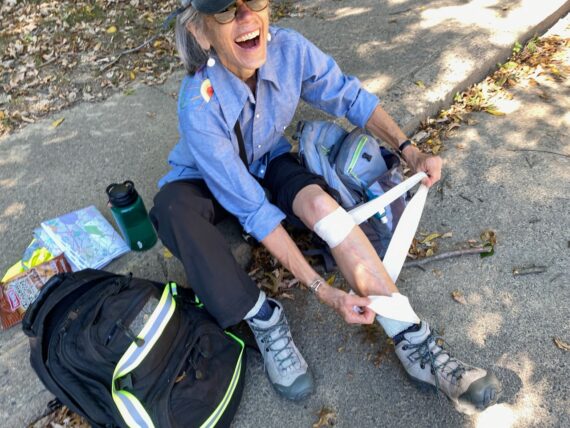 She was in great spirits, not seriously injured and ended up walking over twelve miles to the day's end… but this was a sobering moment for me.
While I've asked participants to fill out liability waivers and made it clear that this is an "adventure in public space at your own risk" kind of situation, I still feel some amount of concern and responsibility for everyone to have a safe and positive experience.
Had she had a worse fall involving a compound fracture & bleeding, this could have been bad.
We were lucky. Even with cell phones to call for help, perimeter-walkers often find themselves in strange enough corners that, while never far from roads, might be hard for first responders to find. There really need to be at least three people per group so that if someone's hurt, someone can stay with them while someone else goes for help.
Lesson learned: I'll have to figure out different situations with participant numbers & group structure to make sure that groups this small don't happen with future iterations of the walk. (I'd roped in enough experienced perimeter-walkers to have at least two folks experienced with the project in each of the first groups, but clearly that wasn't enough.)
Having confirmed that she was fine to continue walking, Jenny & I set forth along the last segment of County Line Rd, where we encountered this Philadelphian: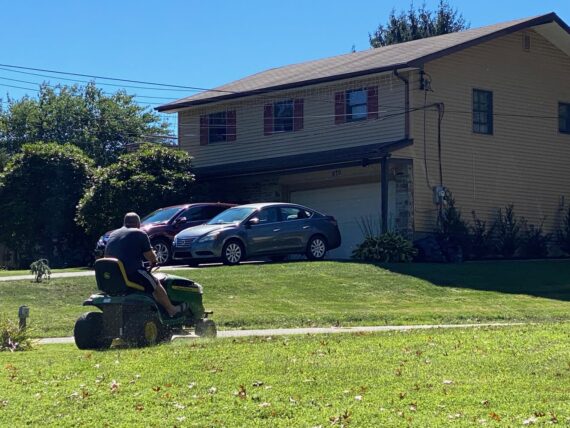 I don't usually think of Philly residents as driving lawn tractors, or having lawns large enough to justify such a thing… but this is a different part of Philadelphia than my neighborhood of row houses.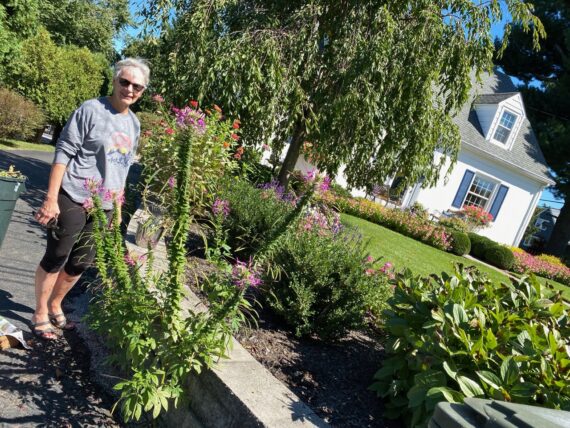 Across the way in "not Philadelphia", we met a kind neighbor out tending her garden, who offered bathroom access if we needed it, and shared her contact info for future perimeter passes…
I plan to build a network of such kind folks around the city, so that perimeter-walkers might have resources along the way in case of need, so if you know anyone who lives on or near the perimeter, please do send them my way.
That's yet another complex administrative labor for this project that takes time and energy and will likely require my hiring a project manager to continue to grow the accessibility of this project – so if you might be interested in signing up as a backer to help support these endeavors but haven't yet done so, here's another chance to become a backer…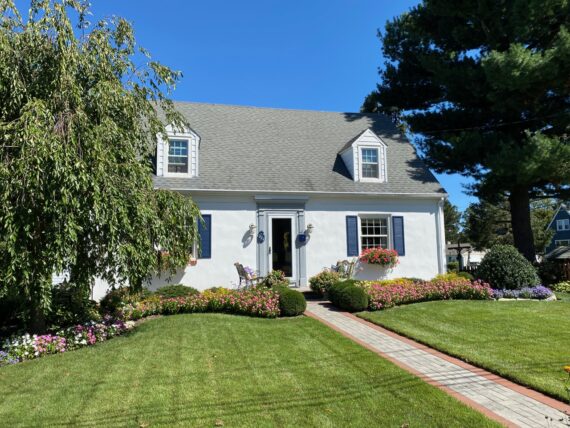 We took another moment to appreciate this kind neighbor's garden.
They weren't the only one out tending to their green space on this sunny day.
Across the way we found…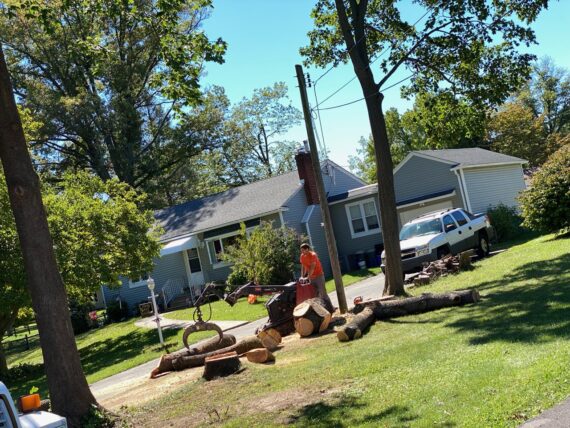 … someone using some lift equipment to move some recently chopped logs.
And a little further along the way (this time in "not-Philadelphia", which here is Trevose, PA)…
… another lawn tractor adventure.
(In this area, larger lawns are at thing that both sides of the border have in common.)
Further up, where the border becomes the Poquessing Creek, we see…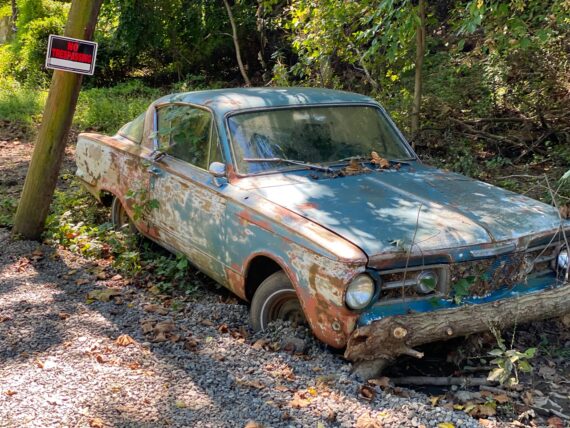 … a No Trespassing sign.
This is an interesting spot where the map makes it clear that this area's the Poquessing Valley Park which should be public land, but there are a few houses in the corner of it.
(I'm really quite curious what their history is and how that plays out for whoever's home this is…)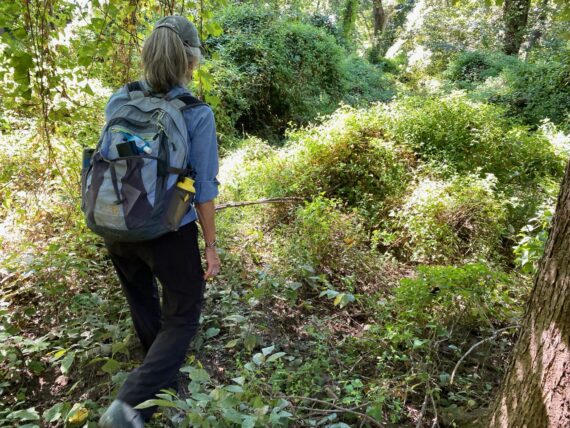 We opt to hug agains the edge of the creek, staying as far as possible from the house and making our way deeper into the park…
It's slow going here, with an overgrowth of brambles.
It's much easier to make it through during the February iterations of the walk than the September ones! There aren't many pictures of part, as I was mostly focused on conversation w/ Jenny & navigating all of the thorns and tangled vines…)
After half an hour of battling our way through the overgrowth and making very slow forward progress…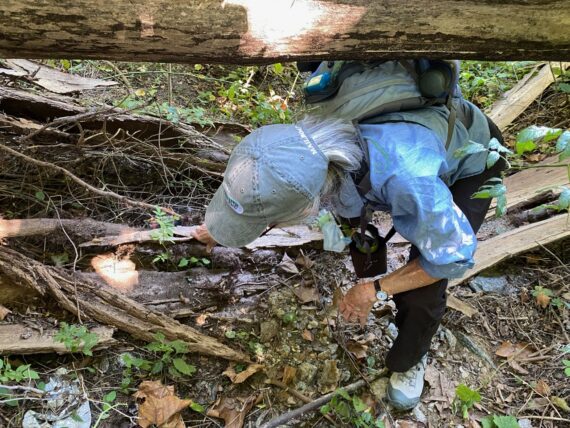 … we make our way under a fallen log…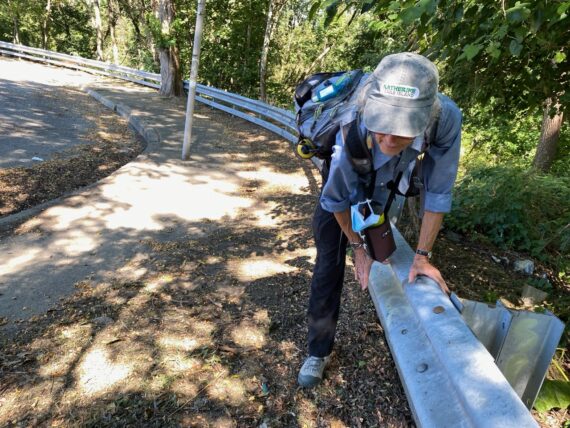 … over a traffic barrier…
… and back onto residential streets!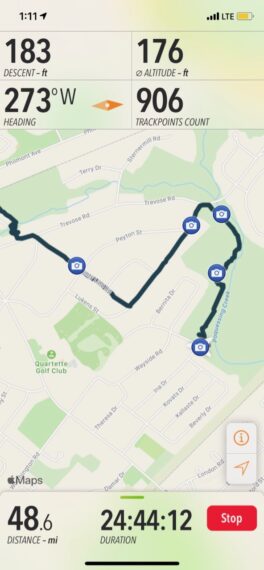 The border is the creek itself, and just that little zig through the park took so long that we knew that if we were to try to follow the overgrown creek all the way towards the Delaware River, we'd never make it to Torresdale by dark.
(We weren't as bold as the students from Penn's SNF Paideia / Walk Around Philadelphia retreat in August who took off their shoes and went walking directly in the creek… although they ended up turning back too…)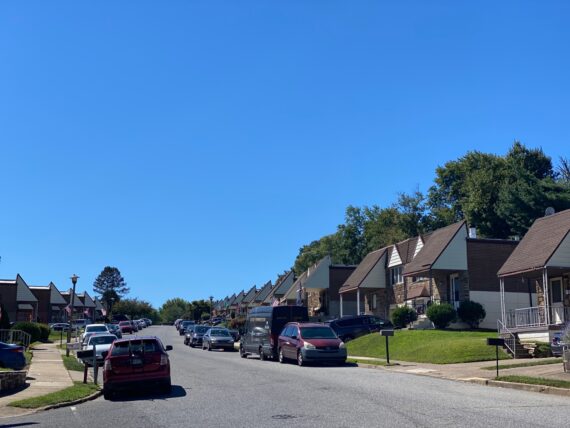 And so it's back to roads and sidewalks for us…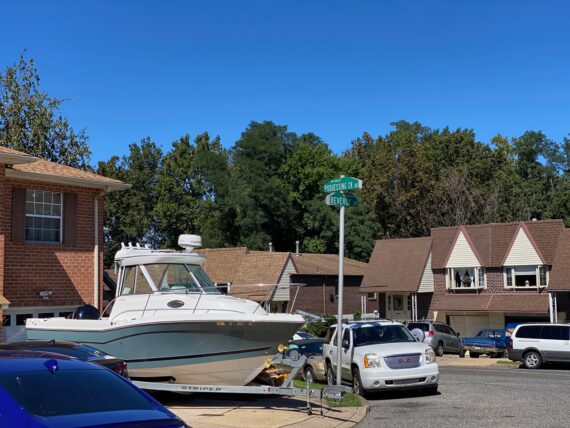 … in a neighborhood that has boats…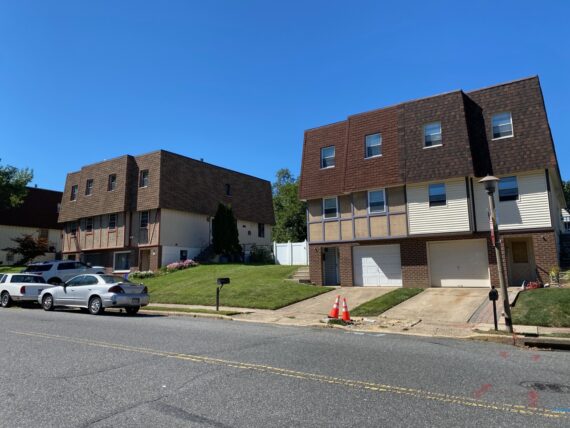 … and twin houses that are quite different architecturally from the twins in my neighborhood.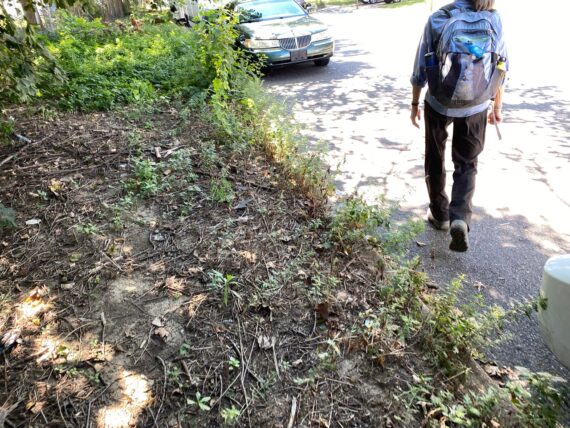 And what was that I said about sidewalks? We rounded a corner and it vanished into overgrowth.
This highlights the accessibility issues in this project for anyone who might be using a wheelchair or other mobility device. But the "Roomba Rule" of going around obstacles works for anyone, anywhere – one might just end up taking a very different trajectory if following smoother terrain than this.
More accessibility mapping is also on the list of next steps for Walk Around Philadelphia as I have the resources and capacity for it.
My goal is to build support for the walk such that by its 10th anniversary in 2025 it be truly accessible to a participant pool that is more representative of the city's demographics. Can you help?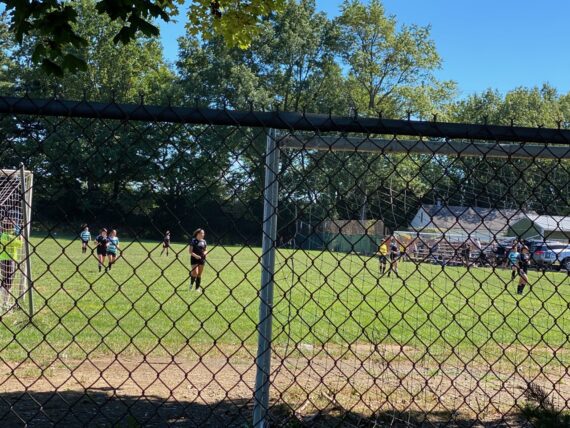 Ahead, there's some young folk playing soccer…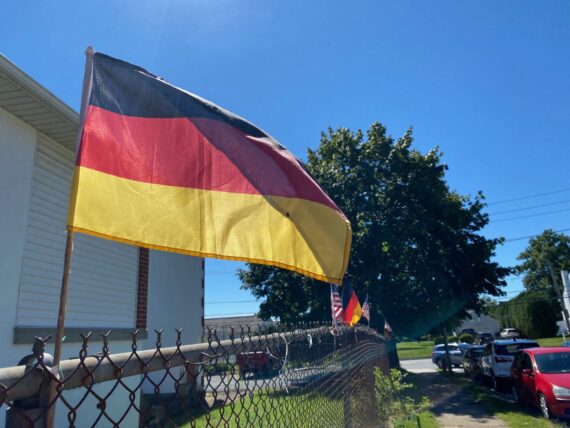 … and a bunch of German flags alongside American ones…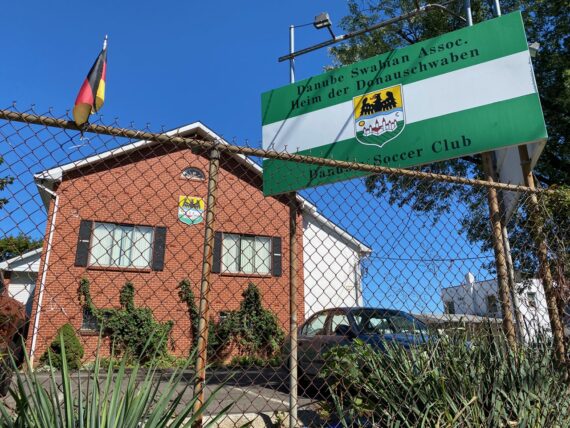 We've come across the Danube Swabian Association of Philadelphia!
Just past that…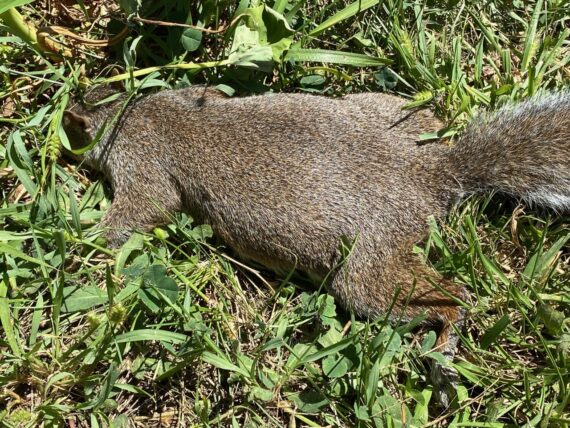 … a squirrel lies dead in the lawn.
(Hey, I warned you. Death is a regular theme encountered on the walk.)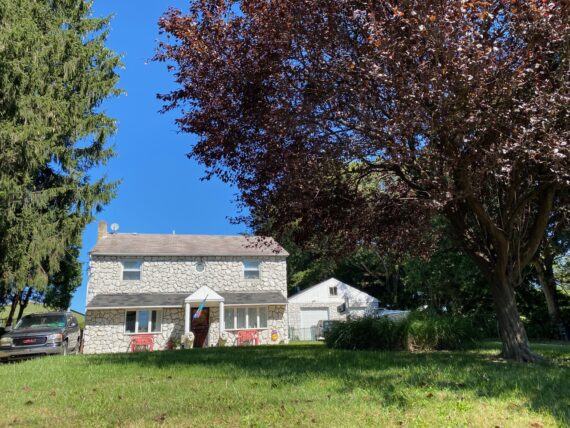 This house seems associated with the Danube Swabian Associatio – and parked in front of the garages is another boat (hard to see behind the hedge in this snapshot…)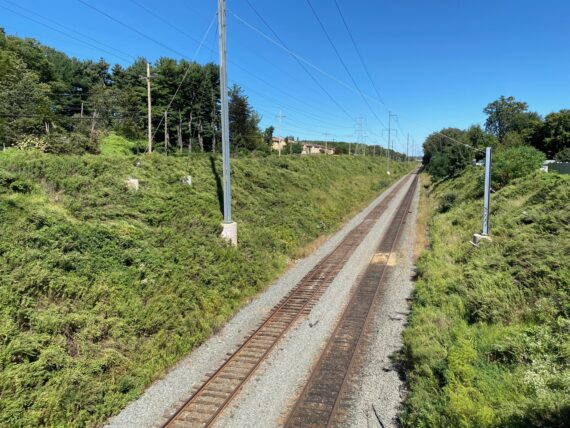 Taking the straight shot along the road brings us over these rail tracks that I've sometimes adventured under…
(There's a pretty spectacular overpass where they cross the creek…)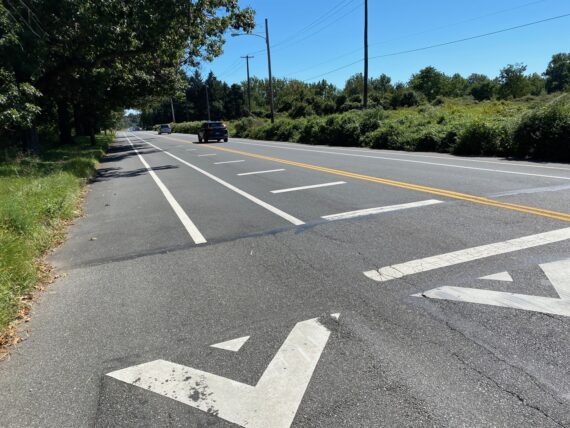 … and we continue along Southampton Road…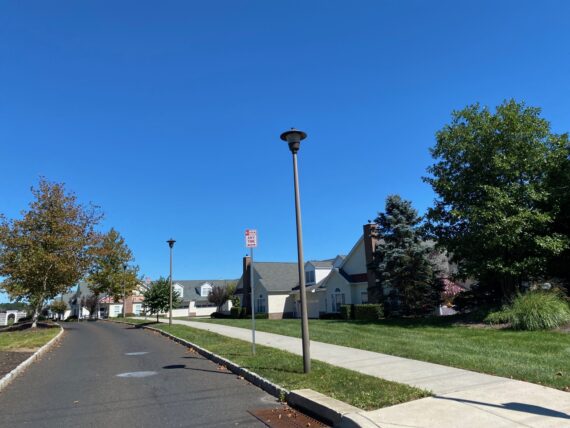 … past the front of another new housing development that I've seen being built over the last few years…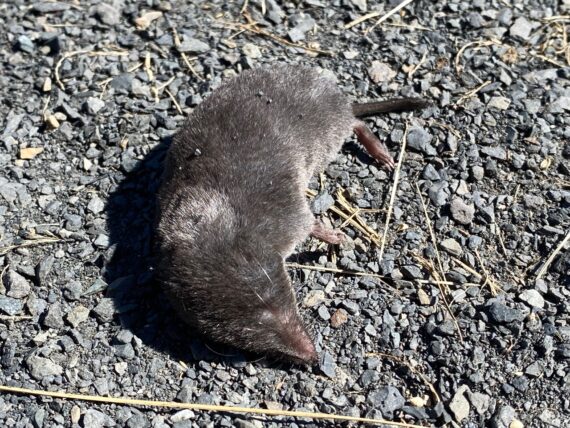 … and a tiny dead… mole?
(Sidenote: my friend Meagan is endlessly fascinated by dead things, and so a strange tradition has evolved where whenever I undertake one of the perimeter walks, I send her pictures of roadkill as I encounter it… so twice a year she just gets this strange collection of macabre images.)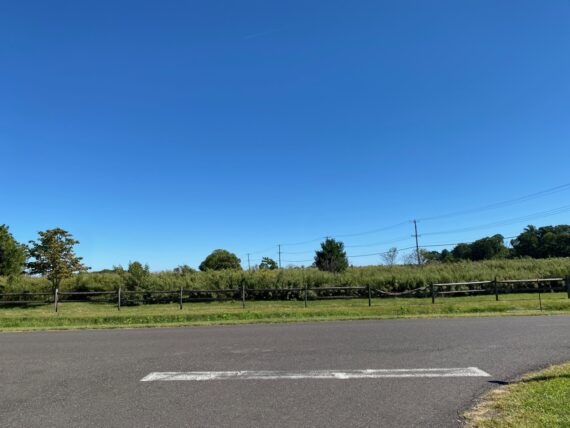 We've finally made it to Benjamin Rush State Park …
(via the regular entrance, not the secret abandoned mystery bridge…)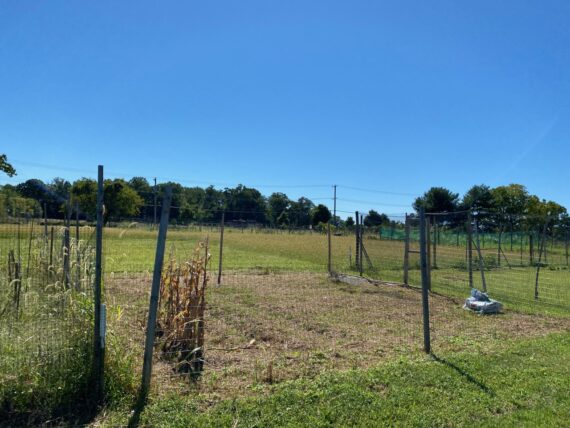 At the center of the park is a set of community gardens, although many of them seem pretty bare this time around…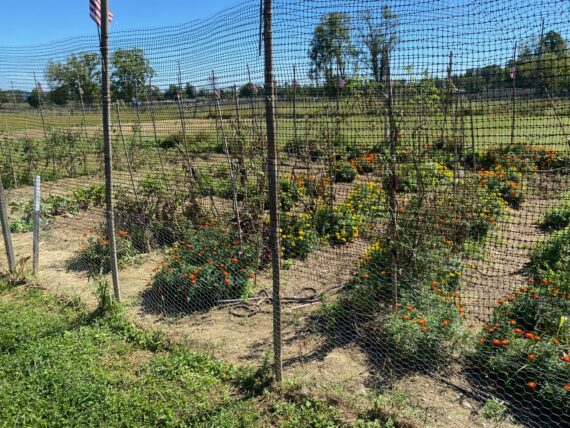 … although this one has a lot of marigolds.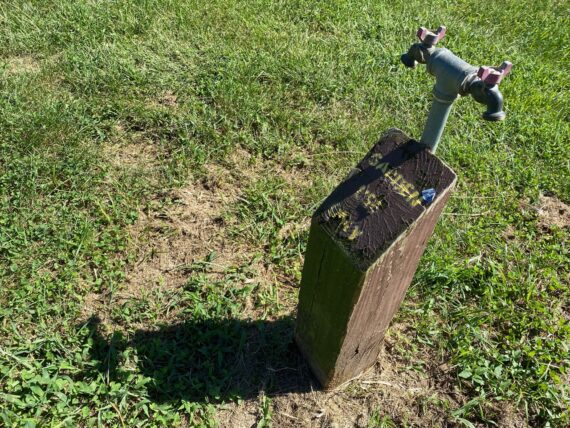 The gardens are pattered via a set of spigots labeled "garden use only", but I took the liberty of refilling my water bottle, figuring they wouldn't begrudge a weary perimeter pilgrim.
(It doesn't say "non-potable", and I lived to tell the tale… like the rest of the perimeter, make your own choices at your own risk!)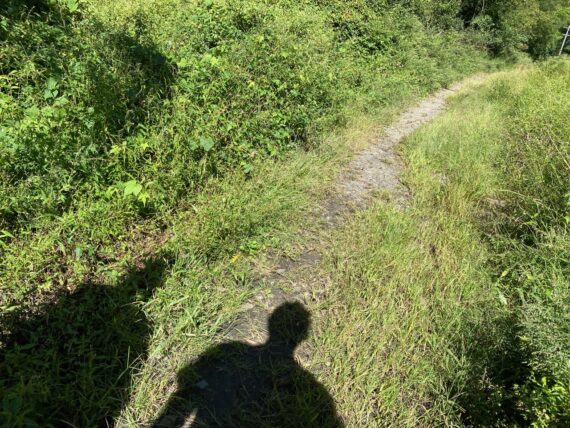 Jenny and I continued on out of the park, and what was awaiting us but…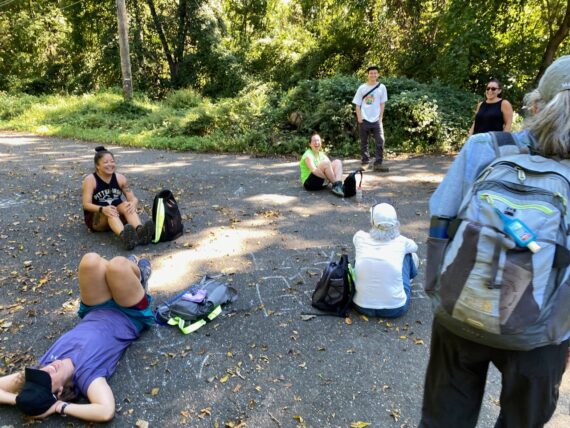 … our friends from the morning's first group!
Turns out they'd been slowed down not just by the brambles but also by pizza adventures…
(Bonnie's knowledge of the Northeast again leading to tasty treats…)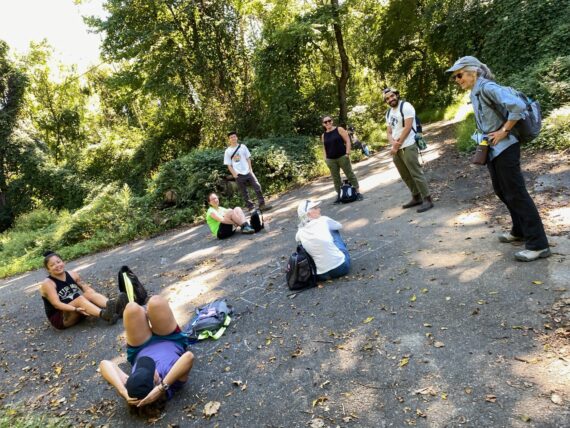 I'd been checking in w/ Michelle & Karen & they'd realized that we weren't that far behind them. I thought that they were going to continue to press on, but they then decided to stop and wait for us to catch up. What a treat!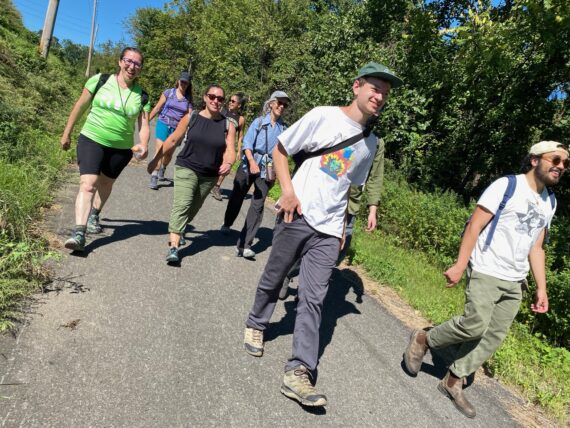 I'd already walked a bit with this crew earlier in the morning (you presumably know this, as I just wrote about it earlier in this post…) but it was fun to watch how easily Jenny integrated the group and fell into conversation with these new friends.
There's an instant kinship that forms with fellow perimeter walkers… that's another special thing about this project and the connections that it can cultivate.
Up ahead is a big blue Amazon warehouse…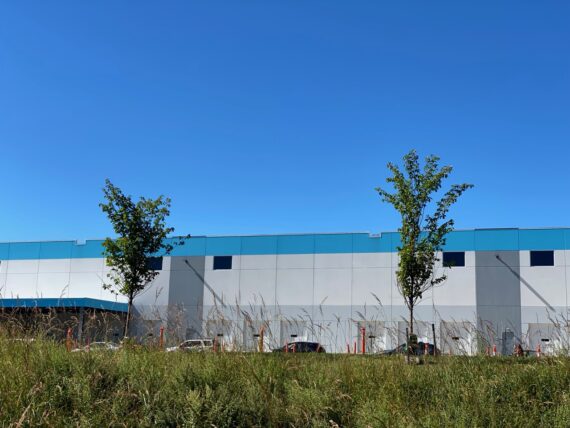 … we don't always think about where the stuff comes from when it shows up on our doorstep, nor how it gets there… but some of it came through here.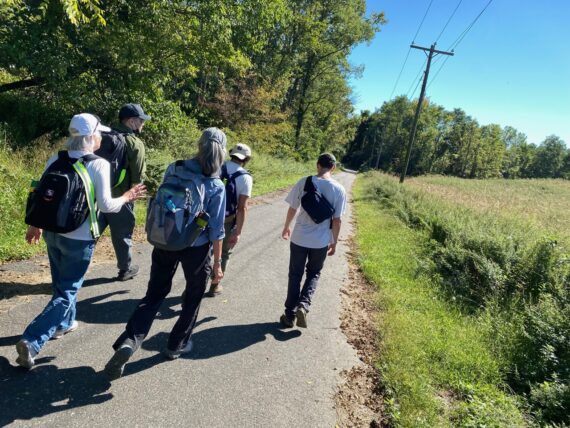 Up ahead beyond this stretch is the wonderfully graffitied abandoned industrial site where, during day 3 of this past February's walk through snow and ice, I'd been surprised to realize that there were several more buildings beyond the one that I was already familiar with.
This time, as the group started to walk past the site without seeing it (it's easy to miss in September when foliage is overgrown…) I called their attention to the little footpath disappearing into the woods.
Heading around the bend, I thought I knew exactly what I was leading them to but the perimeter always likes to surprise me, and so as we came around the corner we stumbled upon…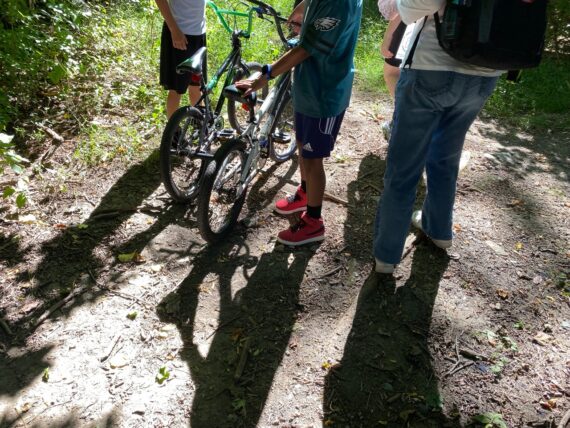 … two young folk on bikes!
(There's complex issues with photographing minors in public, and here I opted for an anonymous cropped snapshot rather than including their faces.
If I get around to writing up my mostly-solo pandemic walk from last September, I'll definitely include the flashmob crowd of youngsters swarming under the Ben Franklin Bridge – they clearly wanted to be seen, whereas these two were having a more private moment that we stumbled upon.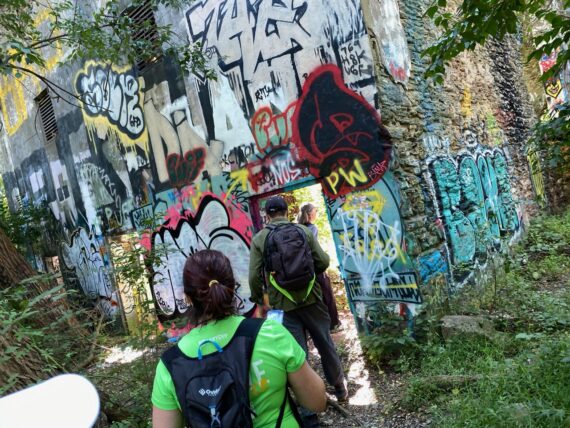 We continued on into the graffitied structure
(clearly the same thing that had drawn the young folk on bikes…)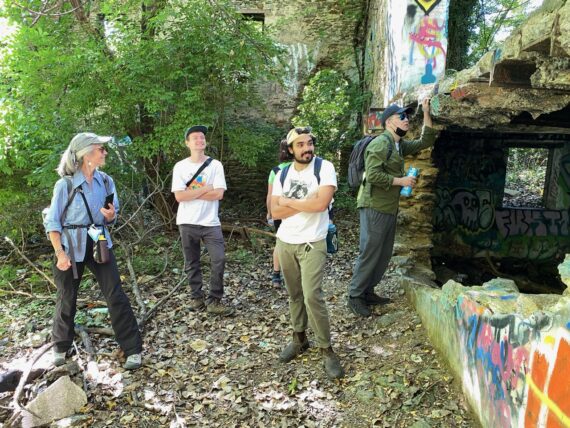 Remember when I was writing about the new housing development and said that development & decay were themes on the walk? Well this is one of the decay parts…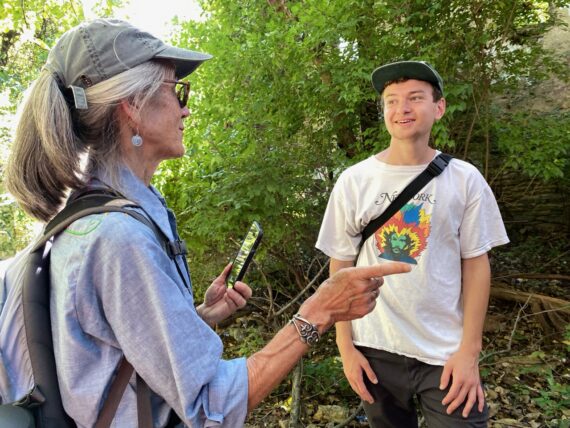 Stumbling across all of these sights along the way provides ample conversation opportunities…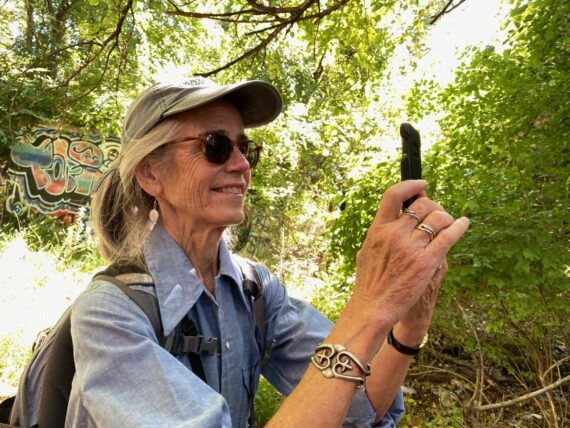 Not to mention subjects for photography.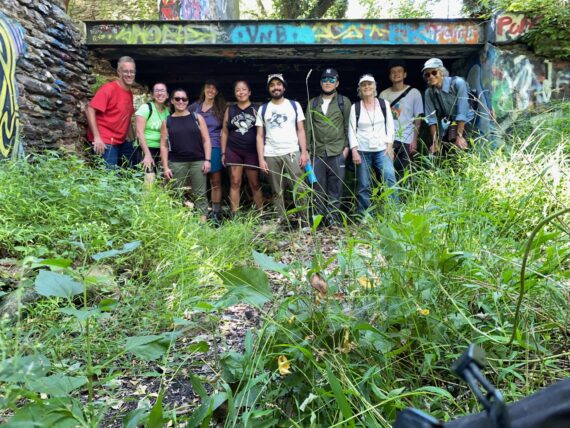 Speaking of subjects for photography… we posed for a group snapshot here…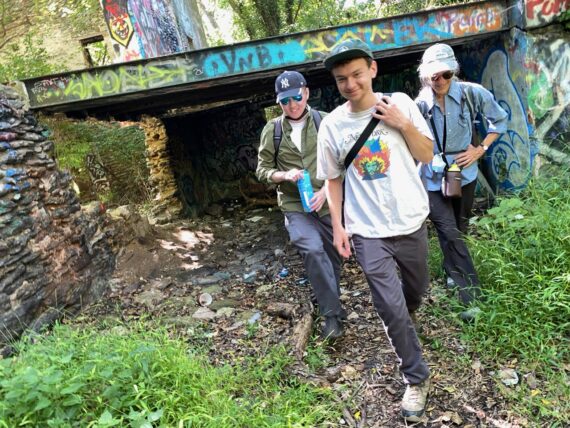 … and then headed back out…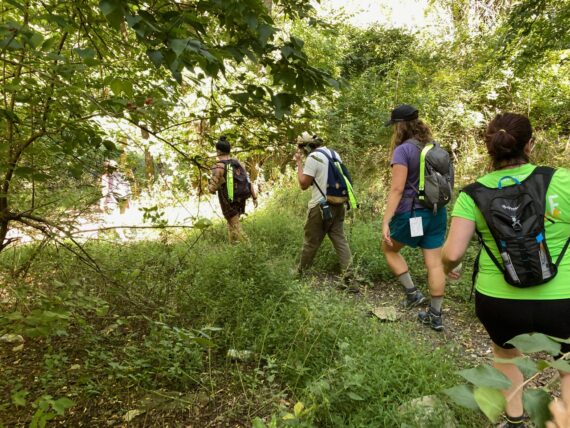 … making our way back to the paved path…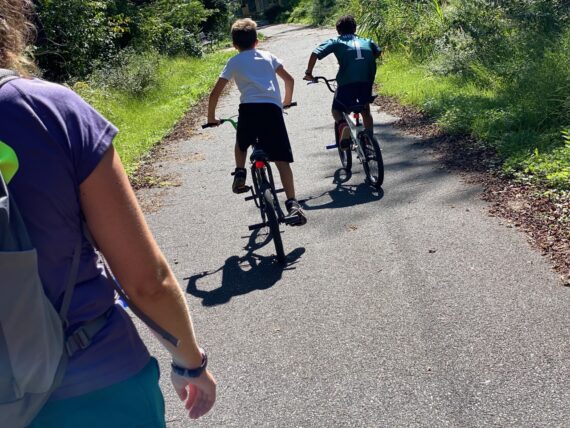 … with those cyclists tearing on ahead of us.
Now here's another interesting moment: the straight-line of the trail turns into Mechanicsville Rd, and I've always gone that way as it's closer to the creek (and thus to the perimeter…)
But this time around, the group opted to follow the other branch of the Poquessing Creek Trail which, while taking us further from the perimeter, brought us around the backside of a farm…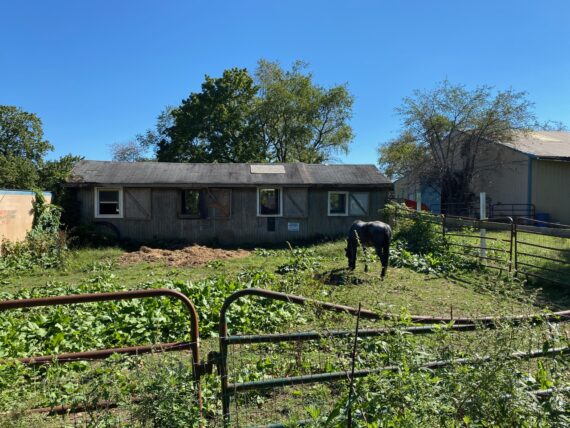 … where we saw this horse!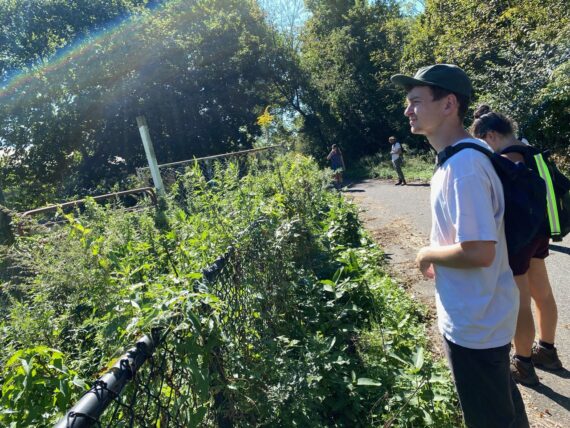 Yes, this too is Philadelphia, with its farms and horses.
(And this isn't even the only part of the perimeter where you'll run into farms & livestock…)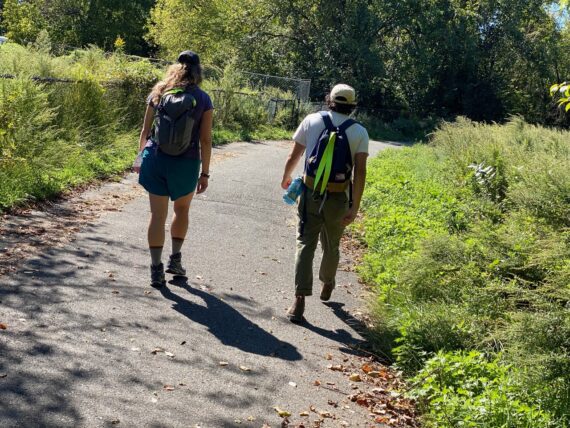 We continue along the trail, which abuts in a cul-de-sac at the end of McNulty Rd…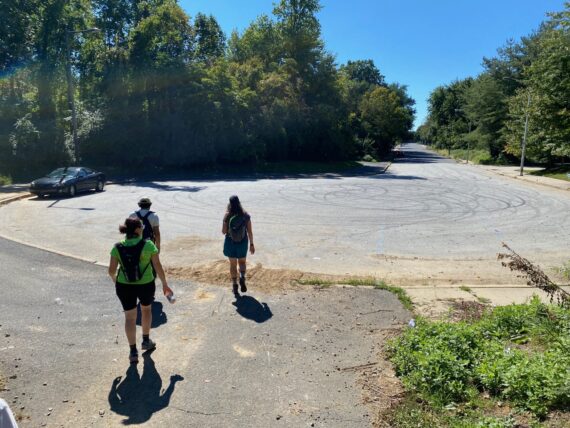 … as we approach that cul-de-sac, we take note of these curving tire tracks…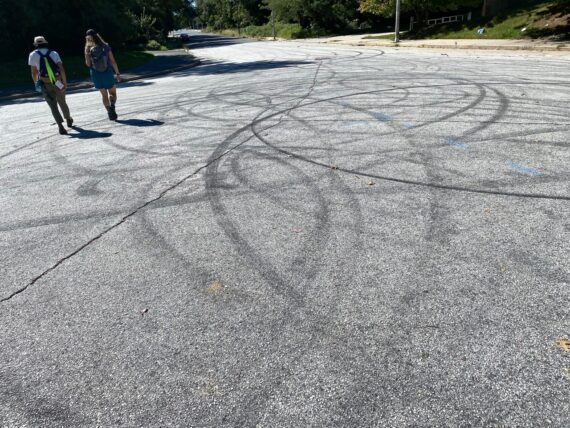 … seems like some adventurous drivers come here to spin their cars 'round in circles for fun.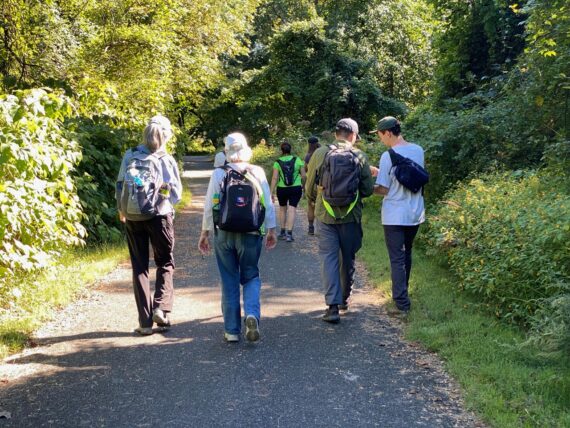 Another branch of the trail starts not far from there, taking us back into the woods…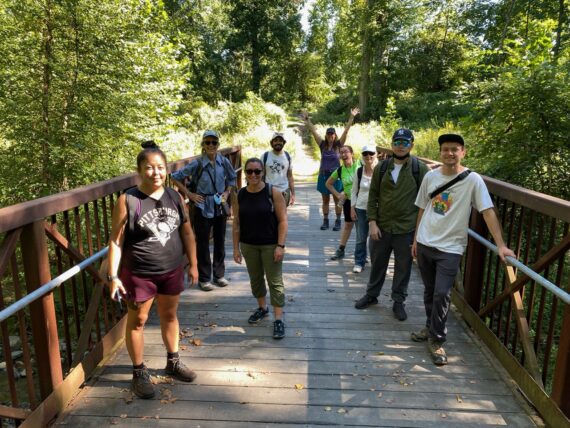 … and over a bridge …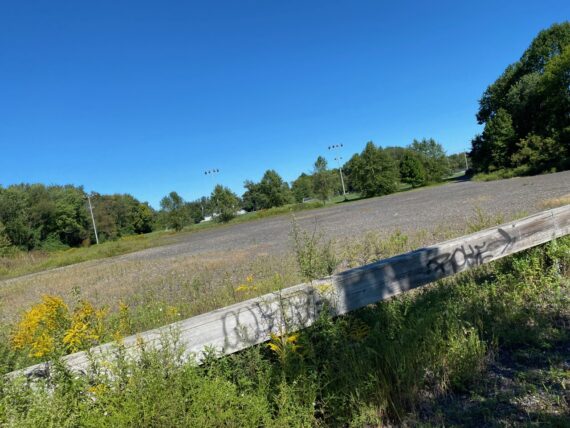 … before bringing us back out towards some paved areas…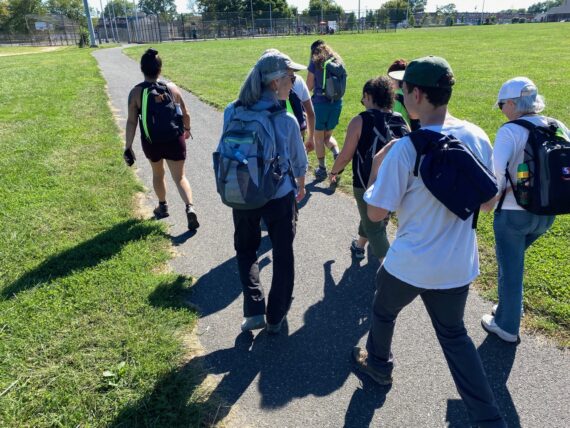 … where the trail continues on through Junod Playground, where there's…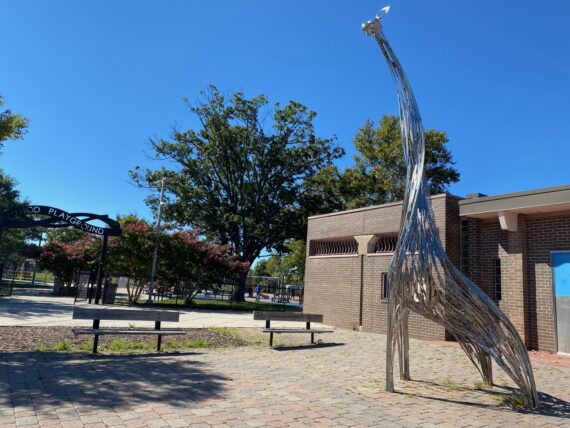 … a giraffe!
(ok, a metal one, but still…)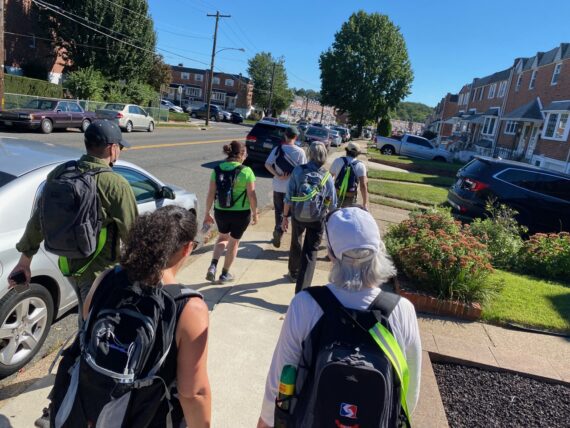 We find ourselves trekking back through another residential neighborhood…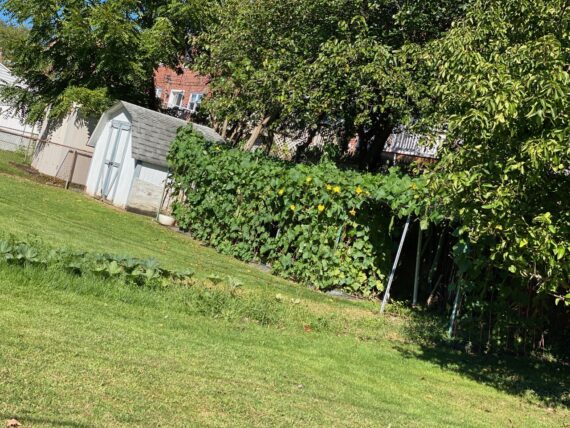 … where one garden has a pretty lush set of trellises and vines with long green things hanging from them… Cucumbers or squash?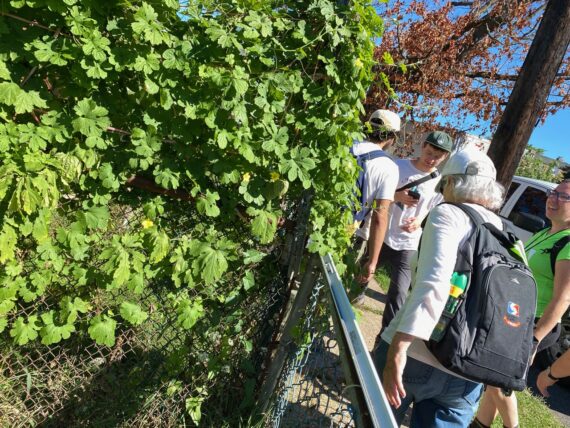 There's vines all along the side fence, so as we get closer we can see some of the smaller fruit…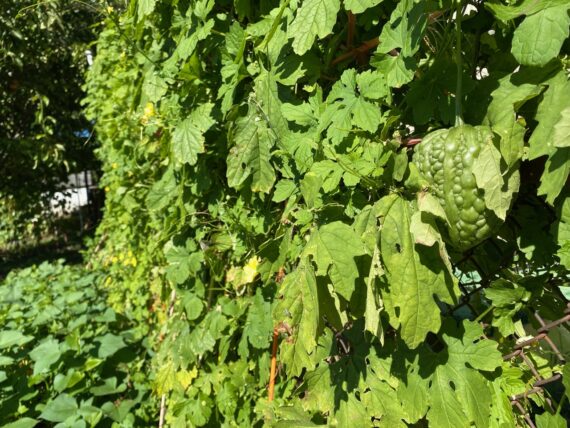 … looks like bitter melon!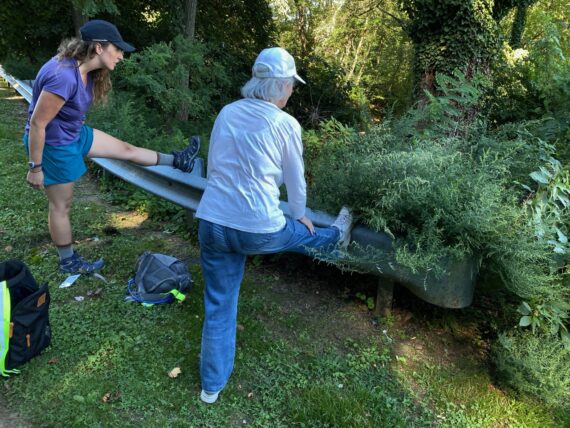 It's been hot in the sun, and we've been walking a while, so Jenny instigates a stretch break…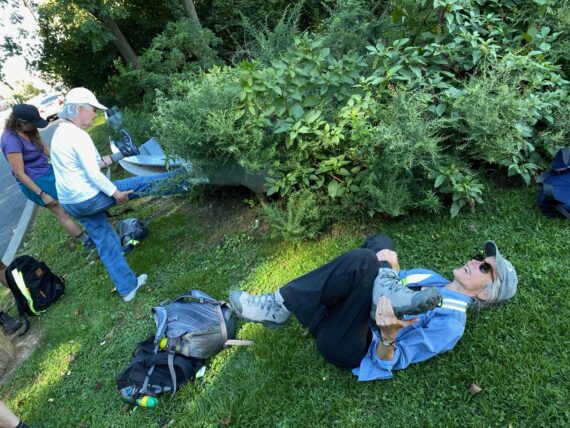 … which is a most excellent idea and recommended most anytime.
(Including right now: I'm so grateful for your time and attention if you're reading this whole narrative, but also am worried about your hip flexors if you're sitting in a chair too long. Quick! Stand up, take a little stretch before joining us for this last little bit…)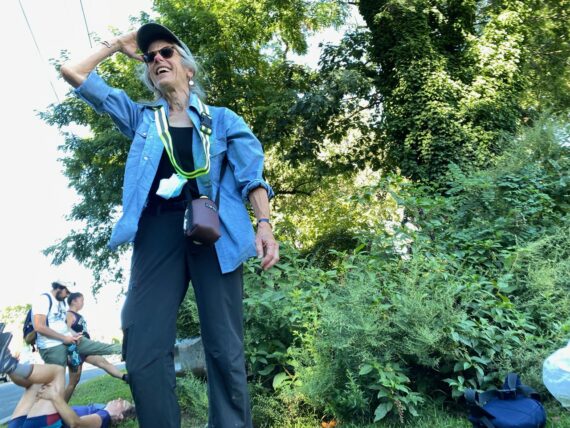 There's lots of laughter…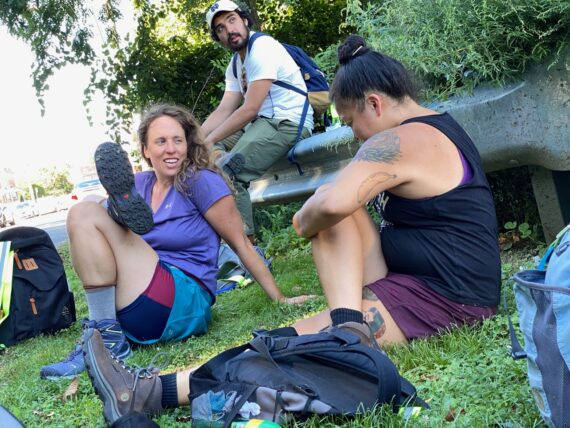 … and trading of different stretch advice…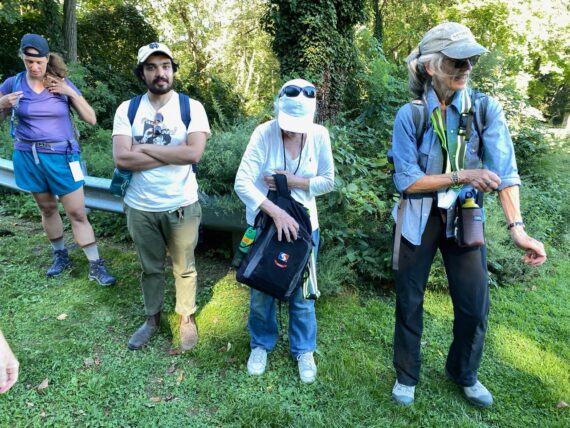 … before we gear back up to head back on out…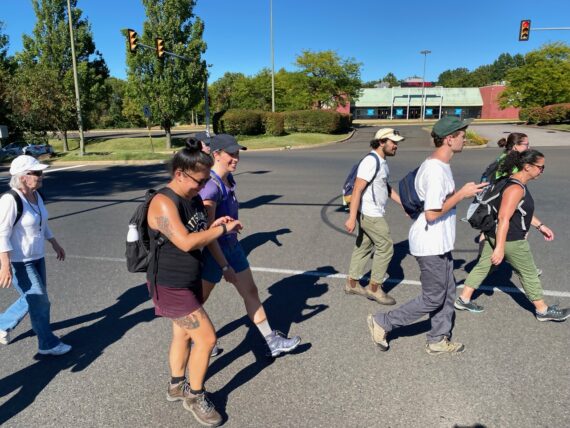 … now venturing into Philadelphia Mills Mall…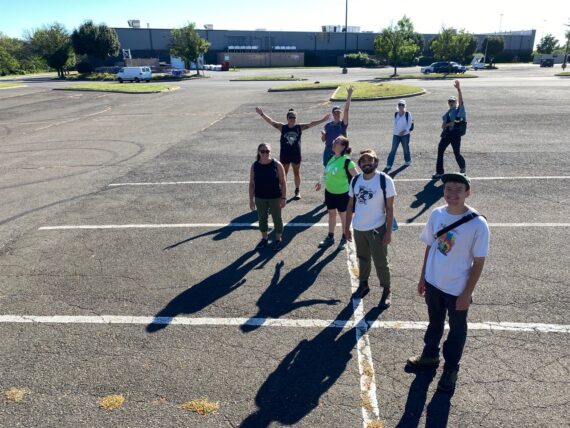 … there are some pretty vast expanses of parking lot here…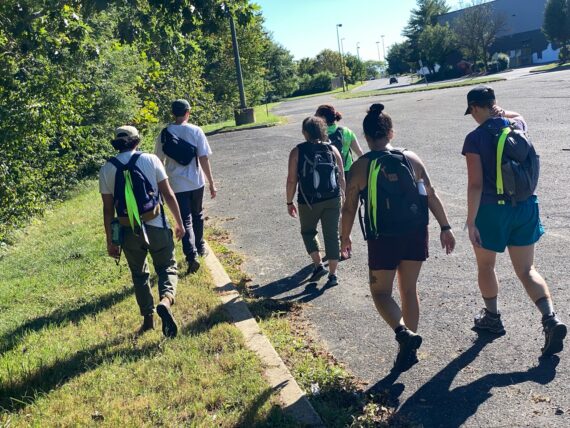 … and we follow along the edge, covering the same path that Sam, Adrienne & Anne & I had walked during the first Walk Around Philadelphia in 2016.
(In some subsequent years, I've walked a trail down closer to the creek bed down below… but that's again a thing that might be easier to navigate in winter months…)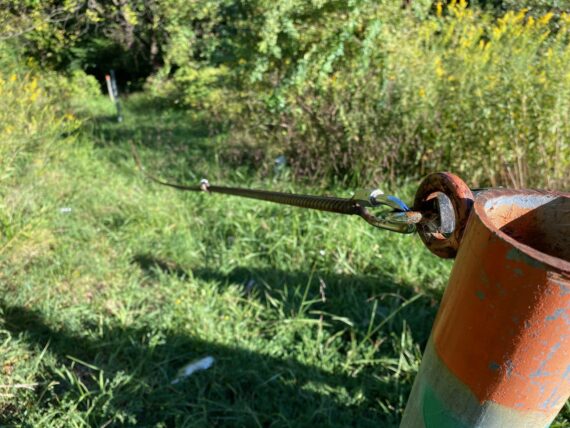 If you wanted to get down to the creek bed, there's this one weird spot where a cable stretching down the hill might make a good handhold to navigate down the steep hill..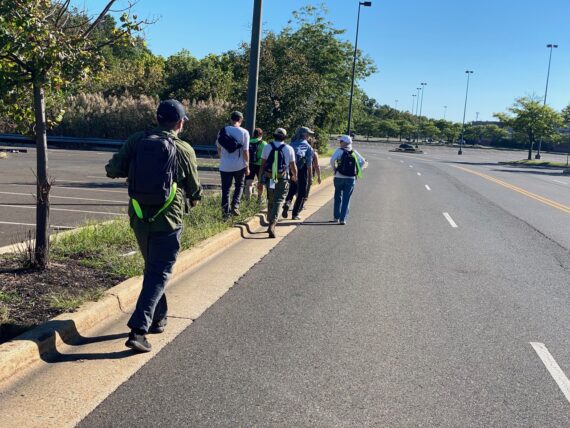 … but we continue along the parking lot…
(… which seems to got on forever…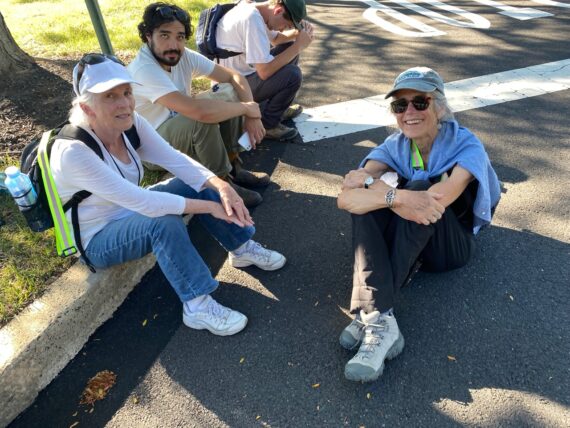 … taking another quick pause in the shade to rest weary feet and (not pictured) apply some moleskin to one walker's blistering feet.
(Also on the Walk Around Philadelphia packing list: first aid supplies, spare socks, and a pair of shoes comfortable for walking long distances in!)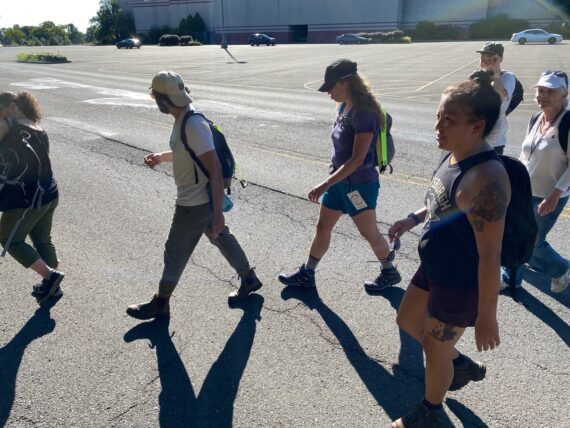 One last long stretch of parking lot with the sun blazing down on us before we venture back into residential neighborhoods…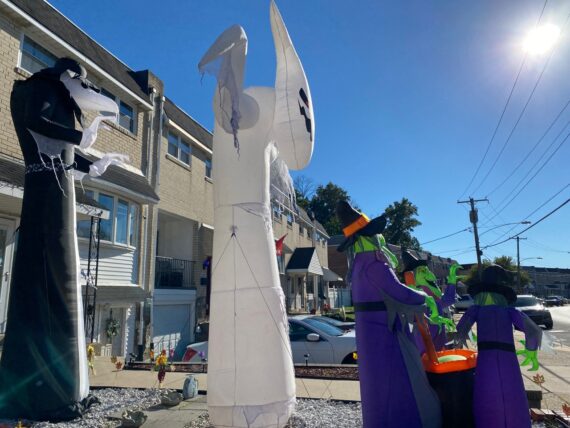 … where clearly they're prepping for Halloween.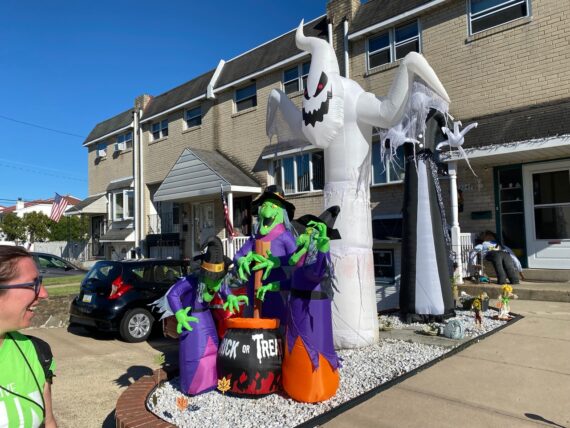 It's September 19th, mind you, so Halloween was more than a month away, but some people are really into Halloween!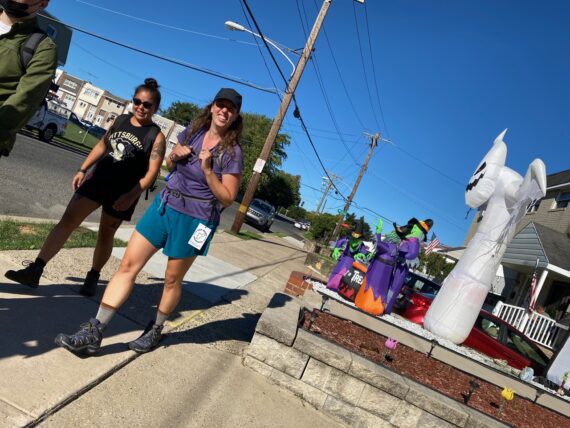 We continue on…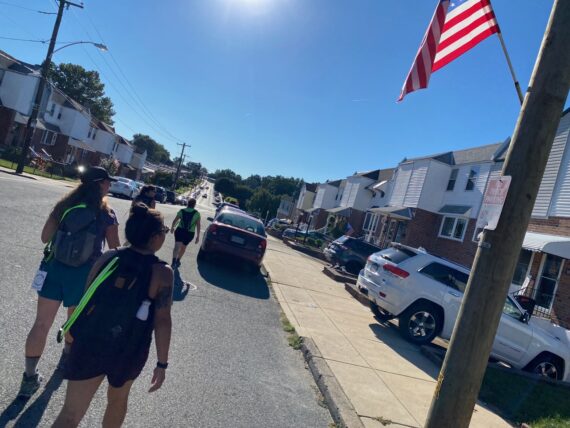 … with the sun still beating down…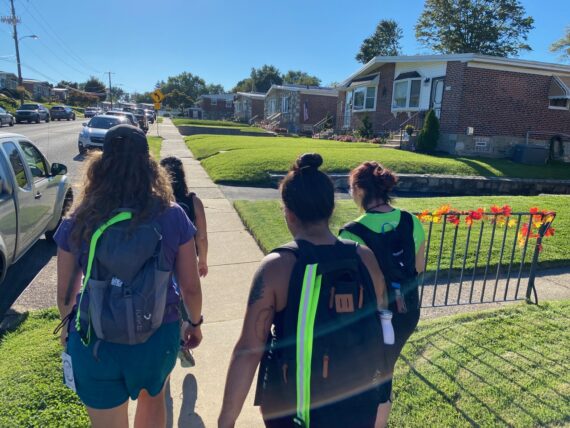 … into another development with a different style of one-story houses.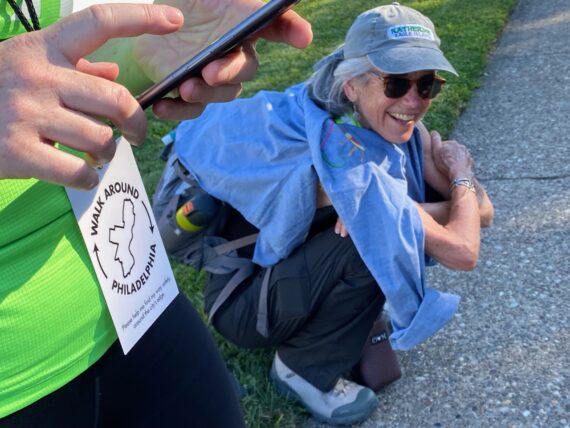 At this point it's getting late in the day and we're wondering about our end of day logistics…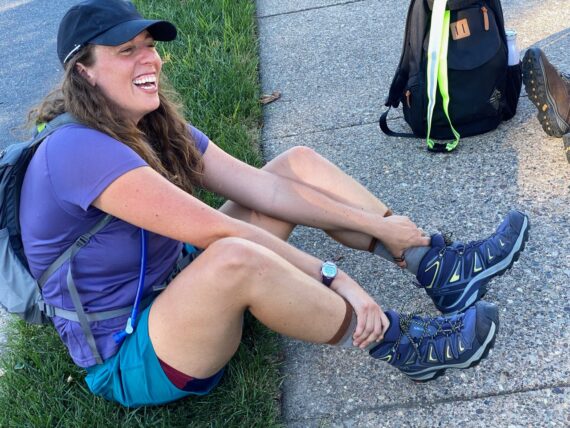 … folks are getting a little bit giddy & delirious from the long walk in the heat…
… and more stretching and laughter in the shade is called for.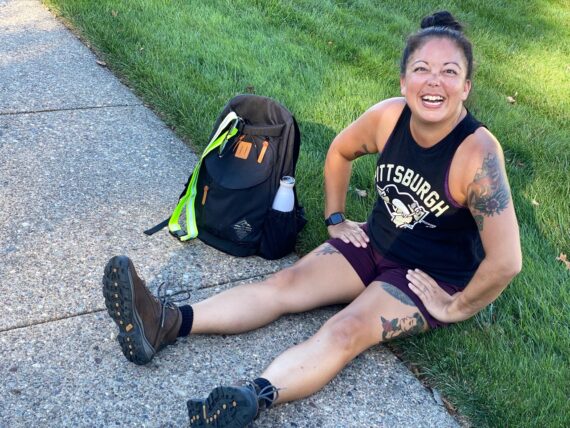 I'm grateful for the good humor and adventurous spirit of this crew…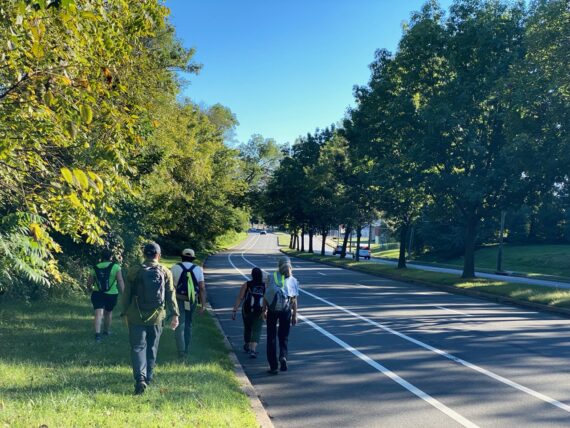 … that has decided to embark on this strange adventure with me…
(again!)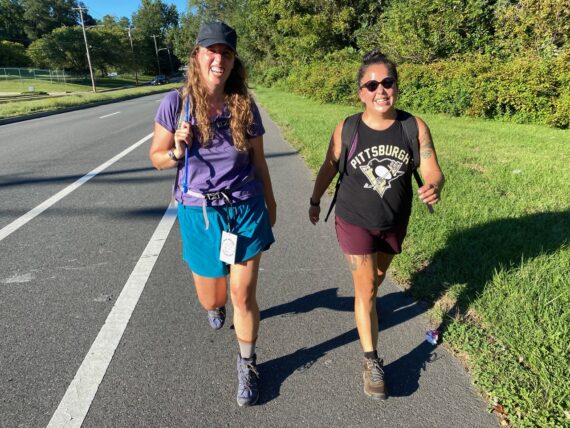 I know that our perimeter veterans Karen & Michelle are having a good time…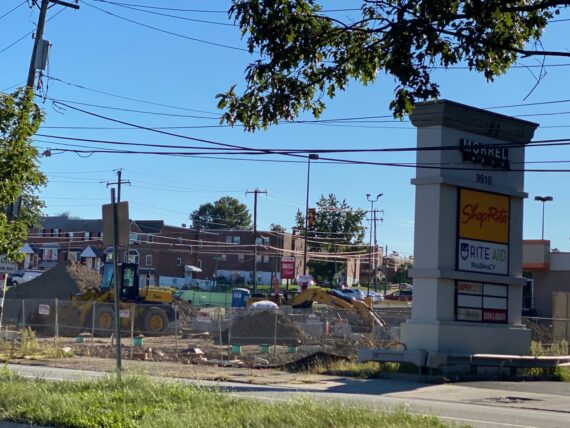 … and here as we approach the intersection of Knight's Road & Franfkord Ave, I'm trying to remember what was on this corner last year before they knocked something down.
From here, after a last little bit of road on Hegerman St…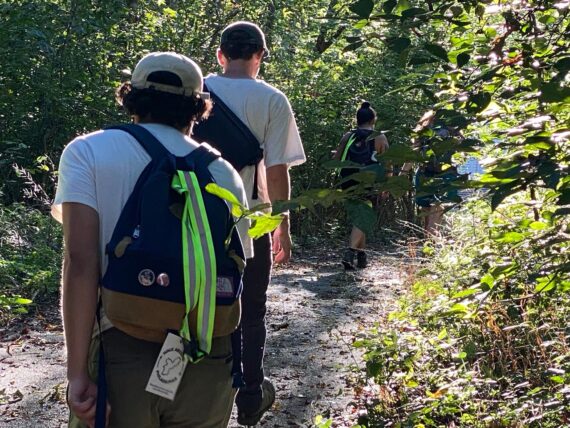 … we venture back into the woods one last time…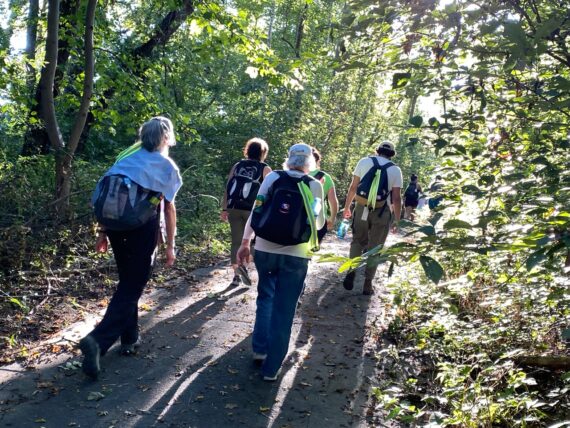 … with a glorious bit of evening light…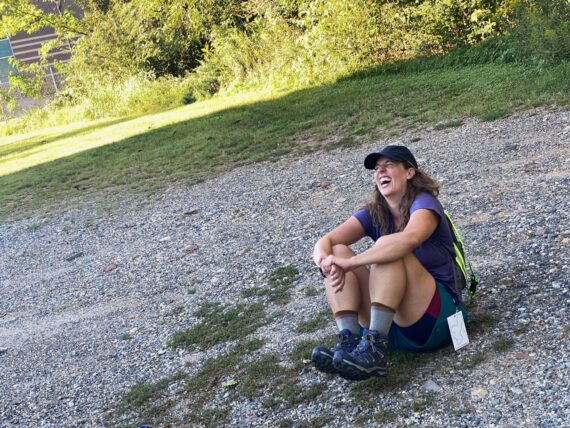 … and more laughs as we celebrate…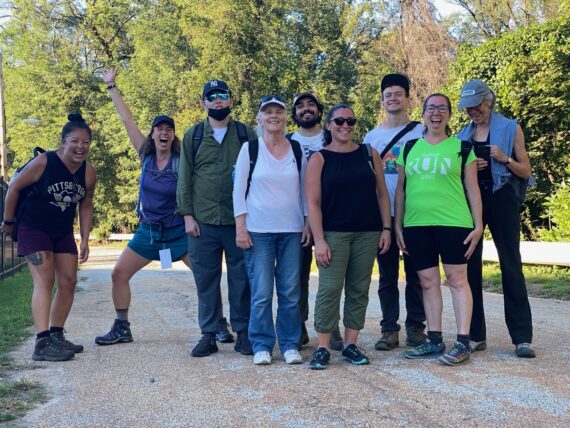 …. that we've made it to the end!
(of today's segment…)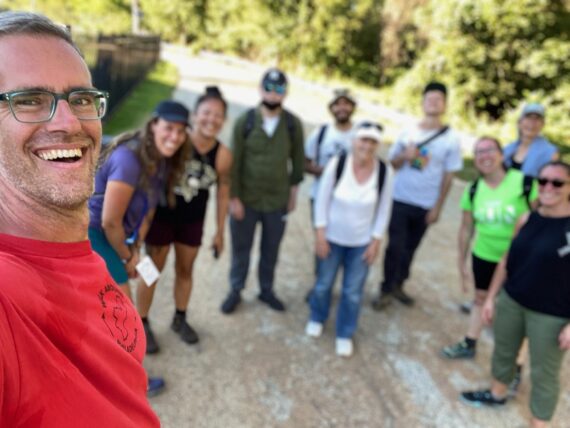 One last selfie w/ the group…
We're officially done now, and our group starts dispersing via a couple of different modes of transportation, but the next train out of Torresdale isn't for half an hour or so…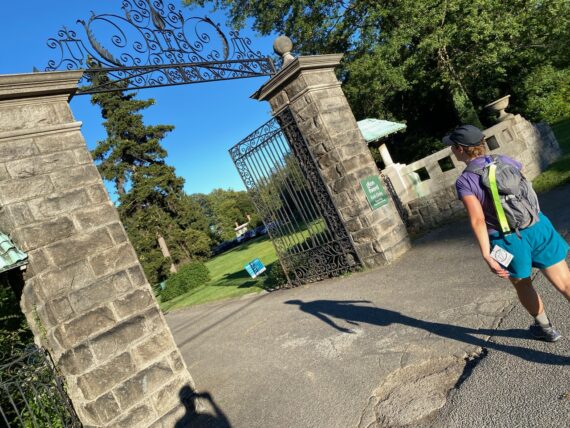 … which means that Karen & I decide to take our sore feet a little bit further to catch a glimpse of Glen Foerd on the Delaware…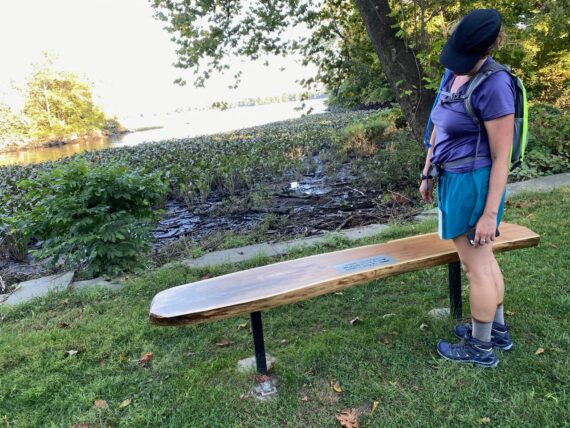 … where there's a nice new bench…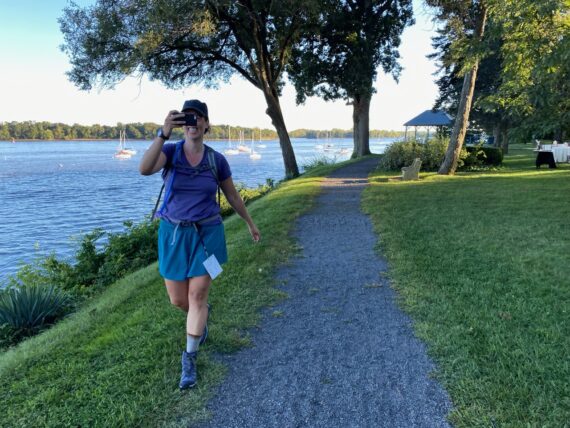 … and it's a perfect time to be here by the setting sun to enjoy this spot where the Poquessing Creek flows into the Delaware River.
(As my fellow perimeter-walker Ann likes to note: this is the one corner on the perimeter of Philadelphia created by two water borders.)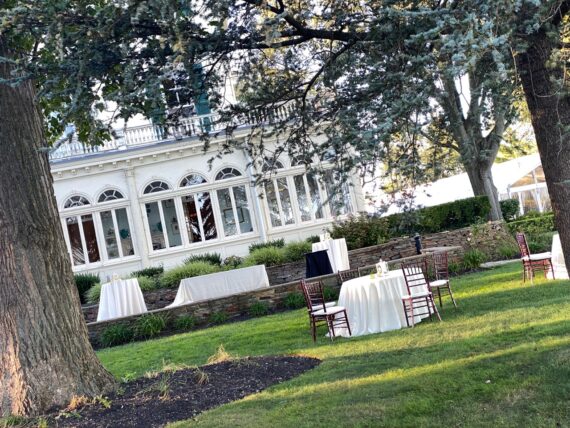 Glen Foerd is open to the public sunrise to sunset, but also hosts private events…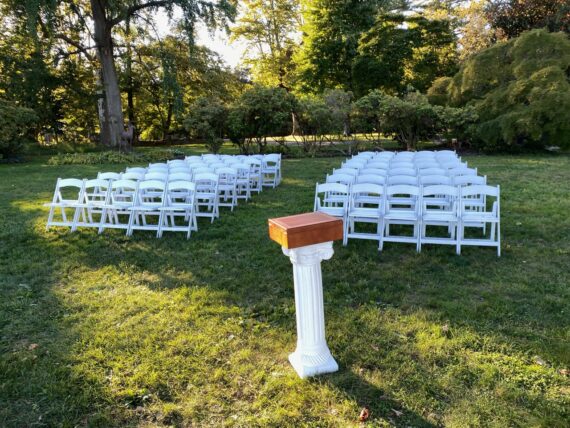 … clearly someone's planning a wedding here soon.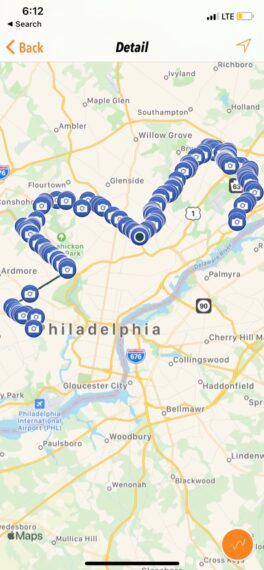 And so there it is!
We're halfway 'round the city…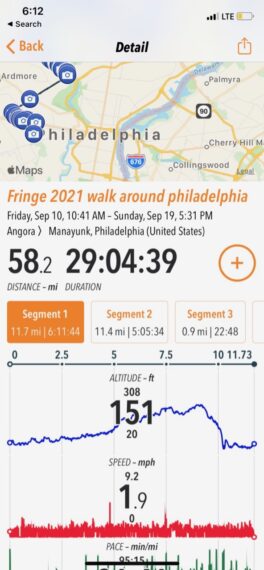 Five days in, nearly thirty hours and 60 miles of walking…
Note: the tracking only counts my time with the second group, so if you factor in the bonus time and miles that I've done each morning with the first groups, well… it's a lot.
I'm pretty exhausted at this point, but have heard from a neighbor that a block near my house is having a block party with some stellar latin music…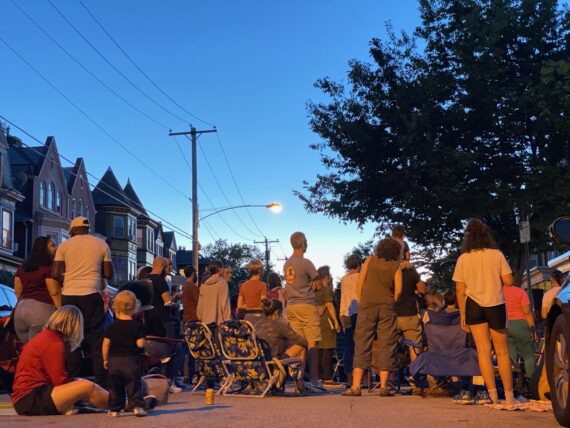 And so I found myself lying on the ground taking in this scene while stretching. What a great way to end the day!
( Do you know that Philadelphia lets you close your street off 5 times a year? Part of why I play the role of block captain on my block is to make sure that we take advantage of these opportunities. Maybe you want to help get your neighbors organized to get do something similar? Street closure info is here. )
Whew!
Thus concludes the recap of the fourth & fifth segments of this fall's 10×10 Fringe Festival iteration of Walk Around Philadelphia.
Next weekend we tackle the Delaware River border, from Torresdale / Glen Foerd all the way down to the Airport!
Thanks for reading this far – maybe you want to register to join us next week or sign up for updates about the next iterations of the project?
UPDATE: Recap of Weekend 3!