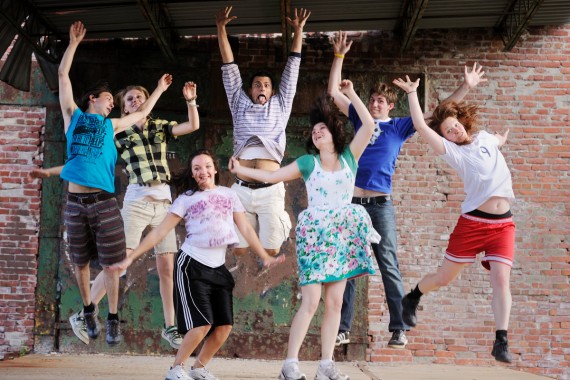 It's that time of year again, two weeks of creative frenzy throughout the city as the 15th annual Philadelphia Live Arts Festival & Philly Fringe fills the city with innovative works of dance, theater and other works that defy labels.
If you're not familiar with the festivals, a good way to get plugged in is to get on their mailing list and sign up to volunteer.
The image above's a shot of the cast of Bright Light Theatre' Co's All Places From Here. Below are a few recommendations of other shows to check out if you're looking for a place to start. There's plenty of great stuff both on both sides of the festival, including many free events, so get out there and check out some shows!
Some of what I'm excited about:
Live Arts:
Whale Optics – Lucidity Suitcase Intercontinental
Elephant Room – Dennis Diamond * Louie Magic * Daryl Hannah
The Method Gun – Rude Mechs
Lady M – Swim Pony Performing Arts
More Mouvements Für Lachenmann – Xavier Le Roy
Fringe Dance:
A Vegan Kid's Dance For Adults With Nudity – Green Chair Dance Co, Gabrielle Revlock, and devynn emory
Agnes Falling – Keila Cordova Dances
Bodies of Text III – Stone Depot Dance Lab & Melissa Diane [FREE]
Dancefusion…. to Mary Anthony – Dancefusion
Dancing Dead – Brian Sanders' JUNK
El Proceso / The Process – Pasion y Arte Flamenco Co.
eMerge— The Preview – Danse4Nia Repertory Ensemble
Grab Bag – Lora Allen, Ellie Goudie-Averill, Christina Gesualdi, David Konyk, Gina Hoch-Stall and Annie Wilson
Plentiful – Fresh Blood InMovement / Jennifer Morley
Fringe Interdisiplinary:
Ampersand – Tangle
Poetic Passageways – Philadelphia's Magic Gardens, Olive Prince Dance, Rit-Mo Collective
Quarnivale of the People – Spiral Q Puppet Theater [FREE]
Fringe Music:
Afrikaner – ZIYA [FREE]
Fringe Theater:
All Places From Here – Bright Light Theatre Co.
Lord Of The Flies – Curio Theatre Company [FREE]
Tongue & Groove – Tongue & Groove Spontaneous Threater
Wars and Whores: The Henry IV Musical – Underground Shakespeare Company
Late night:
Festival Bar
Late Nite Cabaret
Pretty freaking important to make time for during your Festival:
Shale Gas Outrage – Protecting Our Waters [FREE]
Take a break from work on Wednesday Sept 7 for a midday rally to protect our drinking water from dirty gas drilling. This isn't part of the festival, but worth working into your schedule. Please spread the word via the Facebook invite…
More…
I'm shooting a handful of shows for the festival, including Headlong Dance Theatre, Pig Iron, John Jasperse Dance Co and Shantala Shivalingappa, and will be catching plenty of shows as audience. If you want to follow along, keep an eye out on JJ Tiziou Photography on Facebook and Twitter.
For old time's sake, check out this little animated recap from Fringe 2003, when I first got bit with the festival bug…
httpvh://www.youtube.com/watch?v=8kZAo_Sqkjg