Heinz Wildlife Refuge, Darby & Cobbs Creek, Mt Moriah Cemetery…
The final day of the walk started with a bit of a mad scramble of physical and logistical challenges: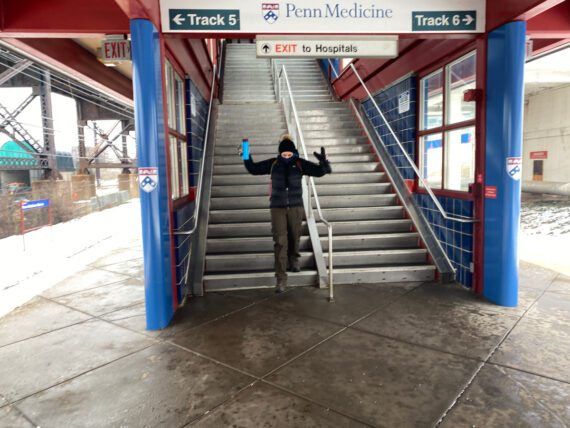 The ice storm had continued overnight, and the whole world was coated in ice in the morning. Just walking out the door was a challenge. Getting to our rendezvous points on time was cutting it really close.
Greg had missed a train from North Philly and we weren't sure if he was going to make this airport train. (We wouldn't leave without him after he'd already done 98 miles of the perimeter, but it would mean waiting at least another hour for the next train, and delaying the intercept with Kathy who was planning on joining us at Heinz.
Xander didn't think that they had any chance of making it, and then caught a last minute bus and dashed down the steps of the regional rail station where, thanks to a few minutes delay on this train, we were still there waiting.
Turns out, Greg was on the train too, and we were good to go…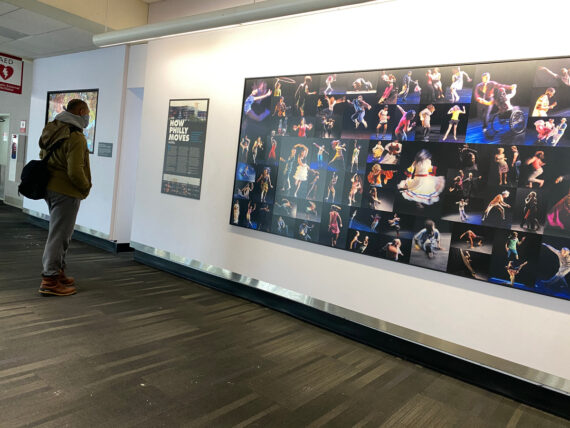 The airport line drops us off at Terminal B, so I have a quick opportunity to show off the How Philly Moves permanent exhibit in the B/C baggage claim.
With 162 images arrayed together, it includes everyone who'd participated in the project at the time. They range from youth to elders, social dancers to performers, in and out of wheelchairs, from every zip code in the city.
My goal for Walk Around Philadelphia is to eventually be able to facilitate as broad and diverse a range of participation in this exploration of the city as I did with this celebration of Philadelphians who love to dance.
Can you help me figure out how to do that? It will take funders, partner organizations, and community connections for sure.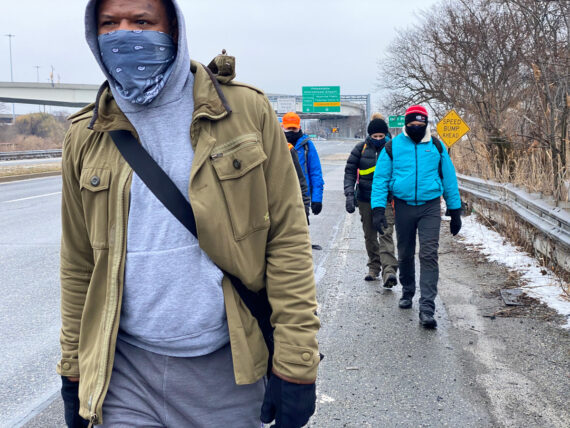 And so we head out from the airport.
On foot.
This immediately feels strange: to come to the airport to set out on an adventurous journey of exploration, but we didn't actually set foot through security or onto a plane. We just kept walking.
And of course the paths out of the Airport and into the Heinz Wildlife Refuge aren't exactly pedestrian friendly, but we manage.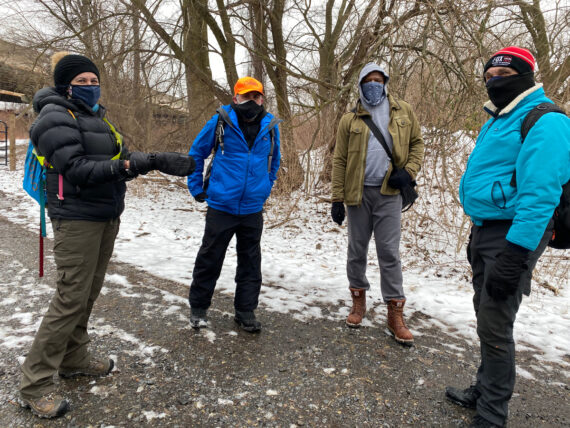 Once into the refuge, we're back on the actual perimeter line, which runs basically right along the path through the middle of the refuge.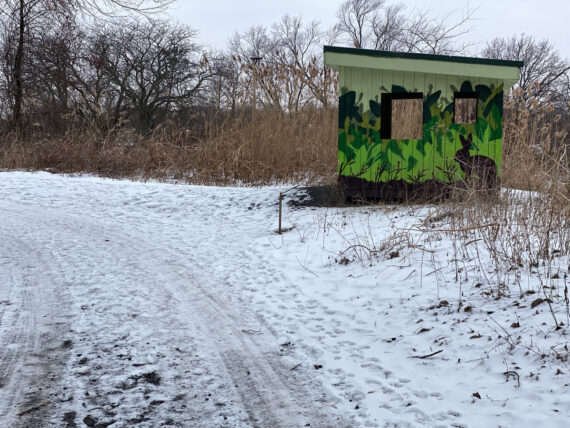 There's no one to be seen here, as the refuge is quiet this morning.
(Did I mention that it was a super icy morning? Most folks are probably not ready to venture out yet…)
But actually, the refuge is always pretty quiet – that's one of the appeals of it. And while there's no *humans* to be seen, I've already seen a little mouse hopping around, and plenty of birds on the water…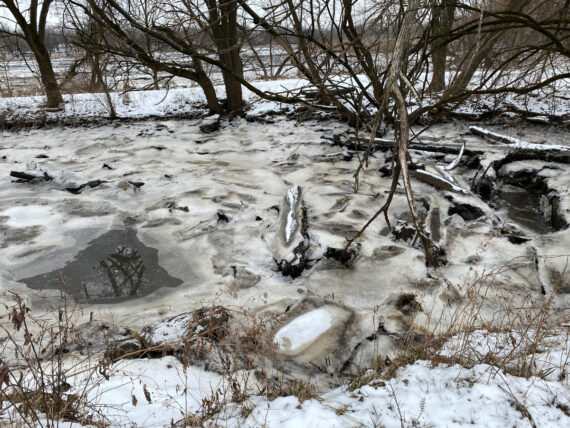 … which is half frozen over…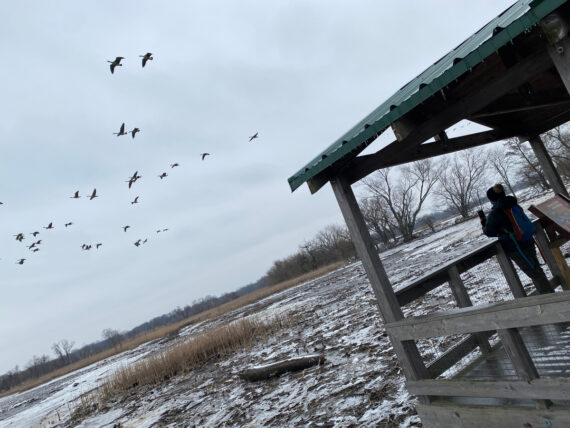 … and of course there's birds in the air too.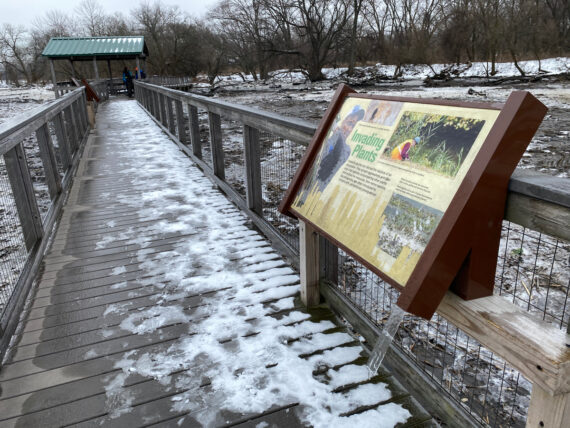 Passing by this info panel, take a closer look:
Not at the information, but at the frame itself…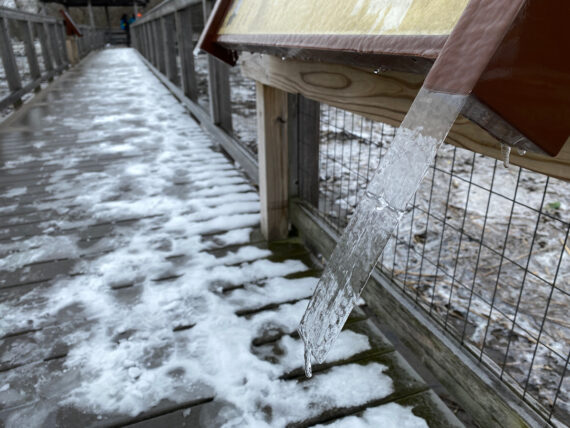 This sheet of ice slowly sliding off of it is the same ice that's coating *everything*, which is why we almost didn't make it to the train this morning.
(In fact, one more walker who was planning on joining us this morning wasn't able to because she slipped and "broke her butt" on the way out the door – I was worried that this was a real fracture but was relieved to find out later that it was just a bruised sacrum. Still, I've made a note to add ice cleats to the packing list for next time…)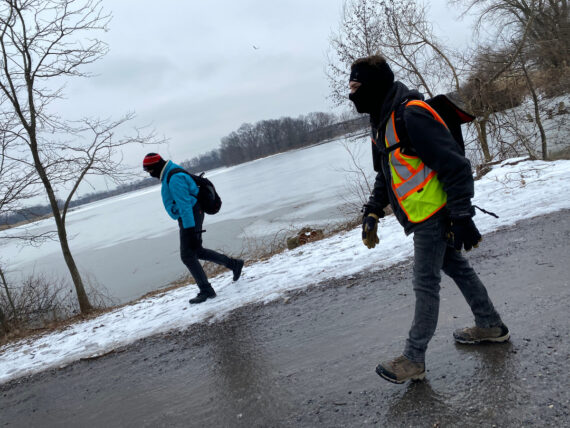 One highlight for me here is seeing the eagles for the first time, and more importantly: hearing them. I've long known that there's an eagle nest here in the refuge, but I've never caught a glimpse of them until today.
The eagle's just a speck in the background of this frame (I'm just taking cell phone snapshots here, not lugging around giant telephoto lenses trying to be a birder…) – and I'm astounded to hear its call.
I had no idea what an eagle's song sounds like – it's a sweet series of chirps, totally unlike what I'd expected. My expectations were probably skewed by Hollywood – it turns out that in movies & TV, oftentimes clips of eagles are overdubbed by the screech of a red-tailed hawk. Apparently we can't accept that such a 'large majestic' bird would have such a sweet soft melodic song. I wonder what that says about our culture…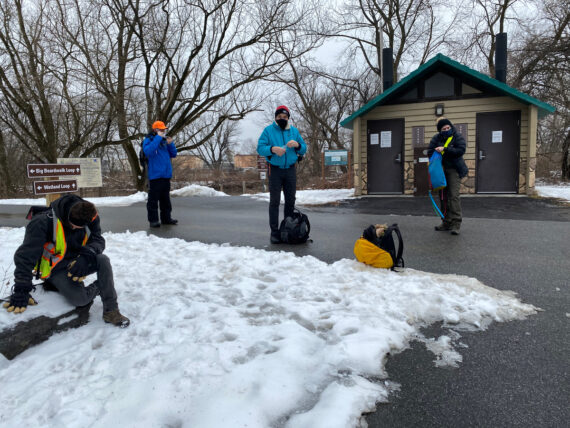 As we approach the visitor's center, there's nice clean composting toilets…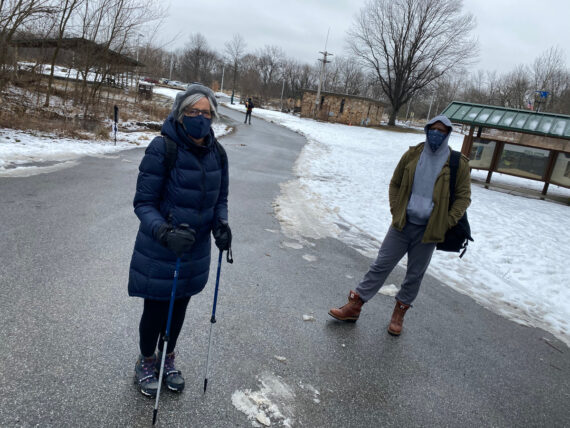 … and Kathy rejoins the group.
She's come equipped with ice cleats strapped to her shoes, and trekking poles (yet another thing to add to the packing list…)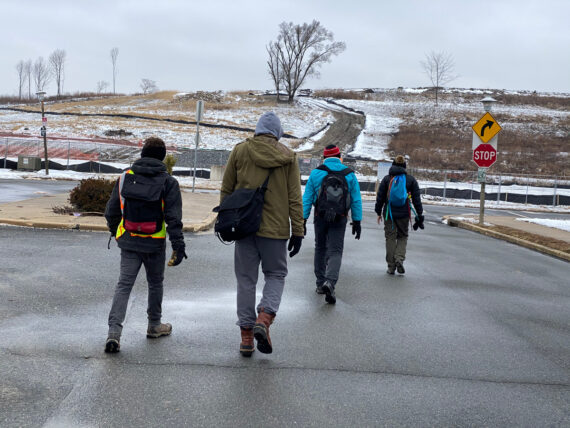 And so we set off through Eastwick, alongside the Clearview superfund cleanup site…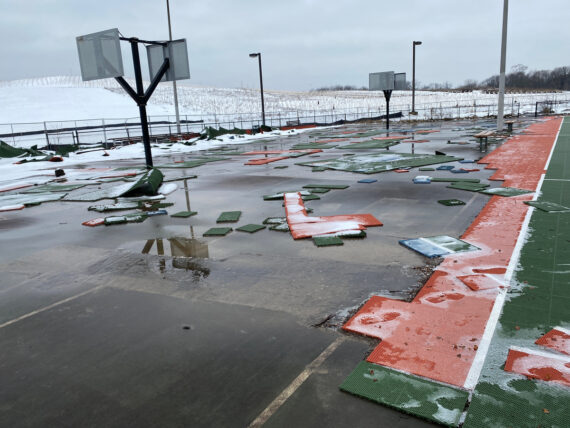 … past a basketball court whose new covering has been strewn all over the place and look like an incomplete puzzle…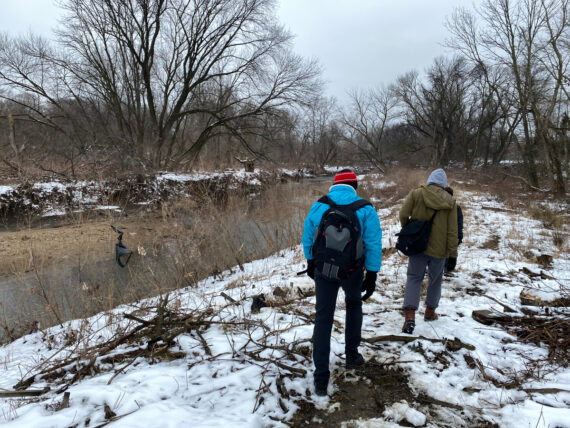 … and start making our way up Cobbs Creek…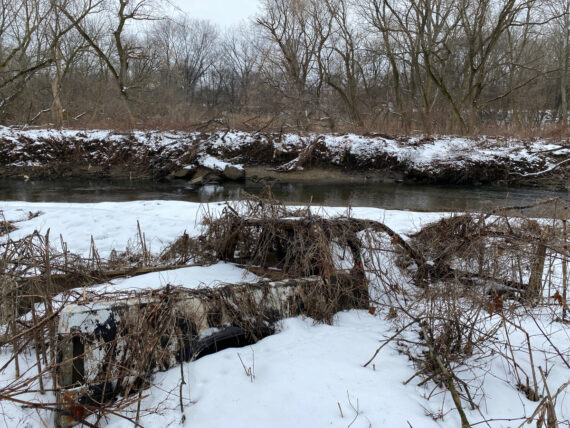 … past this abandoned pickup truck which every year seems to sink a little bit deeper into the mud…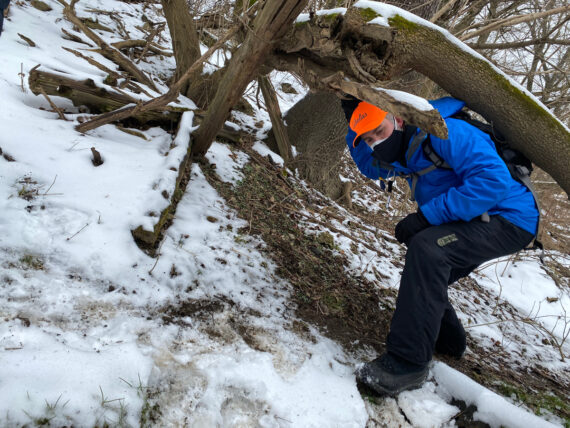 … and finding our way through some tricky terrain…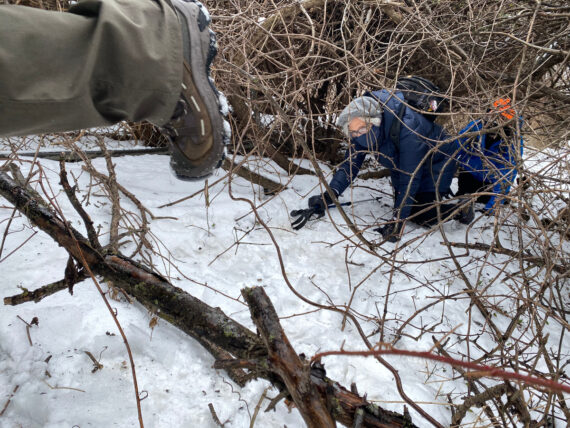 … sometimes really tricky!
(Remember: one of the operating principles of Walk Around Philadelphia is to find the way around the city's edge that suits you – so if crawling under a bit of brambles isn't your thing, there's always another way around!)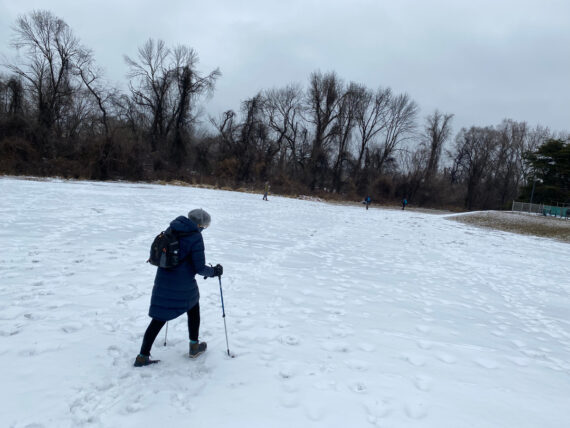 We continue trekking on…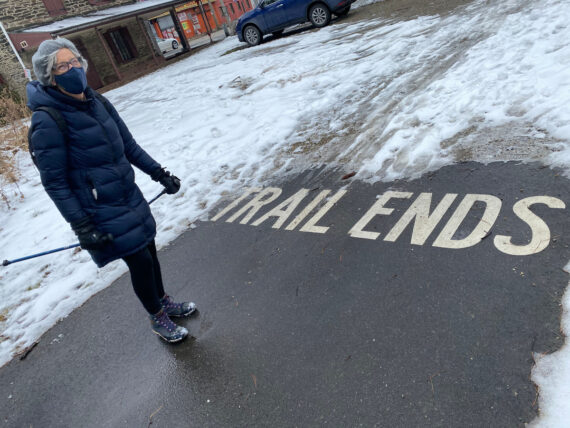 … to where the trail "ends", although for us it's just beginning…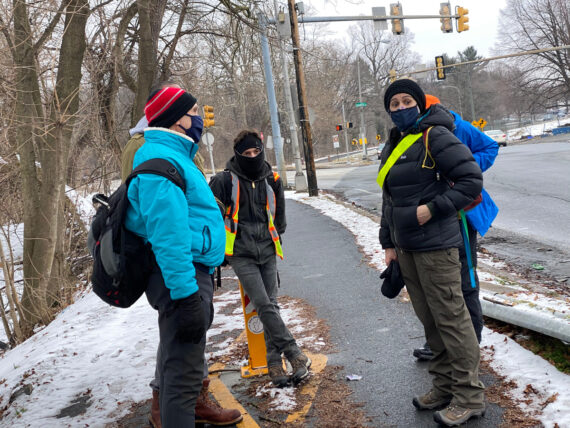 … as it leads us up along Cobbs Creek Parkway…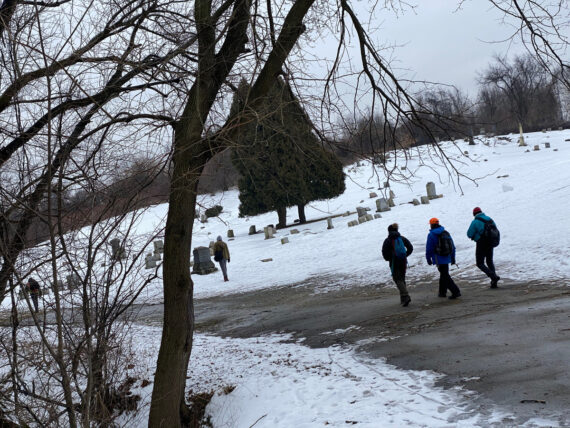 … and we find our way into Mt Moriah Cemetery …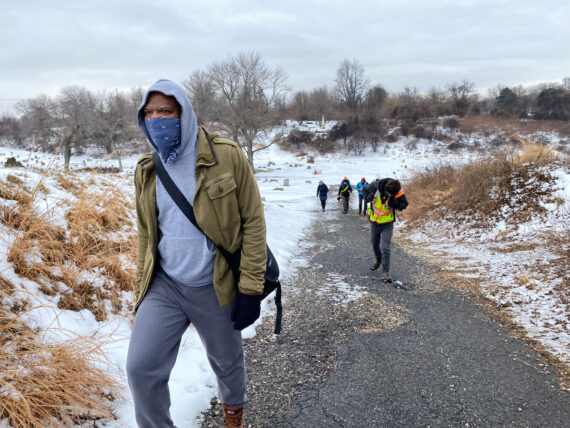 The cemetery had been abandoned for a while, and I love how parts of it are still quite wild & overgrown – this is another landscape that's become familiar to me but feels transformed by the snow.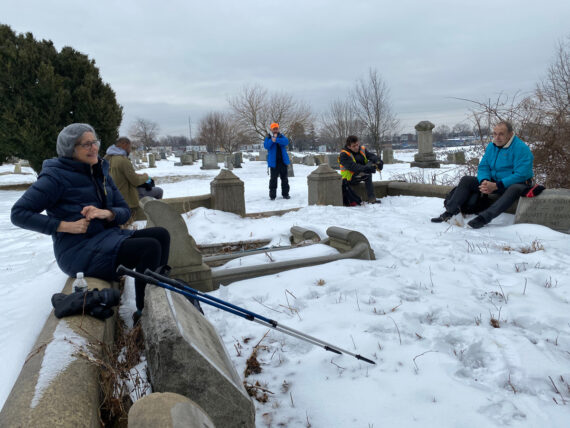 We stop for a little rest & snack break, and have that striking realization of "oh right, that's what the bottom half of your face looks like!"
All this time getting to know each other along the walk has been masked (not just important for public health in a pandemic, but actually kind of nice to keep your face warm on these icy days…) so it feels funny to have them off for a moment.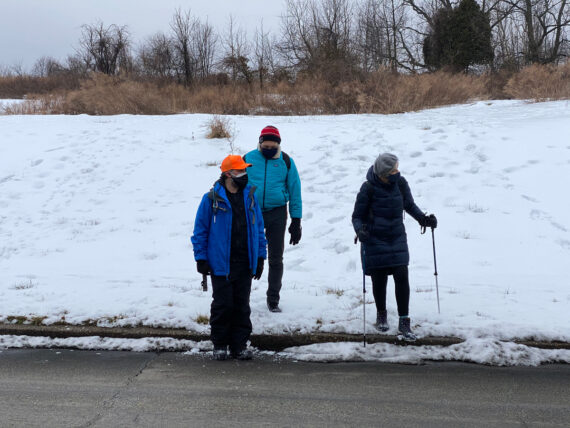 We continue out of the cemetery and back onto the Cobbs Creek Parkway Trail but don't stay there for long…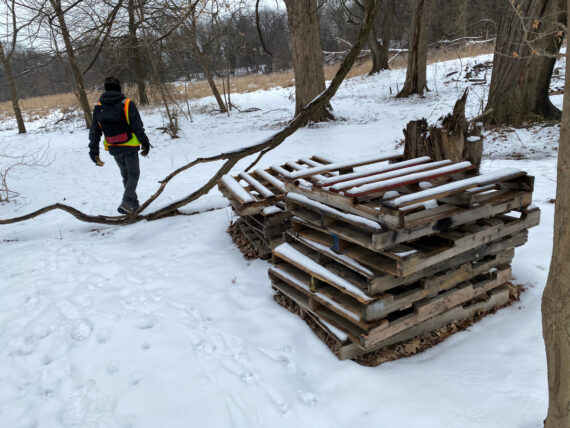 … as there's another opportunity to dip back down closer to the creek & actual perimeter, where down in the meadow…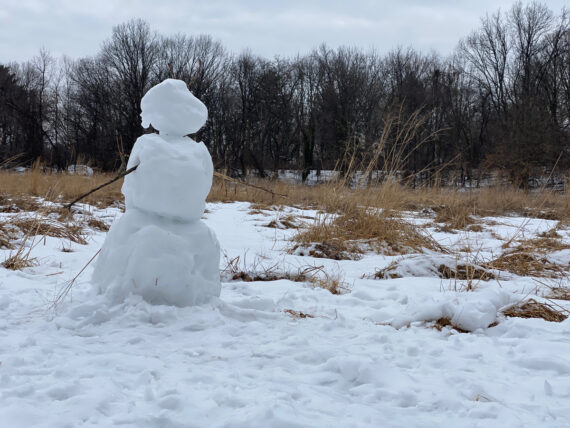 … someone's built a sweet snow sculpture …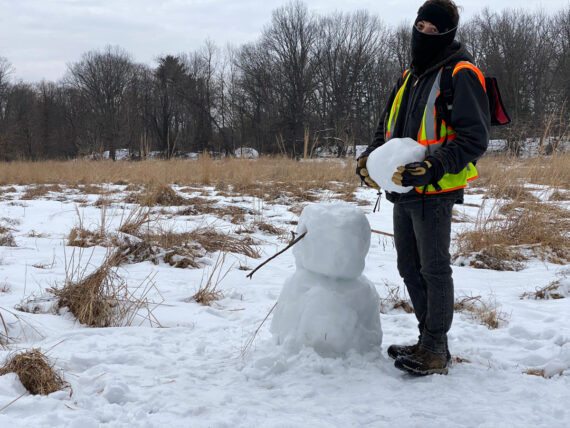 … which Rocky then promptly decapitates.
(only temporarily!)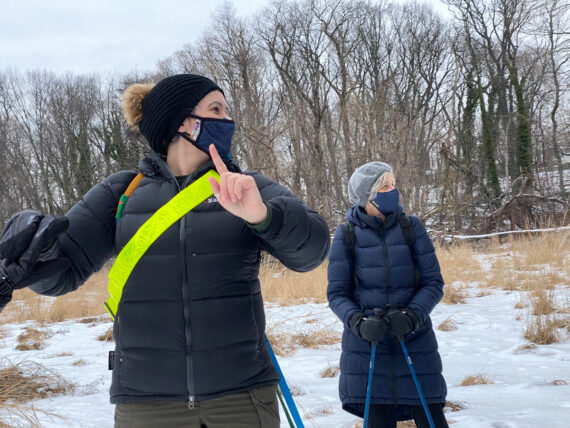 There's a lot of good humor and camaraderie going on here, but I don't know if you can get a sense of Xander's laughter here with the mask and all…
(I've just been taking quick snapshots as we walk, not really letting myself get into the full photo-documentation mode that I practiced in another life.)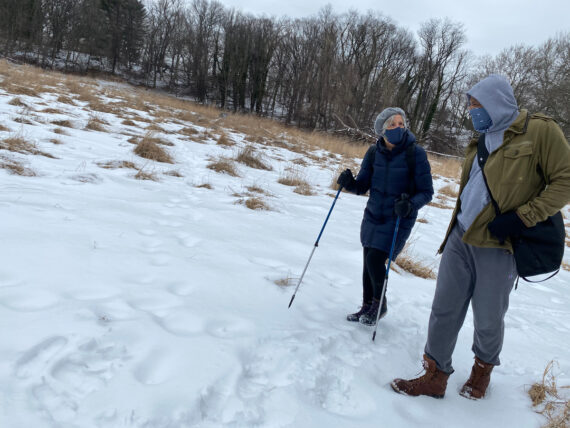 Now it's James & Kathy's turn to connect – and again, the walk works its magic where no introductions are needed and bonds are easily formed as terrain is navigated together.
We head on out of the meadow…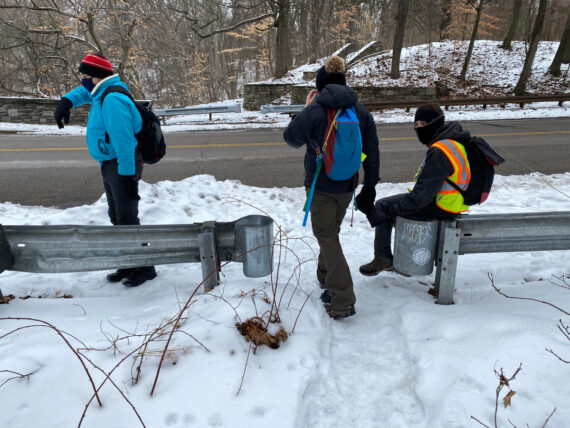 … and come up to Whitby Ave…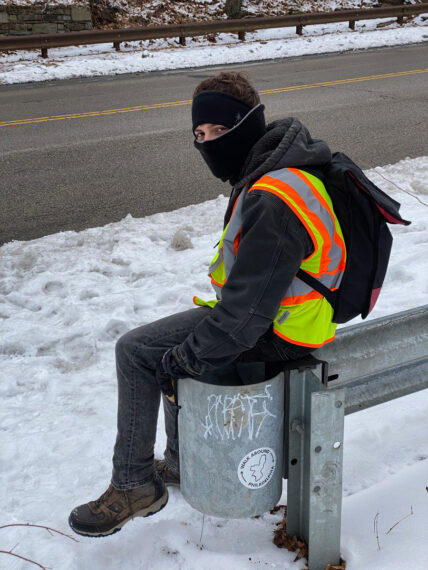 This is the last tiny segment of the entire perimeter of the city that Rocky hasn't walked yet:
His first experience of Walk Around Philadelphia was with this segment in 2019, but he had to get picked up right here in order to get to a prior appointment. Then in 2020, he walked the Delaware river segments (Days 4 & 5) – and this year he's done all the rest.
All that remains is this last little mile back to 61st & Baltimore and he can say that he's done the whole thing.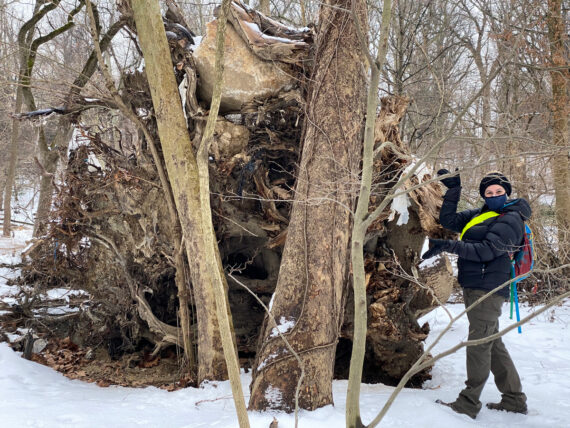 On our last stretch of Cobbs Creek Park, I'm struck by this fallen tree, whose roots have lifted a giant boulder up into the air…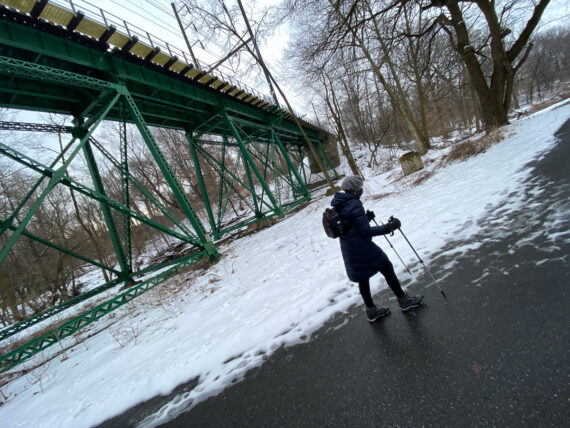 … we pass under one last rail bridge…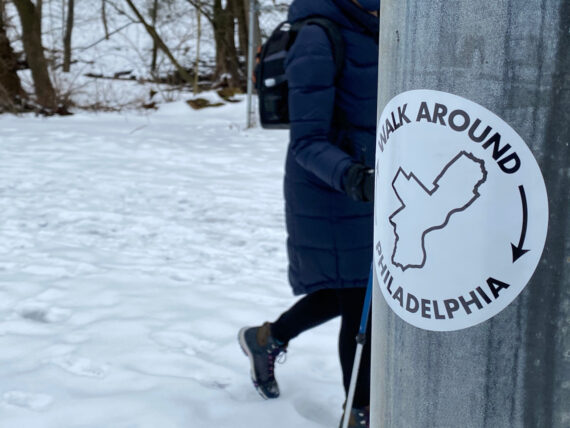 … and here we are at the finish line!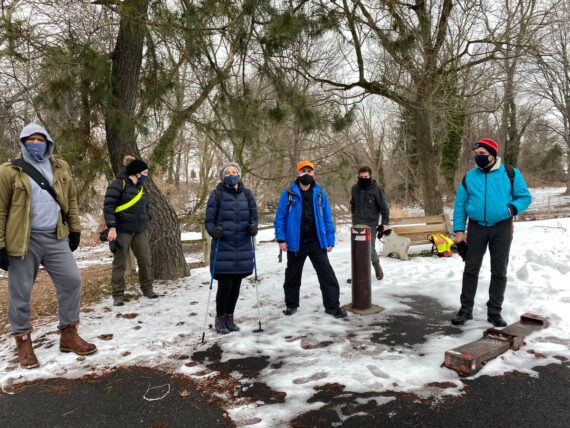 In a way, it's kind of anticlimactic: The trail continues on north of Baltimore Ave, and we could just keep going up Cobbs Creek. We've only done 10 miles or so today after all.
But here we are back where the walk began just a week ago.
Right back where we started. But transformed with new personal milestones, new relationships to each other, and new understandings of the city.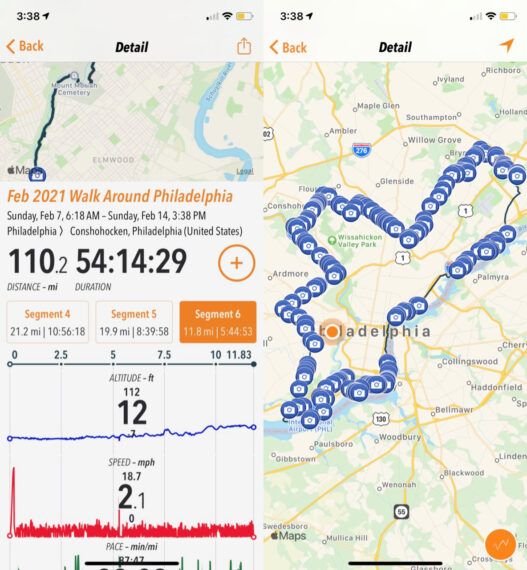 ~110 miles in six days.
A full loop around the city's edge.
Such intimate knowledge of the border gained by walking each step of the way…
The rest of the city within remains a mystery, so much more so now that we understand its scale a bit more.
A bunch of us are all heading back up Baltimore Ave, so we actually have another 2 miles of walking together…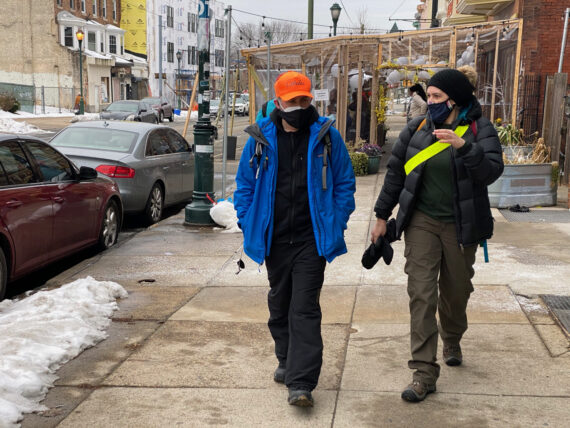 … so the conversations continue…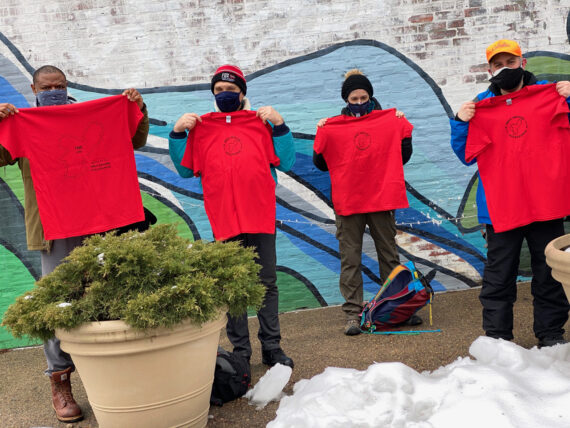 … until we finally part ways at The Cedar Works, where I'm able to offer some Walk Around Philadelphia t-shirts to this crew that has certainly earned them.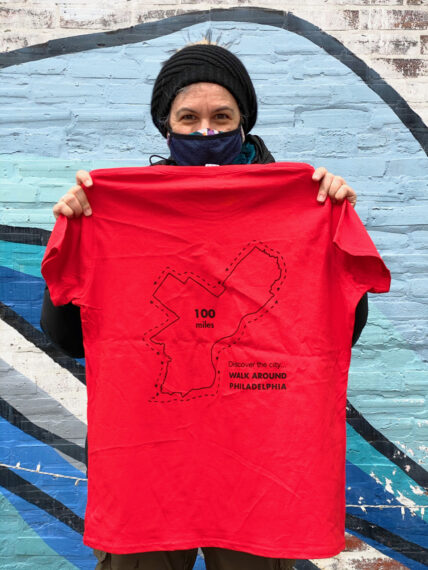 The back of the shirt has the map and segments that we just completed. If you'd like one, I'd be happy to get you one while supplies remain. And contributions to the project will help support making participation more accessible to others in the future.
And that's it for now!
I'm planning another larger public version of Walk Around Philadelphia for the summer/fall, much like last September's Fringe Festival iteration of the project.
I'll be looking for more partners like the folks at the Natural Creativity Center that helped facilitate the perimeter walk experience for a group of young people, as well as funders to help me provide stipends, more detailed maps and infrastructure.
I'll also be looking for more contacts and resources around the perimeter itself (places willing to welcome walkers, places to camp overnight, etc etc.)
In the meanwhile, I'm hosting some sweet online events including a real fabulous zoom 'houseconcert' this weekend: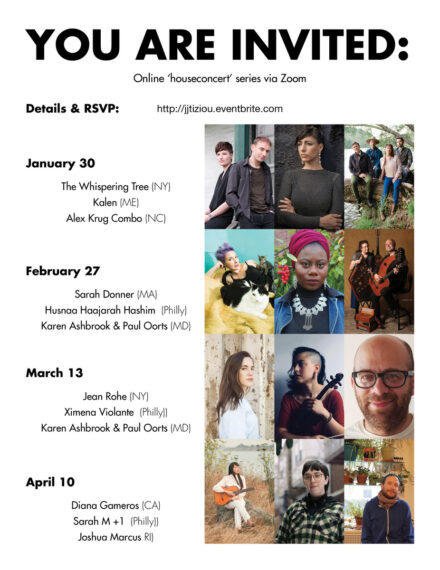 Hop on my email list for updates and invites if you'd like. (And then make sure it's not getting snagged by your spam / promotions filter…)
Thanks for following along with this adventure – wherever you find yourself walking next, I wish you well!
-jj