Walk Around Philadelphia is an ongoing exploration of the city's perimeter and effort to increase access to this unique experience for all sorts of people. 
Born out of a 4 person artist residency in 2016, Walk Around Philadelphia has evolved into a biannual pilgrimage that I've continued to develop and invite other participants into, and a unique retreat experience.
So far, over 300 Philadelphians have embarked upon it.
2022 will bring my 9th & 10th walks around the city's edge in February & September, and continued development of the project including:
Creating more detailed route breakdowns and accessibility mapping

Publication of my essay The Edge in the forthcoming anthology Making Tracks: Reflections on Walking

Revamping this website to consolidate scattered resources and facilitate involvement

Hosting events to create opportunities for connection between fellow perimeter-walkers

Developing partnerships to host other walk retreats

Seeking sponsors & backers support continued development of this project

Creating another larger public iteration of the project in September

Fundraising to offer stipends for participants who need them

Hiring a part time project manager to help me wrangle all of this
I'd welcome your participation in this project as it continues to evolve…
With fellow artists Ann de Forest, Sam Wend and Adrienne Mackey, I set out to discover the city that I live in by walking its full perimeter. This has become an annual personal pilgrimage.
Originating through a Knight Foundation-funded Cross Pollination residency with Swim Pony Performing Arts, Walk Around Philadelphia began with one of the most joyous weeks of my life.
From dawn to dusk over 5.5 days in 2016, we walked 102.7 miles around the city while staying as close to the perimeter as we were able.
Walk Around Philadelphia then evolved into a narrative performance event built around the map at the Philadelphia History Museum, activating the space in a new way and drawing sold-out crowds.
In sharing our stories, we created a space for participants to connect to points on the border and to their fellow participants as they engaged with the map together.
In 2017, I undertook a second walk around the city's perimeter on my own, and have continued it since then every February.
This has grown into a tradition that I have completed seven times, now inviting others to join for segments along the way. Ann, Sam, Adrienne & I are also seeking other ways to build on this project and continue to share this experience with others.
Cross Pollination:
Swim Pony Performing Arts' Cross Pollination residency pairs artists of different disciplines to spend a week working together with Swim Pony's Artistic Director Adrienne Mackey for an open-ended creative exploration, with Swim Pony's Artistic Associate Sam Wend joining us to document the process.
Through this framework, I was paired with writer Ann de Forest, whom I'd never met before. In preliminary meetings, many themes of interest came up including neighborhoods and stories, pilgrimages and processions, games and role reversals.
When inspiration struck, we decided on a plan that would end up incorporating all of our ideas in ways that we couldn't have expected as we set out to walk around Philadelphia.
All the way around Philadelphia.
---
Cross Pollination Residency:
The premise was simple:
walk the city's perimeter.
Not knowing what to expect, we set out on a walk that we thought would take sixty-something miles over four days.
The complete circumnavigation of Philadelphia took us 102.7 miles over 5.5 days.
We found our way home each evening via public transit, and resumed our tour from the same location the following morning.
Along the way, we shared discoveries, encounters, conversations, silence, laughter, blisters and more.
We confirmed the accuracy of the proverb that states, "There is no bad weather, only inappropriate clothing," and I am not kidding when I say that it was one of the most joyous weeks of my life.
It was an amazing way to discover the city from a new perspective, no longer focusing on the tall buildings at the center but rather encompassing the vastness of all that is held within Philadelphia's edges.
As our adventure around the city perimeter came to a close, we began talking about how we could share Walk Around Philadelphia with others.
While the Cross Pollination residency was technically for an open-ended creative exploration and didn't require a finished "product", we were inspired to share it in some sort of report-back to the community.
Partnering with the Philadelphia History Museum, whose walkable map of the city was the perfect setting for such an event, we designed a quasi-theatrical storytelling event that shared highlights and reflections from our pilgrimage while also creating exercises and opportunities for neighbors to connect through discovery of their city's perimeter.
The free event promptly "sold out", so we added a second night, which promptly was filled as well. An accompanying visual exhibit of photos & artifacts from the walk, connected to route markings taped on the floor, shared the experiences with the Museum's regular visitors when we weren't there.
We've since adapted our presentation to share with both college students and business executives, and would be happy to bring it to your community as well.
In the week following my father's death in February 2017, I walked the city's edge again.
I'd marked my calendar to keep a week free for another potential perimeter walk the following year after we'd completed the first one in February 2016. It had been the week after my birthday, and I thought that it might make a good period for yearly reflection.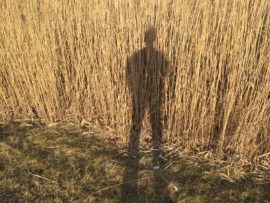 When my father's life came to a close suddenly on February 7th, it was an unexpected blessing that I already had an open schedule the following week, and completing a second perimeter tour on my own was a perfect way to create space to process all that had happened in the prior weeks of his illness.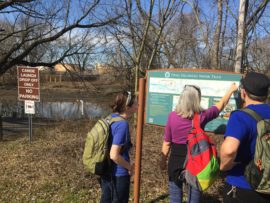 On the last half-day segment, a few friends joined me to walk with me and welcome me home.
In the end, we all walk our own life paths alone, but it's the people whose paths cross or align with ours along the way that make life worth it.
(Thanks for being here right now, joining me for this little moment of it!)
I'm continuing the walk annually as an personal ritual, and looking to find ways to invite others to share in the experience.
Walk Around Philadelphia captured the city's imagination and invited new conversations about civic space. The walk itself is a project that has become both a dear personal tradition, an ongoing collaboration with Ann, Adrienne & Sam, and an experience that I'm delighted to share with others.
In 2018 and 2019, I undertook my 3rd and 4th passes around the perimeter, with some days completed solo, some with a friend, and some with a small group.
In February 2020, in completing my 5th annual perimeter walk, I opened the invite to the public and found myself leading a group of 17 adventurous pedestrians walking out of the airport on the last leg of the walk.
In September 2020, both in response to the pandemic, and as a natural next phase of this evolving project, I offered a facilitated 'build-your-own-group' and 'choose-your-own-adventure' version of the walk in conjunction with the 2020 Fringe Festival. It was amazing.
In 2021, I completed my 7th and 8th perimeter walks, and the Fringe Festival iteration invited larger audiences into more accessible ~10 mile segments (read the WHYY article.)
I also was commissioned by the SNF Paideia Program at the University of Pennsylvania to design and facilitate a 3-day Walk Around Philadelphia retreat for their staff, faculty and fellows (read the Penn Today article) and collaborated with Temple University professor Hamil Pearsall to integrate the walk into her Sustainable Cities course.
2022 will bring my 9th (Feb) and 10th (Sept) walks, along with new accessibility initiatives. Maybe you'll join us sometime?
I'll also be increasing my fundraising in order to support the continued development of this project; if you'd like to become a backer, I'd welcome your support!
If you see a potential for an institutional partnership, please get in touch.
Get updates!
Walk & performance documentation by Adachi Pimentel for Swim Pony Performing Arts  •  Walking through tall grasses photo by Risa Waldoks  •  All other photographs © JJ Tiziou