The Navy Yard, Platt Bridge, Hog Island.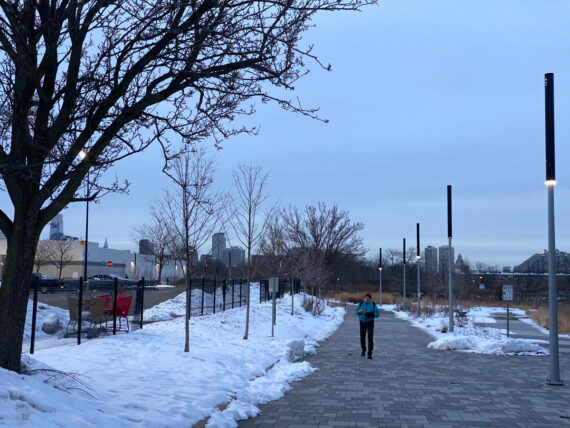 We'd arrived back at Pier 68 before 7am in hopes of a sunrise over the river, but this morning was overcast.
The forecast was calling for a potential ice storm hitting in the ~1pm range, and we were hoping it would hold off long enough for us to get across the Schuylkill River.
(We'd crossed that bridge in cold windy rain in 2016 and it was fantastic and fun, but still… Day 1 was enough winter storm adventure for this whole trek!)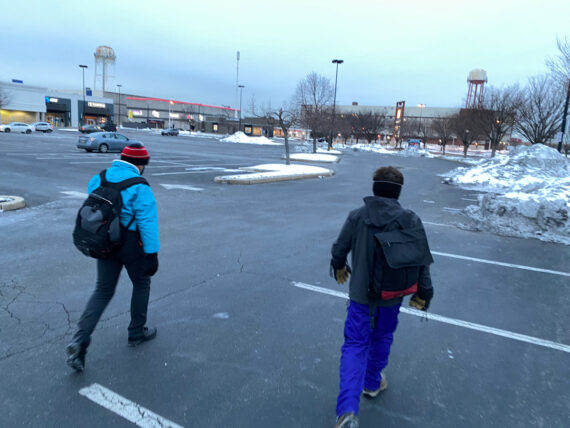 Setting off across the parking lots, this area is pretty familiar big-box retail commerce land… Wal-Mart's doors are always open, with a publicly accessible restroom to start the day if we need it.
But beyond there….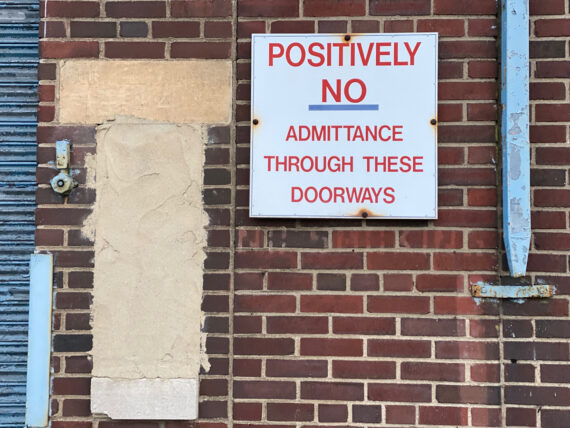 … things rapidly get less welcoming.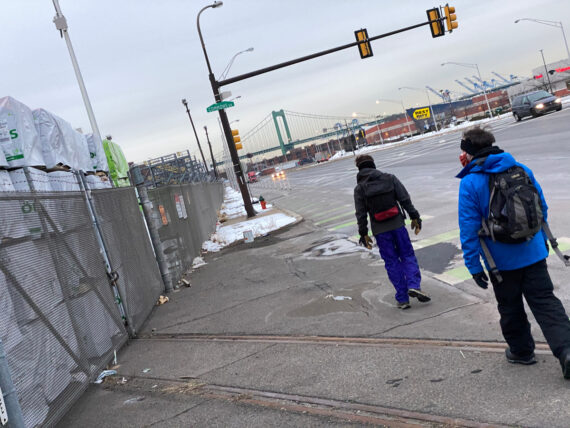 South of Pier 68, our access to the river / perimeter is blocked by fences. Beyond here is all port / shipping type facilities…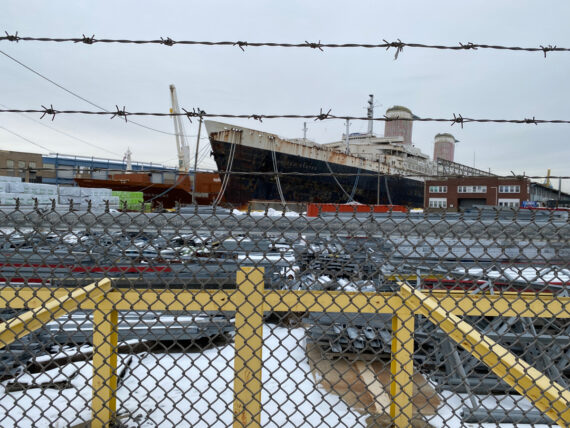 We pass by the defunct SS United States…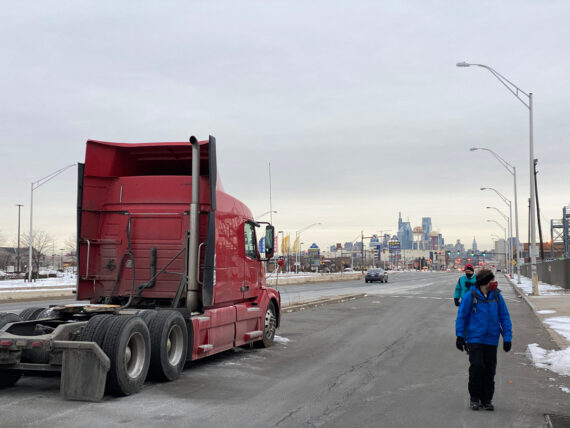 … and the skyline recedes in the distance.
We pass some open gates but the signage makes it quite clear that, without a TWIC, we are not welcome here.
TWIC = "Transportation Worker Identification Credential"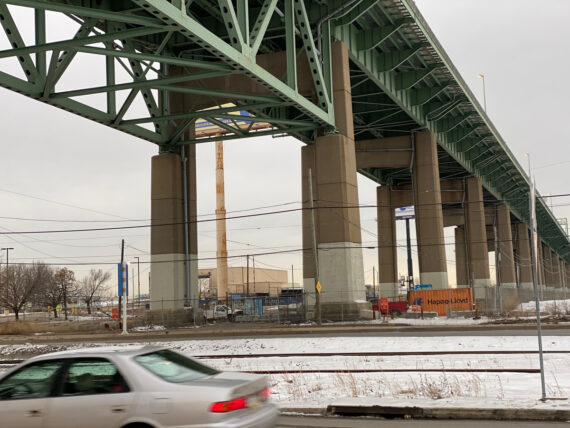 We pass under the Walt Whitman Bridge…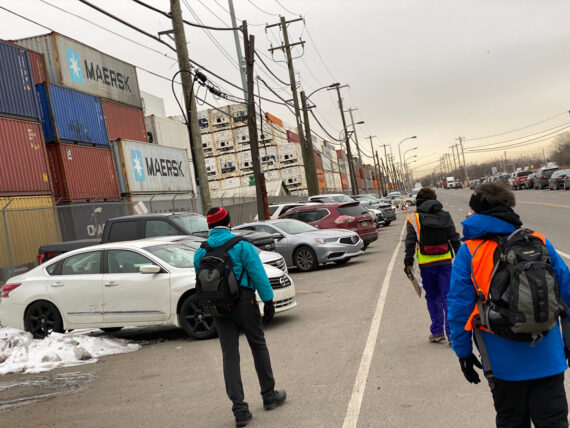 … and past stacks and stacks of cargo containers…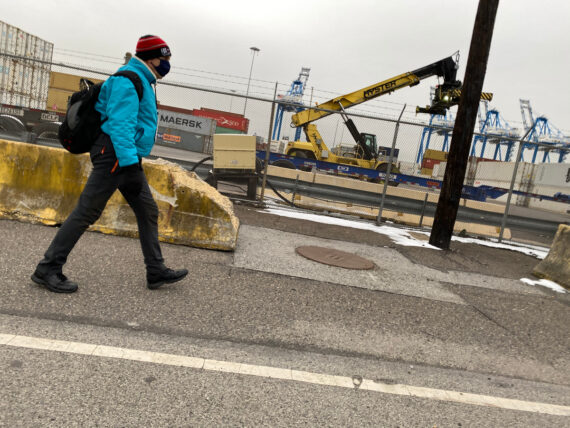 … and all sorts of industrial equipment.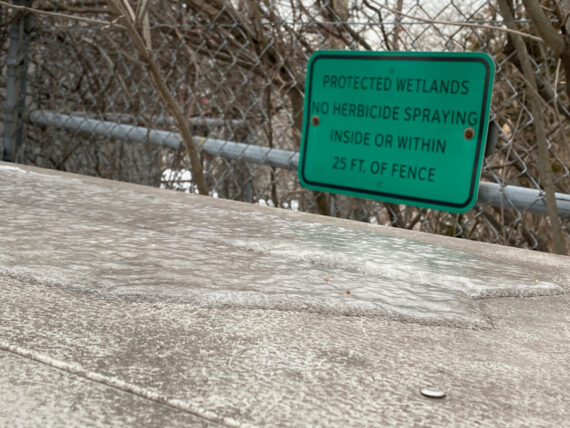 I find it strange to see signs for "protected wetlands" here…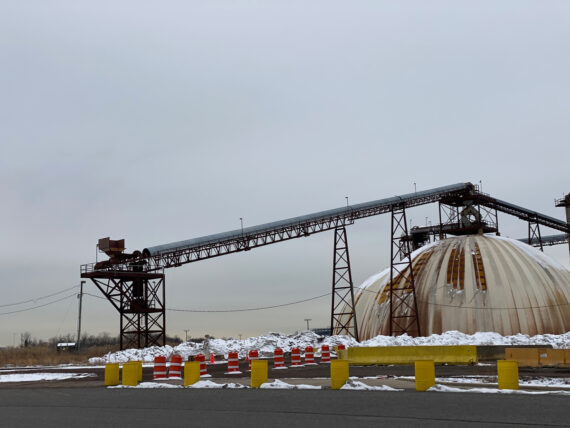 … in an area that is so clearly industrial.
(Then again: I've totally seen deer here at sunrise before…)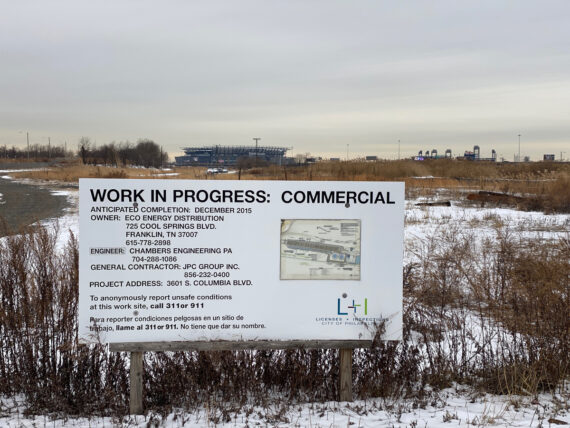 We see a sign for "in progress" work.
The fine print says "anticipated completion: December 2015" – I'm not sure if this is a project that's been abandoned, or simply delayed.
I find this humorous, given that it's now 2021 – but who am I to judge?
If there's anything that I've learned both from the walk and from the rest of my life, it's that sometimes things take longer than you think…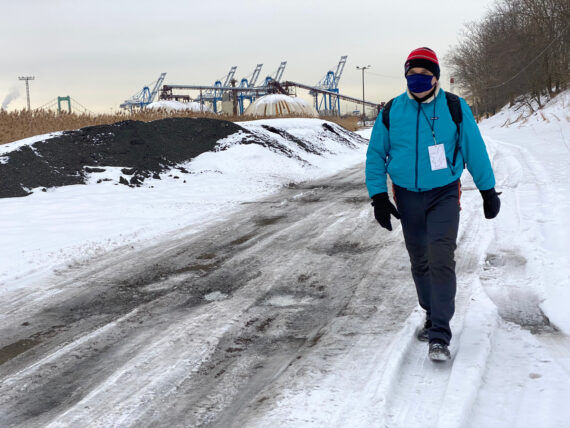 Just like on Day 3, it's just four of us white dudes on this segment of the walk, so all of those same reflections about privilege & access come to mind again.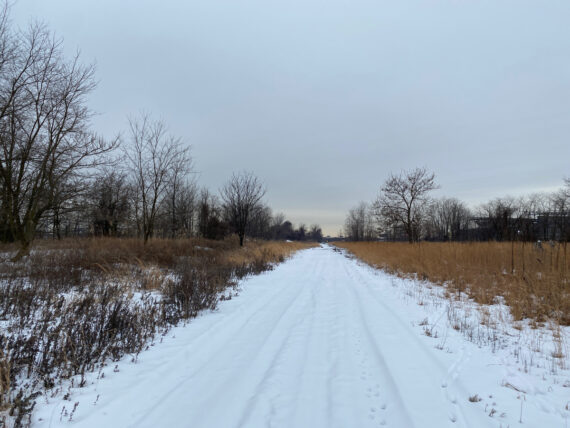 There's some vast empty swaths of land down here too, in what apparently used to be old airports…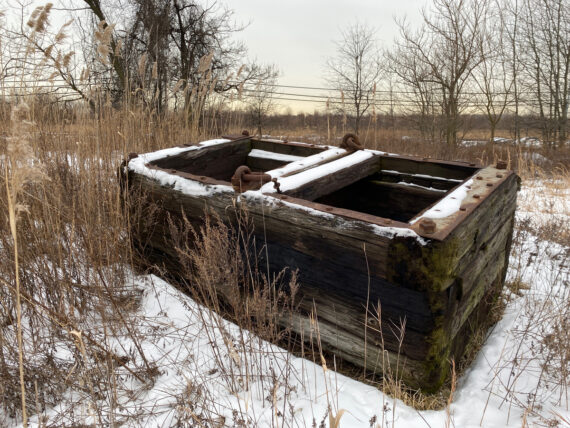 … and then there's this big thing… I have no idea what purpose it once served, but…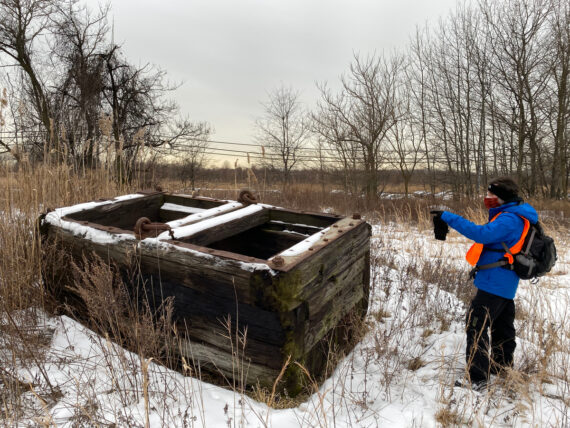 … a human in the frame helps give a sense of scale.
This thing is massive, and heavy, and presumably once hung from something & carried something else…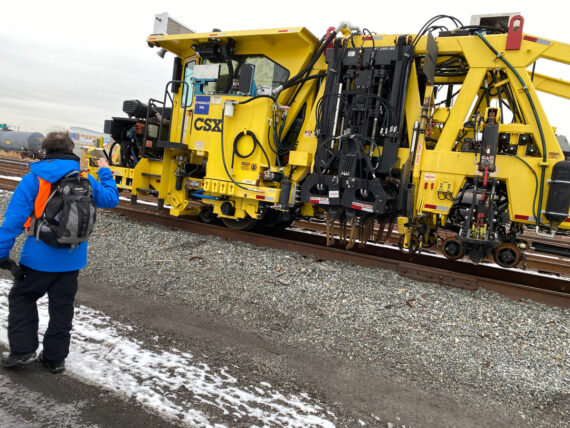 … and we also catch a glimpse of some more modern industrial equipment.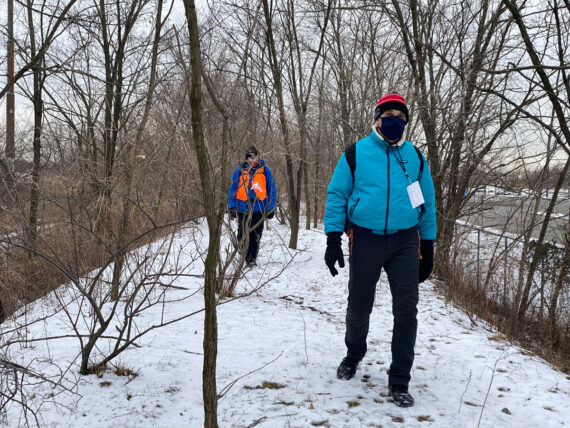 We follow a few more deer tracks…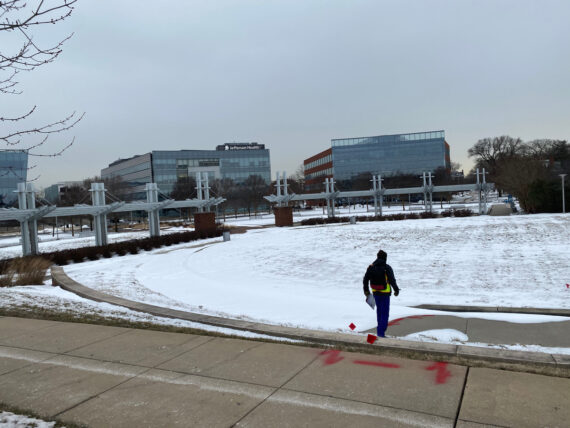 … before coming out onto the Navy Yard near Broad Street.
Note: we've drifted far from the actual perimeter here, as the line itself is still way back in the middle of the Delaware River. But we've got to find our way across the Schuylkill River, and there's only so many ways to do that. And the goal is to stay as close to the perimeter as possible, within reason, and so here we are…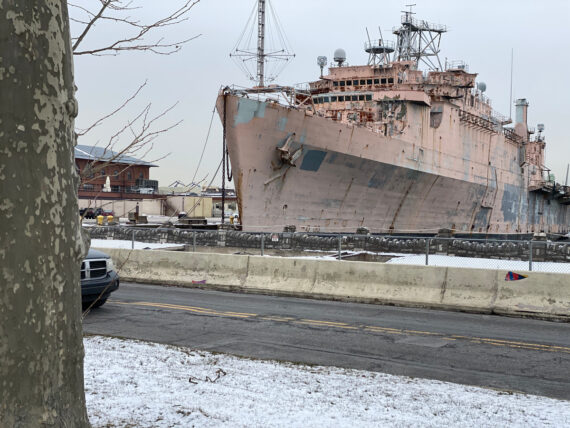 I'm always awed by the scale of the old ships here… just the tiniest glimpse of the scale of our military.
(And seeing ships called "Destroyers" always makes me make a sad joke about what might be possible if we invested as much in "Creators"…)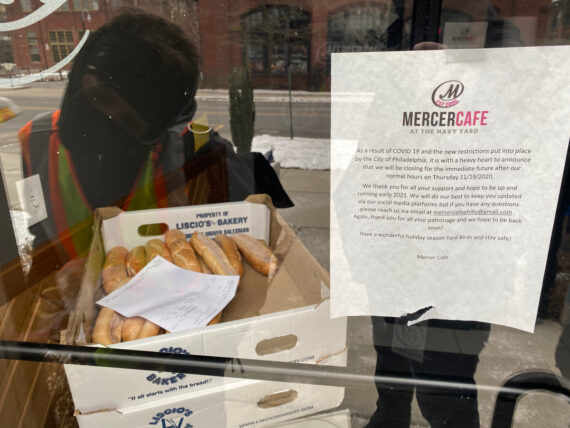 The one café (and potential publicly accessible restroom" in the navy yard is closed due to the pandemic.
We can just barely read the invoice date through the window: those sandwich rolls have been sitting there for over a month, since sometime in late December.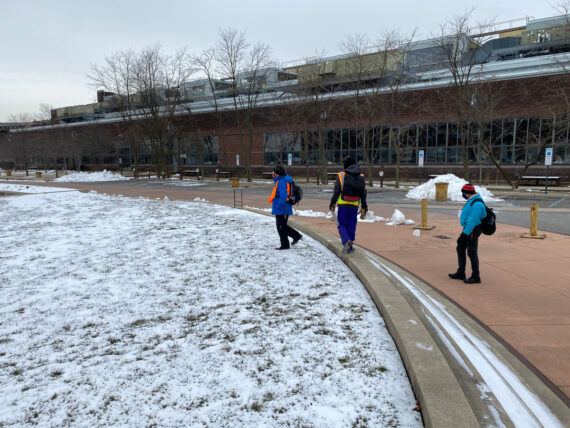 We pass through the Urban Outfitters campus…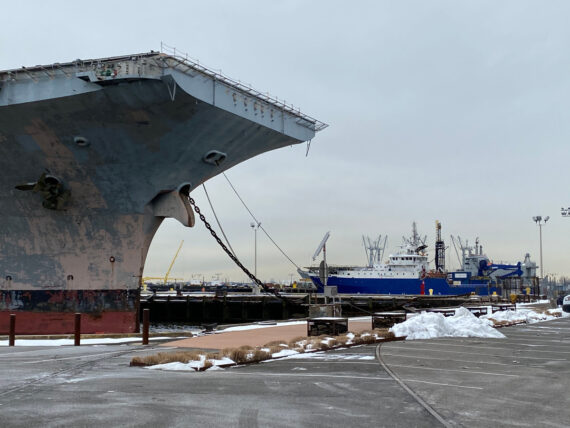 … and past the giant aircraft carrier.
A quick search shows this to be the USS John F Kennedy, which Wikipedia lists the status of as "stricken, to be disposed of"
I myself am struck (not stricken) by the fact that disposing of an aircraft carrier seems like a pretty big project. No wonder this thing hasn't visibly changed since 2016.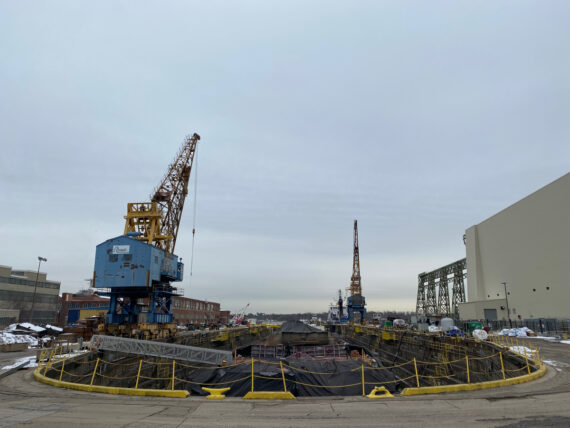 But the Navy Yard doesn't just hold old junked ships – there's something active going on in this dry dock…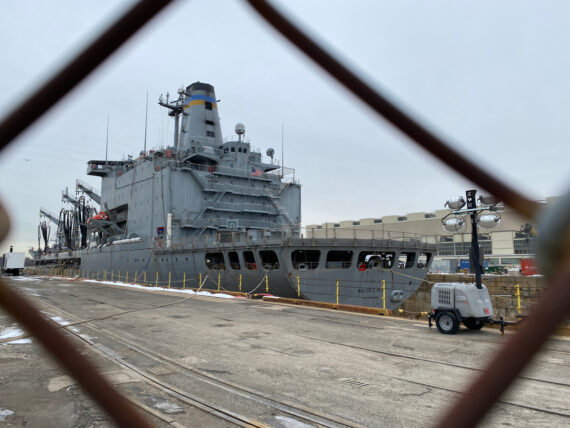 … and in another dry dock is the USS Walter S. Diehl, a 'fleet replenishment oiler.'
Apparently this is what you use when you need to move ~8 million gallons of fuel around.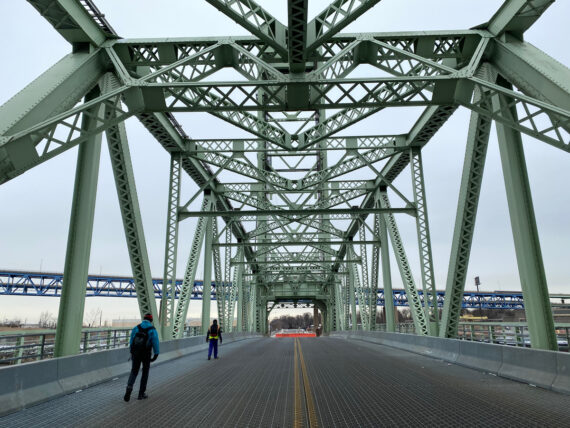 Crossing out on the 26th Street Bridge, it feels like we're leaving the Navy Yard, although technically that gate is a little bit further on.
In the background is the I-95 bridge. Crossing there would technically get us across the Schuylkill closer to the perimeter, but as far as I can tell there's no accessible pedestrian walkway.
There *is* a scary-looking catwalk underneath it, which I've investigated, but it starts about 40′ off the ground over by FDR park, and accessing it would require a lift truck, climbing equipment, and no doubt some special permissions.
(If you have access or would like to introduce me to the right authorities, I'd be delighted to cross it on some future iteration of the walk…)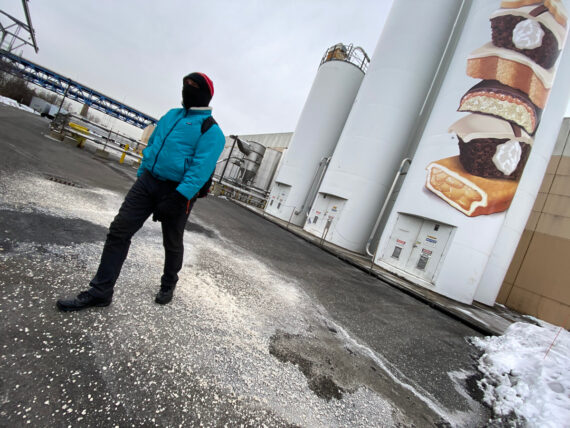 Down this way we pass the TastyCake factory, where the silo labels give away the secret ingredients.
They're labeled with things like "sugar", "flour", "corn syrup", "hcfs" (presumably "high fructose corn syrup") – and also "pan grease", "filler fat", and most mysteriously of all: "pie."
Strewn on the ground here is some rock salt to melt the ice, but this picture reminds me of another one from the September walk, when there'd been a sugar spill, and this silo had a pile of sugar on the pavement below it.
Yes, I tasted it to confirm.
The sugar, not this salt.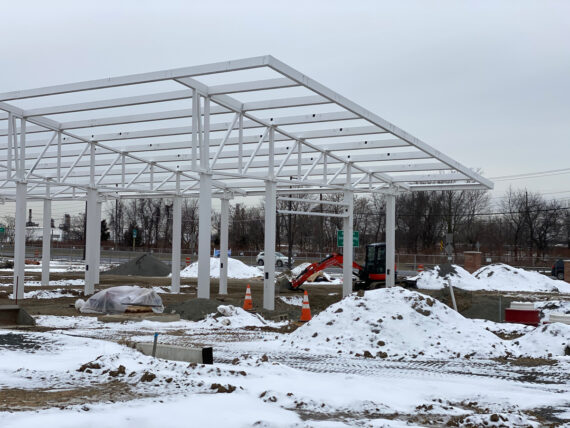 Further on ahead, there's a new gas station / convenience store being developed at the base of the bridge.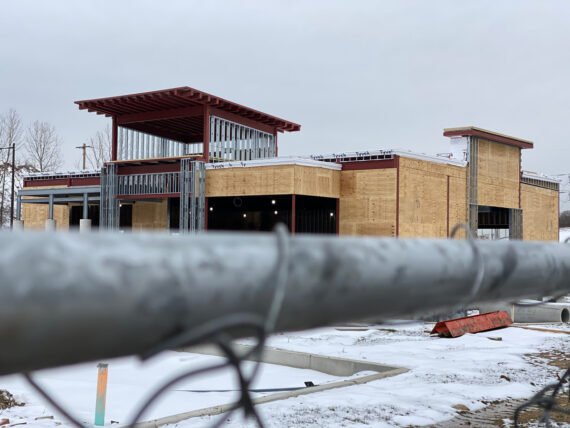 The scrapyard of junked cars that used to be here was one of my first memories of entering the city way back when I first got here in the late 90s… now sometime soon there'll hopefully be another restroom accessible to future perimeter pilgrims here.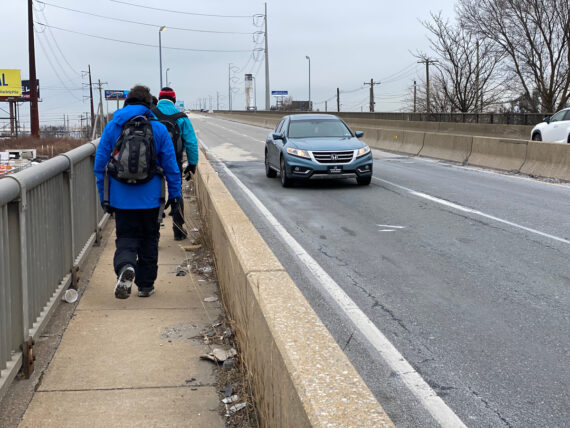 And so we begin our trek across the Platt Bridge…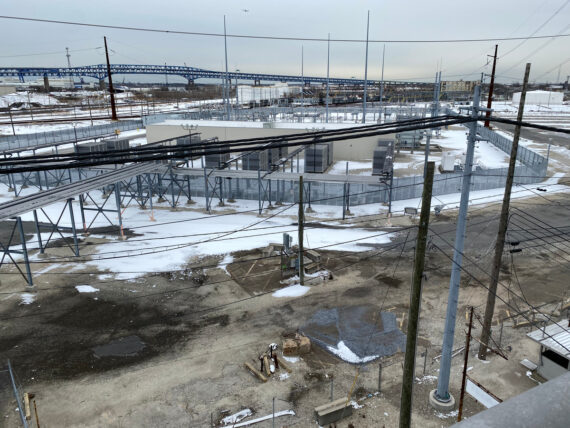 … which offers some pretty spectacular views over the now defunct refinery lands…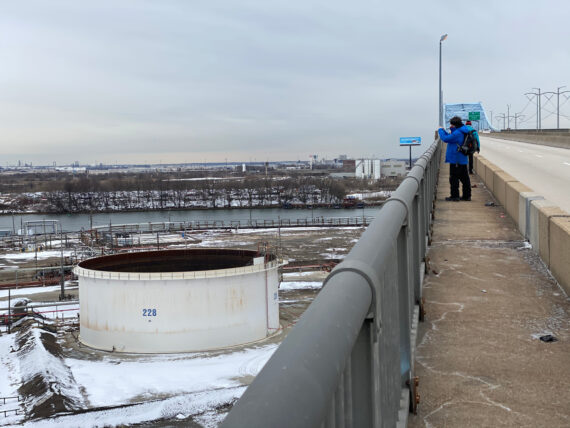 The PES facility here is now shuttered since the 2019 fire and explosion; a developer plans to dismantle it all to create something new, so I imagine that this view will be seeing some changes over the coming years.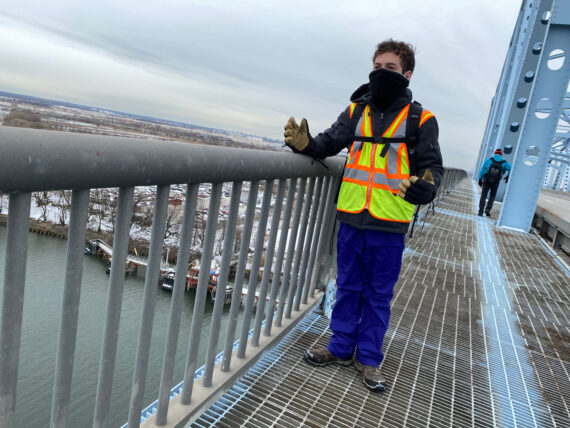 The top of the bridge is a pretty spectacular place to be even on a gray day…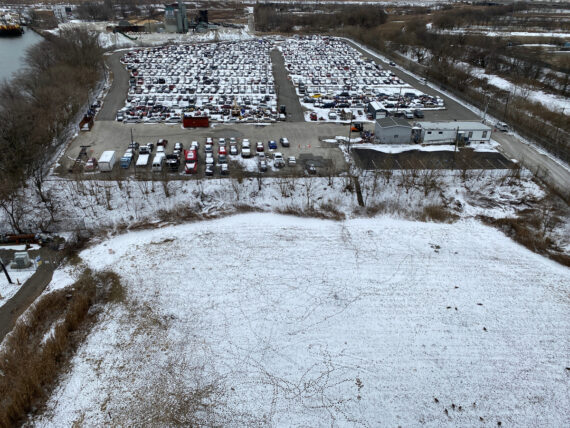 Looking down at the other side across the river…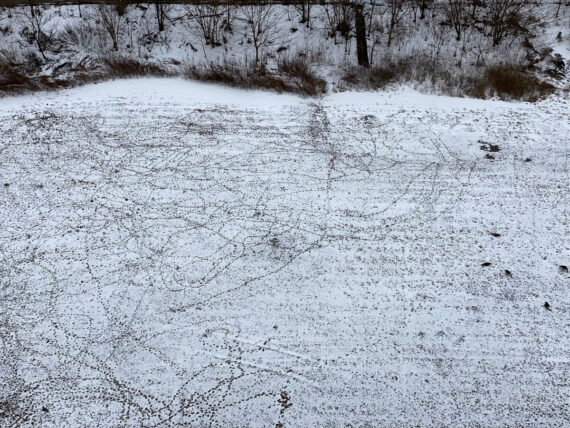 … I'm captivated by all these lines of footprints tangled together. I think they were left behind by those geese over there on the right side of the frame…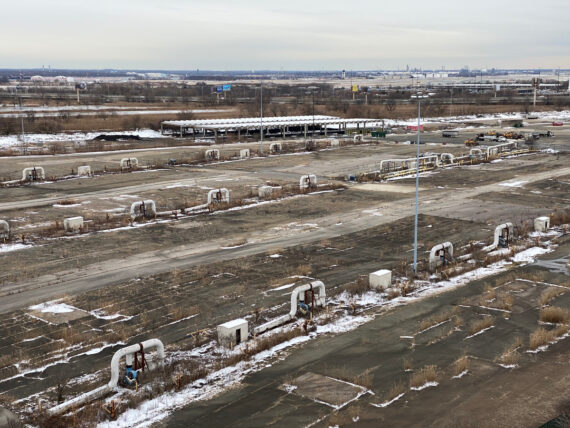 There's also a 'renewable biofuels facility' & facility that creates fertilizer pellets from 'municipal biosolids'
This is where they dry out your poop.
(Again, from the water treatment plants to the shipyards to the scrapyards to the parks to this place, there's so much potential for an educational curriculum built around the experience of walking the perimeter…)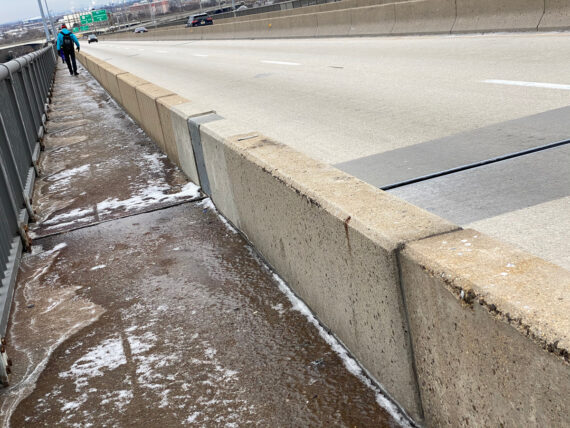 The western slope of the bridge walkway is quite icy, so it's important to keep an eye on the path…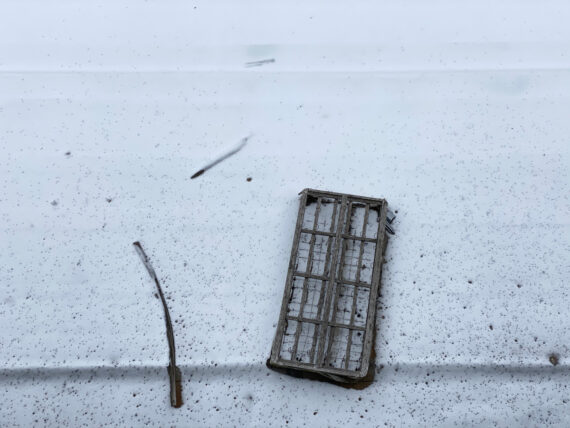 … but I always keep an eye out for this mattress or boxspring that probably fell off of a car on the highway in order to land on this roof below the bridge… it's been there since 2016.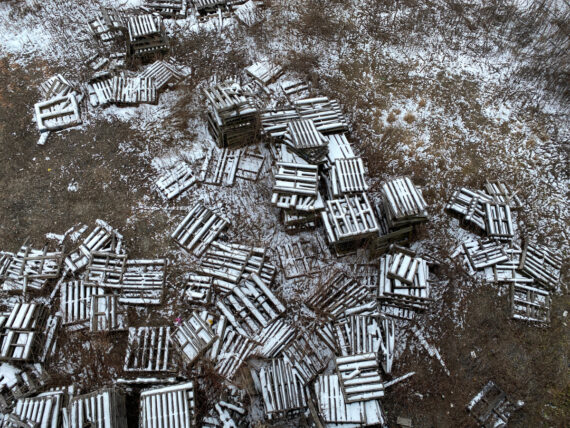 This pile of pallets is pretty beautiful too.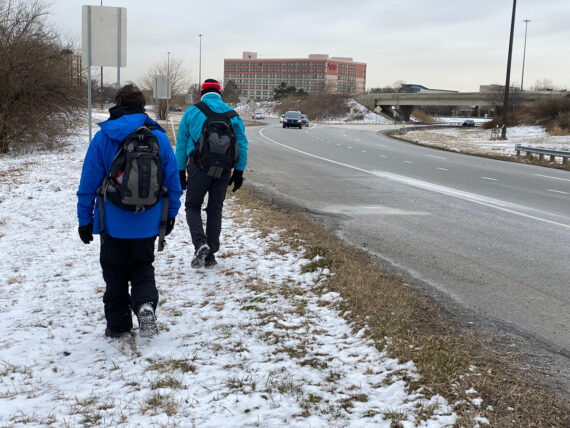 Once we've crossed the bridge, we finally come across…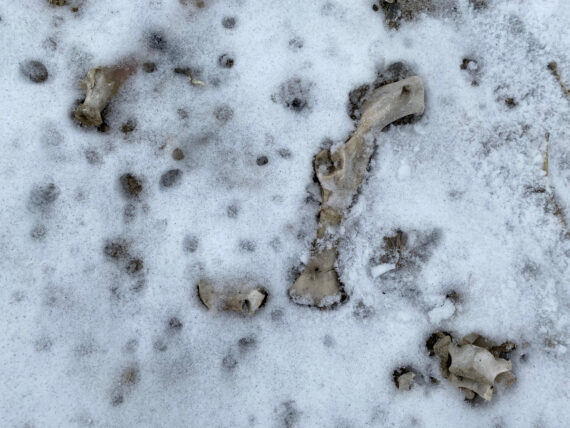 … our first signs of death in the snow, likely from a deer carcass.
Encountering death is a regular part of the Walk Around Philadelphia experience, and an opportunity for contemplation of mortality and appreciation of the precious fragility of life.
We've probably already passed by plenty of roadkill / dead things already in the first few days of the walk, but it was likely obscured by the snow.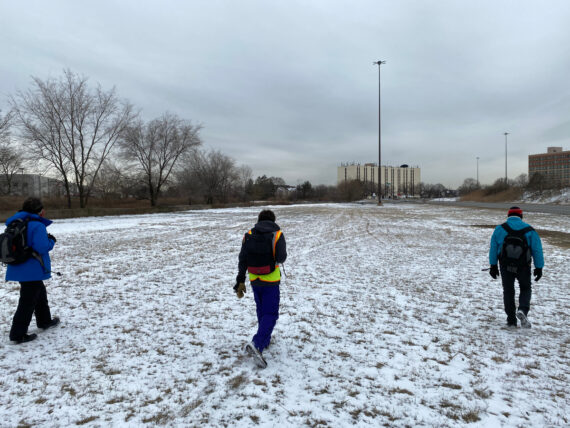 Up ahead are the airport hotels…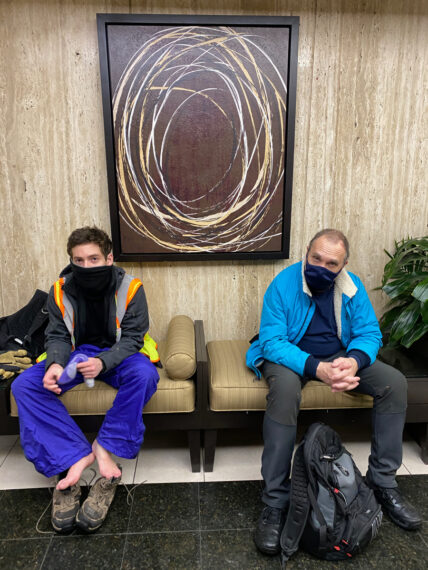 … where we take another quick break…
… and check in on our progress.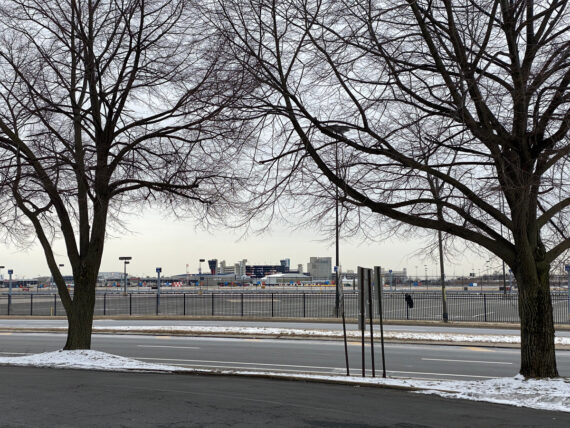 Off in the distance is my How Philly Moves mural on the airport parking garages. At 85,000 sq ft, it is the largest piece of public art in the city, and one of the largest murals in the world.
And I kind of love this coincidence: that my two largest projects, this giant mural and this ~100 mile circumnavigation of the city, actually intersect in physical space.
Or almost. The perimeter cuts right across the airport runways, but the parking garages are all squarely on the Philadelphia side. But I say close enough.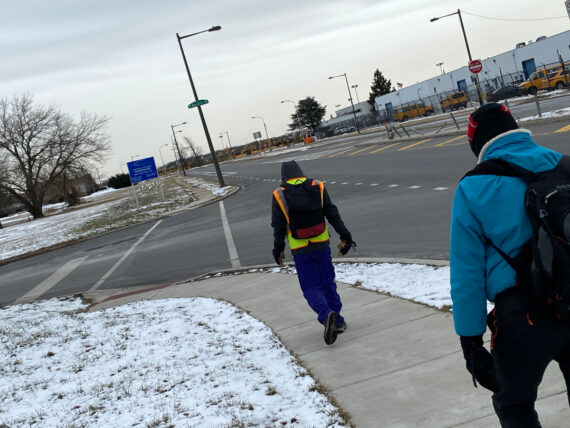 Now since we can't walk the perimeter line across the airfield, and nearly two thirds of the airport aren't actually in Philadelphia but rather in the "Not-Philadelphia" (Tinicum Township) side, we'd be justified in ending our day here or cutting the corner of the airport and continuing north.
But in the spirit of completionism, and of discovering the vast expanse that is Hog Island, we instead turn south and continue on around.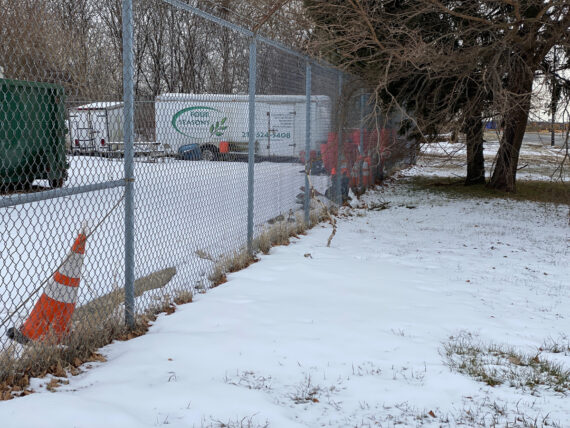 Someone spots another Four Seasons Total Landscaping truck…
What are they doing down here?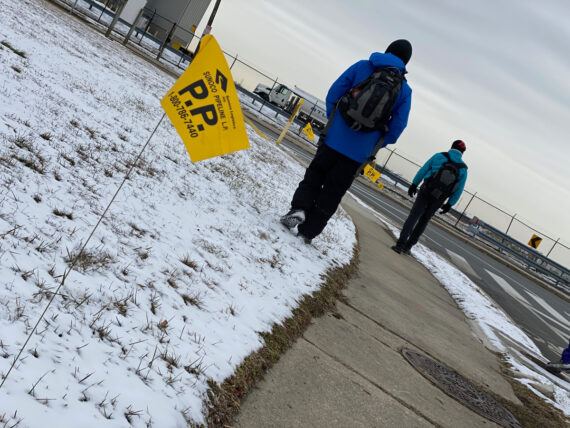 We pass some petroleum pipeline markings…
(These are new, although presumably the pipeline's been here for a while…)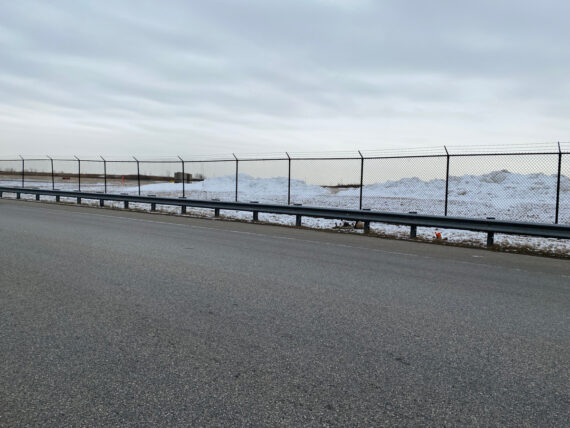 … and here I'm struck by…. nothing. Which is something.
When Adrienne, Ann, Sam & I first walked the perimeter in 2016, we'd been struck by a strange sight right here: the form of a large jet plane, entirely wrapped in blue plastic.
Every year since, it's been there, and over the years I've watched the plastic disintegrate and fray through the seasons, such that the old plan underneath (with scraped out markings) was eventually revealed.
It was still here in September.
And <poof!>
All of a sudden, it's gone.
This comes as weird shock to me, and I'm curious where it's gone off to and what happened to it.
Was it sawed into scrap on-site? Towed away? Somehow made to fly?
Will that aircraft carrier in the Navy Yard still be there next September, or whenever I next walk by?
Just doing the walk once is an amazing experience for the perspective that it brings on the city. But repeating annually it as a personal ritual (and now twice a year as the project evolves) is a whole other thing…
I've been cultivating this deepening familiarity with this sliver of the city's edge, and it's fascinating to see when things pop up…. or in this case, vanish.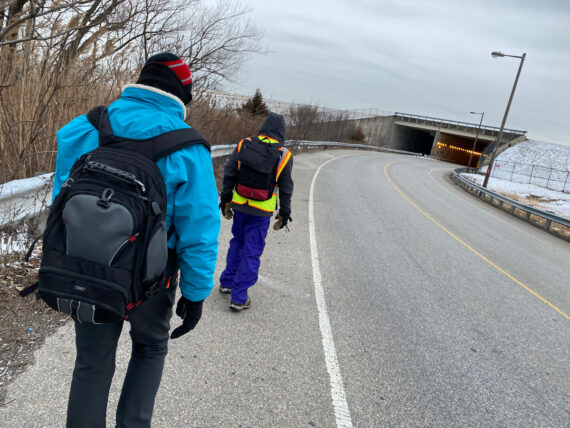 But that's enough about my attachment to random details of the edge from days past – it's amazing how the act of repetition can build up a mythology around this thing.
For my fellow walkers, this is all new here…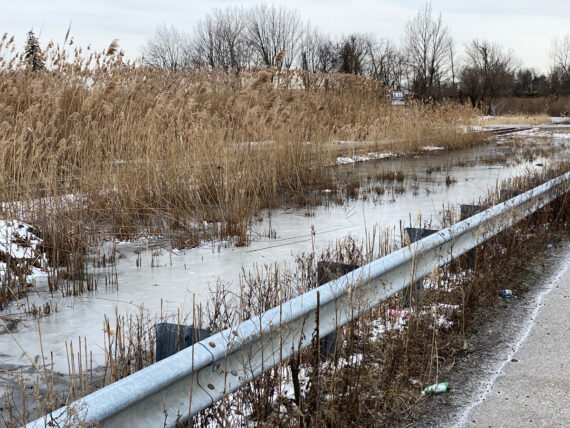 Beyond this landscape is Fort Mifflin, although we won't venture into it…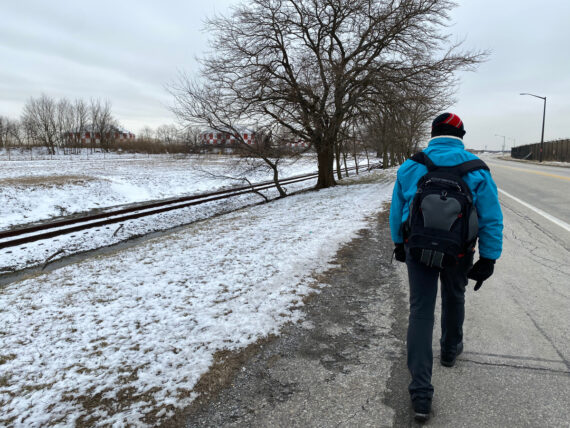 … and somewhere right around here, without a sign or anything…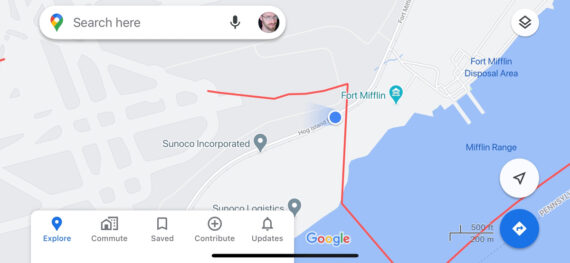 … we've crossed the perimeter into Tinicum Township.
The border does some funny zigs here, with a sharp turn to a north/south line that divides Fort Mifflin from the Sunoco Logistics facility.
Then, somewhat randomly, it hangs a hard left across the airport runways. Of course, there must have been some other significance for these demarcations before these runways were built / expanded…
If you'd like to have this handy-dandy Philly perimeter outline loaded up in google maps, just click here.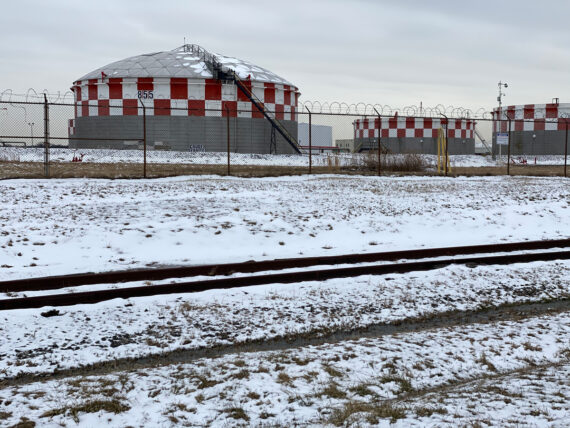 The tanks at the Sunoco facility have big signs on them that say "CRUDE SERVICE" and this invariably leads to a chuckle…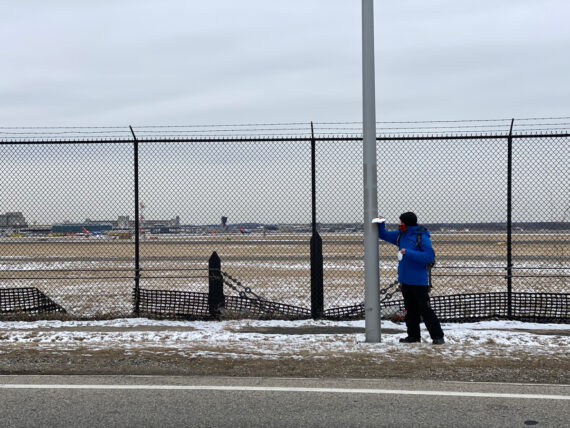 There's not a lot of foot traffic around here, but this post seems just as good a spot as any to leave another sticker blaze…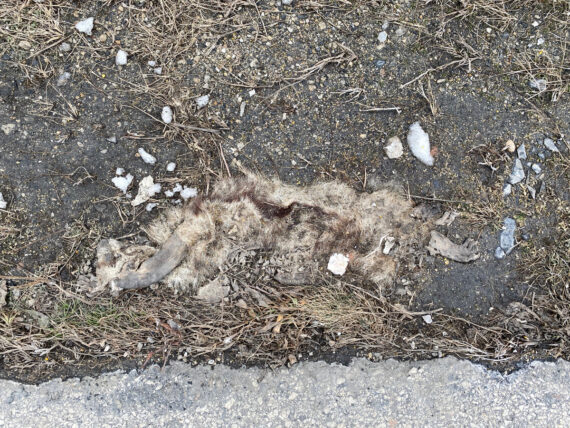 With more snow melted, more death is revealed…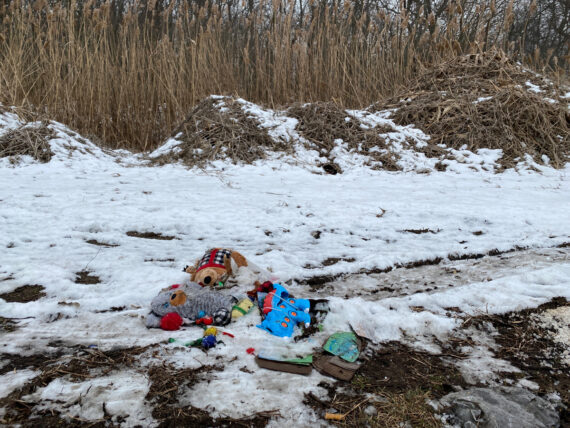 … and other piles of things too.
(Not totally clear if these are forgotten toys, dumped trash, or an improvised memorial of sorts…)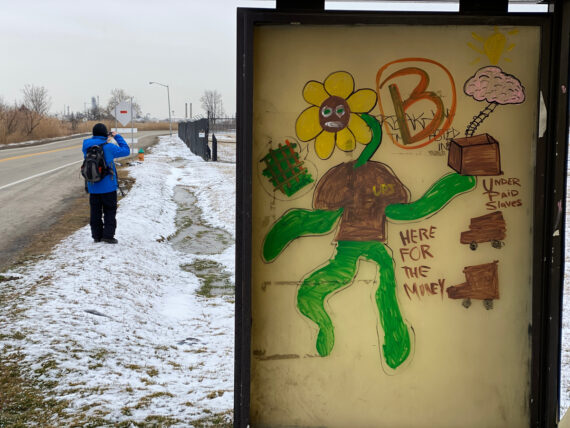 A bus stop near the UPS distribution facility…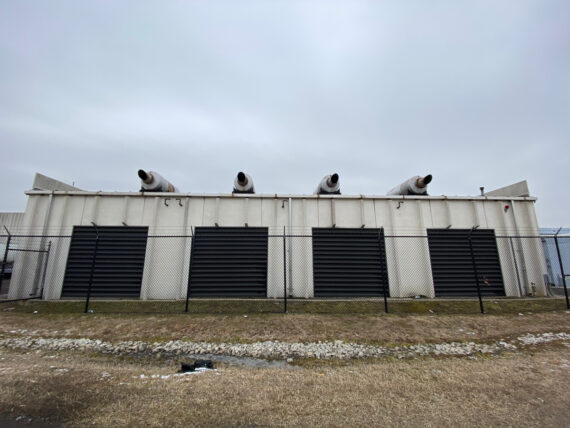 … and my best guess are that these are emergency power backup generators for said facility, but that's really just a guess.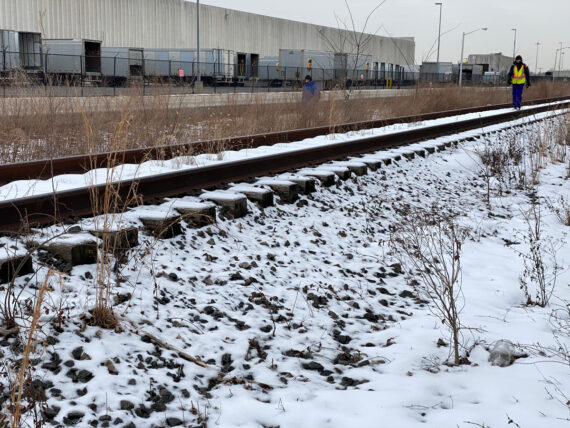 As we pass the loading docks…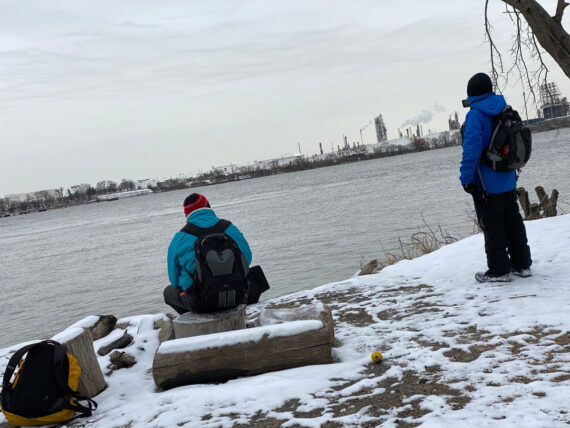 … we head down to another kind of dock, or at least some bit of abandoned industrial access to the water…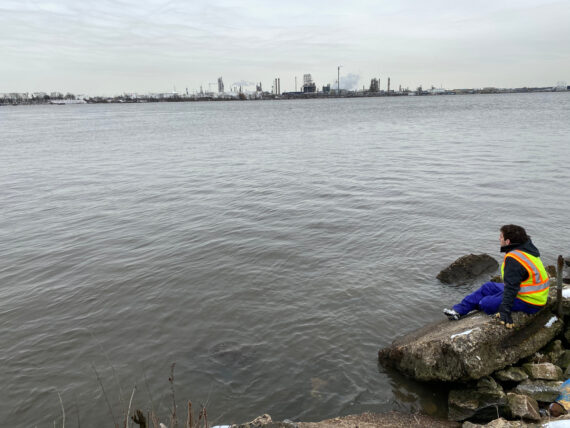 This is a great spot for a well needed break.
The above narrative doesn't quite do justice to how long the trek around Hog Island is… this part just goes on and on forever, particularly if you're already weary from ~ 90+ miles of perimeter walking.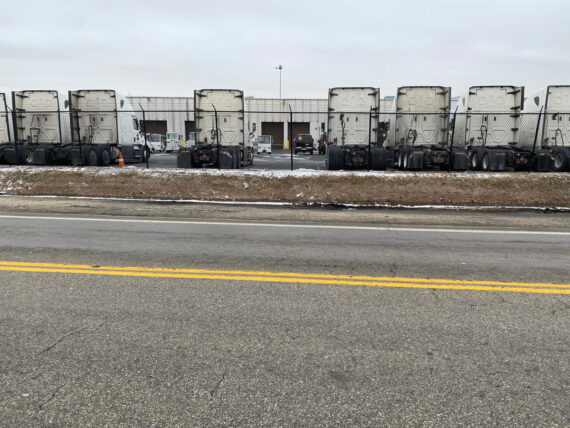 The UPS facility itself stretches on quite a bit…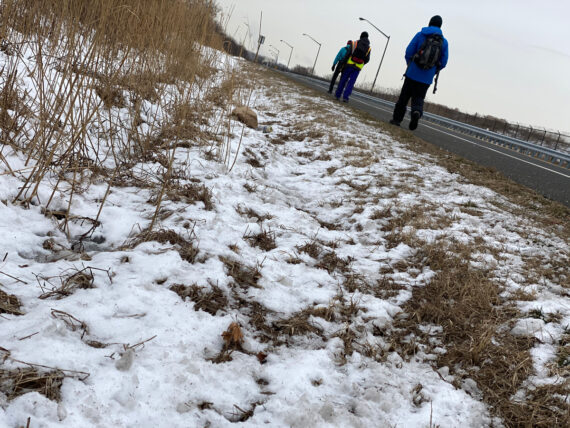 … and this long monotonous trek does have a fun reward when you get to the spot where…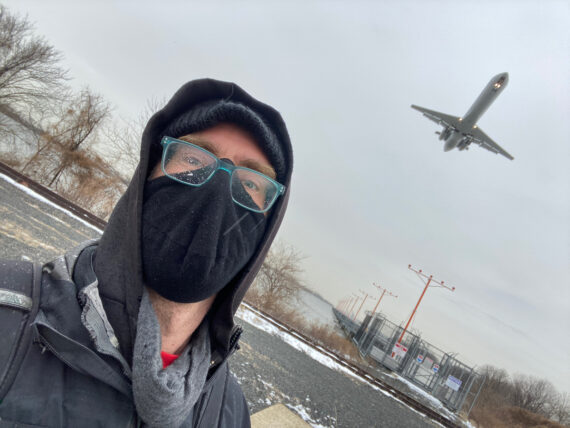 … the planes are landing right over your head 🙂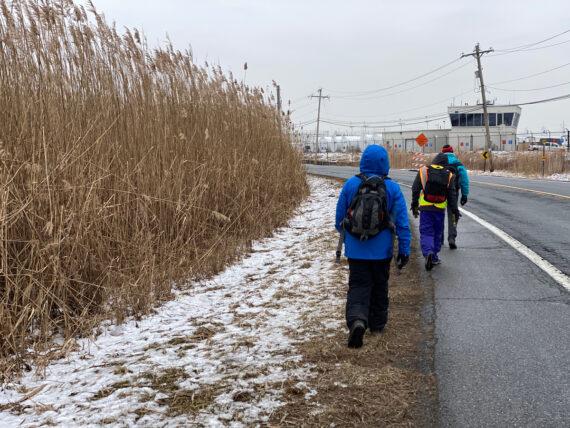 As we come 'round the last bends of Hog Island, I warn my companions:
"Up here is where we might be likely to run into a dead deer carcass…"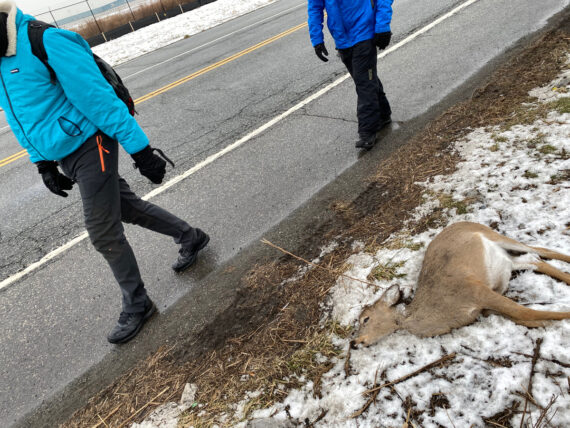 … and sure enough…
It's unlikely that you'll ever find yourself driving around these bends right where Fort Mifflin Rd passes the former Old Hog Island Road at the western edge of the airport, but if so, please drive cautiously and be careful of our poor deer friends, because this seems to be the spot.
And actually, that spot on Penrose Ave just before you're about to cross the Platt Bridge when driving back to the city from the airport – careful there too.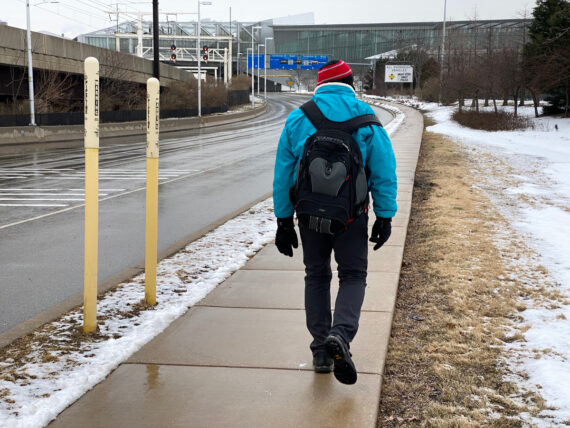 That ice storm has finally caught up with us, and a thin glaze is starting to form on our jackets… but we've made it to the airport which marks the end of our last full day of perimeter walking.
Tomorrow's segment is just a measly ~10 mile half day. And we get to sleep in!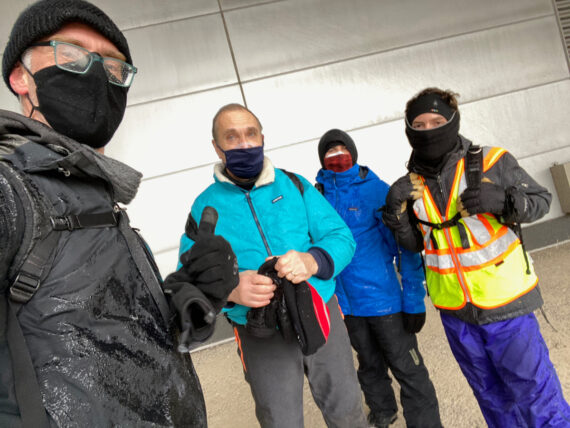 It's super weird, after this long vast expanse of industry and then just unpopulated river's edge land, to suddenly find ourselves in the gleaming international departures terminal. That's always a bit of a shock on this leg of the walk.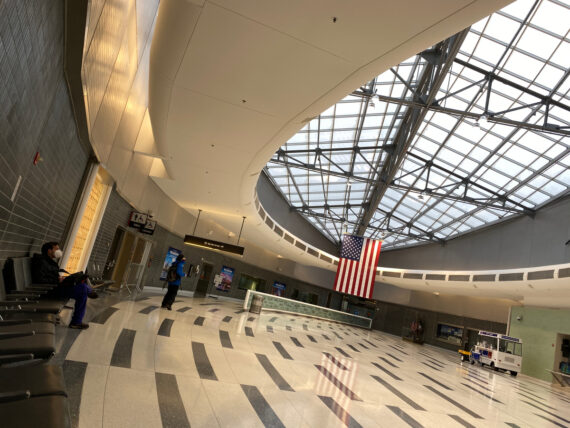 Particularly bizarre for 2021 though is the international arrivals area, which is deserted with so many fewer folk traveling in the pandemic. We rest here for a while as we await the train home, and we are literally the only ones here.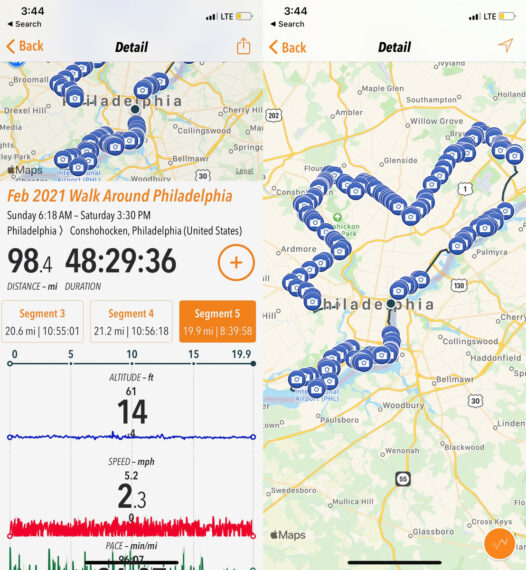 Almost 100 miles in, and just one short segment remaining to complete the 6th annual Walk Around Philadelphia (and my 7th total!)
Final segment:
Day 6: Heinz Wildlife Refuge, Darby & Cobbs Creek, Mt Moriah Cemetery…