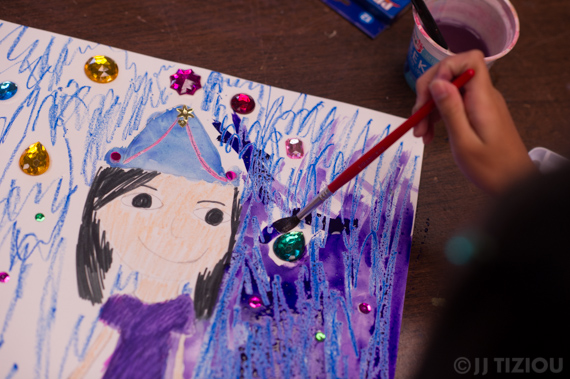 Sitting on my desk is a gift certificate to the Fleisher Art Memorial.
For Philly folk who aren't familiar with the great programs there, here's a little visual intro to some of what happens there.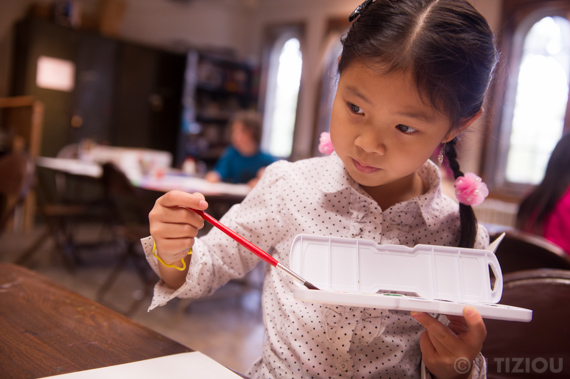 Housed in a beautiful facility on the 700 block of Catharine Street in South Philly, Fleisher offers art classes of all sorts… most of them FREE!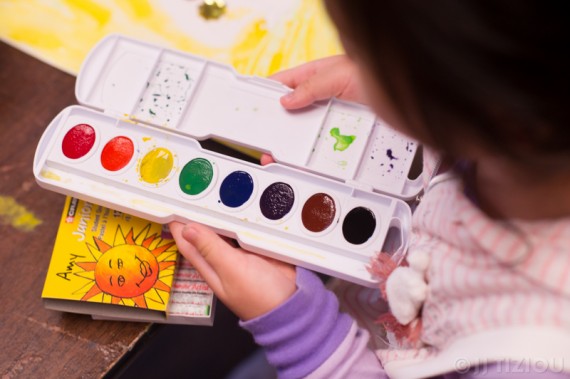 … where you might discover color…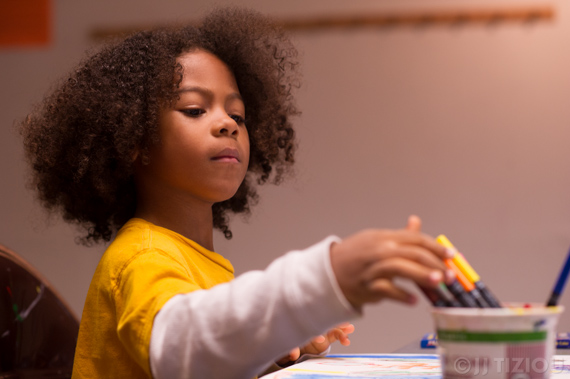 … and make some critical choices…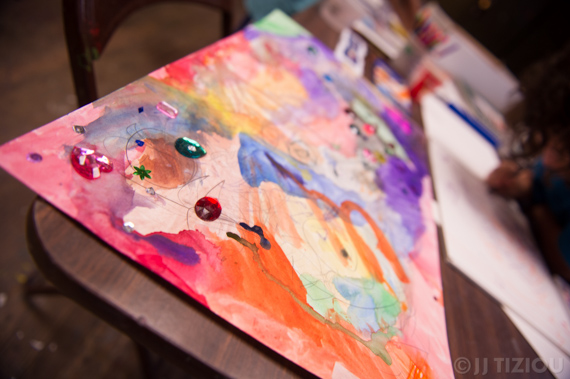 … in creating your next masterpiece.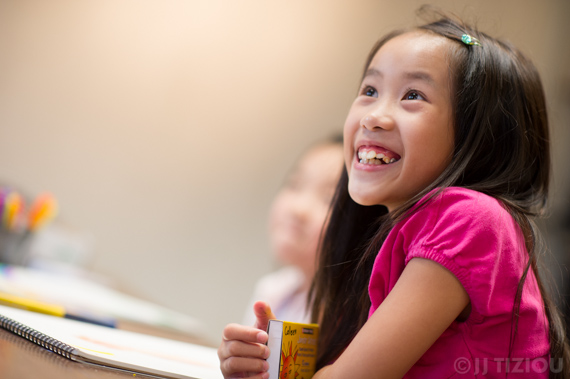 Classes at Fleisher aren't just for enthusiastic youths however…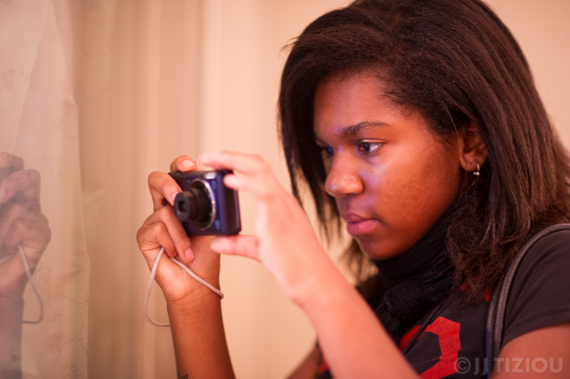 … they're for kids of all ages. You'd be welcome there.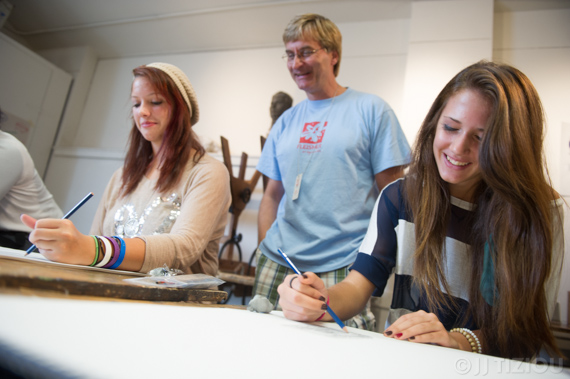 As students work together to cultivate new skills…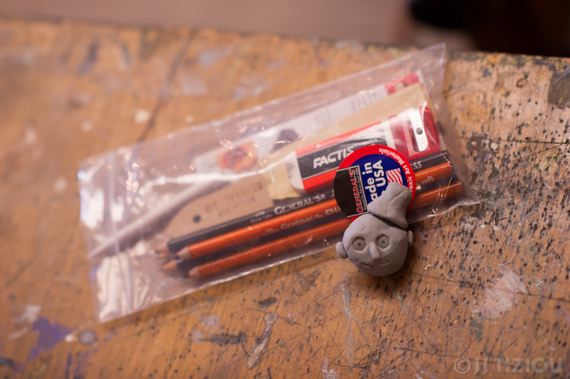 … you'll find the telltale signs of artmaking…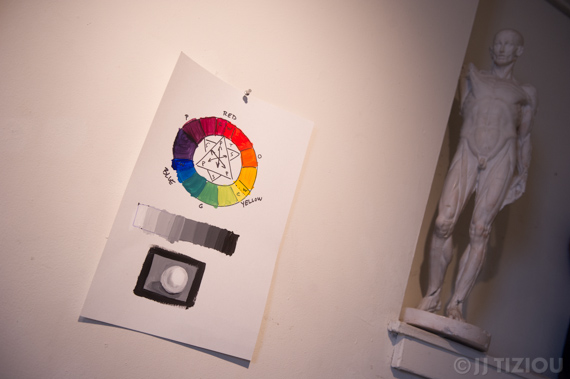 … on the walls and all around.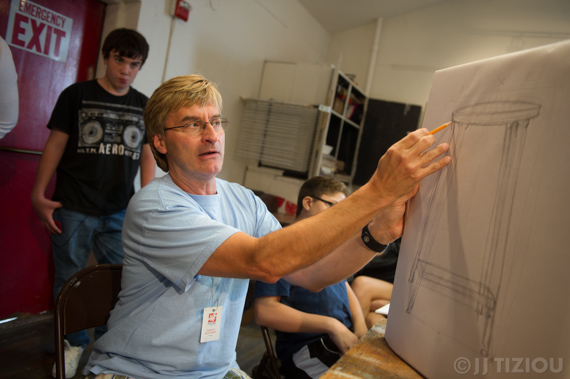 Instructors teach skills like perspective and sight lines…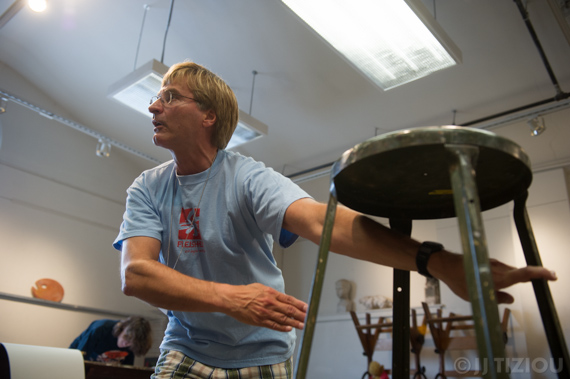 In both drawing and photography, it's helpful to be aware of the spaces available underneath objects….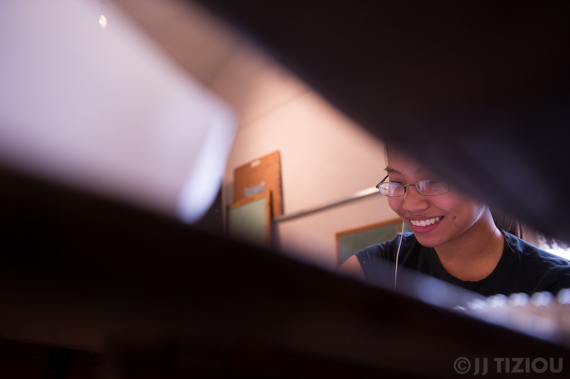 like why is that photographer scampering around *under* the desks?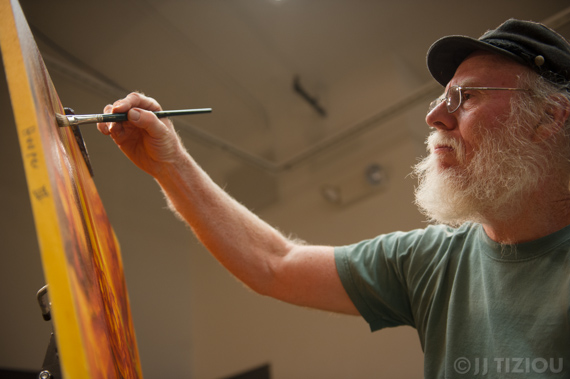 At most any time of day, you can find kids of all ages coming together to paint…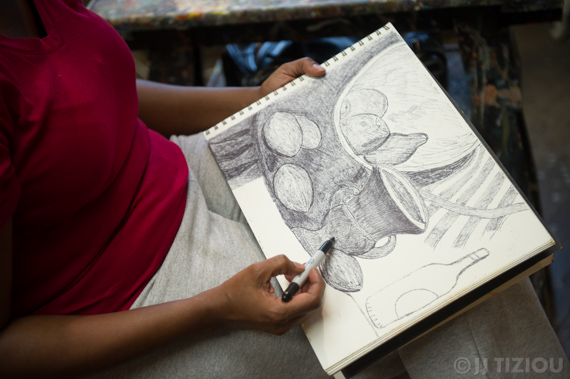 … or draw…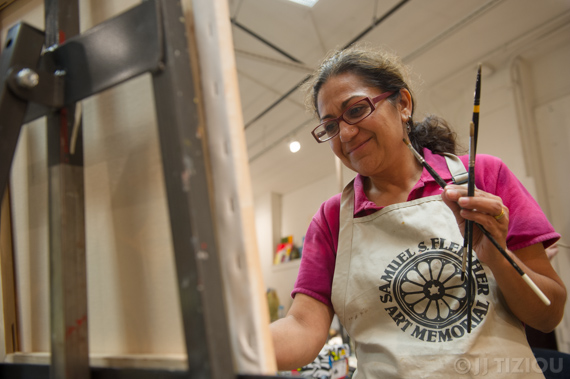 while having fun…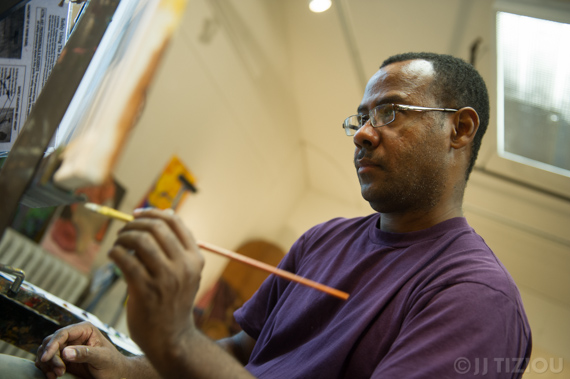 … and finding focus…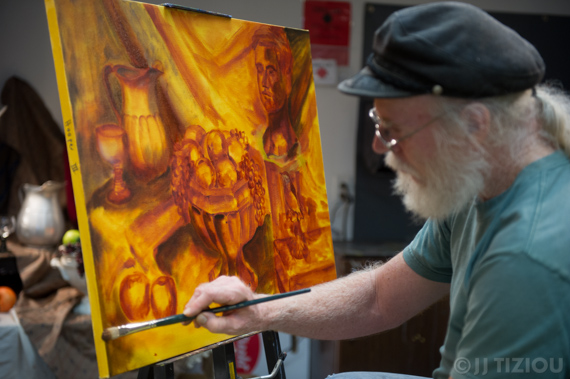 while making colorful work…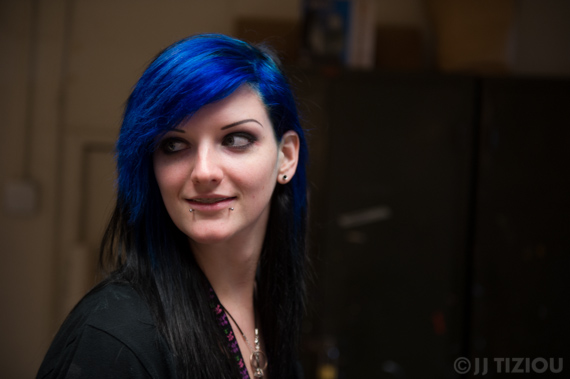 … and occasionally sporting colorful hair.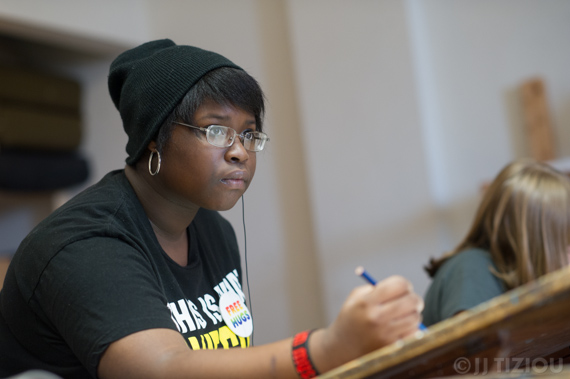 While the work demands concentration…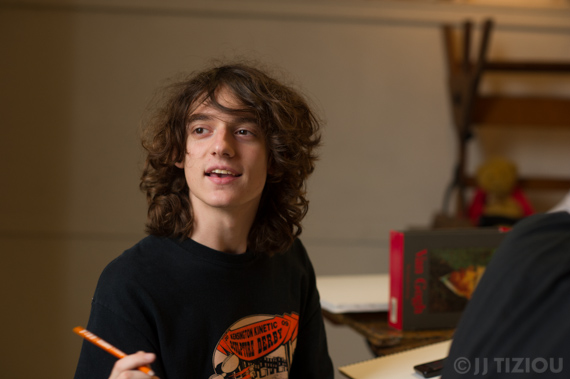 … the structures aren't so rigid that you can't take a moment to chat with your friends…
… and speaking of friends… who's this?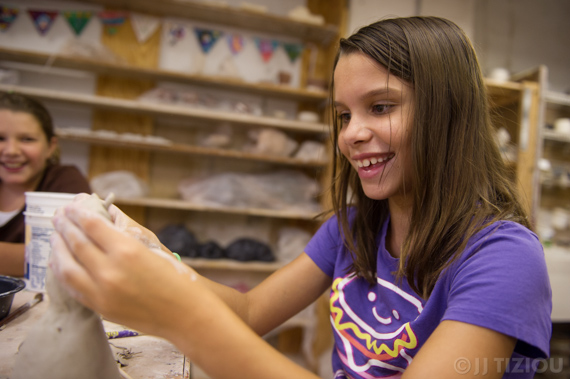 Down in the big ceramics shop in the basement, the artists have been busy…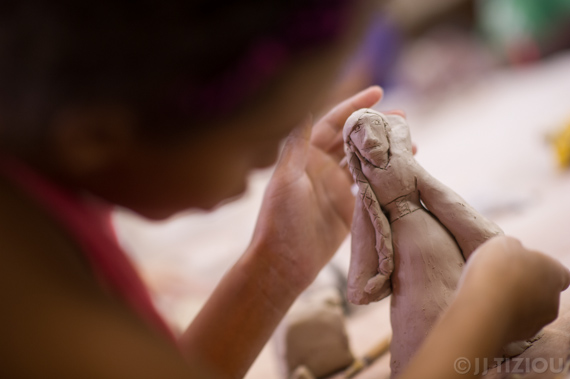 … crafting these adorable little figurines…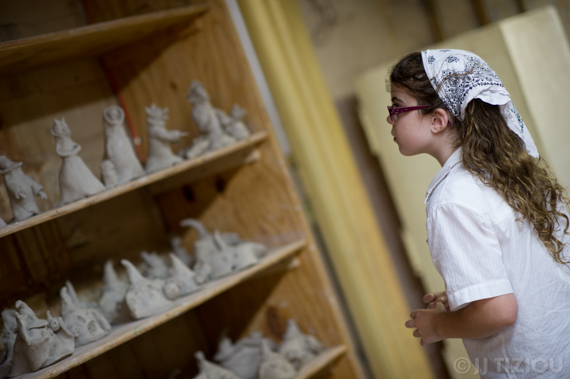 … there's one for everyone.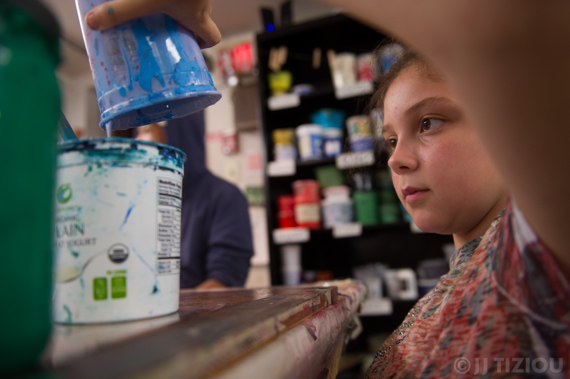 If you like goopier, messier mediums…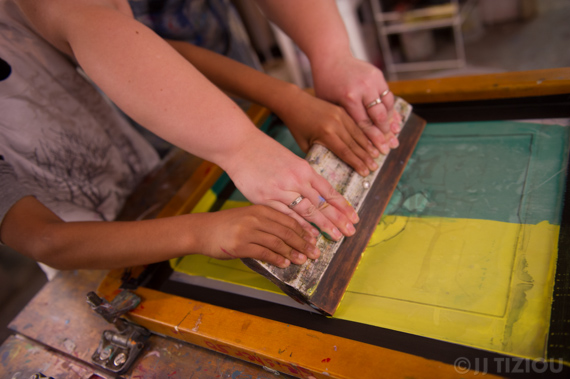 … you might enjoy the silkscreen classes….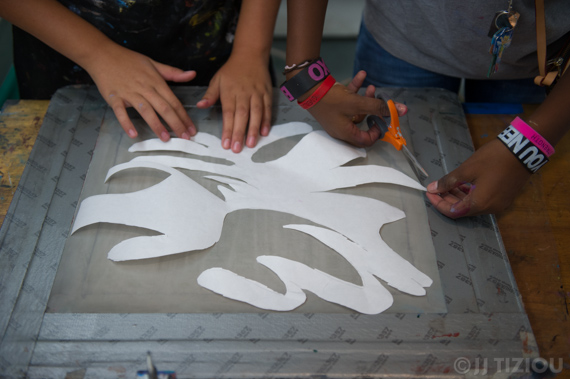 … where you might start with a clean design…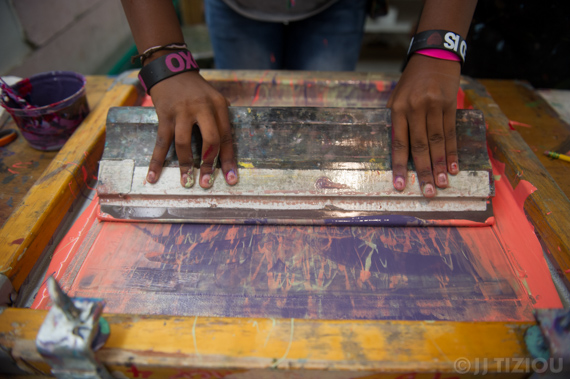 … but after you splatter it all with colorful inks…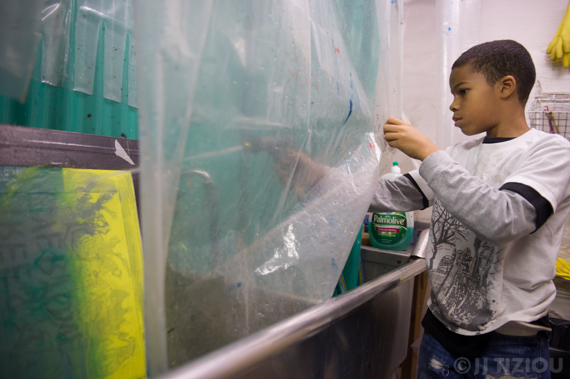 …it's important to remember to clean up after yourself.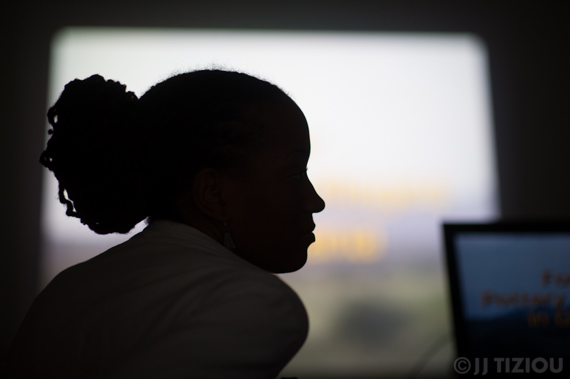 In some classes, you might take a break from actively making work…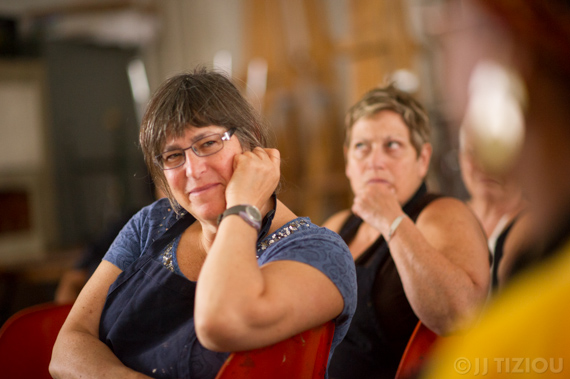 … in order to sit and listen…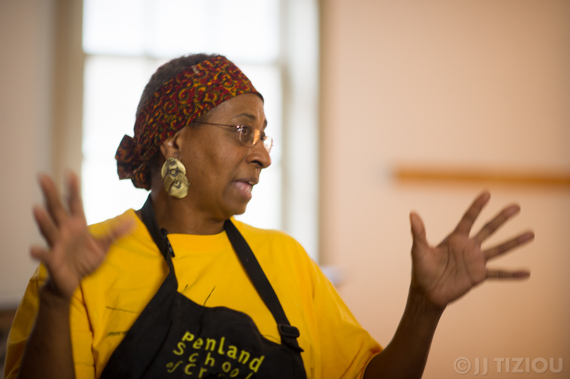 … to a presentation given by a master craftsman…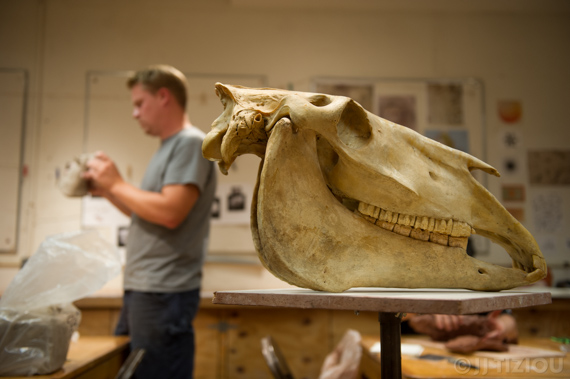 … while in another classroom, someone's clearly been sitting around a little too long…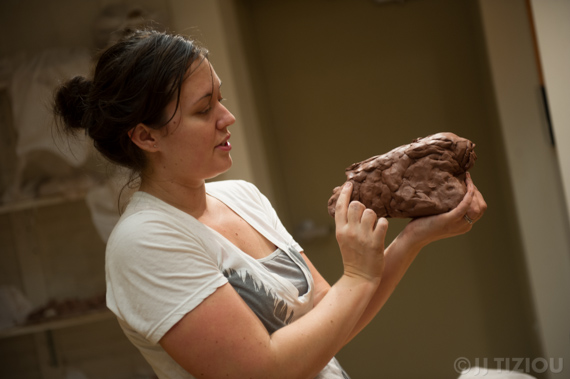 Local artist Darla Jackson teaches an animal sculpture class…  She's also the founder of the Philadelphia Sculpture Gym (a project that I was psyched to help fund via Kickstarter…)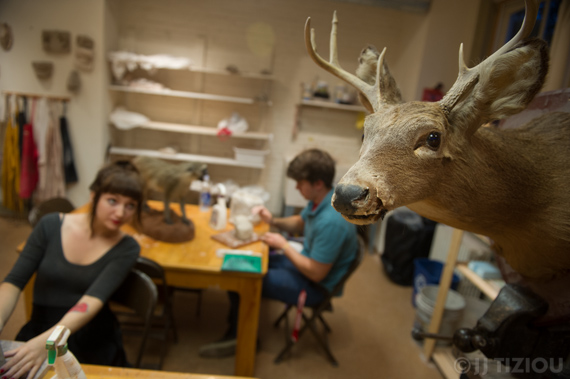 As this class involves using both bones and taxidermied animals, it lends itself to some pretty surreal scenes. No photoshop here, folks!
If you follow your nose, you can pretty easily find your way to the classroom where the batik workshops are happening…
Here, hot wax is added to fabric, which is then dyed…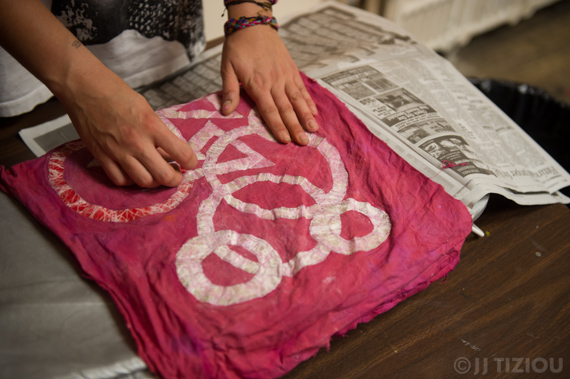 … creating some pretty beautiful crackling patterns.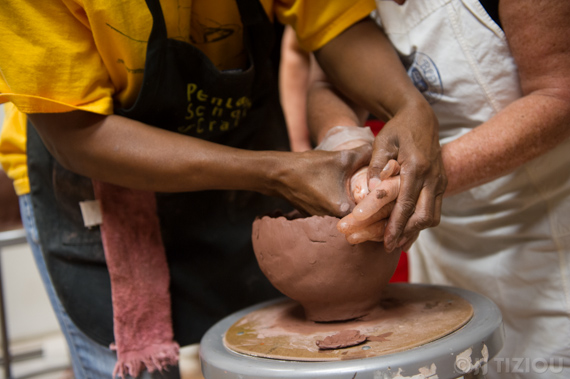 At Fleisher, there's always some hands on help if you need it…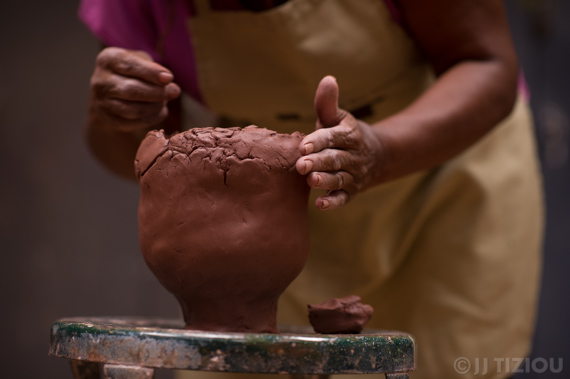 Sometimes you work on your own…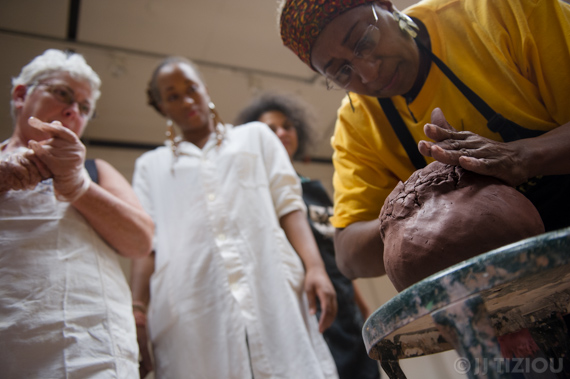 … and sometimes you gather around the instructor for a demonstration…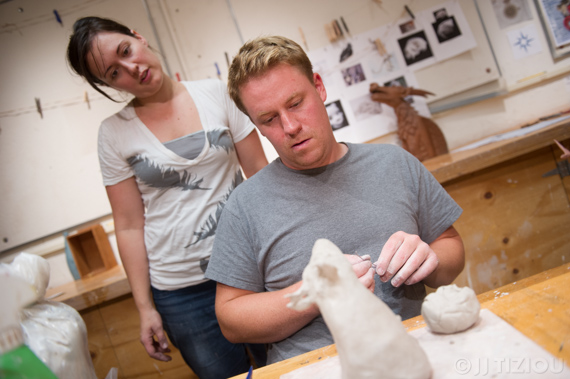 … whereas other times they'll just keep an eye out for you and give some helpful hints…
… as your creations start to take shape…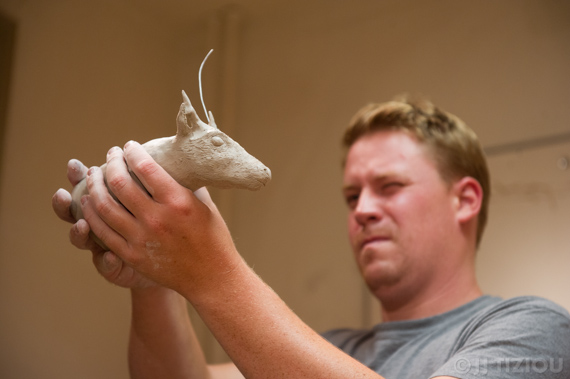 … not bad, eh?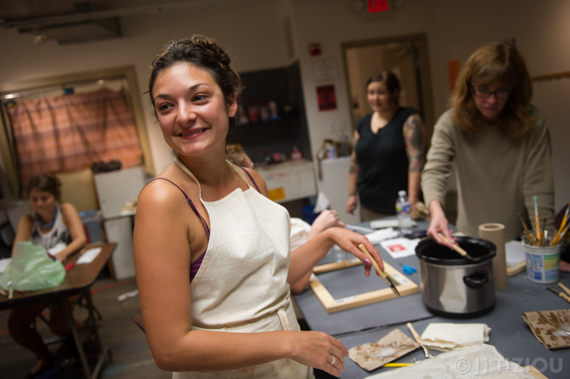 It's more than just art making though…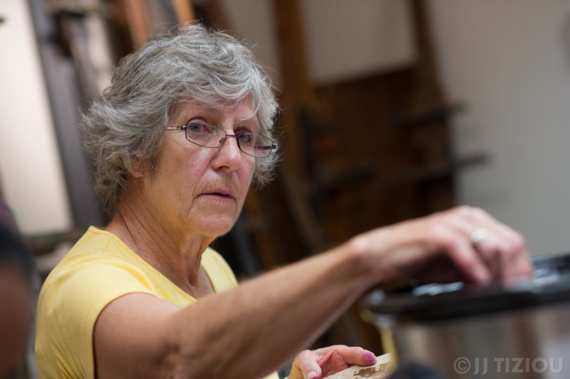 … because as you keep your hands busy with the making…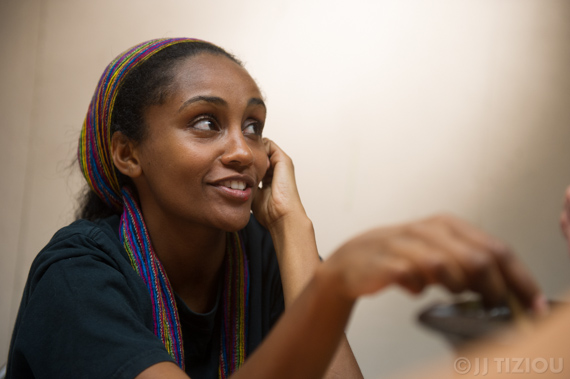 … there's also time to talk…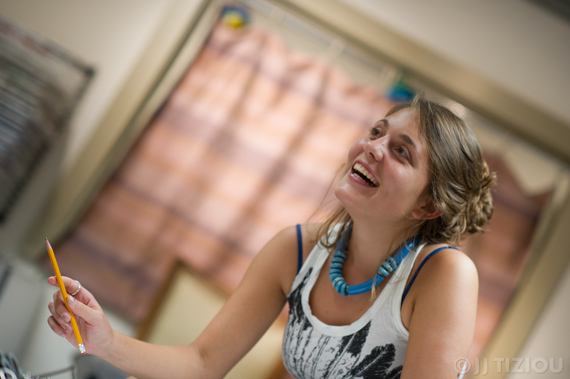 … and laugh…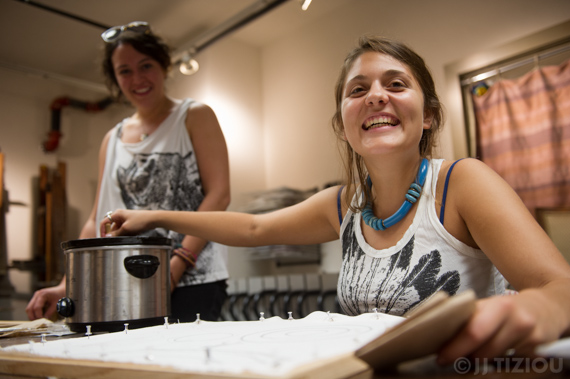 … and share moments…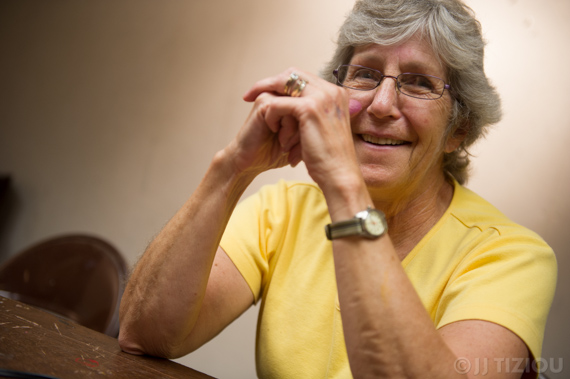 … with your beautiful neighbors…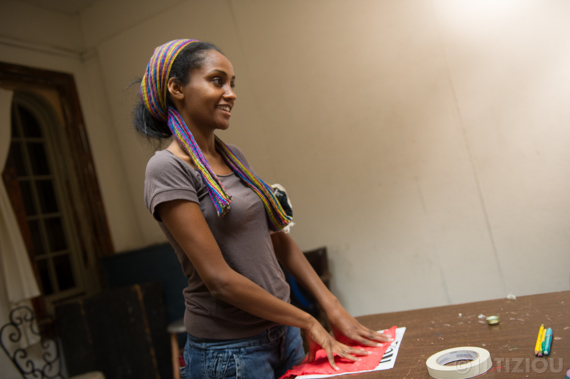 … so as you get ready to pack up, you might not only leave with some new creations…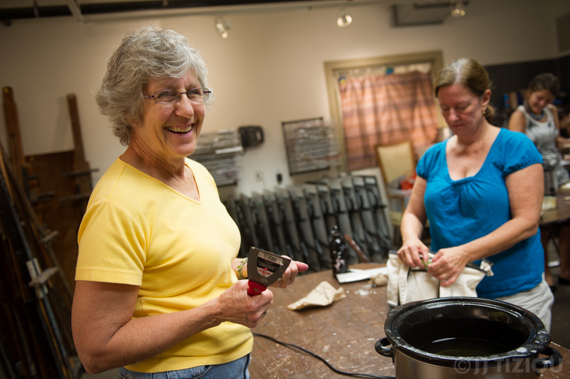 … but also with some new friends.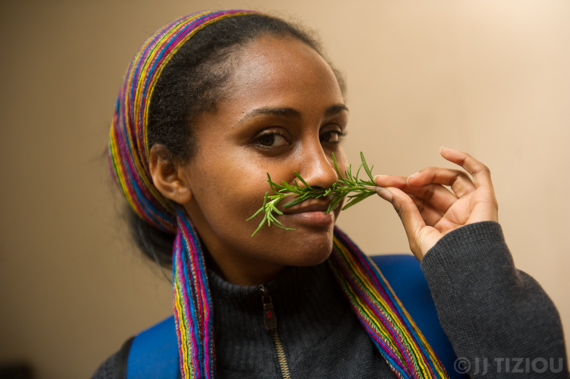 And if you get tired of the smell of hot wax, hopefully there are some fresh herbs around that you can sniff, or make a fake mustache out of… (don't ask me where this came from, it was rather random… but you've just got to be ready to catch the silly and fun moments…)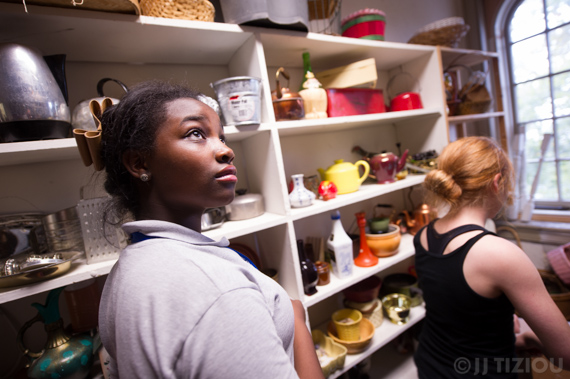 Meanwhile, in other parts of the building, youth from the Teen Lounge program are discovering the closet full of assorted random objects…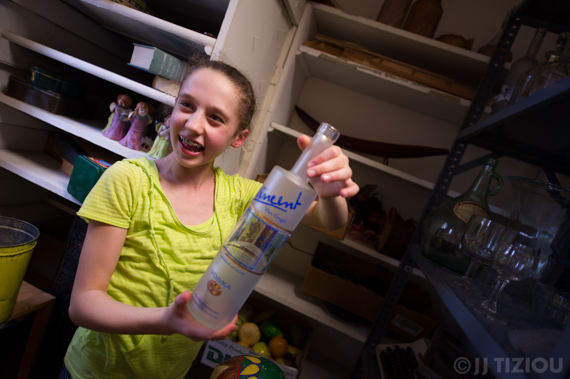 … like vodka bottles (empty, of course!)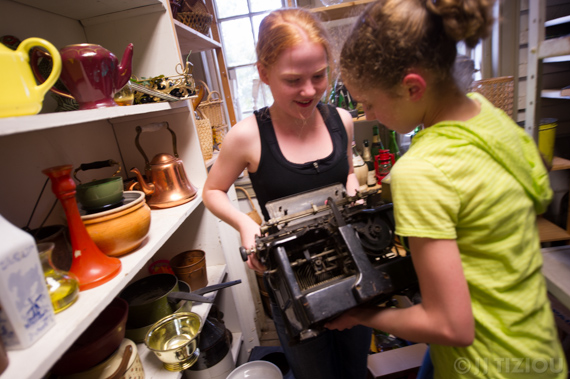 … and discovering treasures to build still life scenes out of.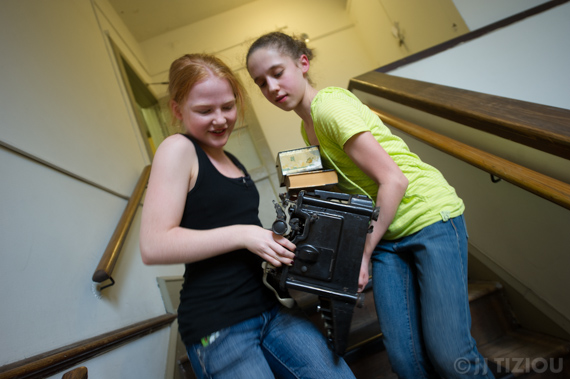 It turns out that typewriters are heavy, so it's good to have a friend to help…
… as you carry it back to the classroom.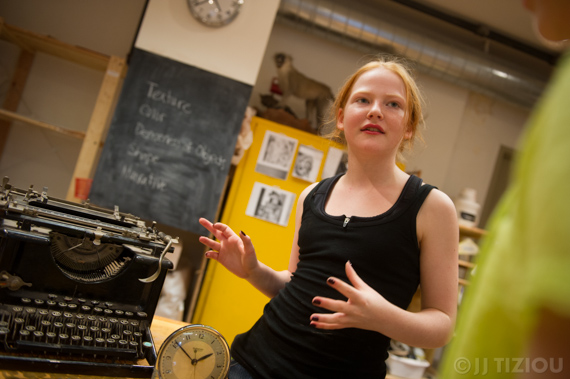 As you start conceiving your next project…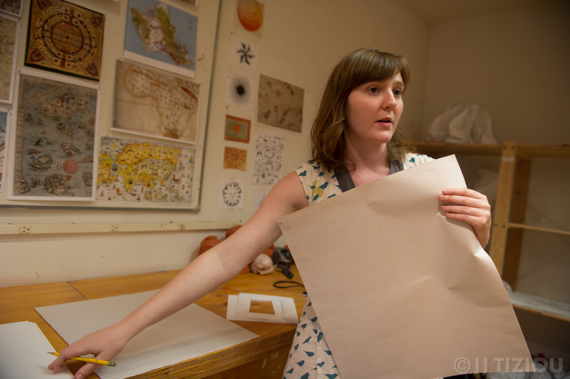 … with the guidance of a great instructor like Caitlin…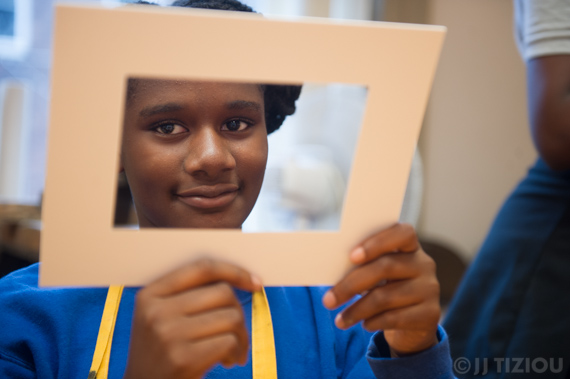 … think about framing…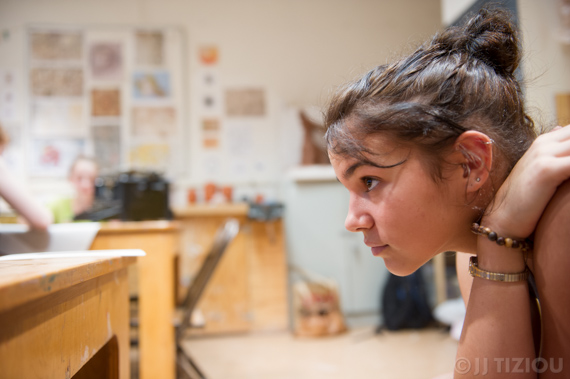 … and perspective…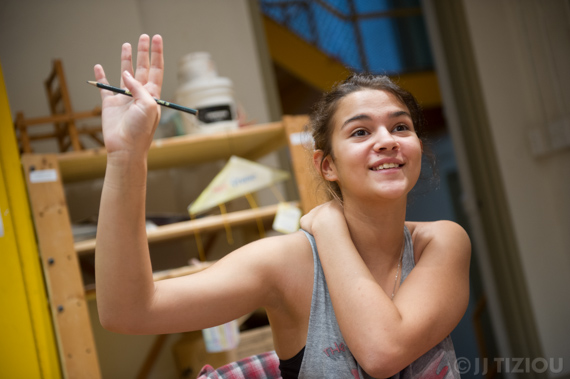 and don't hesitate to ask questions.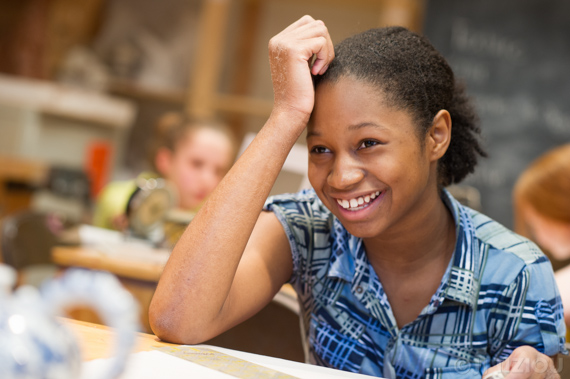 So while these folks are having fun…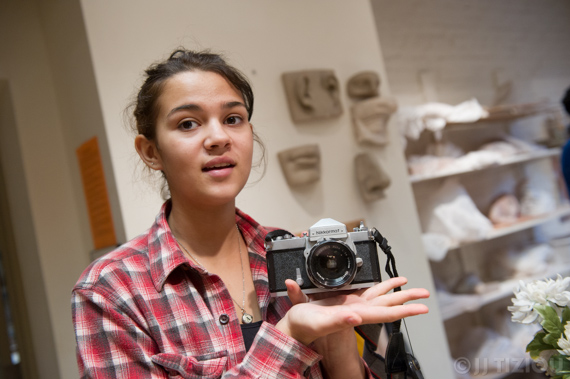 … and getting ready to take over for me…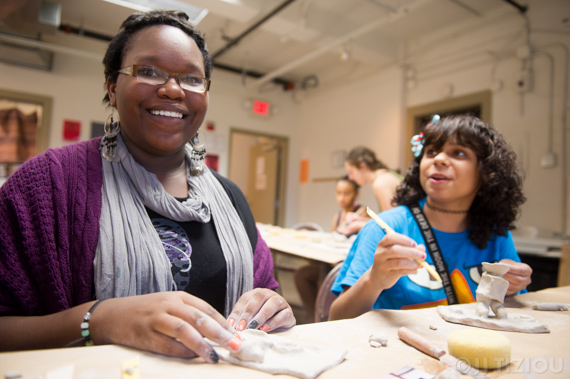 … remember that Fleisher's not just for teens. There's free classes for both youth and adults, as well as affordable workshops and other great community programs. Why don't you get over there and check them out?
BONUS:
If you need some extra incentive, I've still got that gift certificate for a free workshop sitting on my desk, and I'll give it away to the first person who asks for it over on the JJ Tiziou Photography page on Facebook.
(It expires soon, on Jan 31, 2013, so please first check the schedule, make sure that there's a workshop that you can register for, and confirm that you can pick it up from me in W. Philly.)