You're invited to Walk Around Philadelphia: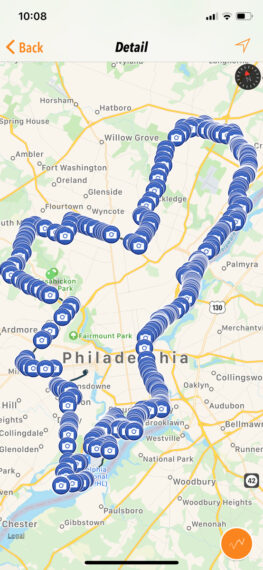 This September, I'll be setting out on my 10th perimeter walk, completing yet another ~100 mile adventure around the city's edge.
(Yes, that's 1,000+ miles around the border!)
You're invited to participate, and there's options for everyone:
This iteration of Walk Around Philadelphia will facilitate the experience for ~320 participants (in small groups, not a parade) with ten days of walks to choose from, along with a virtual kickoff event and special in-person closing celebration at Cherry Street Pier.
Participants can join for a partial segment, whole day, or multiple as you're able.
The walk dates fall mostly on weekends, with a few Fridays & Mondays. (Sept 10-11-12 / 17-18-19 / 23-24-25-26)
Registration for walk segments opens Aug 1 via this website and is sliding scale, with some free & stipend-supported options available to facilitate accessibility.
The virtual kickoff & in-person closing celebration event are both FREE / Pay What You Wish and are open to anyone interested in the project, so invite your friends!
(Registration for those two events will open August 8th via FringeArts.)
I also need to raise $15k to help cover administrative and logistical costs associated with facilitating this experience for others and providing stipends. Thanks to some generous backers, we're already 25% towards that goal!
If you're able to make a contribution, I'd be most grateful.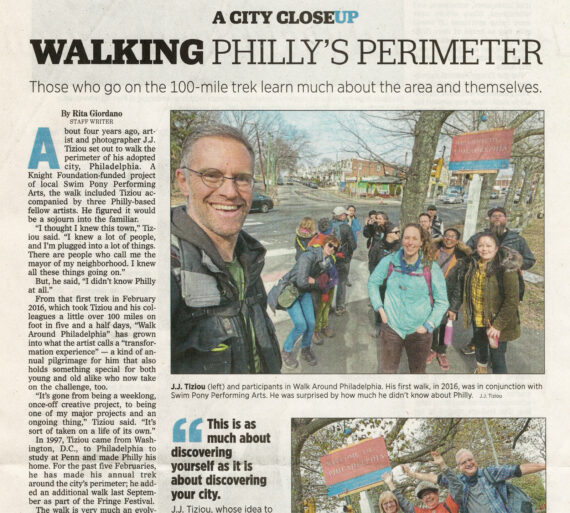 To share more info about the walk, including videos, press coverage, and info on the special retreat packages that I've developed, send folks on over to www.WalkAroundPhiladelphia.com – or watch the short intro video below & sign up for updates & invites.
Fall 2022 dates:
Sept 8 – Virtual info session / kickoff celebration
Sept 10 – Cobbs Creek
8am Clockwise towards Wissahickon – NEAR CAPACITY
8am Counter-clockwise towards Heinz/Airport – NEAR CAPACIY
9am Clockwise towards Wissahickon – NEAR CAPACITY
Sept 11 – Wissahickon
8:40am Clockwise towards Chestnut Hill East – NEAR CAPACITY
8:40am Counter-clockwise towards 61st & Baltimore – NEAR CAPACITY
10:40am Clockwise towards Chestnut Hill East
10:40am Counter-clockwise towards 61st & Baltimore
Sept 12 – Chestnut Hill
7:30am Clockwise towards Fox Chase – NEAR CAPACITY
7:30am Counter-clockwise towards Wissahickon
Sept 17 – Fox Chase
7:30am Clockwise towards Somerton
Sept 18 – Somerton
8:50am Clockwise towards Torresdale – NEAR CAPACITY
8:50am Counter-clockwise towards Fox Chase
Sept 19 – Torresdale
8:15am Clockwise towards Bridesburg
8:15 am Counter-clockwise towards Somerton
Sept 23 – Bridesburg
8:10am Clockwise towards Pier 68
9:10am Clockwise towards Pier 68
Sept 24 – Pier 68
8:30am Clockwise towards Airport, 8:30am – NEAR CAPACITY
8:30am Counter-clockwise towards Bridesburg
9:40am Clockwise towards Airport, 9:40am – NEAR CAPACITY

Sept 25 – Airport (1)
8:30am Clockwise around Hog Island towards Airport terminal A – NEAR CAPACITY
8:30am Counter-clockwise towards Pier 68 – NEAR CAPACITY
Sept 26 – Airport (2)
8:30am Clockwise towards 61st St & Baltimore Ave

Oct 1 – Closing celebration + reportback @ Cherry Street Pier! / in-person celebration of 10th walk (1,000+ miles!) w/ West Philadelphia Orchestra, raffle & more (No walking required…)
Sign up for updates and invites