The first segments of the 10th Walk Around Philadelphia are done!
3 days & over 30 miles 'round the city's edge, the 10th Walk Around Philadelphia is underway!
There's still time to register for the next walk segments (Sept 17/18/19 & Sept 23/24/25/26)
RSVP to join us for the Oct 1st closing celebration at Cherry Street Pier!
The closing party is going to be pretty special…
The Oct 1 walk closing celebration at Cherry Street Pier is free / pay-what-you-can and will feature live music by West Philadelphia Orchestra, a raffle with chances to win perimeter tours by land, sea or air:
2 seats on a boat cruise on the Delaware River courtesy of Sea Philly
2 seats on a private flight over the city's edge in a 1979 Piper Archer II
Perimeter tour on foot for you & a few friends w/ yours truly.
This special event is open to all, so invite your friends whether they've set out to walk the perimeter or not. It will be a great opportunity to connect with other perimeter-walkers, share stories from the city's edge, or learn more about the project if you've been curious.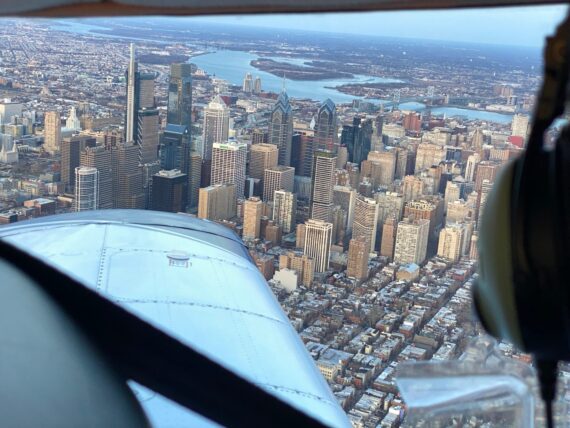 NOTE: The perimeter boat cruise is scheduled for Sunday Oct 9 @ 9am, with a rain date of Oct 16. The flight will take place one evening of the 2nd week of October, as matches pilot & winner's schedules & weather conditions. Both boat & plane are small craft with weight limitations that may not safely or comfortably accommodate larger or taller humans.
SAVE THE DATE:
7pm on Sat Oct 1st @ Cherry Street Pier, RSVP here!
But first we have to finish the walk…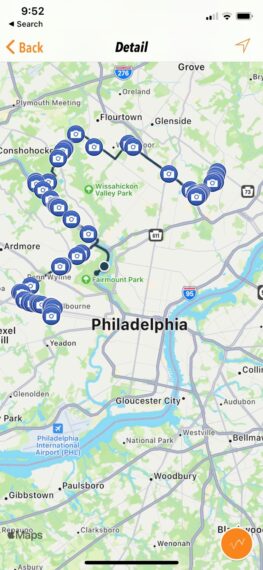 The first three days of the walk have brought me from 61st & Baltimore all the way up Cobbs Creek, along City Ave & across the Schuylkill… then up the river border, up into the northern zigzags of Chestnut Hill, all the way down Cheltenham Ave & across Tacony Creek Park up through Lawncrest, around Burholm Park all the way to Fox Chase.
Since we've had some groups venturing counter-clockwise, some of the Day 1 walkers have also ventured south along Cobbs Creek all the way to the Heinz Wildlife Refuge & airport!
We've covered a lot of ground already but there's 7 more days of walks to choose from, so sign up for whatever fits your schedule.
The walk continues Sept 17/18/19 around the Northeast, and then 23/24/25/26th along the Delaware River border & back up Darby & Cobbs Creek.
Our closing party is Sat Oct 1, and then on the 6th I'm facilitating another perimeter retreat for the SNF Paideia program @ Penn.
After that it's back to my work as a massage therapist, and some time to debrief, integrate lessons from this iteration of the walk, and planning for February & beyond…
UPDATE: 2nd weekend was fantastic
Here's a few snapshots from the 2nd weekend:
Join us on October 1st!
1,000 Miles: Celebrating the 10th Walk Around Philadelphia
@ Cherry Street Pier, 7pm on Sat Oct 1. Free / pay-what-you-can