Segment 9:
Around the airport (Hog Island Road)
It's the final weekend of this fall's Walk Around Philadelphia and we're headed into the home stretch, circumnavigating the airport today and then following the creek back up to 61st & Baltimore where I started a few weeks ago.
(If you've missed the earlier blog posts, you might want to start at 61st and Baltimore, although since the walk is a loop, you can also read this post first, then pickup there, and then follow along with the 2nd weekend and then the third…)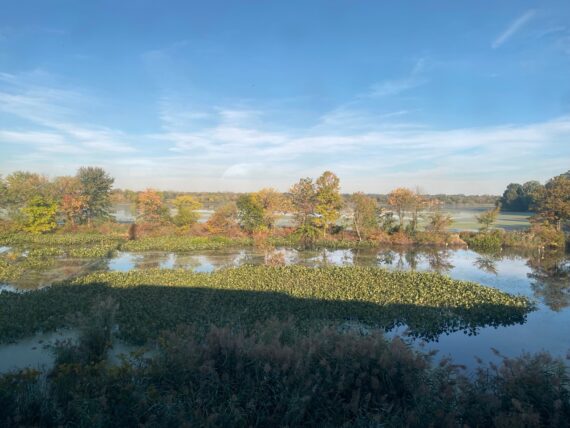 Taking regional rail back to the Airport offers some lovely morning views of the Heinz Wildlife Refuge – the perimeter runs right through the middle of it along the edge of Darby Creek on the far edge of this photo… but we're saving that segment for tomorrow.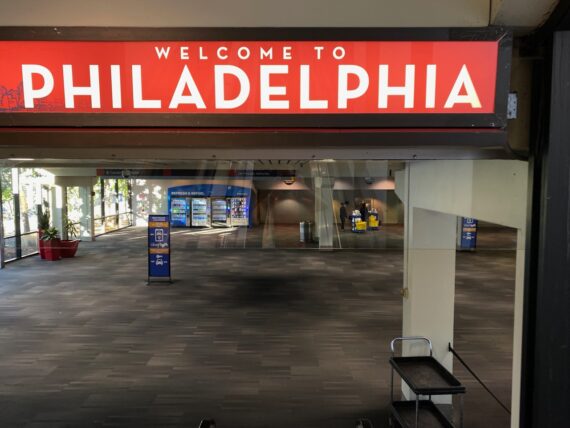 "Welcome to Philadelphia!" – most travelers seeing this sign when they arrive at the airport are unlikely to walk out of the airport on foot, or venture into the places that we've been exploring…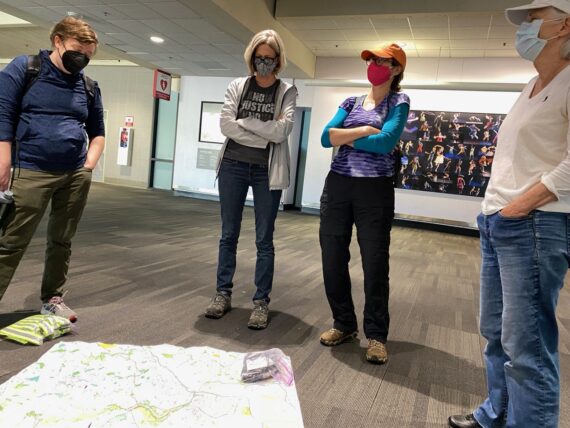 And so our group gathers and we start again with introductions and a review of the map…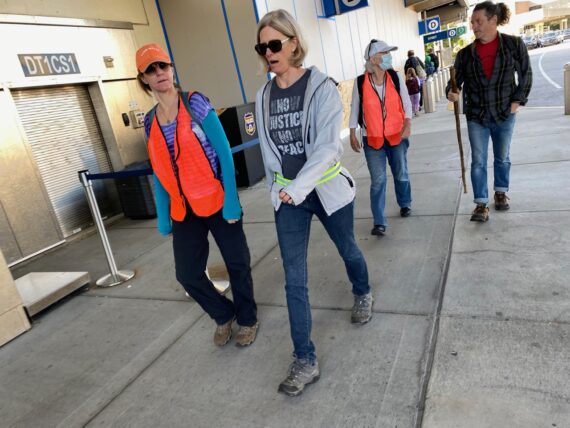 … before heading out of the eastern edge of the airport…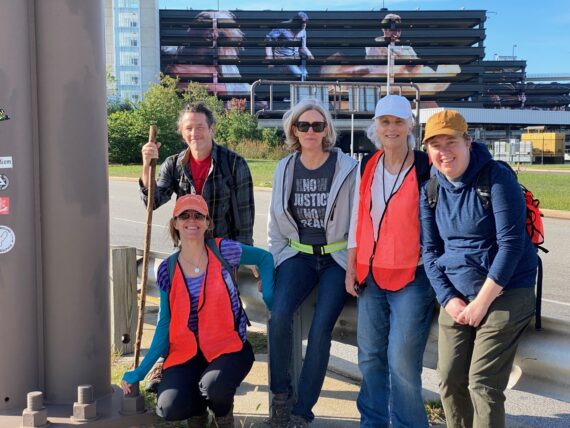 … which brings us back to this fun spot where my two biggest projects (the walk and the How Philly Moves mural) intersect in real space…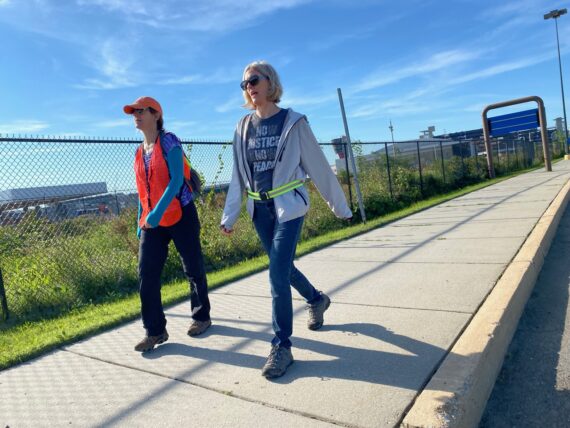 … and so we set out with some folks who are new to the walk…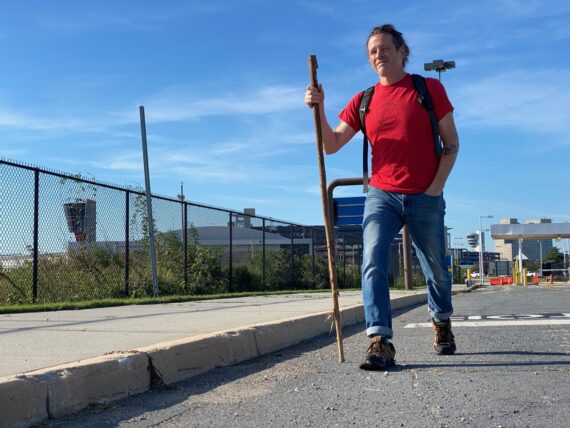 … and walk veteran Michael is back with us again…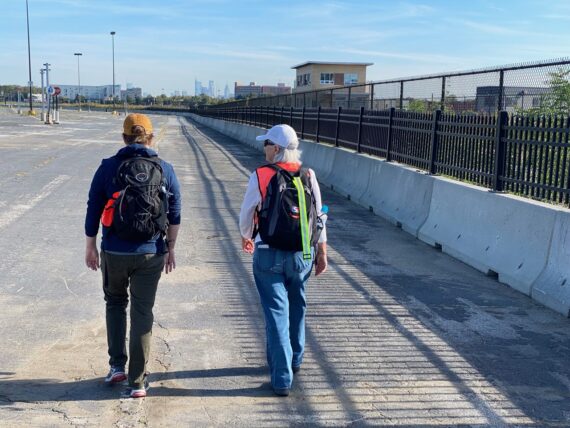 … and Mimi's joined us once more… she was new to the walk a few weeks ago, but having joined almost every segment, she's now a seasoned perimeter veteran… and it's Logan's second day as well so that makes for as much expertise as any of us have.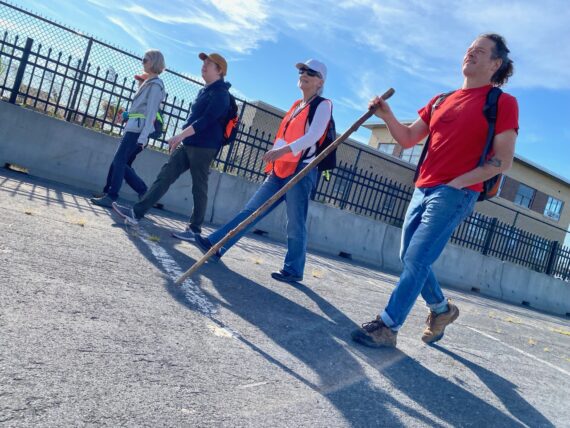 This stretch is new for these walkers, but kind of backtracking for me…
… as we're going back across the vast defunct economy parking lot that Mike and I traversed last Monday…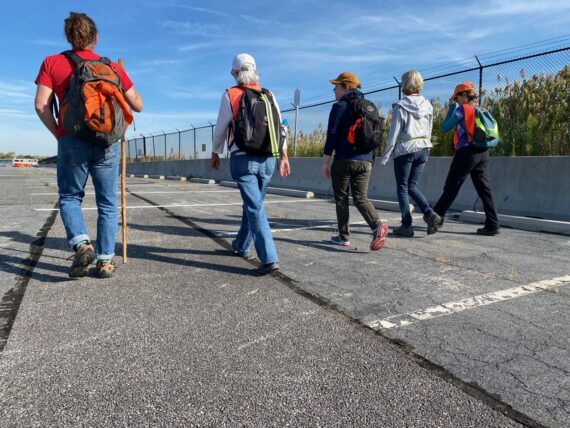 … and soon it's time for me to see send walkers off on their own…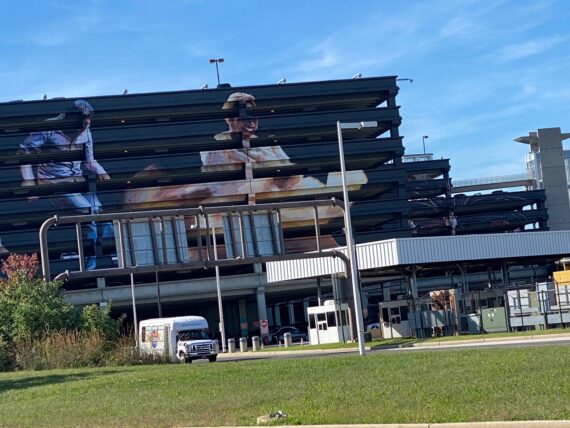 … before doubling back once more to rendezvous with the second group.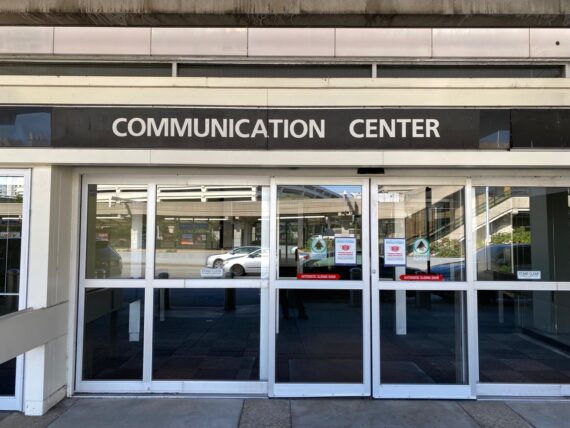 I pass by the the airport's Communication Center (not quite sure what goes on here… but presumably it involves… communication…)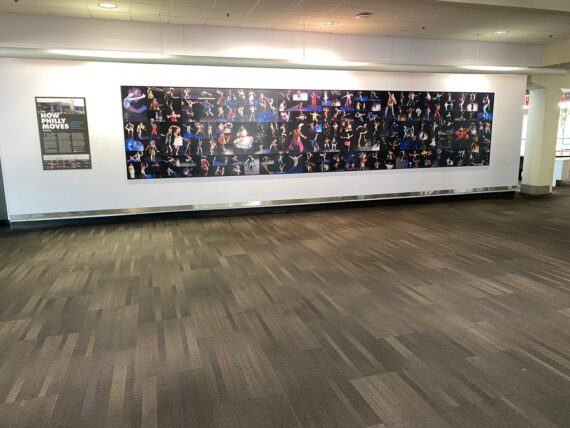 … and find my way back to today's rendezvous point: the How Philly Moves permanent exhibit in the B/C baggage claim.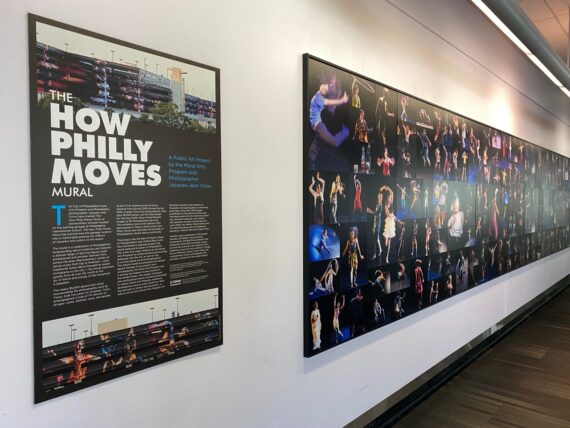 I picked this rendezvous spot not just to show off my work (although that's fun too…) but to use it as a prompt for reflection and contrast…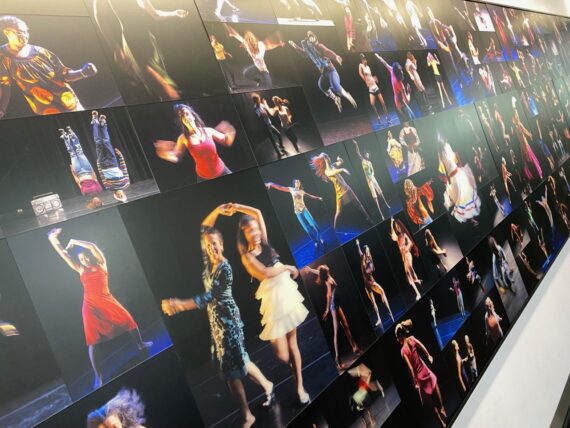 … this HPM installation includes photographs of all 162 participants who'd participated in the project at that point; they span every zip code in the city including participants of a wide range of ages & ethnicities, in and out of wheelchairs etc.
It's a much more representative of the city's demographics than the walk's participant pool currently is and so is an opportunity to reflect on the many accessibility barriers involved in this project, and how they might be surmounted over time (with more outreach & funding) – so again, I'll invite you to join as a backer and/or get in touch if you have resources for partnerships that would help make this project accessible to broader audiences.
And while we're here, another note: I have a duplicate set of these panels available for display in other occasions… similarly to the panels from The Image of Yoga, these are available for temporary exhibits in other community spaces where they might inspire folks to explore healthy movement practices…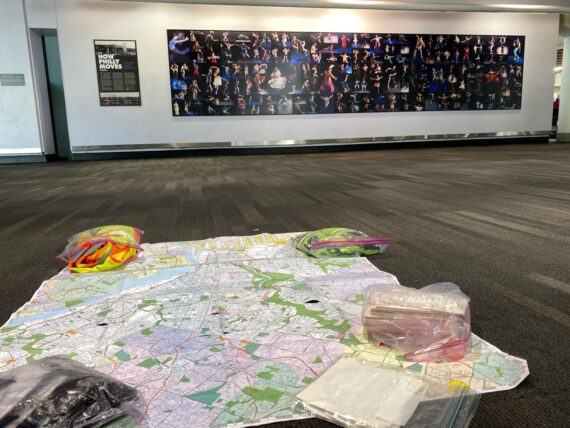 And so again I lay out the day's supplies…
(maps, stickers, lanyards, perimeter passports, reflective safety belts and high-visibility vests…)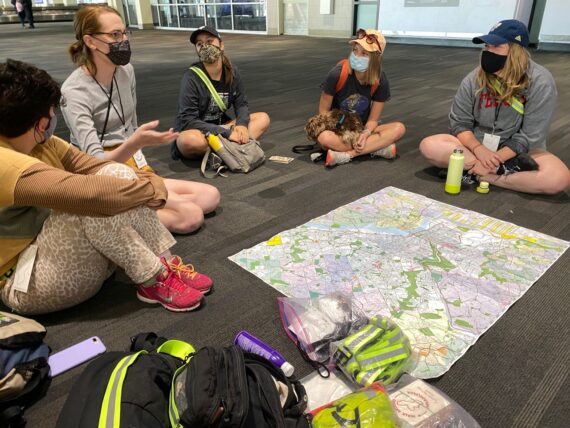 … and our second group gathers…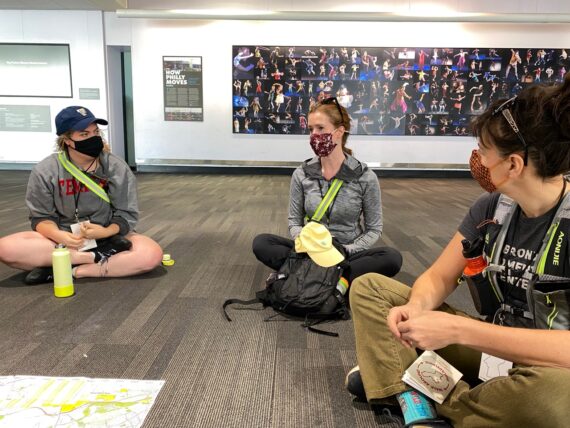 … and starts to get to know each other…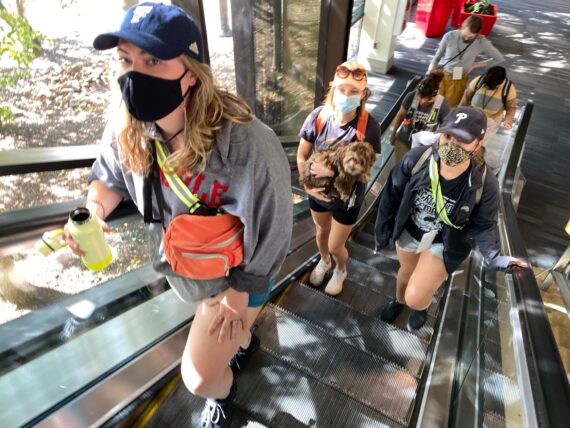 … before setting out of the airport.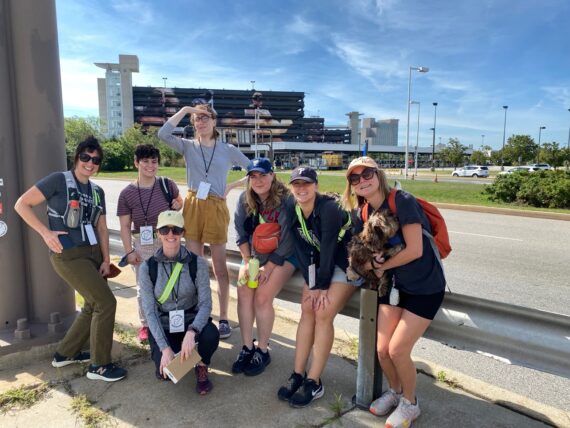 One more group photo in front of the HPM mural…
(or this edge of it… the entire mural spans six facades of the parking garages so there's no one place to really take it all in up close, although the panoramic images on the Mural Arts website do a good job of it…)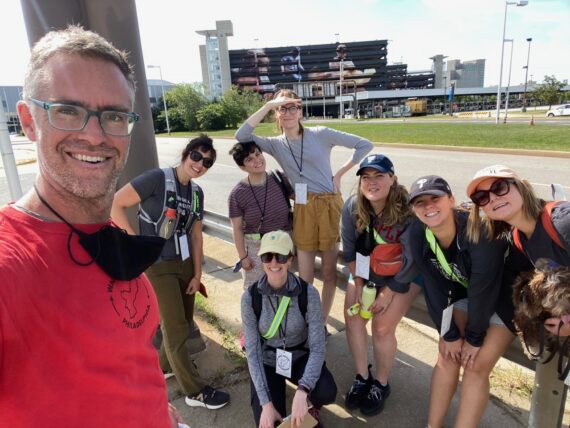 … and one more where I'll jump in…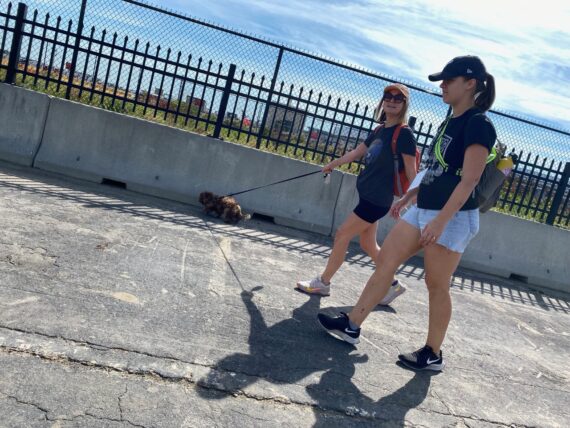 … and here we go again, back across the parking lots…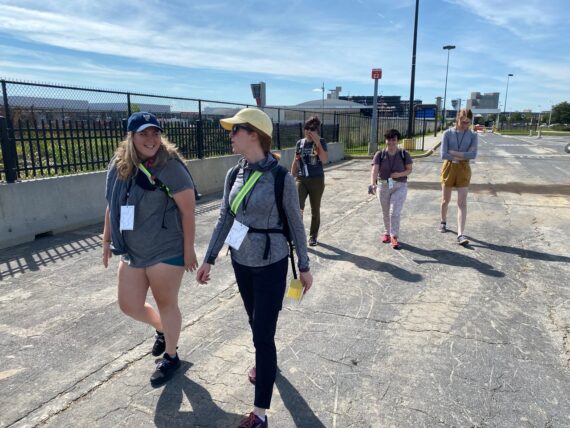 … where good connections are already starting to happen.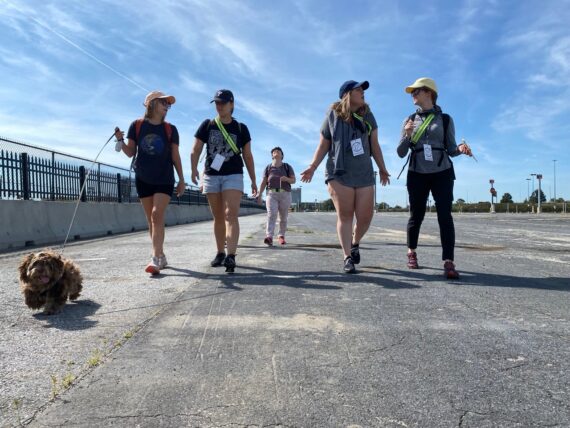 You'll notice that we're again joined by a pup friend today despite my walk FAQ specifically asking for no pets.
On one hand it's a sweet adventure to have a dog along, but on the other hand there are places where it can complicate things, and potential to make the walk uncomfortable for other participants who have trauma from past unpleasant experiences with dogs bites (I've known a few of those folks…)
Of course, it feels like it's also on me a little bit, as the registration system through Fringe didn't make it easy for me to send custom info to folks who signed up, otherwise I would have included a reminder about this.
For today we seemed fine w/ this lil sweet pup who wasn't a threat to anyone, but for future walks, I'll still ask folks to please not bring pet friends on group walks. Thank you for understanding!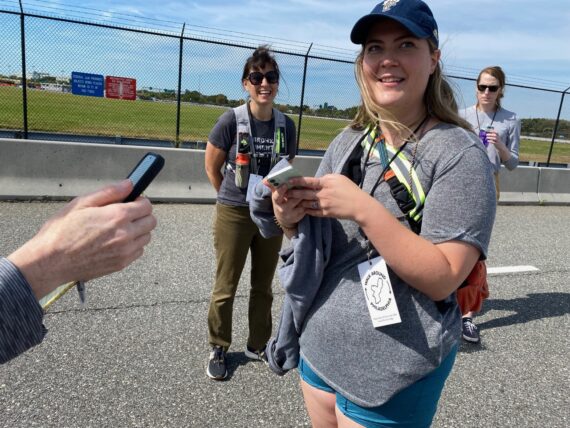 We started looking at the maps, and at satellite views…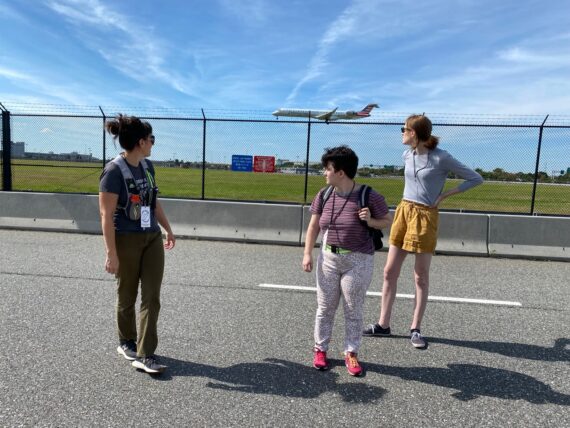 … as the planes kept landing nearby…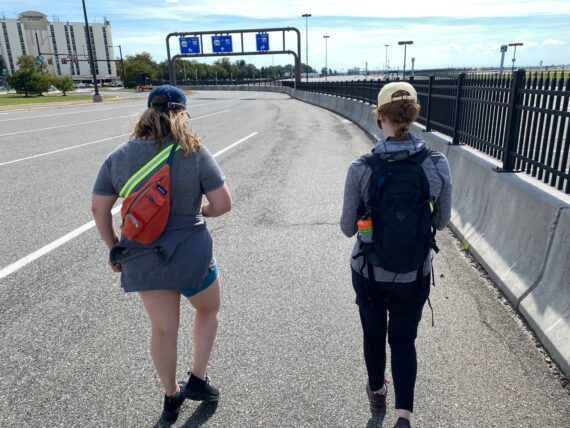 … we wondered if we should keep following this parking lot to it's very end…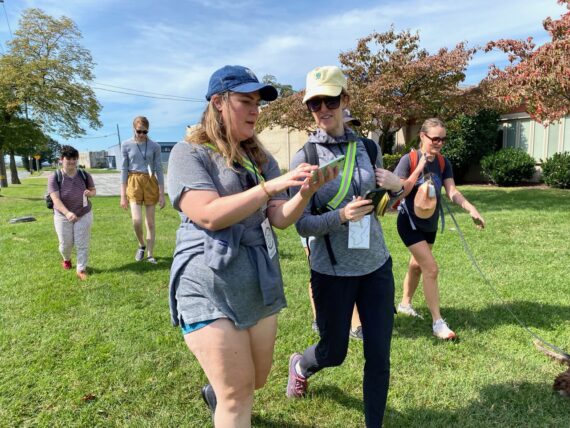 … but opted to find our way out via the same gate that I'd come in.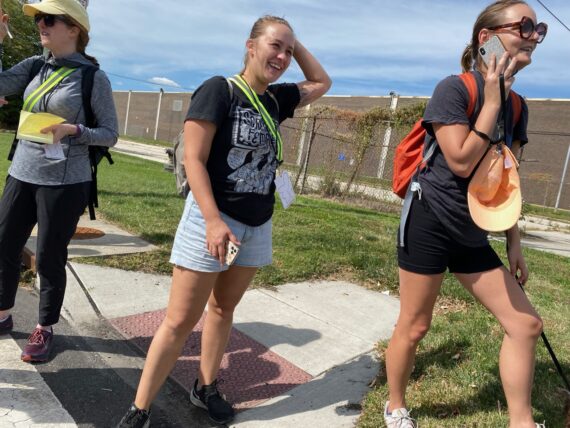 While Theresa's on the phone trying to navigate some intercept logistics for her her partner to join us…
(It's always easier to start with the group from the beginning and then leave early if you have to than it is to join late and try to find the group while we're on the move…)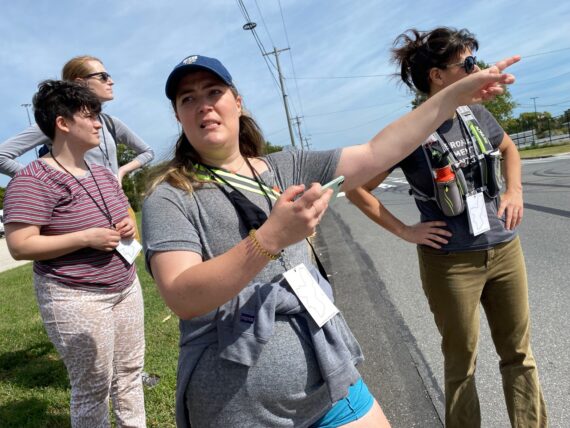 … Caroline is figuring out our route to get around the airport.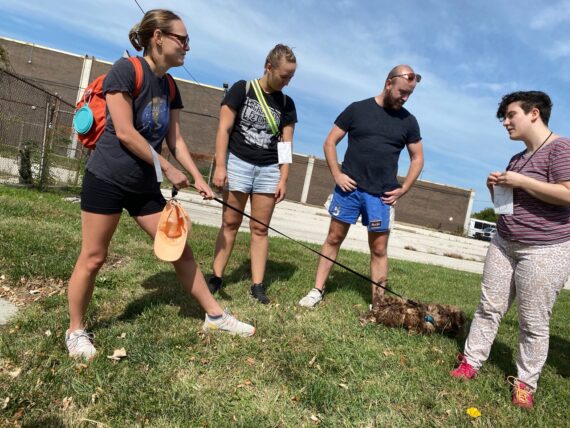 Once Matthew's found us…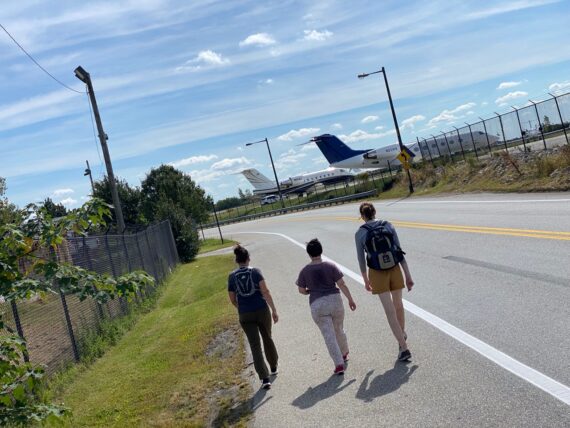 … we set off 'round Fort Mifflin Rd (which will become Hog Island Rd)…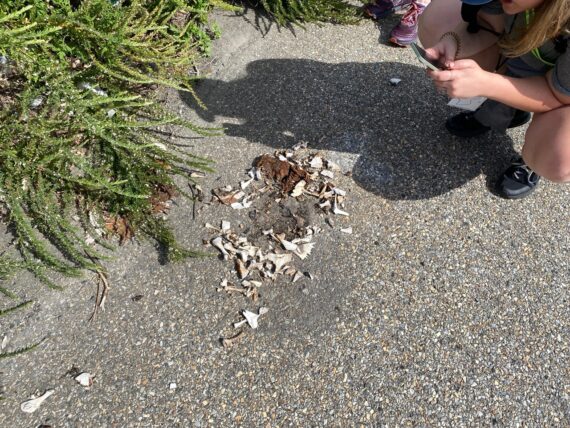 … and soon encounter our first dead thing…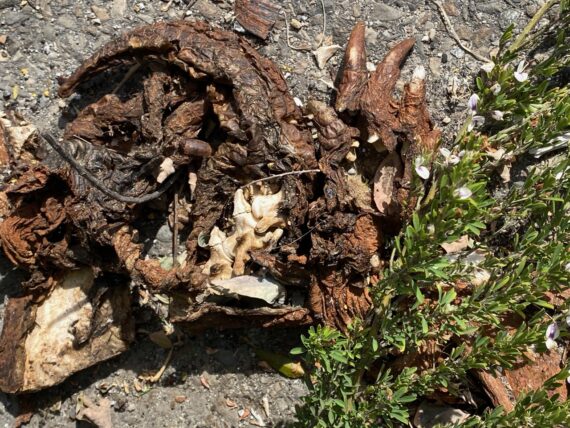 … anybody recognize what these claws are from?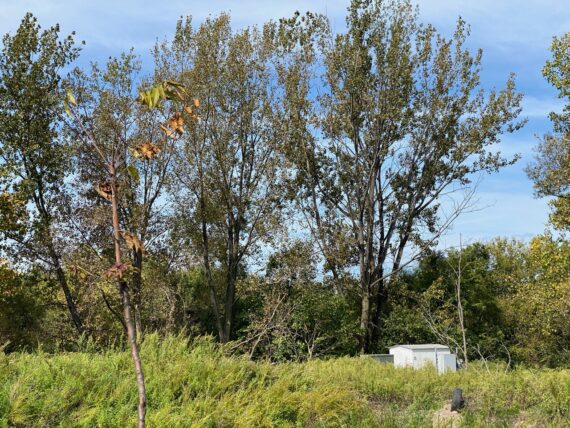 There's another wastewater treatment facility beyond these trees, although that little shed is the only real sign of it here…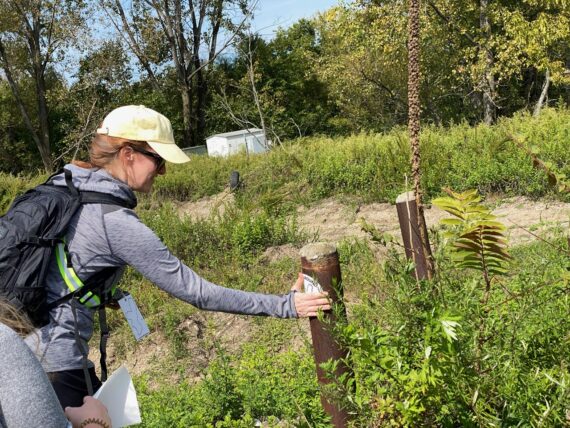 … seems like a good place to put a sticker.
(The Walk Around Philadelphia stickers serve three purposes: they act as trail blazes for other perimeter walkers, serve as a bit of gentle "I was here" graffiti, and help invite other potential participants into the project… in fact Naima who joined on the first leg and was featured in the WHYY article found out about the walk from seeing these stickers in Cobbs Creek.)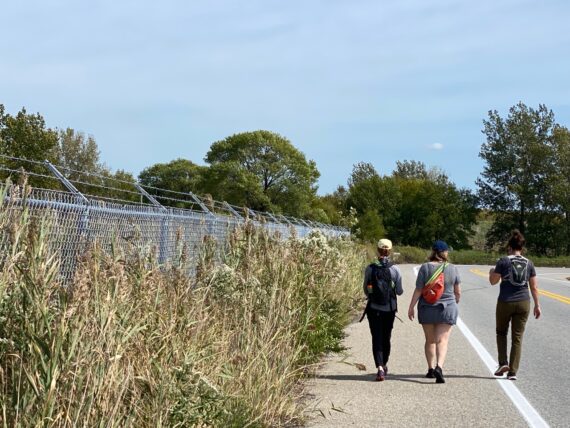 As we continue around the first bends…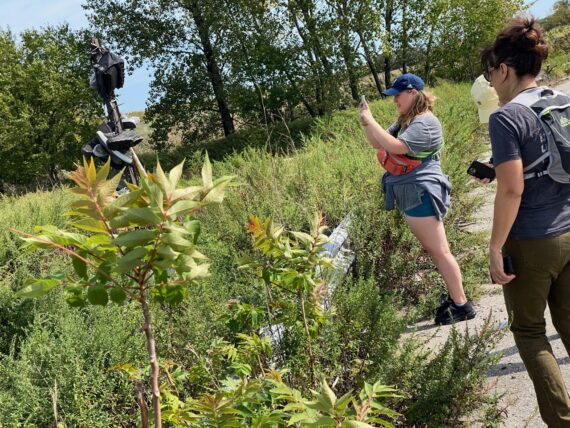 … we stop to photograph the memorial with many hanging pairs of shoes…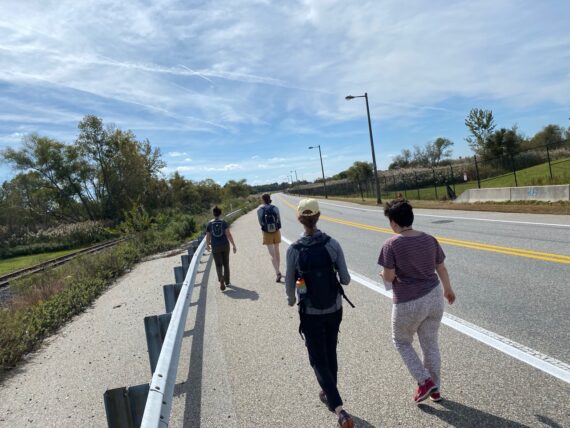 … and eventually make our way…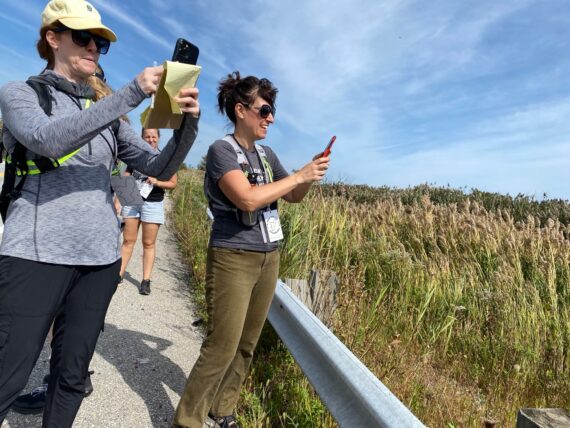 … to Fort Mifflin…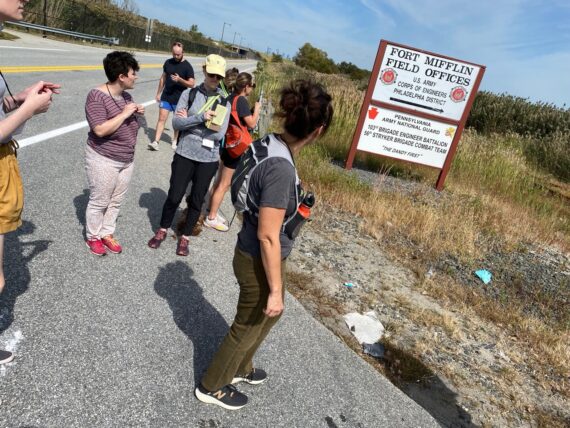 … although we don't go in and explore, but rather just check out the sign and keep going…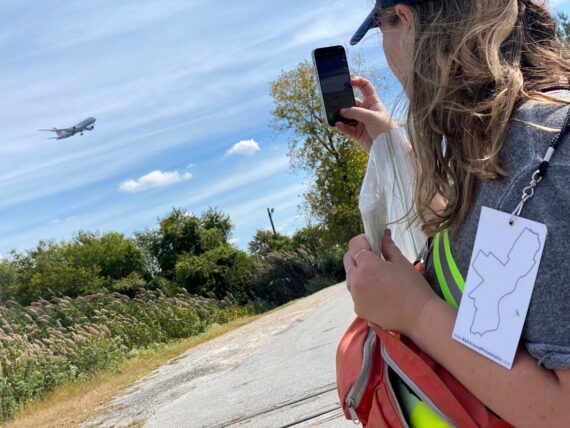 … as the planes keep landing nearby…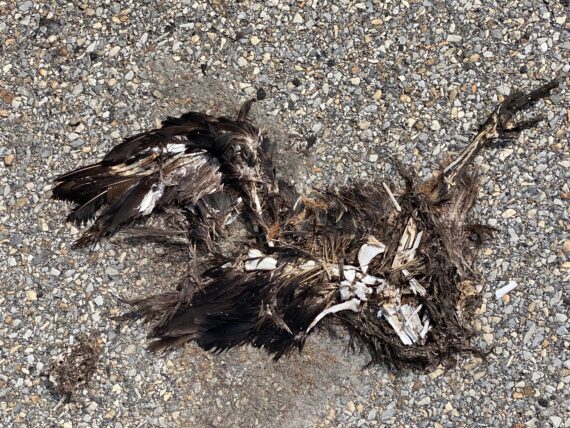 … and we encounter our next dead thing.
(I warned you in last weekend's writeup that there'd most likely be more dead things on this segment, right?)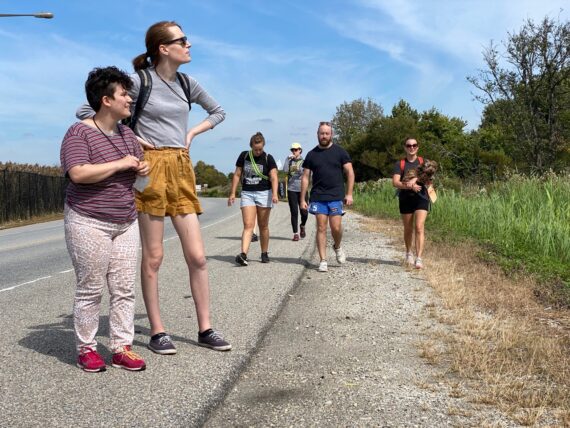 Now here we've made it to the actual city's edge…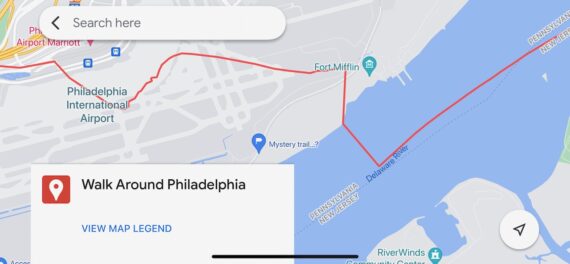 … as if you look at the actual perimeter line, it seems to cuts right across the road here, right between Fort Mifflin and…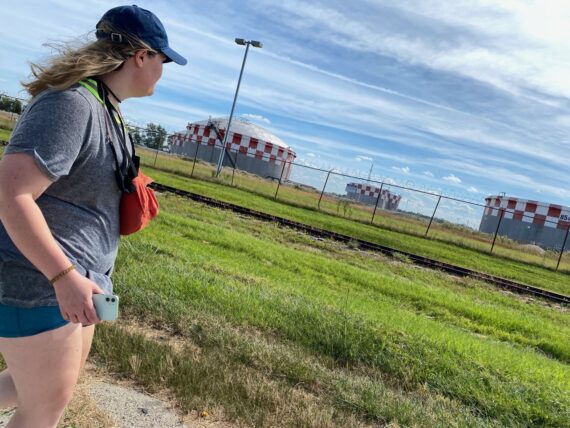 … this Sunoco facility.
(Although it gets more confusing, because while Google Maps clearly shows points immediately to either side of the Sunoco facility as in Tinicum Township, aka "Not Philadelphia", it also lists the address of the facility as being in Philly. Weird.)
Up next: another dead thing…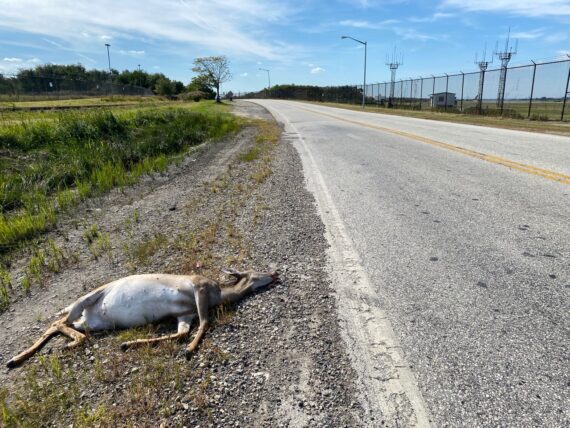 We often tend to be repulsed by dead things (understandably) but it's also an aspect of the walk that reminds us of this basic fact of life: that we are mortal, and fragile, and all have this one thing in common of the inevitability that our lives will come to a close. Which makes these moments and our movements all the more rich and precious…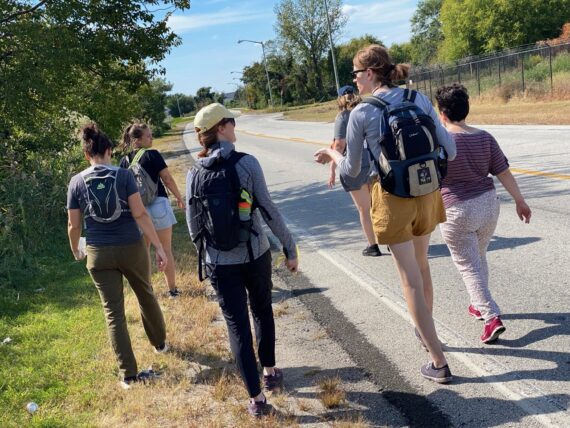 The airport is *big*, and this road goes on and on…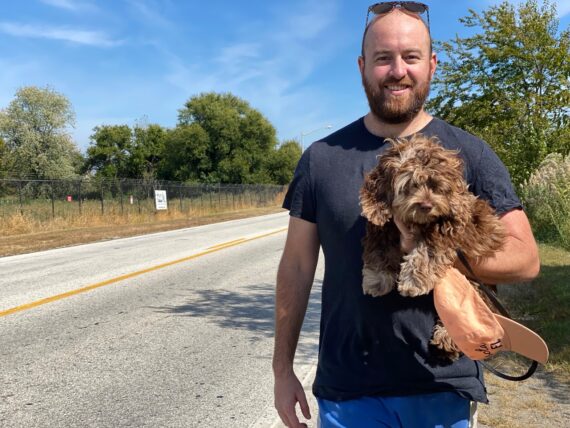 … and our little pup friend's short legs need a break once in a while…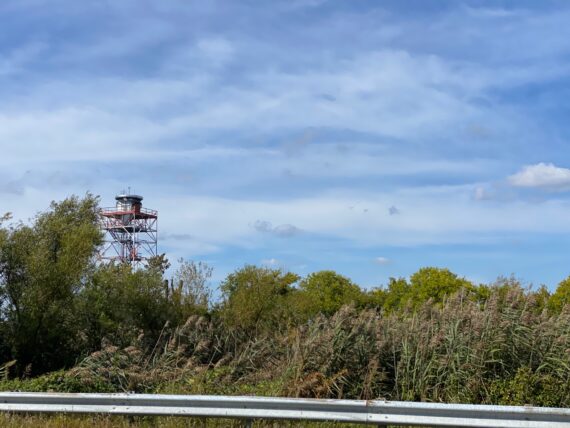 … as we encounter airport facilities…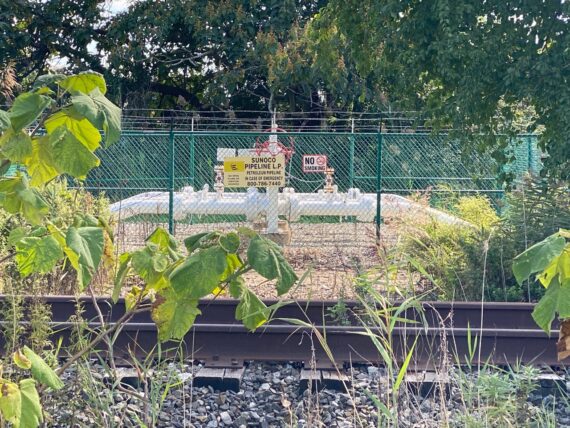 … and petroleum pipelines…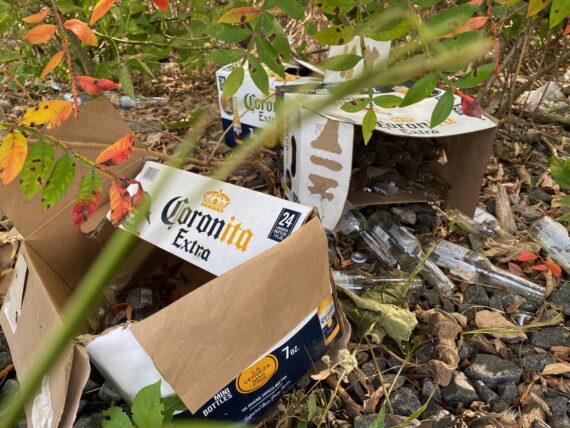 … and cases of Corona.
(thankfully not the contagious kind, although alcoholism is another kind of disease…)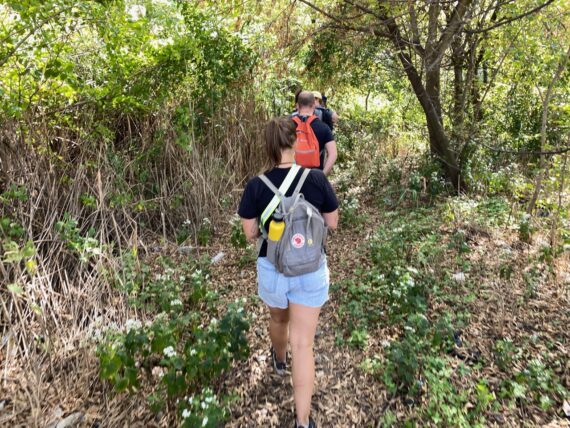 Here's a little trail that leads towards the water…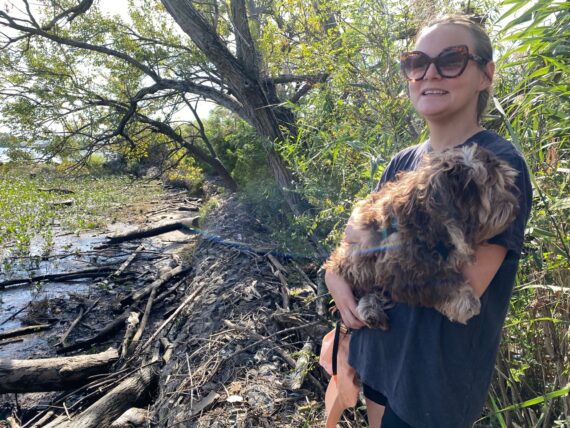 … so we venture forth to check it out.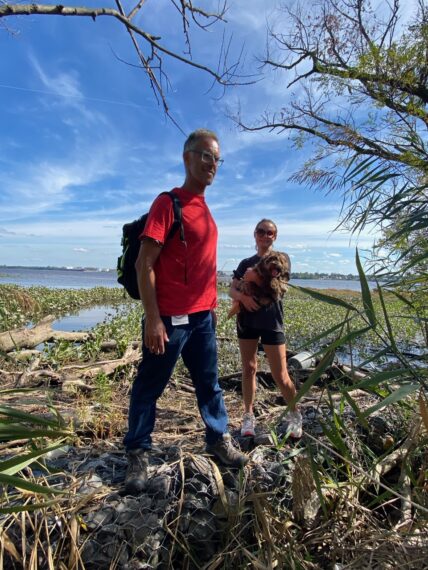 I'm rarely in these pics, but someone snaps a picture with my phone so here I am… and it's nice to catch a glimpse of the river and wetlands here…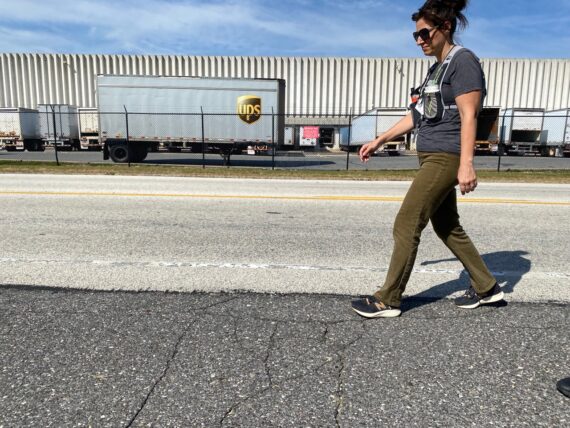 … before we're back to the pavement…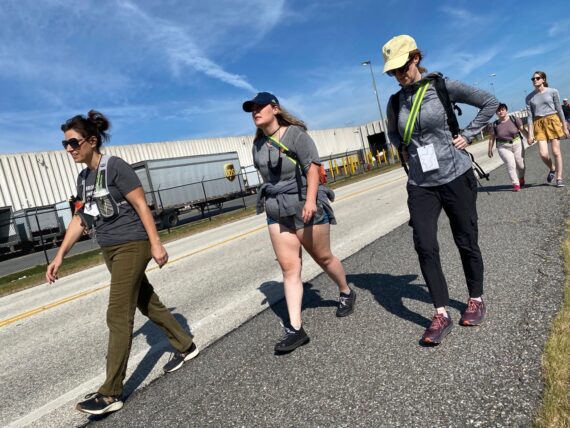 As we continue on by the sprawling UPS distribution facility…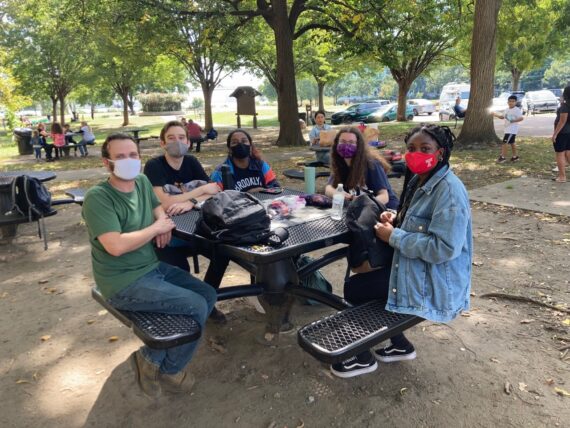 … I receive this image from Dr. Hamil Pearsall, who's incorporated Walk Around Philadelphia into her 'Sustainable Cities' course at Temple University this fall and is out today with a group of students, shown here at Penn Treaty Park.
I'm excited that my partnerships with Temple and Penn this fall have resulted in so many young people engaging in this rich experience of the city!
Towards the western edge of the UPS facility is another trail leading to…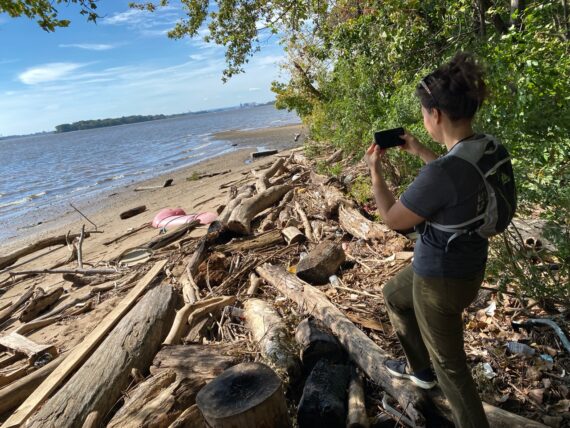 … the secret driftwood beach!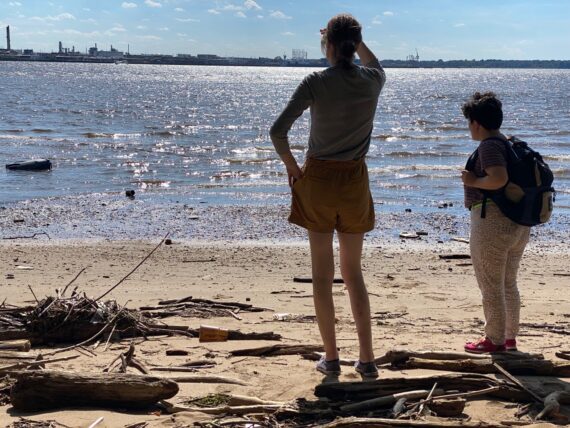 It's a great place to take in some views of New Jersey across the water…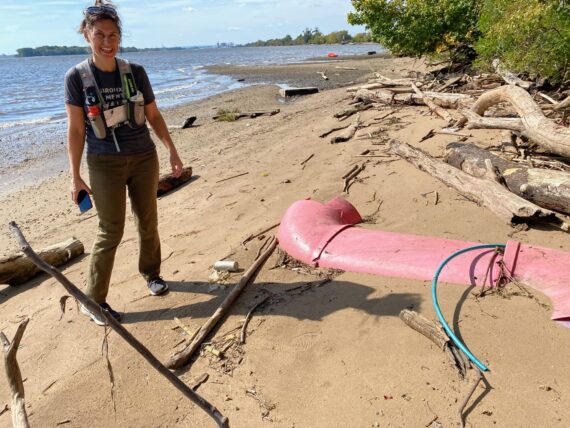 … and some big hunks of plastic…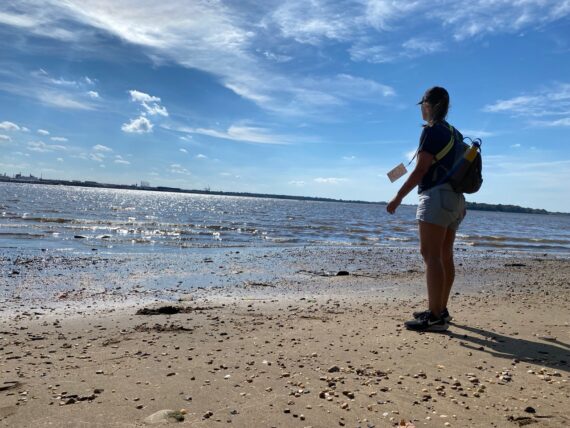 … and great clouds from the beach.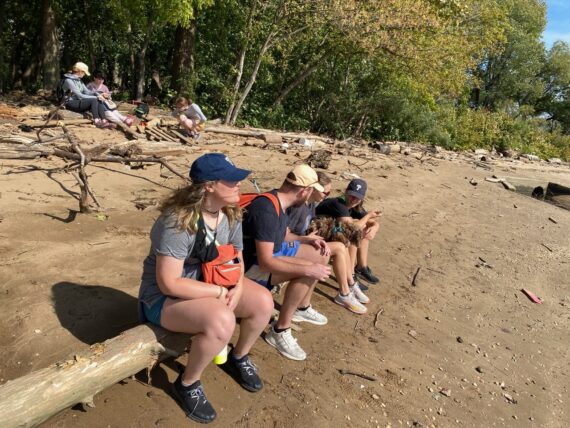 It seems like a good spot for a break and some snacks…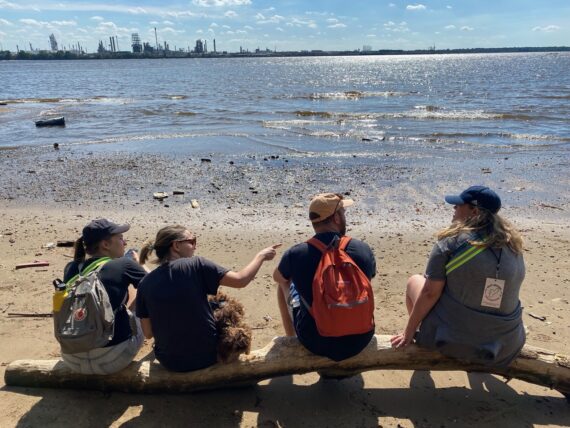 … and we just happen to have timed our break for the moment when…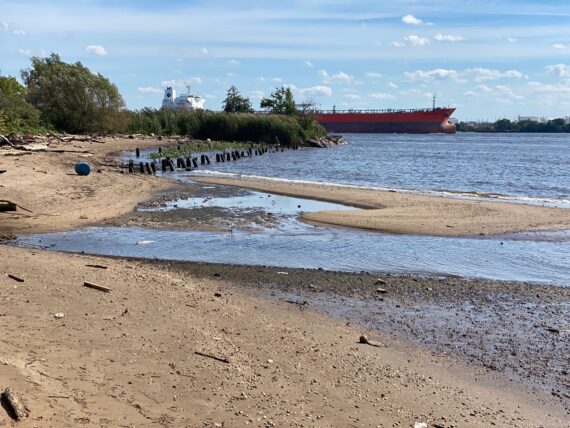 … a giant cargo ship is passing by.
Nice timing!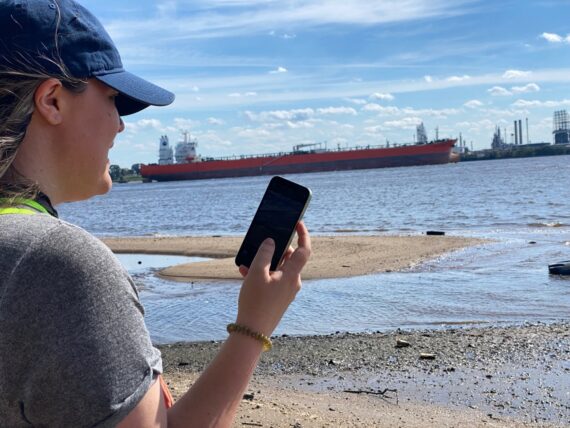 Further upstream that ship was probably right on the actual perimeter of Philadelphia; here that line in the middle of the Delaware is still the border between Pennsylvania and New Jersey but we're now squarely in Tinicum Township.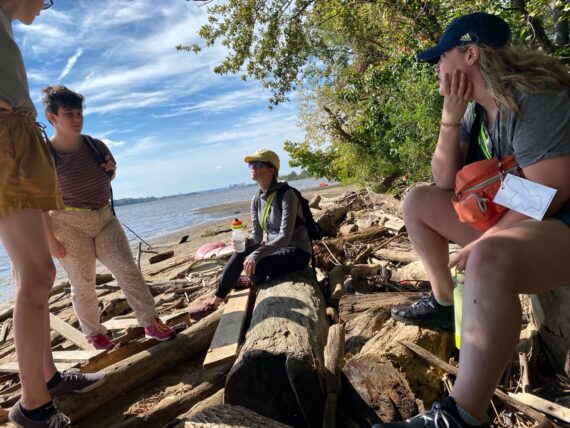 After a bit more conversation time…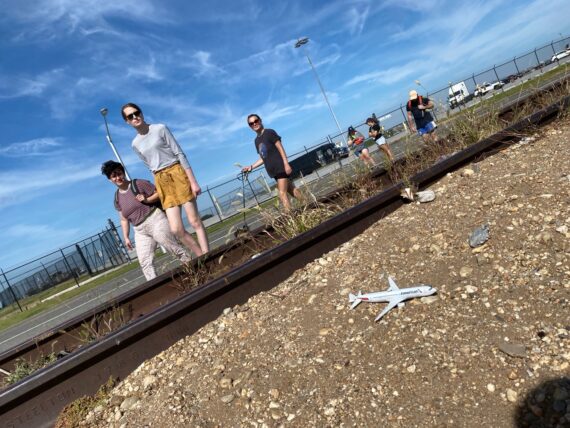 … we continue our way around the airport and spot a downed aircraft…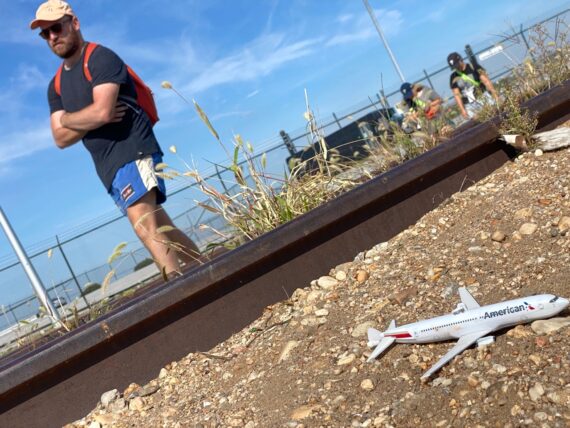 … thankfully no lives were lost when this particular American Airlines plane went missing.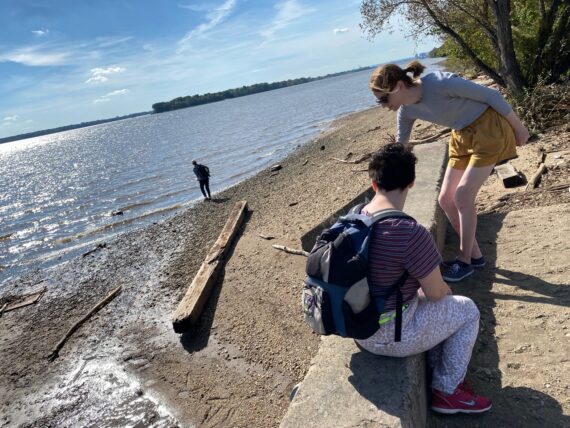 Up ahead, another access to the water's edge (there's actually plenty more that we've skipped by…)
I find myself wishing that the rest of our group would come to the edge here to see the cool giant valves below this ledge…
(To see them you can check out the recap from the fourth walk, when we did some great adventuring by the water including making our way through the usually closed southeast corner of the Navy Yard…)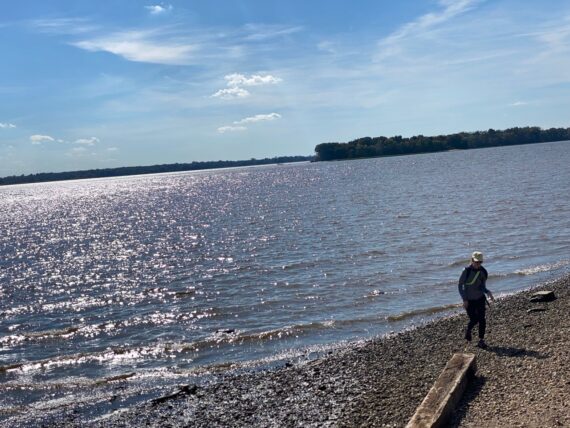 … but Catherine's the only one who comes down to the water's edge and clearly the group wants to keep moving…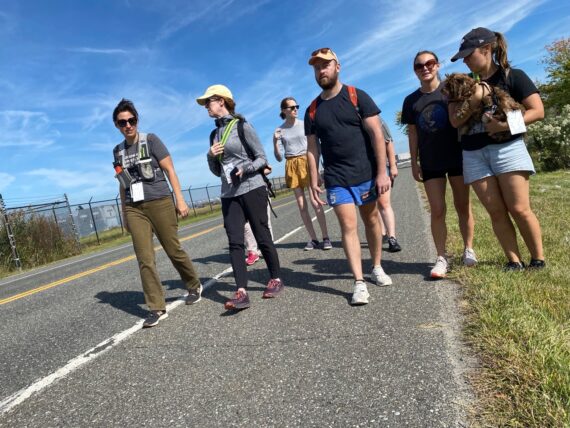 … and so on we go…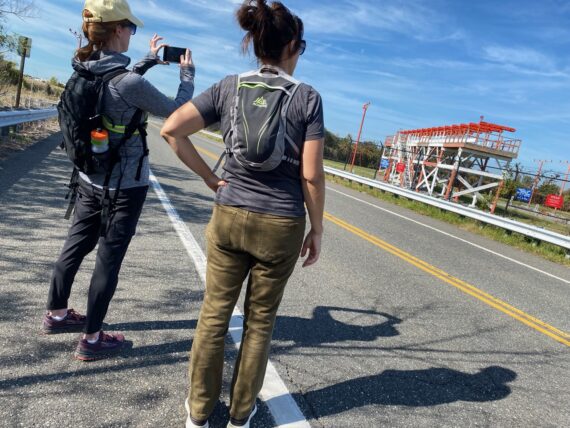 … past the runway's edge…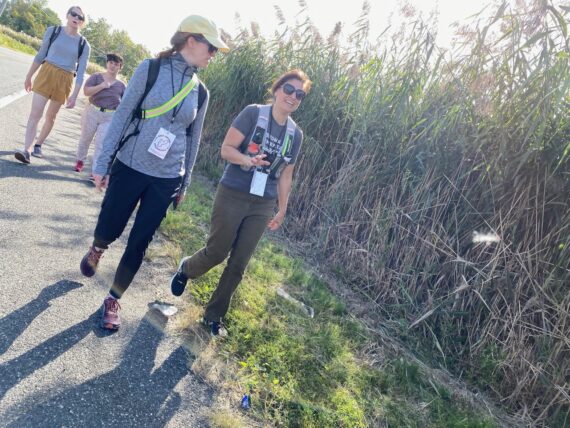 … round the bends back towards the terminal although there's still a long way to go…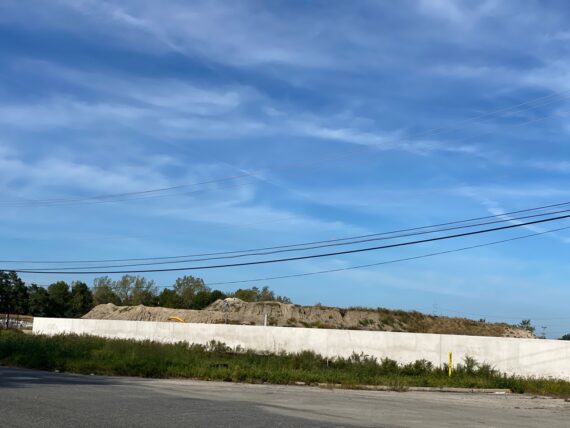 … and some sort of new construction happening here…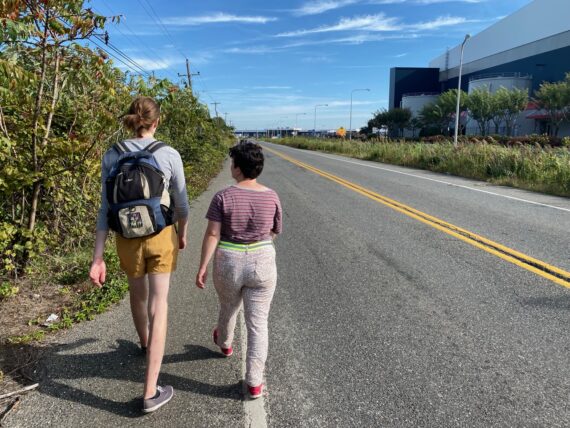 … and finally, finally we're getting close to the big airplane hangars that we could see so far off across the runways earlier…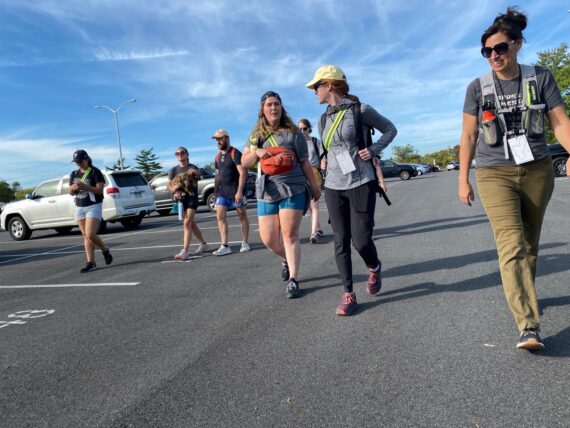 … and so we make our way across some more parking lots…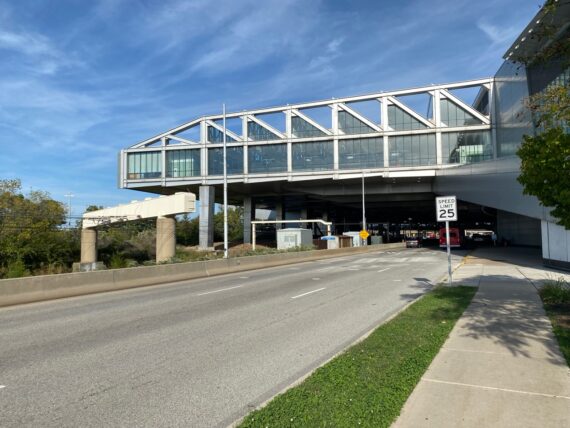 … and back to the airport!
(Now we're in the Not-Philadelphia side of it though…)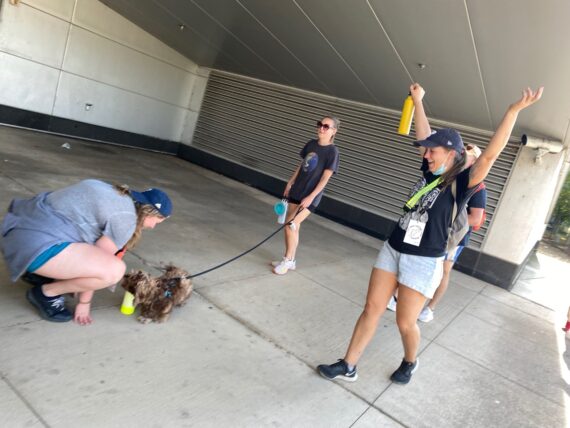 Hurrah, we've made it!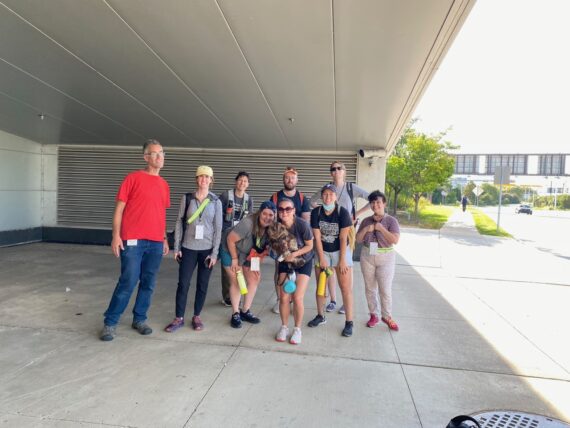 One last group photo…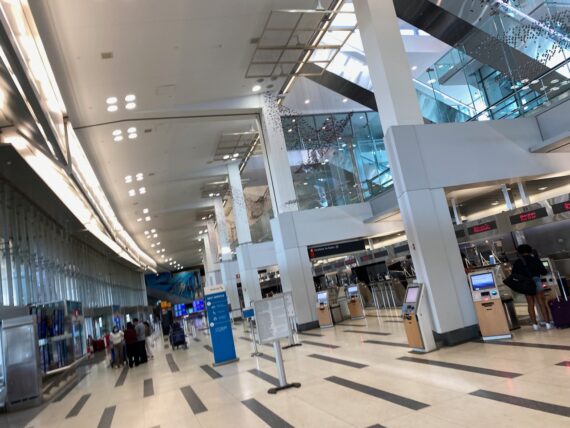 … before making our way through the terminal…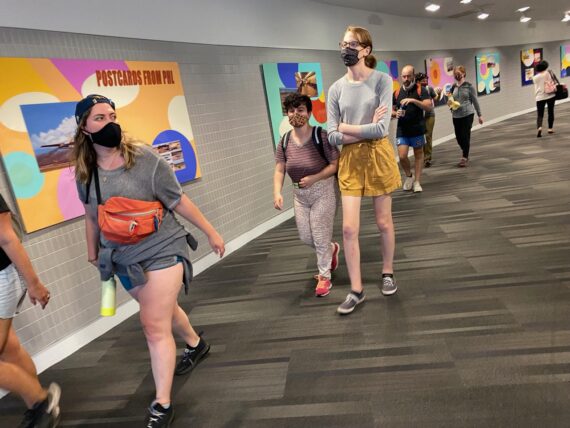 … truly a strange experience to be in this artificially lit airport space, familiar to those of us who have the privilege to fly places… after having literally spent *all day* walking around the runways.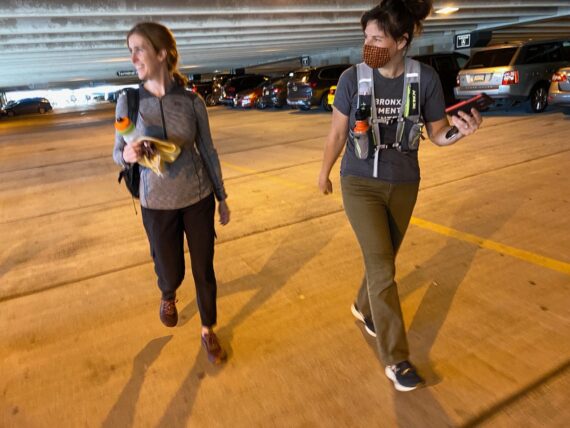 It's actually another bit of distance to cover to make it through the parking garage…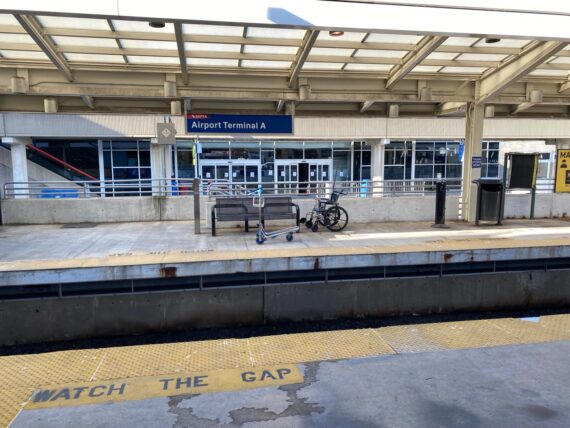 … before ending up at the regional rail station to get ourselves home.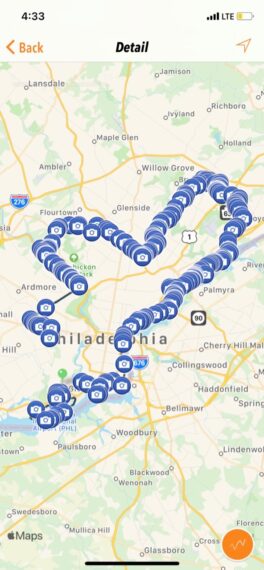 And so here we are, with nine out of ten segments completed…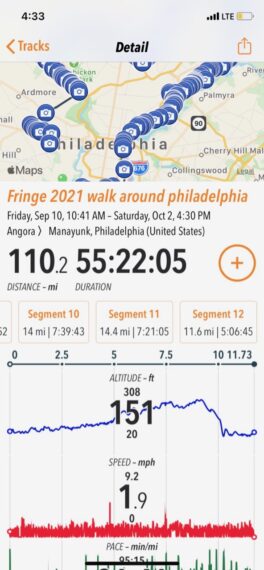 … and 110 miles under my belt
(or more if you count the morning zigzags with each day's first groups)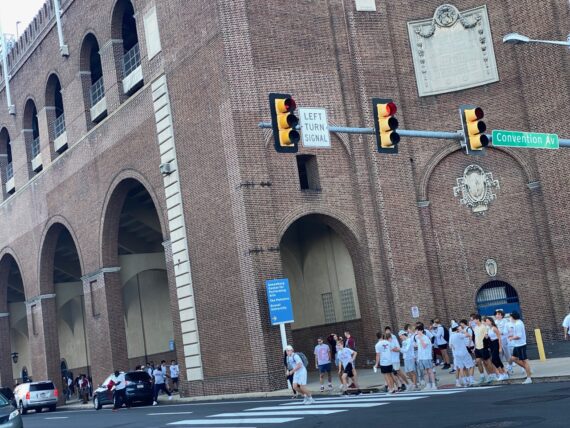 As I emerged from the regional rail station home, I was surprised to find crowds of young people in matching outfits… at first I thought it was Penn Relays, but the timing wasn't right for that. Either way, the crowd was a bit overwhelming after being used to pandemic isolation, but a nice sign of things re-opening bit by bit…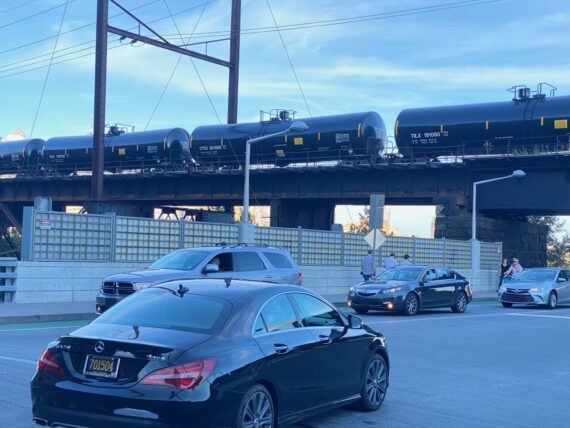 I also caught a glimpse of one of those trains of black tanker cars over the South Street Bridge.
It's easy to forget how much damage they can cause, like the one that leveled the downtown of Lac Mégantic in Canada, resulting in the death of 47 folks – that's why they're nicknamed "Oil Bomb trains" … we'd noticed several of these at points all around the city's edge during the first Walk Around Philadelphia in 2016…
… but that's a tangent.
There's one leg of the perimeter remaining and we're going to complete it tomorrow morning!
Segment 10:
Heinz Wildlife Refuge towards 61st & Baltimore
It's our final day for this iteration of Walk Around Philadelphia!
Today's segment is slightly different than the others, in that it's not starting off exactly where the last segment left off. I've instead asked our walkers to rendezvous with me at the visitor center of the Heinz Wildlife Refuge.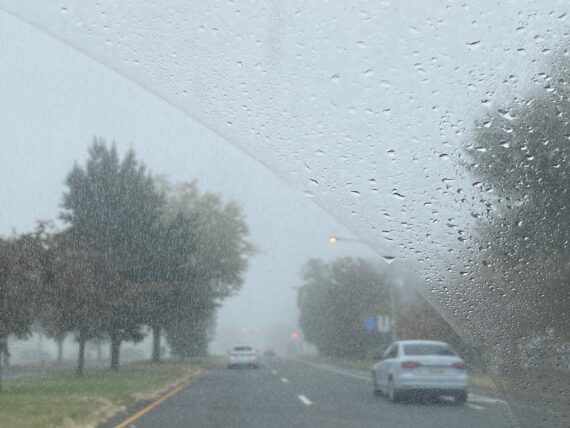 While I've mostly taken public transit, for this last morning I accept a ride generously offered by a neighbor…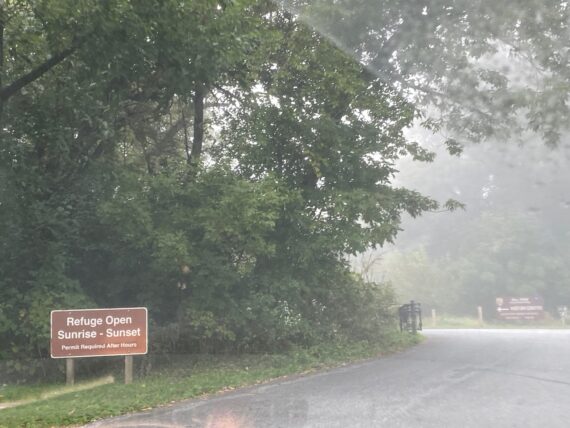 Yes, starting from this end of the wildlife refuge technically leaves a tiny gap in our loop since we left off at the airport.
There's a reason for this… while in past iterations walkers have made their way fairly easily along the border from the airport into the refuge, it's a bit of a tricky crossing right at the beginning, and one that doesn't feel appropriate to ask of whatever unknown folks might sign up via the Fringe Festival interface the night before. If they weren't comfortable with that crossing we'd have to roomba around several extra miles away from the perimeter. Starting here feels simpler.
As we pull into the parking lot, I'm surprised to see this familiar person that I wasn't expecting…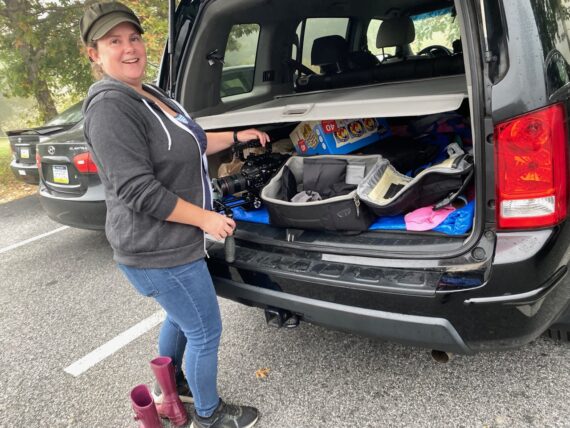 … it turns out this videographer loading their equipment…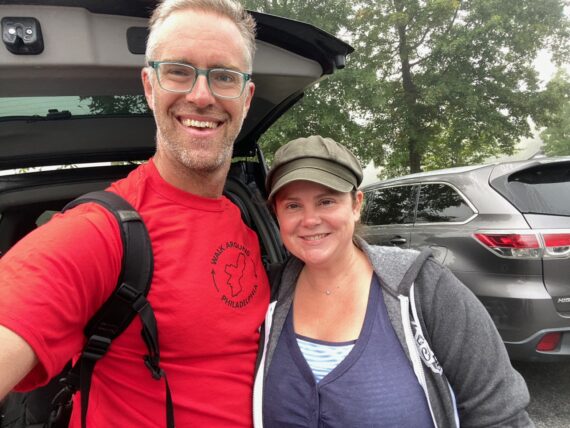 … is my friend Melody Tash, whom I've known for ages via the Fringe Festival networks.
Now here's a pretty amazing coincidence:
Melody's here at the wildlife refuge to shoot footage for the last segment of Trail Off, a set of site-specific audio experiences created by Adrienne Mackey's company Swim Pony.
For those of you not familiar with the origin story of Walk Around Philadelphia, it came out of an artist residency that I participated in with Ann de Forest (then a stranger and now a beloved friend) – it was part of a series of Cross Pollination artist residencies hosted by none other than… Swim Pony Performing Arts.
That one week residency in February 2016, during which Ann & I circumnavigated the city on foot with Adrienne & Swim Pony's artistic associate Sam Wend, was supposed to be a one-off project with no specific output. But we made a storytelling performance that immediately sold out, and an added date sold out again. Then the following February I did it again on my own, and have continued doing it, and now the walk has grown into this thing that over 300 people have set out to engage with, and it keeps growing.
Meanwhile that walking experience also spun off other inspirations, leading to Adrienne's Trail Off project (and newer ones like Aqua Marooned!) – and I'm forever grateful for that week residency that spawned this project that has been so near and dear to my heart.
At any rate, here we are on a misty Sunday morning at the Heinz Wildlife Refuge, and my mind is a little bit blown that without any sort of coordination, Melody just happens to be here filming for the tenth and final segment of Trail Off at the *exact same moment* that I happen to be showing up for the tenth and final segment of this fall's 10×10 iteration of the walk. Wild.
At any rate, that's my own little personal delightful start to this morning… now back to the walk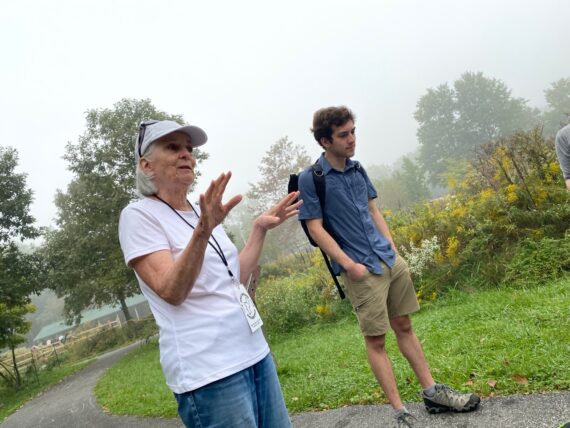 Starting off with introductions again, Mimi tells some of the group about how the past few weekends of experiences with the walk have dramatically challenged and expanded her conceptions of the city…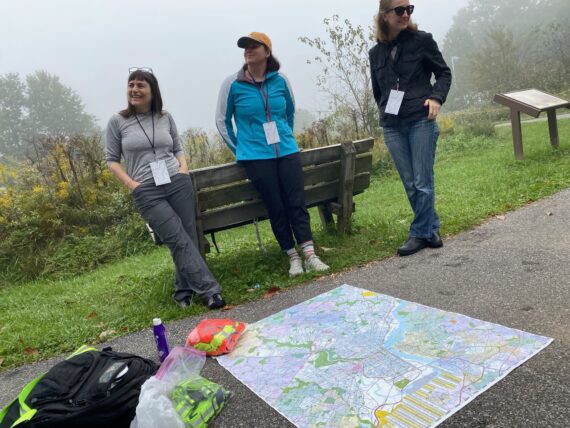 … while folks new to the walk get ready to set out on their first segment…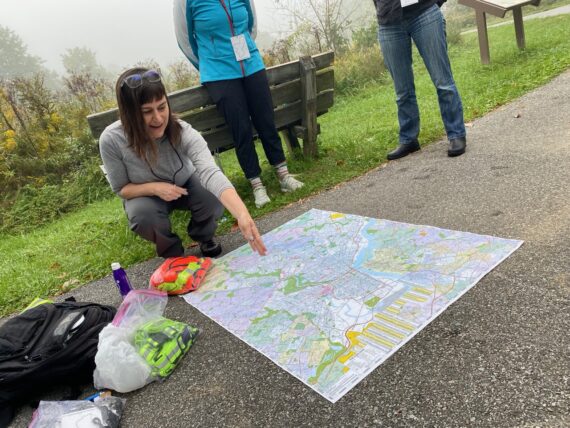 … talking about the map and experiences with borders…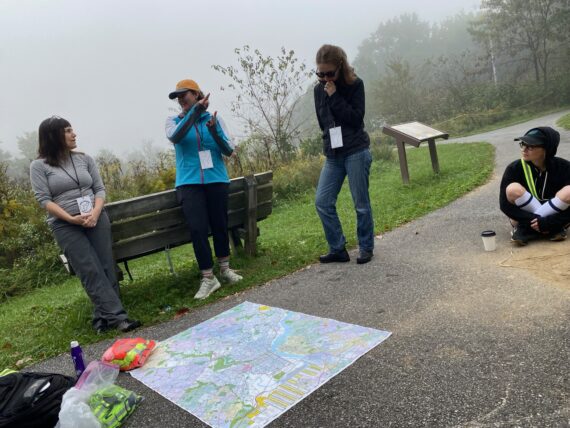 … and turns out that Hannah is a city planning student… that's the kind of program that I'd love to connect with the walk as well.
I'm also delighted that we're joined by my neighbor Alfie – we've known each other since college days, and he only recently moved back to the area. I'm excited to introduce him, who grew up in Philly, to this very different experience of the city.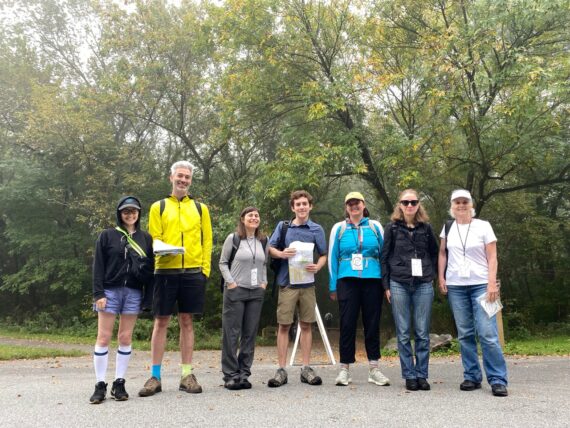 And so today's first group is ready to head out…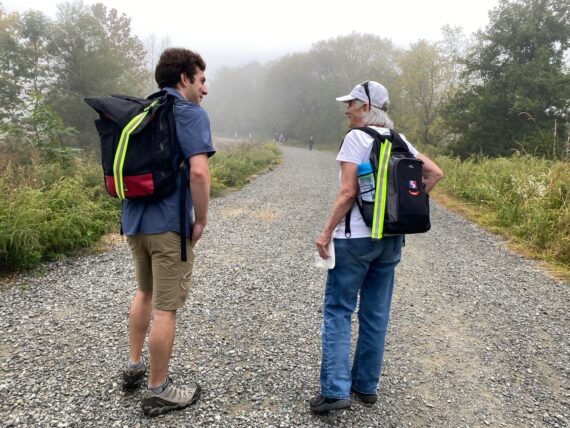 … but we start off heading south (aka counter-clockwise, aka the opposite way from which the walk has progressed over the last 9 segments) – we head further into the wildlife refuge, following the perimeter towards the Airport where yesterday's walk had left off.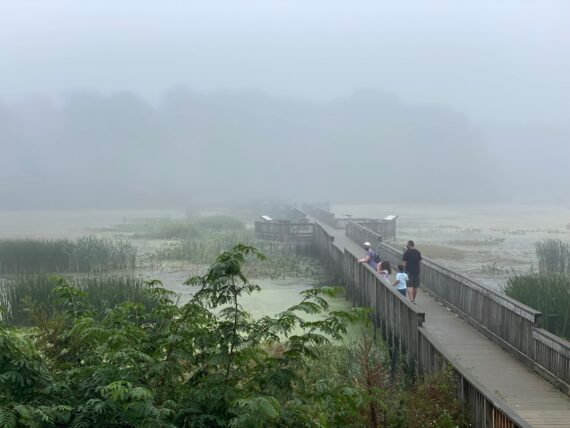 I suggested doing this little zig into the refuge so that folks unfamiliar with it would get a sense of what it had to offer…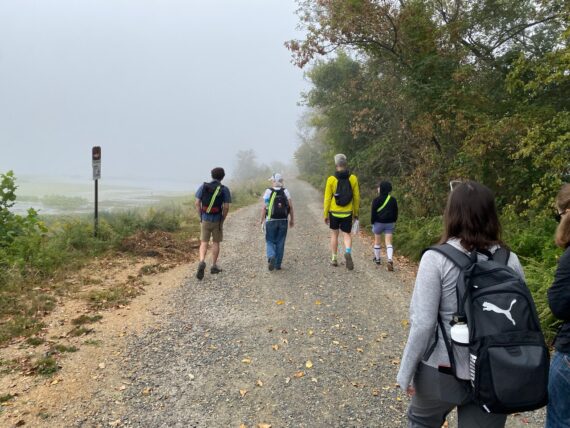 … but I knew that we could only go so far…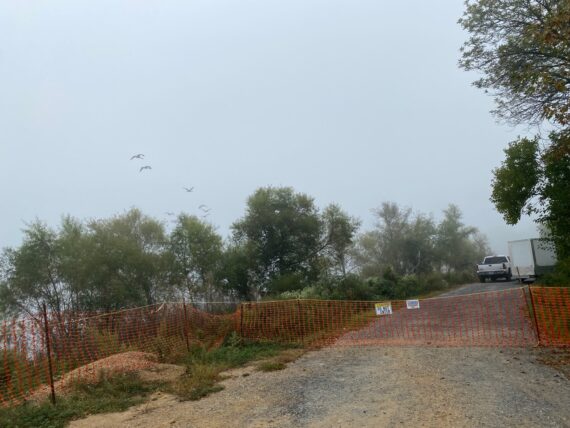 … because the trail along the perimeter is closed for the construction of a new fishing pier.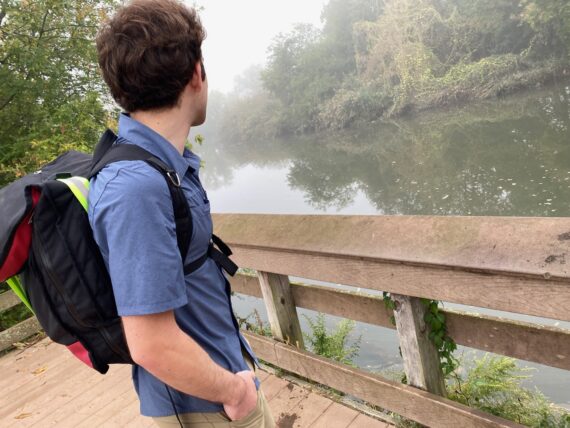 There's Darby Creek…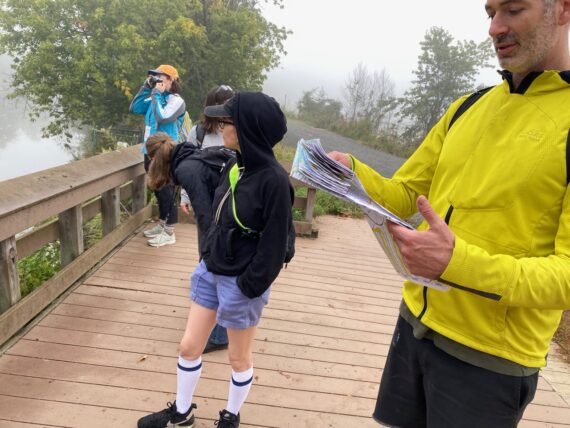 … which marks the border here.
From here we'll double back, resuming the clockwise circumnavigation of the city's edge…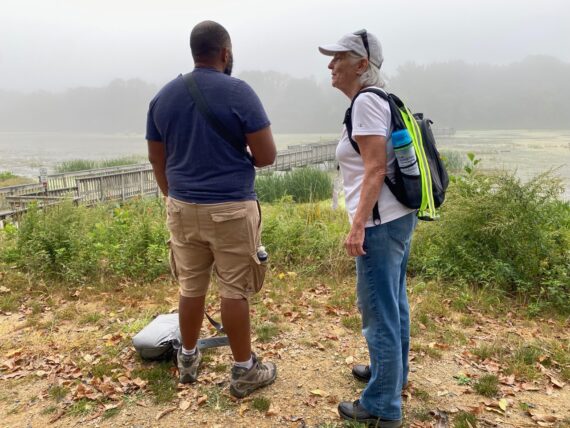 … stopping to talk to neighbors and learn about their experience of the refuge…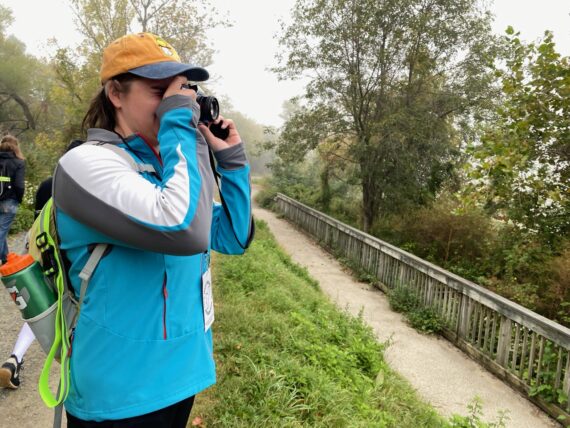 … taking photographs…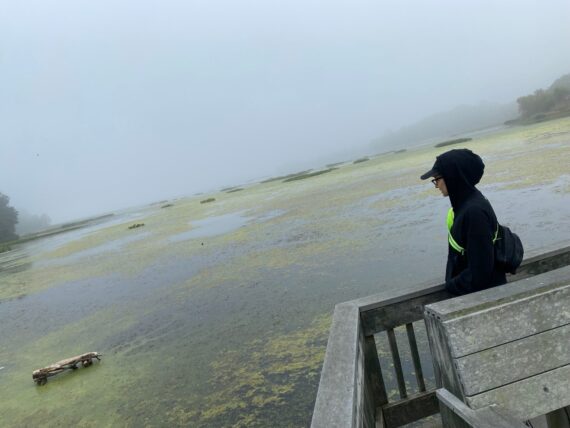 … and detouring away from the actual perimeter to walk across the big boardwalk…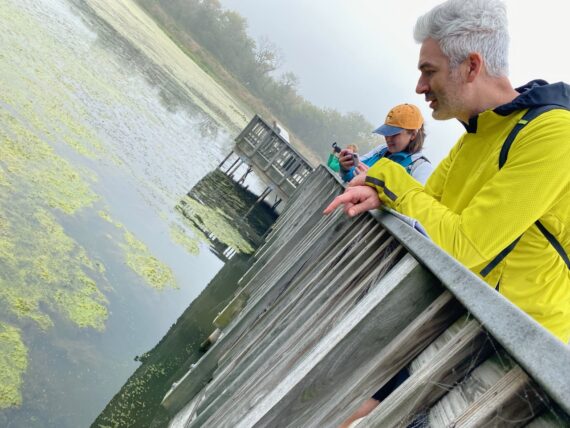 … where when we look down…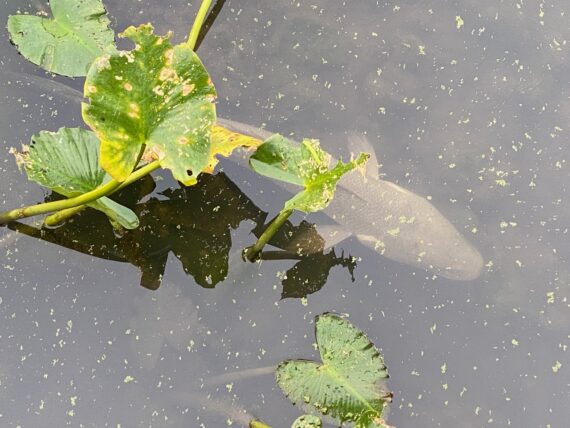 … we spot some big fish…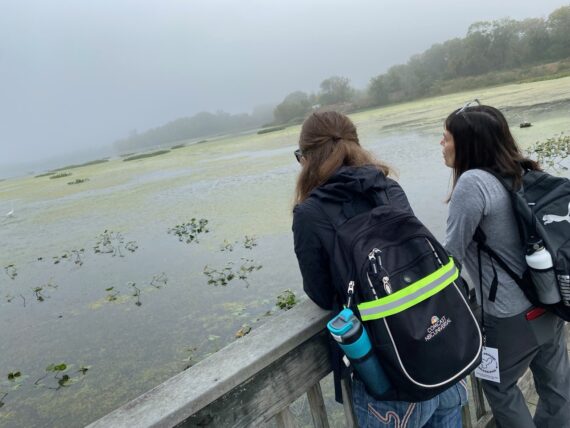 … and off in the distance, some big birds…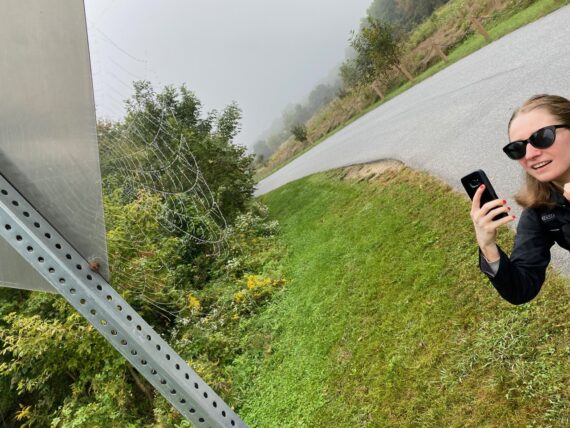 … and on our way out it's a big spiderweb!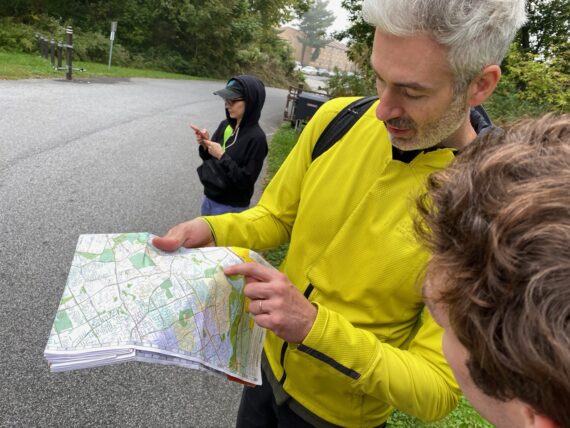 Walking out of the refuge and up Lindbergh Blvd…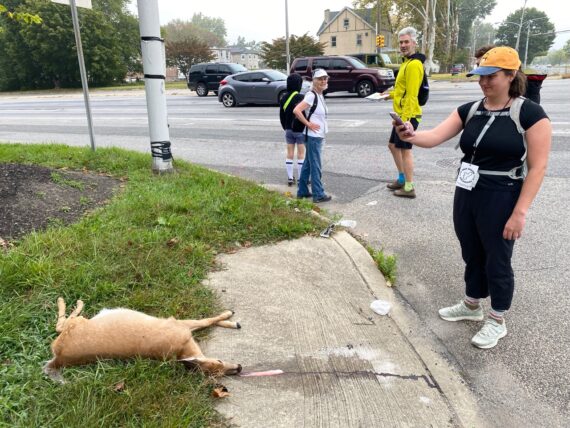 … we encounter not just one dead deer…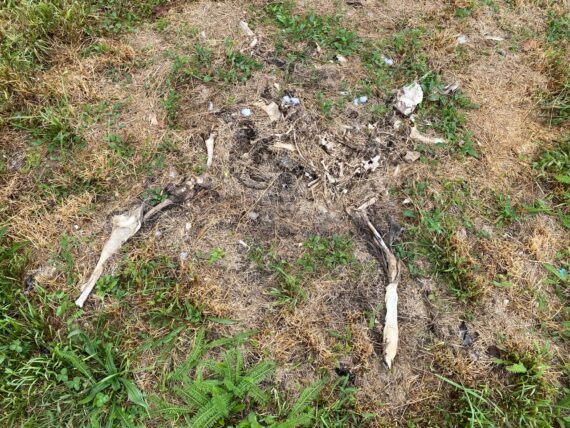 …. but the remains of a second one across the street. This clearly isn't a friendly intersection for deer!
If you've read my earlier recaps, you know that encountering death is a regular and natural feature of the Walk Around Philadelphia experience…
I again find myself wishing I could continue on further with these great walkers, but it's already time for me to double back and rendezvous with the second group…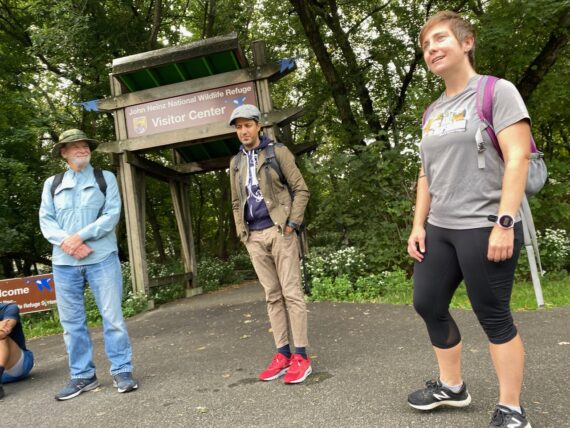 Jamie-Lee & Fayyaz, who both walked the second segment from Wissahickon Station to Chestnut Hill a few weeks back have joined us again…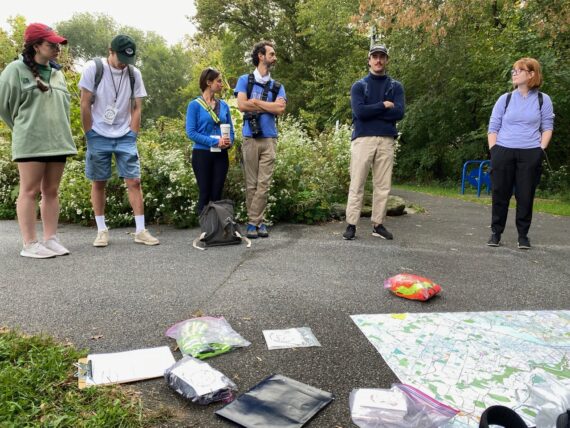 … and we're also joined by several Temple University students from Hamil Pearsall's 'Sustainable Cities' class.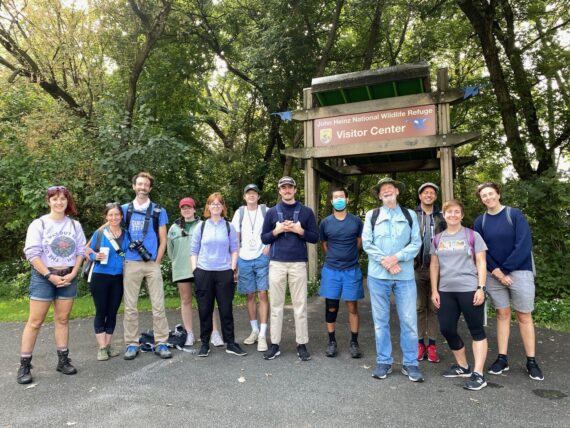 Once everyone's shown up, this ends up being the largest group of this fall's walk…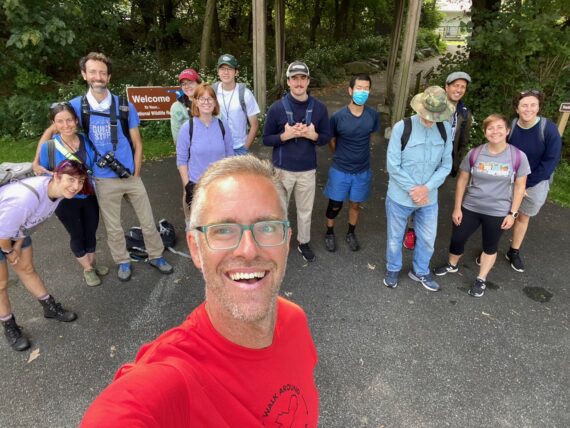 … that's 13 when you count me.
I'd capped participation at 15 this time around, but honestly even a group this size feels pretty big.
The biggest individual walking group was 17 folks in Feb 2020, and the larger groups start to feel more like a parade… it's fun but you loose some of the sense of intimacy, and becomes easier for folks to just follow along rather than actively engaging with the navigation and way finding.
I struggle with these dynamics of wanting to grow participation in the walk and facilitate access for more people into this experience while maintaining the special experience of those small groups.
I quite liked the way that the Walk Around Philadelphia retreat that I facilitated for the SNF Paideia program @ Penn (detailed in this post) allowed a larger group of ~60 participants to share in the experience by dividing up into small groups that set out to different parts of the perimeter and then gather to compare notes together. and I may try to organize more events like that…
At any rate, for today, we've got a great group and do the same thing as the first group did by dipping down into the refuge…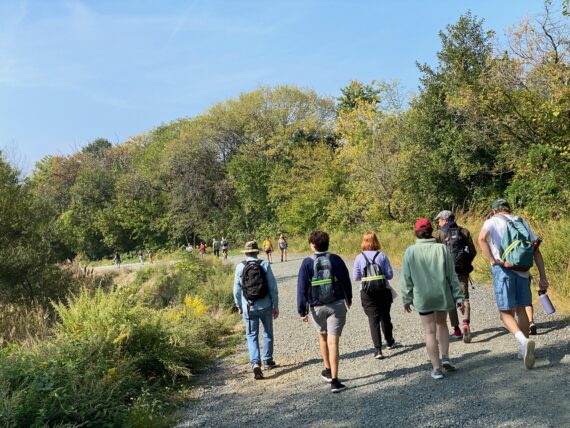 … but it feels completely different now, as a few hours later the fog has lifted.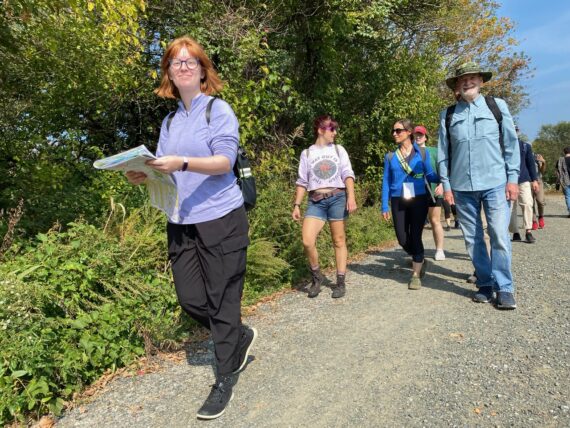 I again encourage one of the younger students to join in navigating…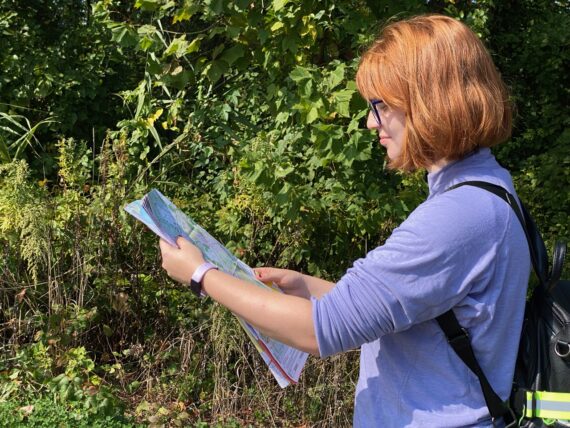 … and so MJ takes on the map…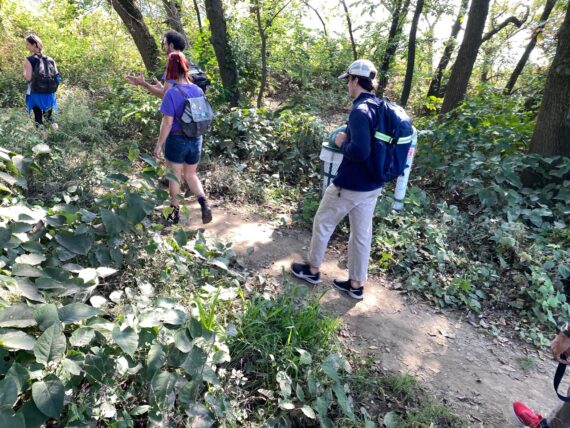 … and as we double back up towards the refuge entrance, we spot a little trail…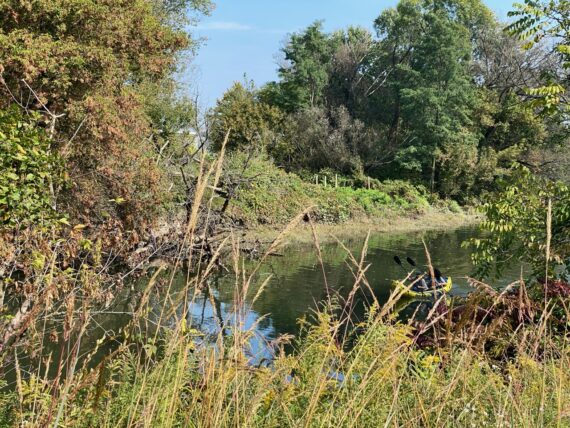 … which is an opportunity to get slightly closer to the creek (and thus the actual perimeter.)
Remember, one of our guidelines is "Stay as close to the perimeter as you can, within reason."
As we reach the upper edge of the refuge…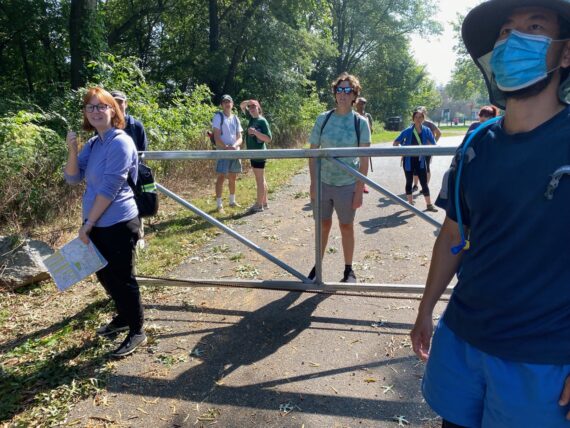 … there's a road past a gate that seems to be an opportunity to stay closer to the perimeter, but the signs ahead mark the area as clearly off limits…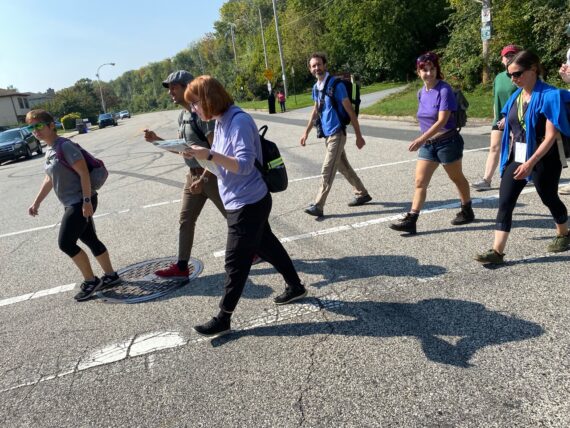 … and so we make our way out to Lindbergh Ave, and the group opts to cross the street because, while it's a tiny bit further away from the perimeter, that side has a safer looking sidewalk.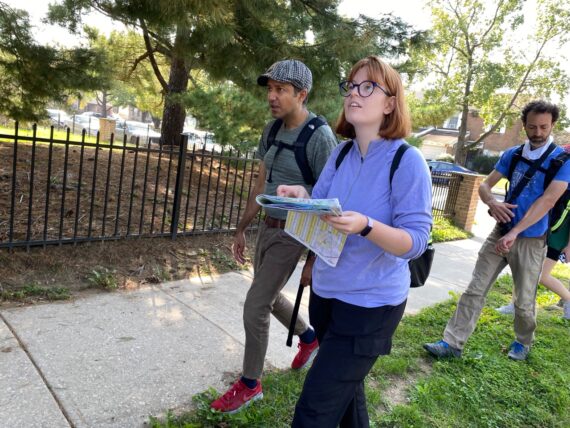 And so, as the group makes it's way up the east side of Lindbergh, and approaches the corner of 84th St…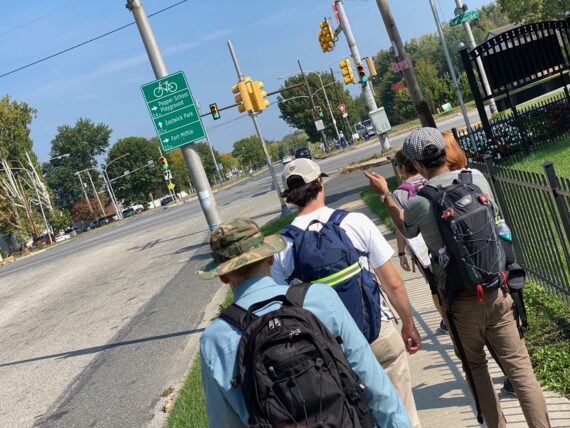 … I find myself wondering if anyone will notice the dead deer across the street on the other corner.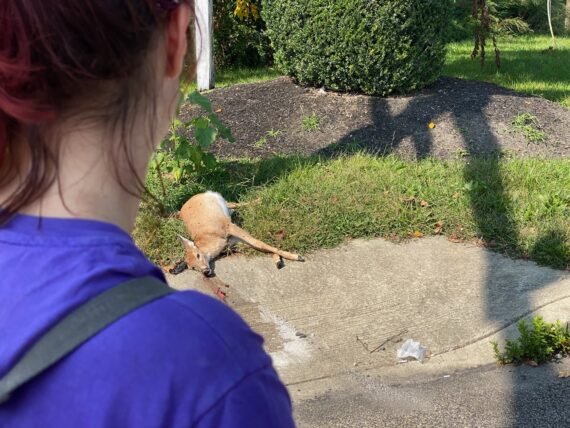 They do.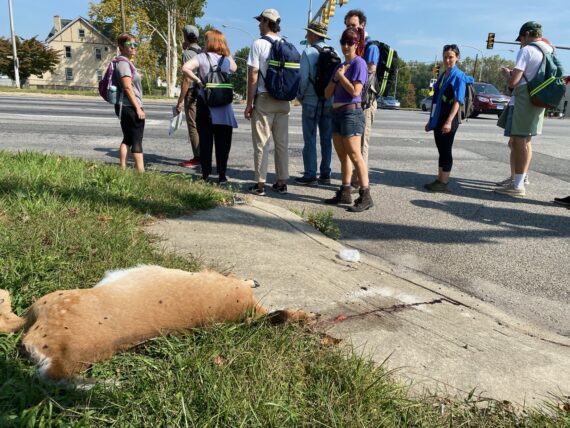 And so as the group makes their way past not just one…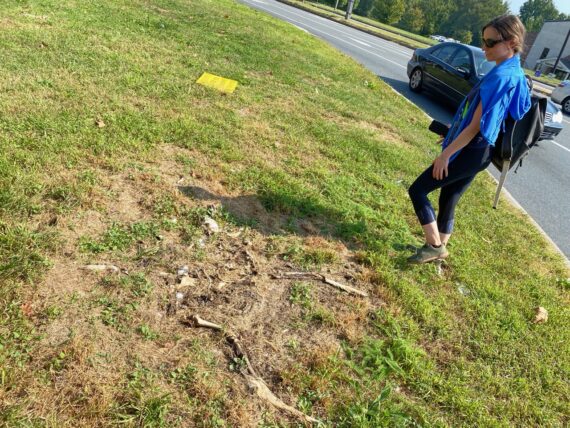 … but two deer carcasses, I find myself glad that I resisted the urge to direct the group.
While I knew that these two sights would be "interesting" and I found myself wanting the group to cross to that side…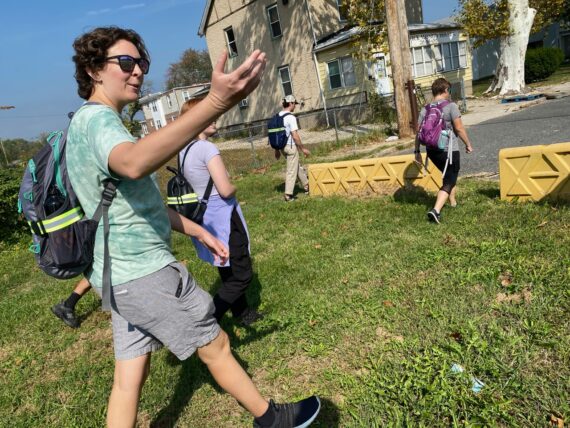 … if we'd stayed on the other side of the road we would have encountered that watermelon stand that Allison's gesturing to, and that would have been a different, but equally interesting experience. And potentially tastier.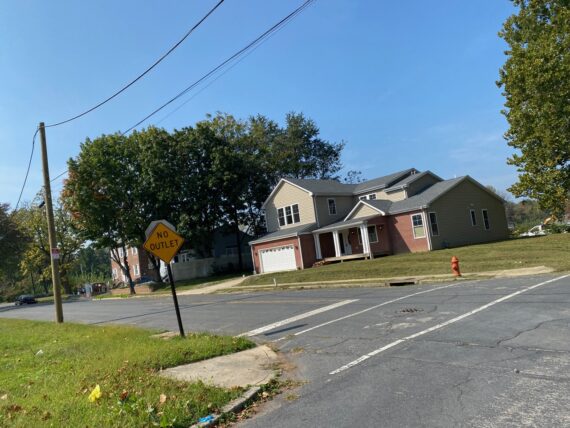 As we come 'round to a residential neighborhood…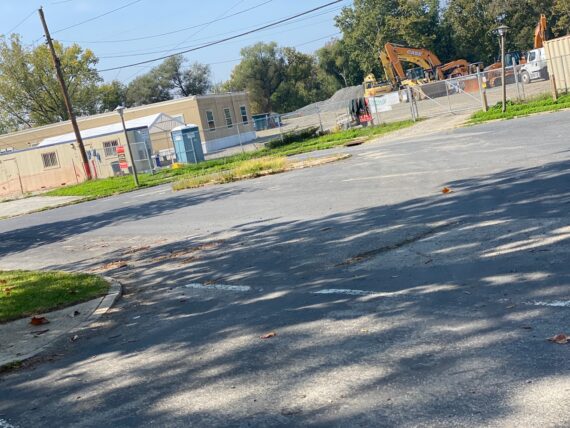 … with signs of construction at the edge of it…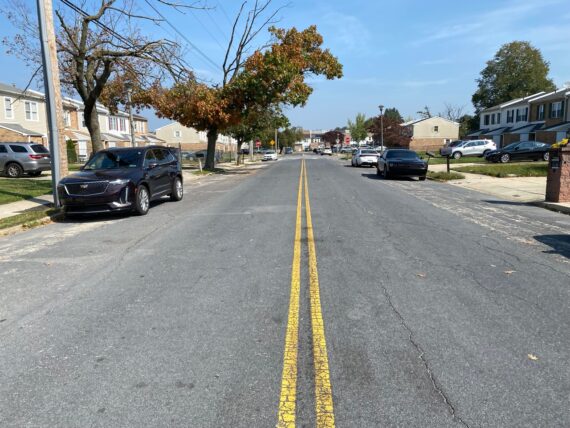 … we're able to walk in the street as it's relatively quiet…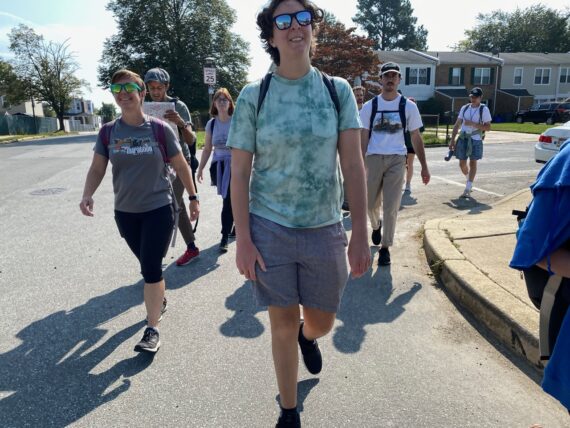 … and what does our group encounter…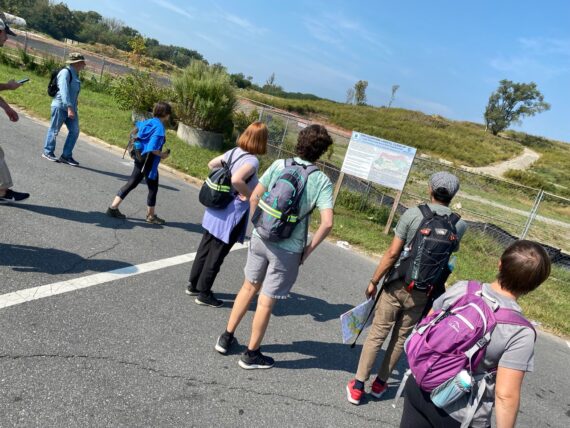 … but a large fenced off park-type area…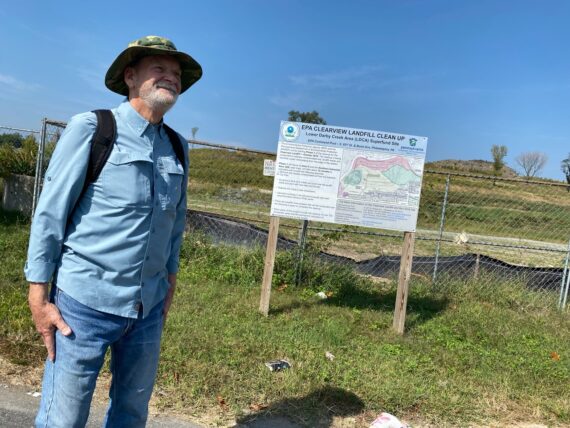 … with a sign explaining the phases of the EPA Clearview Landfill Cleanup.
When I'd first walked by here in 2016, that hill was covered in trees and tall grasses…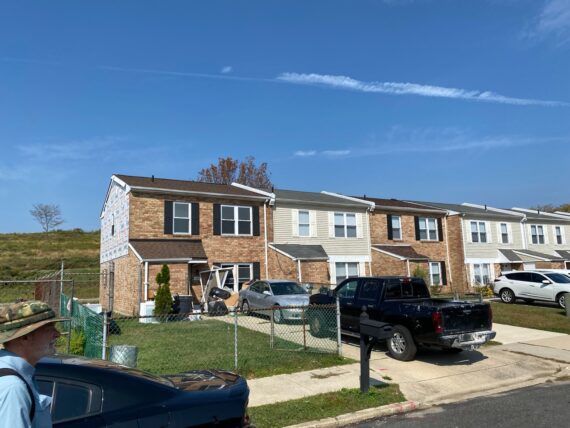 … and I thought how marvelous it was that neighbors here had access to pristine nature in their backyards…
and then I realized that it was another toxic waste site.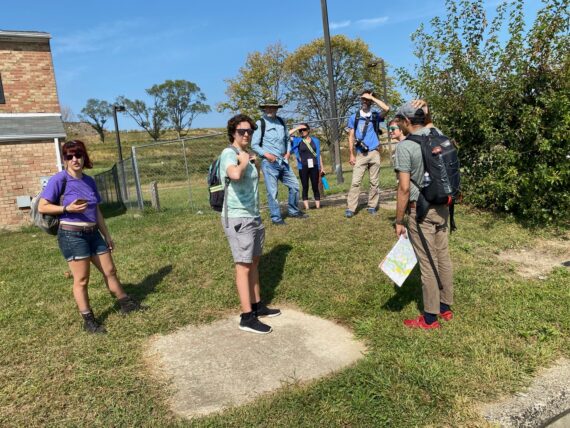 Up ahead is a corner with a small fence with gaps in it… and the map seems to imply that there's a stretch of land in between us and the superfund site that is a public park…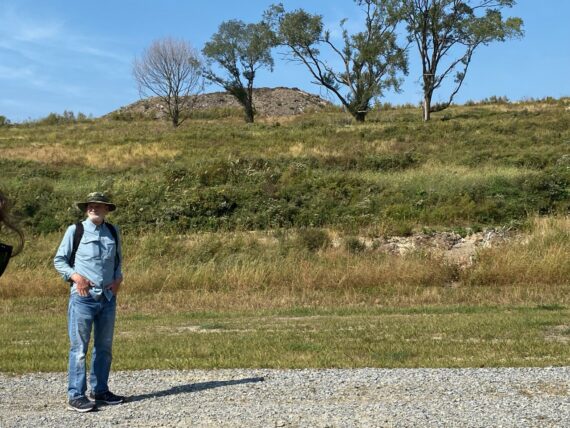 … so we feel comfortable venturing in…
… and making our way…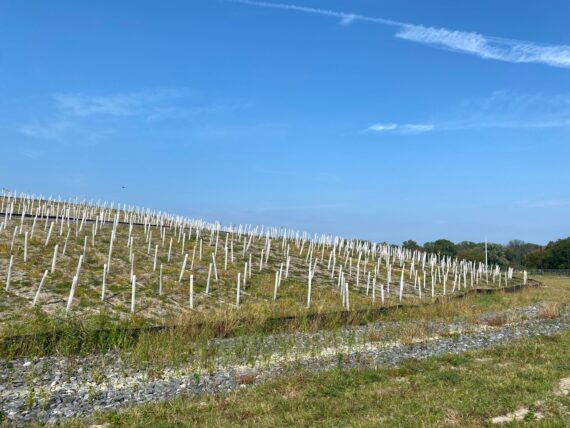 … past all of these plastic pipes…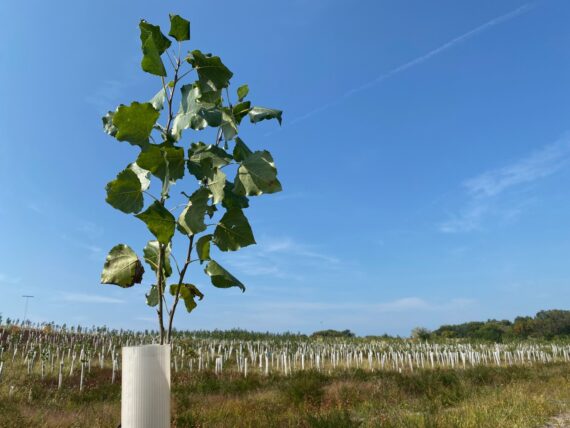 … which are clearly meant to be tree plantings, but most of them don't seem to have survived.
(Planting trees is all well and good, but if they don't have the right circumstances and care… well, it seems wasteful.)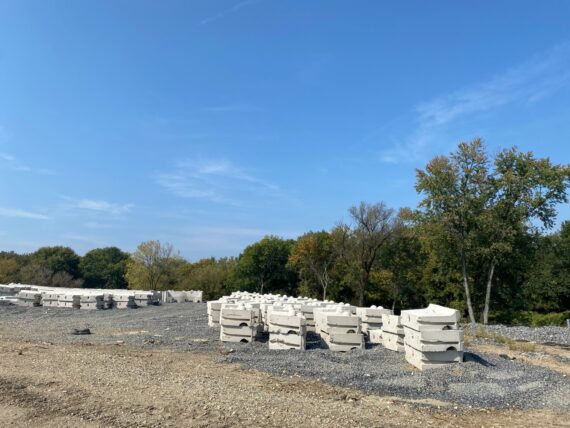 We follow the path up the hill where there's some more signs of active construction…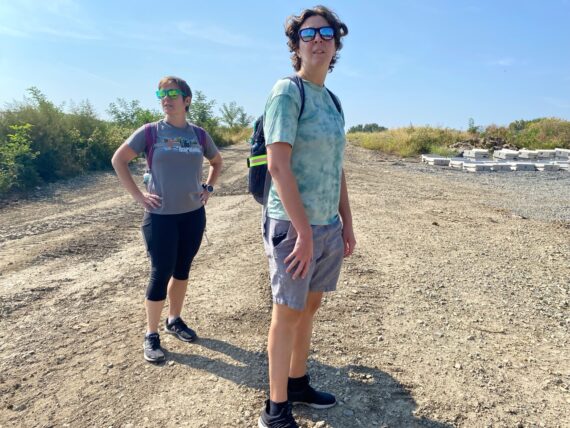 … and while I've been through the park here before, I've never actually been on this spot, where we're exactly on the perimeter line as it cuts through the site (as close as I can tell.)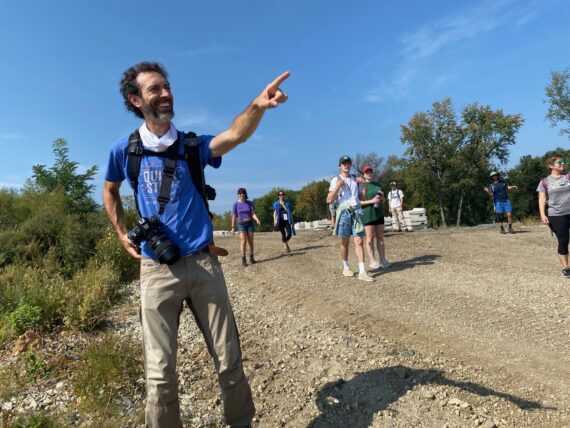 The perimeter, having done a couple 90 degree zig that neatly exclude the Clearview landfill site from the city boundaries, heads in a straight surveyor-drawn line that way towards the creek where it resumes a curving shape that follows the water.
(At this point it's Cobbs Creek, which we'll follow as best we can all the way to our finish line.)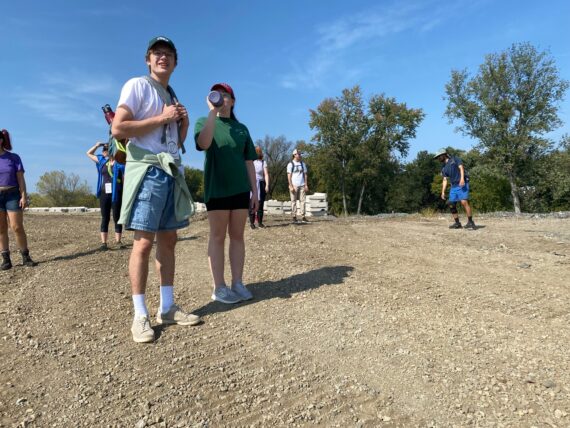 We take in the view…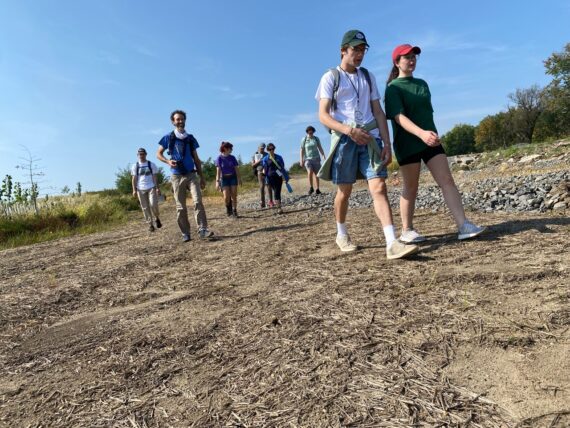 … and then head on out…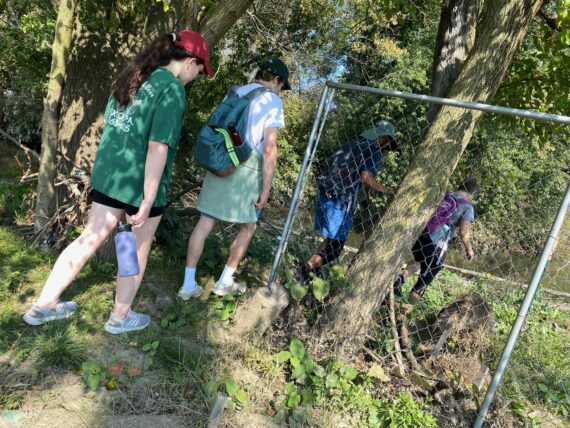 … past another fence.
This seems ok here, because we're in public / park lands, and the path is easily accessible…
Again, a reminder re: the walk's guidelines: if anyone's uncomfortable with a path for any reason (it seems dangerous, illegal, inaccessible) we just go around the obstacle using the Roomba Rule, finding our way around like a little robot vacuum cleaner… this works for obstacles of all sorts and all sizes.)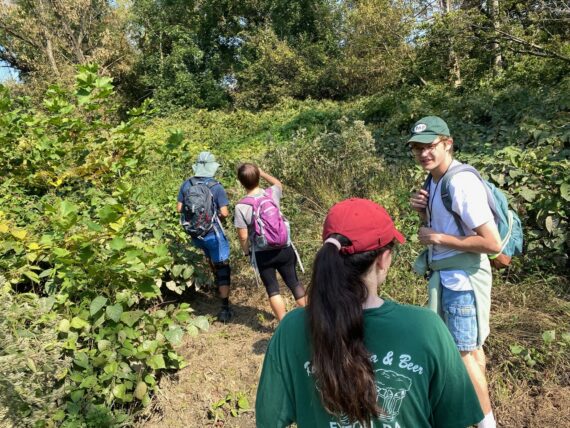 Up ahead, we see some ATV vehicle tracks leading along the creek…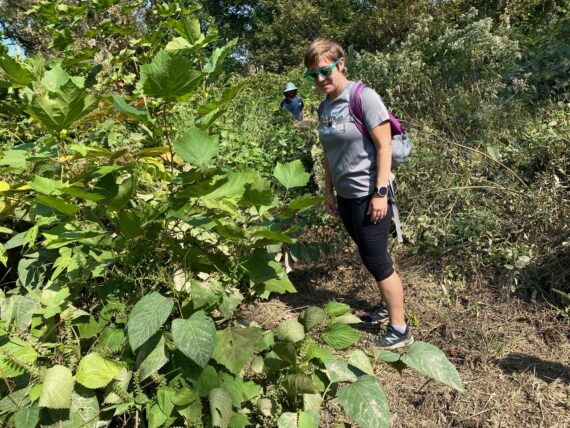 … but they come to a dead end and it's really quite overgrown here…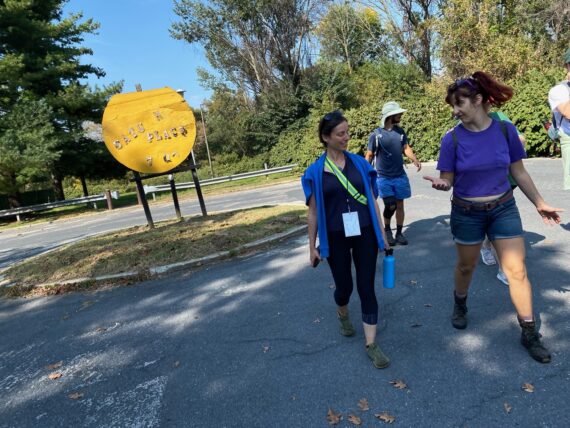 … so we make our way back into residential neighborhoods…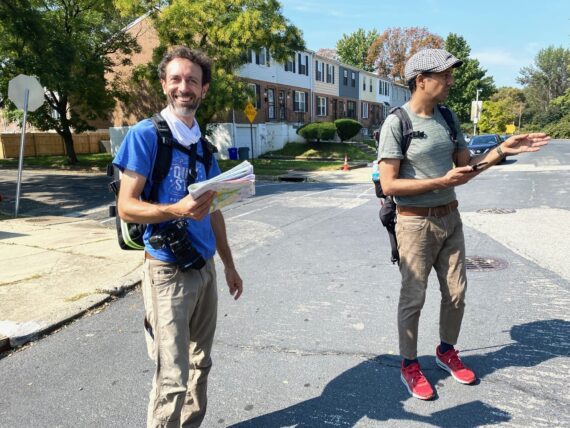 … finding our way…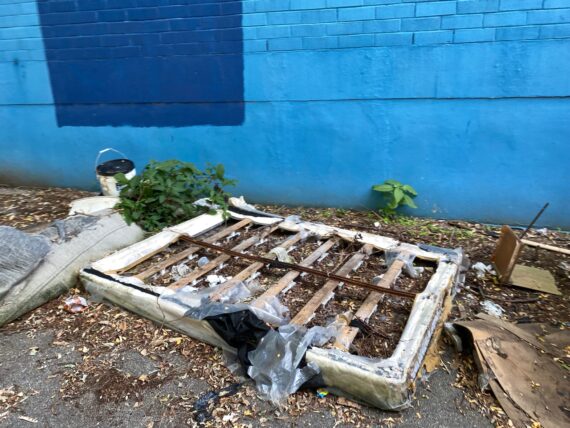 … past some illegal dumping…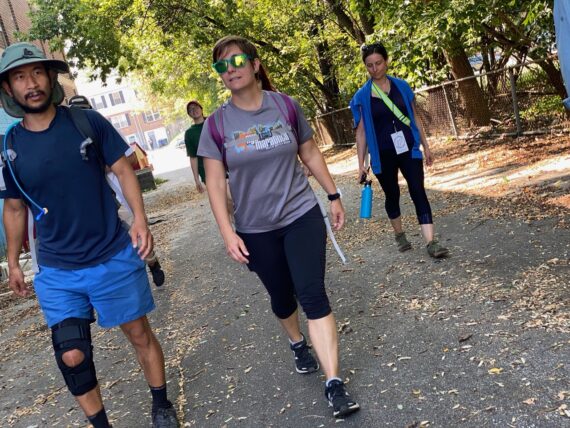 … in a little alleyway…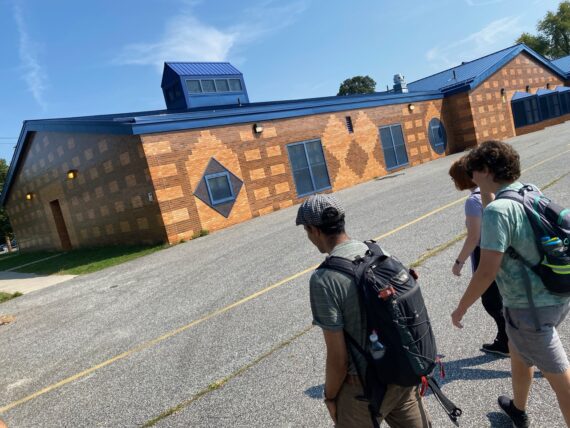 … behind an elementary school…
(I'm excited because I haven't been this particular way before…)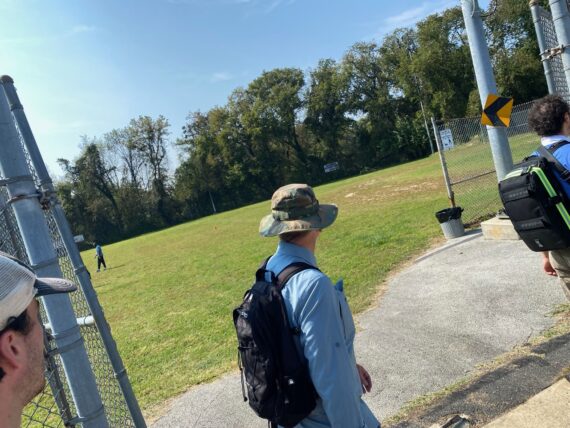 … bringing us out by the Cibotti Recreation Center.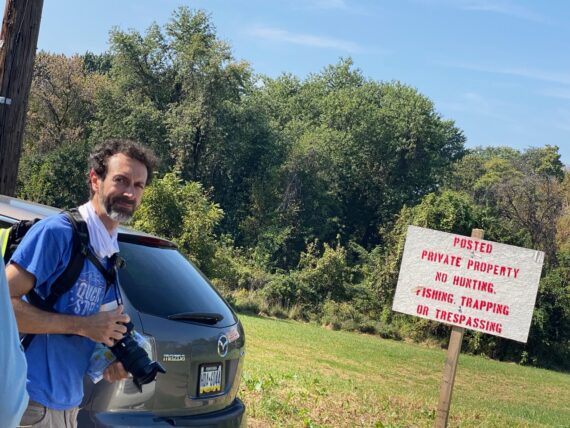 As we pass these 'private property' signs, I'm curious who actually owns this land. Poking around on the city website, this area simply doesn't come up.
There's nearby parcels owned by the Redevelopment Authority, and a random square assigned to the Commonwealth of Pennsylvania, but for the most part this land by the river comes off blank… which makes me think that it should be public, no?
The entire concept of private property is a whole more complex issue, and these signs make me think of that Woodie Guthrie "This land is your land" song's sometimes overlooked lyrics… when you google the song, the lyrics that come up leave out the more overtly political lyrics of the last few verses, which you can find here.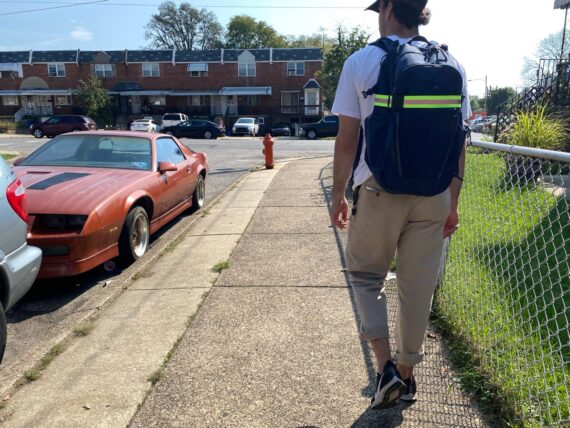 As we continue through this neighborhood, one of our walkers brings up an important question:
As this group of almost all white and fairly privileged folk goes parading around through what is a lower-income majority Black neighborhood, does the walk become a colonizing / supremacist kind of thing?
We're setting out with good intentions of curiosity and exploration and endeavoring to leave no trace, but we're still tromping through other folks' neighborhoods, and privilege dynamics mean it might be less likely for many of those folks to have as many opportunities to come wandering through the other places we might live in…
So the answer is actually yes, there's problematic aspects to this project… at least so long as the participant pool isn't reflective of the city as a whole, and there remain significant barriers to participation.
During last year's walk I tried to mitigate this both with a sliding scale & some stipends: when folks registered for a 4-person perimeter kit, the suggested price was $100, but many folks payed just $50, and some contributed $250… and when someone approached me saying that they and their friend were interested in the walk but couldn't afford the low end, I was able to give them $900 in visa gift cards to help support their way around the city's edge and that felt great. So you might see me fundraising to be able to do more of that kind of thing in the future & my priority is going to be in facilitating access to this experience for underrepresented communities..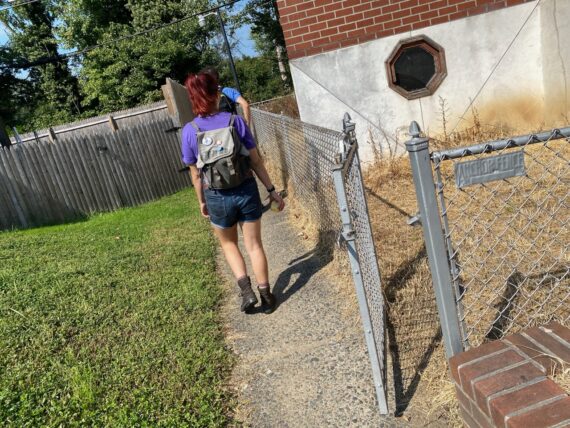 We head down a narrow walkway in between properties…
(It's helpful to zoom in close on the online maps here, where you can actually see property boundary lines and find all sorts of alleys & walkways that are public space…)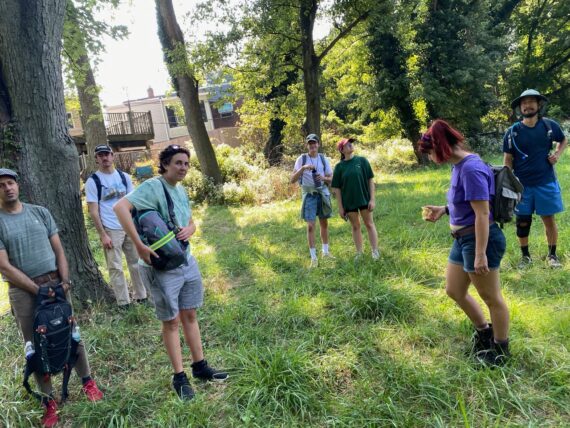 … and end up in a lovely wooded area between the homes & the creek, where we have an experience (not photographed) that speaks directly to the questions of privilege that I was touching on above:
As we're wandering into this semi-wooded area behind the backyards of the neighboring houses, a voice calls out loudly from one of the patios up above us on the slight incline.
The "what are you doing back here?" rings out as a challenge, and feels somewhat aggressive, and so it's easy to feel attacked, like we're being scolded.
And sure enough, one of our walkers reacts in a way that feels defensive to me, returning with a loud counter-challenge, something along the lines of "We're allowed to be back here!" or "This is public property!" or "You don't own this land back here, do you?"
I don't remember the exact words but I remember the energy of it, and what felt like the potential for escalating conflict.
I also was thinking that even if this is technically public property / not that person's backyard, the fact of the matter is that this area effectively serves as this neighbor's backyard, and they're probably not used to seeing groups traipsing through it, and so it was pretty understandable for them to be alarmed to suddenly find a bunch of strangers back there.
Seeking to engage in a way that felt more constructive & relationship-building than antagonistic, I jumped in saying "Hi there!", asking how they were feeling that day and how often they have people wandering back in this area…
The answer, as I'd expected, was "never…"
At this point I introduced myself and explained briefly what we were up to, and asked how long they'd been living here. It felt helpful to display some interest in their experience rather than trying to righteously justify / defend our presence there.
By that time another neighbor had come out also what was going on with the commotion in the back yard, and I was glad that we could answer their questions in a way that felt nonthreatening.
(And yes, to speak to potential race dynamics, the neighbors were Black, and here was a dozen mostly white folk suddenly bushwhacking in their backyards…)
We talked for a few minutes, they seemed interested in my work as a massage therapist , tensions were defused and they sent us off with a benevolent warning about the potential for deer ticks in those tall grasses (thanks friends!)
This felt like a positive de-escalation from a situation that at first could have resulted in the police being called on us, or just a situation where we'd move on, carrying some yucky energy of resentment and leaving some angry neighbors in our wake.
Instead I left with the neighbor's email address, and a potential to reach out and invite them them into future walk related events down the road (and maybe even a new massage client!) –
This was a reminder of how important it is to adhere to our guideline of "treat everything and everyone that you encounter with respect" – even and especially when finding ourselves challenged about our a presence in a place where people might not usually be out wandering.
This encounter also highlights this powerful contradiction at the heart of Walk Around Philadelphia:
On one hand this project is about this very basic universal human thing of moving around in public space, getting to better know the city that we call home…
… but on the other hand the folks currently able to participate in the project as it's been structured are generally a far more privileged group, and this project is definitely not universally accessible.
Who gets to walk around Philadelphia? Why or why not?
Where might there be a sense of entitlement involved?
How do race/class/privilege play a role?
How can we make it so that anyone who wants to participate in this project is able to?
And as we engage in this exploration of the city's margins, how can we do so in a way that is un-threatening to all those who call those places home?
These are all big questions and we weren't going to figure them all out during this little pause…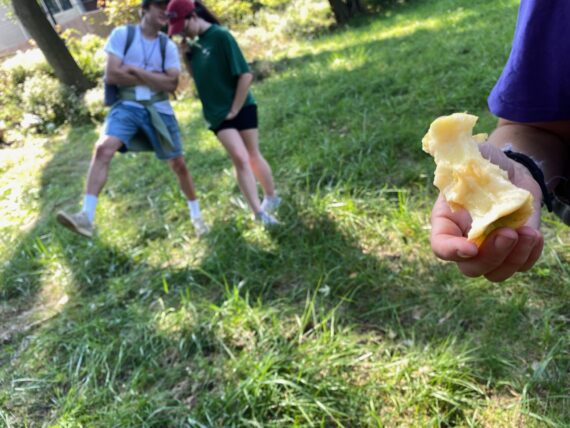 … although it was a good time for a little snack to get the blood sugar back up.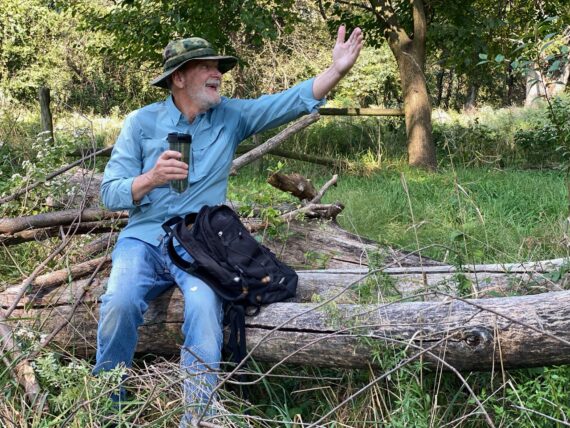 From here on, Rob is really wanting to find ways through the woods and alleys to stay as close to the perimeter as possible, but we end up venturing a block or two away from the perimeter…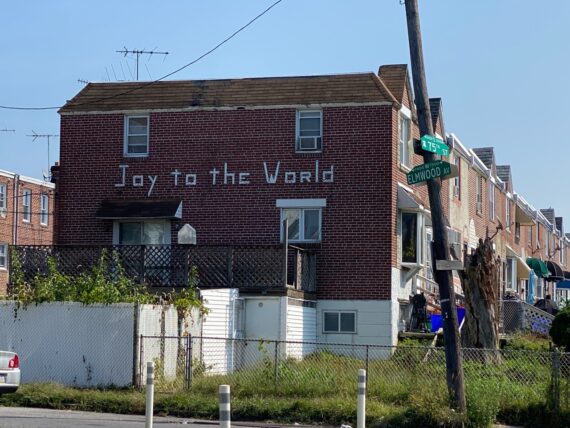 … which lets us catch this sweet message…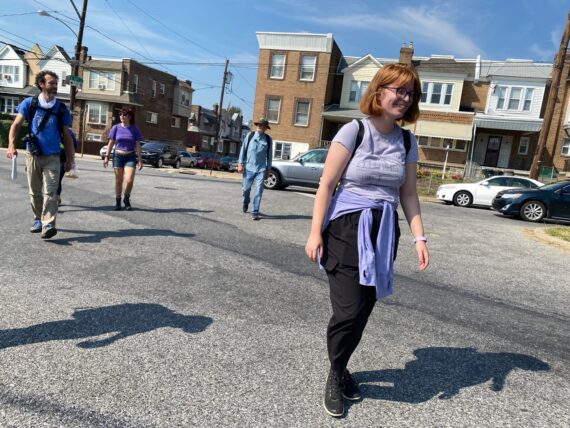 … as we make our way to a nearby pharmacy for a bathroom break.
This is also a perfect opportunity for me to engage in a favorite sweet little practice of mine…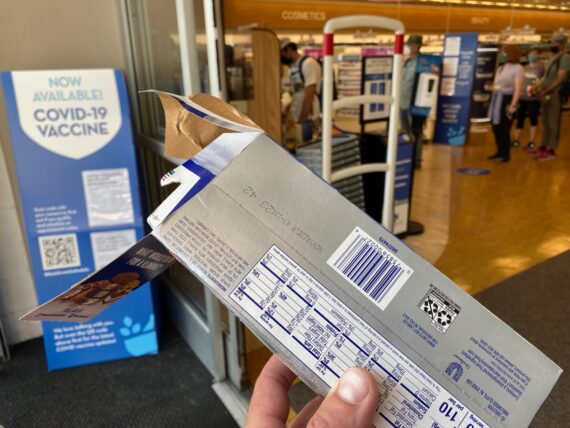 … which was buying a 'round of cheapo ice cream sandwiches for my friends. Conveniently there was this 12-pack of mini bars, and a dozen of us…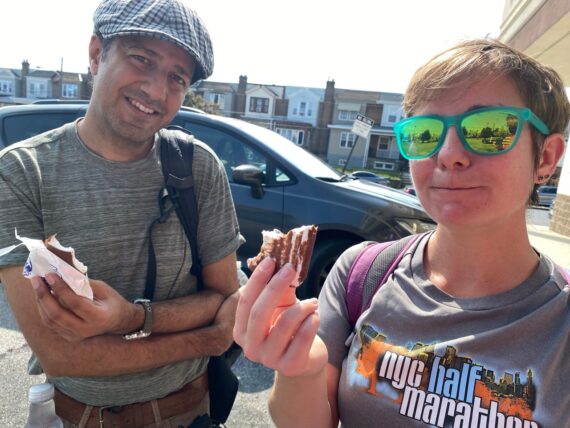 Yum!
(This practice of sharing little ice cream sandwiches came about during another crazy long journey when I documented the drive of a schoolbus full of radio transmitter parts from Austin Tx to La Esperanza, Honduras… and since I'd sometimes also cut up regular ice cream sandwiches into tiny bite size treats to pass around during the house concert series… )
We make our way up Island Ave…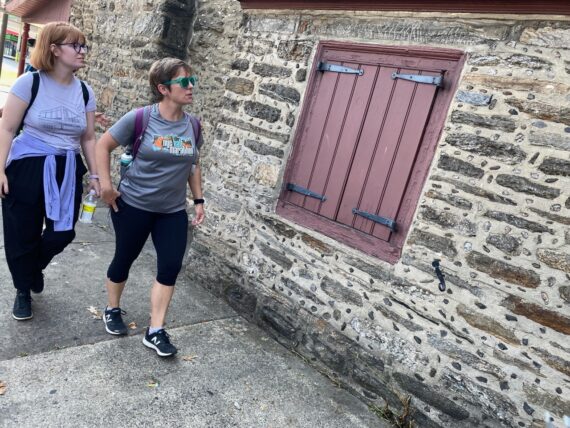 Past the 1766 Blue Bell Inn…
(Looking at those historic photos, it's striking to see how it looks like there used to be a much bigger structure, right where MJ & Jamie-Lee are currently standing & spanning across what is now the middle of Cobbs Creek Parkway…)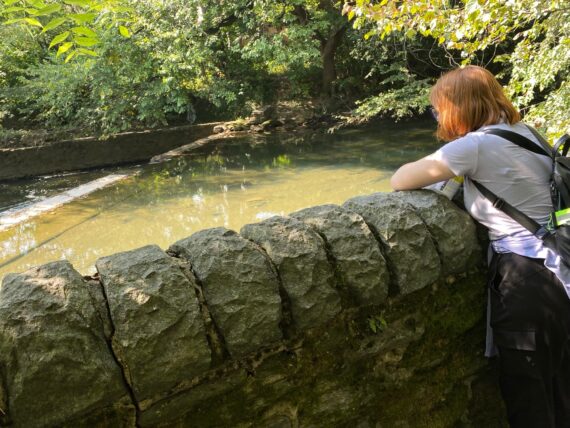 … and there's the creek!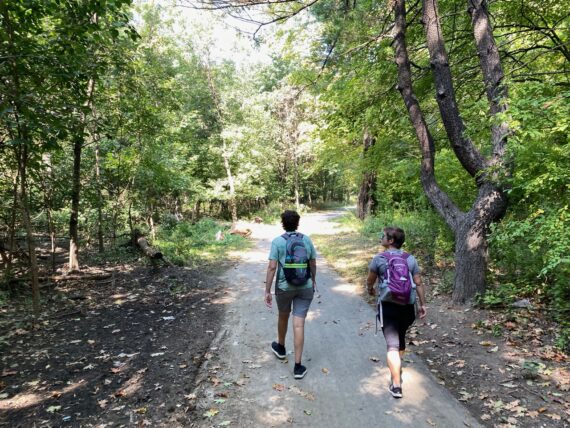 From here on out, there's a nice wide pedestrian trail…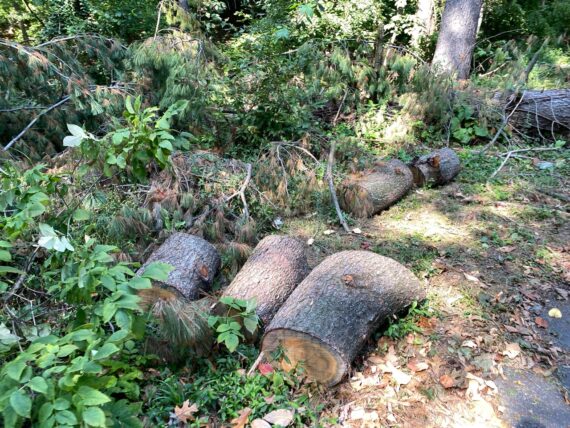 … and some fallen logs.
(Now that I've taken to hosting a lot more small scale gatherings around a campfire for pandemic wintertimes, I'm always on the lookout for firewood…)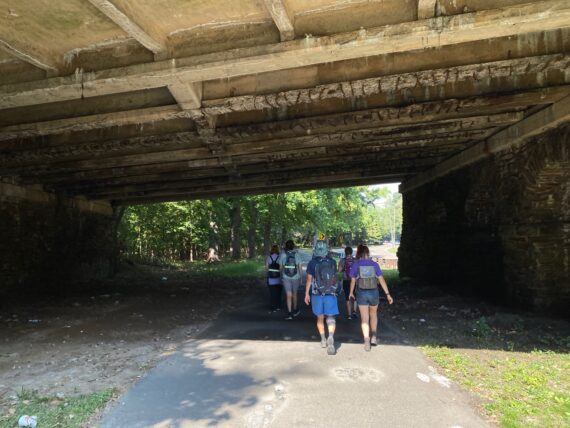 We walk under some big overpasses…
(I'll always associate this spot with the photo of us taking a bridge selfie that accompanied the 2016 Philadelphia Inquirer article about the first Walk Around Philadelphia…)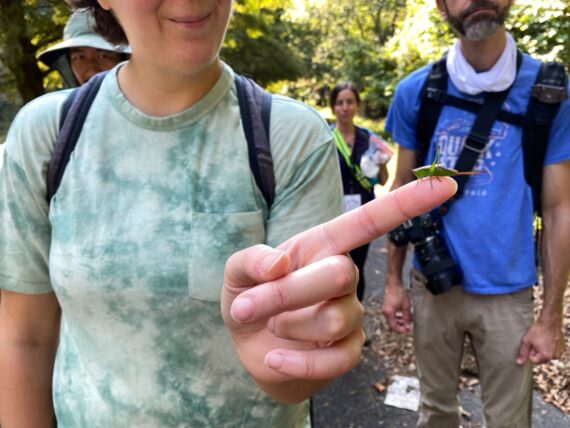 … and encounter a tiny cricket friend.
From here, we *very cautiously* cross Cobbs Creek Parkway…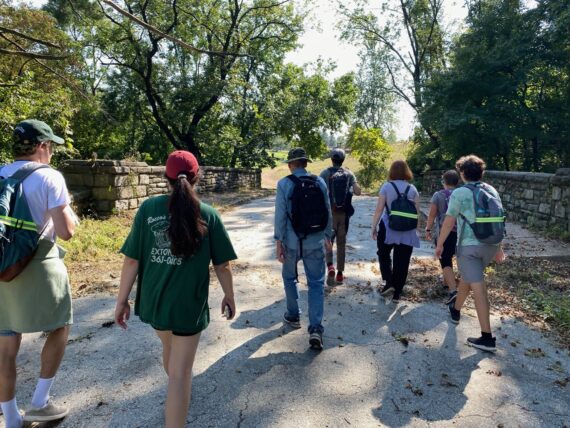 … which allows us to take a little detour…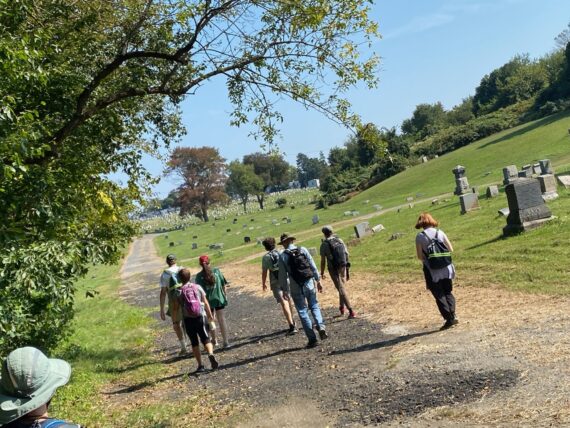 … through the Philadelphia side of Mt Moriah Cemetery…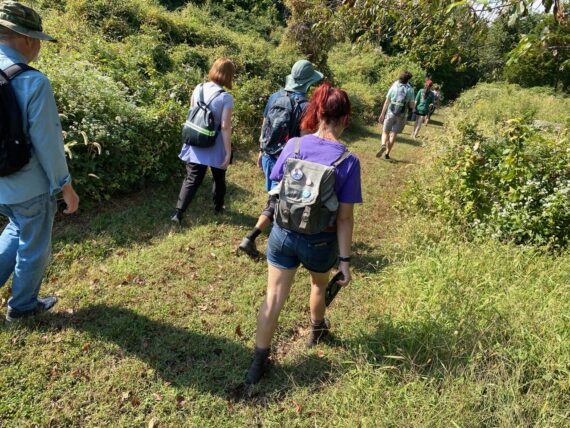 It's worth the detour for the glimpse of these mysterious paths in the once-abandoned cemetery where some of the graves are still buried in the brambles, with trees wrapping around the headstones etc…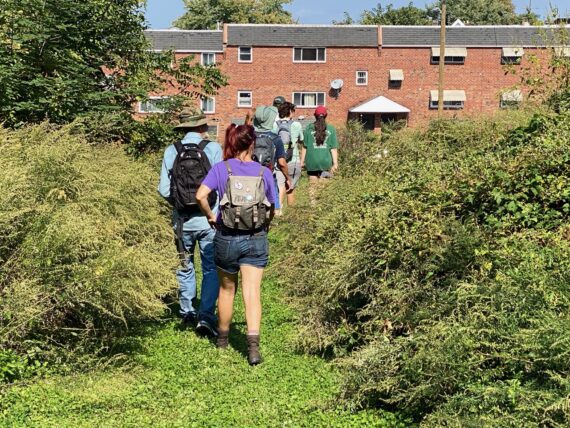 … but soon we've made it to Springfield Ave, where we hop back onto the Cobbs Creek Parkway trail…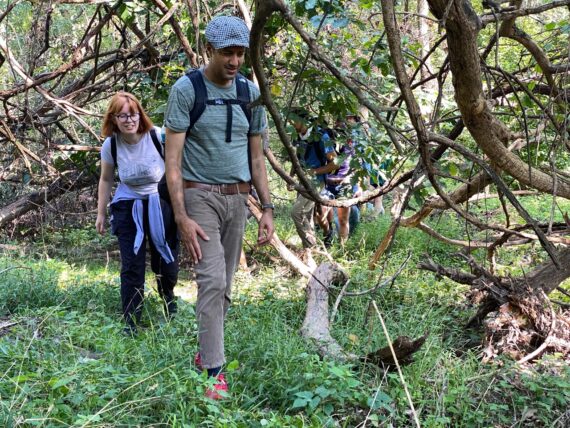 … and take one last dip down by the creekbed. I'd steered us this way, wanting to lead folks to the little magic meadow area labeled as "Fairy Door" on Google Maps…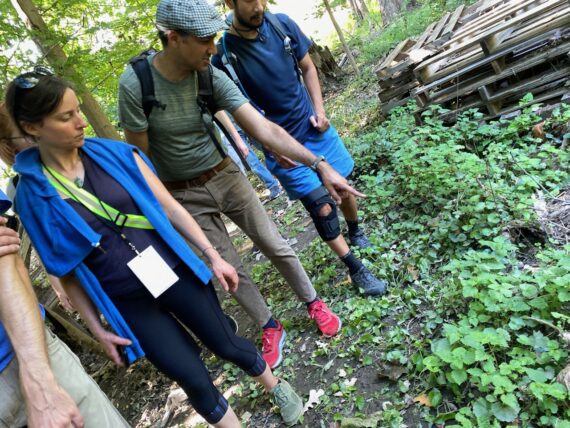 … but we ran into a bunch of patches of staining nettles which gave one of our walkers a rather unpleasant experience (remind me to add "long pants for potential bushwhacking" to the packing list) and another was clearly not thrilled about traversing a meadow of tall grasses which might be full of ticks.
I initially had my heart set on finding our way through the meadow but we decided to backtrack…
And this is one of the more advanced-level challenges of participating in this project, which is where you have to check your own ego or attachment to ideas of "we're supposed to go THIS way" and instead choose the path that feels comfortable for *every* member of the group.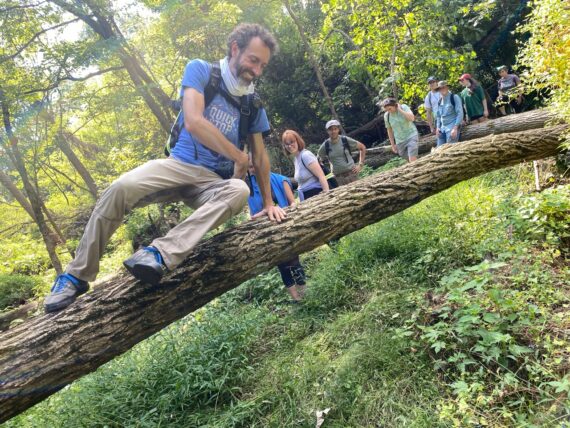 … and turning back without going through the giant stinging nettle patch again presented its own challenges as we navigated fallen trees…
… and patches of brambles…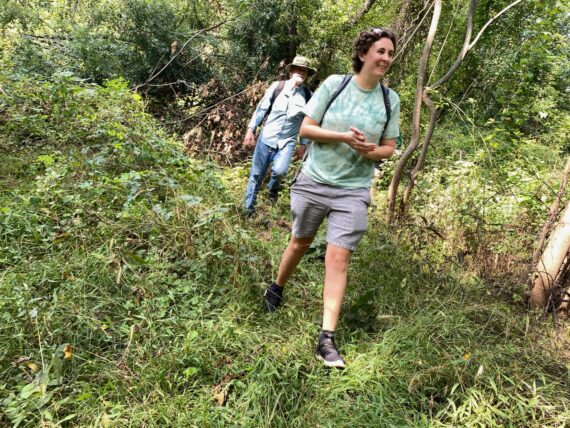 … before eventually we emerged…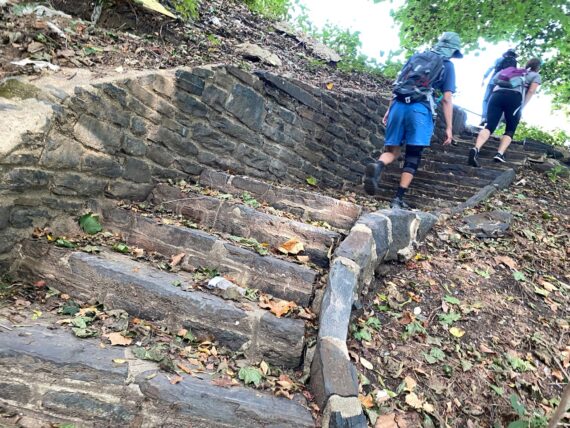 … and made our way up this gorgeous stone staircase.
(I may have seen this one before, but I'd forgotten about it and we missed it on our way in, so it felt like a delightful discovery to me, and that already made the backtracking worth it…)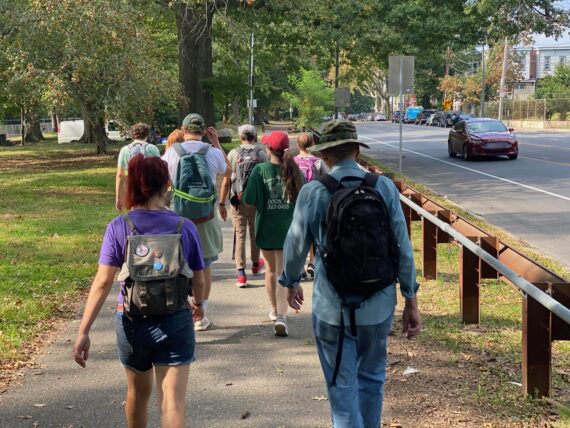 As we continued along Cobbs Creek Parkway…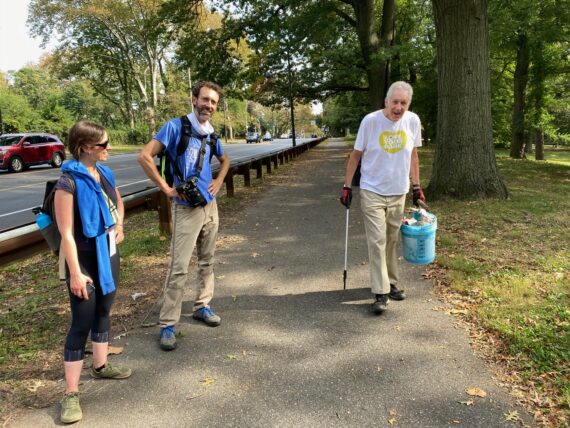 … we ran into neighbors doing a regular park cleanup…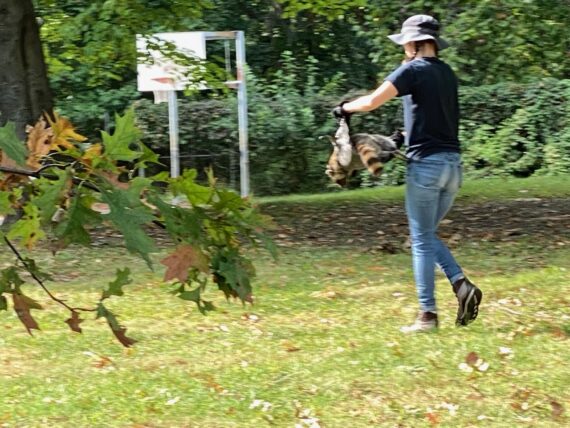 … including one disposing of a dead raccoon corpse.
In addition to being another one of those encounters with dead things that are a classic element of the walk, this bit of timing is one of those strange unique moments of this experience that helps bond members of the group. Later when we next cross paths, we'll all remember that person carrying the dead raccoon…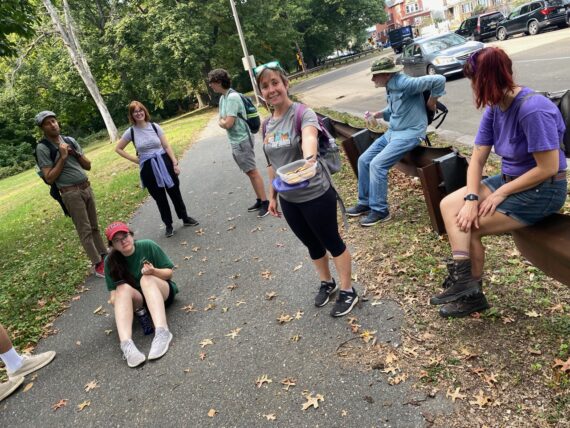 It's time for more snack sharing…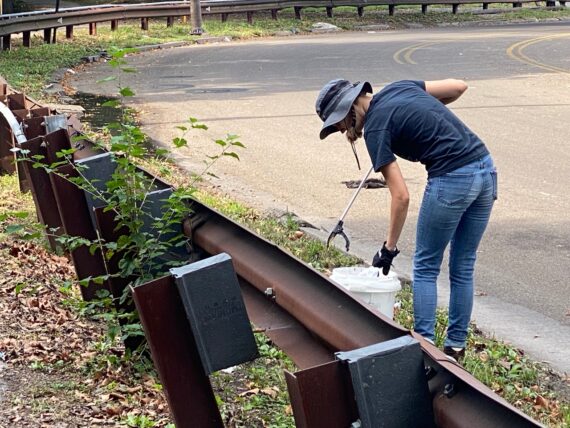 … and gratitude for folks who are helping keep our parks clean.
(Turns out the raccoon remover was Bethany from the Philly Mycology Club, who organizes regular park cleanups alongside mushroom education events…)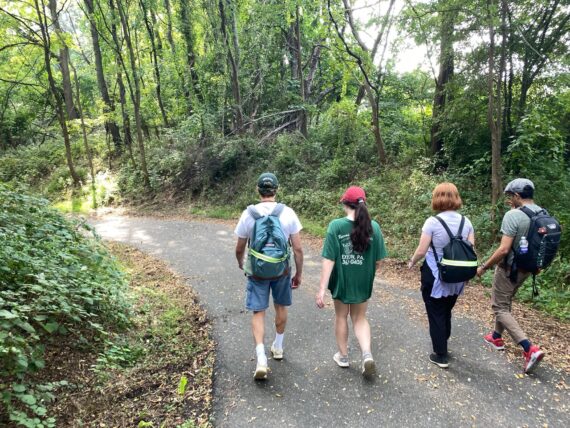 From here we take the trail for the last dip back into the woods at the trailhead around Hoffman Ave…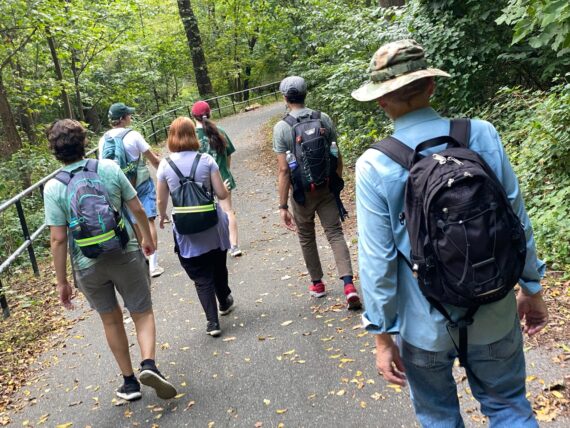 … this stretch is paved and far easier to navigate…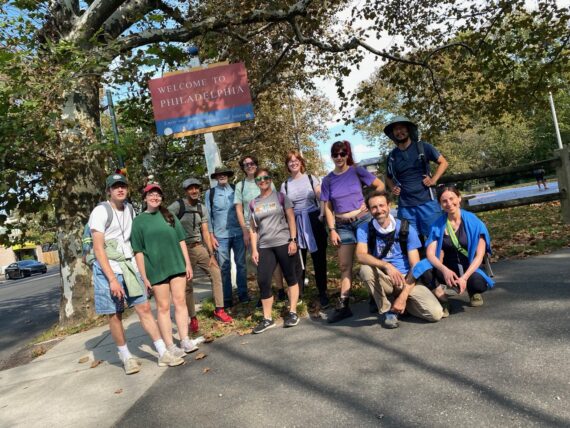 … and just like that we've made it to 61st and Baltimore… which is our finish line and right where I'd started at the beginning… both a few weeks ago, and also back in 2016.
And just like that, the Fall 2021 10×10 iteration of Walk Around Philadelphia is done..

(… or at least the walking part… it was kind of crazy of me to schedule the zoom reportback for the same evening of the last day, when I was good and exhausted… and from here there'd be a bunch of followup admin and planning for the next steps…)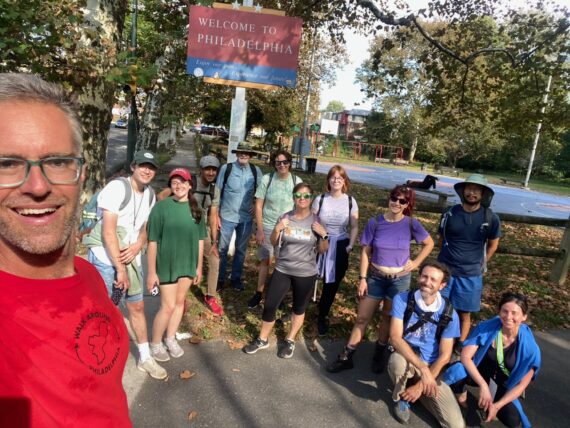 … and so here I am, both delighted and a little bit overwhelmed that this little four person adventure from 2016 has grown into a pilgrimage that now ~300 or more folks have set out on…
Thank you for joining me on this adventure!
Don't forget to hop on my mailing list & make sure to whitelist emails from @jjtiziou.net – Since I deleted my social media accounts a few years ago, that'll be the best way to get future updates & invites…
What's next?
2022 will bring my 9th & 10th walks around the city's edge in February & September, and a bunch more work on this project including:
Creating more detailed route breakdowns and accessibility mapping

Publication of my essay The Edge in the forthcoming anthology Making Tracks: Reflections on Walking
Revamping website to consolidate scattered resource and facilitate involvement by new participants
Hosting events to create opportunities for connection between fellow perimeter-walkers
Developing partnerships to host other walk retreats
Seeking sponsors & backers support continued development of this project
Fundraising to offer stipends for participants who need them

Hiring a part time project manager to help me wrangle all of this