What does a yogi look like?
UPDATE:
This event has already happened, but if you'd like to participate in the future and/or hear about what's next, please get on the mailing list. For info on the 2016 version of the project, visit TheImageOfYoga.com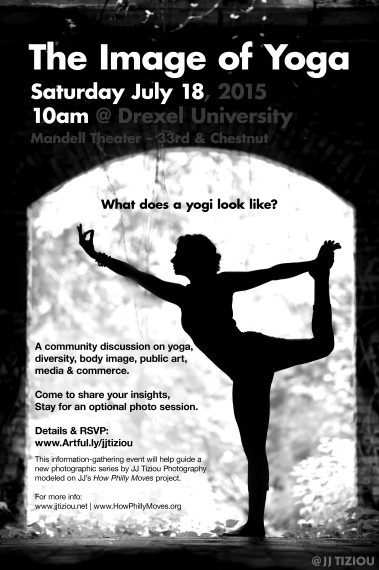 You're invited:
Please join us for a community discussion on yoga, diversity, body image, public art, media & commerce, followed by an optional community photo session.
Your insights will help shape a new yoga-focused photographic series based on my How Philly Moves project.
After the conversation, you're welcome to stick around and be photographed in whatever basic seated pose is comfortable and accessible to you. (on the floor, in a chair, on blocks/blankets or in a wheelchair, anything goes.)
This free event will be hosted at Drexel University's Mandell Theater at 10am on Saturday July 18th.
Please use the RSVP link if you're able to join, and help us share the invitation with anyone that you think would be interested in joining the conversation and/or participating in the project.
You can also download a high res jpeg or pdf of the flyer to share with friends, share the invite via a Facebook event, and follow updates via Twitter.
You can also find some more background on the project in this post.