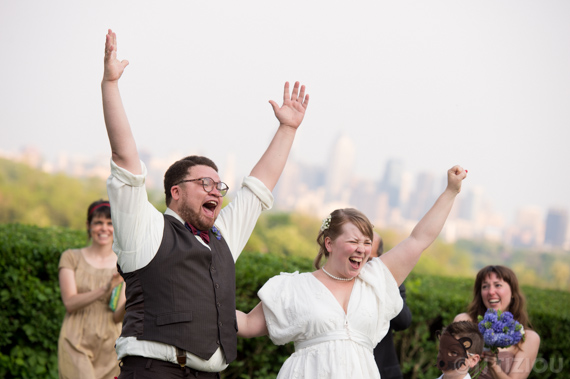 I want to take a moment to offer some congratulations to my beautiful neighbors Lee & Amy, whose wedding I had the pleasure of photographing last month. I also want to tell you a bit of the story of it, because this was no ordinary wedding… Up until two hours before, the bride had no clue that she was getting married that day. That's right, it was a secret surprise wedding… and from the picture above, you can probably get the sense that it worked out all right… but scroll down for more of the story.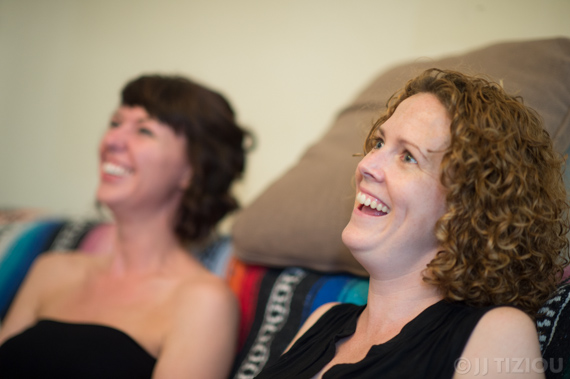 Like many other such celebrations that I've photographed, I started off that morning some of the wedding party…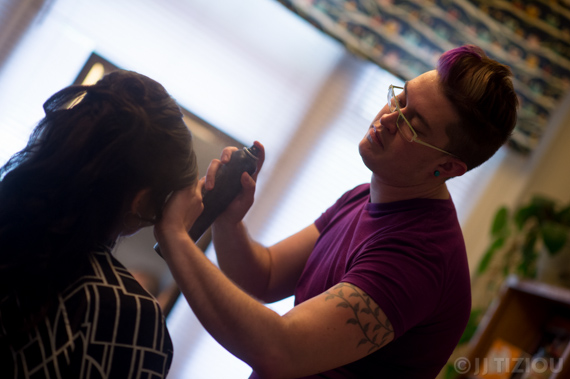 … but it was unusual to be making preparations for an event that officially did not exist yet… in fact, at this point, Lee hadn't even officially proposed to Amy.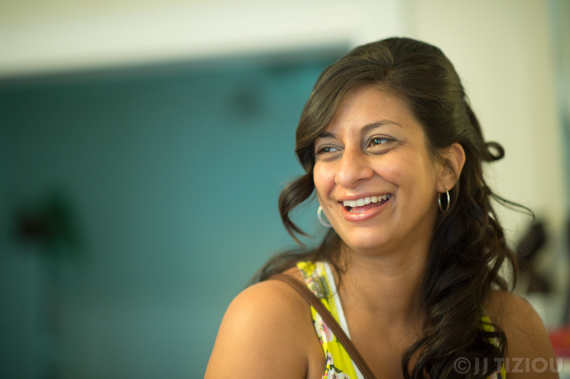 As we hung out, we shared laughs and wondered how his elaborate plan was going…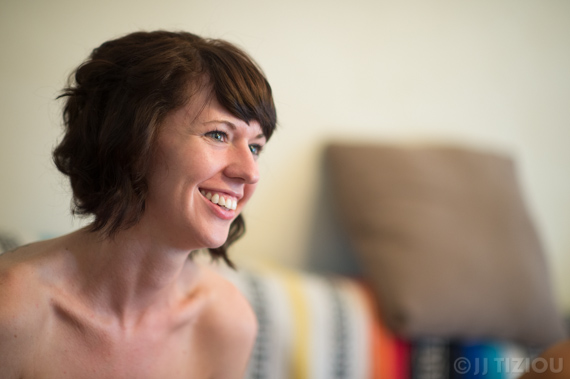 … it was quite a gamble, as he was planning to propose that morning, and then spring the surprise wedding on Amy later that afternoon. We were all a little bit nervous, but mostly excited.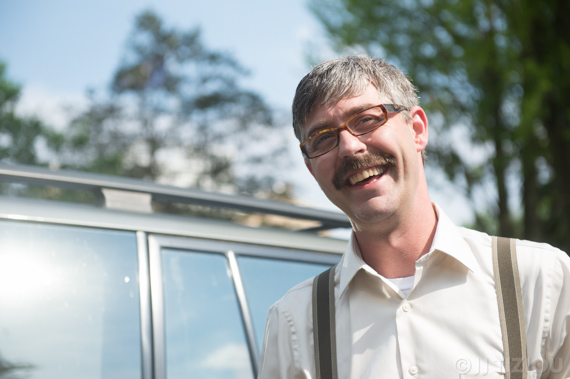 Much of the family was already in town under the pretext of celebrating Lee's graduation from medical school…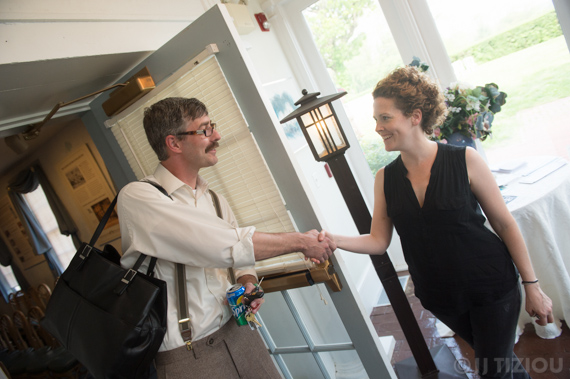 … and other friends and family had come covertly, trying to avoid being seen by Amy before the big moment.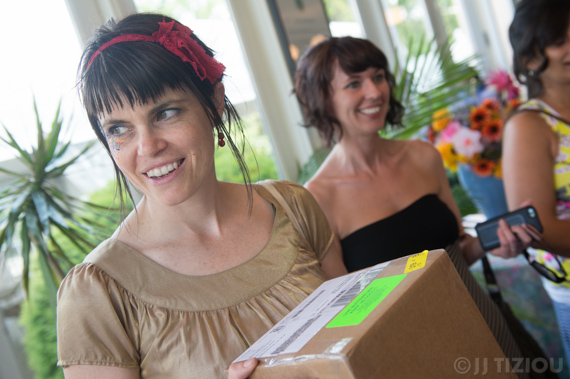 Preparations included this carton of cryogenically preserved butterflies, which would be part of the centerpieces and then freed to fly away during dinner… (Who knew that you could get frozen butterflies on the internet? Not me…)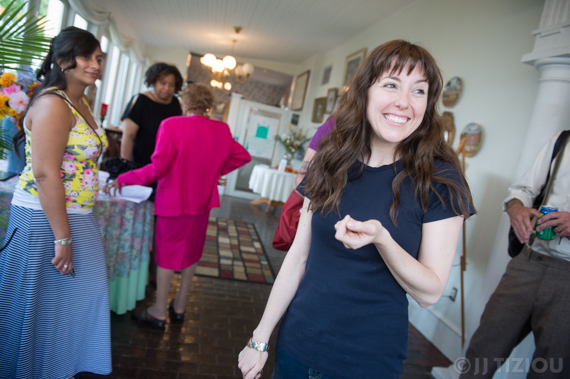 As the excited preparations continued, we knew by this point that the morning's surprise proposal had already been accepted (good news!) – of course I don't have any images of that part because if I'd been there I might have ruined the surprise…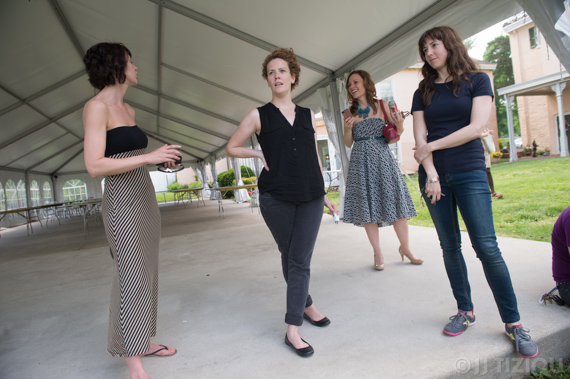 … so we all hung out at the venue overlooking Belmont Plateau…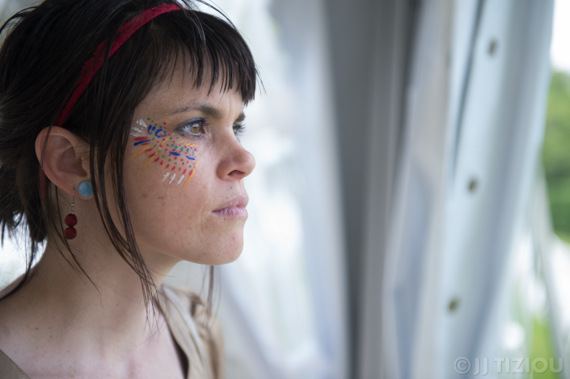 … anxiously keeping an eye out for the arrival of the fiancée who, unbeknownst to her, was about to become a bride!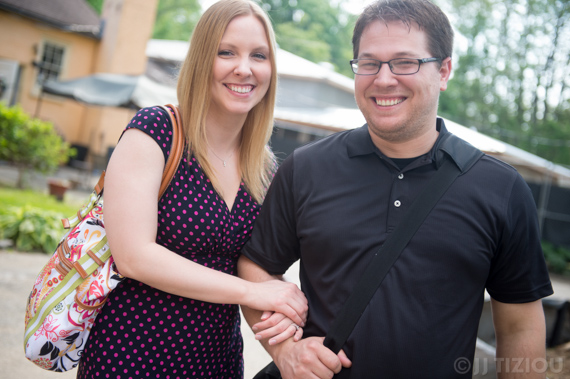 Meanwhile, I recognized Amy's brother the minute that he showed up… they have the same smile…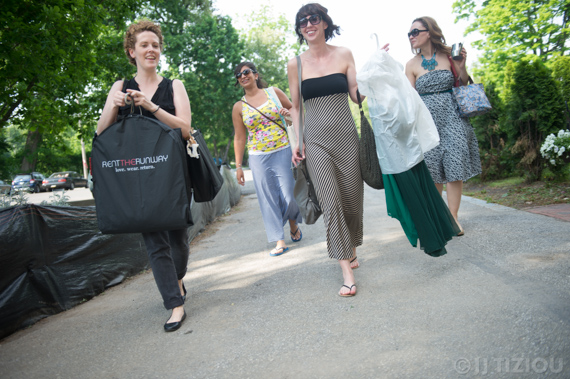 … dresses were unpacked…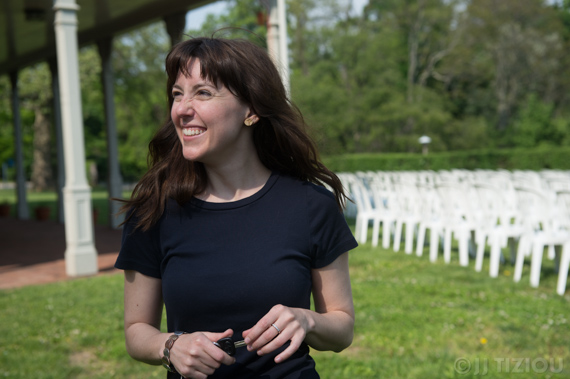 … chairs were already set up and waiting…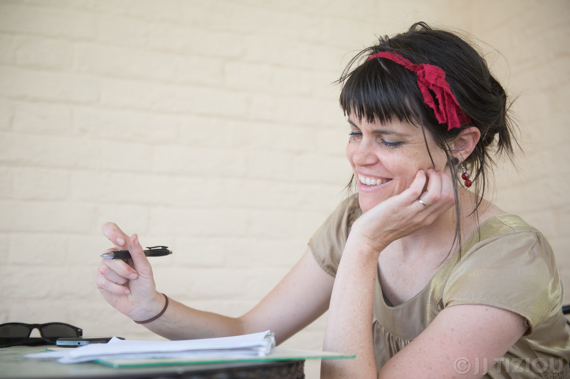 … as the final touches were put on the ceremony…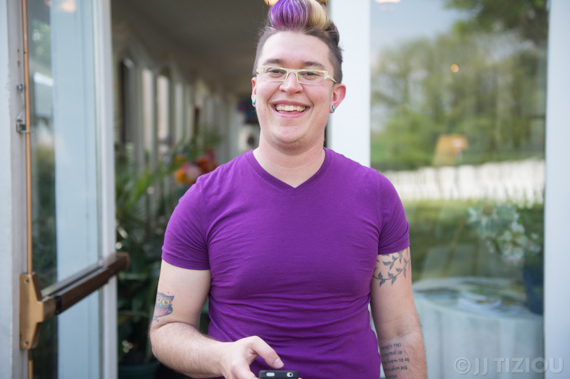 … and Jacsen stood by to help with Amy's hair. (Remember, she'd only have about two hours notice that she was about to get married….)
Finally, at long last, we thought that we caught a glimpse of them…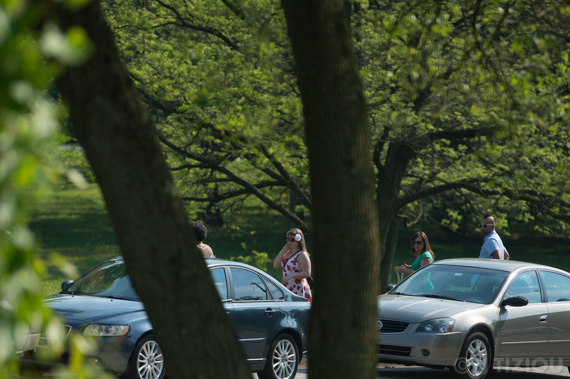 … yes, there they were! This isn't my finest shot, as I didn't have an 800mm lens lying around. I'm used to being in close with my subjects…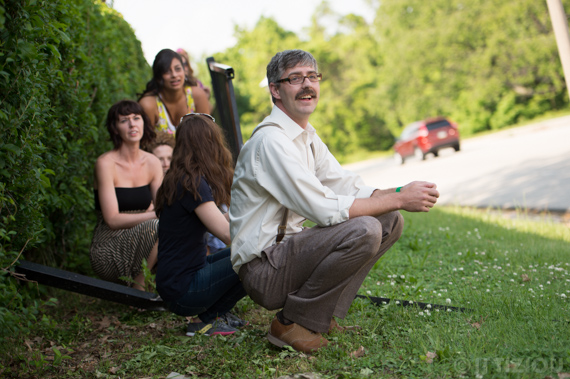 … but at this point, we still had to be sneaky and stay out of sight!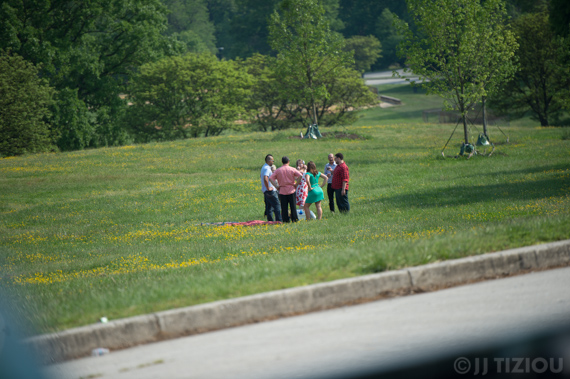 Amy had been lured to the plateau under the pretext of a little champagne picnic to celebrate the engagement…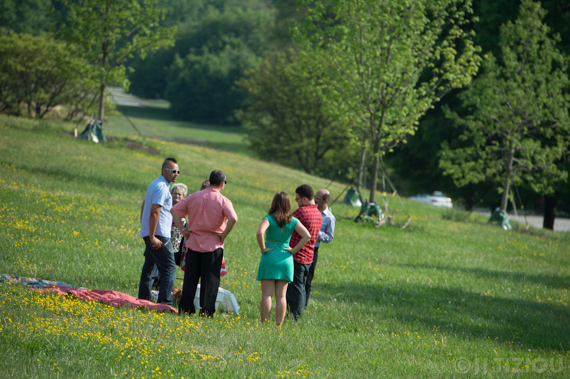 … as a few of us started to try to sneak up on her, she was unfortunately facing our way, so I did my best to lead the line of us to keep a body between us…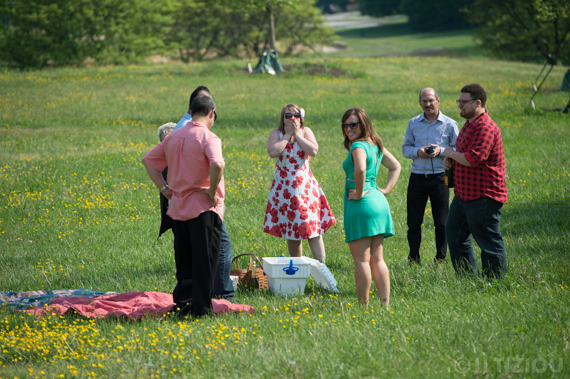 … but she saw us soon enough, and realized that Lee still had a few surprises up her sleeve.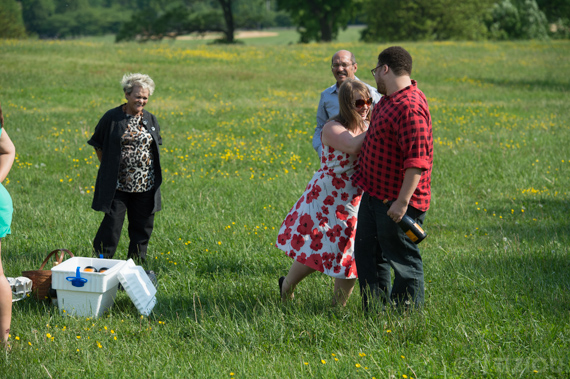 I'm pretty sure that her first words were "you jerks!"…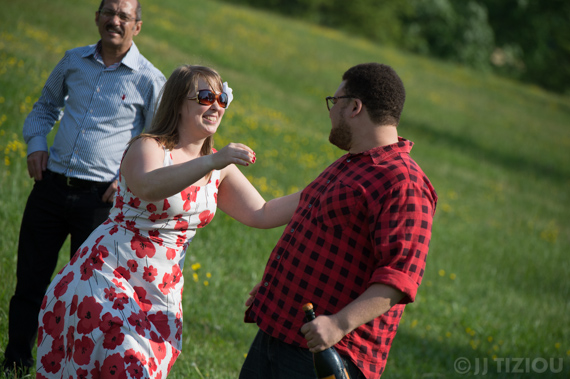 … but she was clearly not actually too frustrated at being surprised…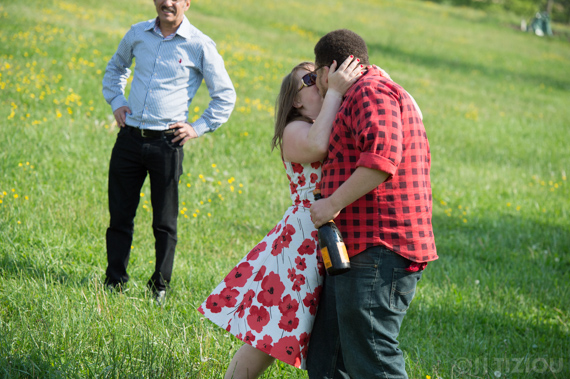 … in fact, she seemed quite thrilled… although she still didn't quite know what she was in for.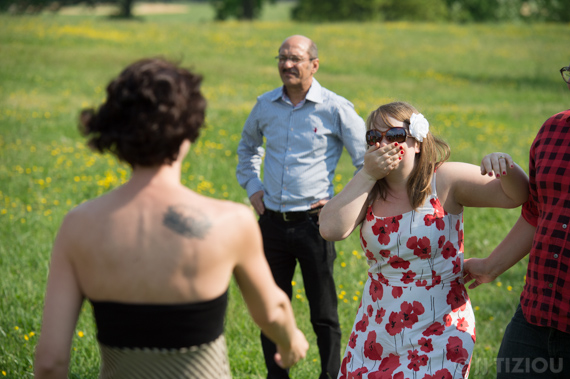 … Having close family there for Lee's graduation was one thing…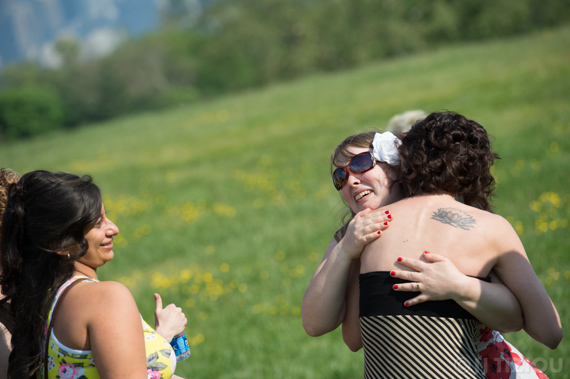 … but Amy was visibly overwhelmed to realize that her closest friends had come in all the way from Indiana to celebrate her engagement (remember, she still doesn't know about the wedding…)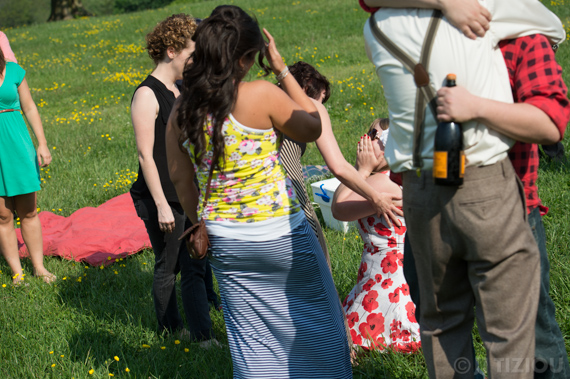 … with this many surprises, Amy couldn't even stay standing… but then here's the big one: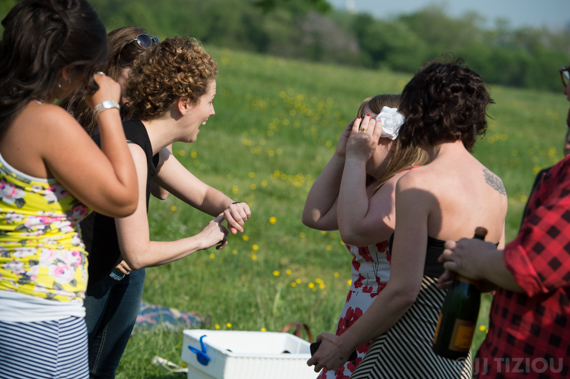 Her friends ask her if she's ready, because her wedding is in TWO HOURS!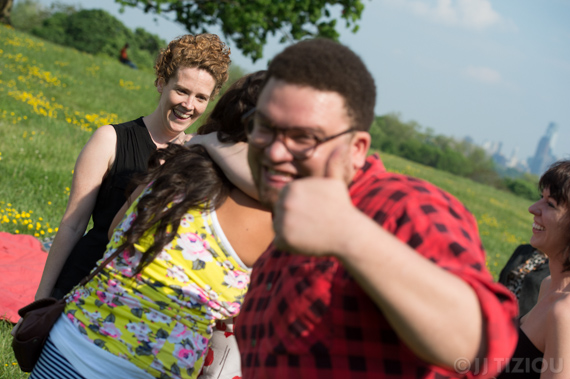 Proud of having pulled off the surprise, Lee flashed me a thumb's up, which I totally missed and back-focused.
(Photographer's note: Yes, I'm human and I miss shots. In situations like this, my goal is to be unobtrusive and prioritize the experience itself, and so I wouldn't ask him to stop and pose for me, because that would make the wedding about the pictures, rather than the pictures about the wedding. I knew I'd get other good shots of him later on…)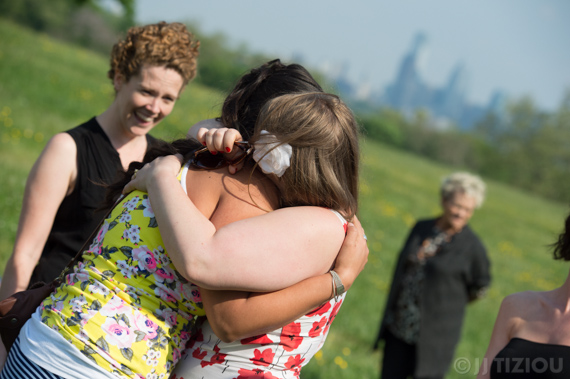 As Amy takes it all in, there are a lot of hugs…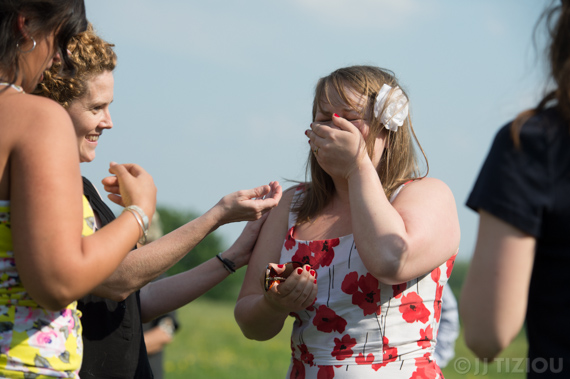 … and tears…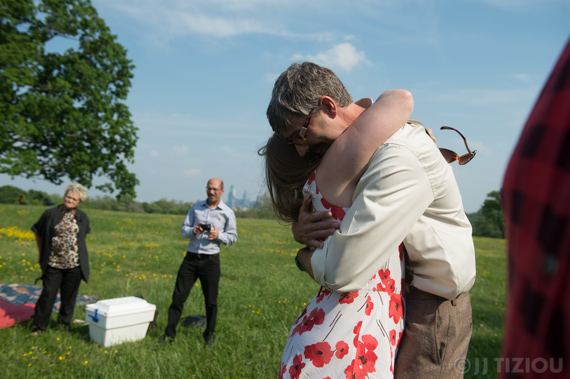 … and gratitude…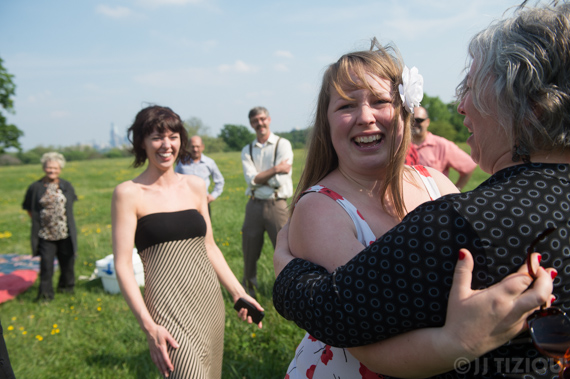 … and emotion…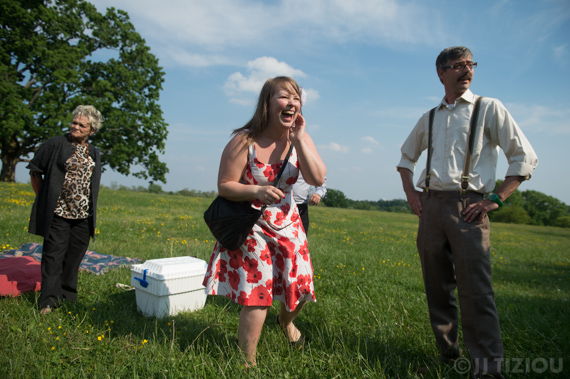 … and laughs!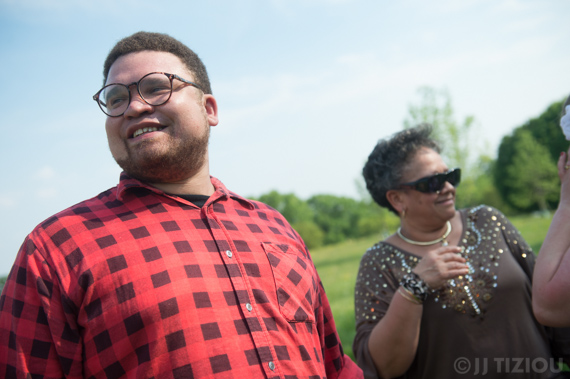 Lee's successfully pulled together all of the logistics for planning the wedding, while finishing medical school, while managing to keep it all a secret. (I believe that his mother said to Amy: "Are you sure that you want to marry my son? He seems to be really good at lying to you!")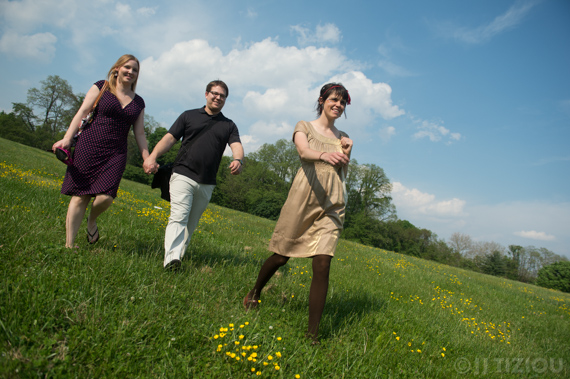 As more friends and family arrived…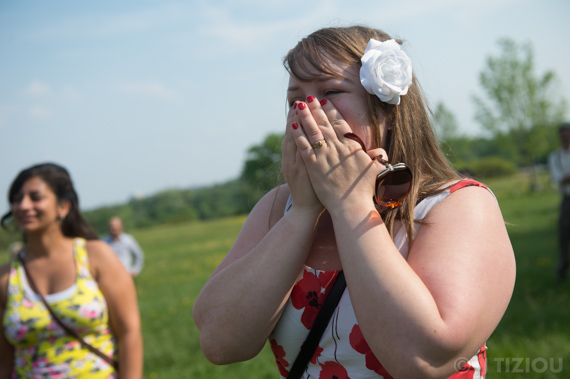 … Amy kept on getting surprise after surprise…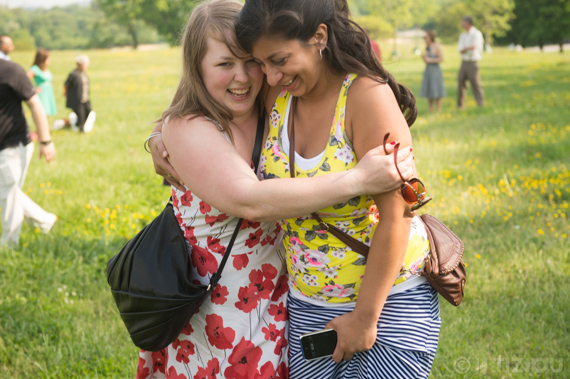 … she didn't know that ~140 people were in town for her, having come from as far away as South Africa…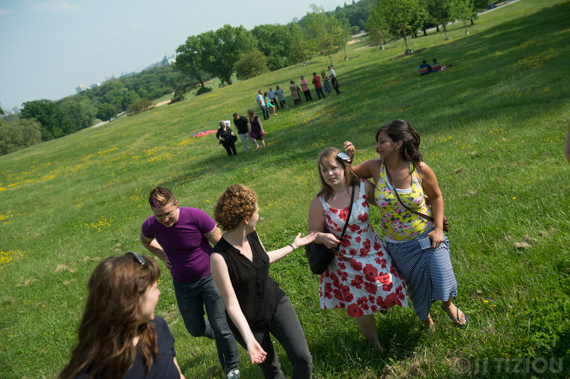 … but before she could greet all of the rest of the guests… she had to get ready. Less than two hours now!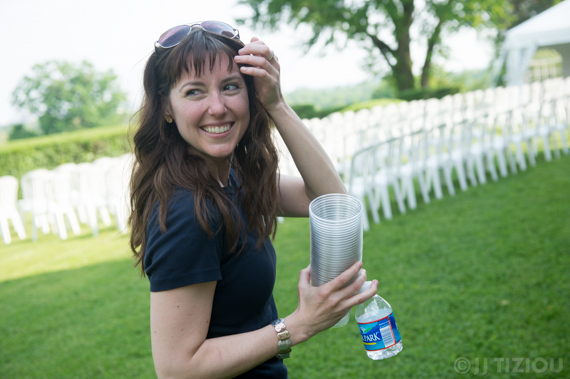 The venue at the Belmont Mansion was beautifully set up, and the weather was perfect for an outdoor ceremony…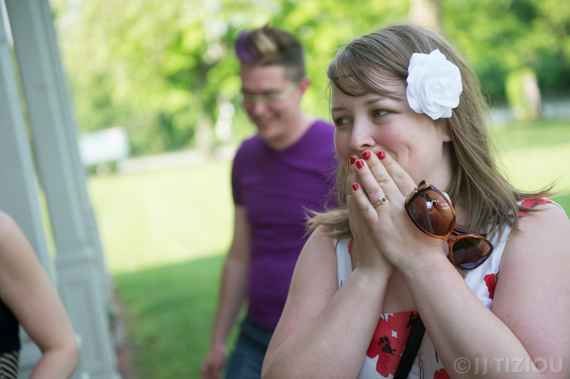 … Amy might still have felt like she was dreaming…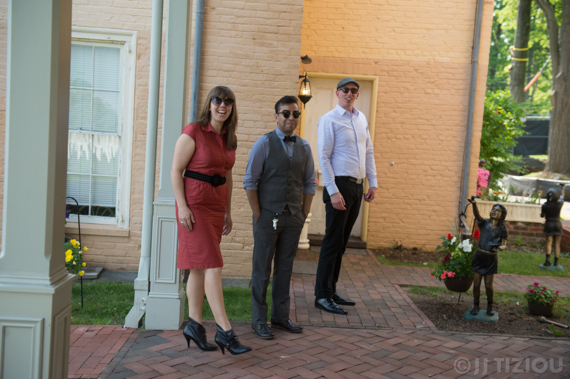 … as it seemed like around every corner…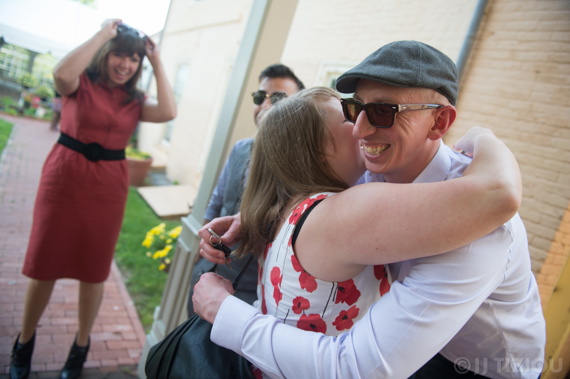 … were more dear friends.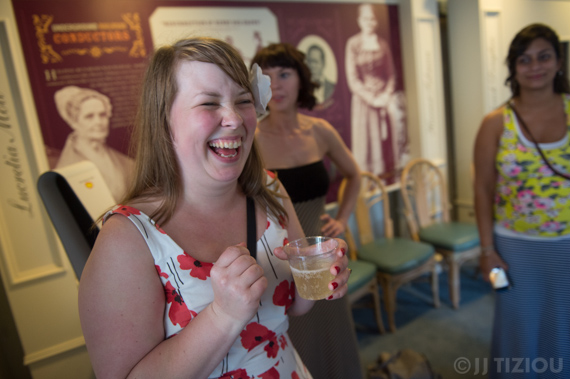 A little bit of champagne to ease into the celebrations…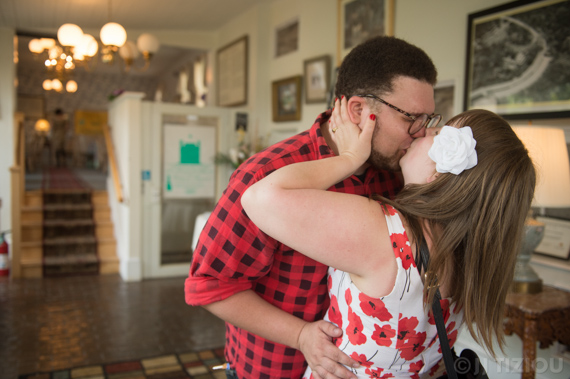 … and a lot of gratitude to a special boyfriend/fiancé/husband-to-be, who had clearly known Amy well enough to know that she'd enjoy this…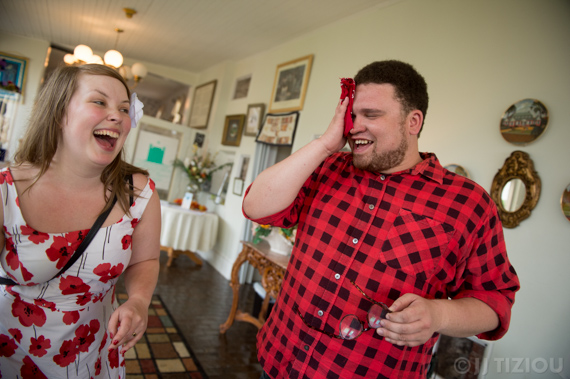 … and appreciate all of the hard work that he'd put into it.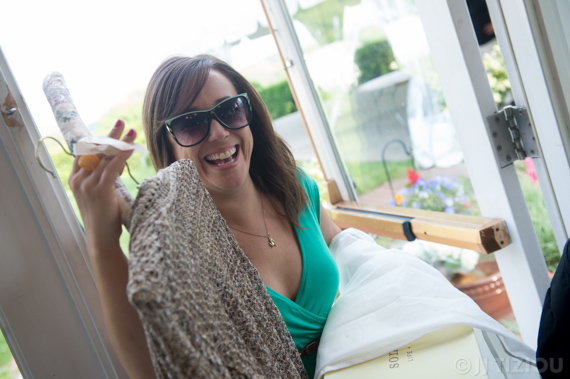 As it was time to start getting dressed up, of course Amy didn't have a wedding dress that she knew of…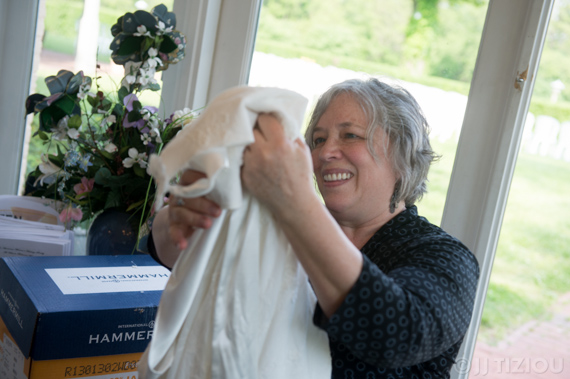 … conveniently, Lee had sneakily "borrowed" one of her dresses and sent it to Amy's mom, who was able to make one perfectly fit to her.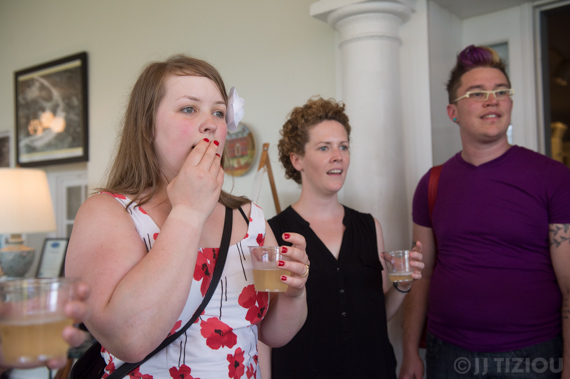 This was another moment that really touched Amy's heart, as she'd always dreamed that her mother would sew her wedding dress.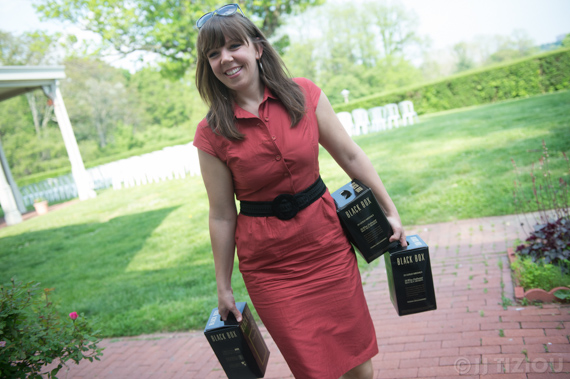 As the clock was ticking, the hour of the celebration was approaching…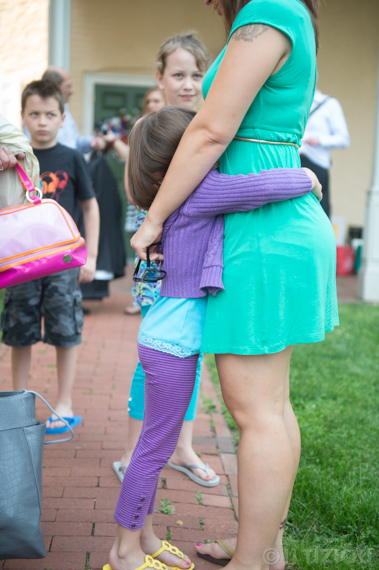 …. guests were starting to arrive…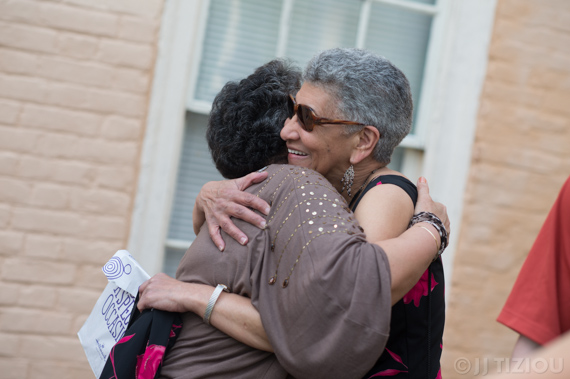 … and families were reunited…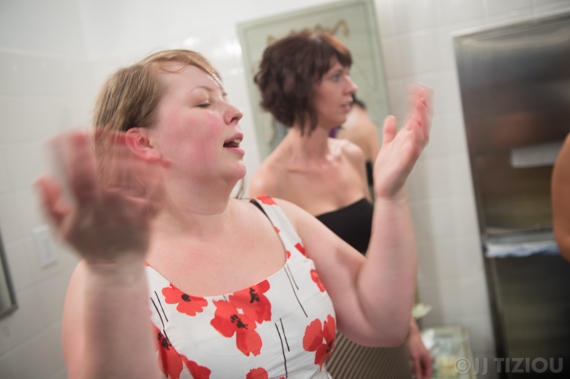 … while back in the bathrooms, it was hot without air conditioning…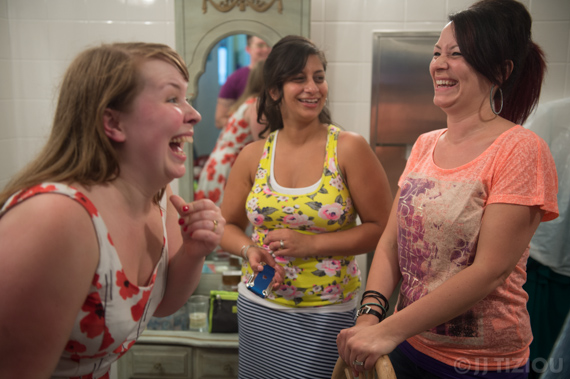 … and full of more laughter and celebration.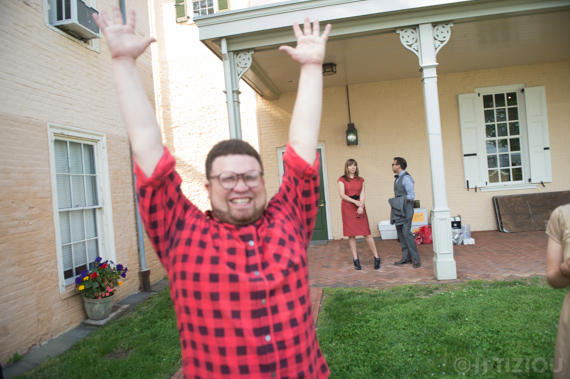 Another miss! Lee, psyched at having pulled off his plan, threw another exuberant gesture, and I back-focused it again.  I find that people enjoy it a lot more if I don't stop and pose them, but it makes it a lot tougher to keep everything lined up, well composed and well exposed. Still, I knew that I'd get him properly at some point if I kept paying attention…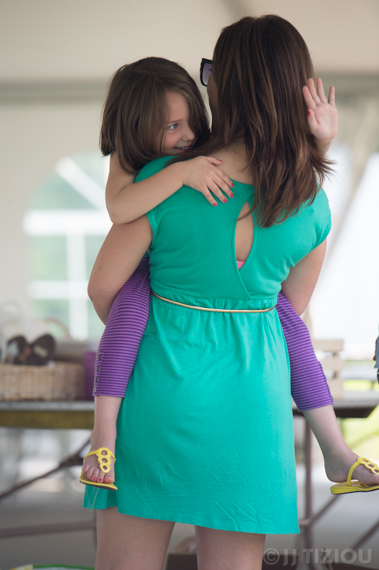 In the meanwhile, I started to meet more of the family…
… who sometimes stopped to look right into the camera…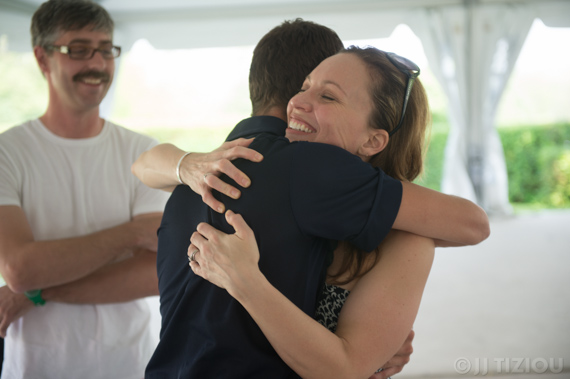 … but were mostly busy with greeting old friends…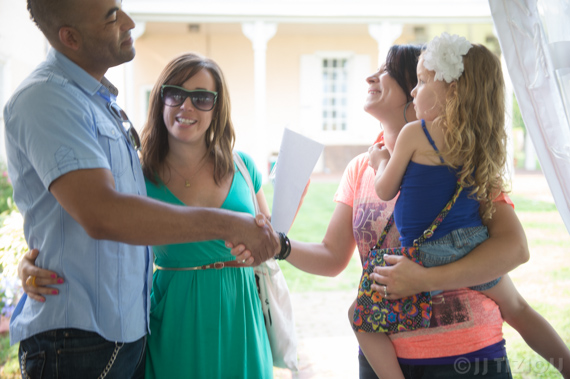 … and meeting new ones.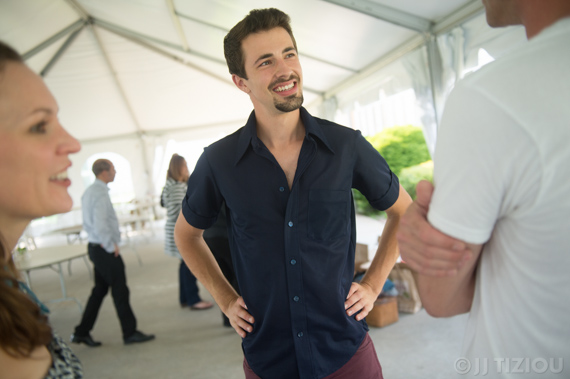 As the crowd assembled…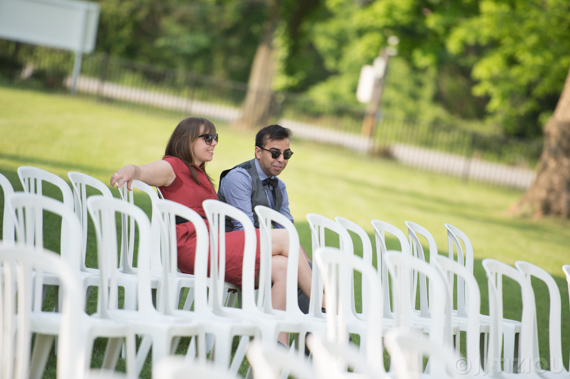 … the first ones started to take their seats…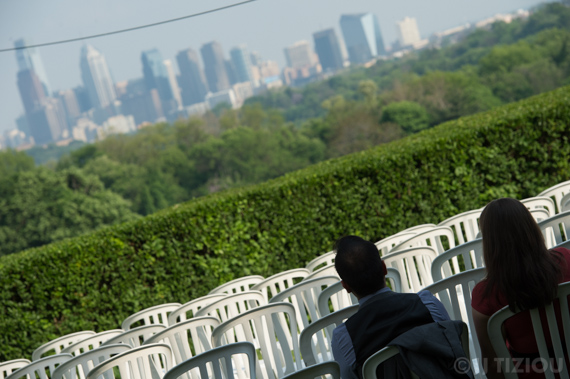 … to enjoy the beautiful view of the Philadelphia skyline as seen from the plateau.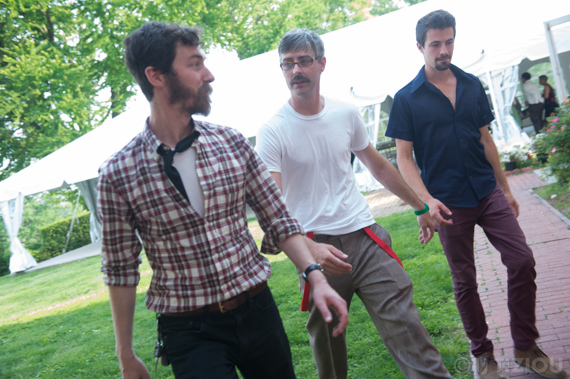 For others, there was still work to be done…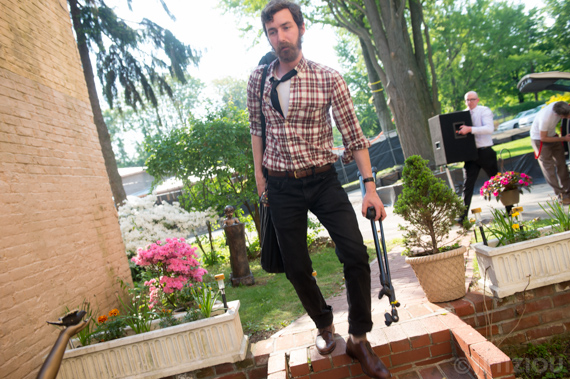 … like bringing in the sound equipment…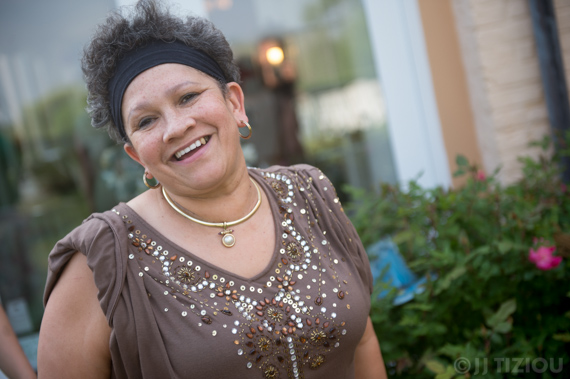 While others like Lee's mother…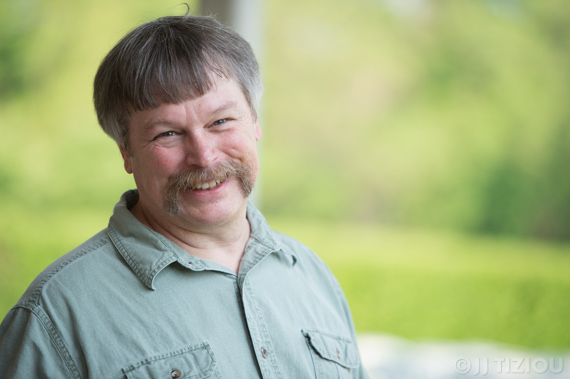 … and Amy's father…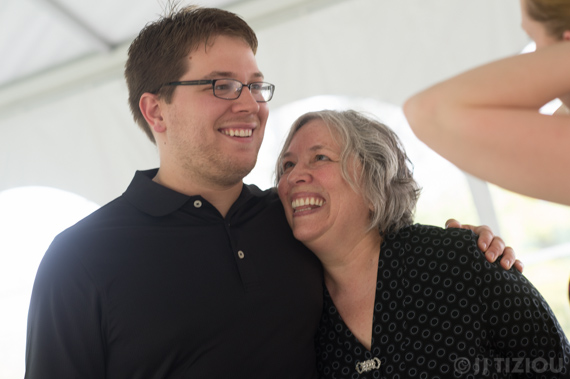 … and brother and mother…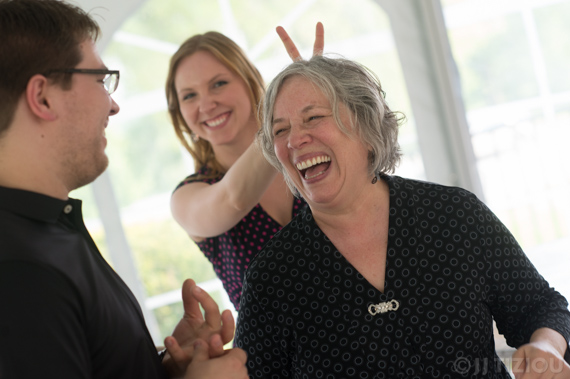 … got bunny ears…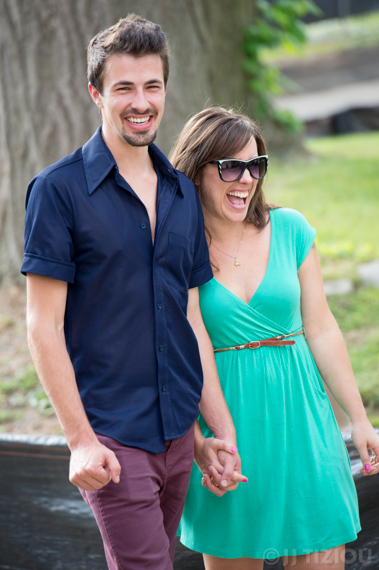 … and simply had a good time.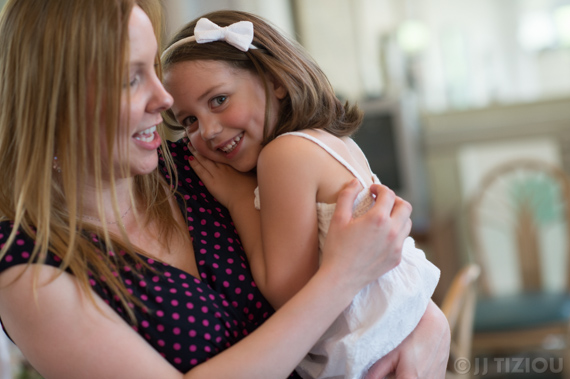 It's fascinating to see how children react to cameras… some are quite conscious of being photographed…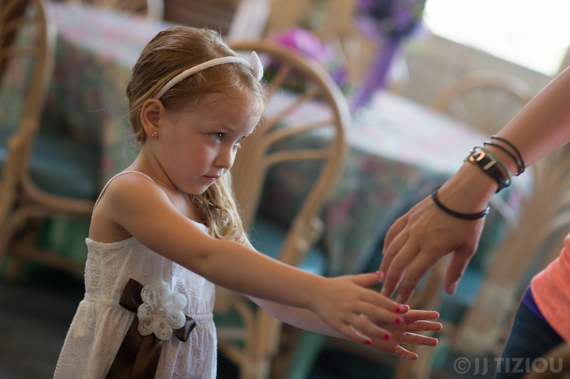 … others are shy and need comfort…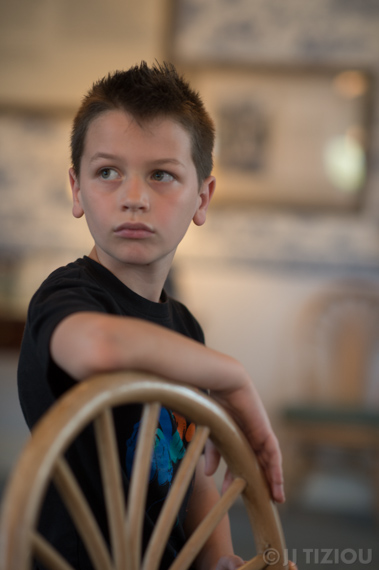 … and others adopt an aloof look, too cool to be posing for pictures.
Back in the makeshift dressing room, Amy was getting her hair done…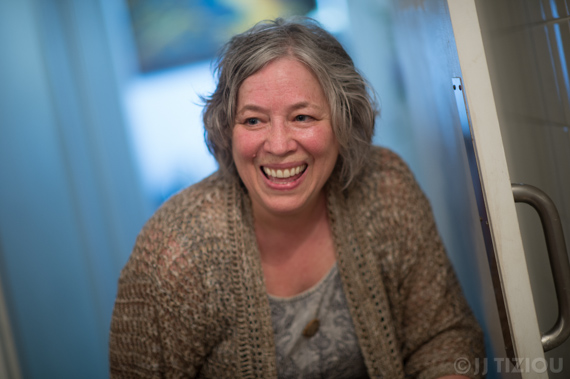 … while friends checked in…
(Photographer's note: I love contrasts and transitions between different types of light. Here we're right on the edge of crummy bathroom fluroescent light and shady daylight from an open door in the background, which gives the cool blue behind Amy's mom.)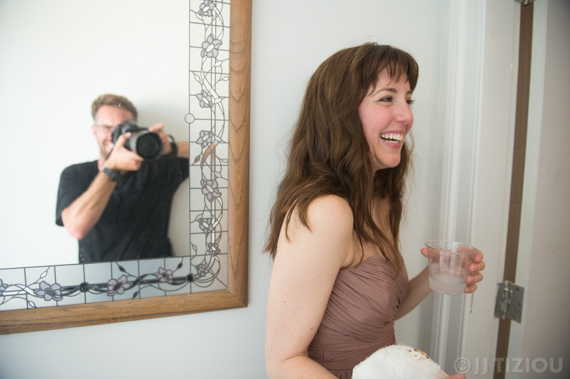 As I kept on clicking…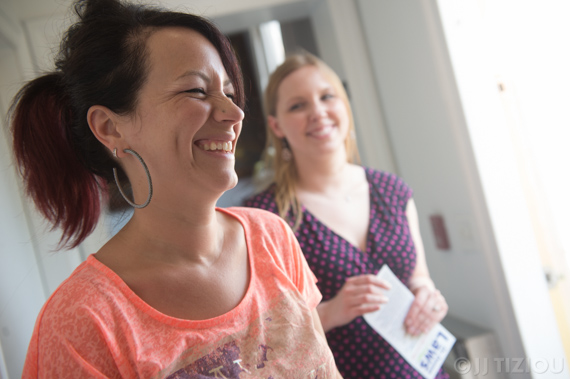 … everyone was in high spirits…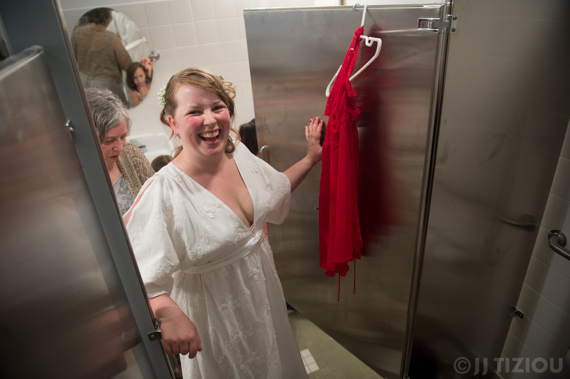 … and I climbed on a toilet to get a slightly higher angle shot.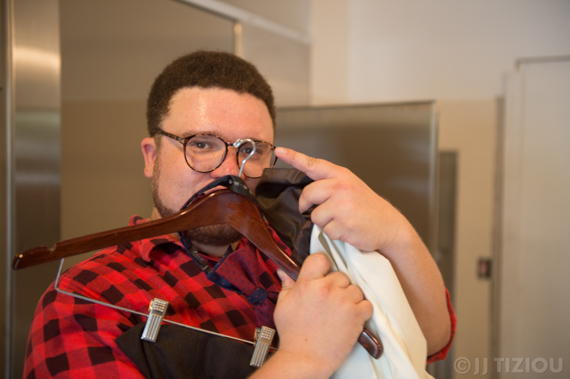 Lee was getting ready too, but for some reason in our culture, men's attire and preparations seem to be a bit less elaborate.
While family were hanging out indoors…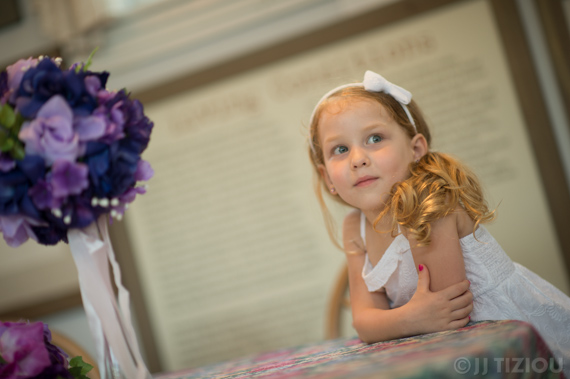 … preparing for their roles in the ceremony…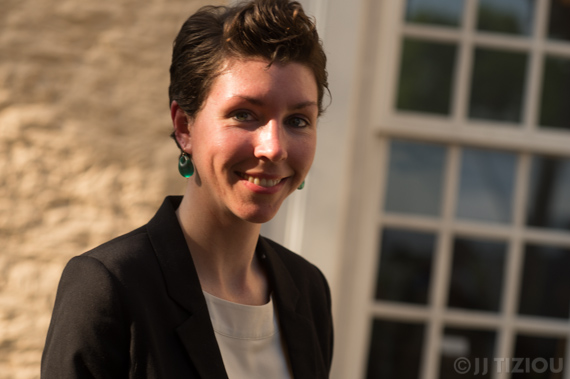 … other friends and neighbors…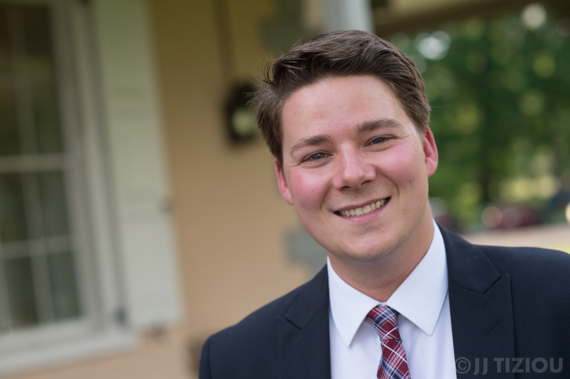 … were starting to arrive…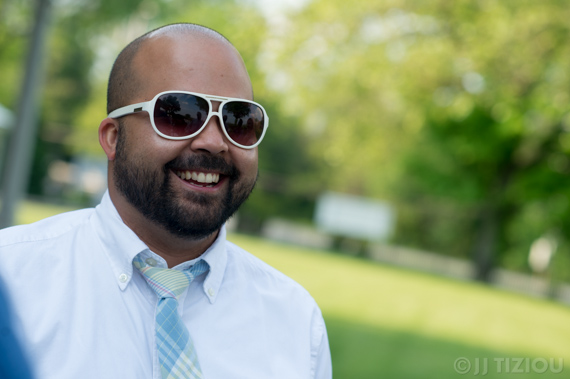 … a crowd of beautiful faces…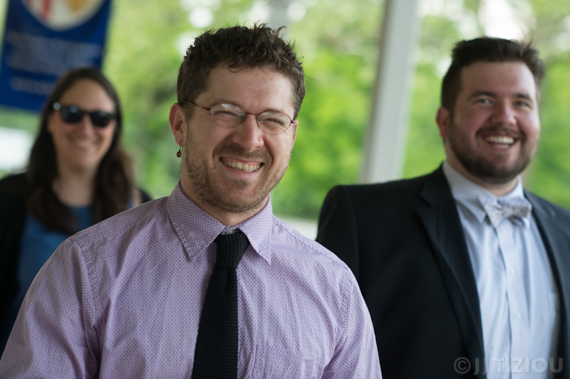 … other friends from the neighborhood…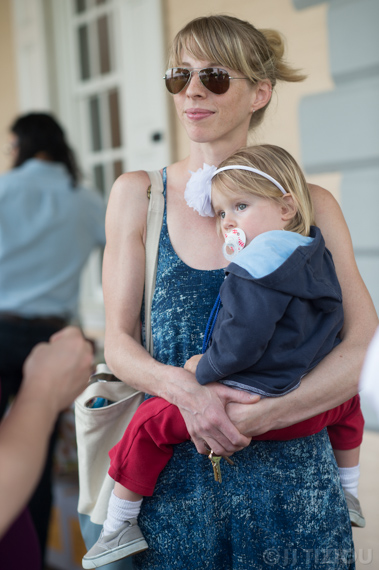 … some of whom I recognized from W. Philly…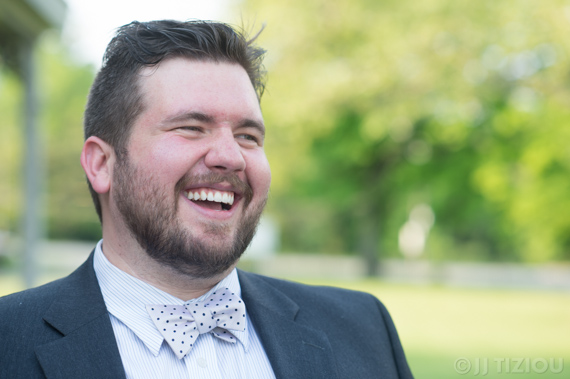 … others of whom I'd just met that very morning.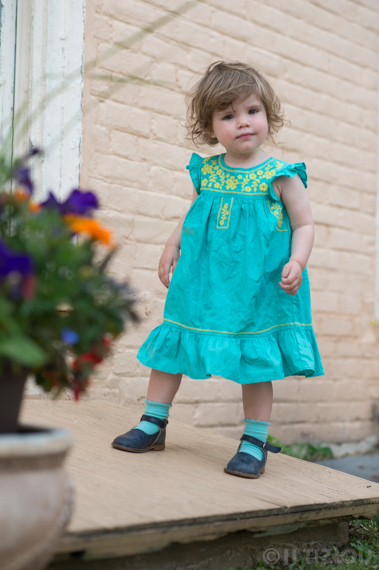 Sometimes, to get good shots of the little people, you have to get down low on the ground…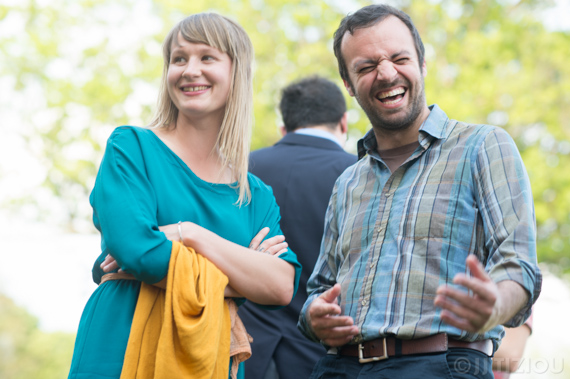 … and then the bigger people think that it's kind of funny that you're crawling around to get the shot.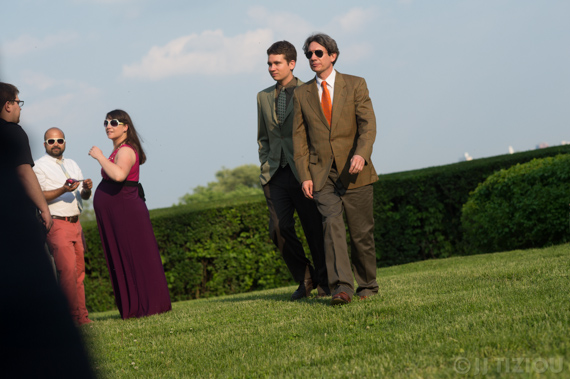 As people are showing up, Amy still has no clue who all's going to be there…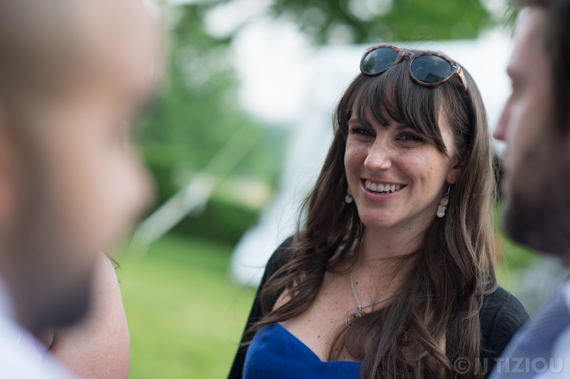 … all of these friends…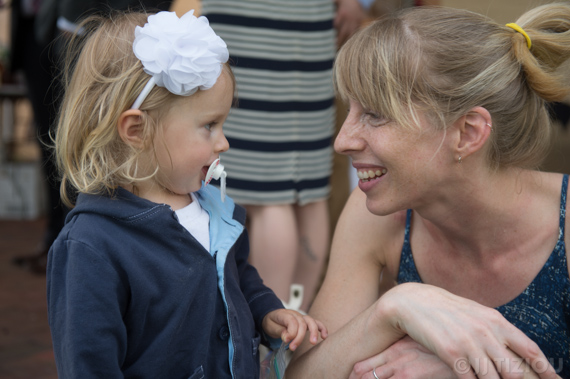 … of all ages…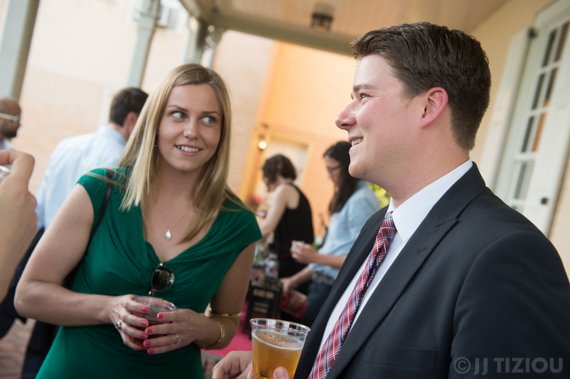 … from all over the country have come to celebrate Lee and Amy.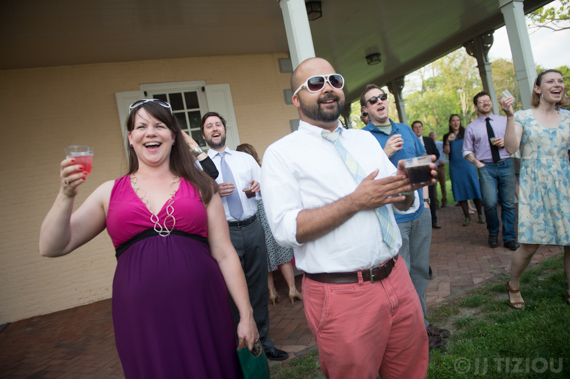 But first they want to know: "What did she say?!?!"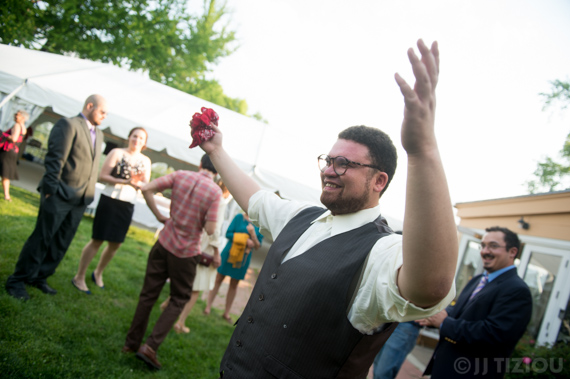 "She said 'Yes'!"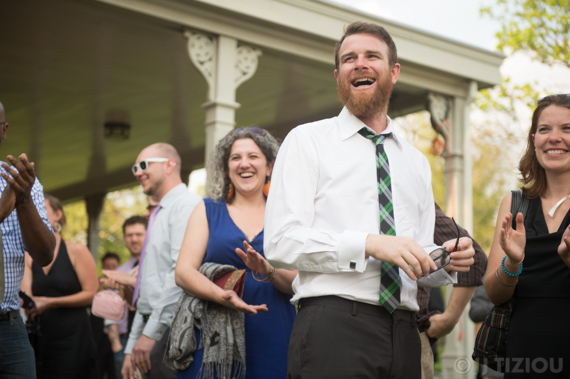 … of course, for those who knew Lee and Amy, there had been little doubt…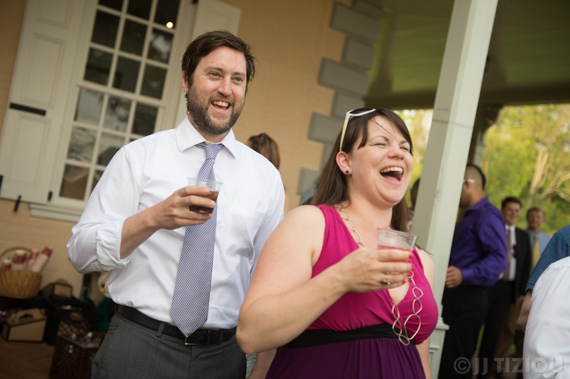 … but there was still some relief in knowing that the proposal and surprise had been accepted and that the ceremony could proceed.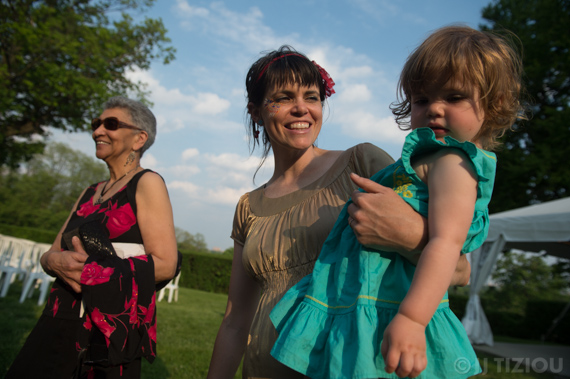 At this point, the sun was coming a bit lower in the sky, with just the right amount of haze…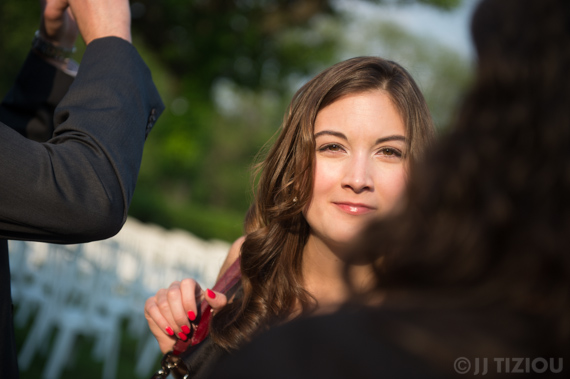 … to provide some dramatic light without being too too harsh.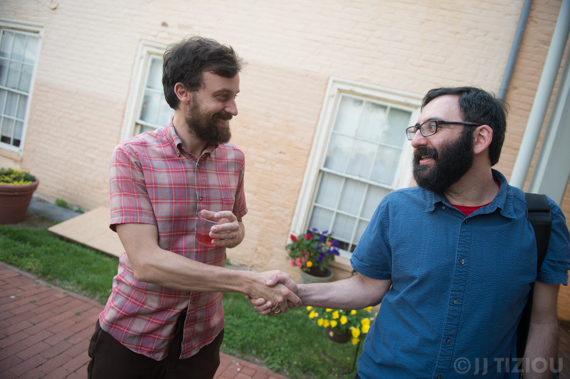 As more friends gathered…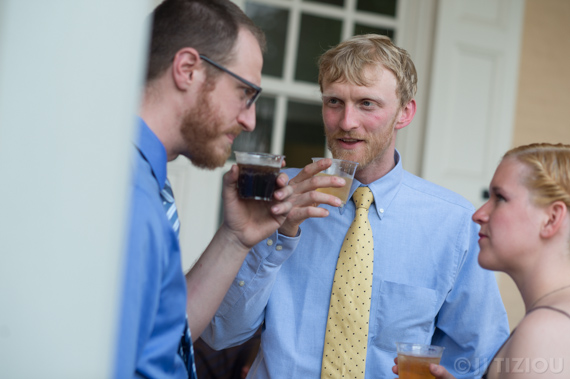 … they took the time to share drinks…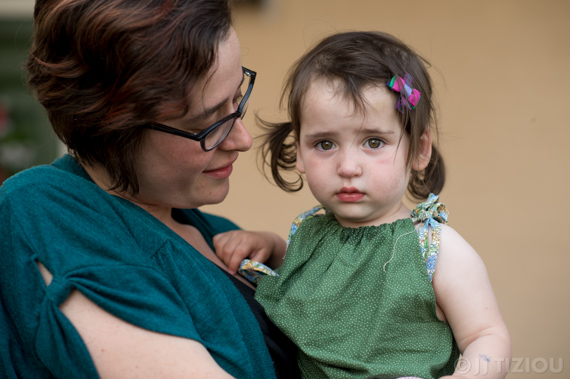 … and I got to take some portraits of my friends Josh & Hannah's newest little Sara Bela. She's pretty darn cute, and you'll see more of her below. And if you recognize Hannah and Josh, it's maybe from my portfolio of community radio work. Hannah and Josh have also both been sustainers of my community work, for which I'm very grateful.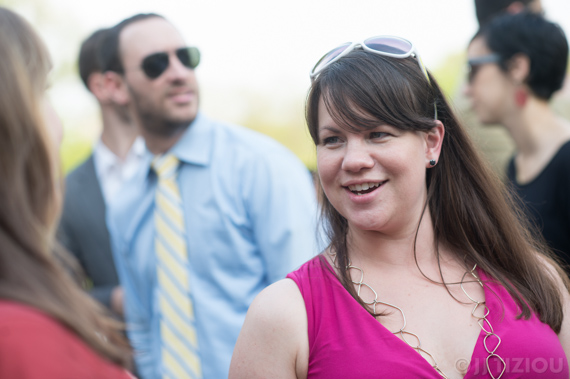 Of course, I'm not here just to photograph my friends' kids…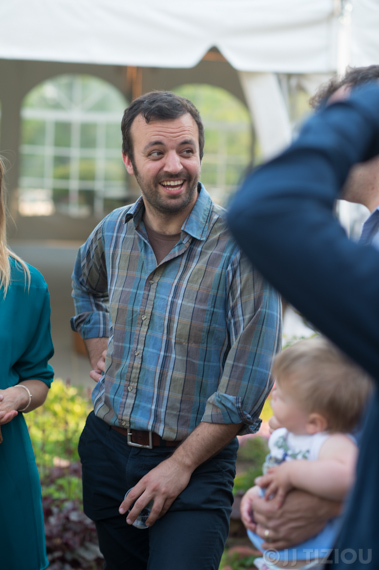 … at celebrations like this, I try to make a point to get a good portrait of every single person there.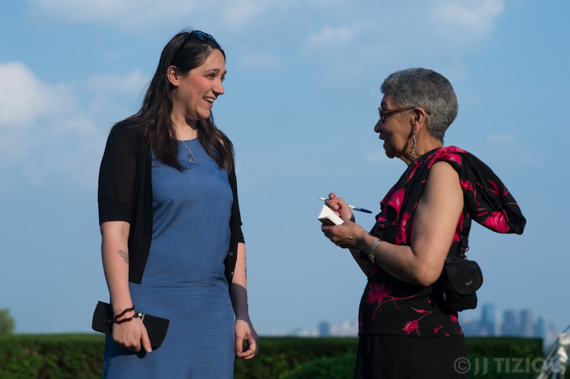 I glanced over, and for a moment I thought that there was a formal interview in process, but that little tiny book was actually the guest book.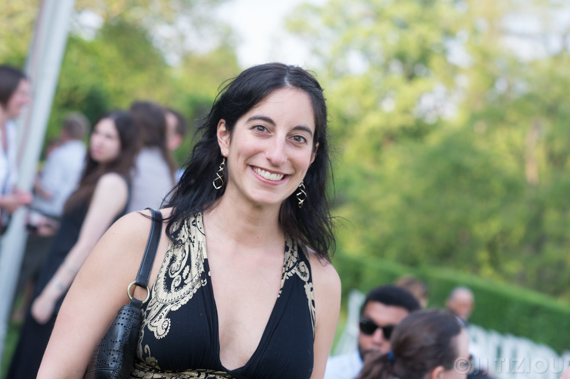 As other shining faces were showing up…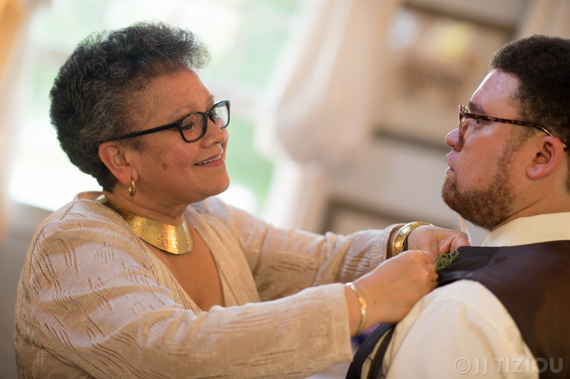 … Lee's mom helped him put on the finishing touches…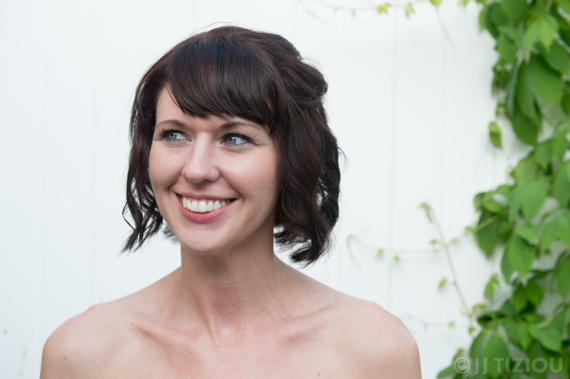 … while the bridesmaid crew had stepped out back for some fresh air…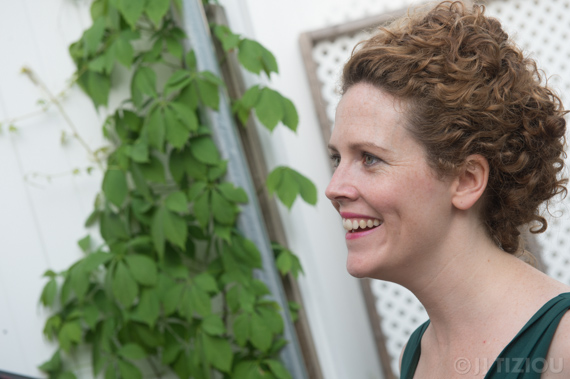 … I tried to get some portraits of all of them…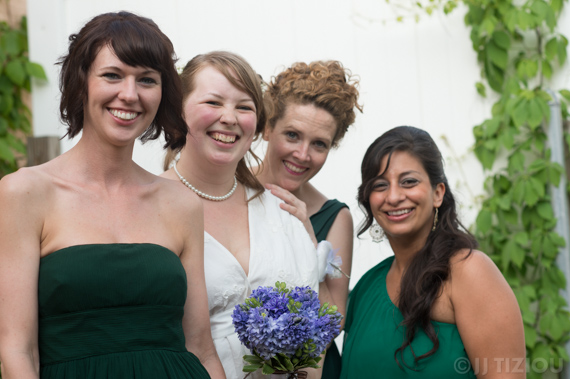 … which can be challenging to do…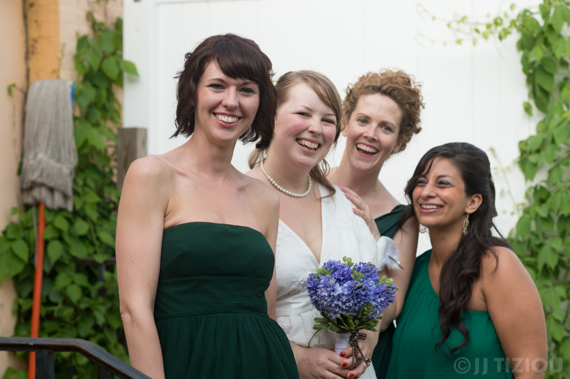 … when there's random stuff like mops in the background. 🙂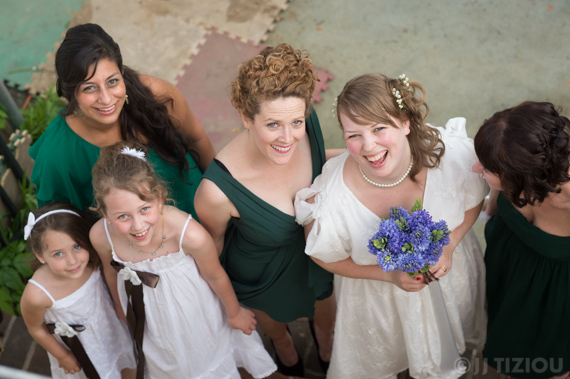 Since there was a ladder, I couldn't help but climb on the roof to see if there might be any options for higher-angle shots…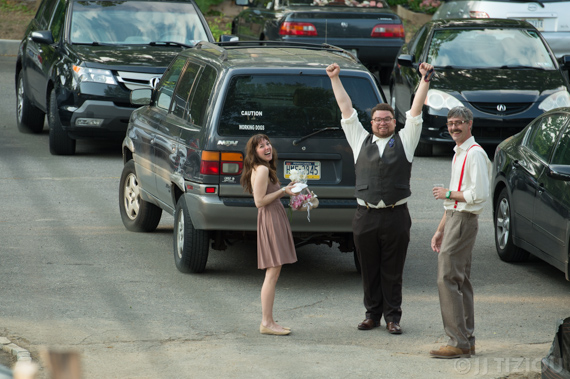 … and I caught a glimpse of Lee on the other side of the building… again, his triumphant pose.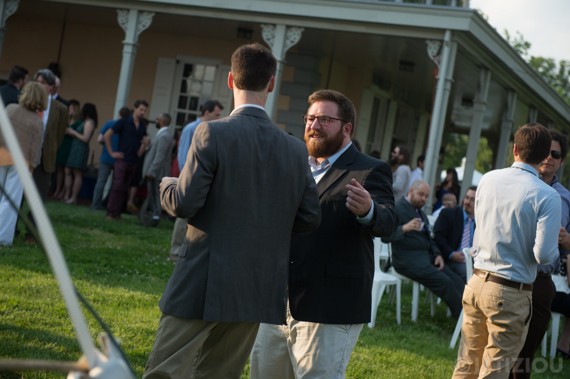 As more and more guests arrived, I was amazed that this many people had been in on the plan, and managed to keep it completely secret from Amy.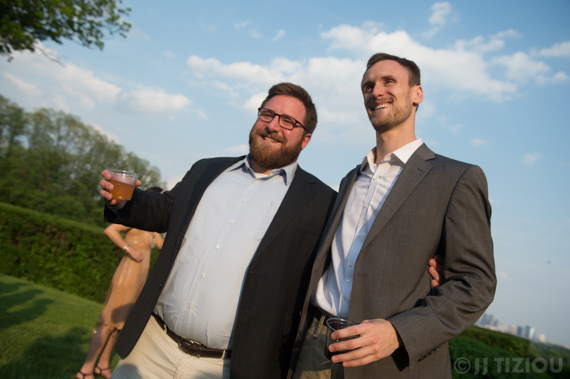 They posed for pictures…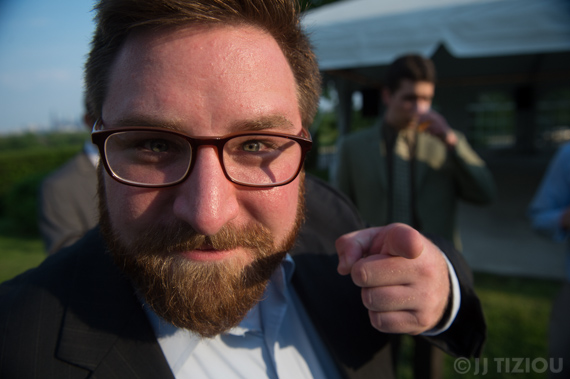 … and then got in my face…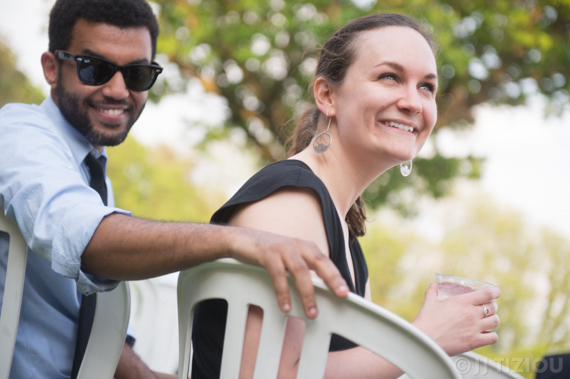 … it was almost time now, as some took their seats…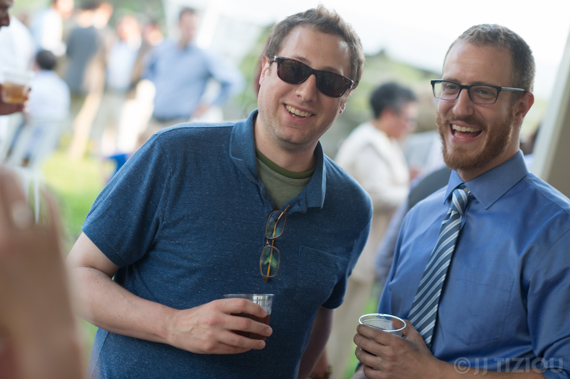 … while others took a last moment for refreshments…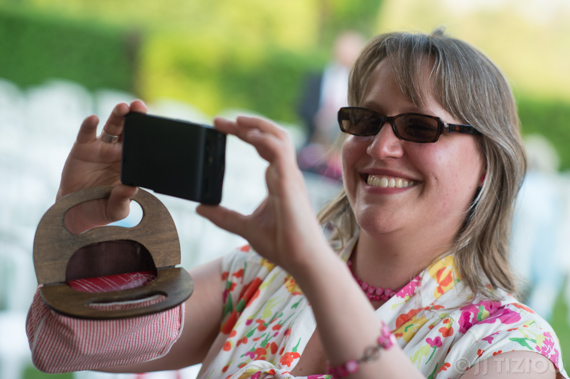 … and pictures…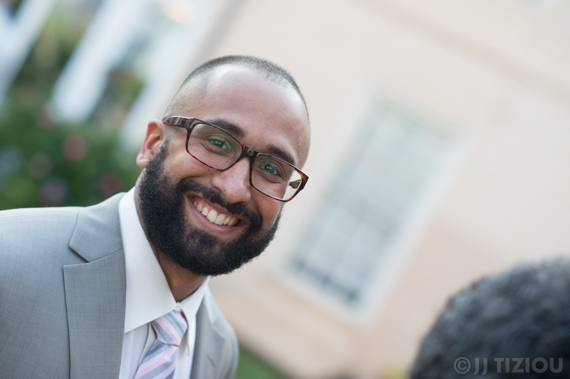 … and more smiles…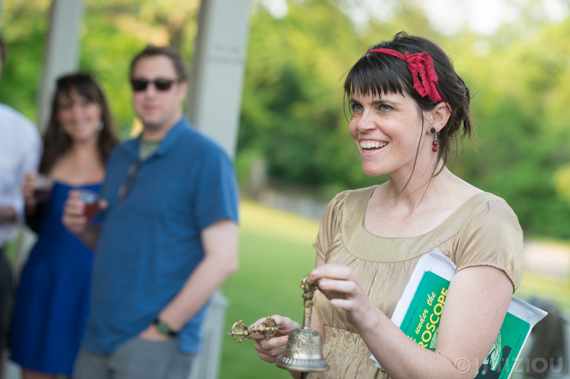 … before a bell rang… it was time to start!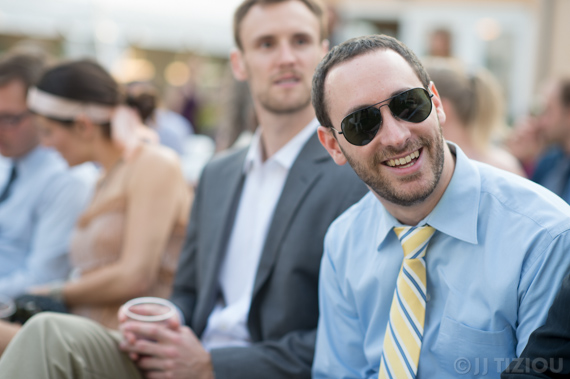 Almost everyone was quick to be seated…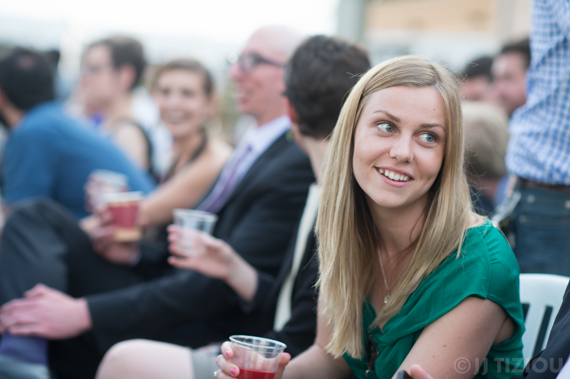 … still enjoying the time to connect…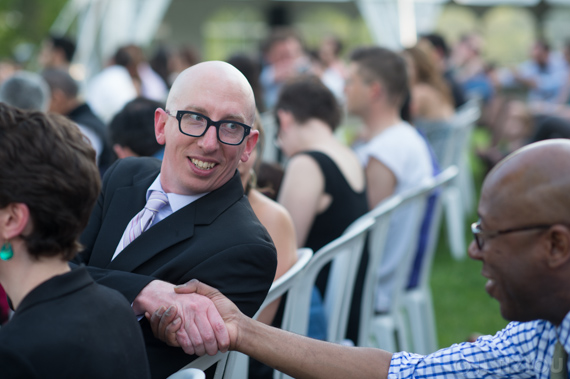 … and greet other friends and neighbors…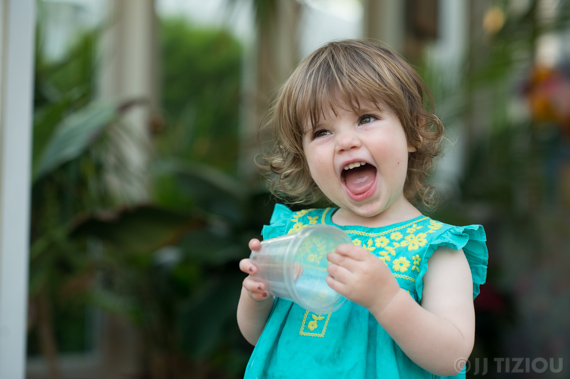 … while others were a little bit more reluctant to take their places.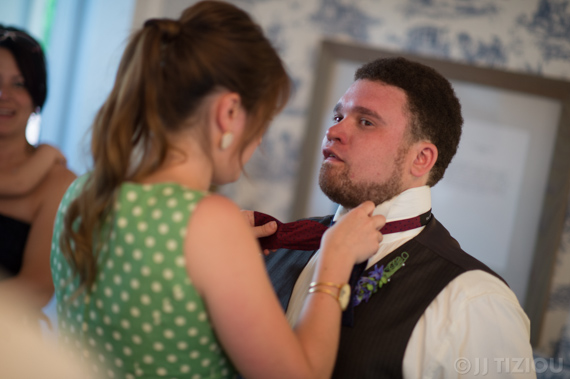 One last finishing touch for Lee…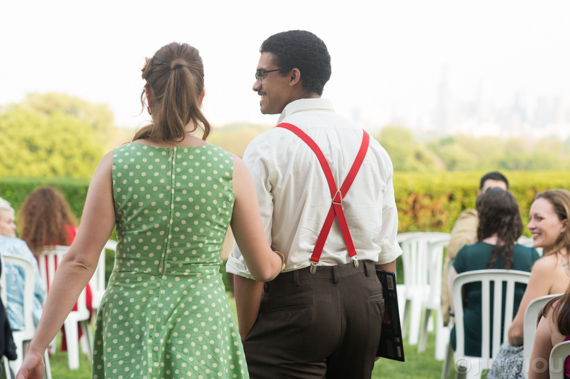 … and then his brother got into position…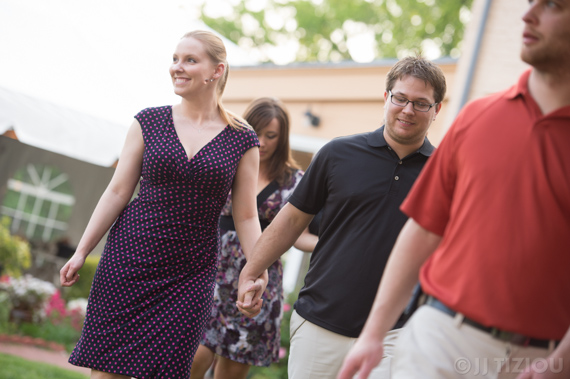 … and so did Amy's.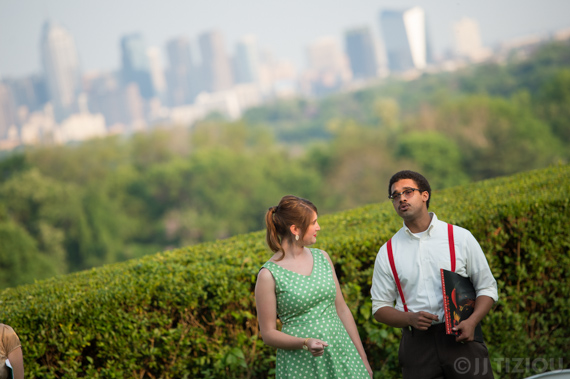 The ceremony started with some beautiful song…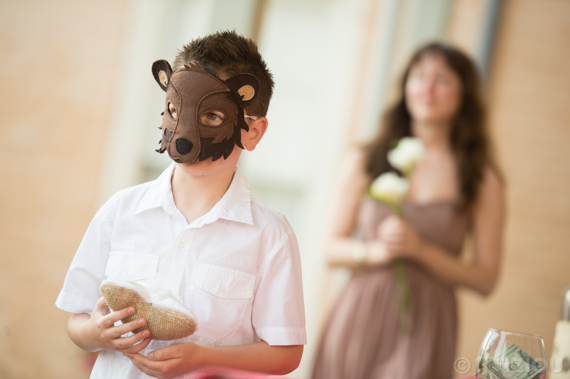 … and then an appearance by the Ring Bear…
(or Bearer, if you'd prefer… Lee has some sort of story about this joke, I think that he once wore a bear mask or suit at another friend's wedding)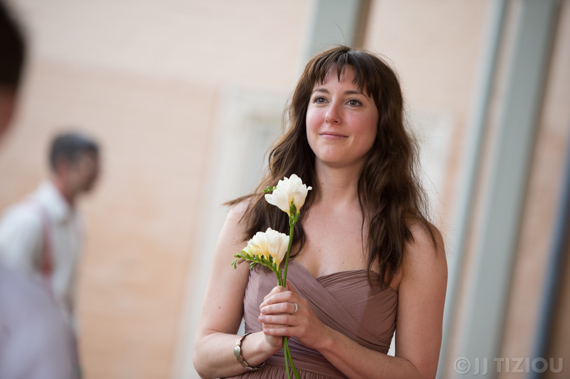 As the procession came through,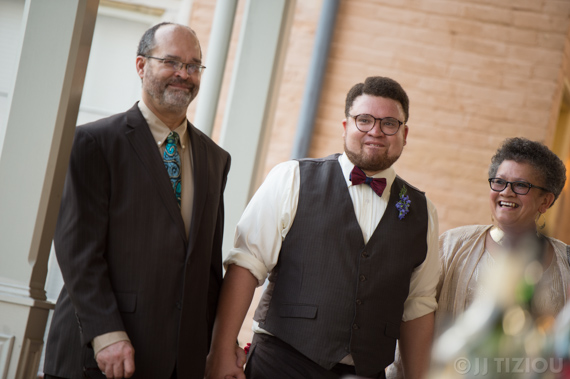 … sight lines were tough for me, but everyone looked their best…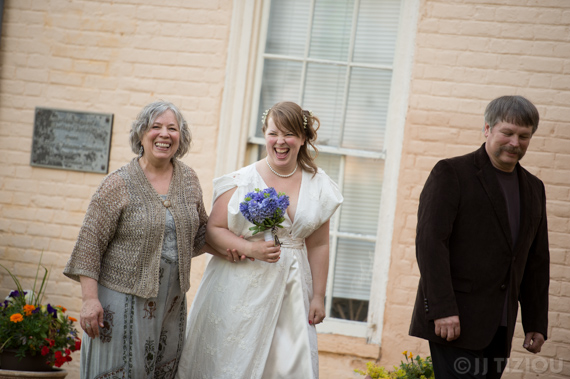 … especially the bride… not bad for two hours notice, eh?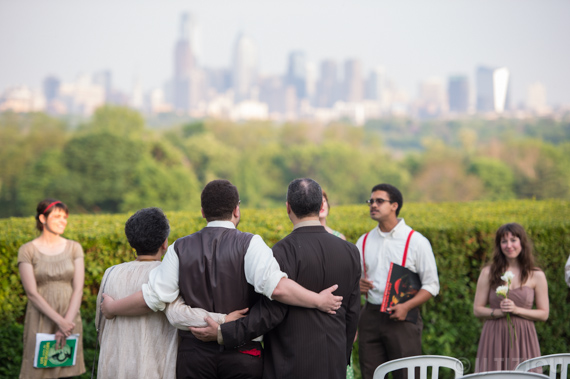 Lee still hasn't seen her, but it's almost time…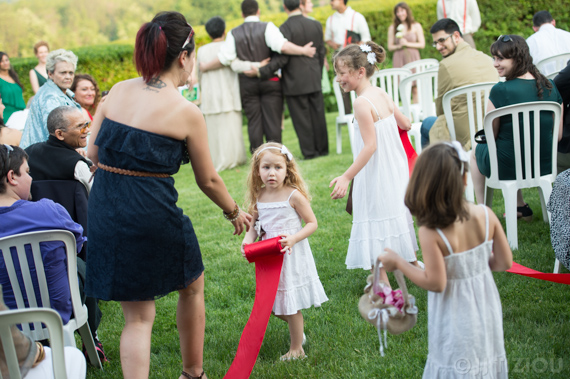 … with a minor delay for technical difficulties with the ribbon…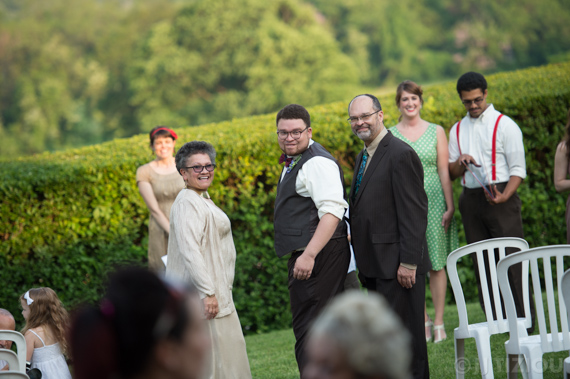 … and then Lee gets a first glimpse of his bride, who has indeed accepted his crazy sneaky spontaneous surprise wedding plan.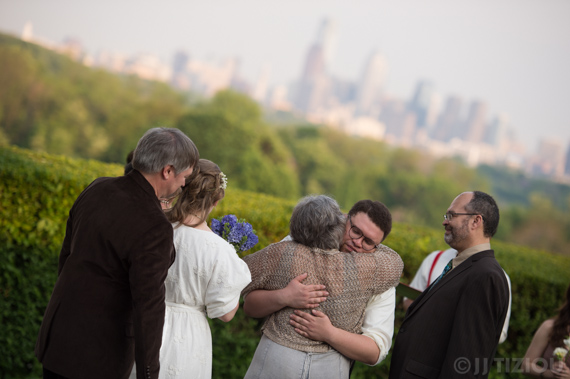 Surrounded by family…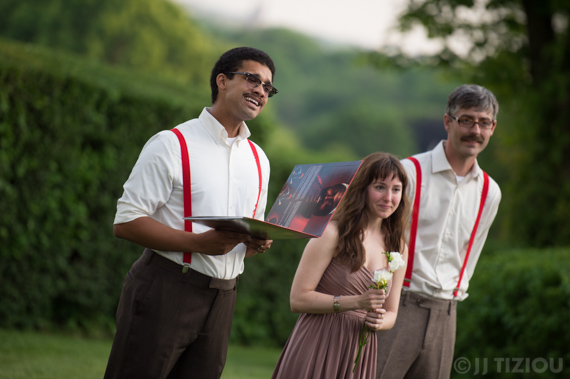 … and beautiful song…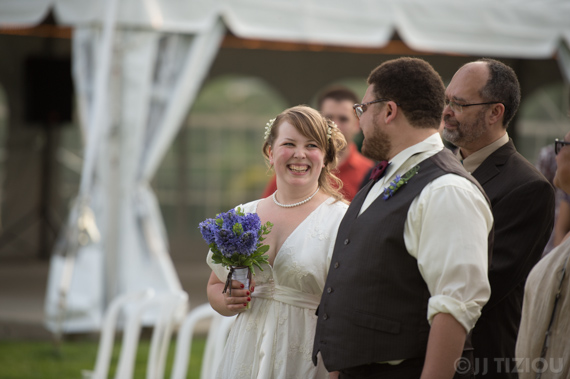 … the couple is ready to be married…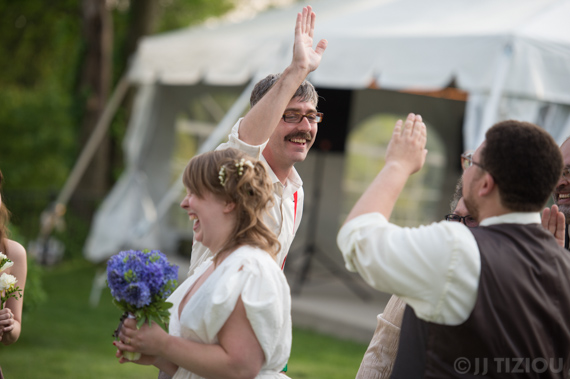 … and they invite everyone who will support them in this endeavor to affirm it by turning to their neighbor and giving them a hi-five!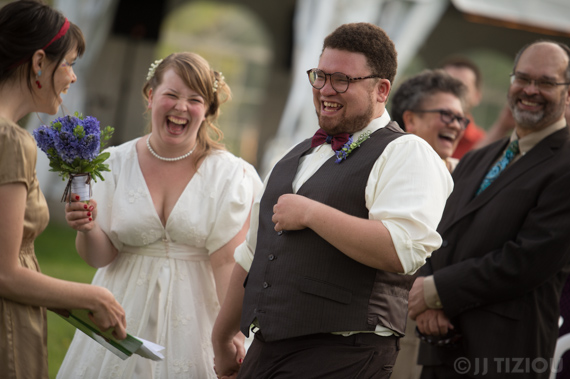 More laughs and merriment…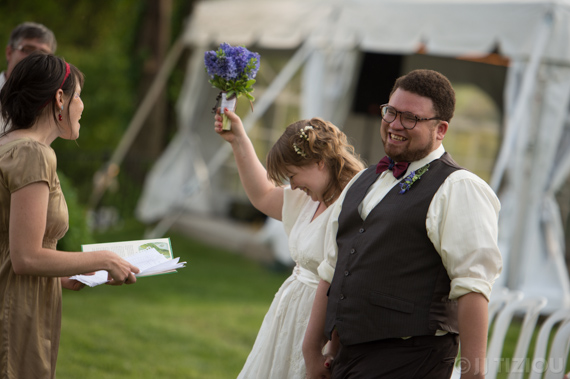 … and as this couple is about to begin their marriage…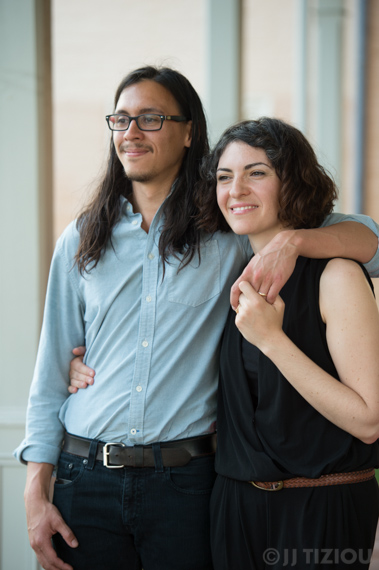 … other happily married couples look on.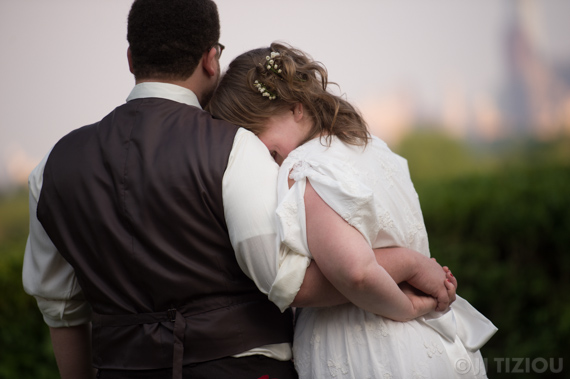 The evening light on the plateau could not have been more beautiful, which left just one question: to shoot this at 1/1600 of a second at f/2.8 to isolate them from the background…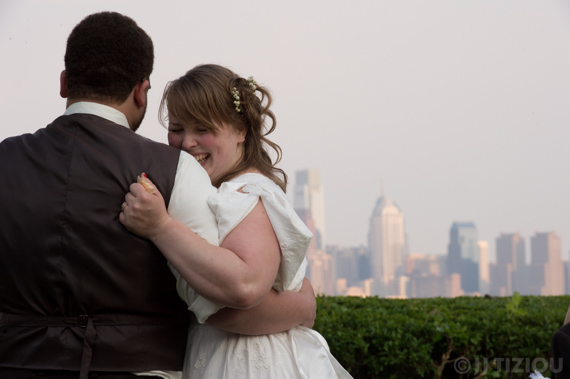 … or to shoot it at 1/200th of a second at f/16 to bring the skyline into sharper focus.
(Photographer's note: when in doubt, do both, and you can decide later.)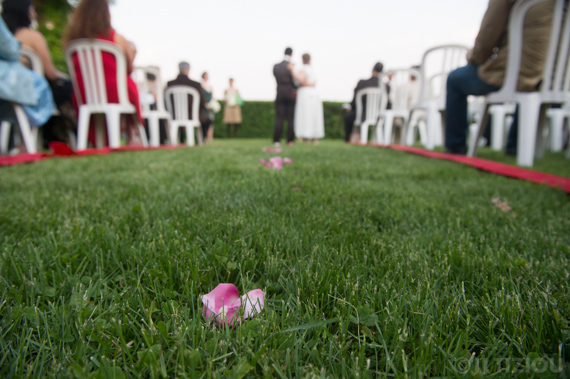 As the ceremony proceeded, it was time for vows…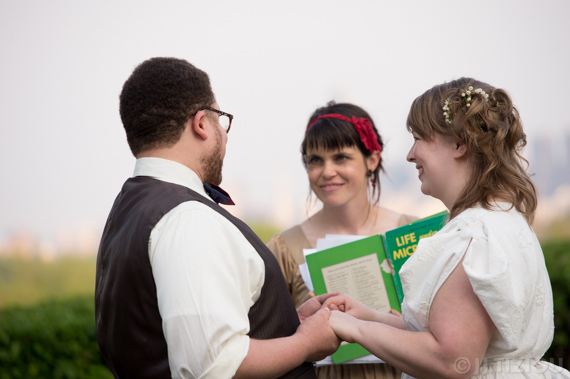 … but it woudn't have been fair for Lee to have scripted vows without Amy's input, nor for her to have to come up with them on two hours notice…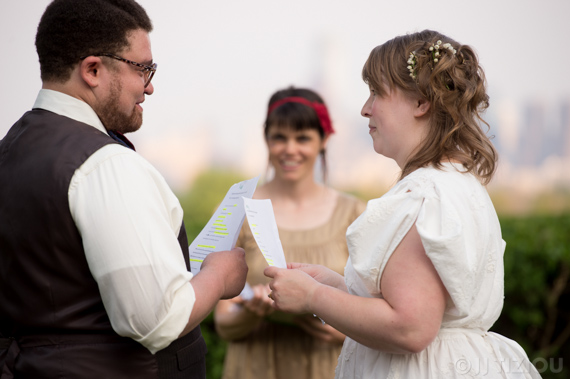 … so instead, Lee had taken a favorite poem of theirs, and apportioned out the verses to the two of them…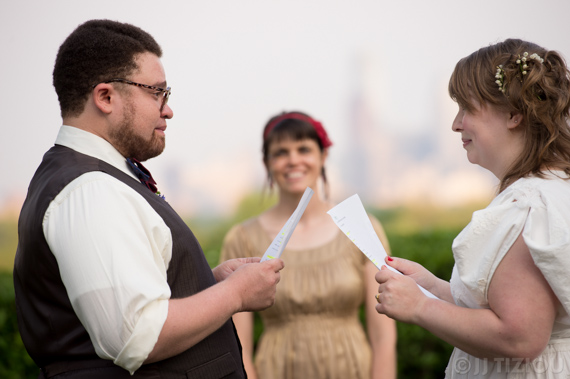 … so instead of formal vows, they read i carry your heart with me by E. E. Cummings together.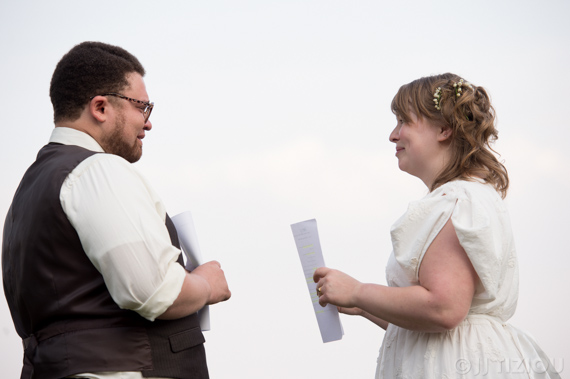 (Photographer's note: no, I didn't just arbitrarily photoshop out the background in this frame. This is what happens when you move a little bit to the left and a little bit down to line them up against open sky. Which is why when I'm asked what tools are most important for a photographer, I generally answer "one's eyes, one's brain, and one's feet!"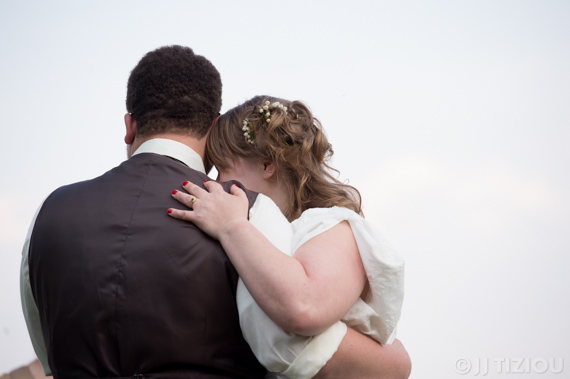 It was a beautiful and special moment…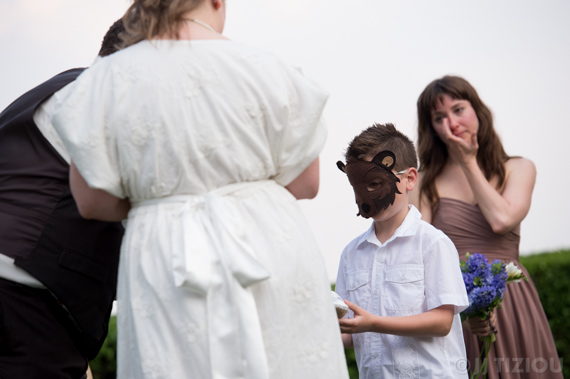 … and many were moved to tears…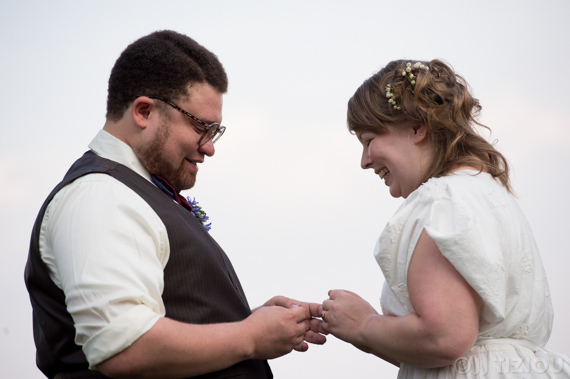 … and then rings were exchanged and…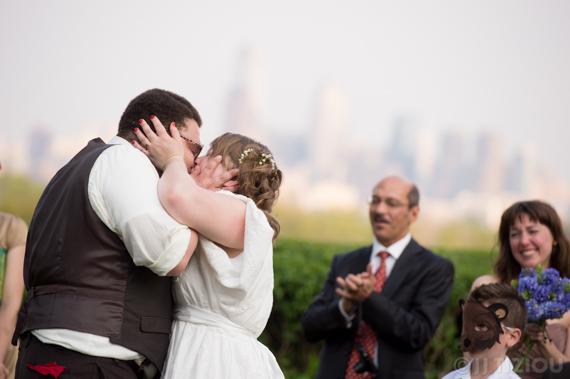 … the ceremony was sealed with a kiss.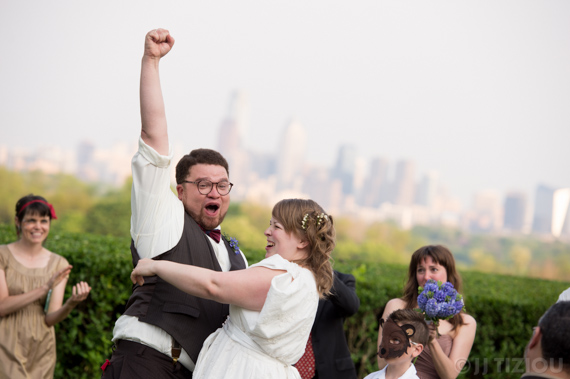 Another triumphant gesture from Lee… this time, I was ready for it.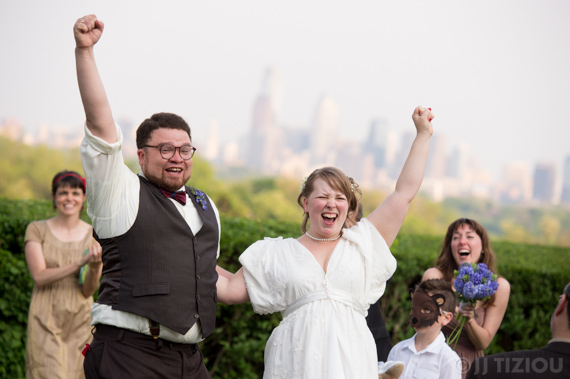 Amy joined in…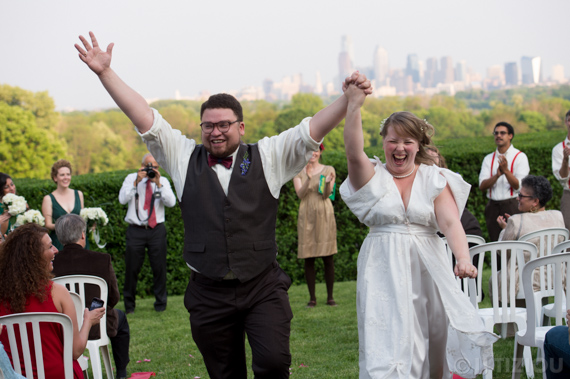 … and here's the part where it's crazy to remember that when they woke up this morning, they weren't even engaged, and Amy had no clue that any of this was coming her way.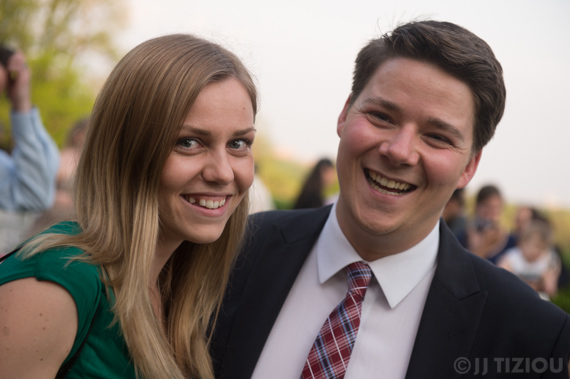 Other beautiful couples joined in the celebration…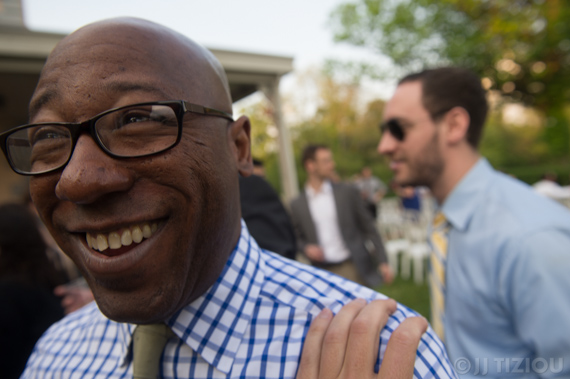 … and I made a special point of getting in Brian's face with my lens, to make up for that one time years ago when he felt neglected that I'd photographed so many people in the neighborhood but not him.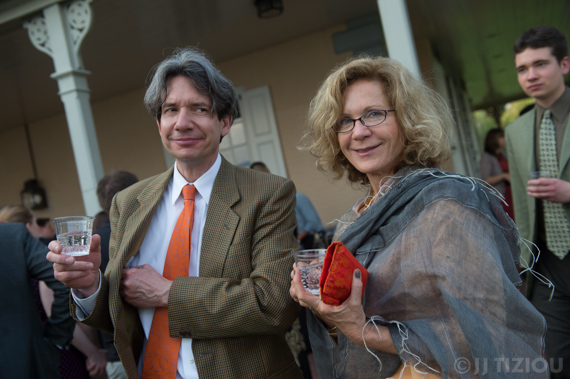 This part after the ceremony is kind of just the beginning for me…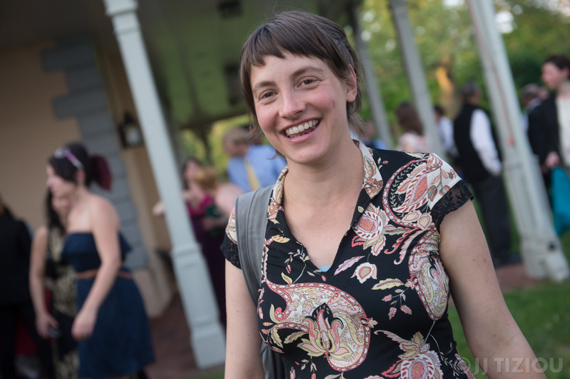 … during the ceremony, I had to move slowly and quietly so as not to be disruptive…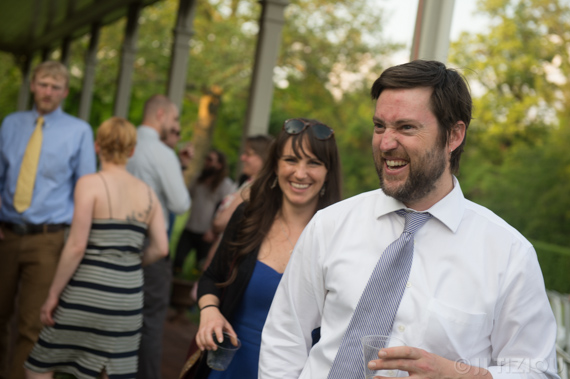 … but once it's over, and everyone's a bit more relaxed…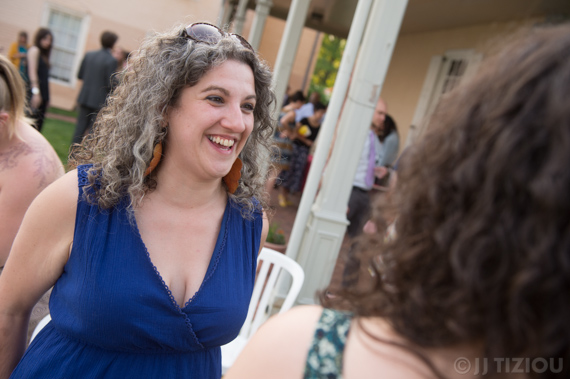 … I have a lot more freedom to run around…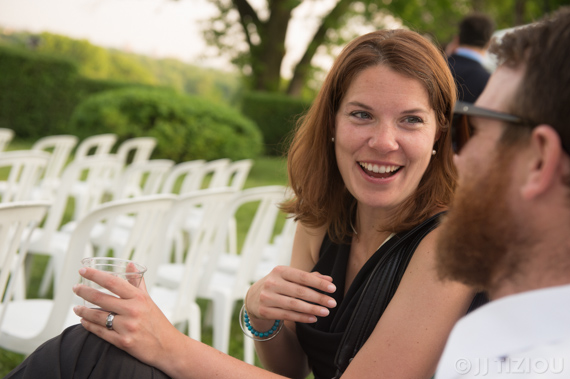 … and catch all of the interactions happening.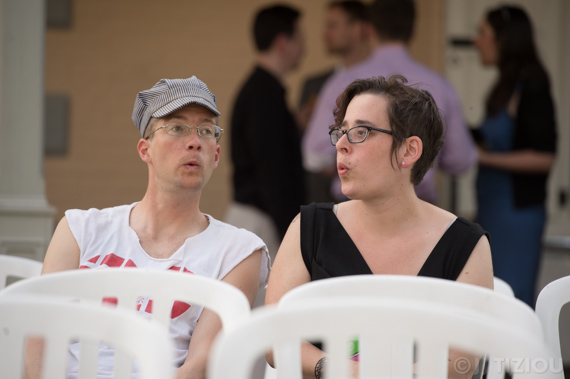 Sometimes I notice funny little moments, like Shy and Hannah whistling something together…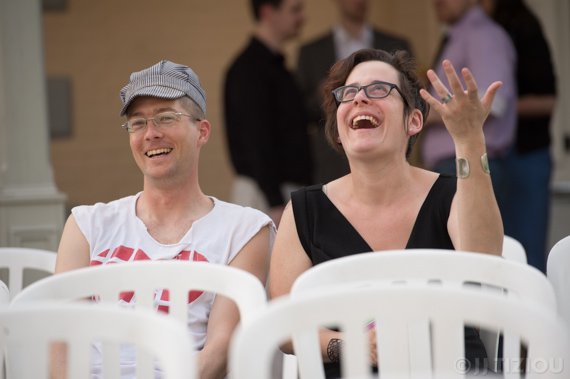 … and then they notice that I've noticed them!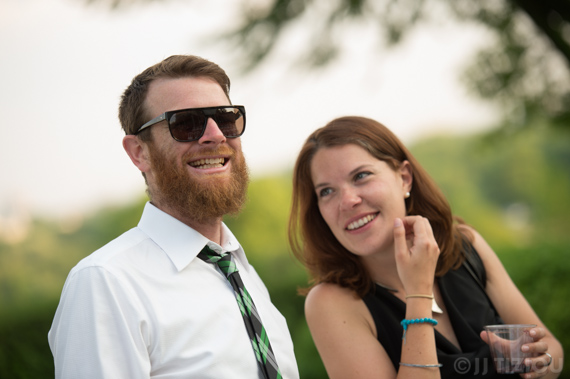 While some of the guests were just hanging out…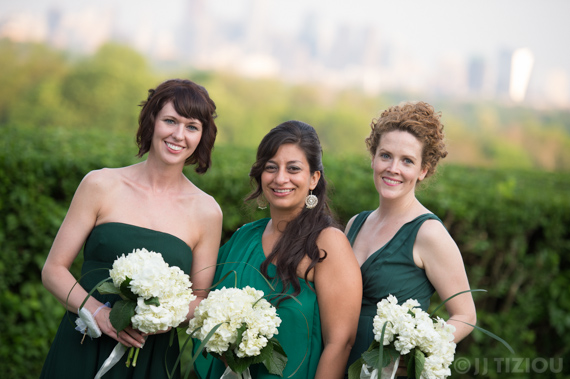 … others started to line up for a few more formal portraits…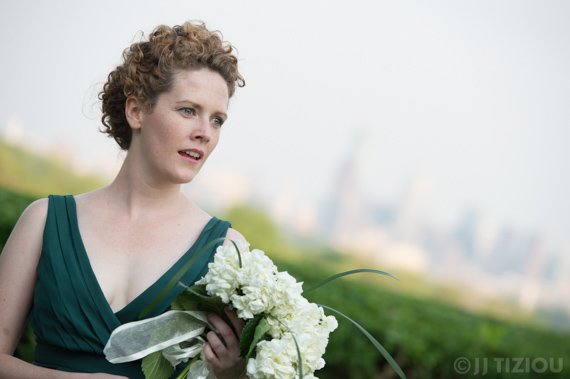 … but where's the bride?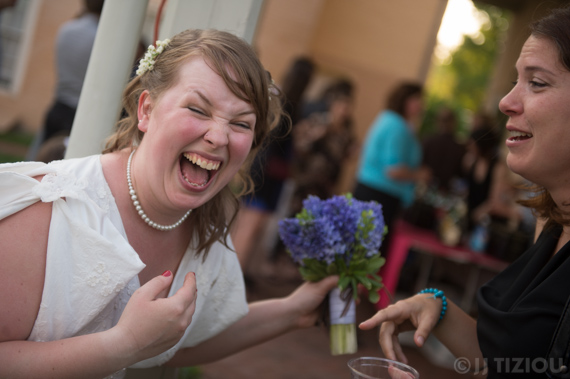 … clearly, she's having a good time…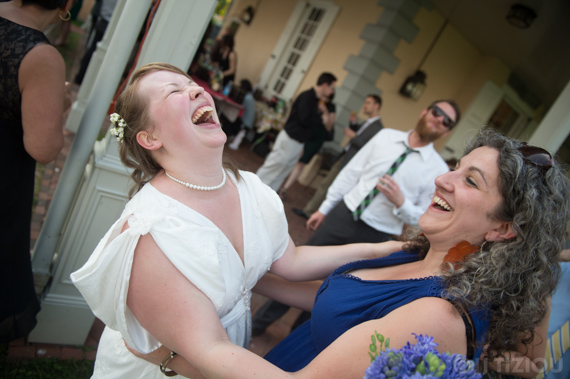 … and it might be hard to pry her away…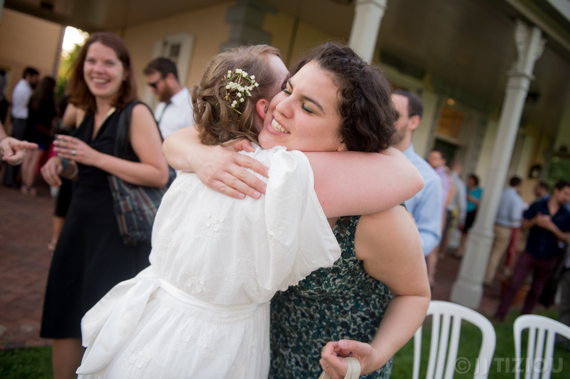 … from all of the well-wishers…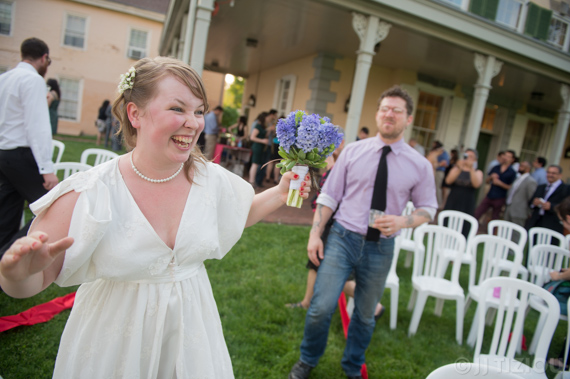 … in order to take a few other pictures.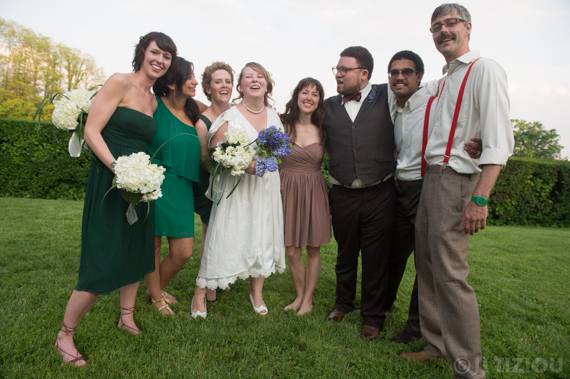 … I always try to make this part go really fast, so that guests can keep on celebrating, rather than turning the whole wedding into a photo shoot.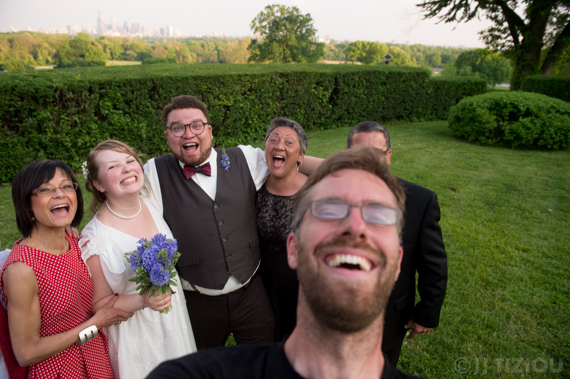 At this point, I'd already connected with enough of the guests that they said that I should be in some of the pictures…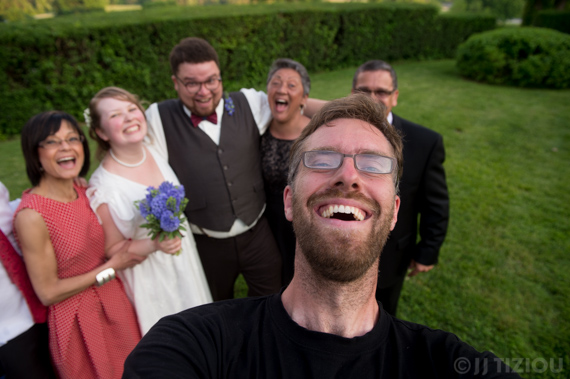 … so I did my best to oblige on the fly…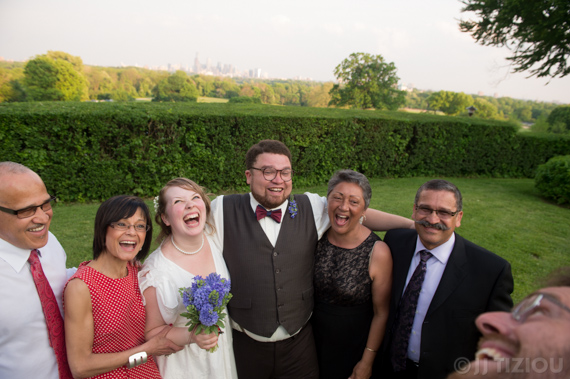 … and thought that this sequence was kind of fun.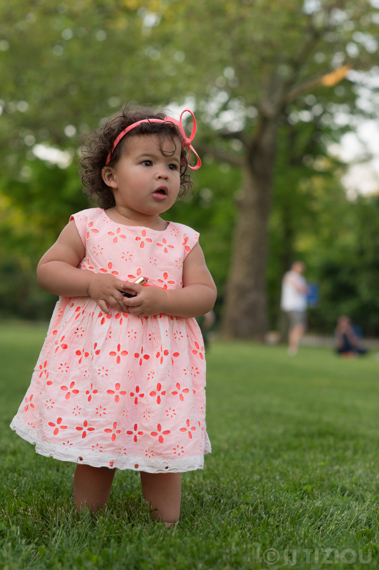 There's a few challenges to trying to orchestrate family portraits so close to the rest of the crowd, but one of the great things is that everyone else can look on and watch if they want to…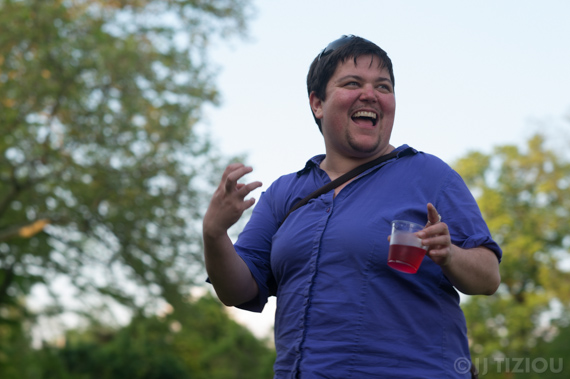 … and I can catch their reactions…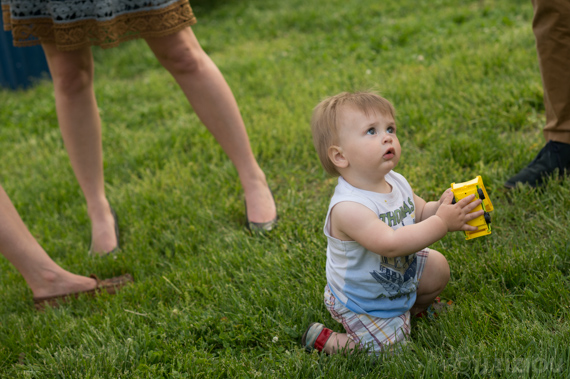 … and even float around to catch other little moments…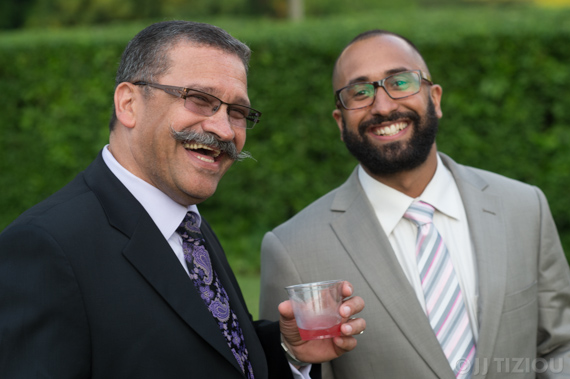 … and laughs…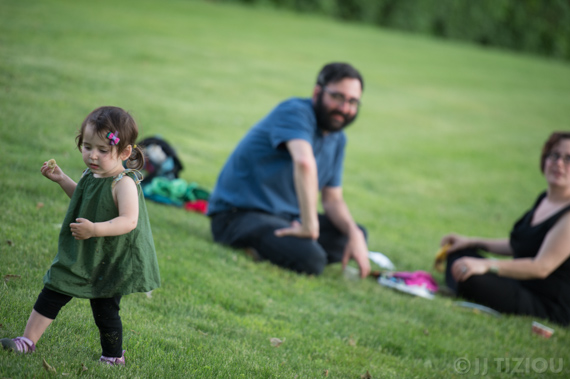 … and explorations…
… and smiles…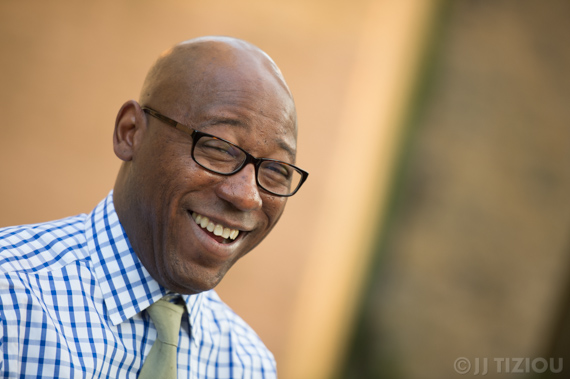 … and bug Brian some more…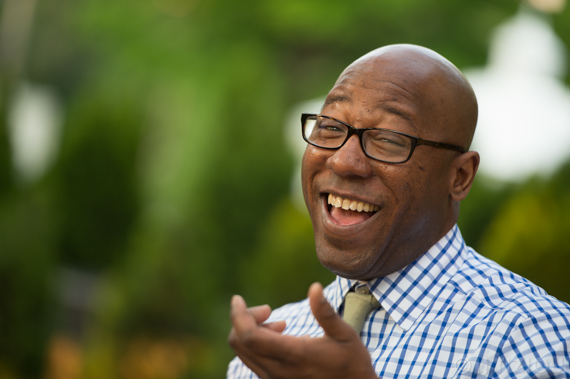 … and more.
(Photographer's note: for this one, I clicked my camera into eleven-frames-per-second mode and shot off a whole sequence, but I won't post them all here. This is already getting to be a pretty long post… but it was such a special evening, and we haven't even gotten to the helicopter part yet!)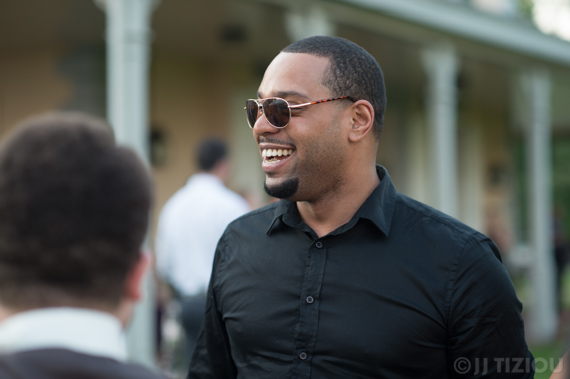 As it was taking the family groups a little while to get wrangled and organized, I kept shooting…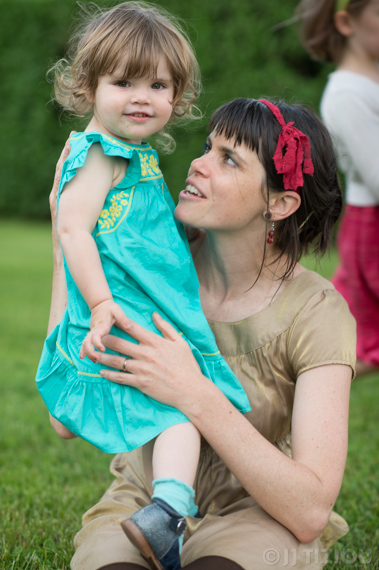 … kind of overwhelmed by the cuteness…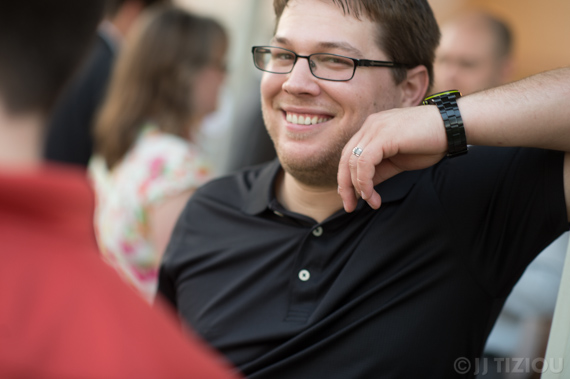 … that seemed to be flooding out of everywhere.
(Photographer's note: this spontaneous shot isn't my sharpest composition, but I just love how much Amy's brother shares her smile.)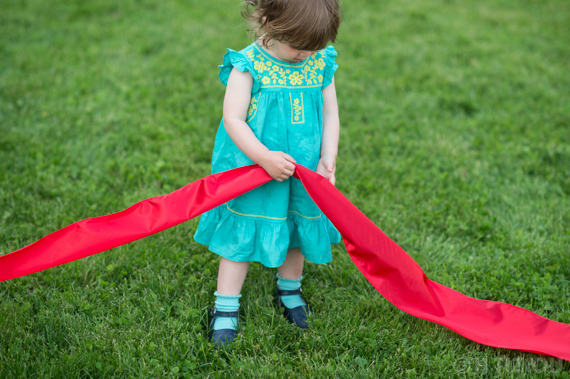 The youngest members of the community didn't just help usher in the celebration…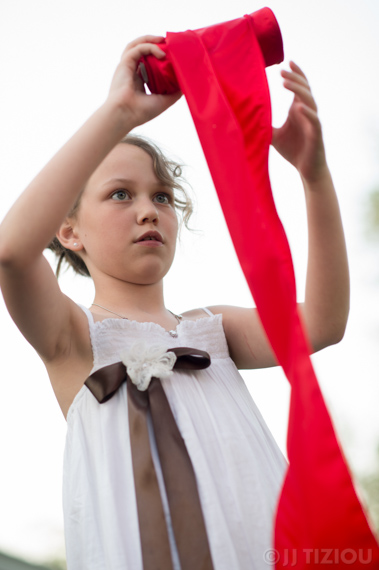 … but they also very responsibly helped clean up.
(Photographer's note: when shooting group portraits near a large red ribbon, be careful not to trip on it!)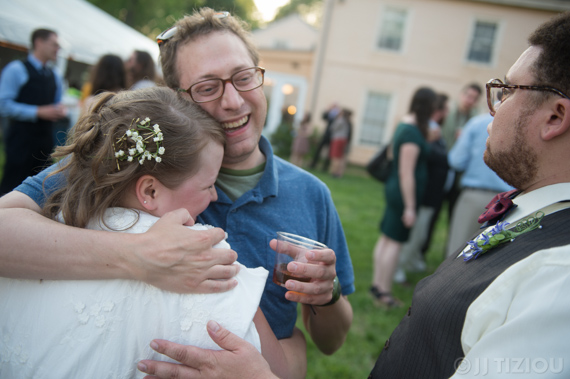 As I kept on collecting image after image of smiles, hugs,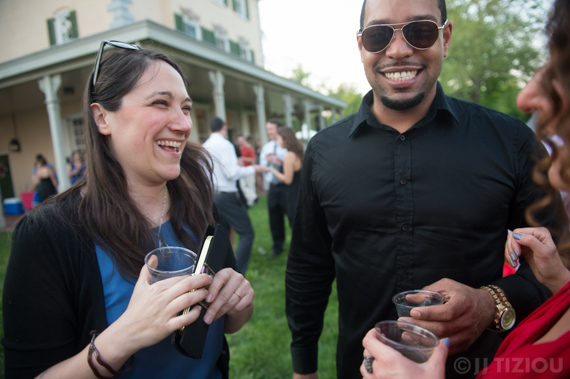 … and joyous celebration…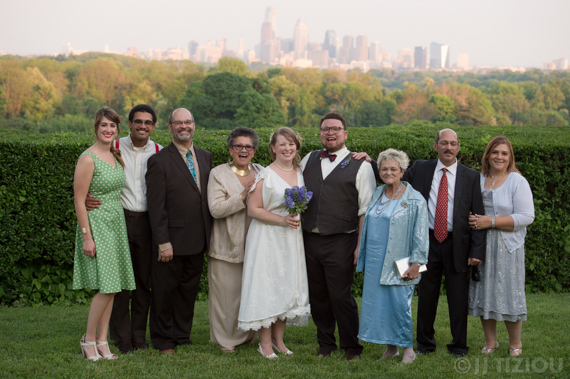 … remember that we're still doing family portraits here!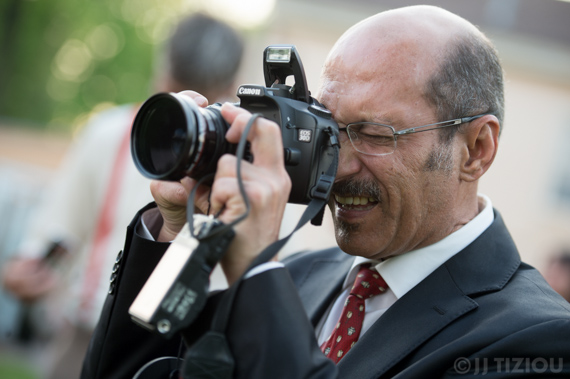 Of course, I had a lot of great collaborators helping out…
(Photographer's note: if other people want to take group pictures too, it's much easier to let them each have their turn rather than all shooting together… that way all of the subjects are looking at the same camera. What do you do while someone else is taking the group picture? Photograph them, of course!)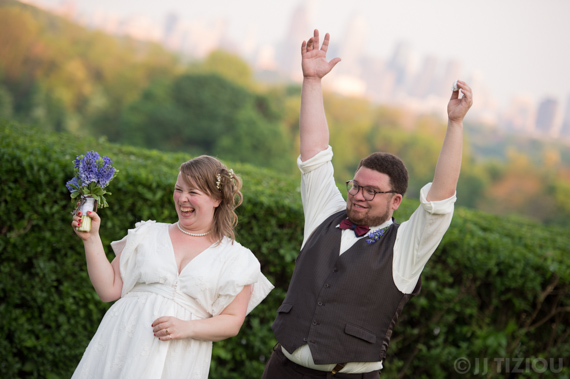 Lee's hands-in-the-air gestures of celebration seemed to be  a continuing theme of the evening- I'm glad that I got some good shots of them after those early misses…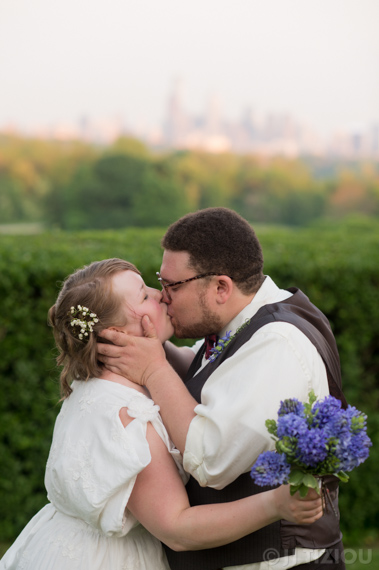 … and these two were glad to get some sweet sweet kisses.
(Photographer's note: when writing long semi-narrative photo blog posts, it sometimes helps to throw in some random rhyming.)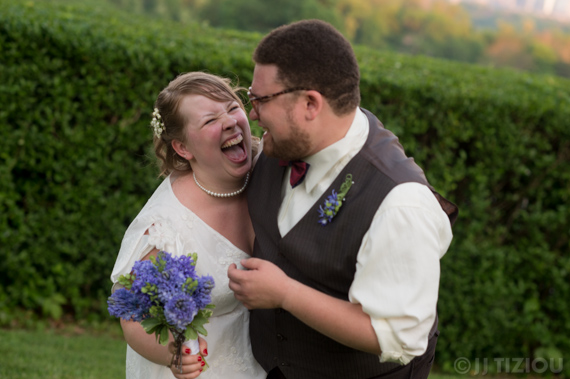 (Photographer's note: Yes, clearly they appreciate my rhyming.)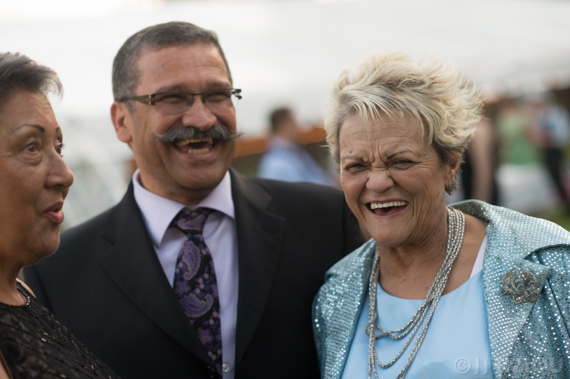 As the celebration continued…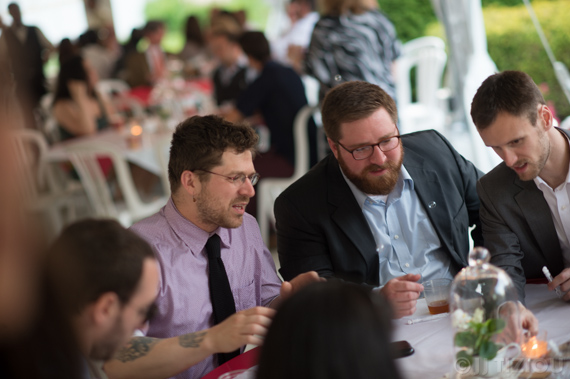 … guests gathered around the tables where those butterflies had started to come to life…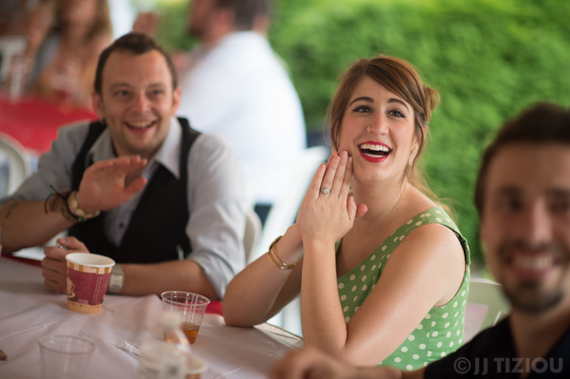 … and everyone had a great time.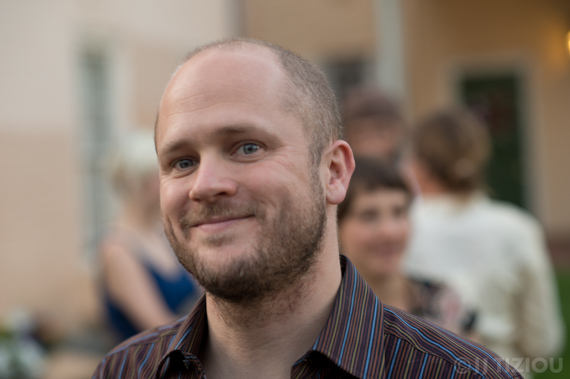 The evening light was starting to fade fast, so I did my best to keep getting more portraits, specifically looking for folks that I hadn't really gotten yet…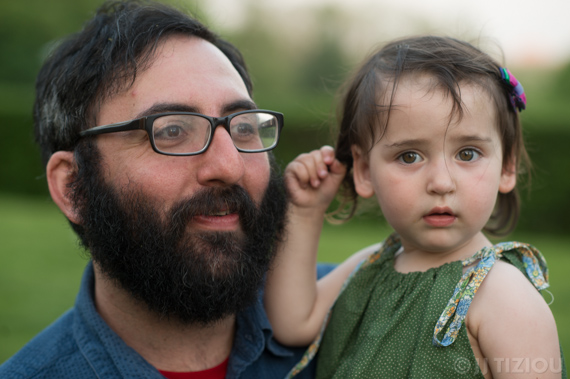 … and of course coming back to some of my favorite friends too.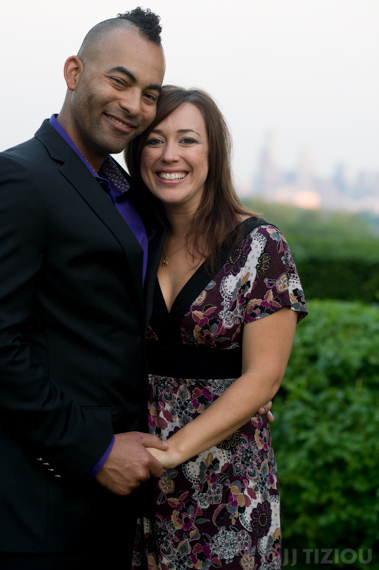 As I got roped into the occasional bonus posed portrait…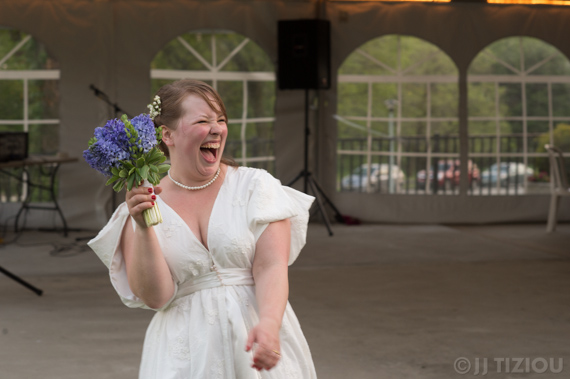 …and kept an eye out for all of the spontaneous laughs (of which there were many…)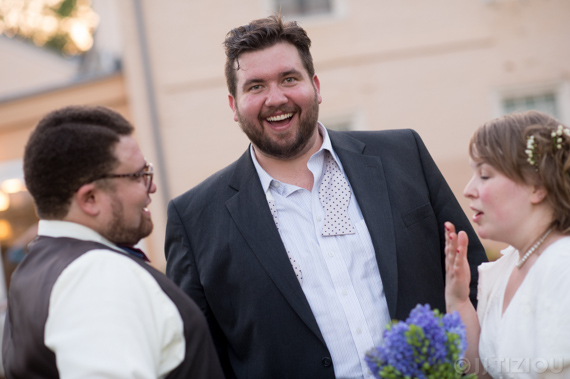 … I couldn't help but think that every single one of Lee and Amy's friends was quite photogenic.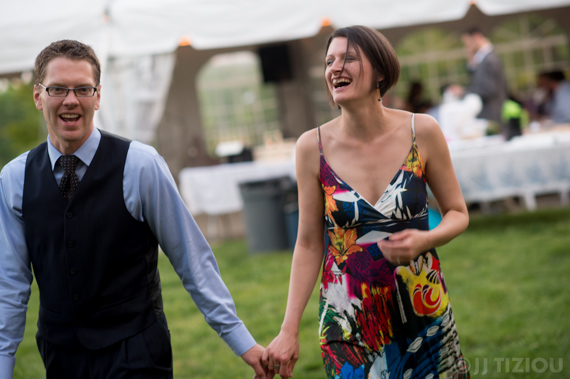 Don't you agree?
(Photographer's note: Everone is photogenic. I'm serious. And it's important to remember. If you're not quite sure, check out the full manifesto at www.EveryoneIsPhotogenic.com and share it.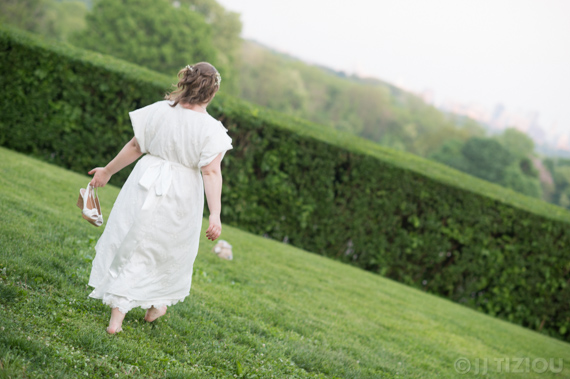 To Amy, this might all have still seemed like a bit of a dream… part of the reason that Lee had planned the secret wedding was that the two of them had been involved in helping with other weddings and that it had seemed like entirely too much work, so that Amy said something like "let's never do this.." but she didn't mean not to get married, but rather not to get too wrapped up in the planning…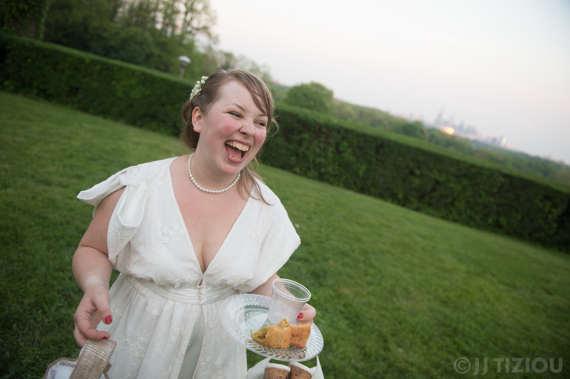 … so Lee decided to take it all on himself, here's the proof that he was right in his estimation that Amy's spontaneous spirit would appreciate it: earlier in the day at lunch, after he'd already proposed, she apparently said "We should just do it today… everyone's already in town for your graduation!"…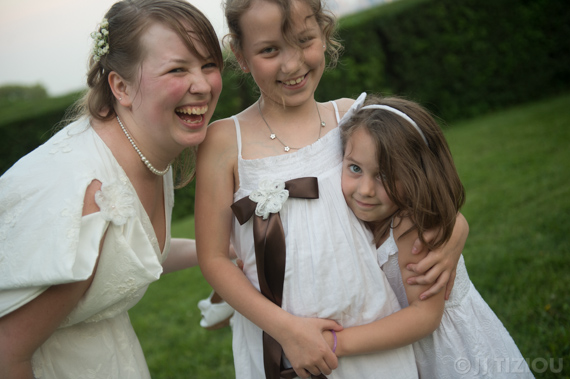 … of course, she had no idea that everyone was in town…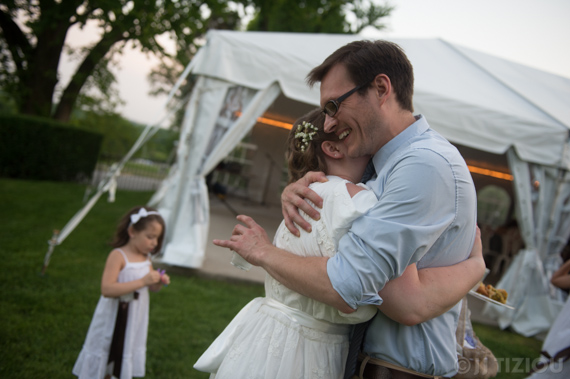 … and that so many family and friends had surreptitiously come in…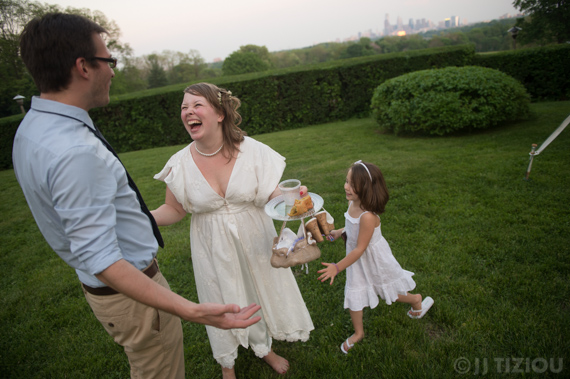 … to share in this celebration with her!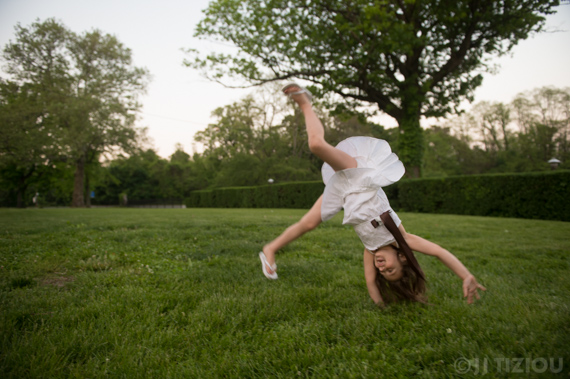 (Photographer's note: this is the oblgatory celebratory cartwheel shot.
Someday, with a little bit more time at Studio 34, I will be able to do cartwheels like this too.)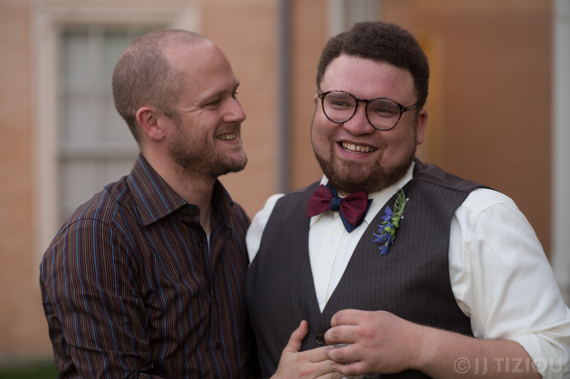 As the grownups continued catching up and celebrating…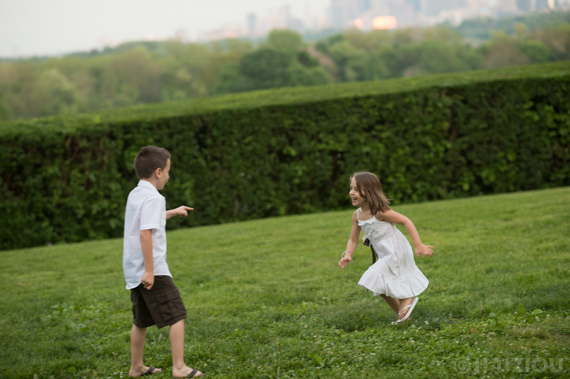 … the kids started playing…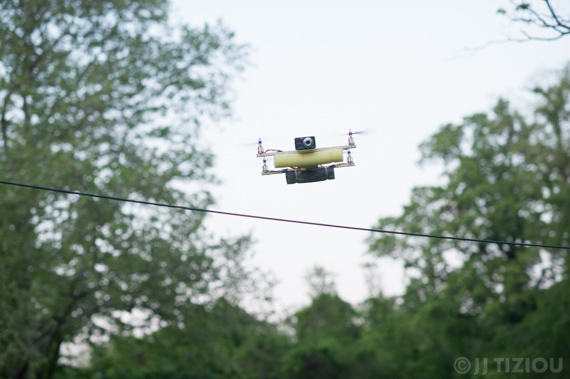 … and out of nowhere comes a remote-controlled quadcopter-mounted video camera, catching an aerial view of it all.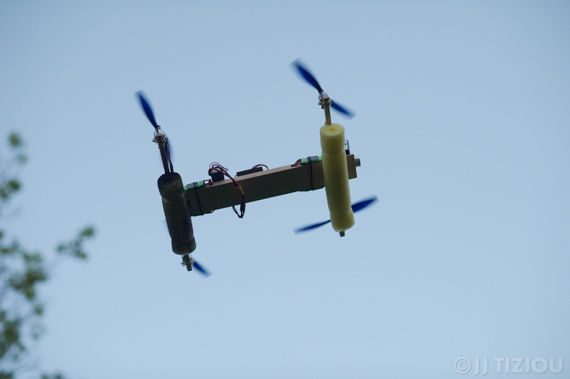 (Photographer's note: I'll admit having a moment of jealousy here and feeling a little bit one-upped, as I'm usually the one that gets all of the good high-angle shots… As per usual, I was wearing my emergency load-bearing belt and had brought some webbing and carabiners just in case, but this particular setup and sight-lines didn't dictate any need for climbing.)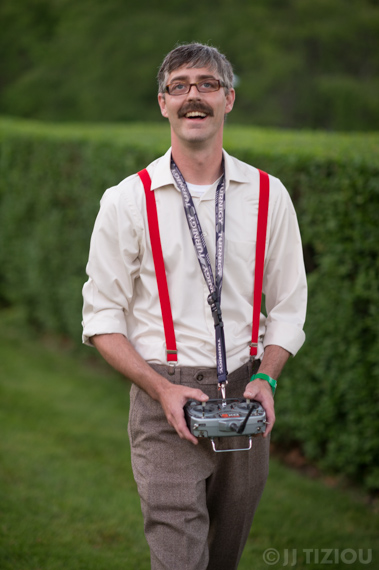 You have to admit that this was pretty awesome. Of course, he had to steer carefully, as he'd only built this thing three days before…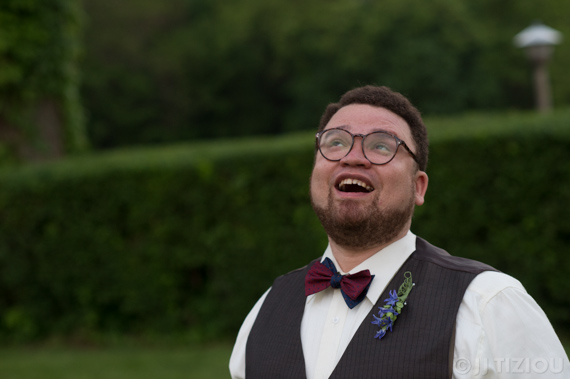 … and it had already come crashing out of the sky once…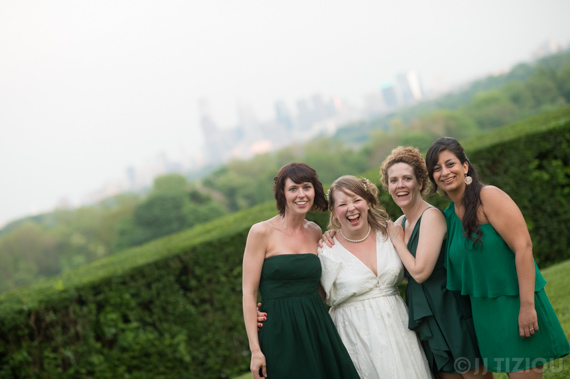 … and all of these beautiful humans…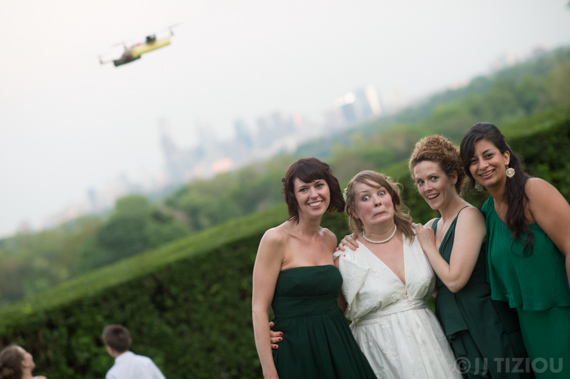 … didn't want it to come crashing down on their heads!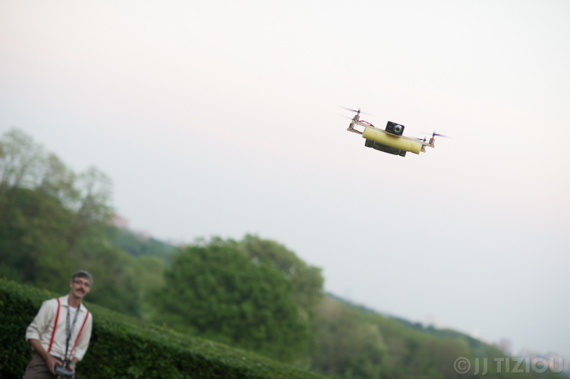 I love these little quad-copter contraptions, and have some crazy ideas about how I might want to use them in a photography project…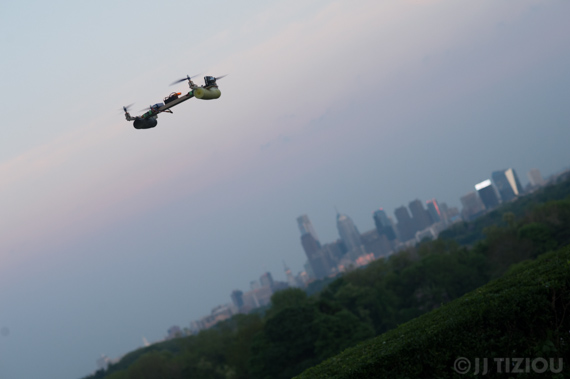 … so if there are any engineer geeks in Philly who'd want to collaborate on something, please get in touch!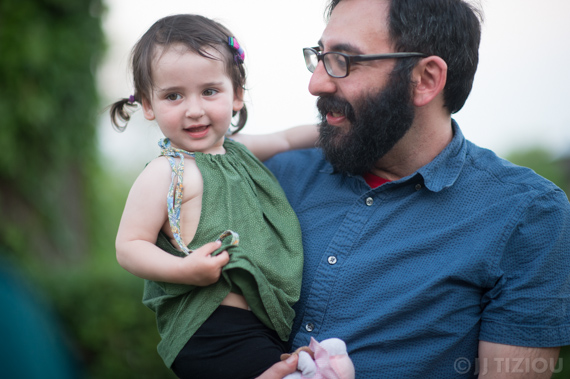 Maybe I included a few too many pictures of Josh and SB in this post… but they're so darned cute.
(Photographer's note: it's great to be able to be prolific, but then the editing becomes quite the challenge and dealing with the images is a whole other job. I shot 4286 frames on this celebration alone. A first pass edit weeded it down to 3206 images that I'm making available to Lee and Amy, and then a second pass edit narrowed it down to 495 frames, and a third pass brought it down to 279 that I'm pulling from for this post. If you make it through the whole thing, you're in for a treat at the bottom…)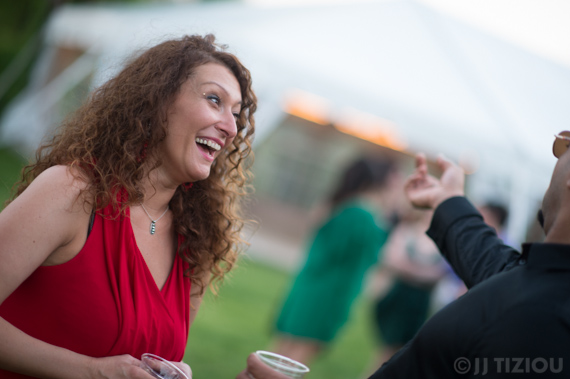 Of course, it's not just Josh and SB that are the cutest, but Natasa (owner of the amazing Earth Cup Cafe where Amy works)…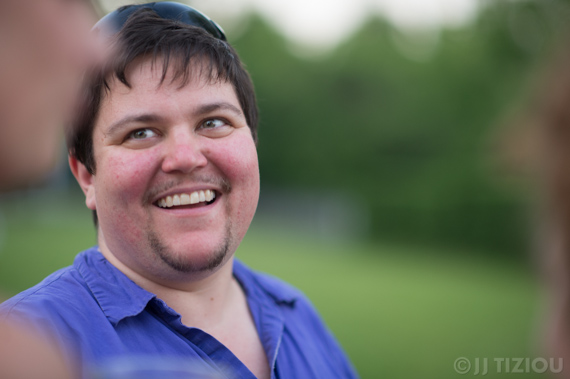 … and Val…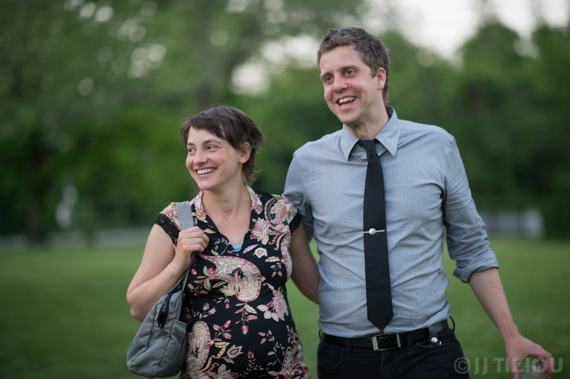 … and all of these beautiful humans…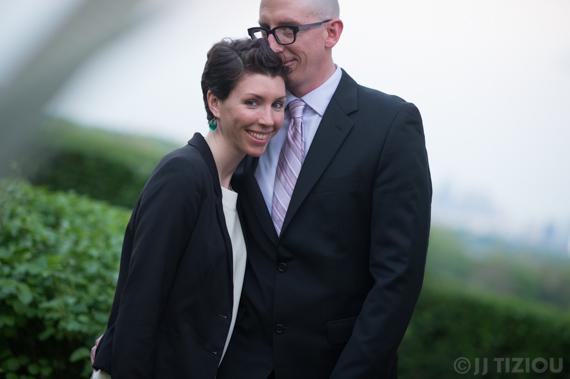 … coming together…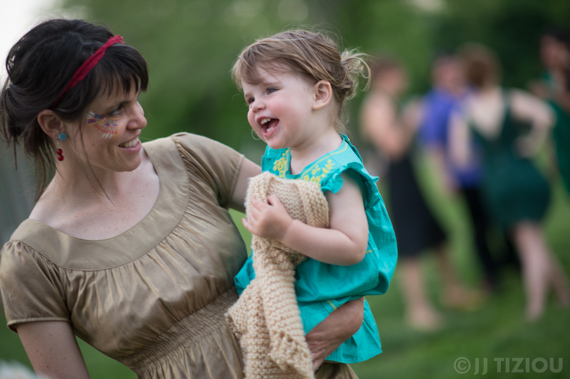 … with all of their energy…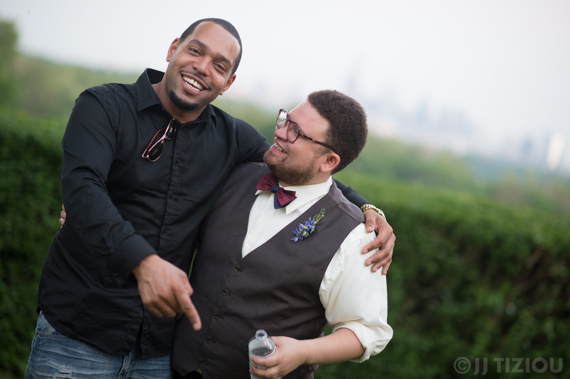 … to share in their friends' joy.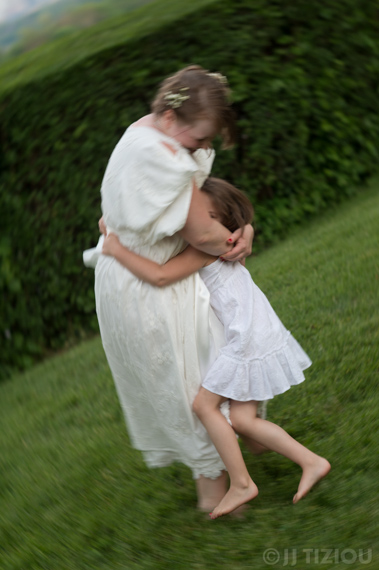 Every once in a while, there's an occasion for a swirly movement shot…
(Photographer's note: if this shot had a black background, it could totally be part of my How Philly Moves series. It turns out that I shoot weddings pretty much the same way that I shoot dance.)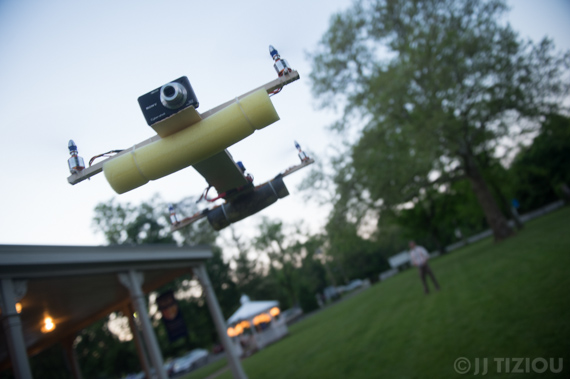 As the quad-copter wound it's way down…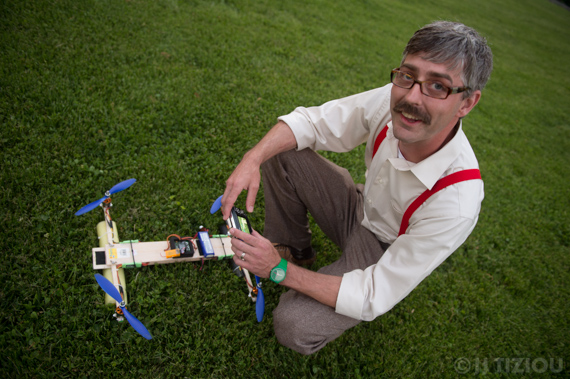 … I couldn't help but wonder if this beautiful little bit of home-made gadgetry…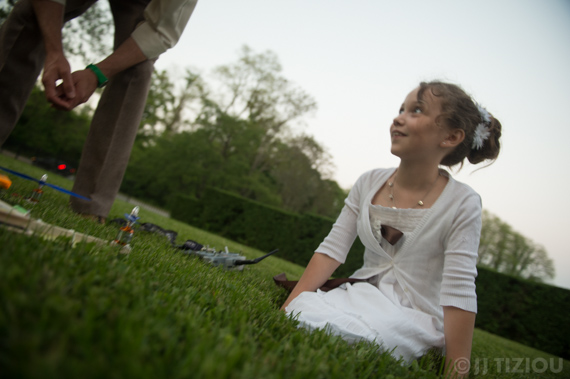 … would inspire a next generation of engineers.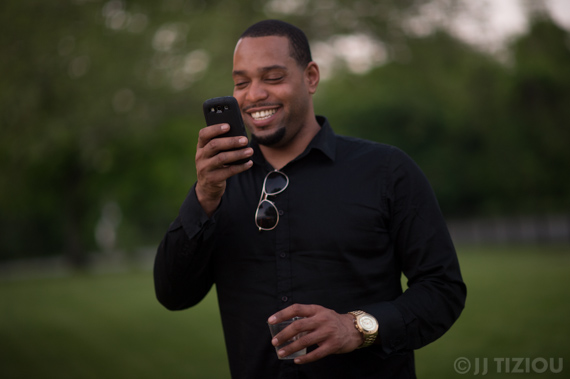 Now the light was fading fast… the last little bits of evening dusk mean that you can just barely start to make out the beginning of the glow of a smartphone…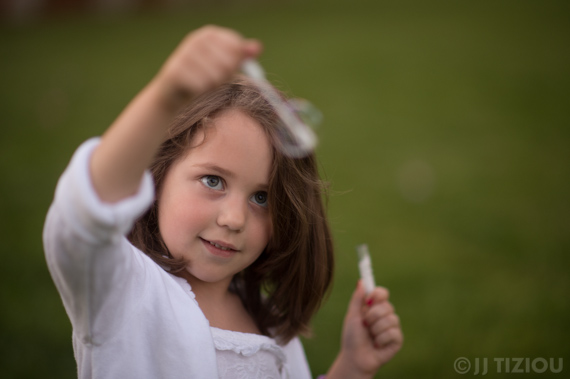 … and before it got completely dark…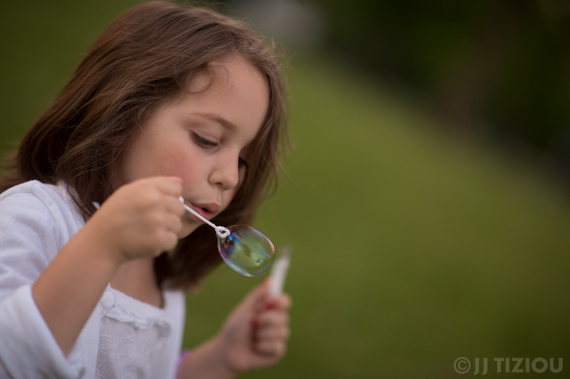 … there was still time to blow a few more bubbles.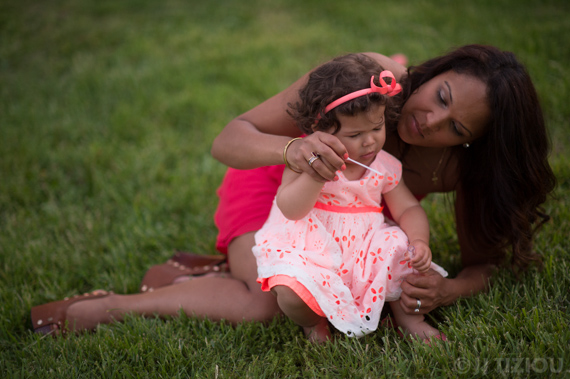 Now the question with a scene like this is do you just crouch down and shoot it like this or…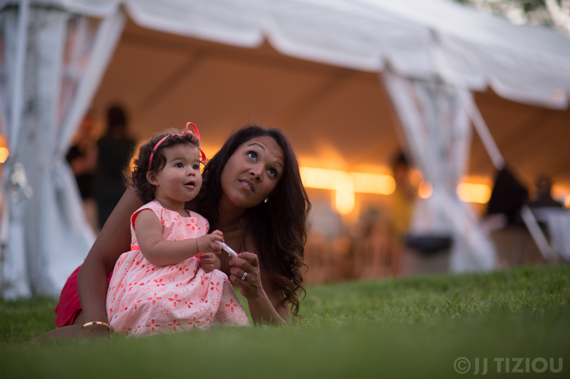 … do you lie all the way down in the grass and shoot it like this?
(Photographer's note: again, when in doubt, shoot both. There's no photoshop filter for "I wish I'd taken that from two feet lower.")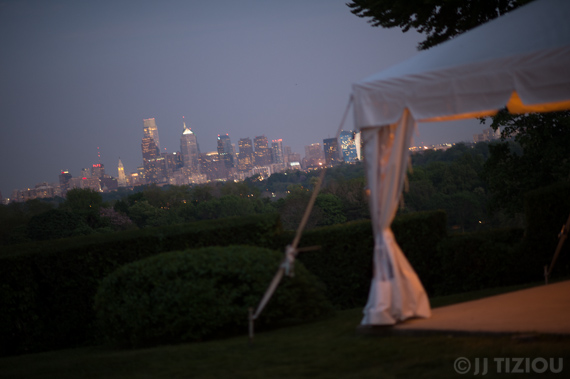 As twilight settled in…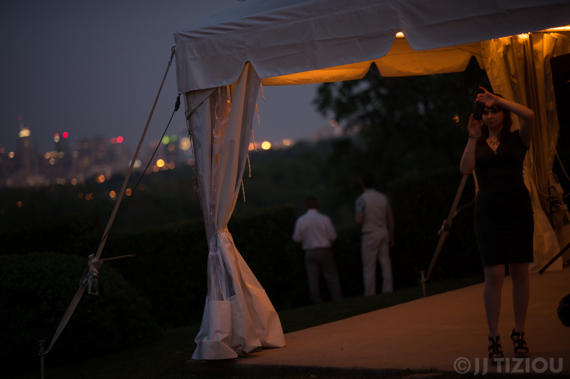 … some guests took a moment for some last shots of the mansion…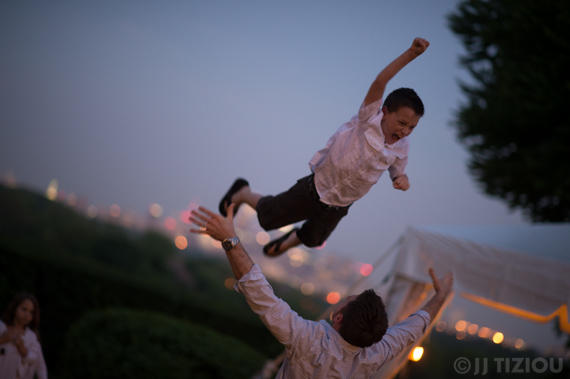 … while others were too busy having fun being launched in the air.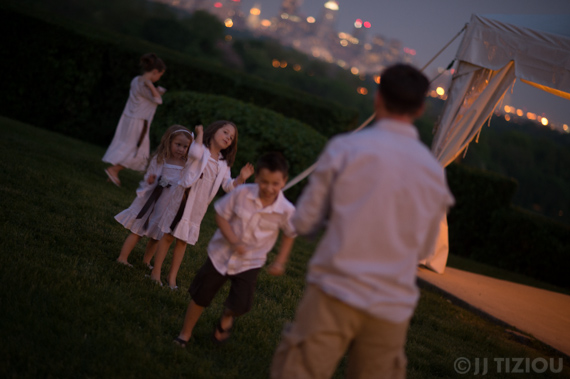 As all of the youngsters lined up to be launched in the air, I realized that I had a technical problem: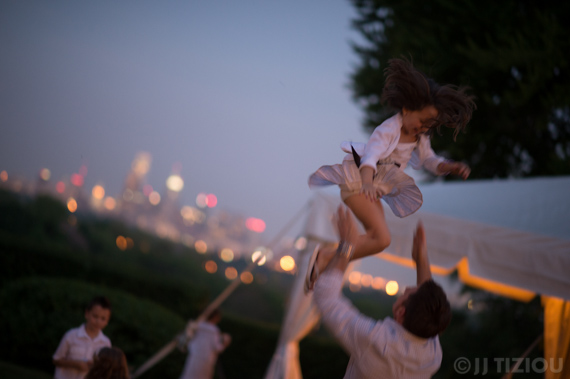 That dark tree in the background, makes the shape of the kids' hair get lost in the background…
(Photographer's note: photography isn't just about subjects, but rather subjects as they are lit, and I end up being responsible for every single element of the frame.)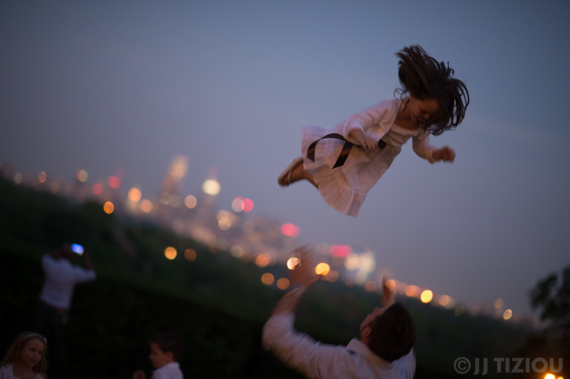 … so I asked this gentleman if he wouldn't mind taking two steps to the left before launching the other ones into the air…
(Photographer's note: As a rule, I don't direct or pose people at this kind of thing, knowing that for every shot that I miss due to technical constraints, there's plenty of others that I'll get, and it's better to just let the event unfold… but sometimes, just sometimes, it doesn't hurt to ask.)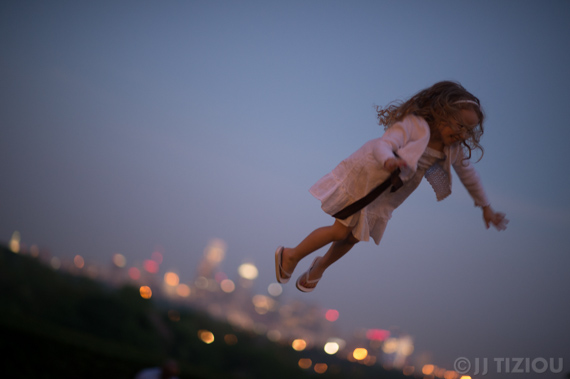 These made me think a little bit of my wonderful neighbor Kyle Cassidy's levitation series…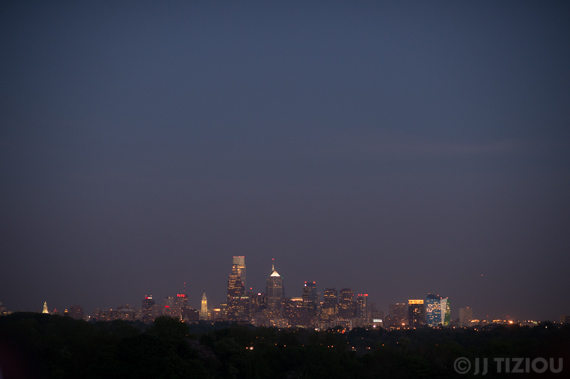 … as the last bits of dusk faded away…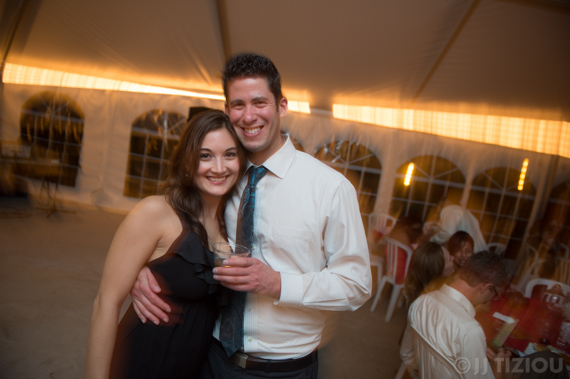 … I pretty much had to click into using the flash as it was abysmally dark under the tent.
(Photographer's note: In this kind of scenario, slow-sync flash with a bit of a spin of the camera can lend a bit of added interest to the background, and bouncing the flash off of the tent wall gives you a lot nicer light then head-on flash. Only trick is that you have to remember to keep re-orienting your flash as you point your camera in different directions.)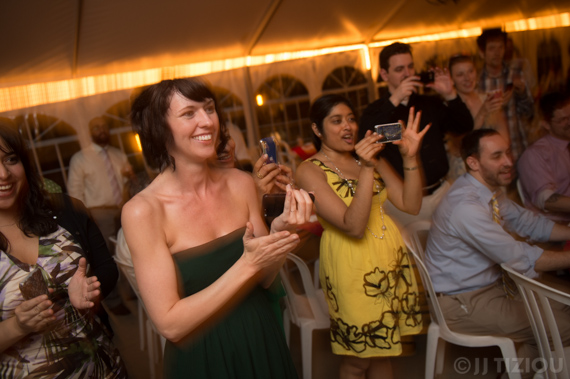 The celebration continued…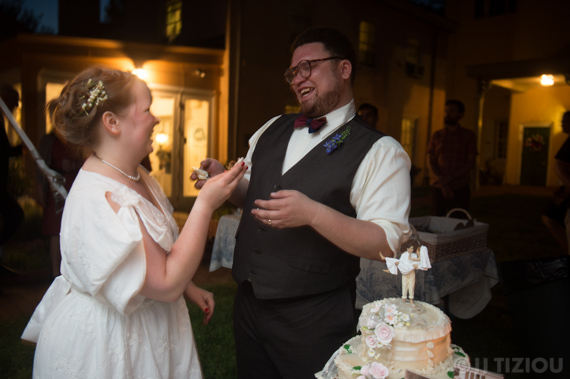 … with a bit of cake…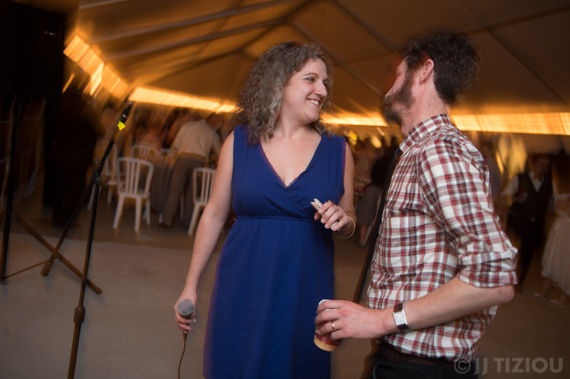 … and some speeches as friends took the mic…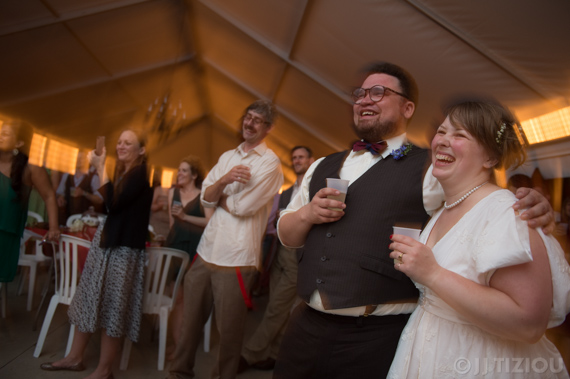 … to celebrate this beautiful couple.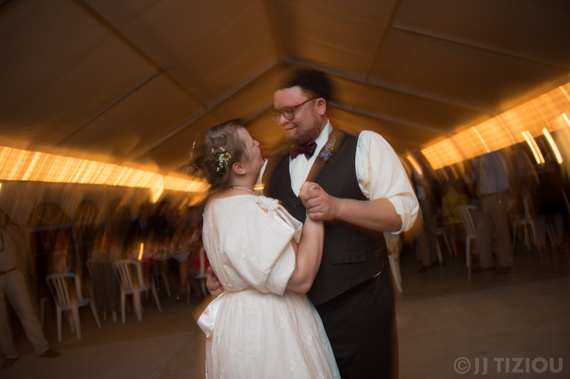 A first dance…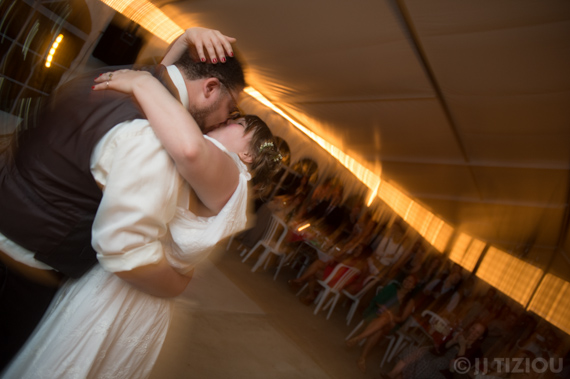 … another kiss…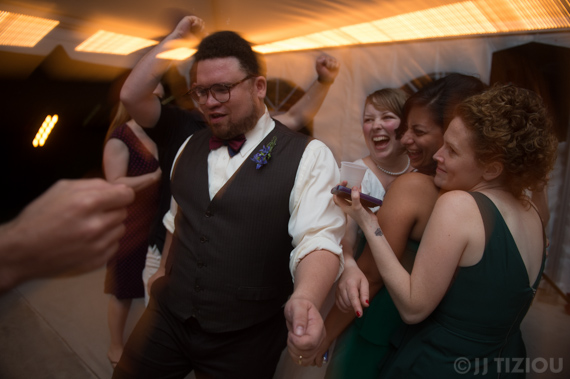 … and quickly everyone was invited to join…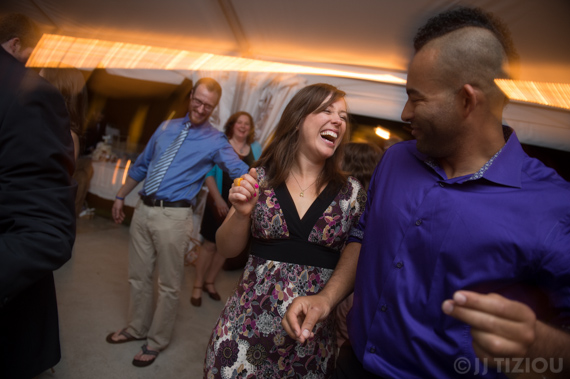 … and break it down on the dance floor.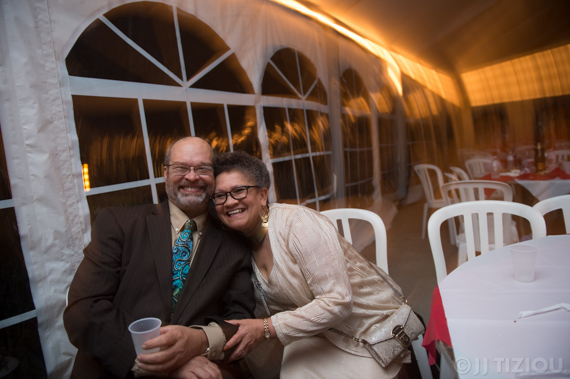 Some looked on from their seats…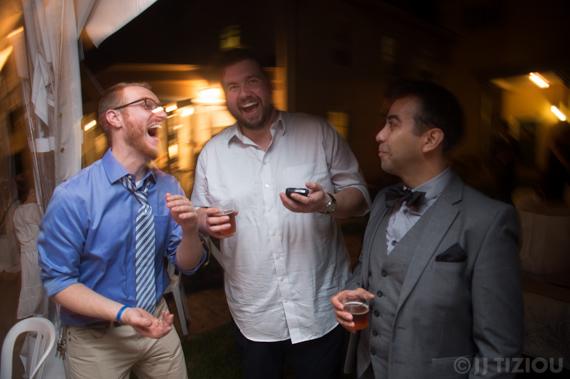 … while others hung out in the wings…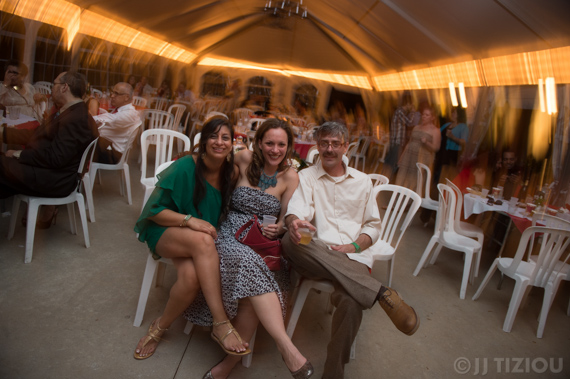 .. and pretty much everyone had a great time.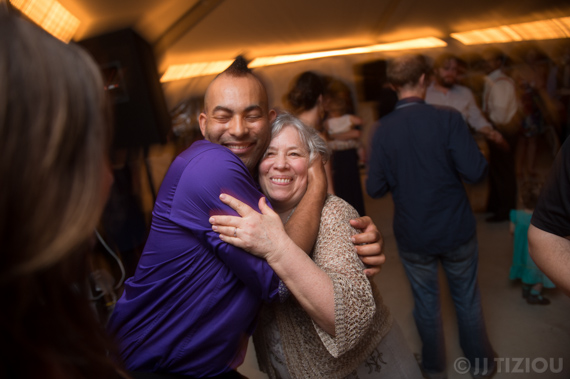 As I was floating around catching the adventures on the dance floor with my flash…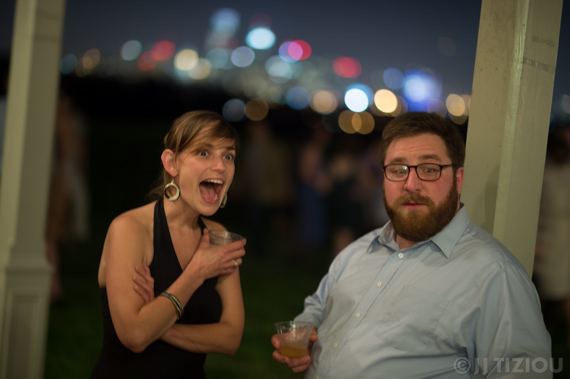 … there were a few spots where there was still enough light to catch some moments…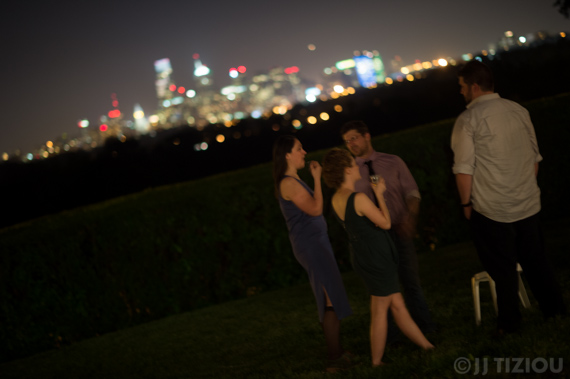 … in these circumstances, it's less about a nice sharp image than it is about catching the mood of the evening…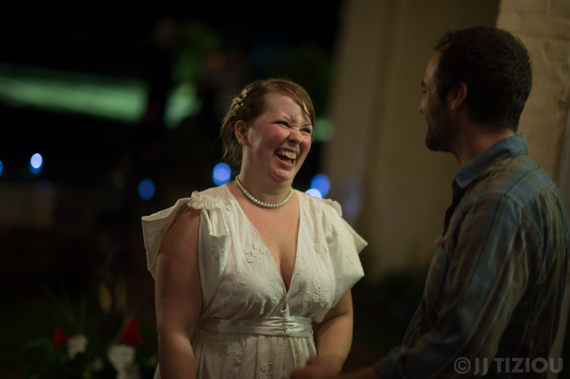 … although if you're really careful you can get some sharp shots without a flash…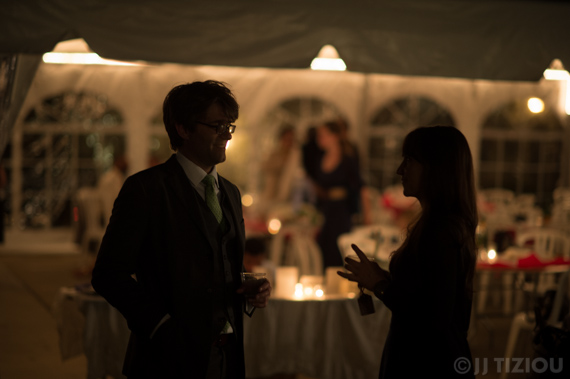 … or, when there's really no light on your subject, work with silhouettes.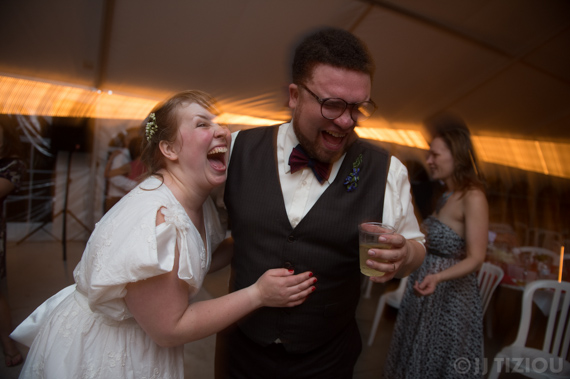 It was such a blast documenting this celebration…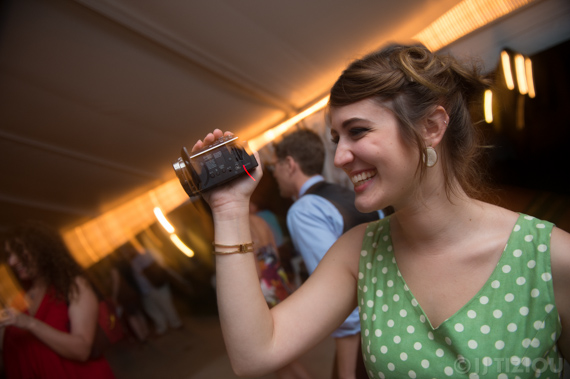 … of course, there was plenty of other documentation that made it's way to the web well before I could finish my own edits…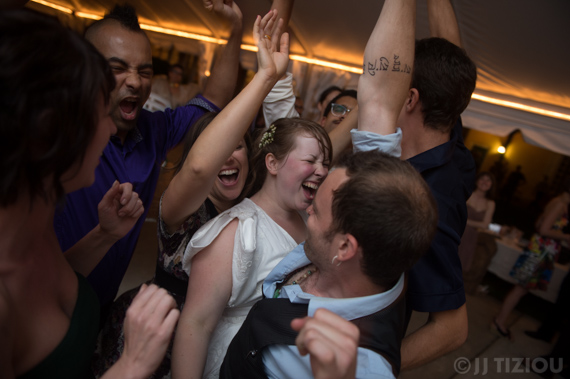 but I'm glad that the guests felt that I had the documentation under control enough that they could mostly stick to dancing.
As it was time to wind-down this part of the evening…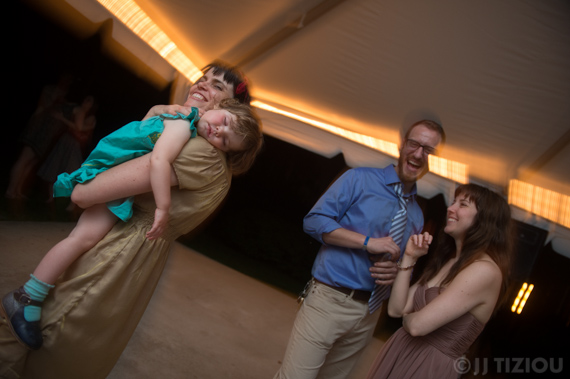 as by this point a lot of us felt kind of like this…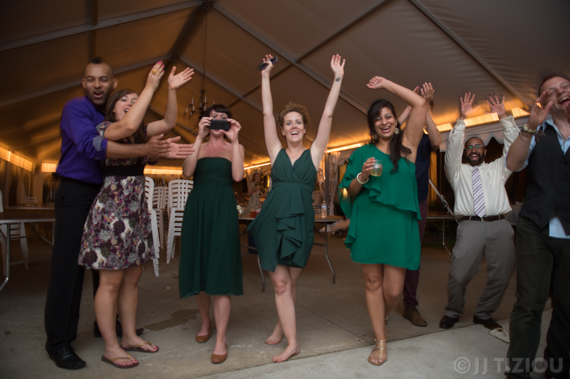 … but others still had plenty of energy and were ready for the after-party.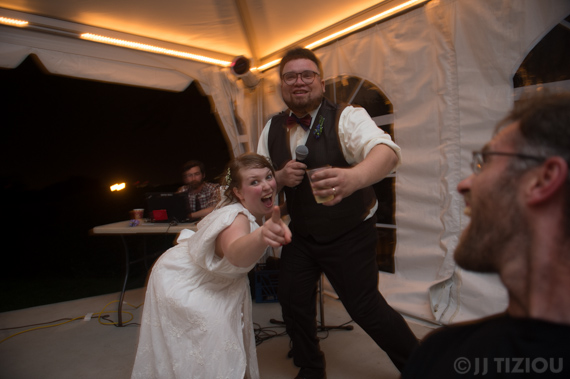 And that's it – what a day to be a part of!
(Photographer's final warning: Pulling off a secret surprise wedding is a one-time special thing.  I wouldn't recommend trying to surprise-marry your boyfriend or girlfriend without giving it a lot of thought beforehand… Lee and Amy are a special couple, and he knew her really well to know that she'd appreciate this, and I think that most folks would rather have a bit more notice and input.)
If you've made it this far, congratulations, and thank you; I know that that was a lot of images, but it was really such a wild and special day that I wanted to give you the whole sense of it, and I hope that you've enjoyed coming along for the ride.
For a visual after-party, check out this flipbook-style animated recap: