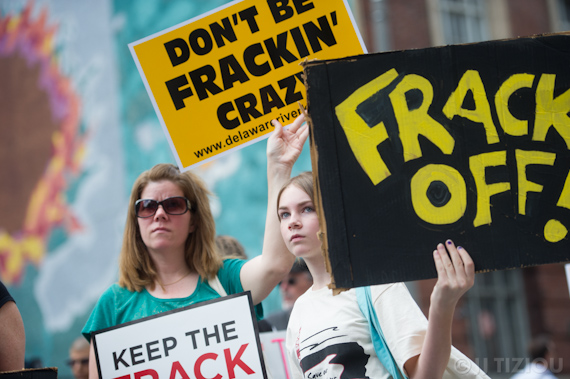 I just saw the headlines that Pennsylvania's taken yet another step in this crazy rush of gas drilling, creating the possibility of fracking sites on state-owned college campuses. For those of you who weren't able to be in the streets of Philly for Shale Gas Outrage 2012 last month, here's a recap of the event and some more on why, unfortunately, we still need to keep paying attention to this issue. Since our governor received $1.3 million from the oil and gas industry for his election campaign, it might be obvious why he's pro-drilling, and all the more important that we speak out and act about this issue. I photographed this event last year, and I'm glad that my friend at Protecting Our Waters continue to advocate for all of us. Here's a recap of the day…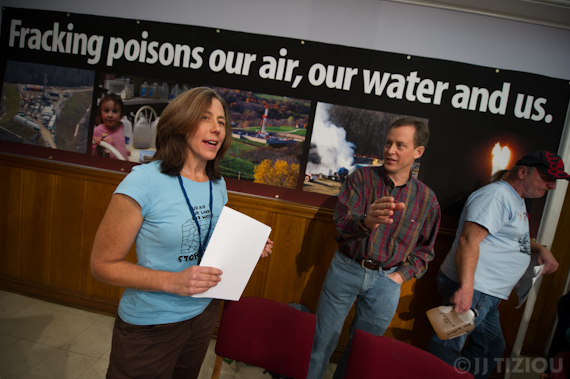 The banner in the background kind of sums it up… injecting toxic chemicals into the ground is probably not a great idea…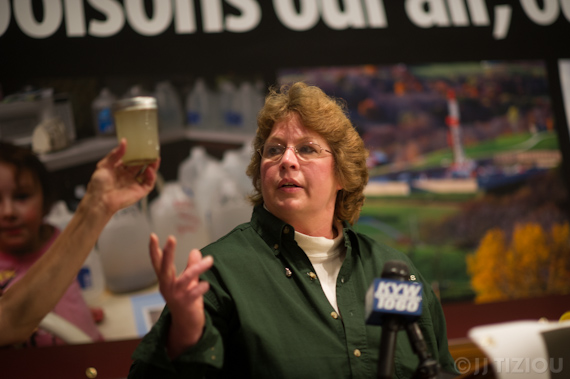 … it's not just about polluted water…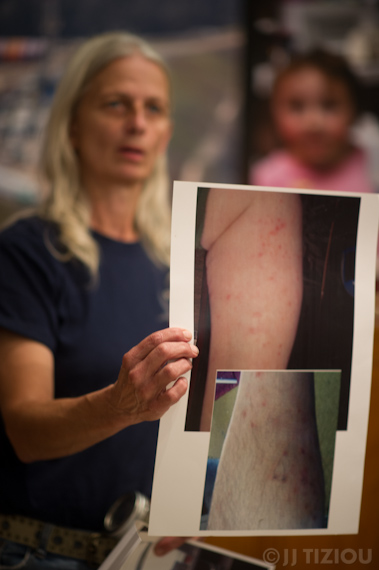 … but about the symptoms that arise from it.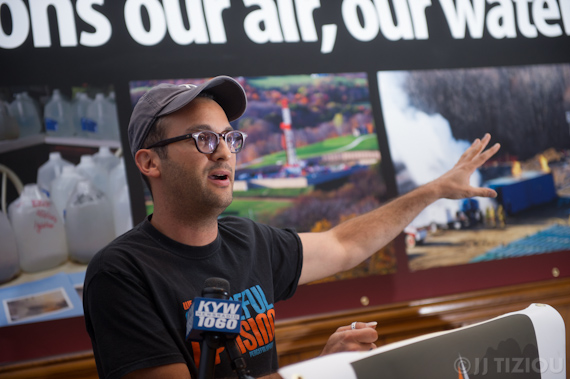 Filmmaker Josh Fox's Gasland documentary did a great job of bringing some attention to the issue. If you haven't at least watched the trailer… well, he's got a sequel in the works. (I wish that he didn't have the cause to make a sequel, but glad that he's out there doing it!)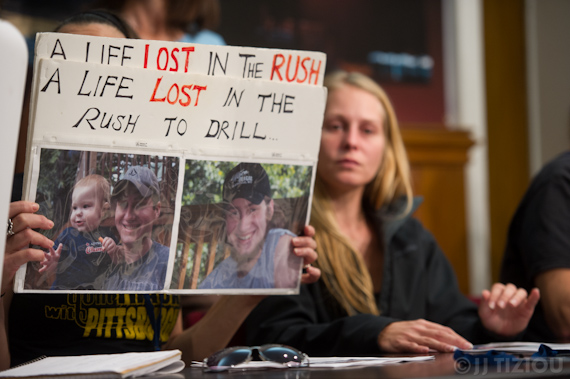 Not all of the concerns about drilling are about environmental damage and far-off generations… most worksites are uninspected, and there are many dangers for the workers. This woman's husband was crushed by a forklift when it shifted in muddy ground… it turns out that the forklift was the wrong kind, and the workers had requested additional supports to stabilize the ground… the response was that they couldn't be afforded… but apparently the company could afford the loss of a worker. It seems like a tragic mis-prioritization, like many decisions surrounding these issues…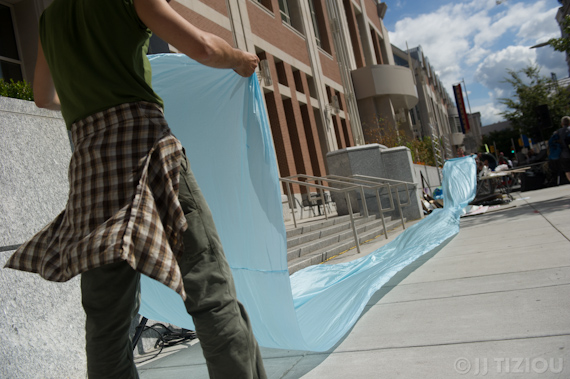 While members of the gas industry gathered for the "Shale Gas Insight" conference within the convention center, activists started preparing for Shale Gas Outrage…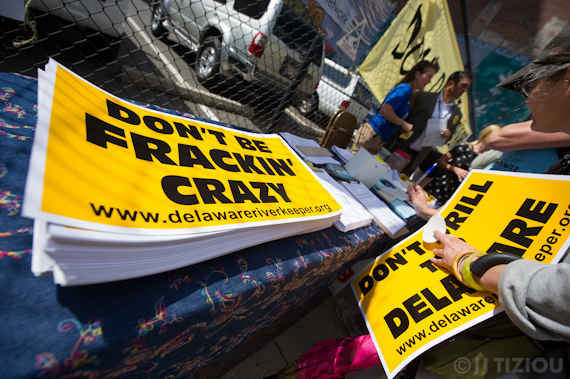 … with signs…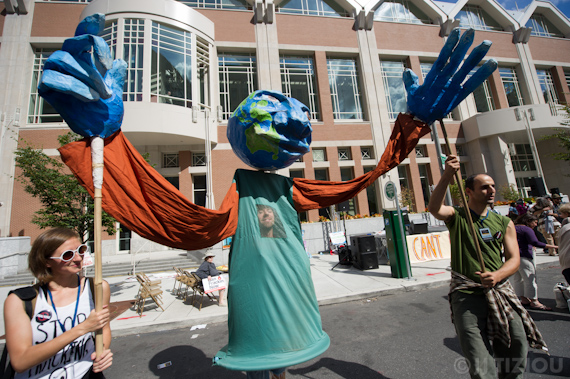 … puppets…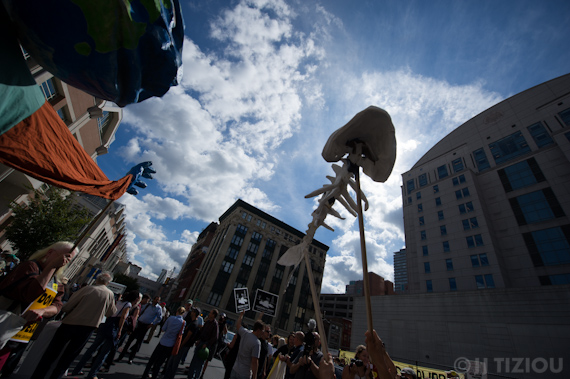 … and this great skeleton fish puppet…
(I didn't quite get the shot of it against the clouds that I wanted… while I could have asked them to move it for an easier composition, part of me enjoys the challenge of really trying to stick to the documentary ethic and be unintrusive… in this case that means stressing out trying to dance around keeping my camera in that thing's shadow, while trying to get the right framing of the buildings in the background… didn't quite pull it off the way I wanted this time… but that's the challenge of working on the fly in the real world.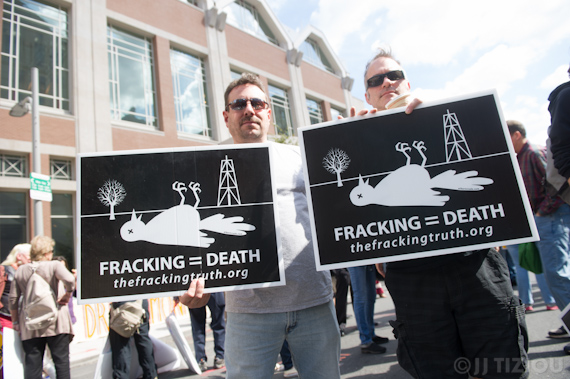 Now this is some nice clear design…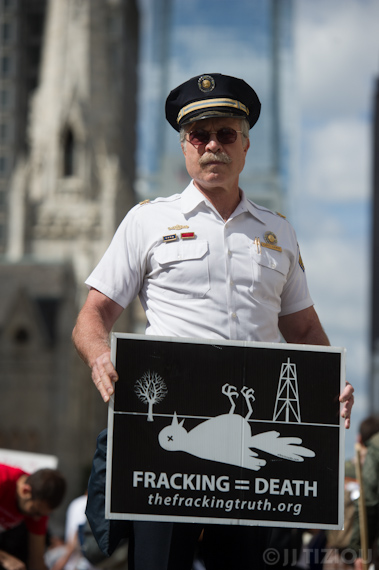 … when I googled "fracking truth" I half expected to see gas industry sponsored propaganda ads showing up alongside it, (which happens when you google "gasland") – I've watched both, and also looked at the budgets and resources available to both the industry and the activists… and from this post I bet you can guess which message resonates more with me and where my concerns lie.
OH WAIT! I tried it again to get the link, and this time, and an ad DID show up, all about "Learn About Hydraulic Fracturing A Safe Way To Produce Natural Gas." Now mind you, that's paid for content. My search also found this response by Alec Baldwin, and this article in The Guardian…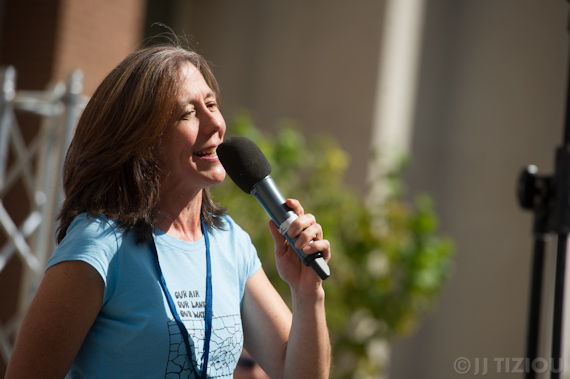 Iris Marie Bloom is the amazing force behind Protecting Our Waters. She's been working tirelessly on this, and could use your support. If you can donate a few bucks via Paypal, I'm sure that she would appreciate it… and regardless of your financial resources, the best thing that you can do is pay attention to the information that she's compiling on her site and help disseminate it.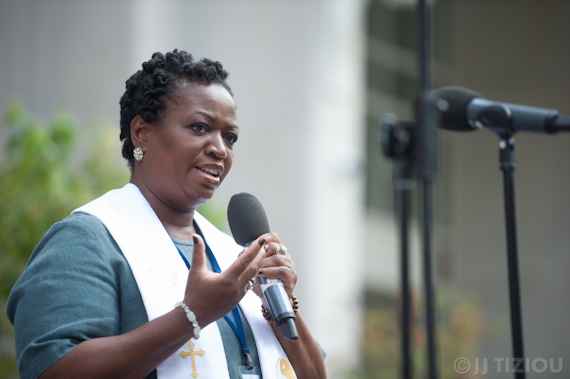 The rally began with an interfaith spiritual invocation… Many in industry may take the perspective that the planet's resources are ours to exploit, but almost all faiths in some way emphasize the idea that the Earth is a blessing and that we are to be wise stewards of it. Mountaintop removal, wholesale slash and burning of forests, and yes, toxic hydrofracking, are all signs that we are out of balance in our relationship with this planet that sustains us.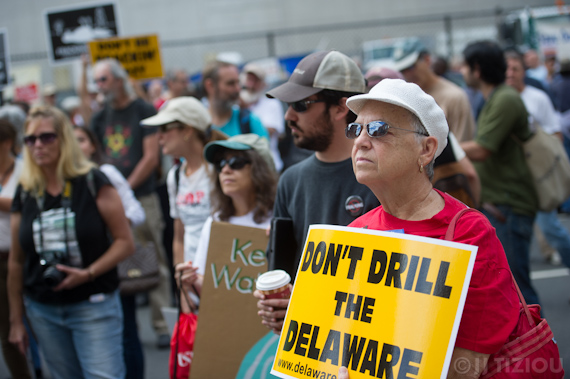 As community members began gathering…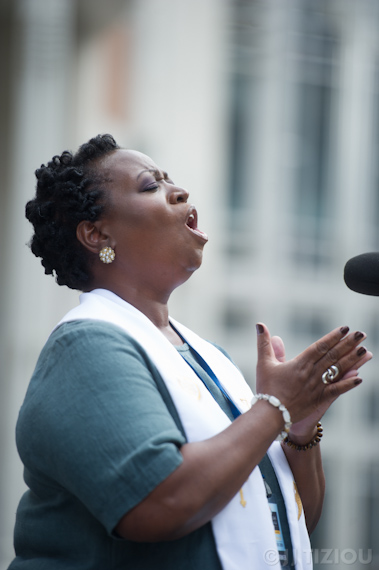 …songs were sung…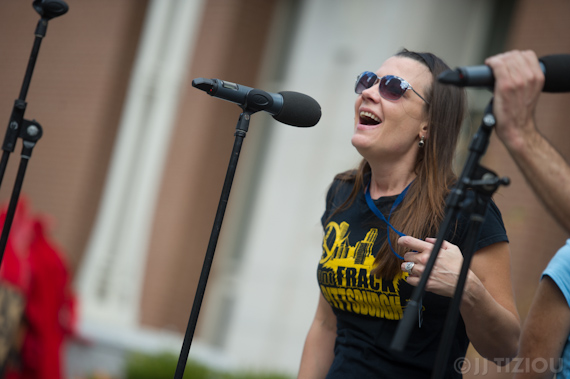 … and chants were led…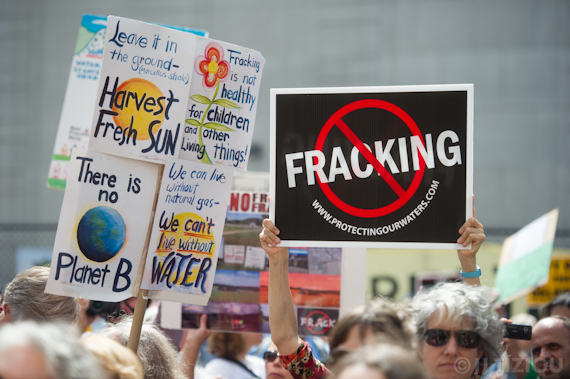 … as signs were raised…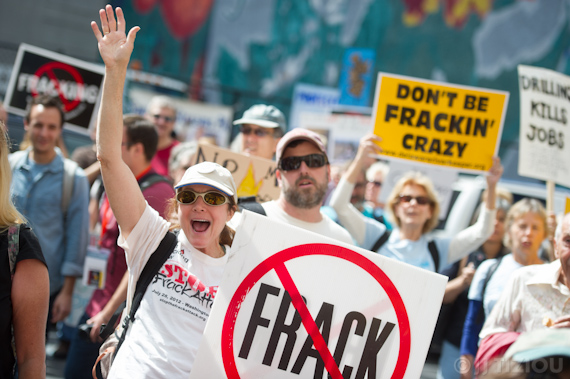 … and a great positive energy ran throughout the crowd.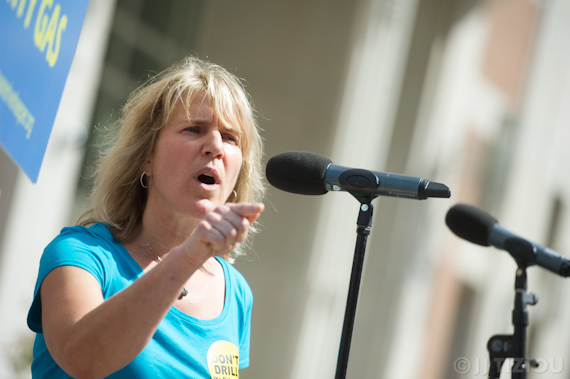 Maya van Rossum, the Delaware Riverkeeper, is a little bit like an environmental superhero, and the Delaware Riverkeeper Network was instrumental in passing the drilling moratorium that affects the Delware River Watershed… but unfortunately the rest of the state (and country) isn't covered by it…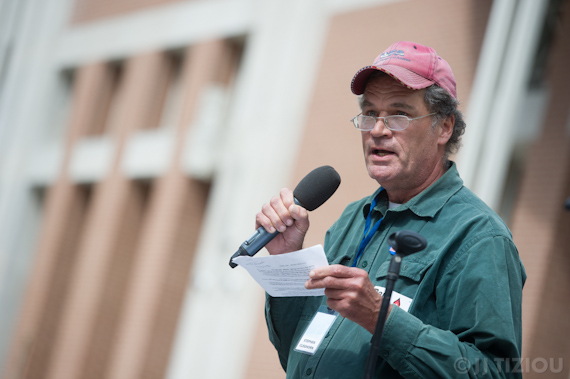 Stephen Cleghorn is a farmer… he spoke simply and passionately about his goats, and his concern for their drinking water…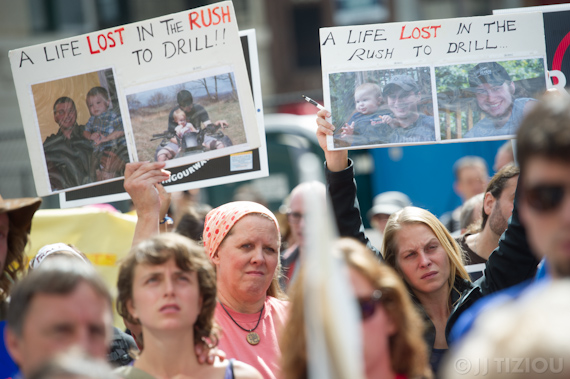 … while some signs spoke sorrowful messages silently…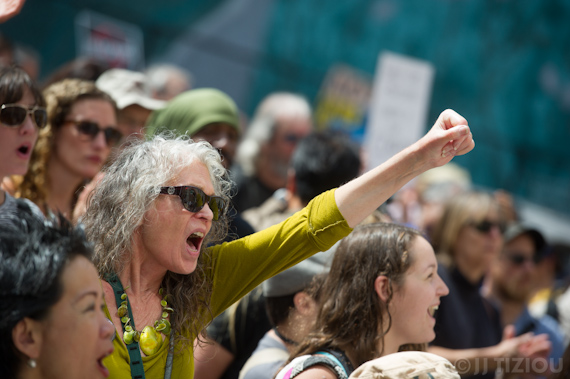 … and other shouts and cheers rang loudly.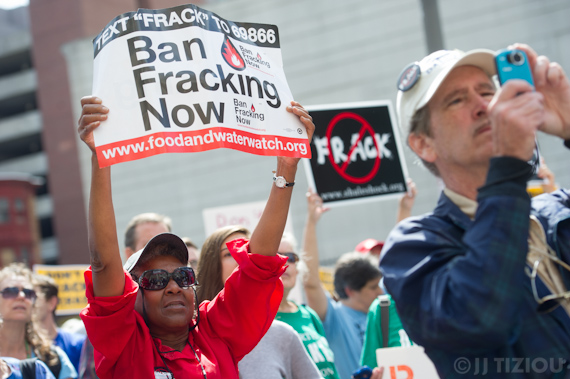 The many different signs and organizations testified to the widespread concern over the issues…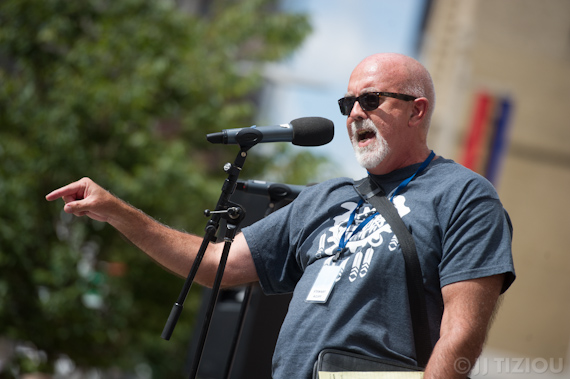 as Stewart Acuff spoke on behalf of organized labor…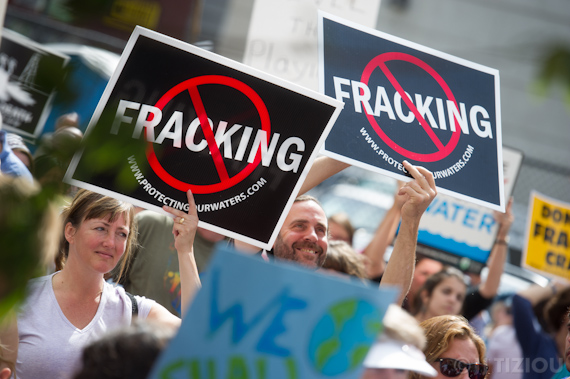 … and as the signs were raised high…
… neighbors called for volunteers to help prepare puppets…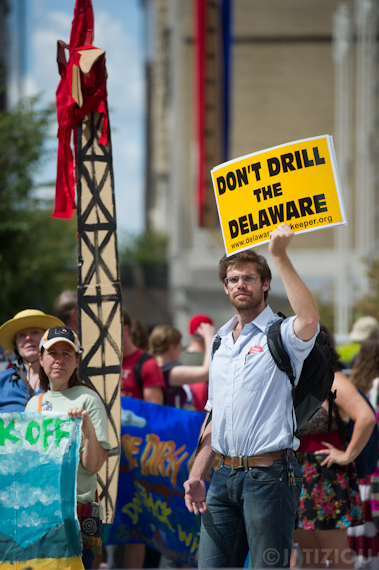 … do you see them back there in the background?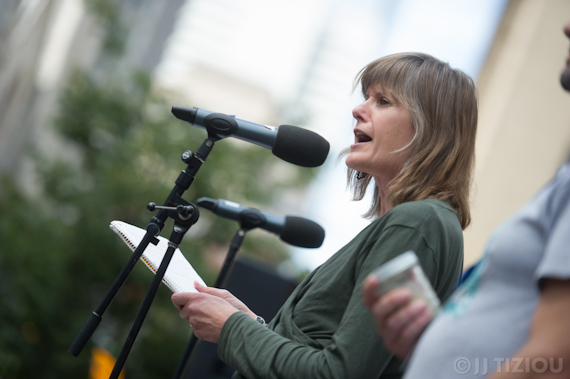 Ecologist and author Sandra Steingraber gave a personal account discussing her own cancer diagnosis… there's a film being made based on her book Living Downstream…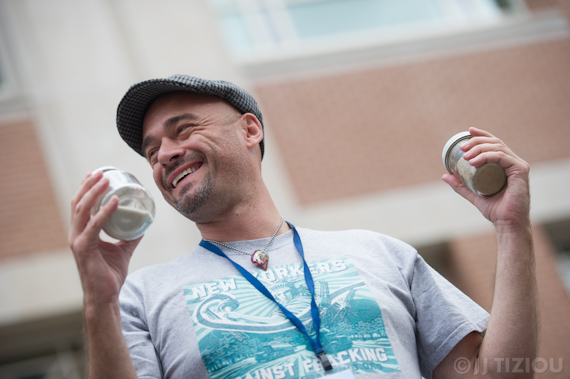 … with visual aids of the silica sand that is strip mined from Wisconsin and Minnesota in order to be blasted underground in Pennsylvania along with all of the fracking compounds.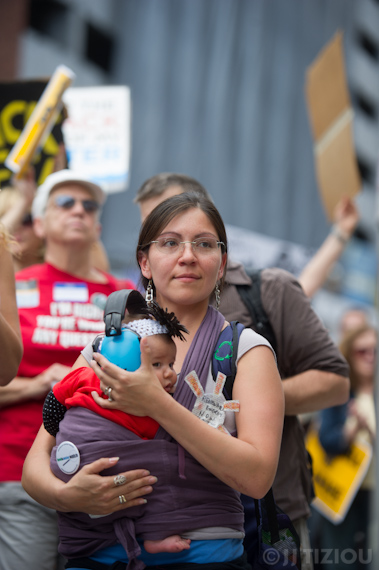 This, this right here is why we need to pay attention to this issue. Because what happens fifty or a hundred years from now when all of these wells start to fail? It's not just about the leaks and explosions and dumpings that are happening now… it may be a century from now before we come to regret the environmental disasters that we've caused, and the profiteers will be long gone.. but our grandchildren will have to deal with it…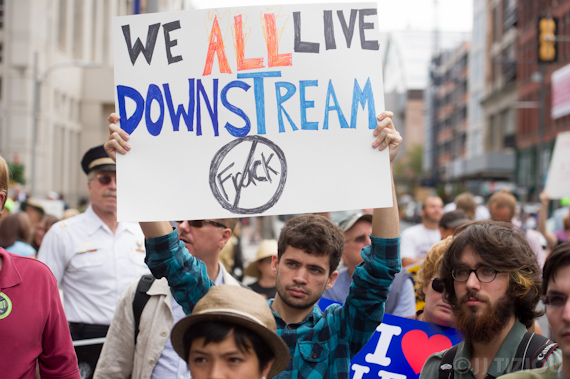 … because we all live downstream.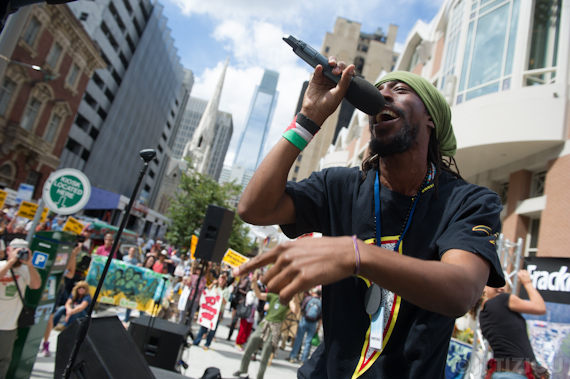 While these are serious issues, that doesn't mean that we can't be joyous in tackling them, with song…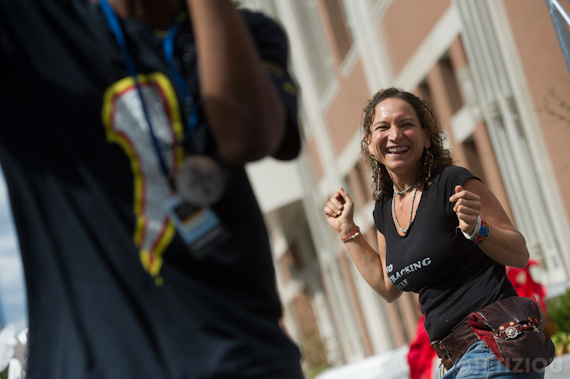 … and dance…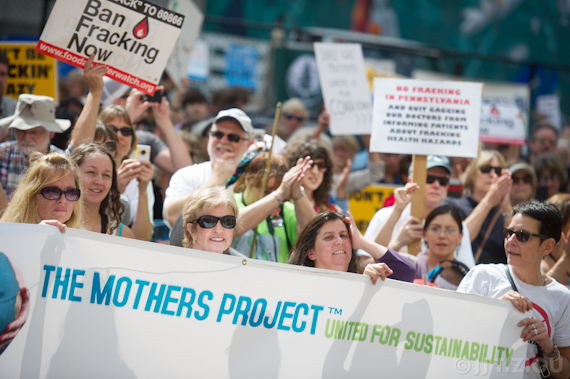 … and gathering together…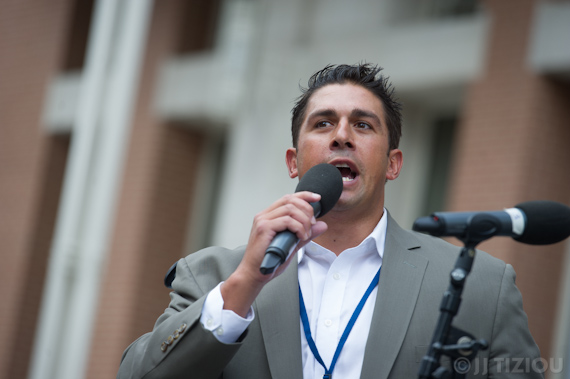 … and championing alternatives. (John Scorsone here is president at Solare America, and keep an eye out for an upcoming blog post on my friend Anil's solar contracting work at Sumintra)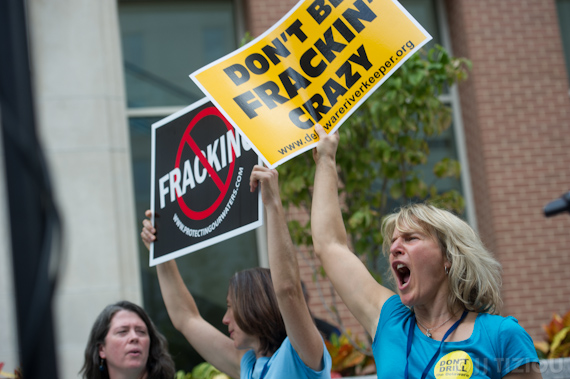 The cheers and calls to the industry leaders in the convention center were definitely animated…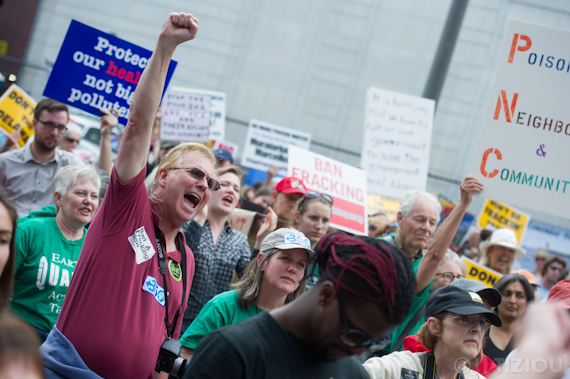 … the event was, after all, called "Shale Gas OUTRAGE"…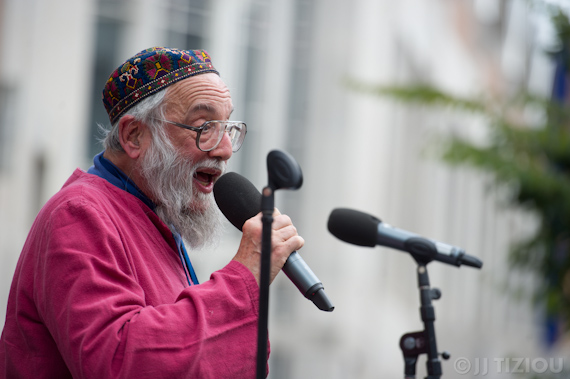 … but I'm glad that a message of compassionate struggle was the pervailing theme…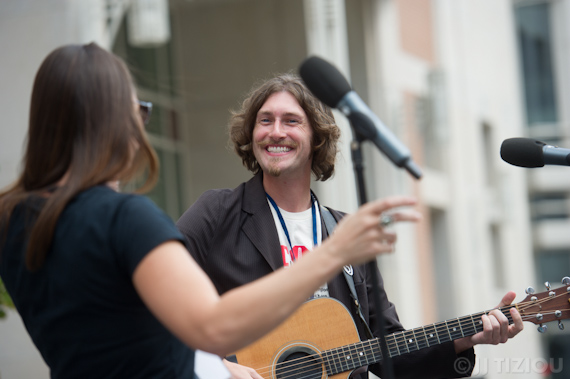 … with joyous sounds…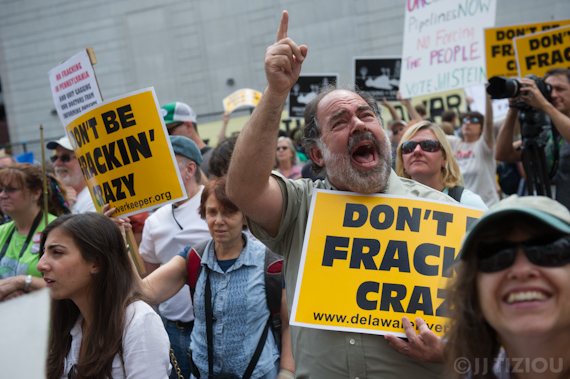 … even if we did sometimes give way to frustration and tell the industry representatives that they should…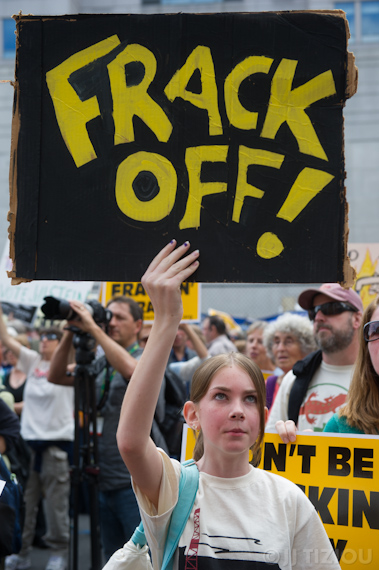 … "frack off!".
I say this humorously, but I think it's really important to remember to keep a celebratory attitude at events like this, even when one's frustration might tempt one to veer into hostility.  There was one moment (not pictured) that I wasn't proud of, when one speaker encouraged the audience to flip off the industry folks who were watching from the windows of the convention center. I'm not sure that that kind of attack is the best tactic; I think that even when angry it's important that we be peacemakers. My friends at the Coalition of Immokalee Workers are a perfect example of how to use joyous celebratory energy and persistence to win battles… it reflects better on us as agents of change if we keep our cool while respectfully drawing attention to the injustices that we seek to rectify.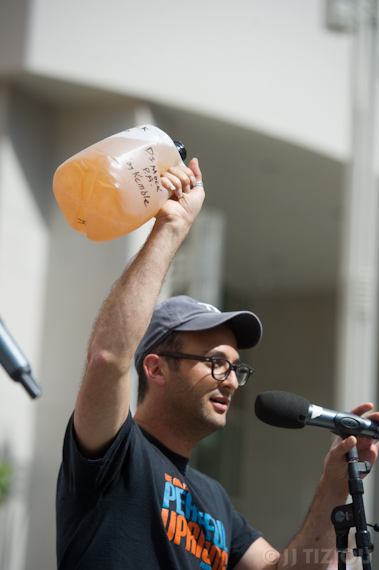 But not attacking doesn't mean not challenging… here Josh holds up a gallon of tainted water from Dimock, PA…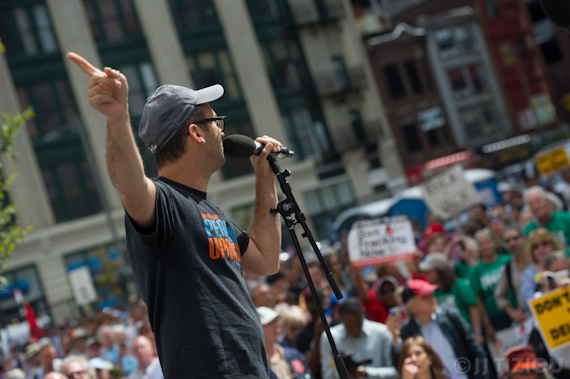 … and a challenge is issued to the people in power… would *they* drink this water?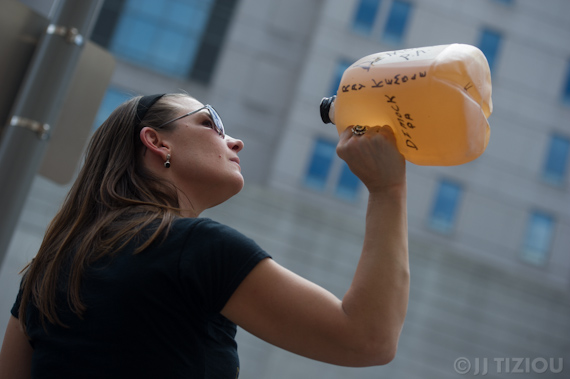 As these challenges are offered up to the industry executives attending the conference…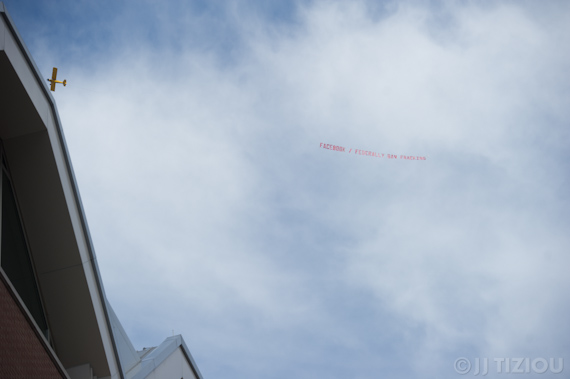 … a larger challenge is issued to all of us via a flyover banner. If you can't quite make it out, it directs to facebook.com/FederallyBanFracking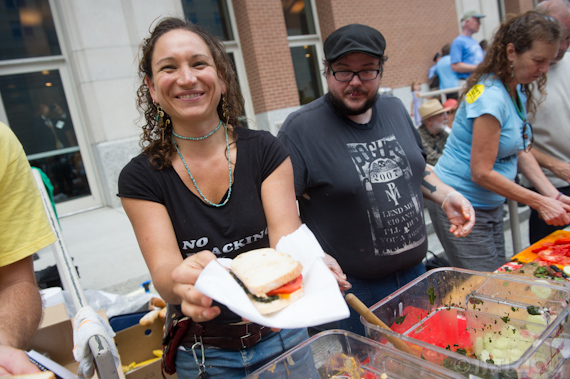 All of this rabble-rousing is hungry work, so we were grateful to be supported by the great crew from Food Not Bombs (jokingly renamed "Food Not Frack" for the event) – our neighbor Kellie here is also a member of the Ahimsa House in W. Philly… every time that I find out about another grassroots project like this, it inspires me a bit more. There are so many great ways to get involved in supporting movements for peace and justice, and much of the most important work happens at this local community level.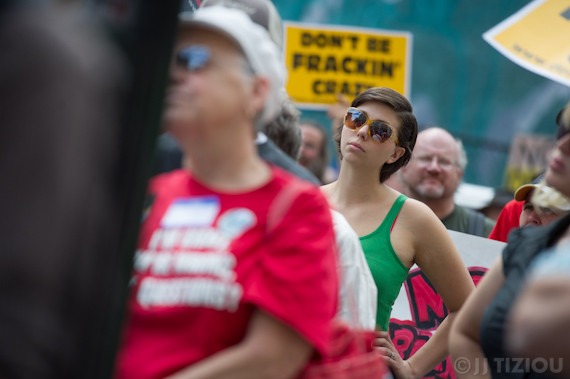 Speaking of support, that's my new assistant Megan hiding out in the crowd… she was ready to grab memory cards to download and rush a few images to the press while I had to dash off to another shoot. I'm so grateful to have her help both in the field and in the office, and to have you guys out there sharing in these stories with me.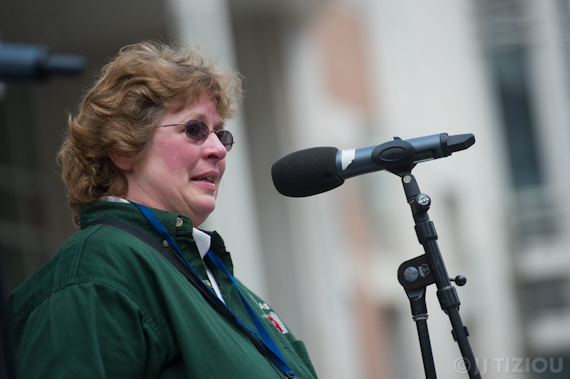 But the people who most need support right now are those who are being directly affected by the drilling…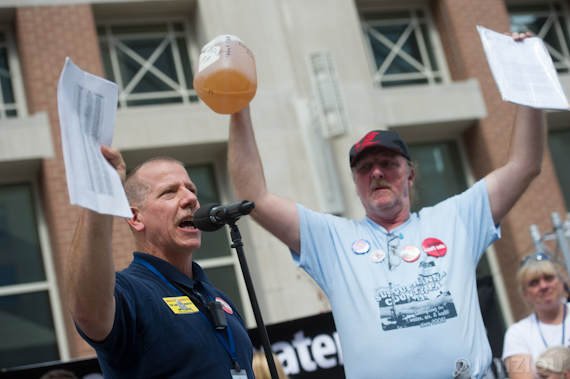 … whose water is being contaminated…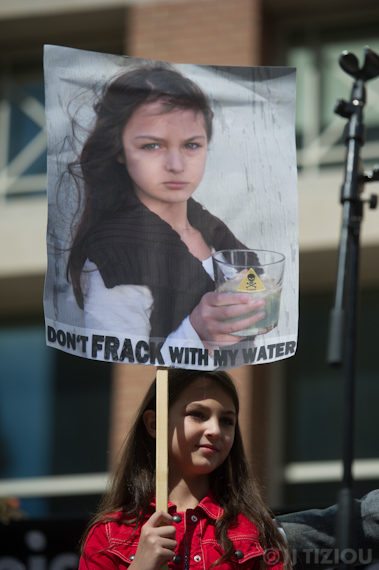 … and the future generations who will look back on this era… what will they have to endure because of our shortsightedness?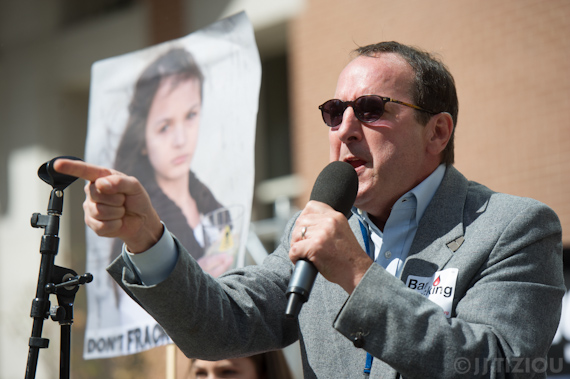 One of the last speakers was Doug Shields, whom, as member of the Pittsburgh City Council, helped bring about a regional ban on Fracking in Pittsburgh. Can we get our city council to speak out in the same way? Of course the State responded by enacting Act 13 which overpowered local zoning laws in favor of the Oil & Gas industries, essentially saying that cities couldn't decide their own zoning on this issue… it was then declared unconstitutional by the appellate court, and now heads to the State Supreme Court. That will be a big decision…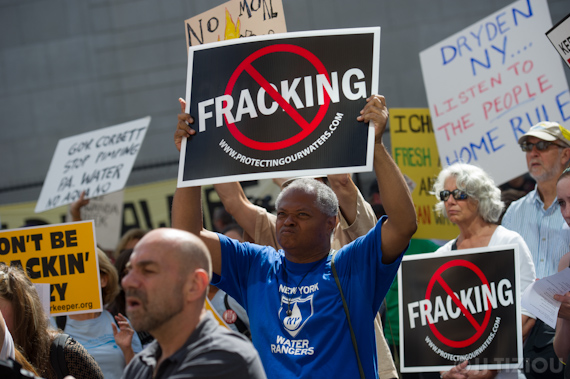 As the end of the rally approached…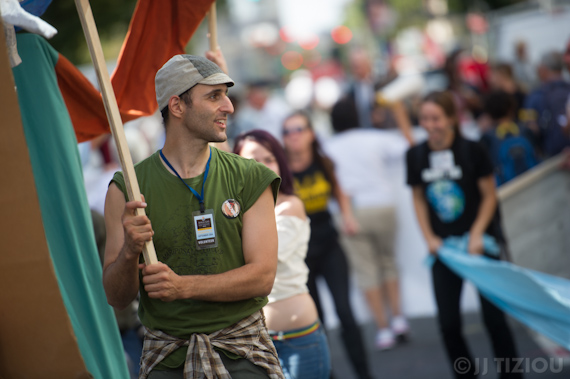 … the crowds took to the streets…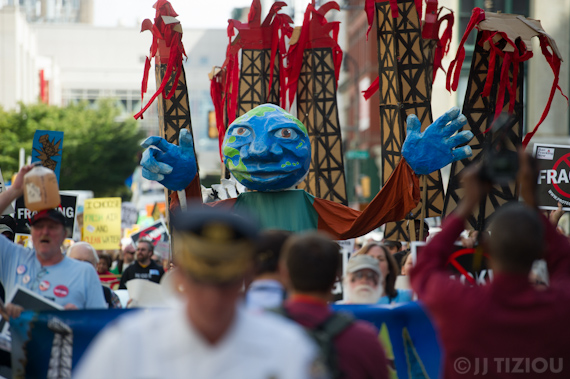 … with giant puppets of fiery gas wells…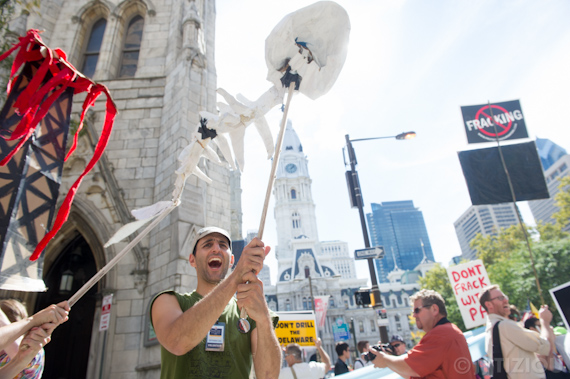 … and I spent a bit more time chasing after that fishbone puppet…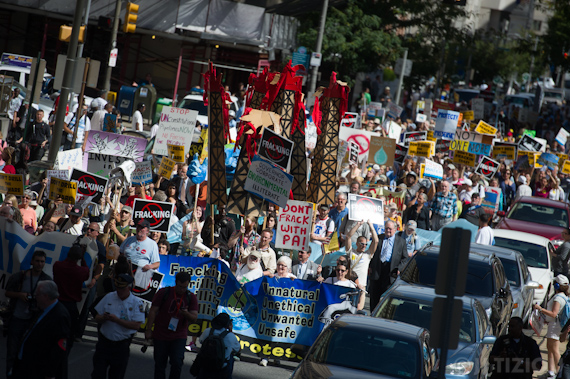 … before running ahead to climb on a ledge for an overhead shot…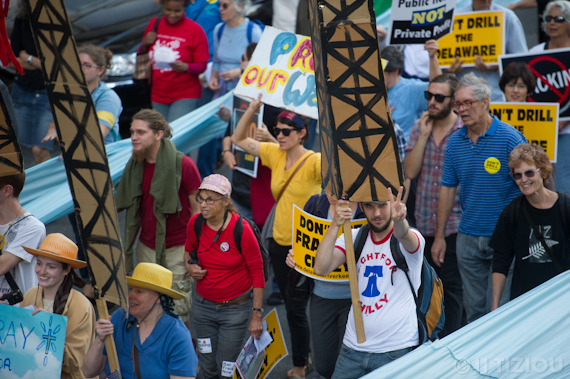 … or two…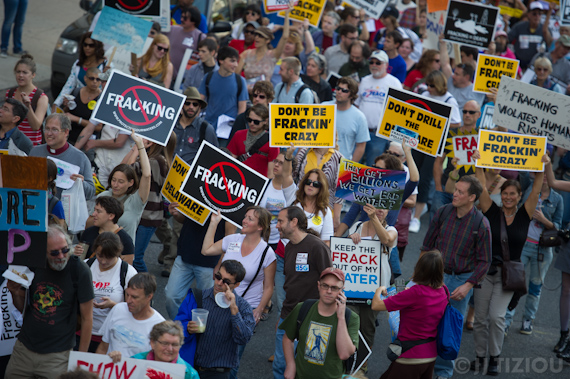 … or three…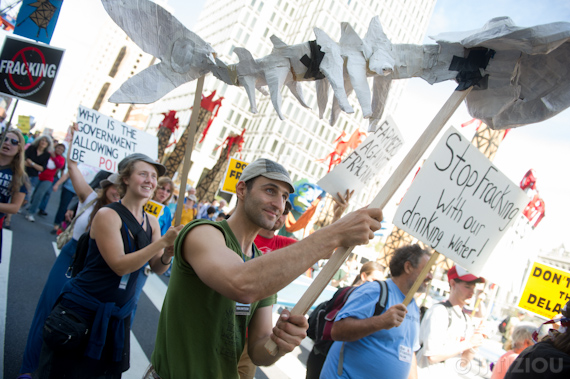 I wasn't able to follow the whole march as I had to hand off my cards to Megan and then bolt off to the Kimmel Center to shoot a show for the Live Arts Festival, but I grabbed one last frame of that fish and headed off.
Thanks for reading and sharing this… and please also head over to www.ProtectingOurWaters.com and share the info there, donate as best you can, and maybe see you in the streets next time…
Find more images from this series and order prints in the JJ Tiziou community archive.