Happy new year!
2022 was a big year and 2023 is starting off with a special new exhibit at The Schuylkill Center and new twists and turns for the 11th iteration of the walk…
Walking the Edge: Jan 26 – April 1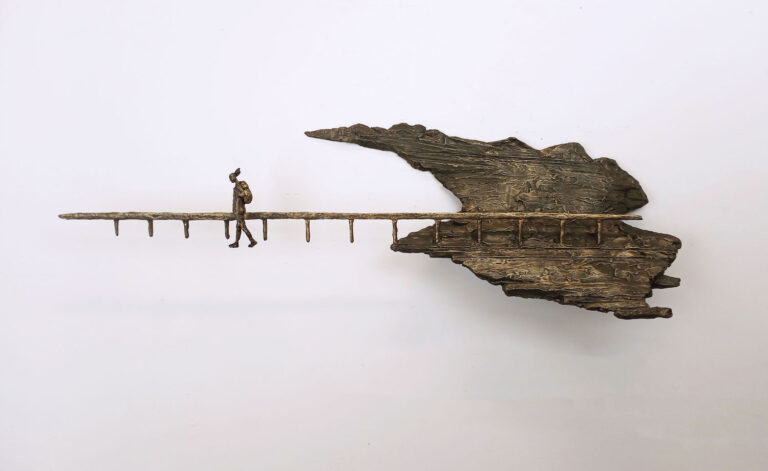 I'm delighted to be collaborating with The Schuylkill Center for Environmental Education and curating their 2023 community exhibit "Walking the Edge", presented in conjunction with my 11th walk around the city's perimeter.
An open call for artwork about walking perimeters, borders and boundaries along the city of Philadelphia and in other urban landscapes and natural spaces resulted in submissions from over 100 artists.
Some work, like Varvàra Fern's beautiful sculpture above speak to the universal themes of the walk…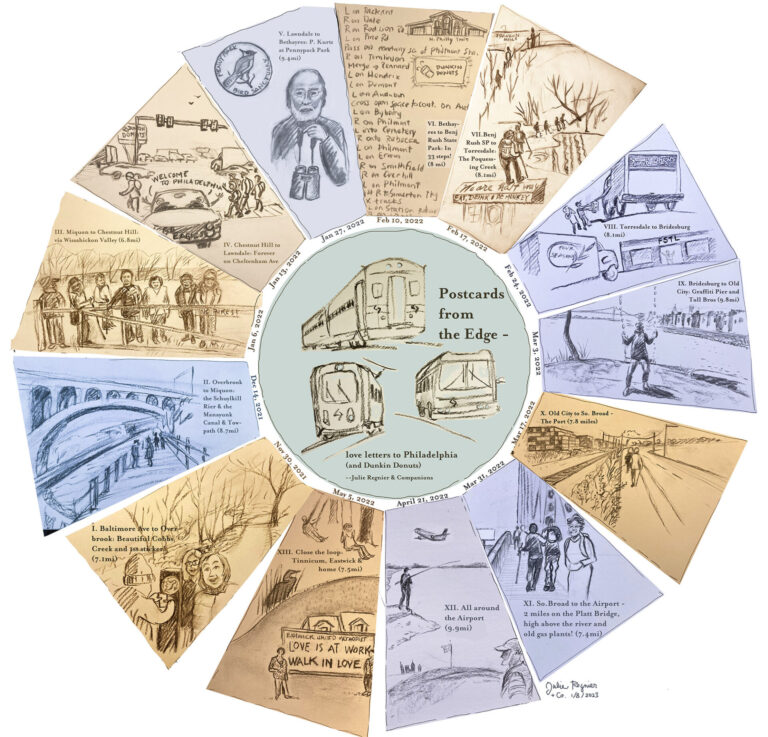 … while others, like Julie Regnier's "Postcards from the Edge" come directly from individuals' experiences participating in Walk Around Philadelphia.
I'm so thrilled (and somewhat overwhelmed!) by the amount of wonderful contributions submitted for the show, and have been diving deep into ways to present this work in the gallery.
I can't wait to share it with you!
Join us at the gallery:
"Walking the Edge" will be on view at The Schuylkill Center for Environmental Education Jan 26 – April 1.
Opening reception:
You're invited to the opening reception on Thursday Jan 26, 6-8pm.
[ RSVP here ]
There'll also be additional programming both at the gallery & online, so mark your calendars!
Other happenings at the gallery:
February 24 – Restorative evening @ the gallery
Join perimeter walkers at the end of their ~10 mile day to take in the show and maybe enjoy an herbal foot soaks facilitated by Kate Farquhar.
February 25 – Breakfast send-off
Join us for breakfast, check out the gallery, and send the perimeter walkers off on their penultimate segment around the city's edge.
March 1 – Ways of Walking book event
Join Ann de Forest and other contributors to the Ways of Walking anthology, with optional movement exercises led by Megan Quinn
April 1 – closing reception
Last chance to catch the exhibit, with some bonus art-making opportunities.
And of course, you're invited to join a segment of the walk itself!
The 11th Walk Around Philadelphia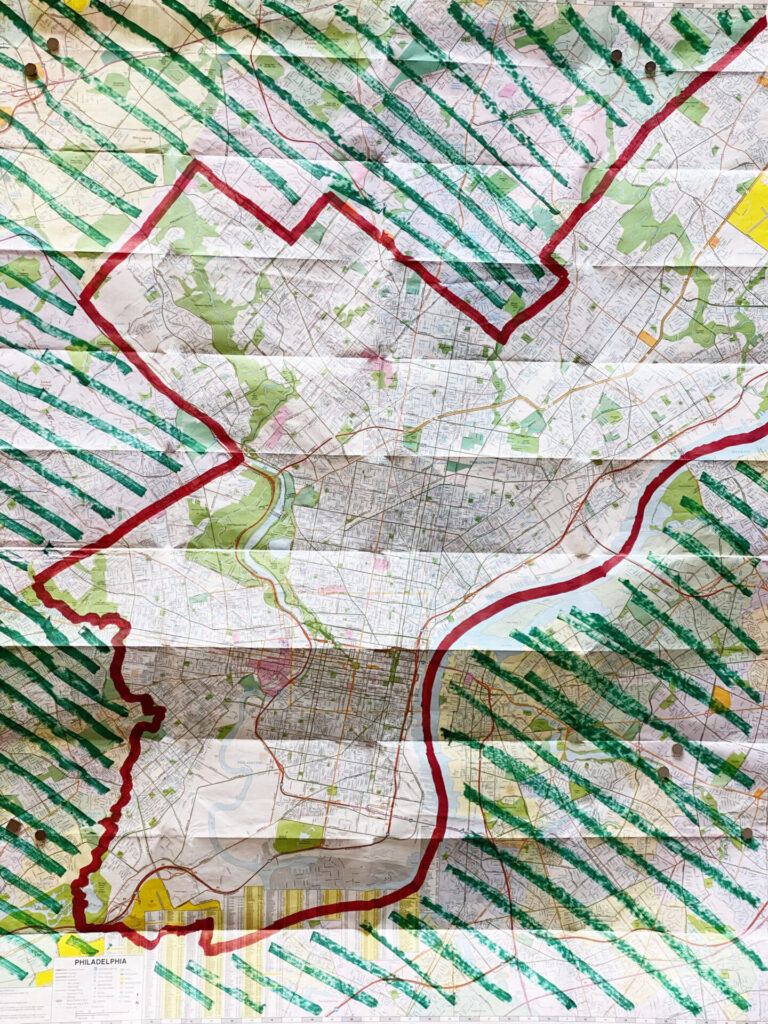 You're invited to join me in my 11th walk around the entire city of Philadelphia!
This next iteration of Walk Around Philadelphia will proceed counter-clockwise, which is a new adventure for me!
Unlike past February iterations, we'll be breaking it into shorter segments over ten days, much as the past September iterations.
Segment length varies from ~8 to ~14 miles, but there are always options to peel off partway through if necessary.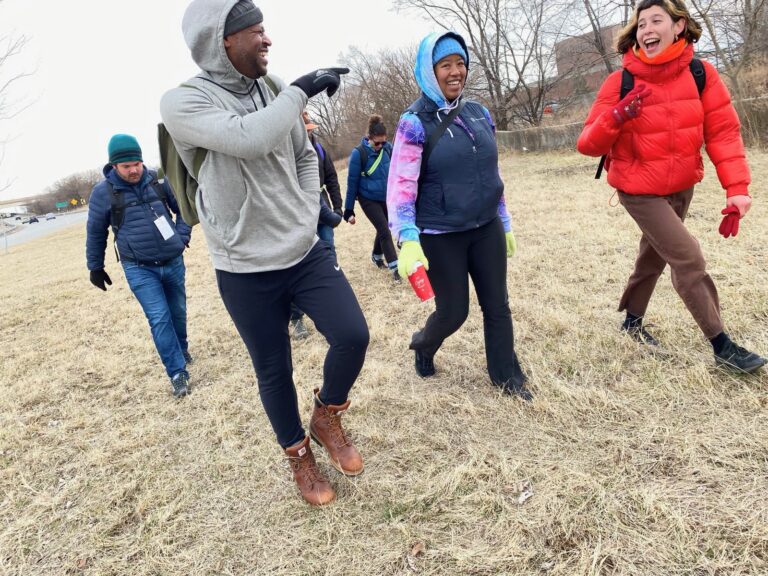 Walk dates & itineraries:
Feb 1 – virtual launch / info session
Weekend 1 ( Fri / Sat / Sun )
Feb 10 – from 61st and Baltimore towards the airport
Feb 11 – Around the airport
Feb 11 – Happy hour / dinner at Player's airport hotel bar
Feb 12* – from the airport towards Pier 68/Navy Yard
Weekend 2 ( Fri / Sat / Sun / Mon )
Feb 17 – from Pier 68 towards Bridesburg
Feb 18 – from Bridesburg towards Torresdale
Feb 19 – from Torresdale towards Somerton
Feb 20* – from Somerton towards Elkins Park
Feb 20 – dinner at Cheltenham Ave H-Mart food court
Weekend 3 ( Fri / Sat / Sun )
Feb 24 – from Elkin's Park towards the Schuylkill Center
Feb 24 – evening event @ Schuylkill Center
Feb 25 – morning sendoff @ Schuylkill Center
Feb 25* – from the Schuylkill Center towards St Joe's
Feb 25 – Happy hour / dinner at Landmark Americana
Feb 26* – from St Joe's towards 61st and Baltimore
March 2 – virtual reportback
* Days marked with an asterisk will be "parade-style", open to a larger group of walkers. Other days will have more limited capacity.
Hope to see you out there…
Whether it's at the Schuylkill Center, out on the city's edge, or online, you'd be most welcome to join any of these events.
Accessibility notes:
If you have any questions about physical accessibility or financial accessibility, please email walk@jjtiziou.net – some free & stipend-supported registrations are available.
Help make it happen…
While Walk Around Philadelphia sometimes delivers like a grant-funded larger cultural organization, it's still very much a labor of love produced by yours truly.
I'm grateful to all of the folks who participate in so many ways, including helping financially support this work. If you'd like to join them in helping build the walk, I'd appreciate it!