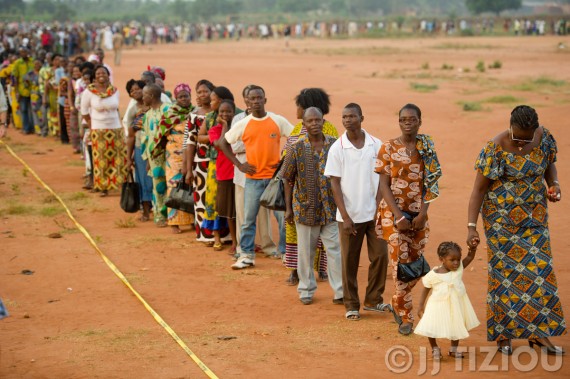 I'm halfway through my three months of service in W. Africa with Mercy Ships; it's been a really rewarding time working with a very special team of folks here, and I wanted to take a little break to share a special photo report on our screening day that I created in collaboration with my fellow photographer Debra Bell.    This is my first time featuring another photographer's work on my site, but it really took two of us together to cover this special day. Scroll on down past the break to get a sense of what it was all about…
Screening day is the biggest day of the year for Mercy Ships: a special day when thousands of people in need of health care queue up in hopes of receiving health care for a variety of conditions, only some of which Mercy Ships can provide.  Approximately 4,000 prospective patients came from throughout the country and beyond to wait in line for the opportunity to be seen, and it is an intense, challenging day for all of us.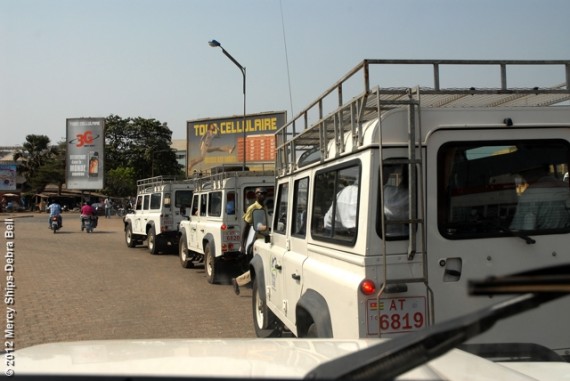 For the actual screening to take place smoothly, a lot of preparation has to take place. Much has already happened aboard the Africa Mercy, and here the advance convoy heads to the screening site…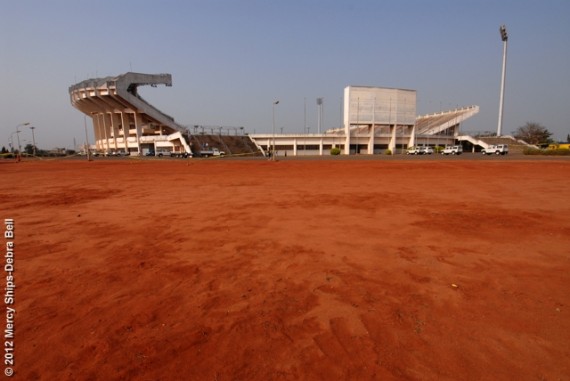 … where the next day thousands of people will pass through this stadium, all desperate for healthcare.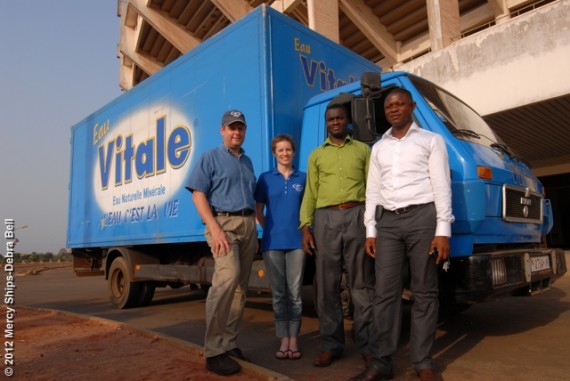 Amidst the early setup, we run into new friends from Brasserie Benin (the regional Coca-Cola distributors) They are one of Mercy Ships' most recent new sponsors, providing us with…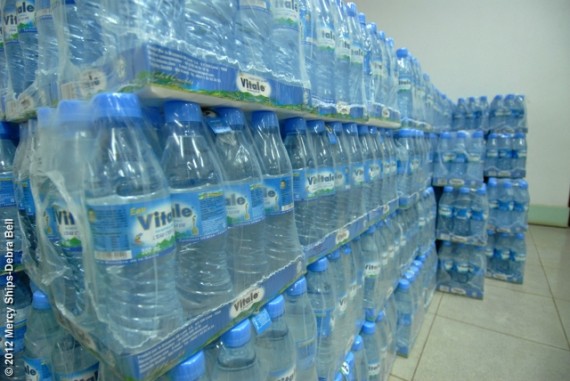 … 4,800 of bottles of Vitale water to ease the thirst of those who will spend much of the next day waiting in the hot sun.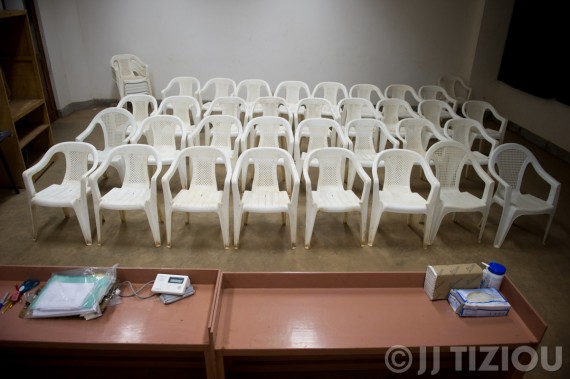 Thanks to the advance setup, the stadium is transformed into a makeshift screening clinic. With all of the stations set up and chairs awaiting, we're almost ready to start screening. Already, a line of several hundred people has started forming overnight.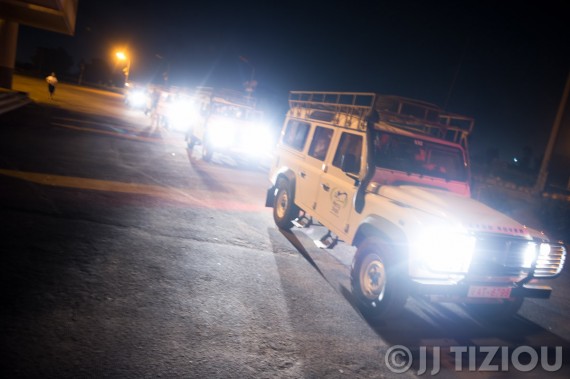 Before the sun has even risen, our first teams are on-site. After a 3:30am breakfast, the first car leaves the Africa Mercy at 4:15am, with the first convoy not far behind them.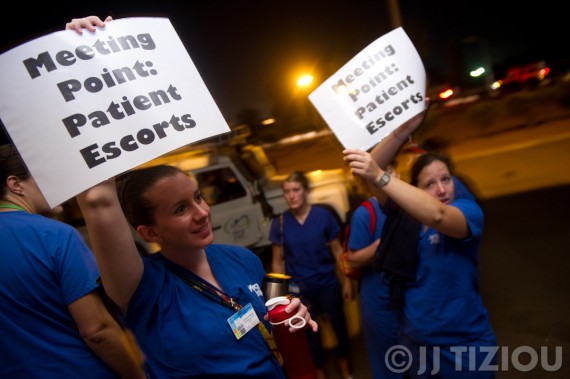 All of the logistics have been thoroughly planned in advance. The teams assemble and get to work. There is much to be done…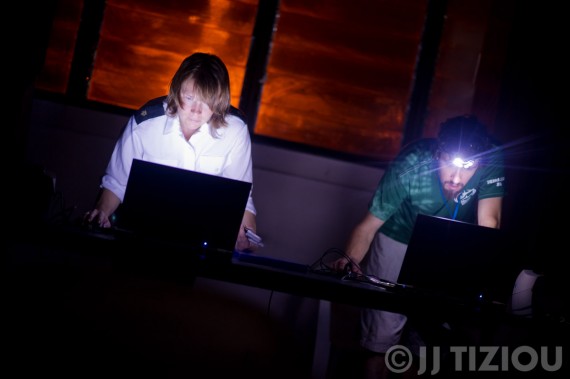 … like setting up data entry stations…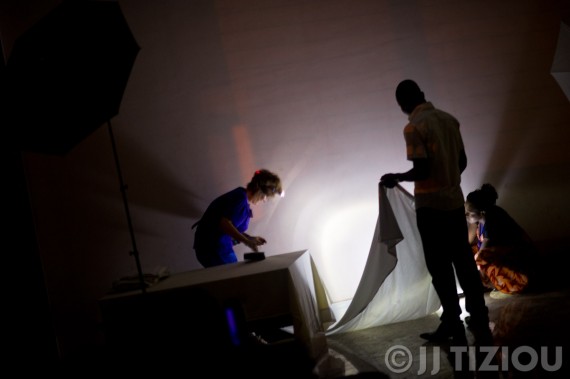 … or preparing a photo booth for pre-op documentation.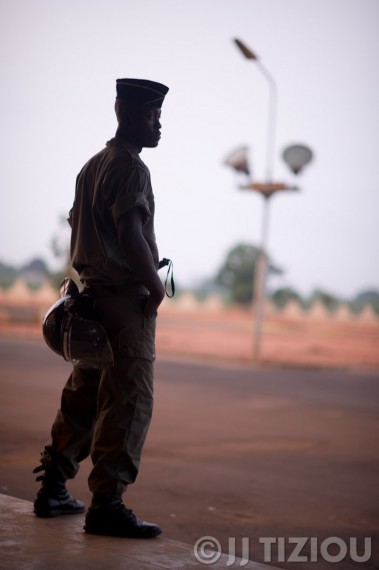 As the pre-dawn light creeps in, local gendarmes watch over us, providing an extra level of security…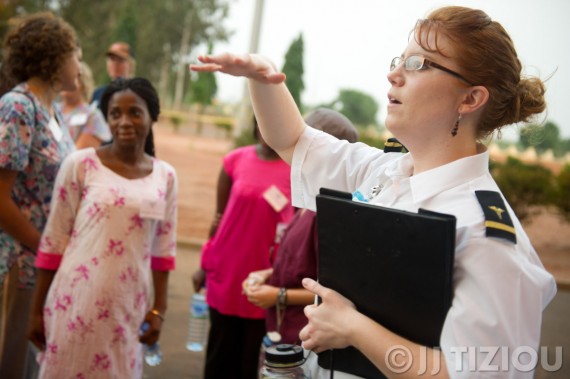 while the teams get their final briefings.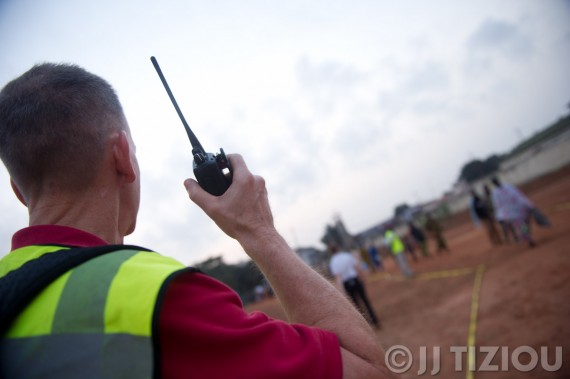 Good communication is essential…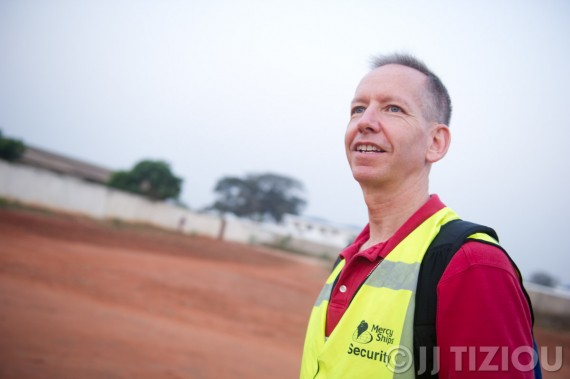 … as we prepare to receive our guests.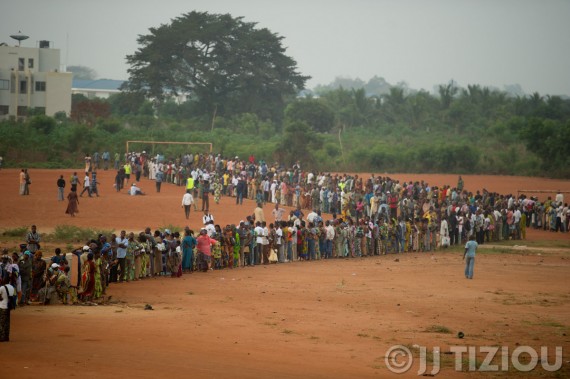 The line is already long, and many have been waiting all night…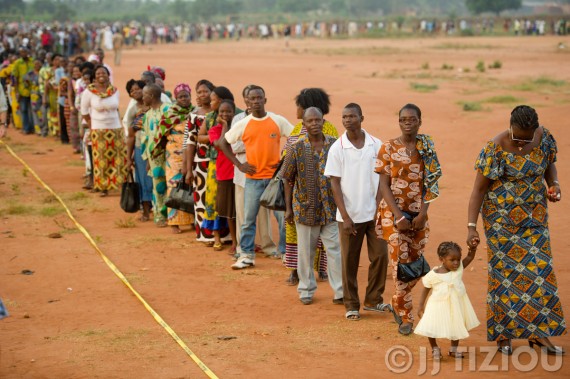 … but everyone displays a tremendous amount of patience. This kind of wait is tough on everyone…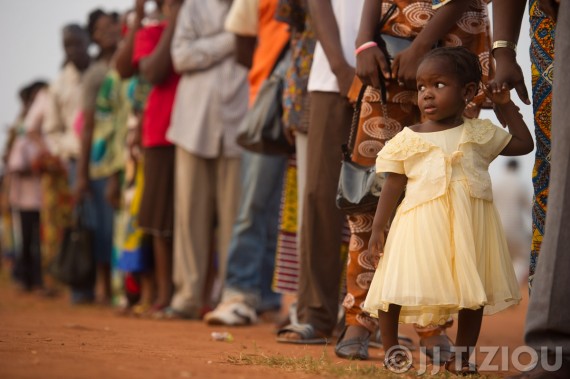 … but especially for the youngest…
 … who sometimes receive a little bit of special attention from our teams.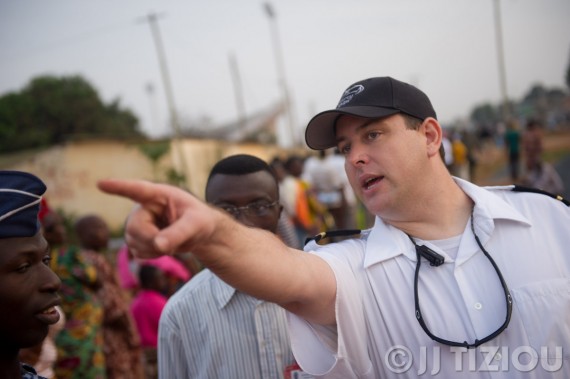 As the line continues to grow longer, our security crew coordinates with the local gendarmes….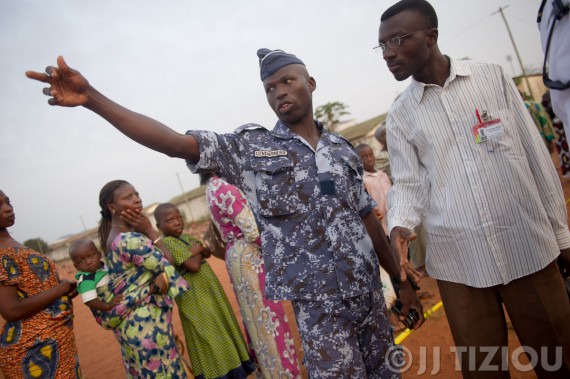 … making sure that they are dispersed evenly, covering the entire line…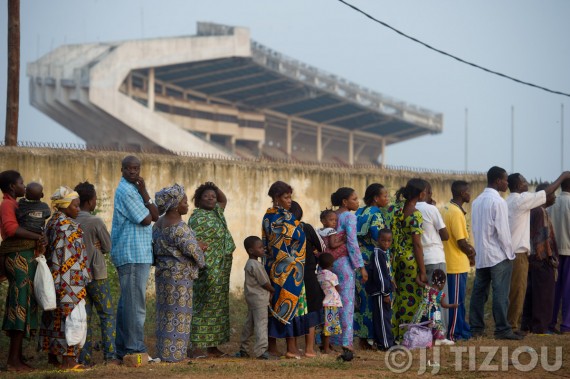 … as it winds its way towards the stadium.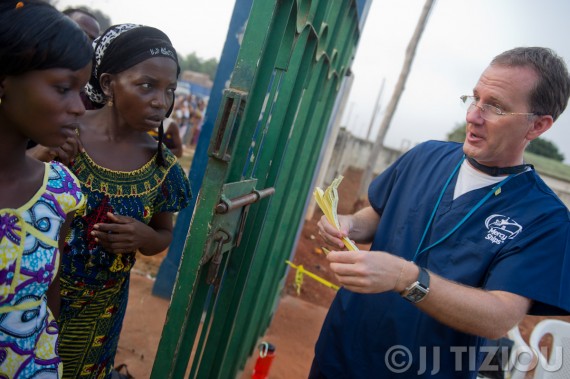 After a long wait, prospective patients finally make it to the first gate, where a ticket is issued…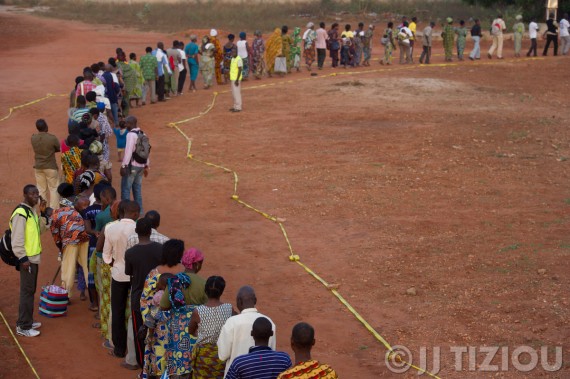 … but the wait is far from over as they continue towards the pre-screening stations.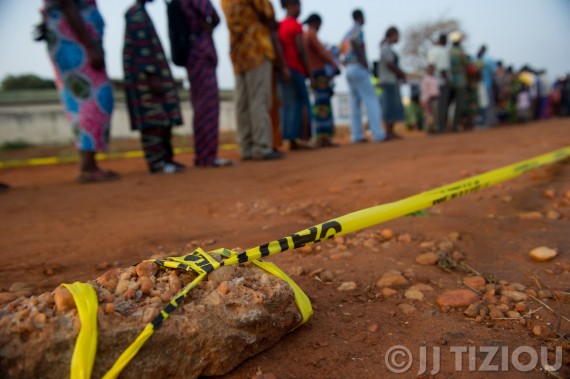 The path is marked out by makeshift caution-tape. It might be easy to sidestep these barriers….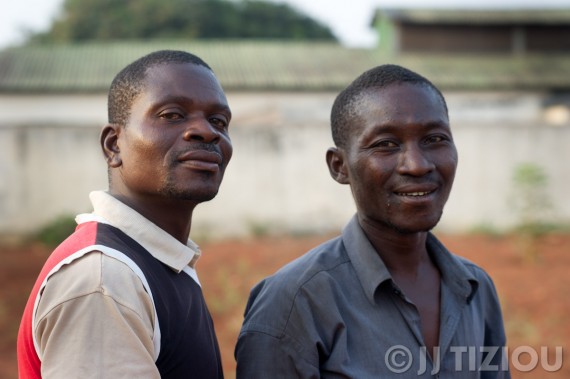 … but people seem content to wait their turn, and smile at our crew….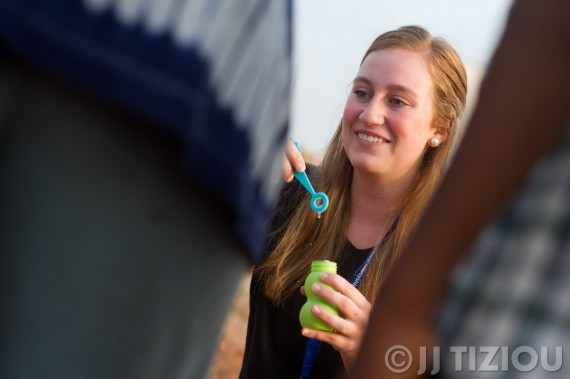 … as they continue in their playful antics….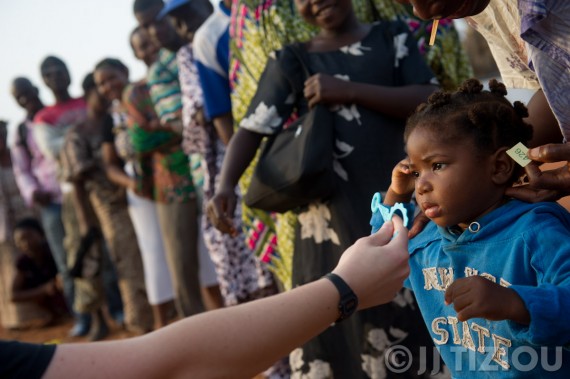 … to keep the youngest ones entertained.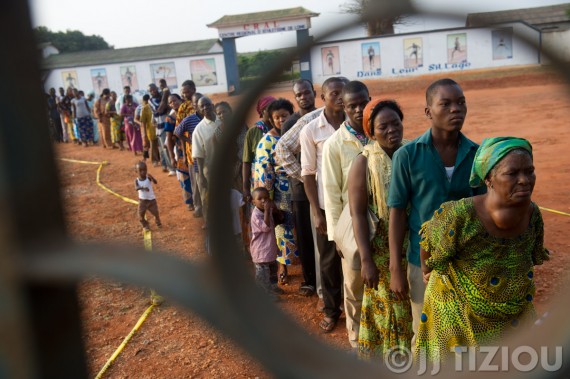 As the line approaches the second gate…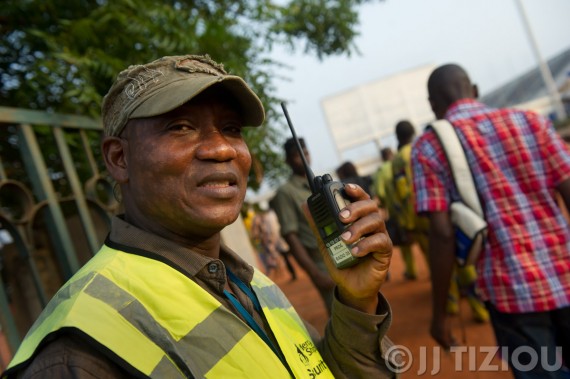 … our security teams continue to keep a watchful eye…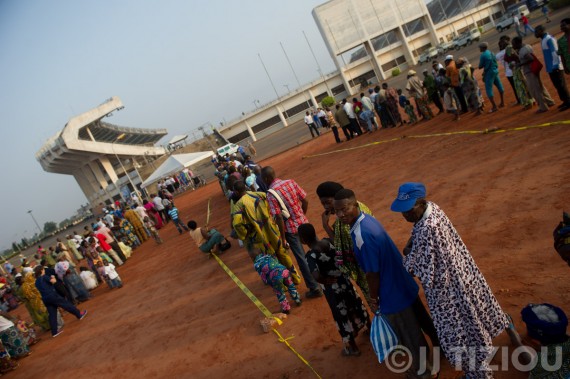 as the line splits up into multiple segments for the pre-screening stations.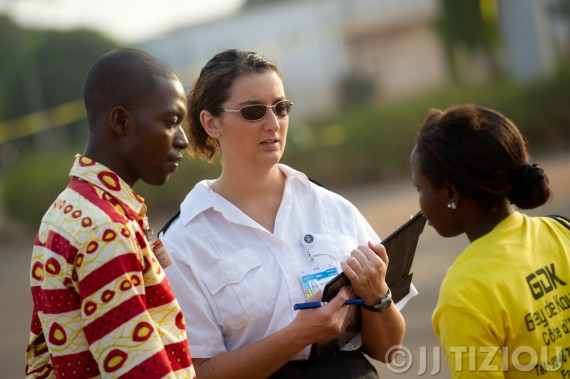 The pre-screeners have a heavy responsibility: hearing out every single person's ailments, knowing that we only have the capacity to treat certain specific surgical needs, and many will be turned away.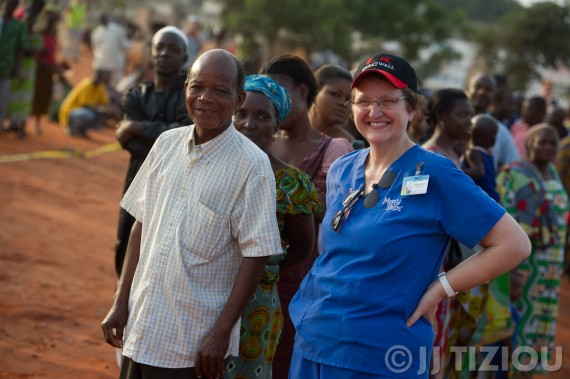 As they wait to see the pre-screeners…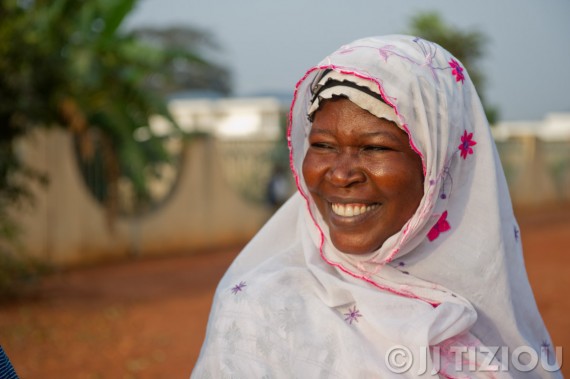 … spirits remain high…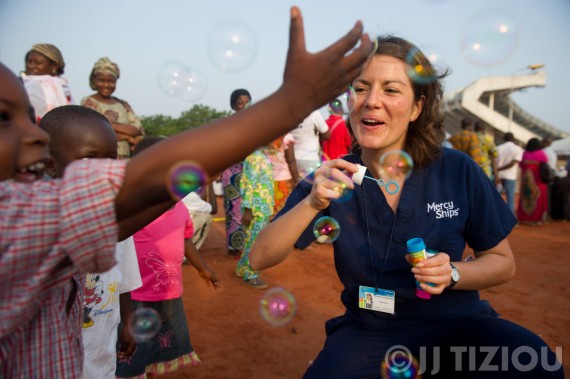 … especially with the continued attention of our crew…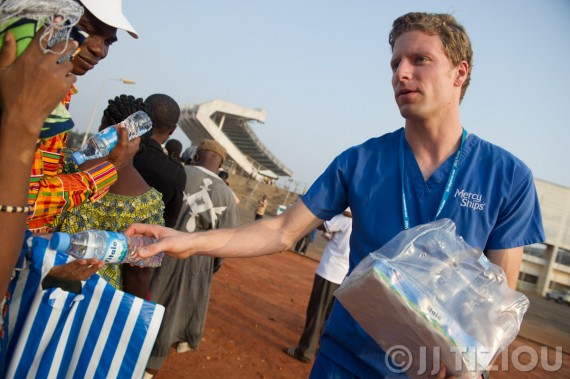 … and water helps a lot.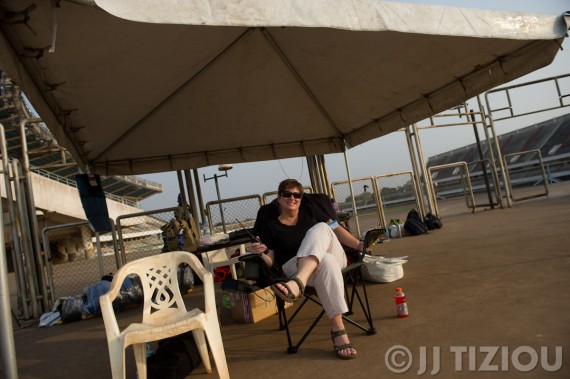 Overseeing all of this is our command post at the top of the stadium steps…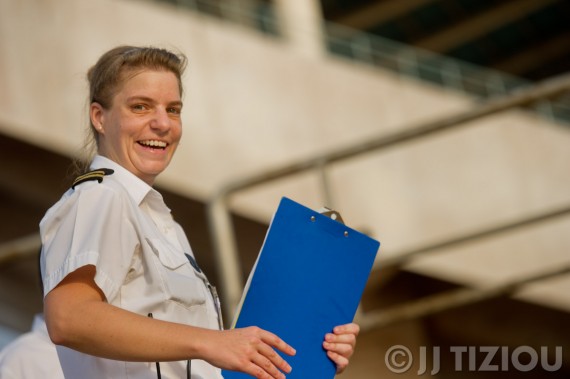 … where our awesome leaders can keep track of everything…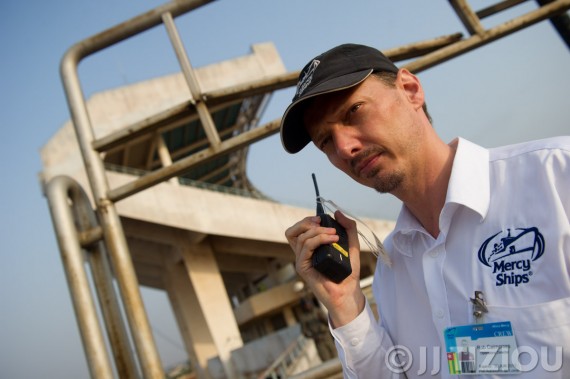 … and coordinate the flow of people down below.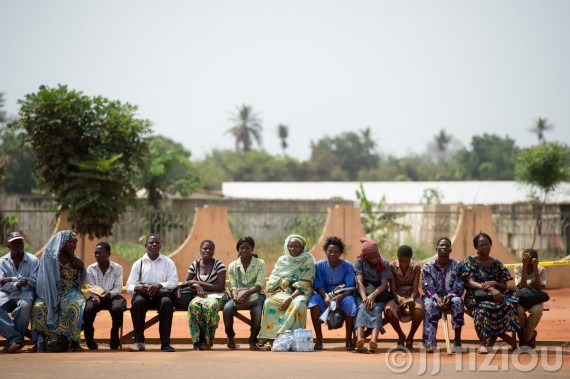 After the pre-screening station, there's bit of respite for weary legs where one can sit for a bit…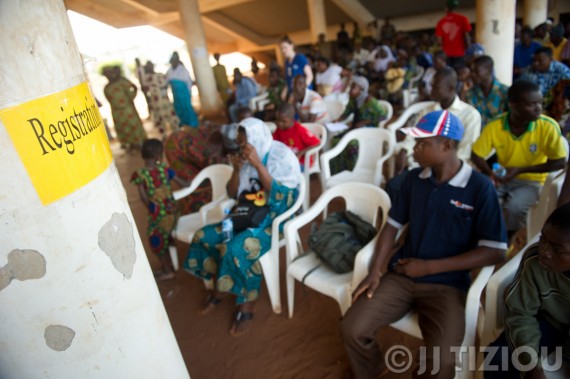 … before finally reaching the registration area, where the wait is more comfortable in the shade…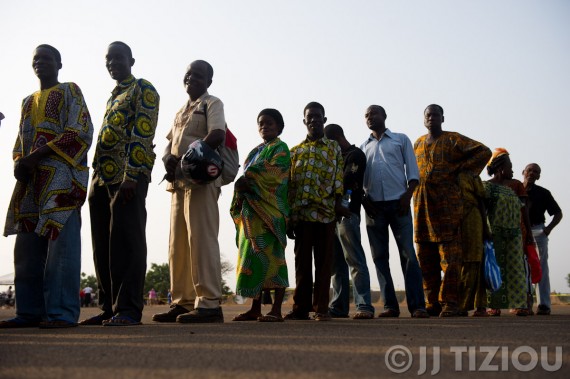 … while many more continue to stand patiently.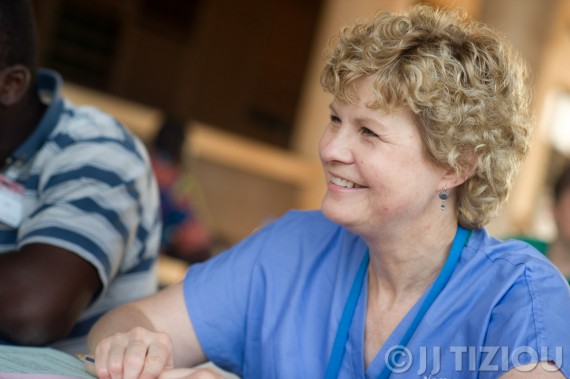 At the registration station, our teams begin taking down information and creating medical files…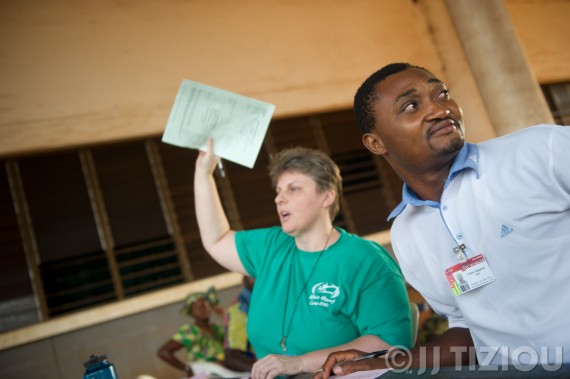 … aided by local day-worker members of our team who translate from French, Ewe, or other local dialects.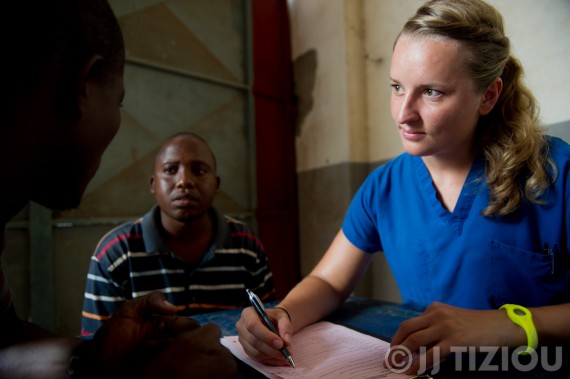 After registration, nurses sit down with the patients…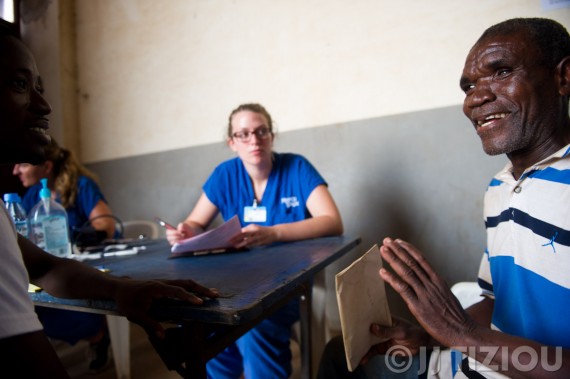 … where they share their medical histories and concerns.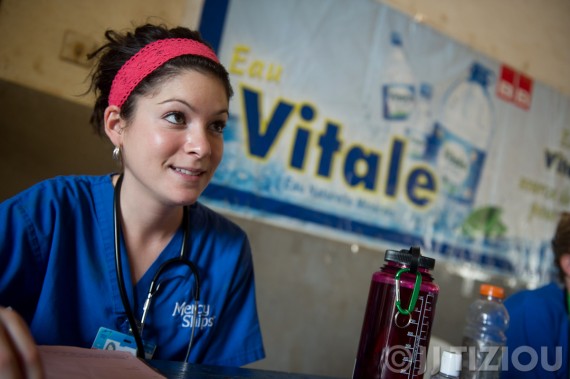 We do our best to be good and patient listeners…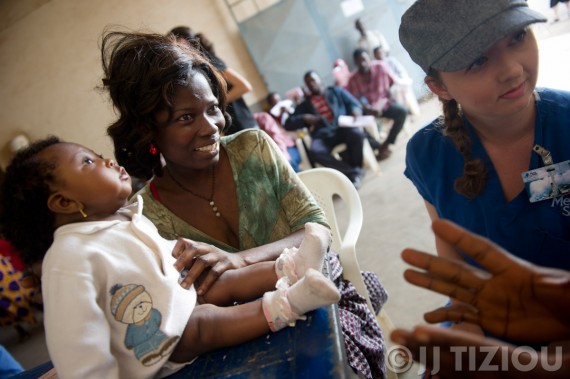 … as everyone that we meet is beautiful, and many cases are challenging..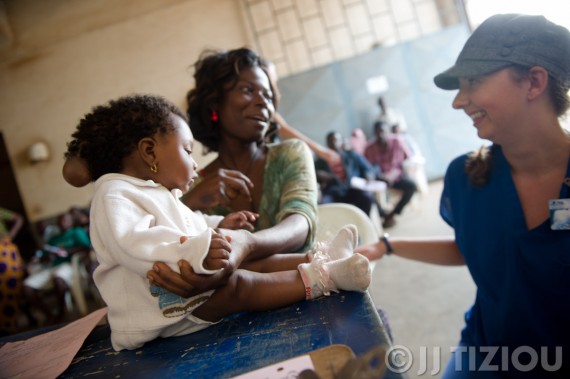 The mass on the back of this baby's head could be simple and straitghtforward to remove, but if it contains brain matter, then the surgery is extremely complicated and dangerous. More information is needed and the patients continue through the screening process…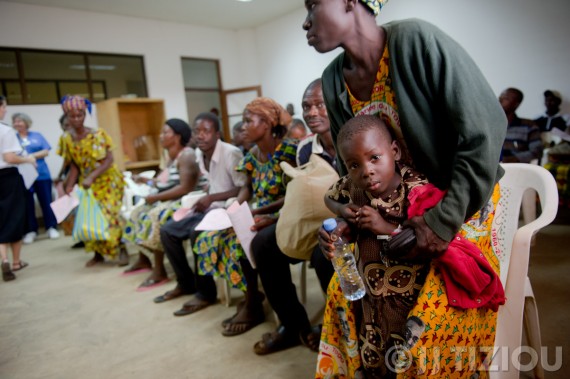 … where they wait to be seen by a doctor.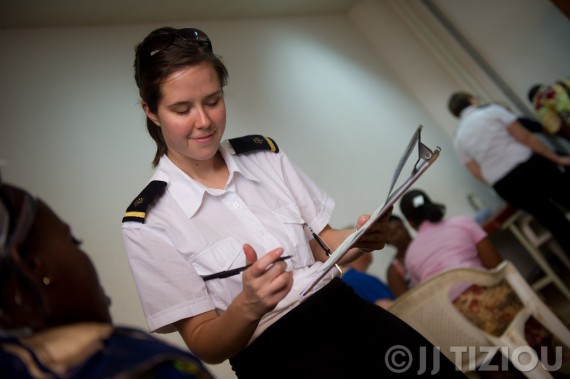 Our team leaders continue to coordinate the flow of patients through the screening areas…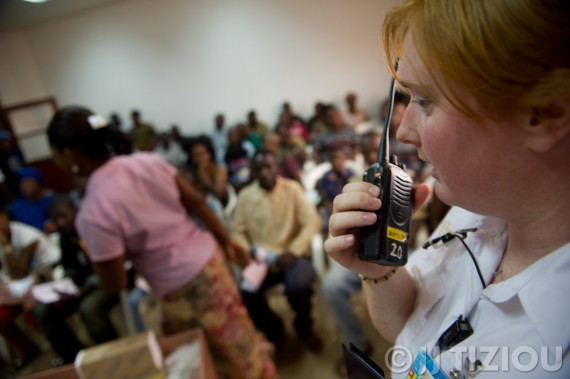 … while coordinating with the teams outside.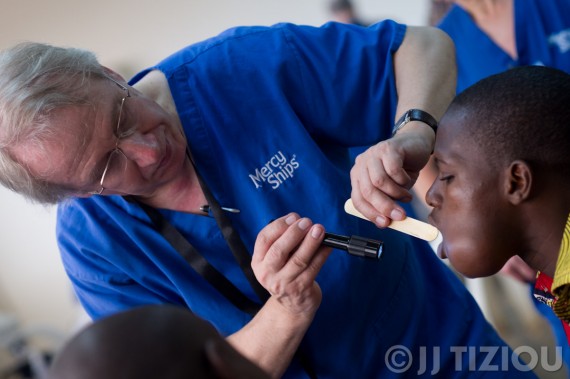 Each patient is examined with care…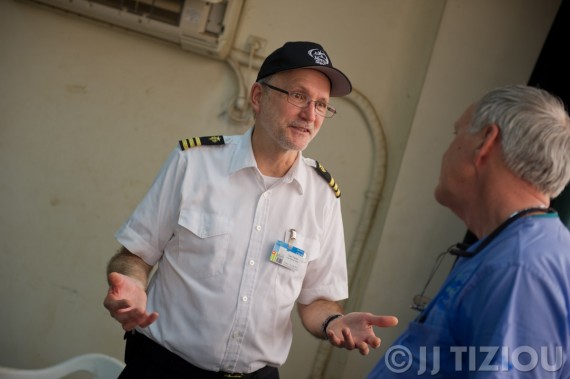 … as our physicians are led by Dr. Gary Parker, who has served aboard the Africa Mercy for the last twenty-five years.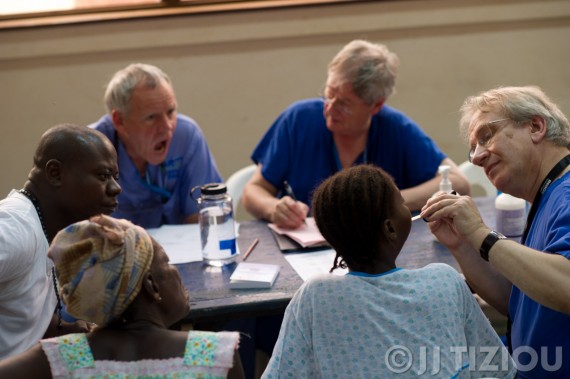 As the patients are examined…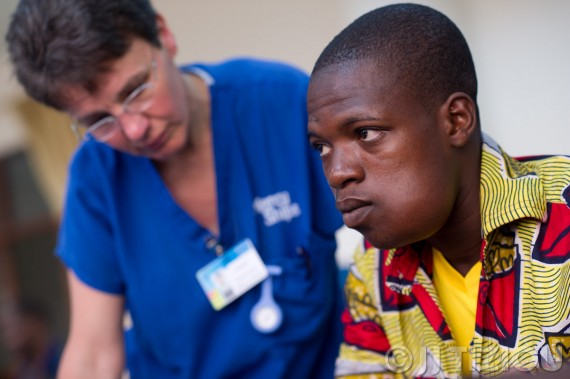 … there are understandable moments of apprehension…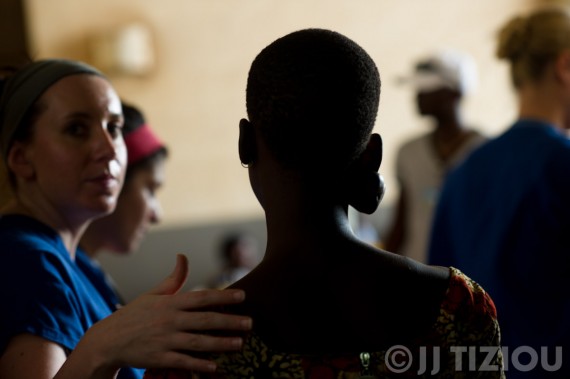 … as not every patient will be able to come onboard for a surgery…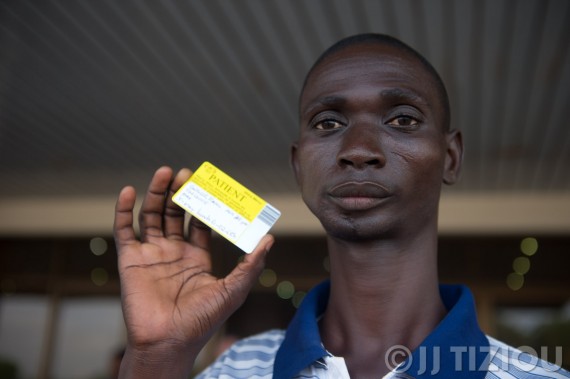 … but as the screening progresses, the first yellow patient cards are distributed. These are the tickets that will allow patients onboard the Africa Mercy for their surgery. The first surgeries are less than a week away!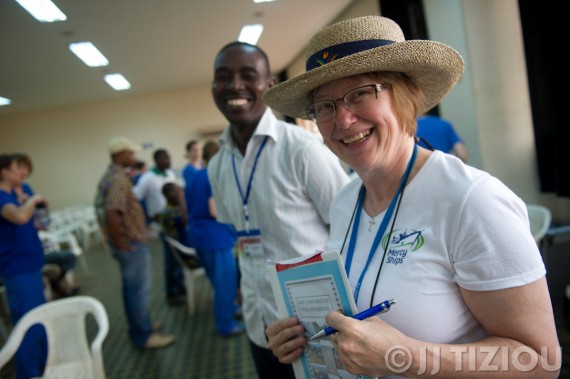 As the screening goes on, our wriiters begin tracking the patients whose stories they will bring you via the Mercy Ships website…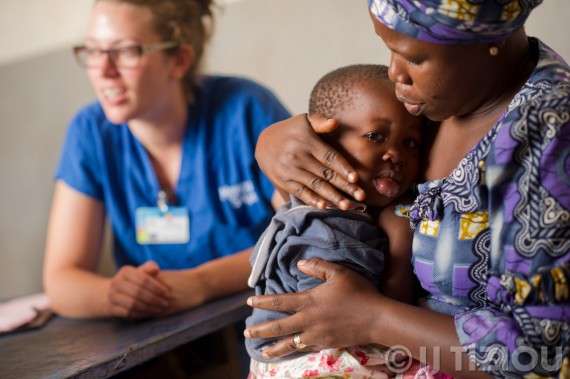 … while other patients continue to get checked in…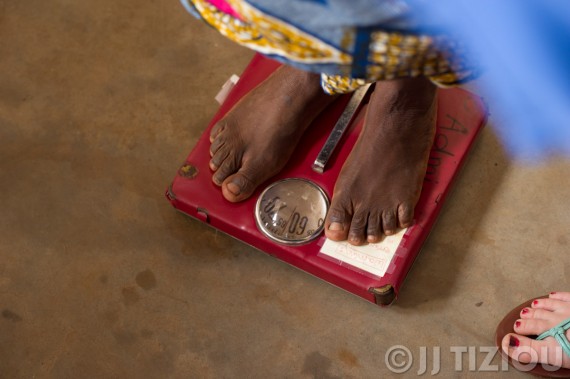 … and weighed in.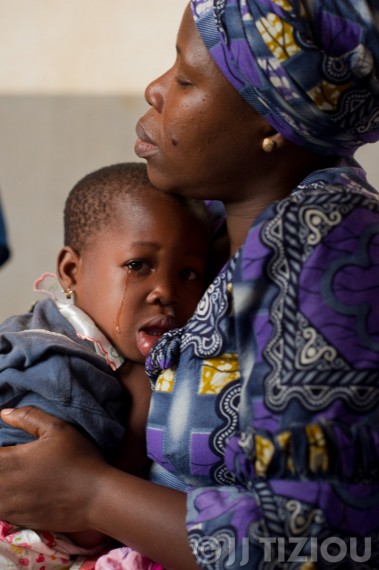 There are some tears, but for the most part…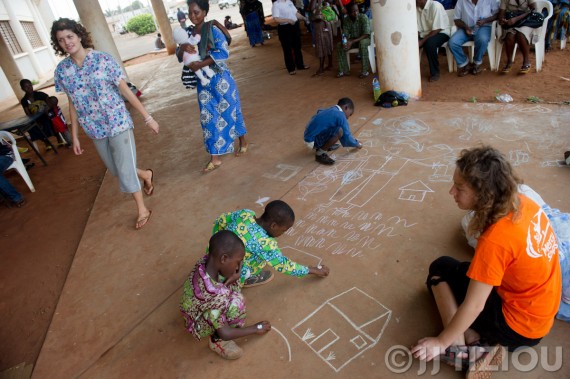 … the littlest ones have lots of fun…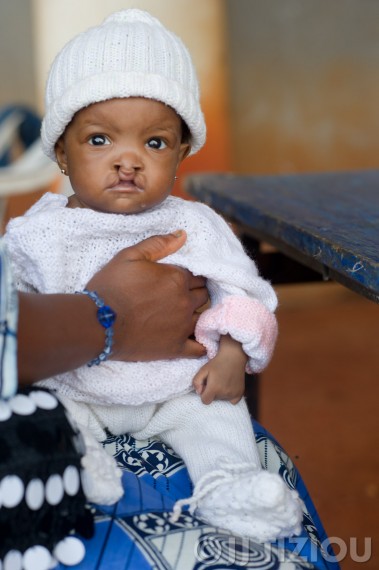 … even if some of them seem a bit over-dressed for hot West African weather.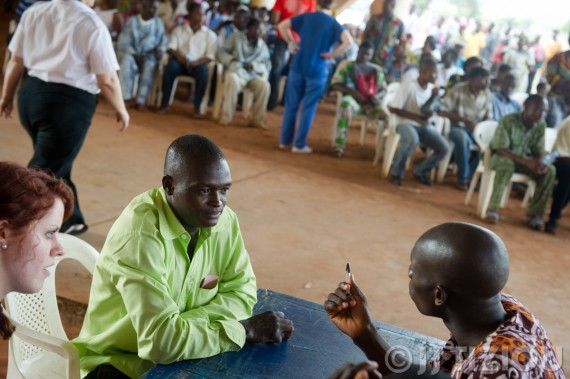 As the steady stream of prospective patients comes through the registration station….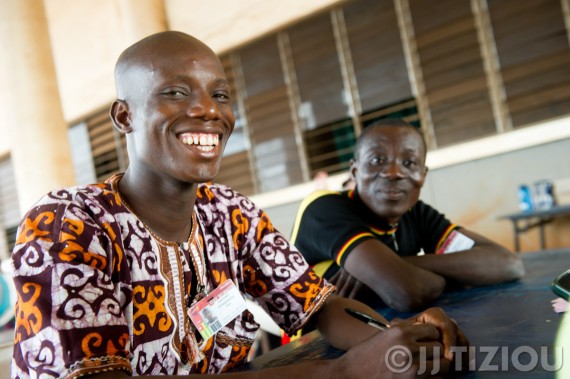 … our crew stays in good spirits…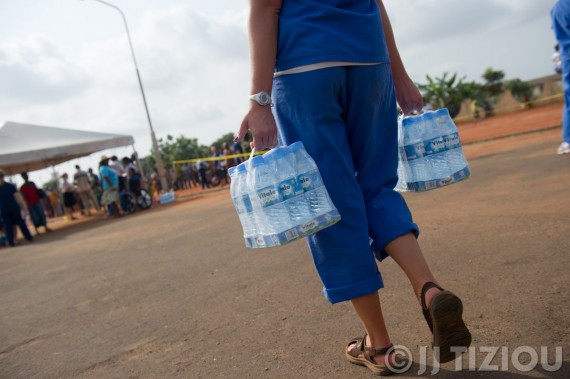 … and we do our best to keep everyone hydrated.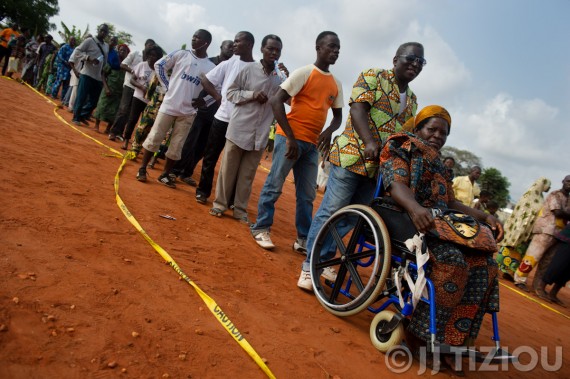 Meanwhile, the pre-screening lines are still full…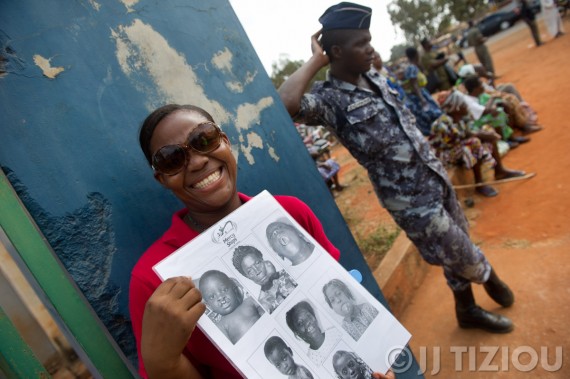 … and outside the stadium, our crew uses posters to clarify what kind of services we can offer to those who are waiting in line.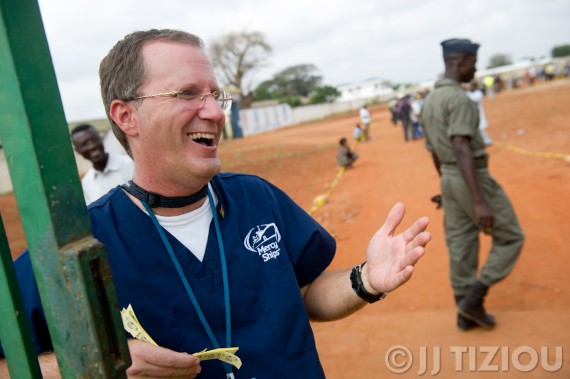 At the gate, even more are welcomed…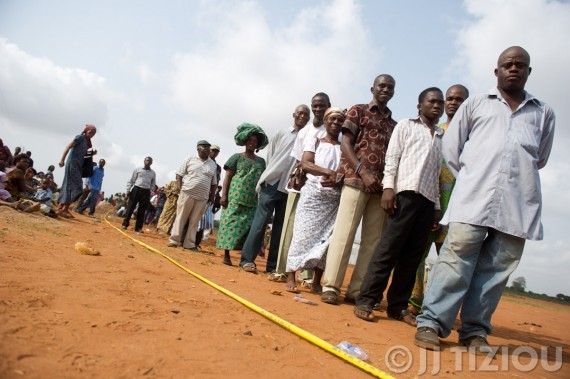 … as the line continues to stretch on…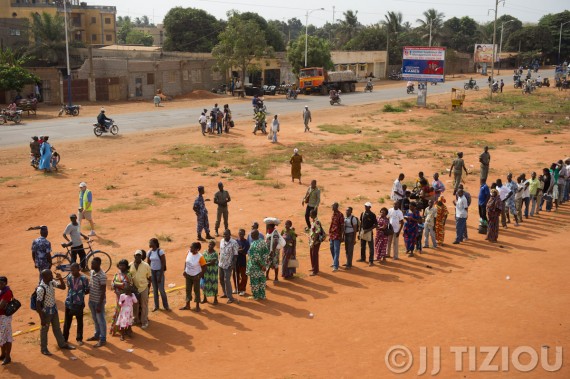 … and on into the distance as the sun breaks through the morning haze…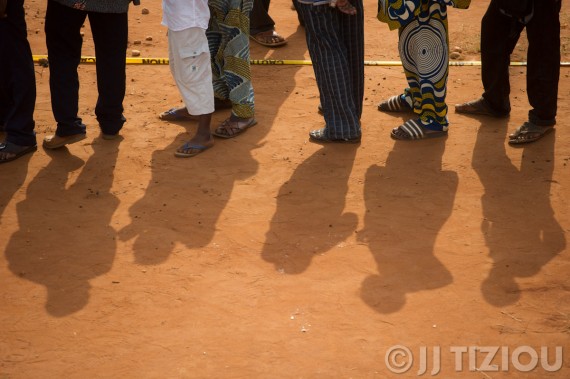 … and the harsh sun beats down. It is hot!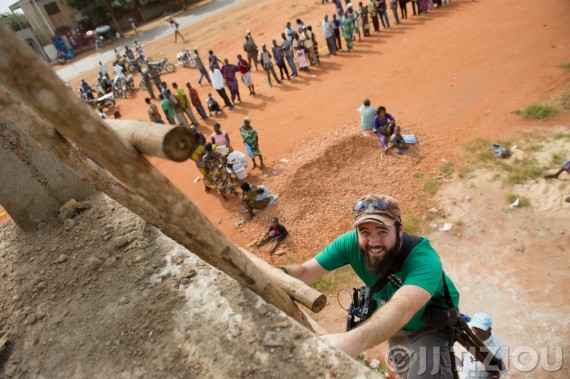 Here Josh, a member of our media team, takes his chances on a rickety wooden ladder…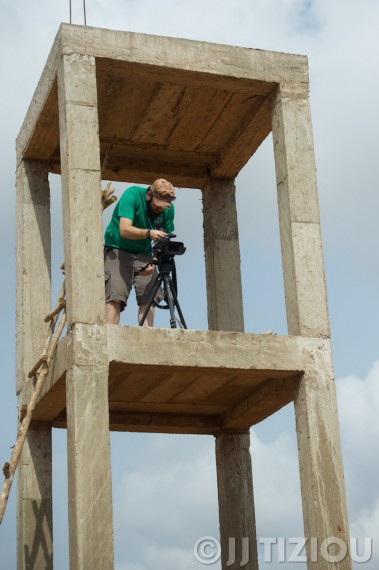 up to this random freestanding concrete structure…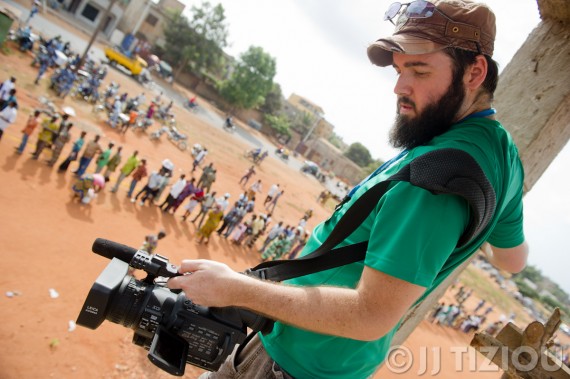 … in order to get a nice high vantage point on the line. You can find some of his footage here.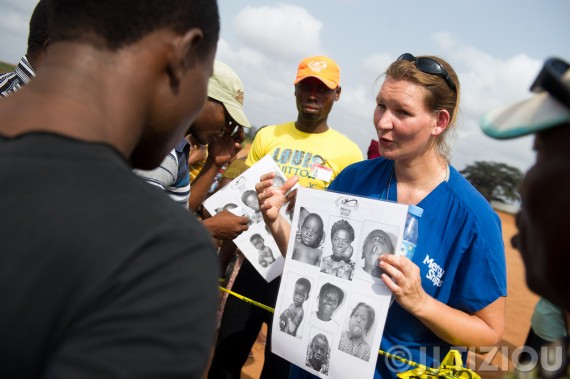 As the pre-pre-screening continues on the line…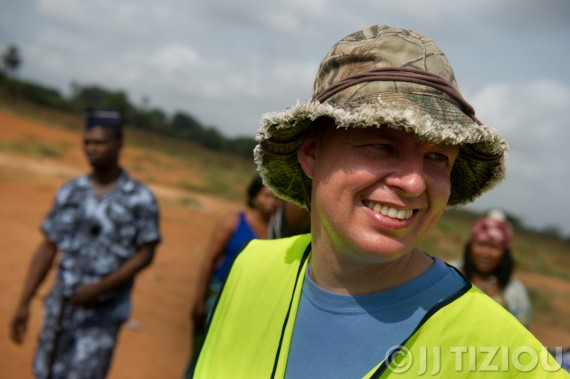 You might notice that many of our team are wearing different hats…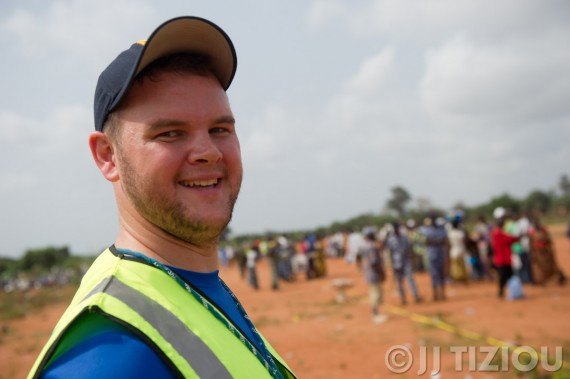 This isn't just a matter of a fashion statement…
… but obviously helpful for providing some protection from that harsh sun.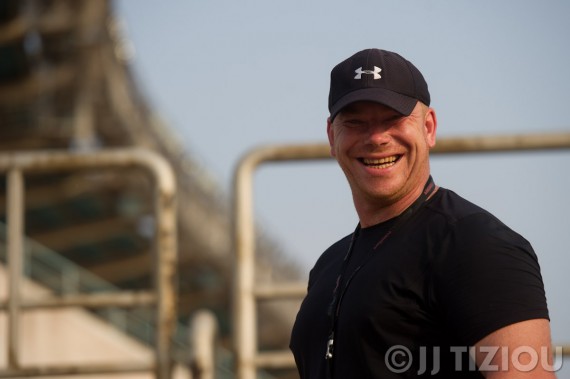 It's not just a literal thing though….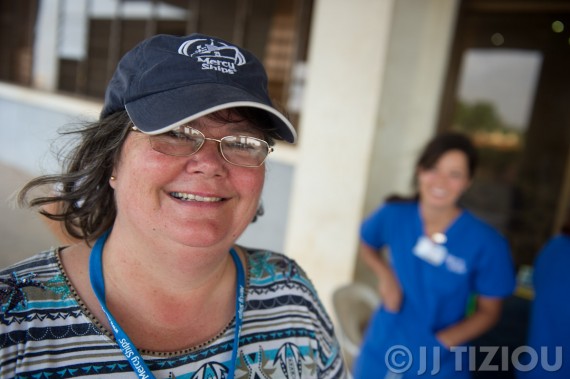 … as you look through these beautiful faces…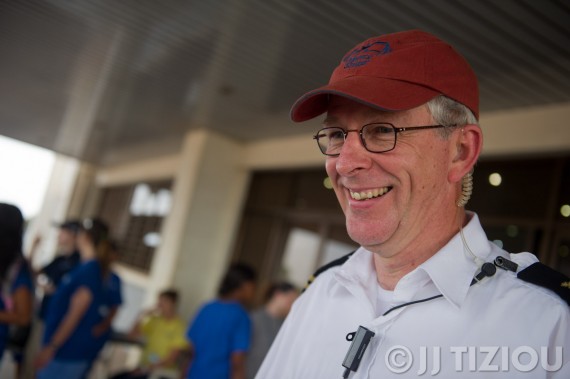 and their many…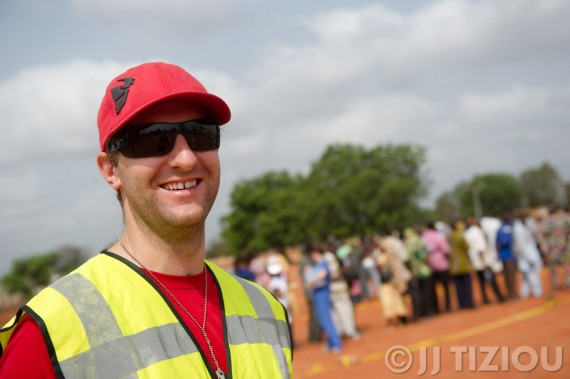 … colorful….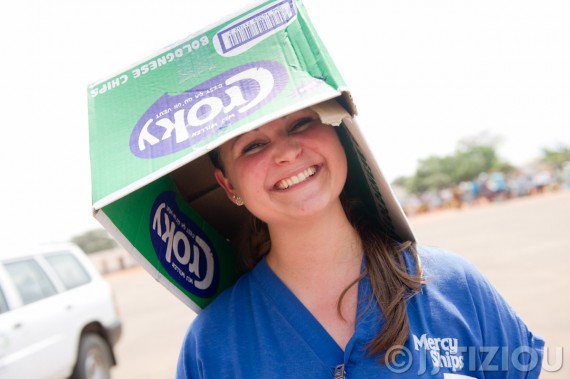 … creative…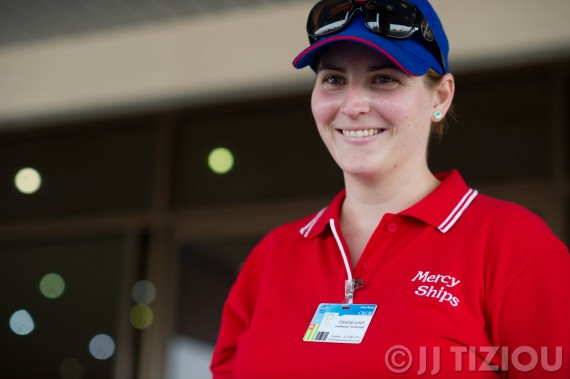 … hats, know that this is also a metaphor.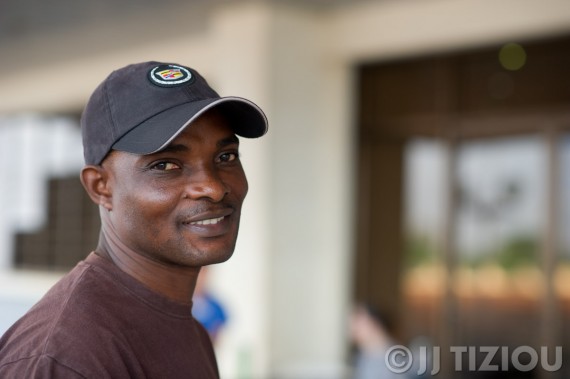 We wear many hats. In these images you may see the ship's plumber, computer technician, accountant, dining hall worker, hospital director, carpenter, etc… but on screening day they take on whatever role is necessary to help it all run smoothly. (Not sure what your role on the ship might be? Check out the volunteer opportunities…)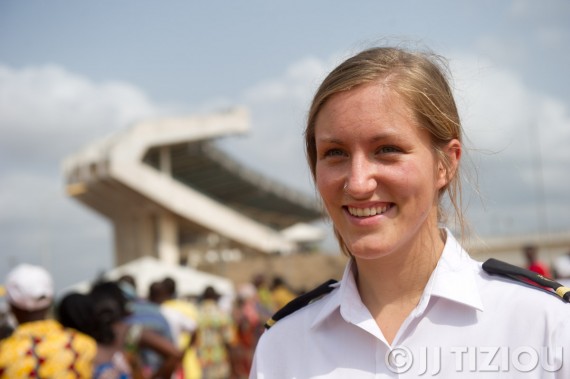 And those who don't have literal hats on…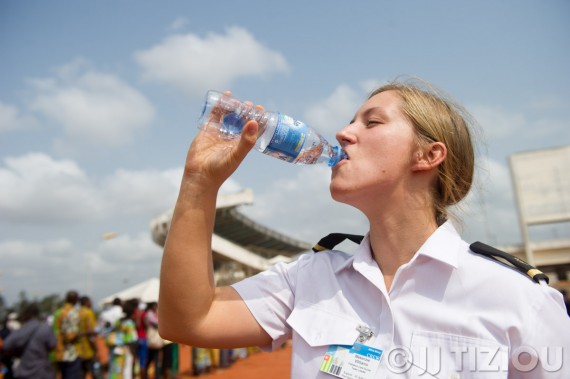 … need to be extra careful to stay well hydrated.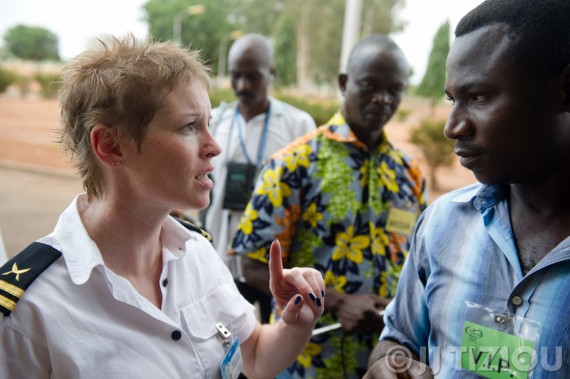 Behind the scenes, our marketing manager Sophie works with the press, as there is a fair amount of media interest in the screening…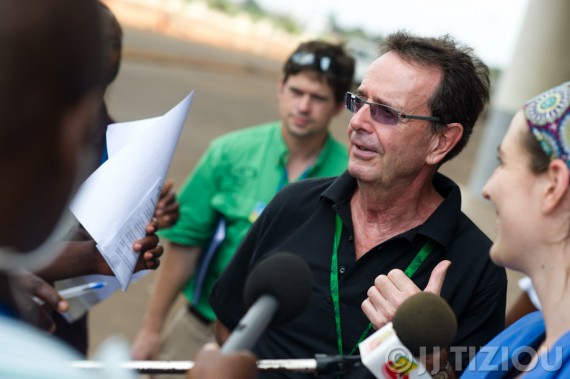 … while Pierre, our Government Liason, translates an interview with one of our nurses.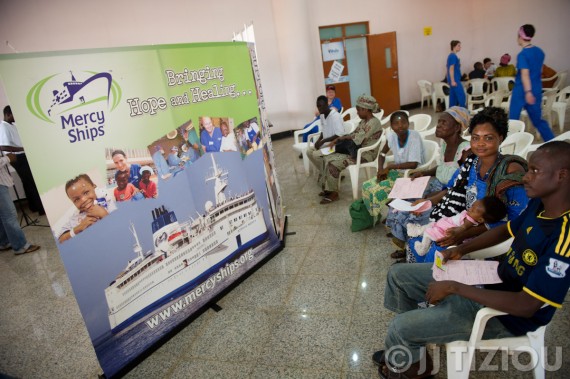 One of the last steps for the patients that have been selected is our pre-op photo booth. Here, Mercy Ships banners do double-duty as privacy screens.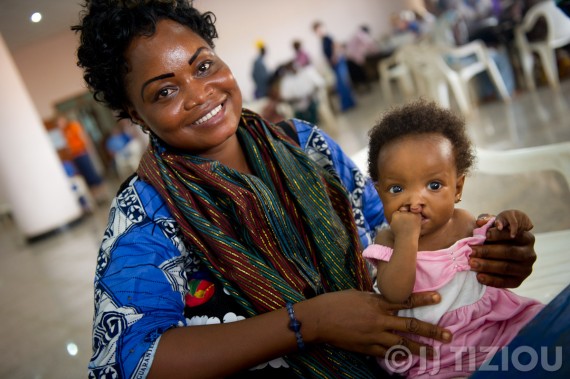 One of the patients to be photographed is little Sibi-Julie, accompanied by her mother Odette.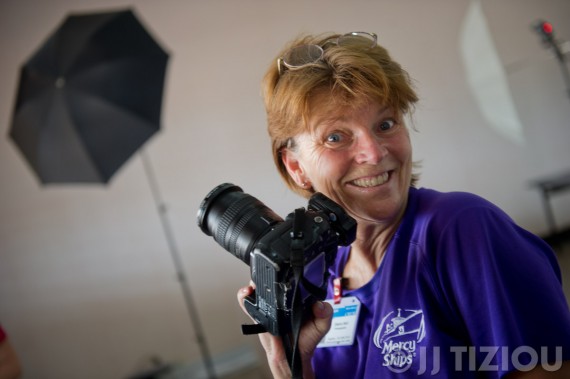 Deb, one of our crew photographers, has been serving with Mercy Ships since 2005…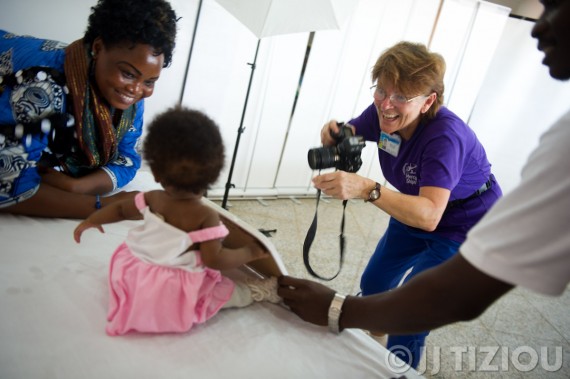 … so she's quite comfortable working with patients big and little in doing these preo-op photos.
Little Sibi-Julie's bilateral cleft lip doesn't do anything to hinder the beauty and joy that emanates from her. It's only a little bit later in life that such a feature may result in teasing and rejection. Thankfully, the surgery that Mercy Ships is about to provide will preempt that.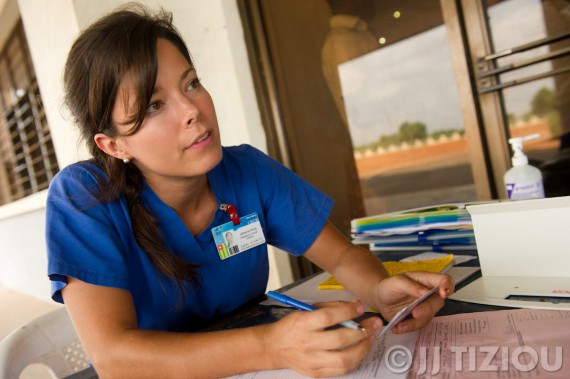 After her photo session, Sibi-Julie heads over to our infant feeding program, where our dietitian Jessica is in charge of making sure that she's healthy enough for surgery. Many of our infant patients come to us malnourished and underweight…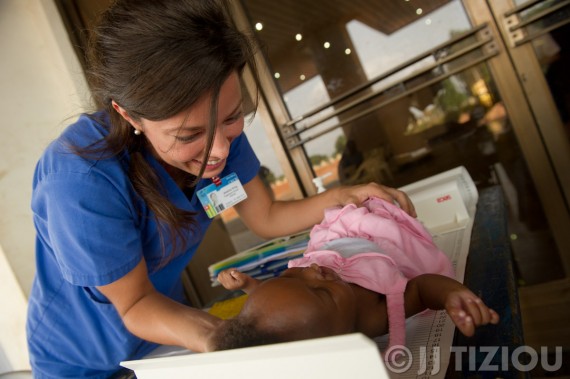 … but a quick set of measurements confirm that she's in great shape…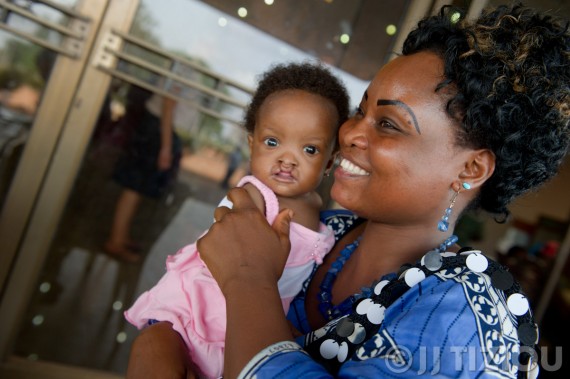 … so this littlest one is all set and ready to come in for surgery.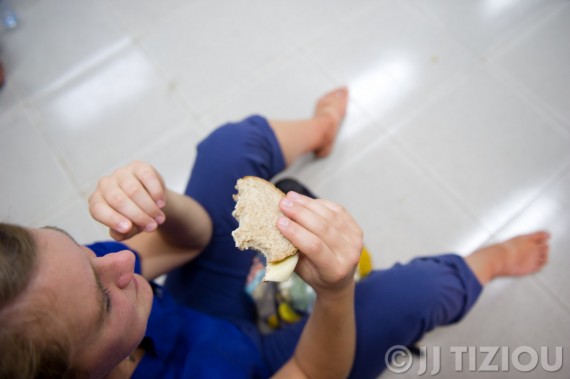 Of course it's not just the infants who need to be well nourished… our crew needs sustenance for our bodies to keep this long day running smoothly…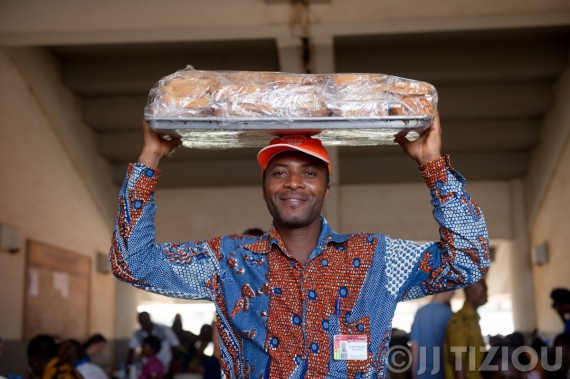 so we continue to unpack the over 1,500 peanut butter and jelly sandwiches that we'd prepared the night before…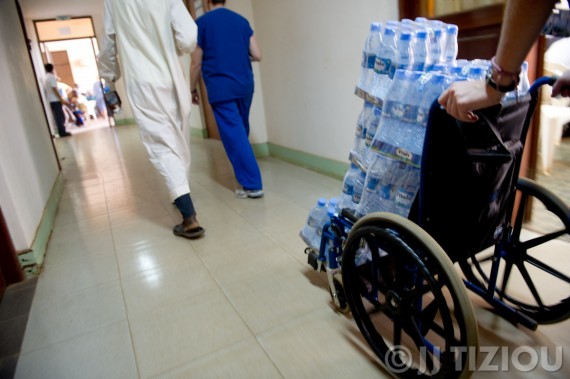 … and the water keeps on coming…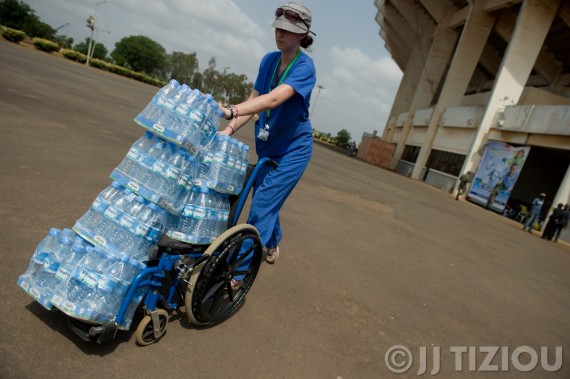 … although we made sure to each bring two bottles of our own water, to save the generously donated cases of Vitale for the people in line.
Off in the distance, a large tree provided shade for the prayer station…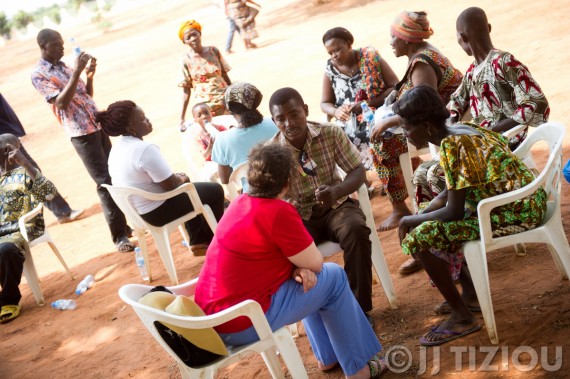 … where members of our team offered support and prayer for the people to whom we weren't able to offer surgeries.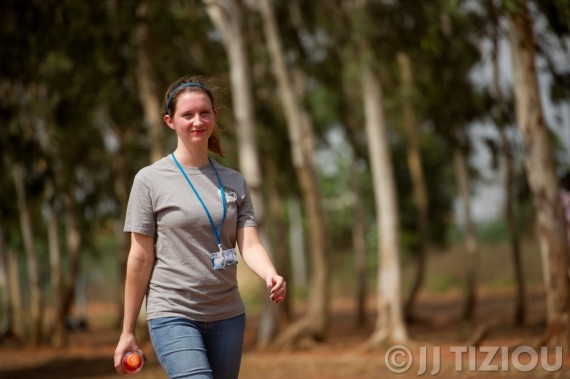 All day long, our patient escorts walked back and forth over the stadium grounds…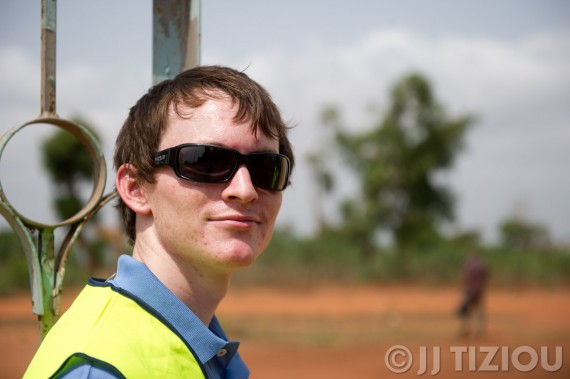 … all the way to our last security checkpoint…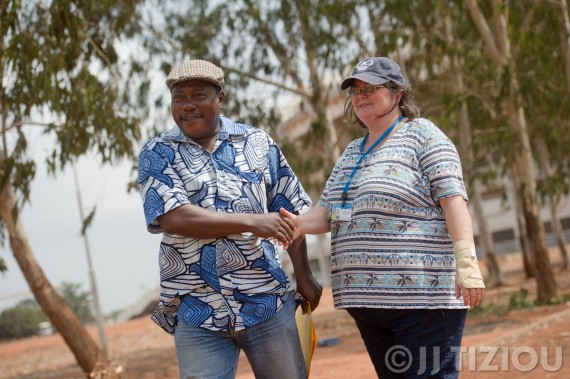 … where we bid them farewell for the day, happy that we will be seeing some of them again soon for their surgeries.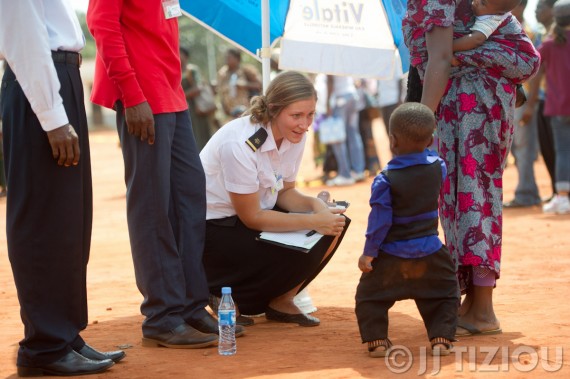 As some patients were walking out of the gates, others were just finally making it to the pre-screening station. The line is still long…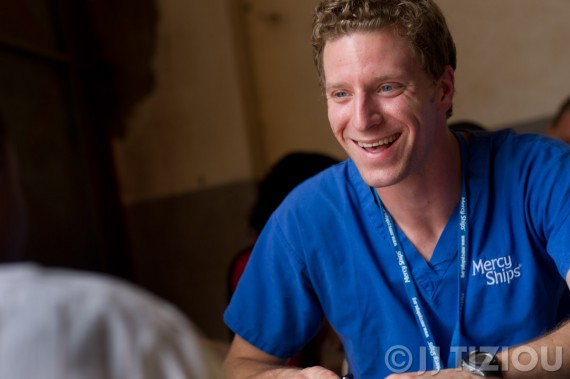 As we continue to greet each one…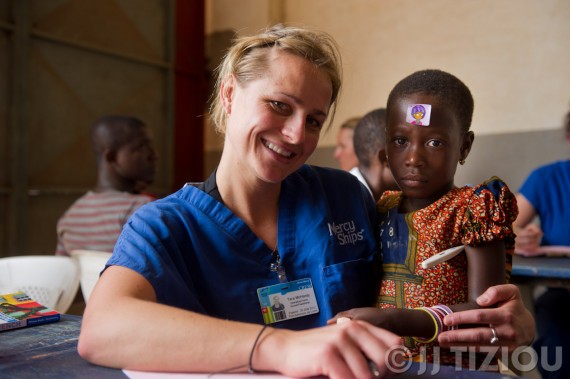 we make new young friends…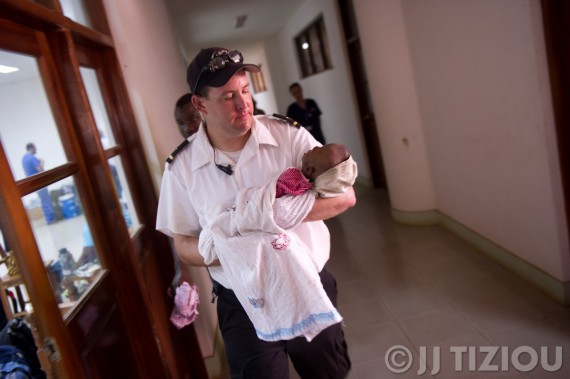 … even very young ones.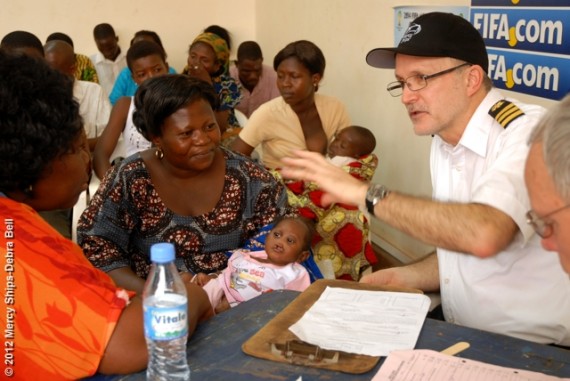 All day long, our doctors see hundreds of patients… (here's the part of the narrative where we switch over to mostly Deb's images, as it was time for me to take a turn doing the pre-op patient photos…)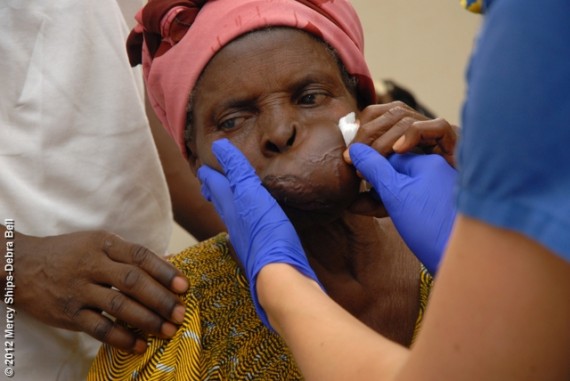 … including many of the maxillofacial cases that Dr. Gary specializes in.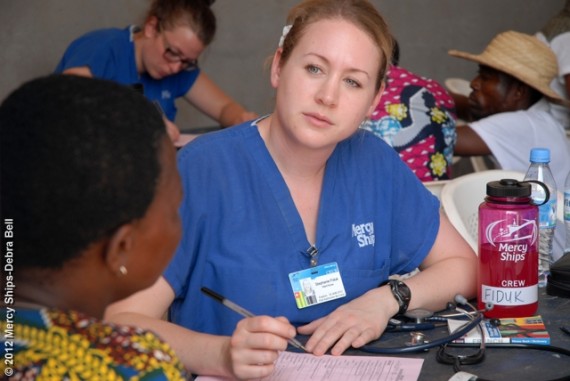 … of ~4,000 individuals in line, 1,609 came through to prescreening, of which 574 went through the whole processfor registration. Of these, 475 got appointments for X-Rays, CT scans or surgeries.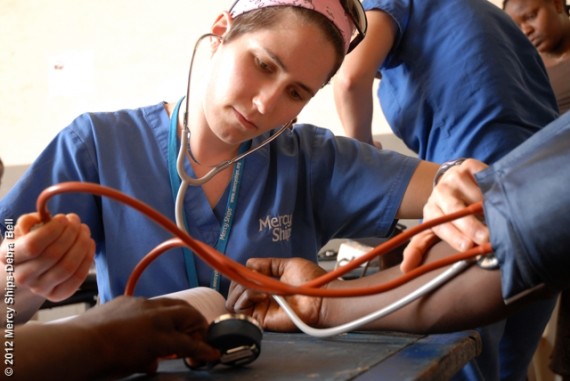 As we kept on checking in patients…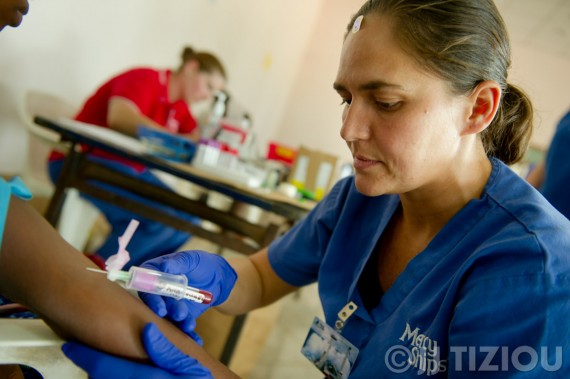 … some required bloodwork…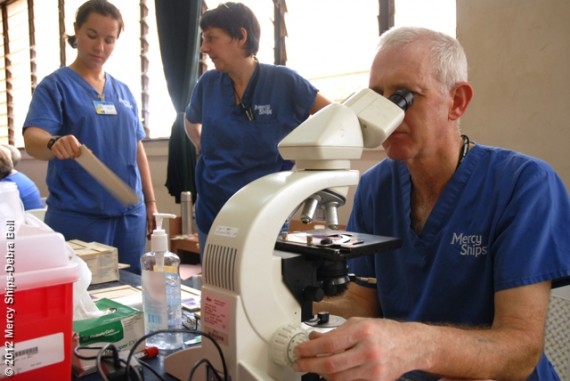 … conveniently we'd brought along our own lab…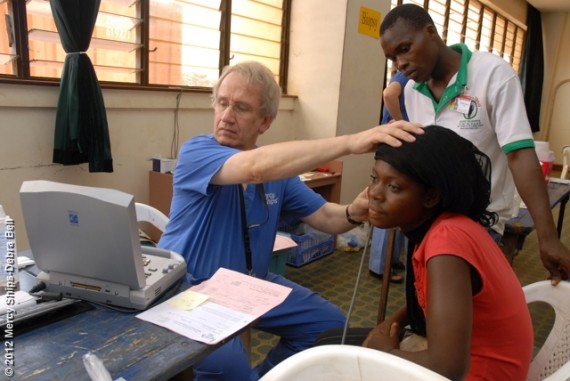 … and portable ultrasound equipment too…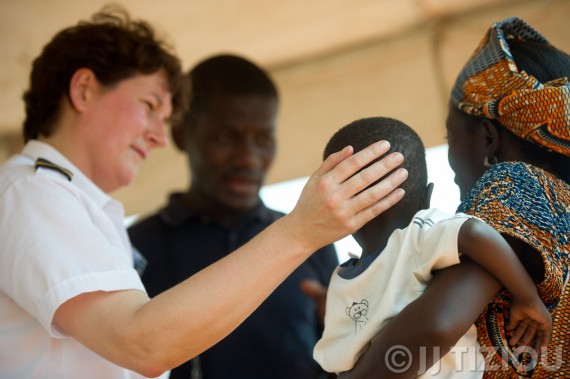 … but even with all of these tools, the most valuable thing that we brought with us was a kind touch…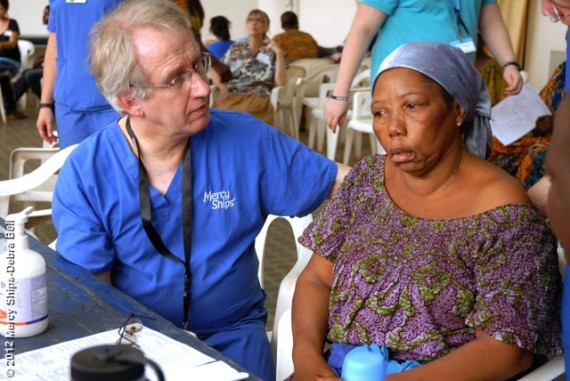 … and simple compassion.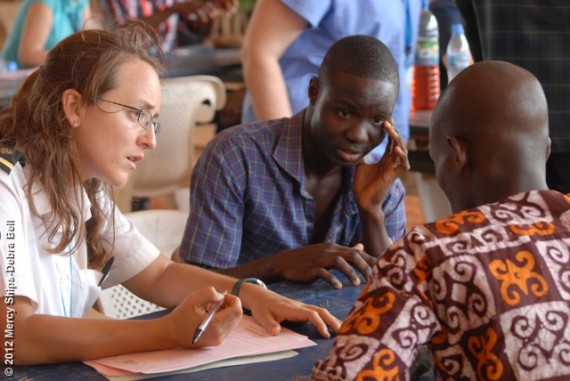 As we continue checking the patients through…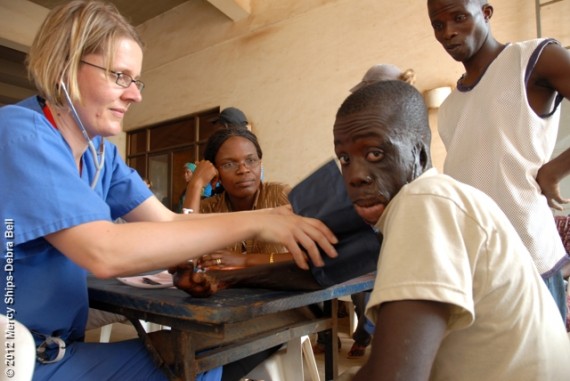 … taking histories, vital signs etc…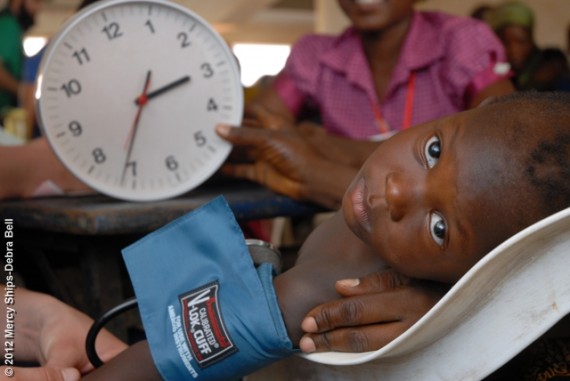 … it is a complex but necessary process…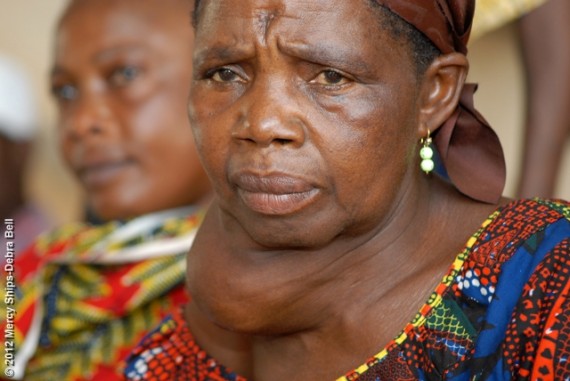 … and there are some concerned expressions…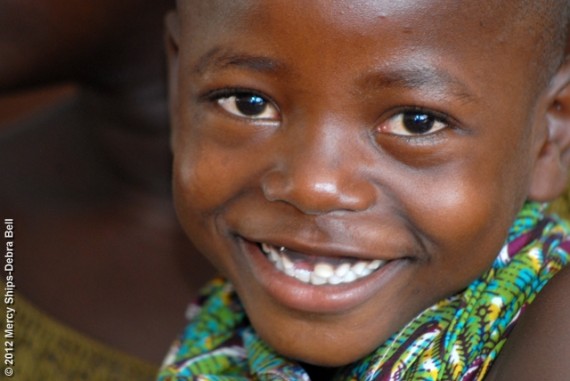 … but also so many beauitiful smiles…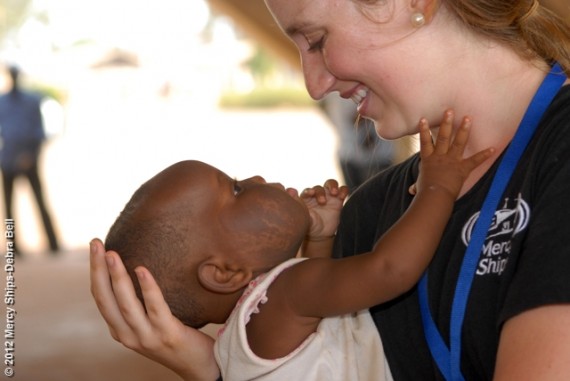 … special moments…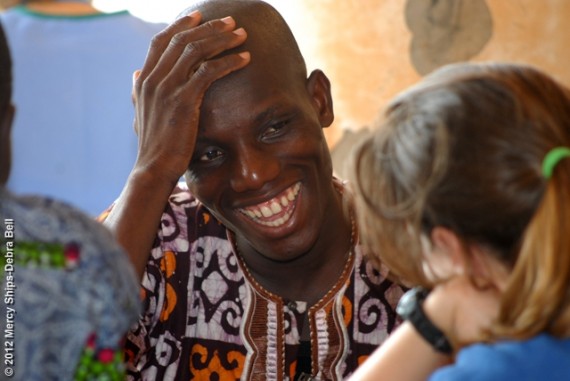 … and laughter.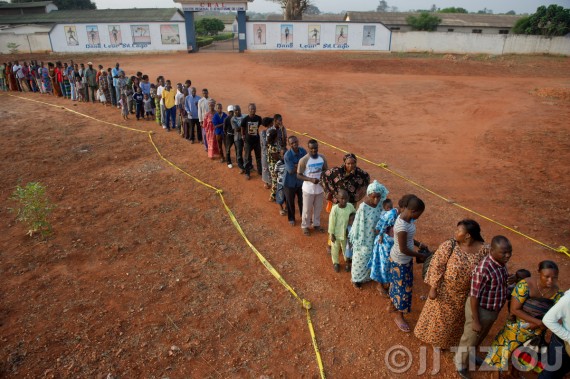 Throughout the day, the theme has been "patience"…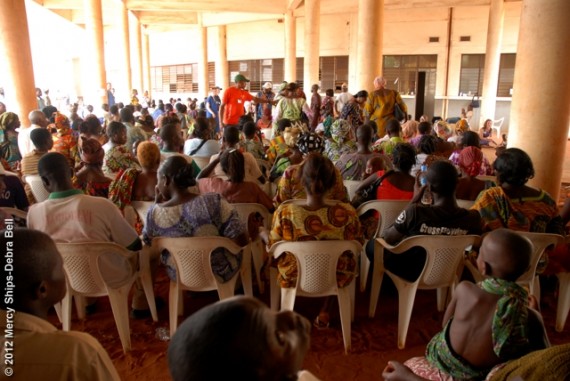 … patience in the heat…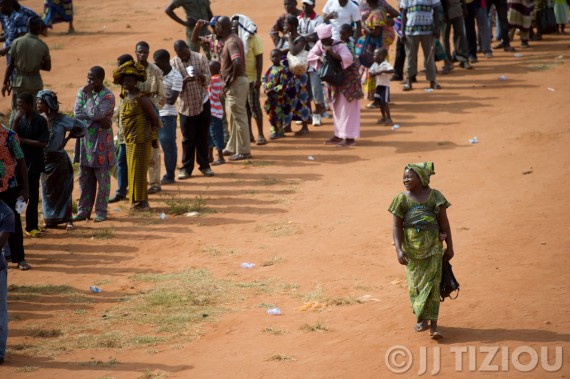 … more patience in the line…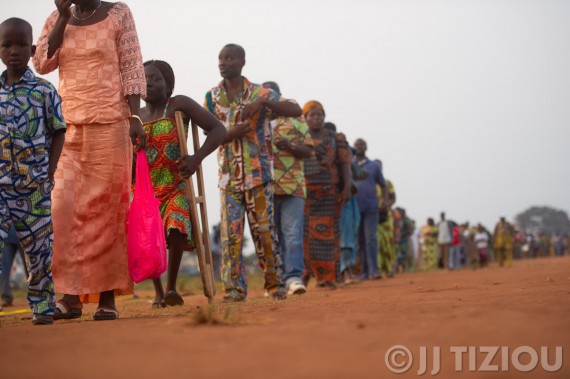 … still more patience…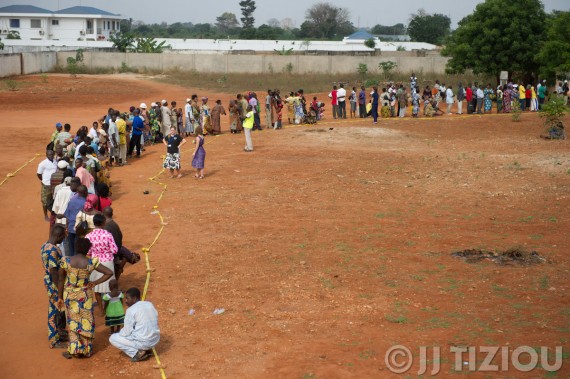 …. and yet more patience…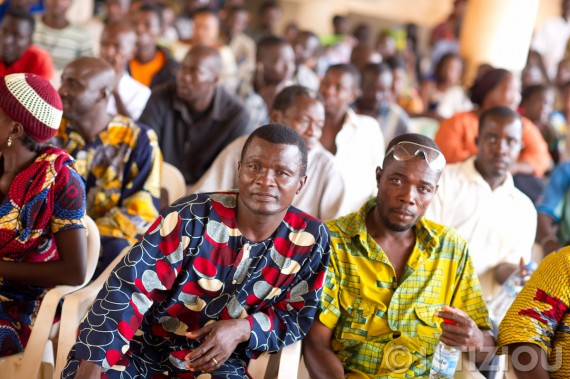 … until finally, at long last, after all of this patience…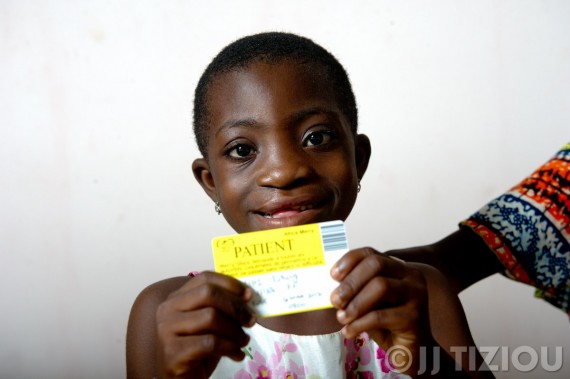 … we have PATIENTS!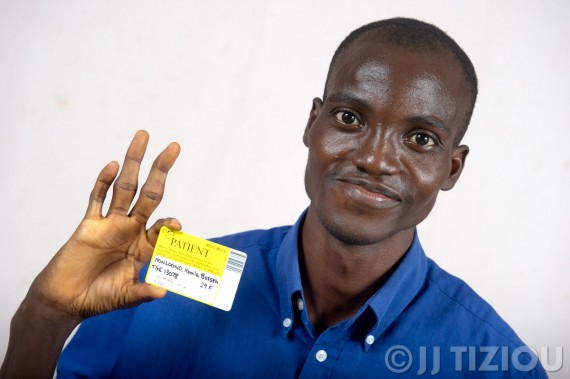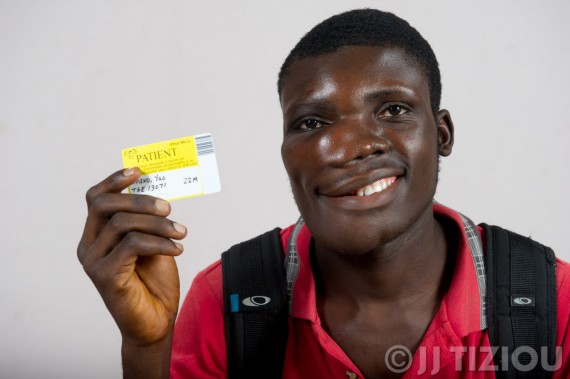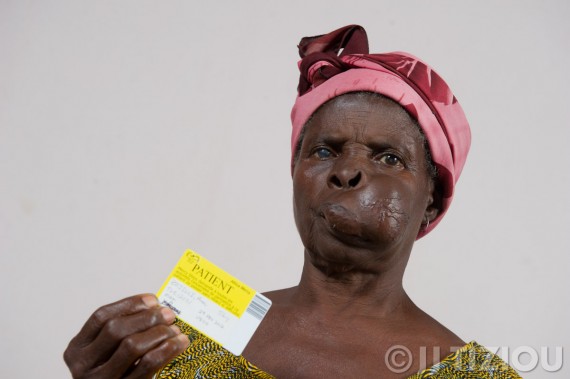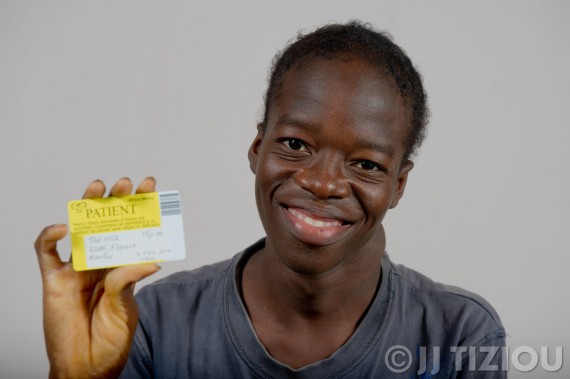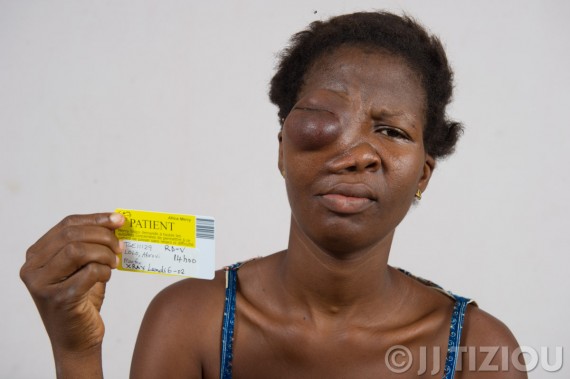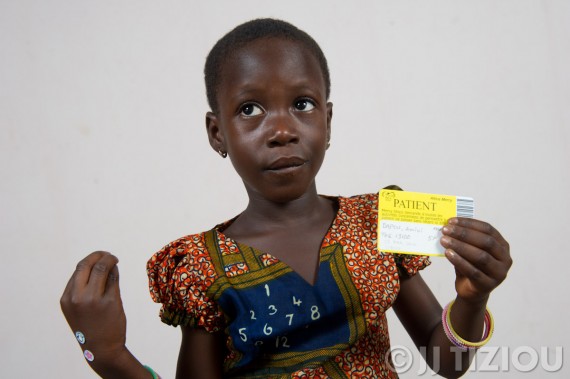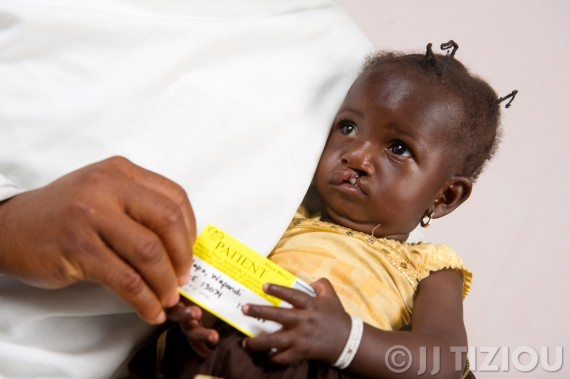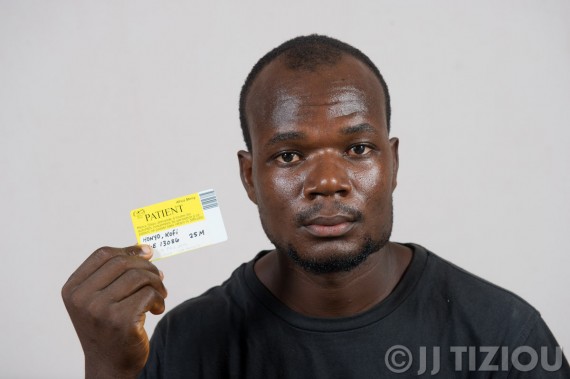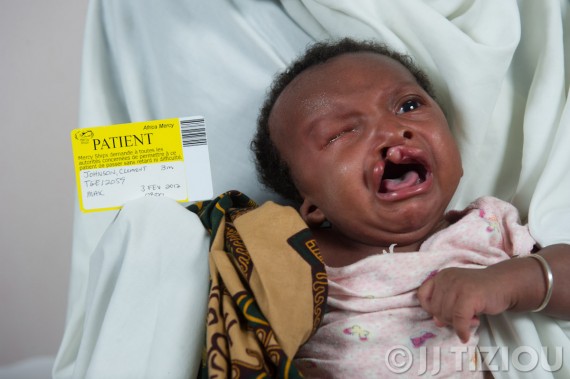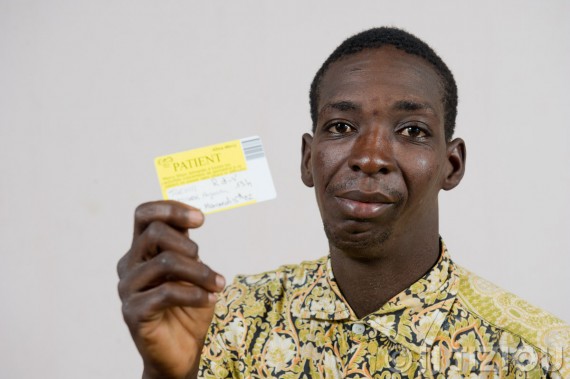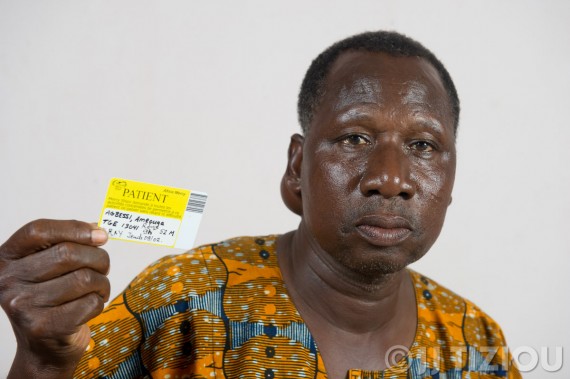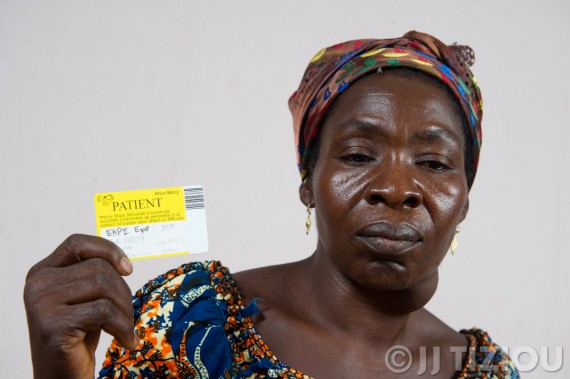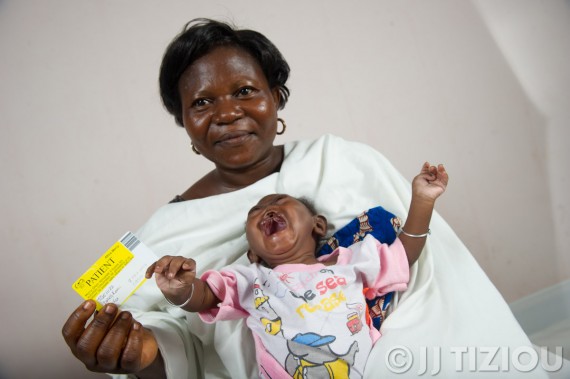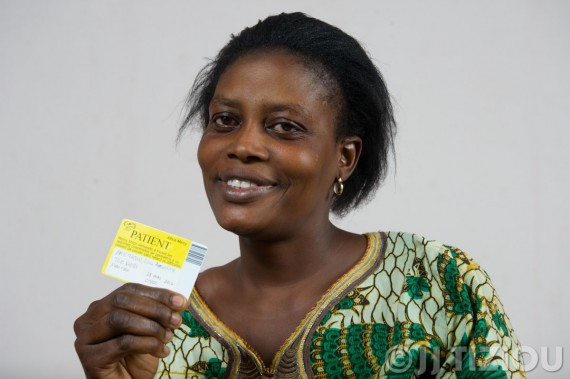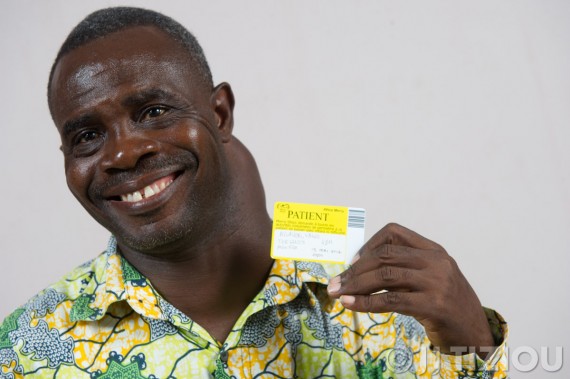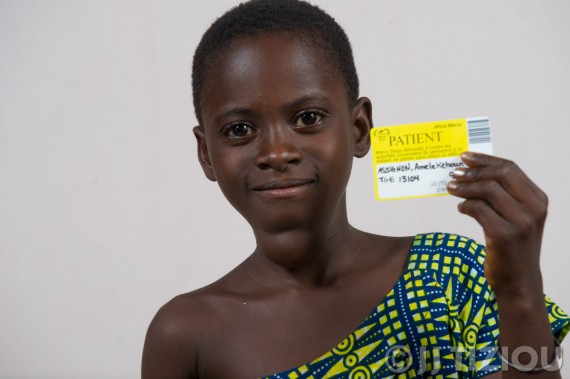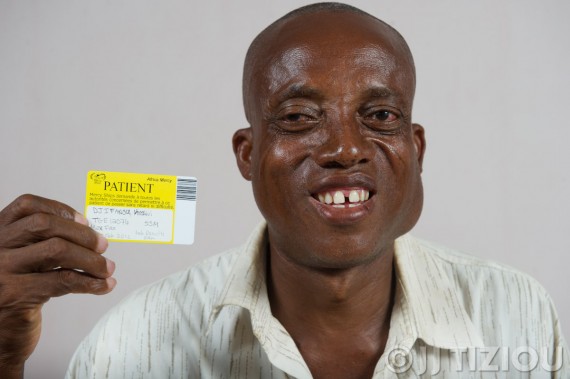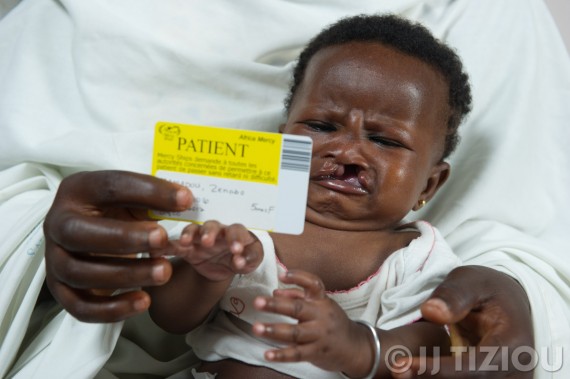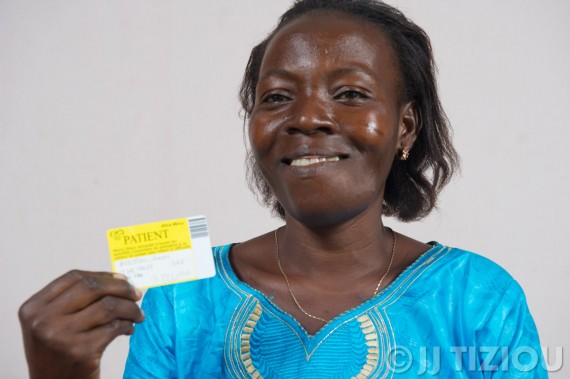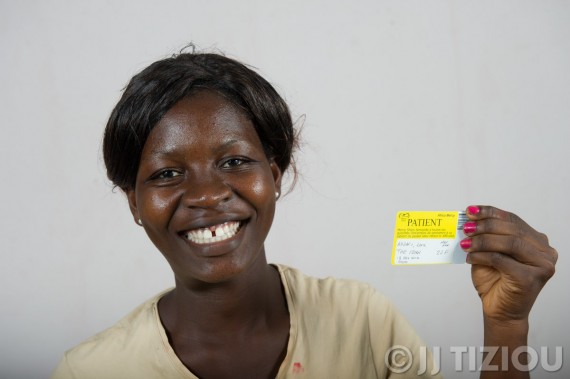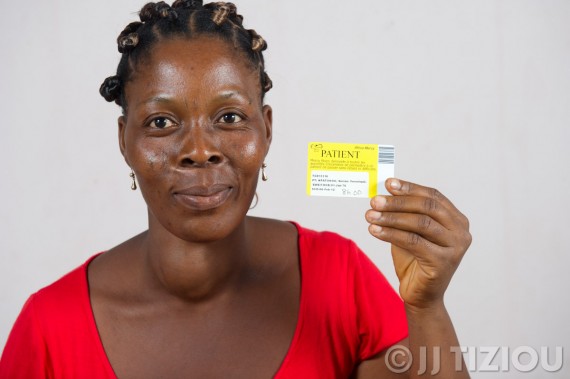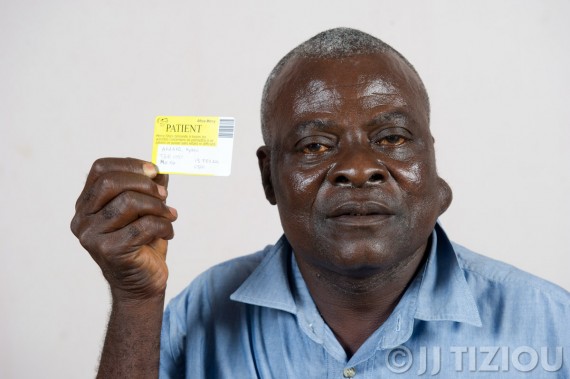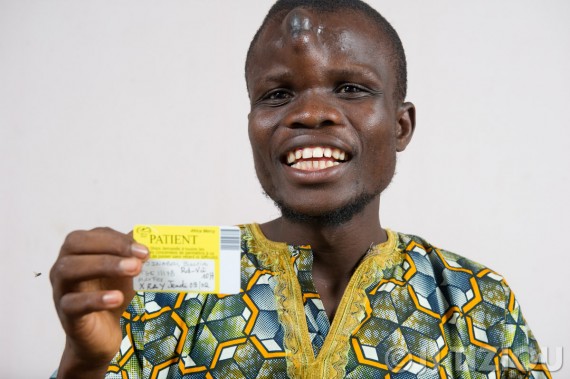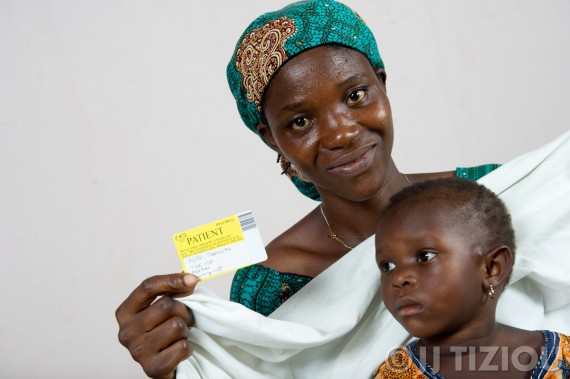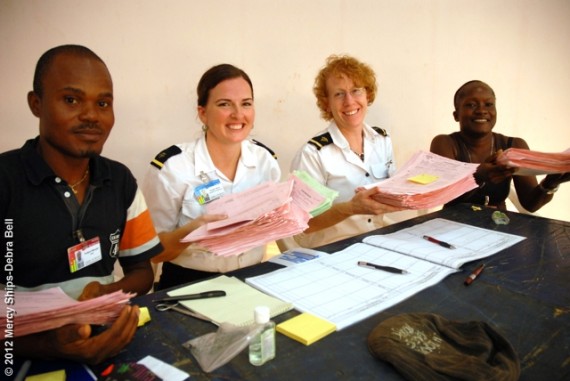 and to keep track of them all, of course…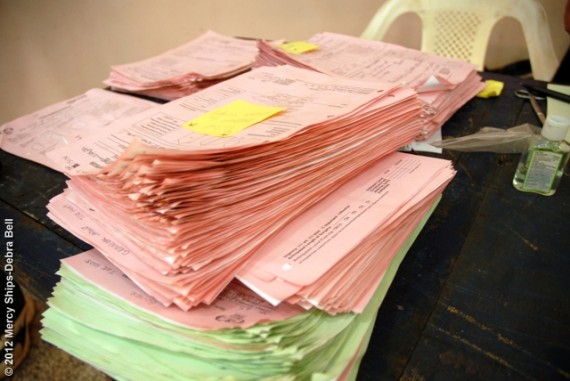 … we have paperwork. It's been a big, exciting, emotional, exhausting day, and it's just the beginning of our five months serving the people of Togo.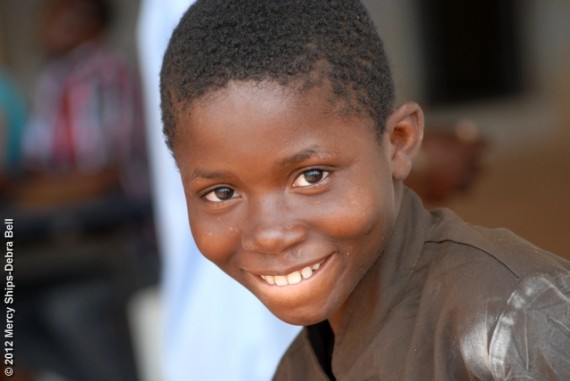 Thank you for joining us in this work. And thanks to Deb for helping me tell this story!
You can help continue in Mercy Ships' mission of bringing hope and healing in many ways: there's always opportunities to get involved for donors, sponsors and volunteers.
Please share this account with your networks; maybe you or someone you know would enjoy serving with us onbard the Africa Mercy.
My service with Mercy Ships is part of my dream of creating positive imagery to support the communities that I value. Thank you to all of you who support JJ Tiziou Photography's community projects.
Photos by Jacques-Jean Tiziou and Debra Bell.
Narrative by Jacques-Jean Tiziou.