Do I have to register ahead of time?
Yes. Group size is limited, so please register now through FringeArts.
What is included?
A transformative experience of the city
Membership in a growing community of perimeter-walkers
Access to digital maps, walk guidelines, packing list, route planning forums etc
Access to the Oct 3rd online reportback event
Group walk registration includes a limited edition perimeter passport and other Walk Around Philadelphia swag. JJ will meet you at the start point to distribute supplies and get you oriented.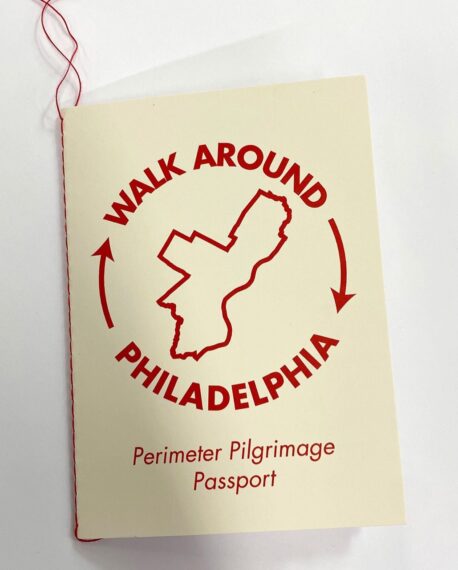 What ages is this experience appropriate for?
The registration through the Fringe Festival is listed for 13 & up. Minors must be accompanied by parents or legal guardians.
Can I get a T-shirt?
Yes! Stylish red Walk Around Philadelphia T-shirts are available for porch pickup in W. Philadelphia or at for $35 & help support the project's accessibility initiatives & continued growth.
Shipped to you anywhere in the US for an extra $5.
Available in standard Gildan sizes:
Youth Small / Medium / Large
'Regular' Small / Medium / Large / XL / XXL
'Ladies' Small / Medium / Large / XL / XXL
Venmo @jjtiziou w/ your order & text 267-702-5464 to coordinate pickup.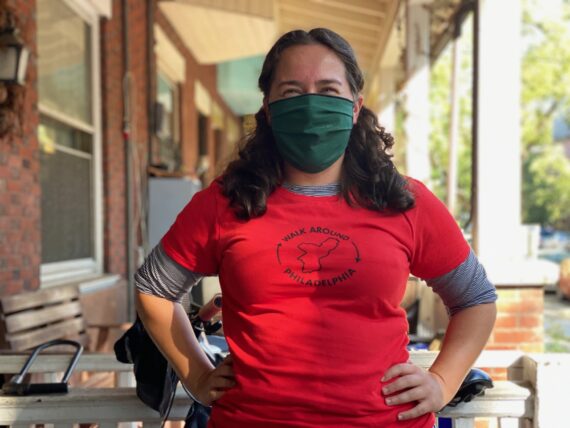 Are there accessibility options?
The virtual reportback event on Oct 3rd will include ASL interpretation.
Some paths near the perimeter are smooth sidewalks, others are rougher going. Because there isn't one set route to follow, you can always pick your path to follow the terrain that is accessible to you for an organize-your-own exploration.
The group walks will aim to cover 10-12 miles for each segment, and some of these segments may not be accessible for those with specific needs. The most accessible segments are the Delaware river segments from Torresdale to Bridesburg, and Bridesburg to Pier 68, as well as the segment from Chestnut Hill East to Fox Chase.
I am committed to increasing accessibility options for Walk Around Philadelphia including mapping specific wheelchair accessible routes, developing more virtual content & audio narrations and creating opportunities for ADA-accessible shuttle rides around the perimeter. These resources will be phased in as time and funding allow.
Please don't hesitate to get in touch or post to the route planning forums if you have any specific accessibility questions.
What about meals?
Some segments of the perimeter have more food access options than others.
Consider packing snacks & extra water.
Nuts & dried fruit are great fuel for the road.
Restaurants can be great places for breaks, battery charging, etc, but in pandemic times, plan to make do without this option.
What about bathrooms?
Bathroom access varies around the perimeter.
Pack a small roll of toilet paper, just in case. If you haven't yet tried it, the internet has answers to the question "how to poop in the woods?"
Due to the pandemic, some establishments' restrooms may not be accessible.
Will you provide turn-by-turn guidance?
Nope. Part of this adventure is the challenge of exploring and wayfinding.
Maps and guiding principles will be provided but it's up to each group to choose the path around the city's edge that suits them. Each time someone walks the perimeter, they take a slightly different path, and each will afford new moments of discovery. For example, there are at least three ways to cross the Schuylkill at the City Ave border, and four or more very different ways to get up from the Schuylkill into Chestnut Hill…
This link offers a preview of a past walk, if you're curious.
What if there's a place that I don't feel safe, or an emergency?
You are undertaking this exploration in public space at your own risk with all of the risks associated with walking out in the world; plan accordingly.
In the event of a medical emergency, call 911. Each group should include a minimum of four participants for safety's sake so that if one person is in distress, someone can stay with them while others go for help.
One of the guidelines for the walk is to prioritize safety. If there's a place that doesn't feel safe to you, don't go there! You always have the option to turn back and/or go around.
Everyone has different assessments of risk and safety. Pick what feels safe for you, and don't feel pressured to go somewhere that feels unsafe because another member of your group wants to or because some other group might have gone there.
It's important to acknowledge that, as we've tragically seen over and over in the news, walking in public places is not an activity where everyone is received in the same way. When I and my colleagues first walked the perimeter in 2016 we were conscious that we were doing so as white folks w/ many privileges, and that someone who looked different than us might have encountered a different reception. The fact that people can get into problematic (or even deadly) situations for simply "Walking While Black" is a huge problem in our society. Be mindful of these realities as you navigate the city with care and care for all of your neighbors.
What about other hazards along the way?
Some hazards might include road crossings without pedestrian passages, railroad tracks, ditches (sometimes water-filled), areas without sidewalks, active construction sites, etc. These are the types of hazards that you should go around if you can't find a safe way through.
Other hazards might include tripping hazards, flying golf balls, bees, ticks and more. These are the kind of hazards that you have to keep an eye out for in the moment.
Another hazard is the potential to accidentally wander into a place you're not supposed to be, or into a place where other people don't think that you should be, which might result in an encounter with a neighbor or law enforcement. Prioritize safety, obey the law at all times, and explore with a spirit of curiosity & goodwill. If someone asks you what you're up to, respond with calm friendliness and tell them about your adventure and ask for their help in circumnavigating the city safely.
What about bad weather?
Group walks happen rain or shine.
The applicable saying is: "There is no bad weather, only inappropriate clothing"
Walking is possible in just about any sort of weather, although it might affect how much ground you are able to cover.
Look at weather forecasts as you plan your walk, and again as you set out.
Appropriate clothing is important (layers, rain gear, etc). Choose your shoes carefully, bring extra water.
How far and how fast will we be walking?
Each group will walk for approximately 5-6 hours, covering 10-12 miles, depending on the segment, number of breaks and the pace at which the group walks.
A gentle leisurely pace is encouraged to better take-in the surroundings. Each group will set their own pace and can take breaks as often as they'd like.
On average, Walk Around Philadelphia participants move at about 2 mph with breaks.
I can't be there at the start time. Is it possible to intercept a group midway?
Generally, no. The intercept logistics are too complicated, and it's distracting for perimeter walkers who have already set out on their journey.
What if I have to leave the group early?
It's advised to plan on committing to the entire day's walk, as this will yield a far more rewarding experience. However, if you absolutely must leave the group before the end of the segment, there are certainly options to catch SEPTA or get picked up.
What if we don't make it to the anticipated finish point in time?
The group walk segments are planned to be doable at a leisurely pace. That said, any number of things can result in a group covering less ground than anticipated. (It is not uncommon to encounter unforeseen obstacles, or exciting discoveries that cause delays as they are explored in greater depth) – The groups will ascertain their progress as they go, and decide collectively where/how they want to end their walking day and head home. There's no wrong way to do it.
How can I prepare?
Start doing some longer walks to prepare your body for 5-6 hours of walking, or to ascertain what is doable for you.
Start looking at the maps and pondering routes. Think about how you'll get to and from start and finish points, what obstacles you might encounter along the way, and what you'll do for food, water and bathrooms. Tools like satellite images and Google Streetview can help you with reconnaissance if you're a meticulous planner, or you can choose to play it by ear and adjust on the fly.
Designate an emergency contact who'll know where you are and is available to drive out to you if needed.
Can I bring a friend?
That would be great and I'm grateful for any help in spreading the word & inviting others into this experience; please just make sure to register for a ticket for each participant to help maintain our group size limits. Thank you!
Can I bring my dog?
Sorry but please don't bring any four-legged friends along on the organized group walks.
Some other participants may have canine-phobias, and there are segments where having a dog along might complicate logistics or route options. (If you chose the "DIY / Anytime" option, you can of course do as you please with your own group.)