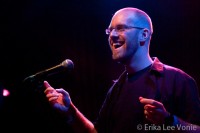 Visual Artist,
Community Organizer.
My operating philosophy is that Everyone is Photogenic.
My primary artistic media are photographs and giant pots of lentil soup.
I've walked around the full perimeter of Philadelphia (twice!), and my 85,000 sqft How Philly Moves mural at PHL International Airport was recognized as one of the nation's best public art projects by Americans for the Arts.
I host house concerts, instigate community dinners, and photograph surprise weddings.
I recently completed a fantastic artist residency at the National Museum of American Jewish History, and received a sponsorship from Gaiam to continue my community yoga photo project.
I'm now seeking both more institutional opportunities for projects as well as individual support for my community & public art work.
My photographs have been published a little bit all over, and I'm occasionally available for commissions.
If you've got a project that we should collaborate on, get in touch!