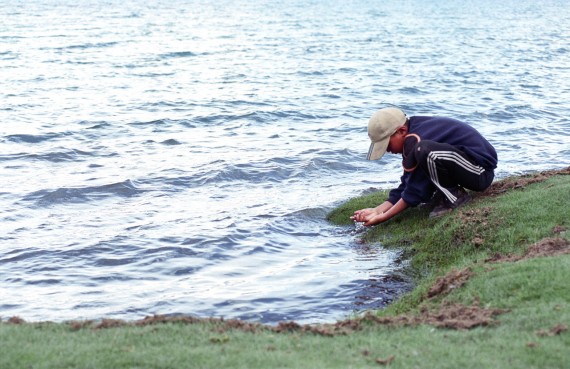 The human body is mostly water. All life depends on it. We know all this, and yet somehow we seem to keep allowing all sorts of crap into our water supply.
As plans move forward for "Fracking" upstream of us, with the potential to release all sorts of nasty chemicals into the Delaware River, our neighbors are organizing to protect our river and drinking water.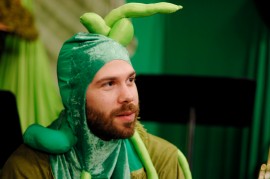 If one thing's for certain, it's that West Philly knows how to have fun while addressing serious issues, so you can join Jacob Mitas, Beth Nixon, Joshua Marcus and others for Frack is Whack, a celebration and fundraiser on Thursday Feb 24. If you haven't heard Josh's amazing environmental justice folk CD, it's worth a listen (free online, but you should buy the disk..) On a more institutional level, you might also be interested in the upcoming 'In the Terrain of Water' symposium happening at PennDesign. More info below…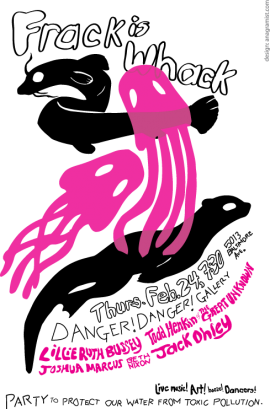 Jacob and Cecily present:
Frack is Whack — A party to protect the Delaware River and the safety of Philly's drinking water
Thursday, Feb. 24, 7:30 PM till late
Danger! Danger! Gallery, 5013 Baltimore Ave., on the #34 Green Line trolley.
Suggested donation $5-30
Featuring:
Lillie Ruth Bussie
Todd Henkin of The Great Unknown
Joshua Marcus
Jack Ohly of West Philly Orchestra
Beth Nixon, Morgan Andrews and more!
Join us and Protecting Our Waters for live music, a booty-shakin dance party, river cocktails, fish go-go dancers, video projections — and a chance to submit your public comment to the Delaware River Basin Commission before fracking in our watershed begins in earnest! Suggested donation $5-30, proceeds go to Protecting Our Waters.
Meanwhile, my neighbor Katie is preparing a special symposium at PennDesign: In the Terrain of Water. She's one of those folks who can't stand having her picture taken, so when I photographed her and she laughingly described the process as "Totally not awful…" I considered it high praise. Remember, everyone is photogenic.
Symposium at PENNDESIGN: April 1 – 2, 2011
Conversations and presentations will be organized around three themes:
design ACTIVISM / ADVOCACY in the Terrain of Water
design STRUCTURE / INFRASTRUCTURE in the Terrain of Water
design IMAGING / IMAGINING in the Terrain of Water