What does it mean to walk around a city?
I'm not quite sure, but I'm doing it this week.
To be specific, there's four of us, walking the entire perimeter of Philadelphia over the course of a week.
We'd (optimistically) hoped to do it in just four days, but the way that things are looking, it'll take part of a fifth to wrap it up.
Who's doing this? Why? And why in the dead of winter?
Some context is below, as well as a few snapshots from our first days out.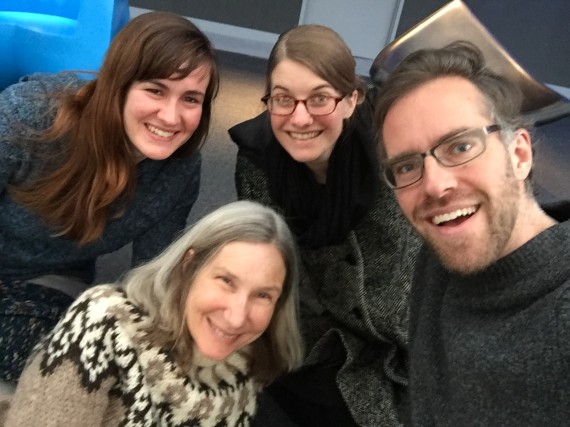 Cross Pollination:
We're doing this in the framework of a weeklong "Cross Pollination" residency hosted by Swim Pony Performing Arts and funded by the Knight Foundation.
Through this residency, I've been paired with writer Ann de Forest, to spend a week exploring interdisciplinary artistic processes with Swim Pony's Adrienne Mackey.
Months ago, we coordinated our schedule and planned out a week to spend together doing some sort of creative exploration. But we had no idea what we'd do. The process is open ended… we don't need to present a finished piece per-se. And the residency is really about learning from each other's processes.
In some preliminary meetings, we explored a ton of different themes that we were interested in and potential frameworks for the week. What would happen if we traded roles, with me writing and Ann photographing? What if we used different prompts of sorts to make work together? But in the end, we kept on coming back to ideas of maps and boundaries and neighborhoods and stories and journeys and pilgrimages… and so… all of a sudden… we asked:
"What if we spent the week walking the entire perimeter of the city?"
And so we are.
Save the date for Friday Feb 26, when we're hoping to host some sort of evening dinner (potluck?) gathering to share stories & reflections on the experience. (We haven't confirmed details yet, but I'll post them via Twitter & Facebook when we've got venue & timing figured out.)
In the meanwhile, here's a tiny glimpse of our first days from my perspective – (Note: while the
Day 0
We'd decided that before we started our walk, we'd get a sense of the scope of what we were about to undertake by heading up to the new observation deck in the big fancy skyscraper tower….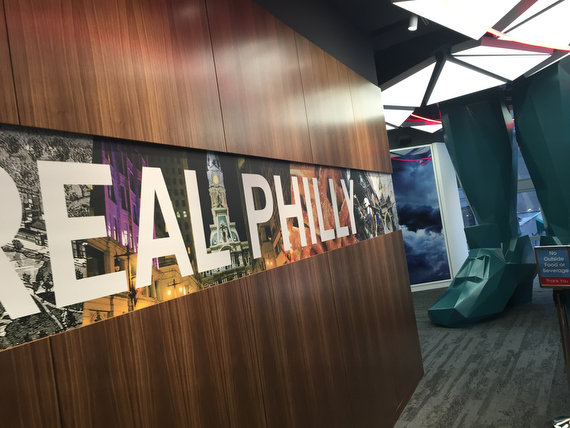 The entrance includes these weird funny feet meant to imply a giant figure standing through the space…and their slogan / hashtag: #therealphilly…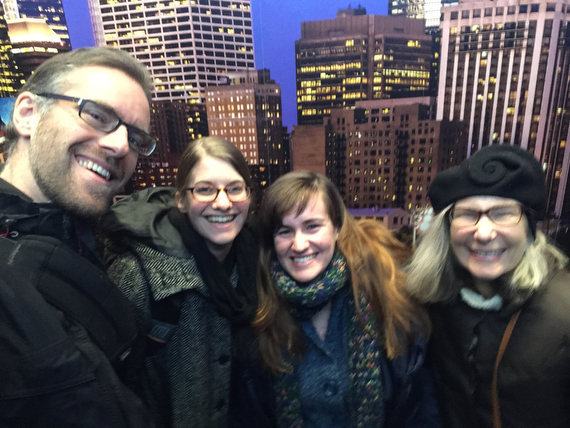 …. so it was of course mildly ironic that our first glimpse of "the real philly" is a printed wall graphic inside the elevator… but still, that was pretty cute.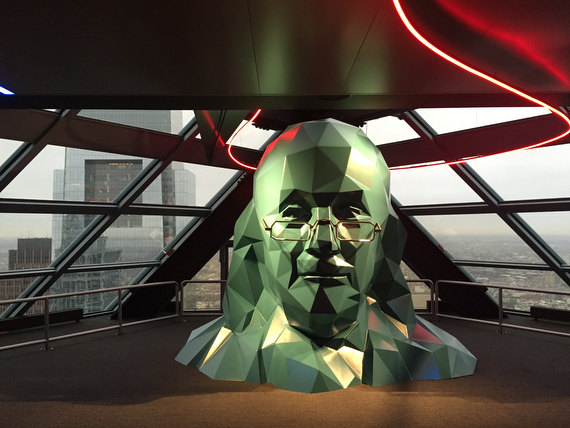 Reaching the top, we found Ben Franklin's head. Of course, the idea of implying this giant figure is quite clever… but in my line of work I think a lot about perspective & proportion, so I couldn't help but think of the fact that since the feet were on the 2nd floor, and the head on the 57th, poor Ben had been stretched out quite a bit.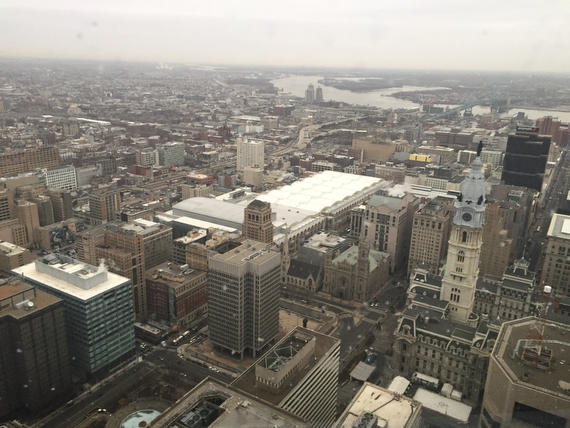 What was undeniable was that the views stretched out expansively… That's the convention center in the middle, with a view northeast towards the Delaware.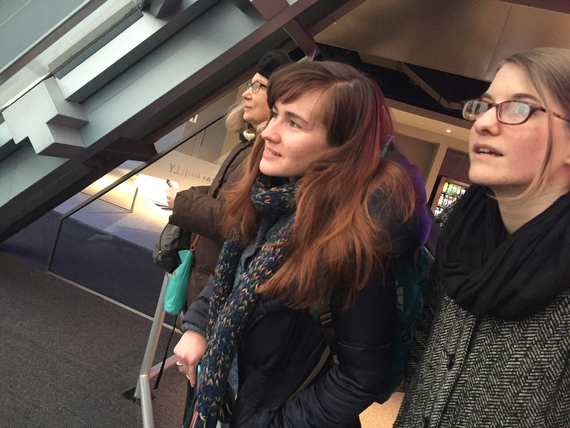 We were immediately drawn to the windows…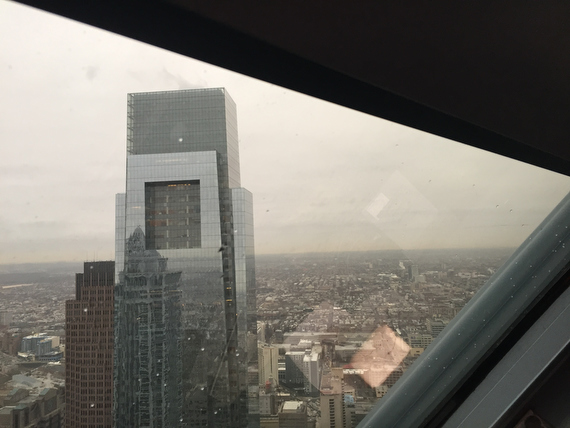 … where it's pretty different to see the big office towers from a similar high vantage point rather than below.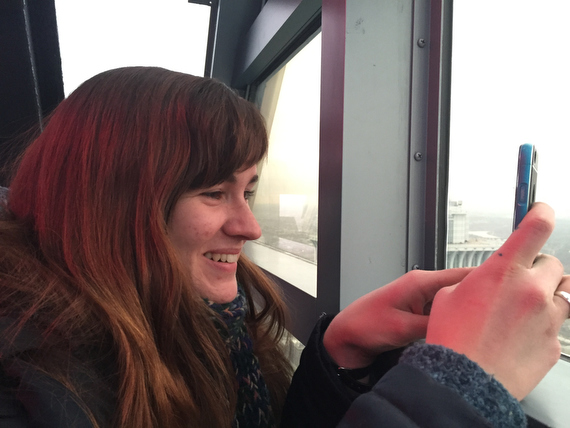 I haven't yet introduced our fourth walker: This is Sam – She's Swim Pony's Artistic Associate. She helps Adrienne with admin, management, research and the rest… Not only would she be joining us for the walk, but she'd already been hard at work facilitating every bit of meeting & scheduling logistics etc.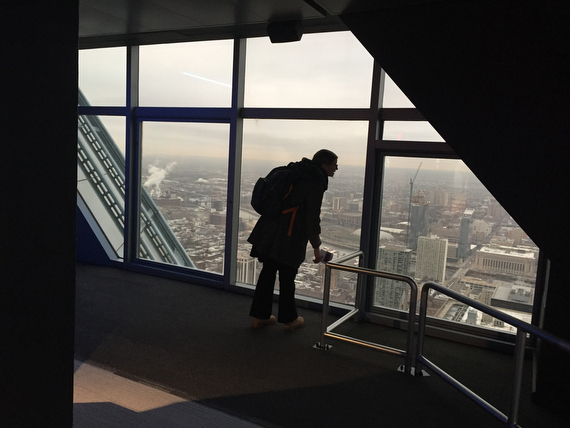 As we looked out…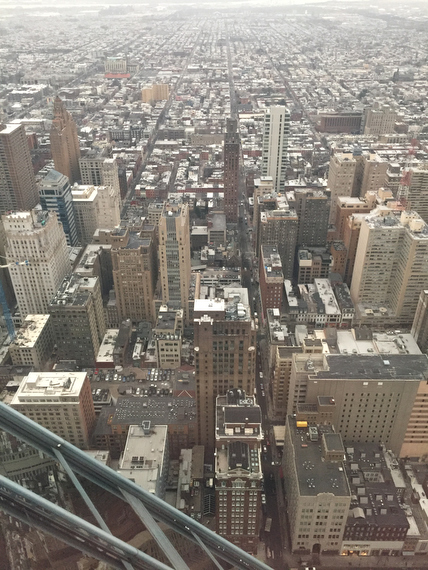 … over these expansive views…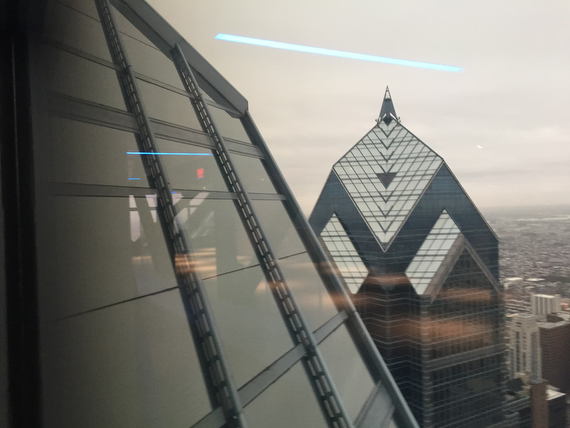 … we thought about what it meant to look out over the city from these glass towers…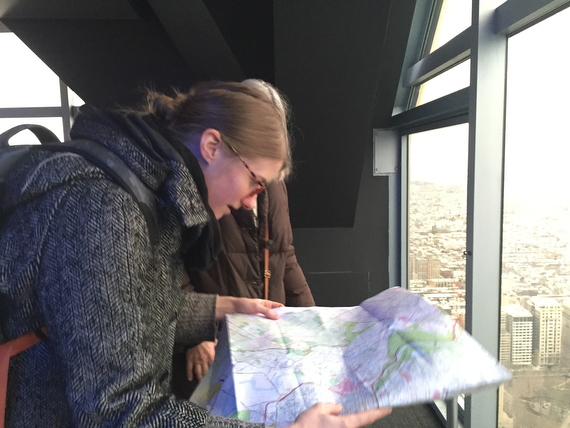 … versus what it would mean to actually walk it on foot.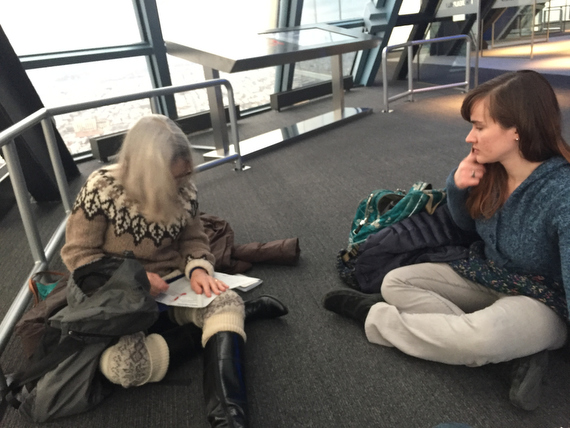 We had no idea what exactly the coming week would look like…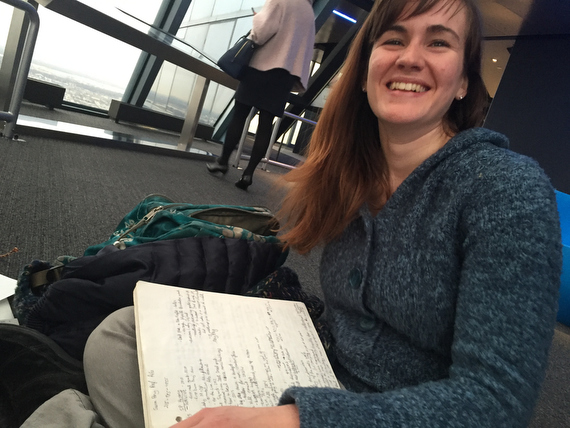 … but we knew that we'd do it in good company and good spirits with Sam…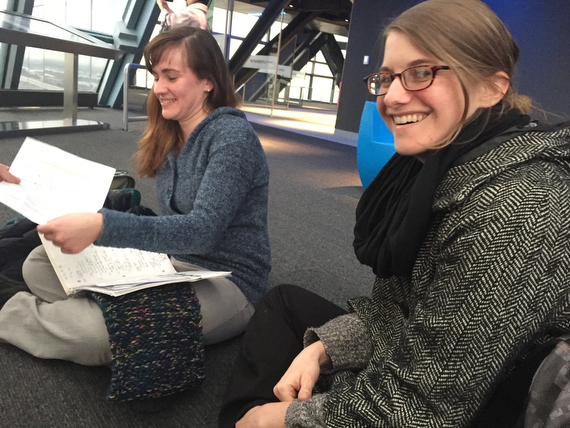 … Adrienne …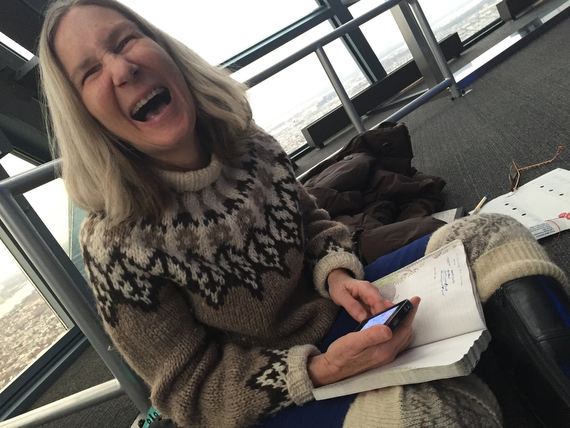 … Ann …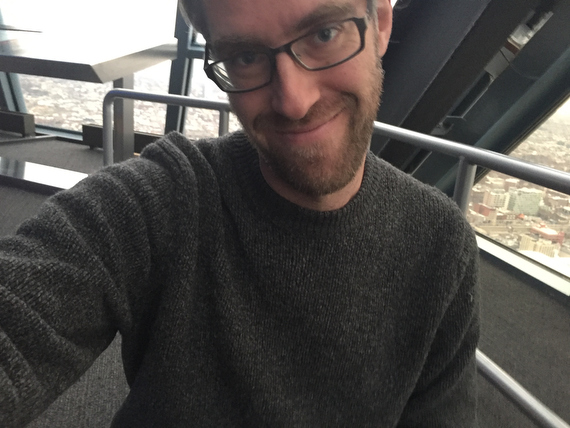 … and of course myself.
Here's a point worth noting: I'm undertaking this venture wearing my artist hat, and not my commercial photography service provider hat. So I decided to take it easy on the picture taking.
When I've photographed other walks like the March for Rights, Respect & Fair Food or Shale Gas Outrage, or even when visiting Philadelphia's Secret Garden, I've carried a ton of heavy gear, and run and jumped and climbed and scrambled ahead, above, behind and around the marchers to get every possible shot of them.
But that's a different mode of operating, and here it was really about prioritizing the experience of walking. So I limited myself to just cell phone snapshots, and only ones that could be taken from sight lines that didn't involve leaving the group. And I'm posting them all straight-out-of-camera, no time for tweaking right now.
Mind you, "taking it easy on the picture taking" means that after two days (and the day 0 morning), I still found myself with 1,120 frames to look through. (Don't worry, I didn't use ALL of them for this post.)
Day 1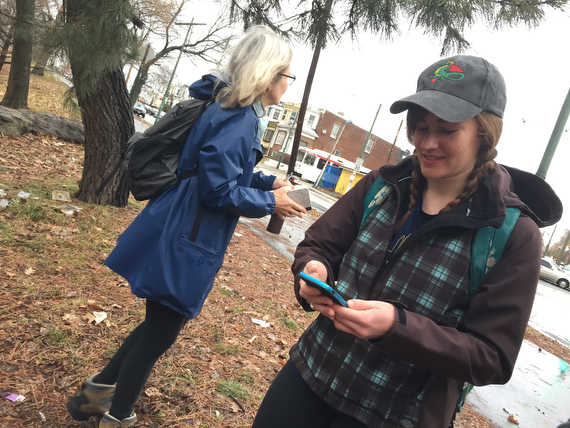 We start off in SW. Philly, at 61st & Baltimore, and we're already discovering new things. This part of the city isn't altogether unknown to me, but Sam doesn't spend a lot of time in W. Philly and so is unfamiliar with the geography. She makes a note in her phone to remember where her car is parked.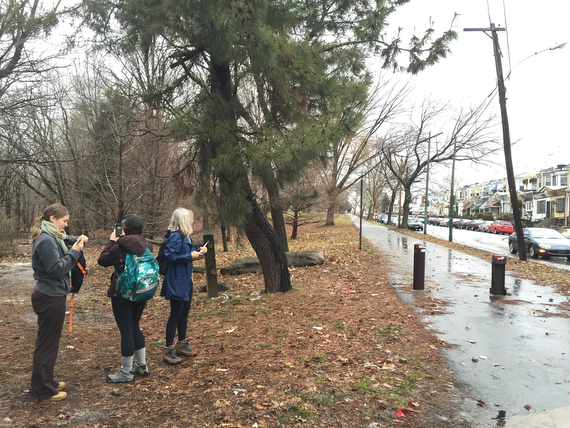 On this western edge of the city, Cobbs Creek Park marks the border. We find ourselves venturing from 61st street…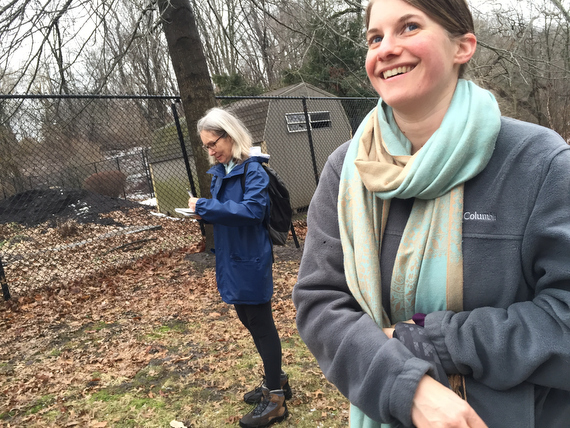 … and starting to venture into the woods where…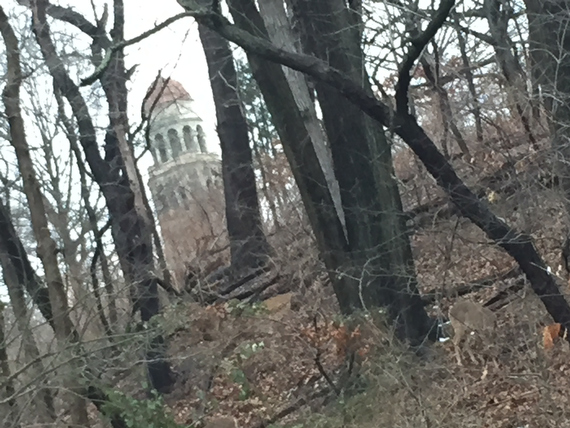 … there's interesting glimpses of the city through the skyline (and already I'm kind of regretting not having a big telephoto lens on me, because for shots like this one, a digital zoom just won't cut it… but then again, I'm not regretting not carrying a heavy load of gear!)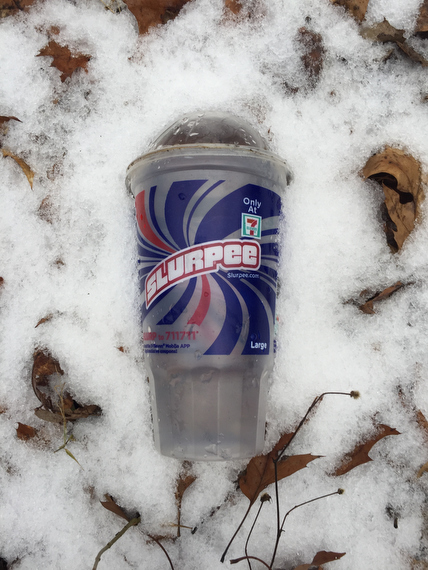 There's also interesting glimpses of the city's inhabitants that have passed through these woods. The slurpee cup is the exception. For the most part, we've found empty beer bottles. Not just in Cobbs Creek Park, but everywhere along the border…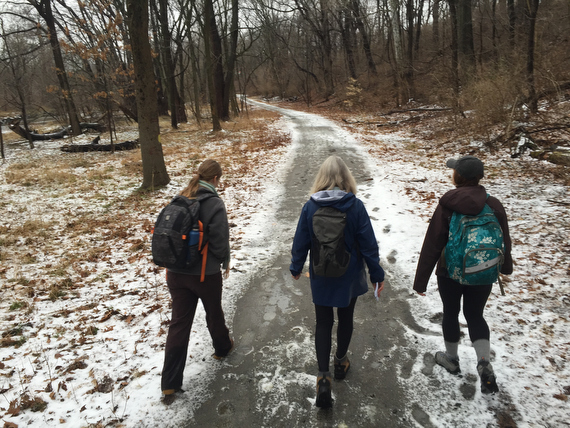 … but little bits of trash don't diminish the beauty of the woods, and we set off on our journey.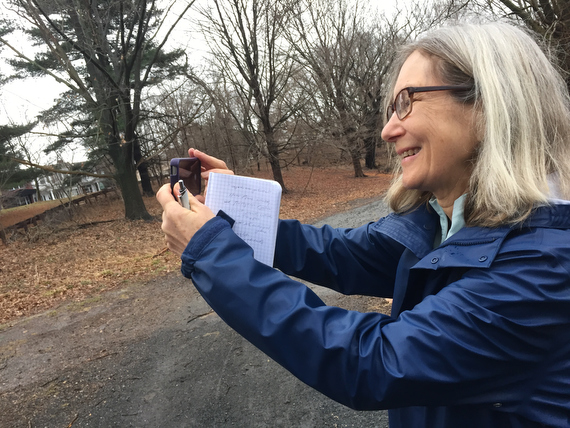 Of course, I'm not the only one taking pictures… Now that cameras are ubiquitous…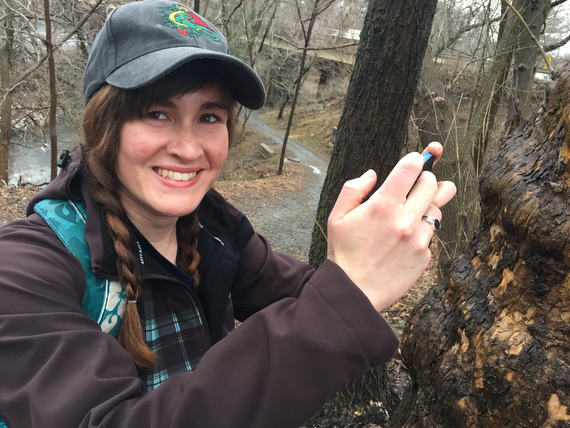 … I don't need to be the only "photographer" documenting our journey… everyone can play this role…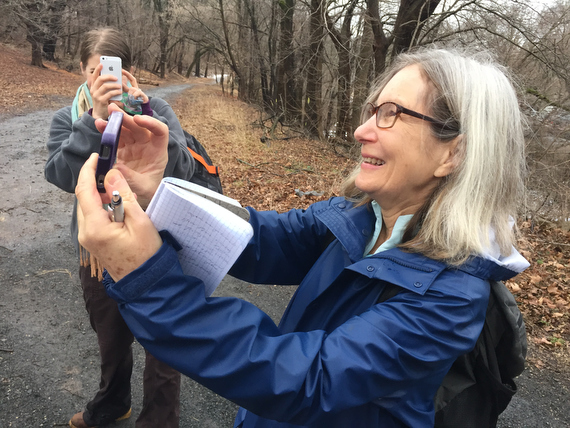 … which of course leads to some meta absurdity as Adrienne photographs me photographing Anne.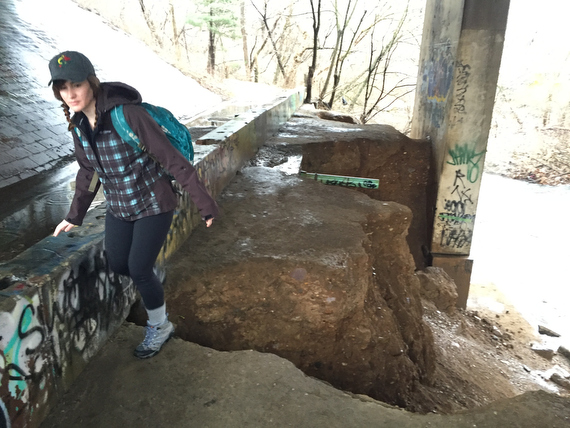 The path is mostly smooth, but we encounter the occasional obstacles: small eroded ravines to cross…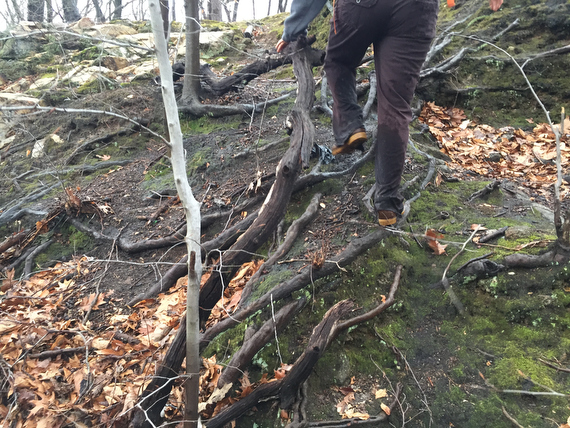 … roots to navigate…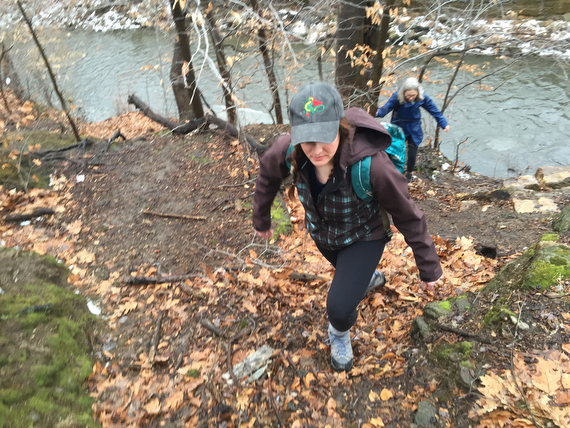 … and hills to climb.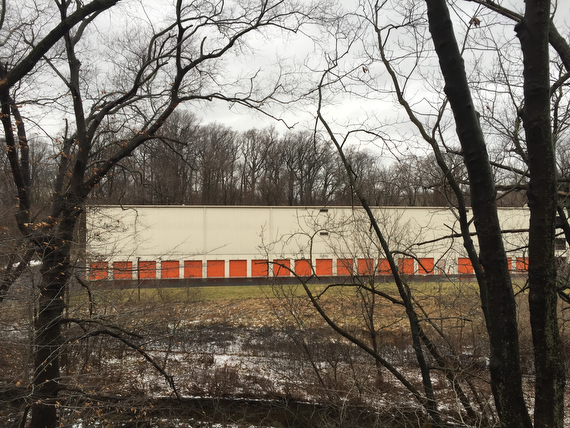 Through the trees, we catch glimpses of things across the border like this storage facility: It's across the creek, so it's not in Philadelphia.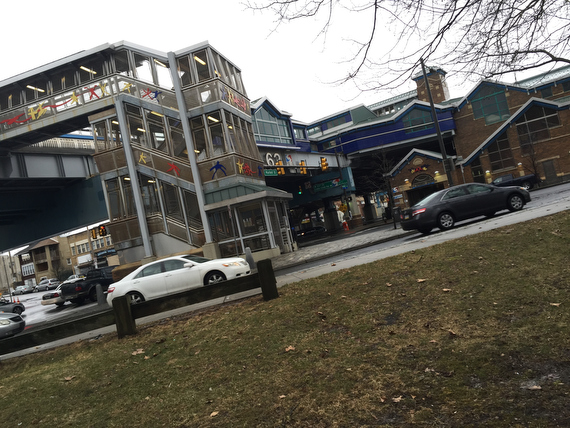 We come up from the creek at 63rd and Market, right by the Market-Frankford El line. (Did you know that my How Philly Moves project, which got airport-famous in 2011, was inspired by a commission for a public art installation for a station on the El train in 2008?)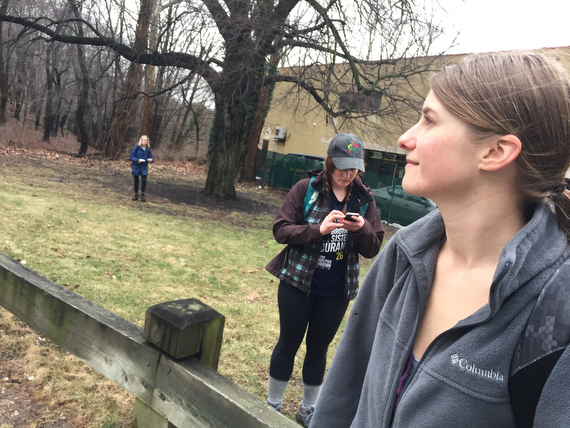 As we emerge from the woods…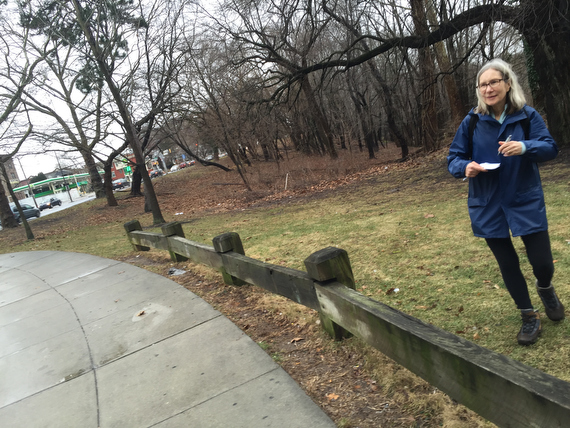 … we take some time to reflect on how different our journey would have been if instead of following the natural border of the creek, we'd instead followed the westernmost street, which at this point is 63rd street…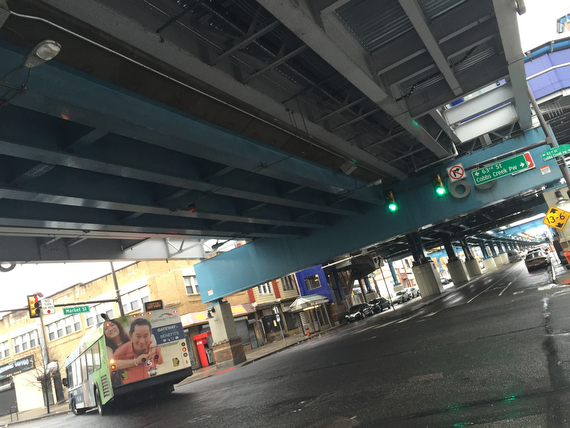 … which is obviously quite a different feel from our jaunt through the woods.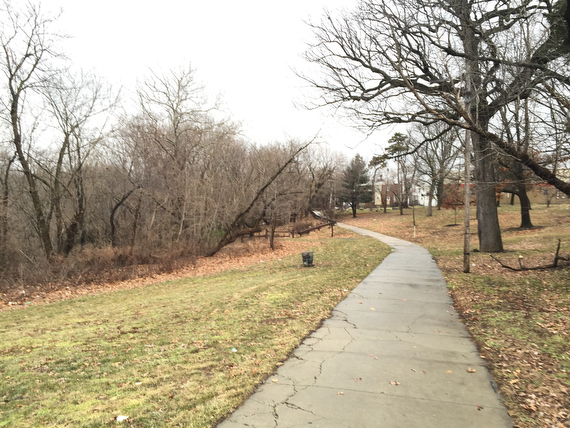 That set of contrasts between natural borders and urban or artificial ones will come up again along our walk. For the moment, this path seems to lead us in the right direction…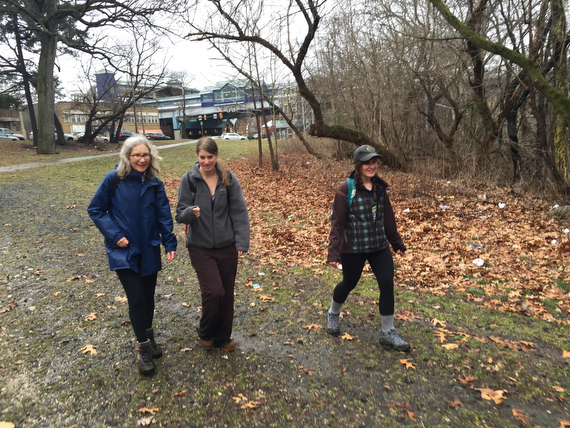 … but we soon diverge away from it…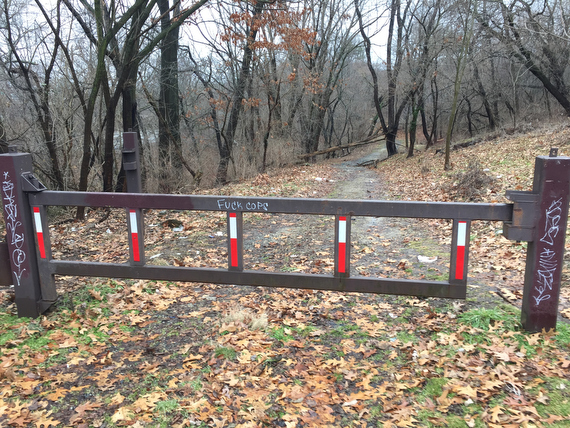 … because there's another path that leads even further west, closer to the creek, thus closer to the border that we're trying to follow.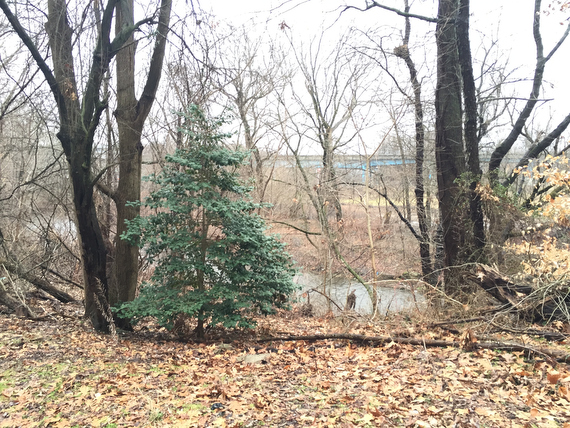 This is a funny phenomenon: This walk around the city has turned into a walk in the woods… while there will certainly be urban bits, following the actual city limits has us spending plenty of time in contact with things like…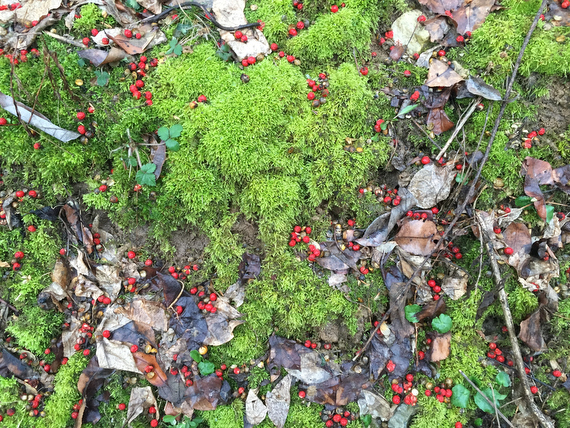 … moss and berries. Not what I'd expected for a tour of the city.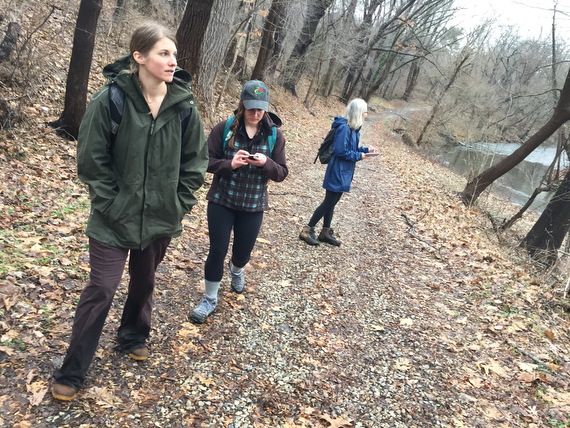 If it looks like Sam's spending a lot of time on her phone, it's because she's both taking notes of our conversations, making her own images, and geo-tagging our route for review later.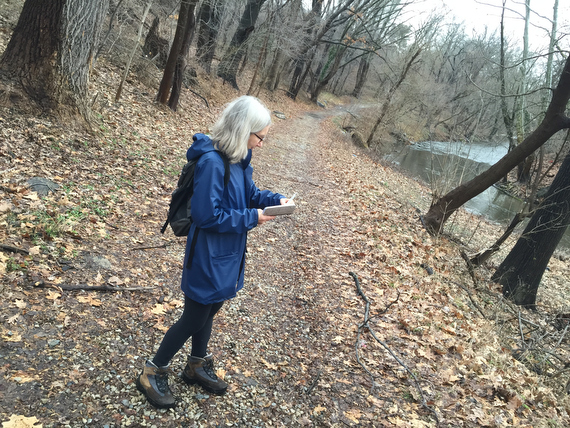 Ann however is more old-school, preferring a writer's notebook…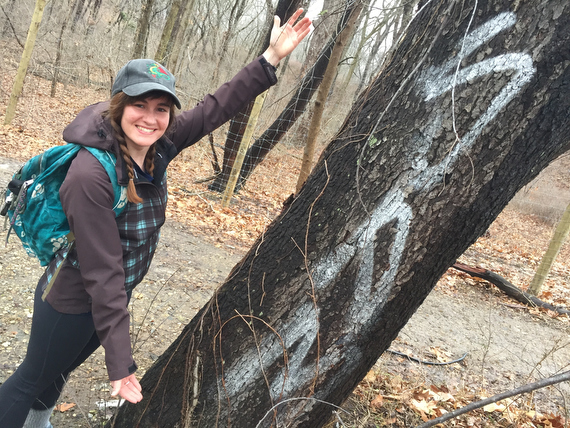 … while some people prefer to write with spray paint.
Let's be clear: Sam did not tag this tree. She was just excited to find her name in graffiti when we got there.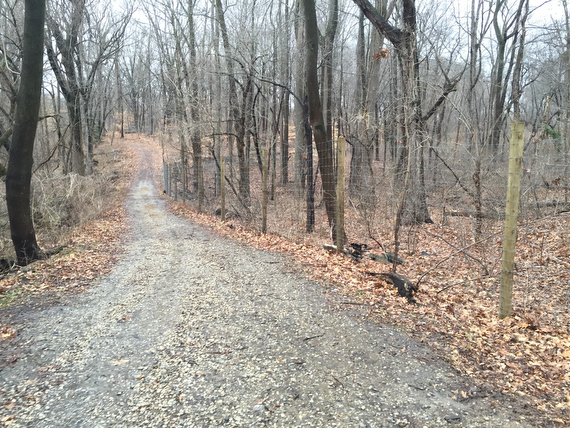 Partway into our second stretch of Cobbs Creek, we find a fence.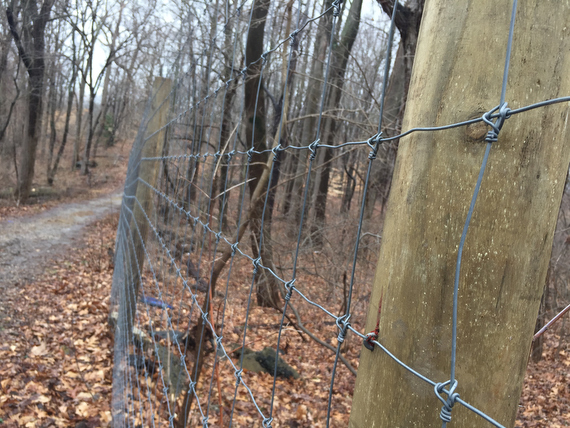 This is our first encounter with an artificial border. The kind where someone has decided to draw a line and erect a barrier.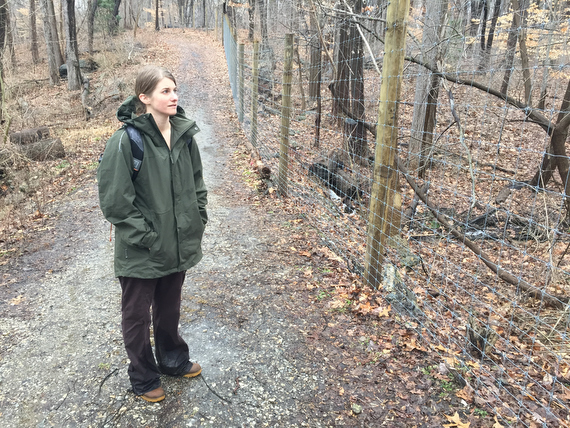 This seems strange: the map says that this is all open public park, so why are we prevented from accessing that side?
Later on, we find out why, but in the meanwhile…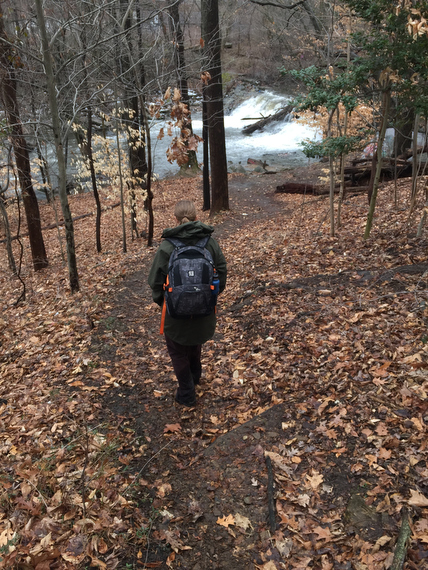 … we take some detours from our path to check out things like…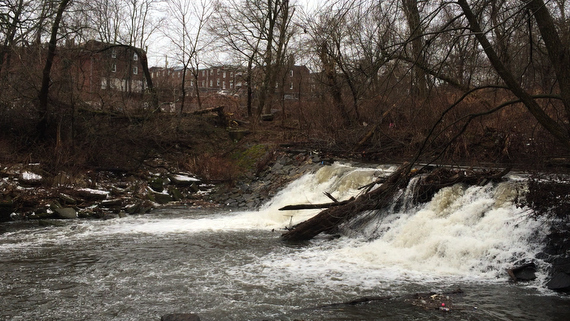 … a small waterfall.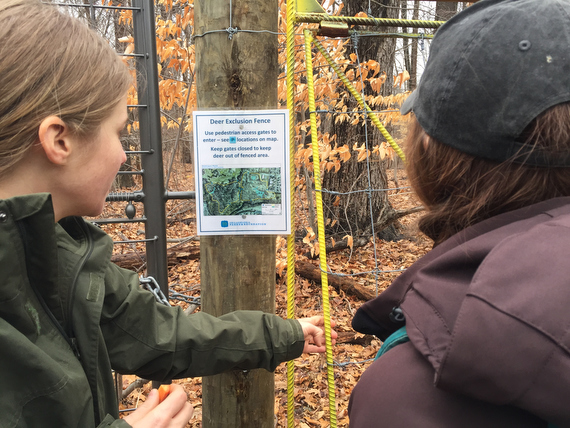 Aha! It's not us that are being excluded from parts of the park… it's a to keep the deer out. Perhaps to protect new forestry plantings?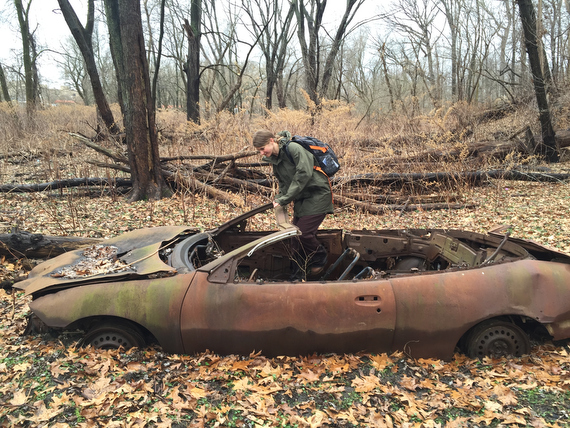 If we're making slow time on this part of the walk, it's because of things like this: a burnt out car in the middle of nowhere…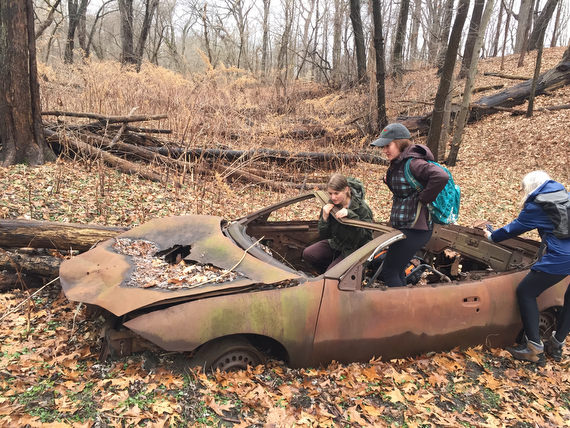 … that we of course all pile into. (I took a selfie of the four of us in here, but with Sam's phone.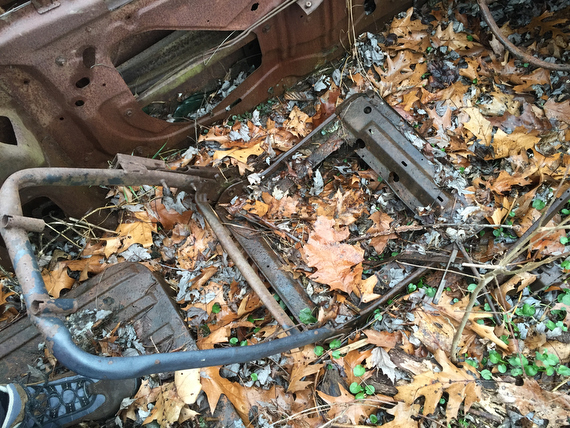 Clearly, this vehicle has a story…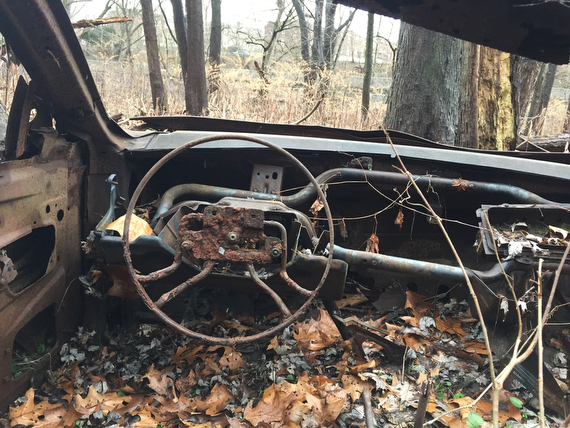 … how did it get here?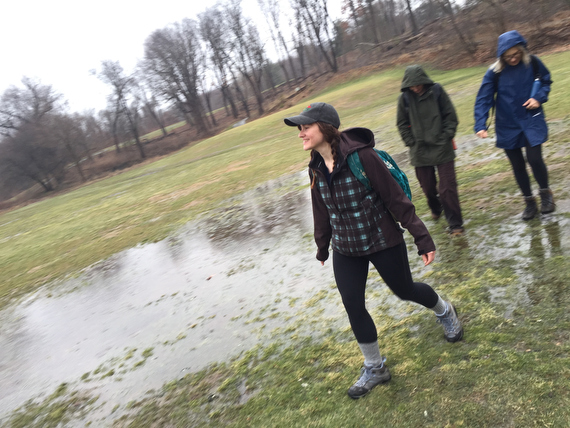 Never mind that… how did *we* get *here*?
All of a sudden, we're on a golf course (full of goose poop.)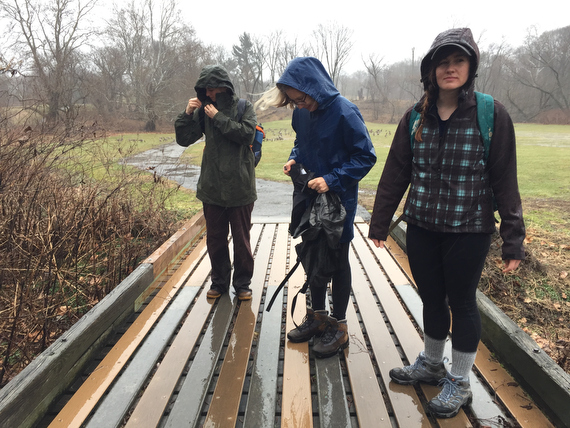 And it's raining.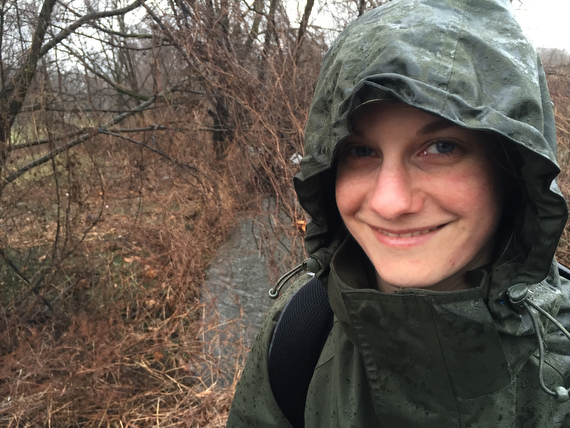 But we've come prepared with rain gear…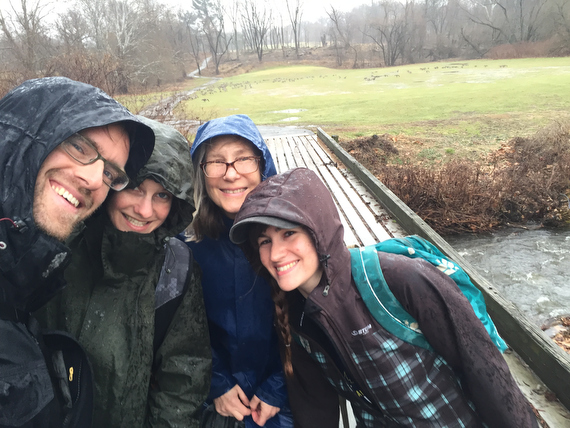 … and are not going to let a little bit of inclement weather get us down.
(There's a scandinavian saying that I've heard repeated along the lines of "There is no bad weather. Only bad clothing.")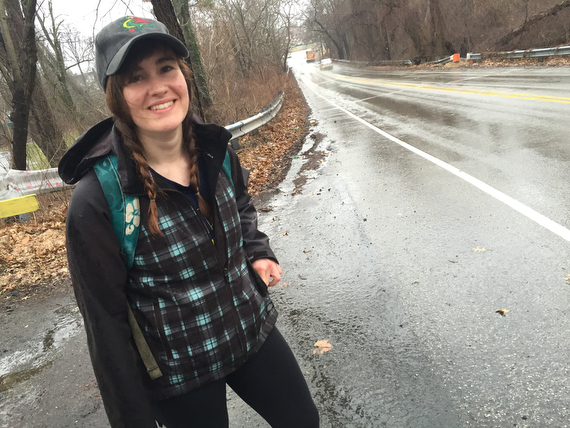 We've got a few streets to cross…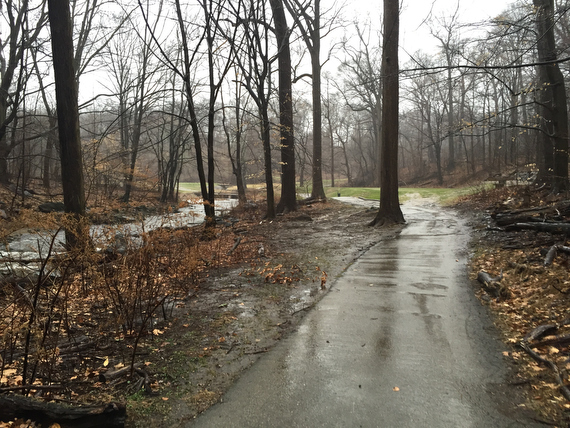 … but for the most part we've got nice trails…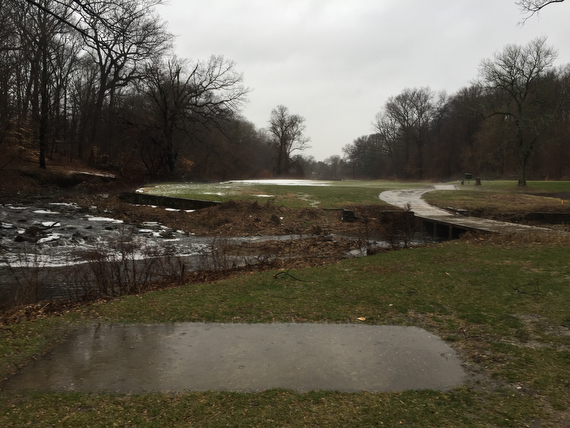 … as we navigate the Cobbs Creek Golf Club…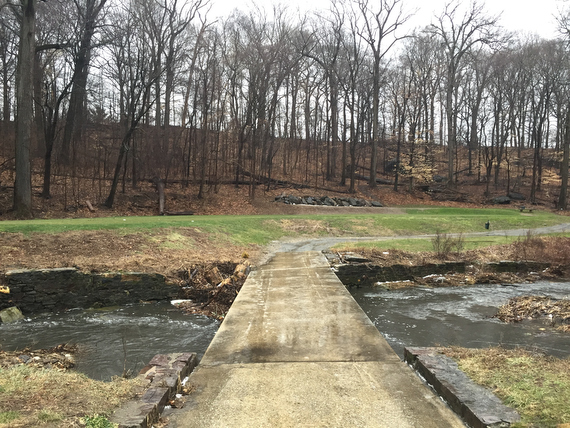 … even if this particular little bridge was coated in a sheet of ice that may or may not have assisted me in a spontaneous connecting with the ground.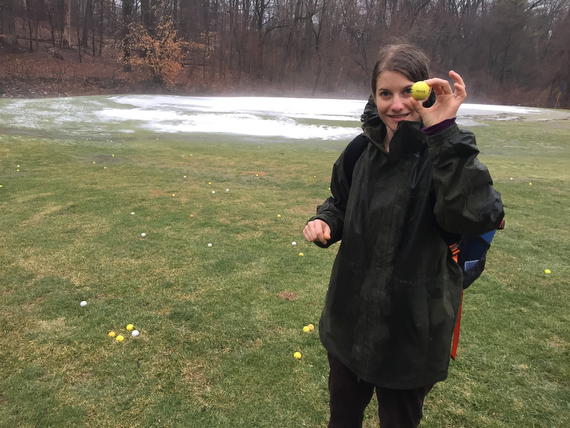 Up ahead: golf balls.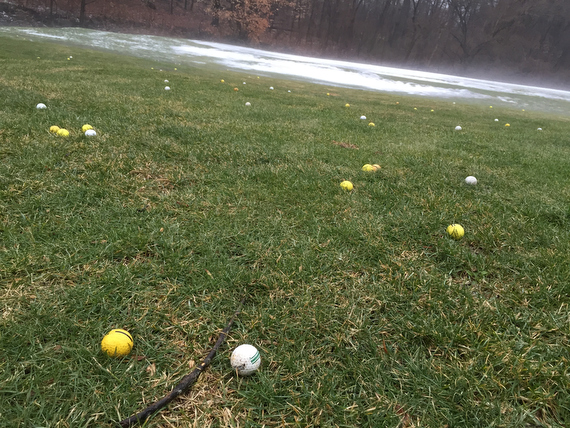 It was a bit of a mystery as to why this one spot was filled with them while all of the other holes had none. Maybe this is the end of an unseen driving range?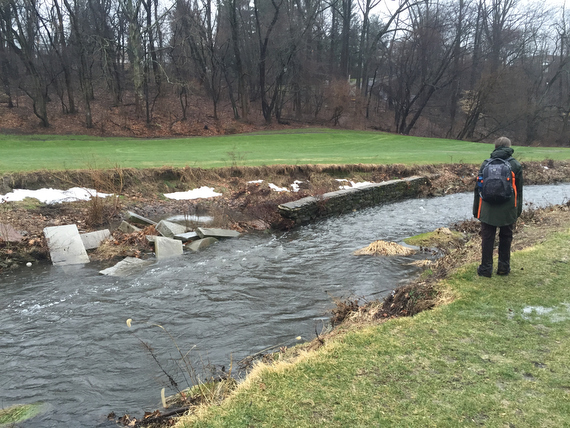 Another thing that we'll encounter many times along the way whenever we're near water: old ruined structures.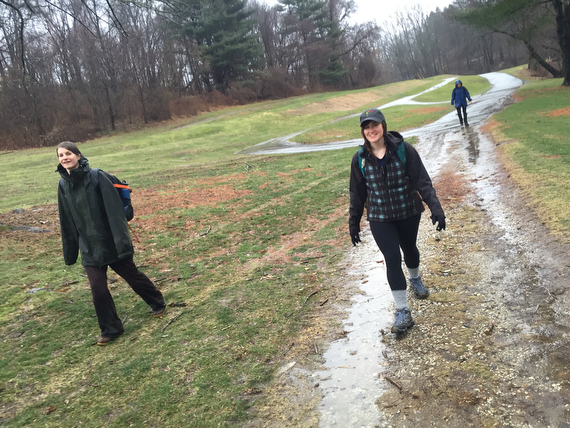 As we continue on through the the trails…
… some parts are a little muddy…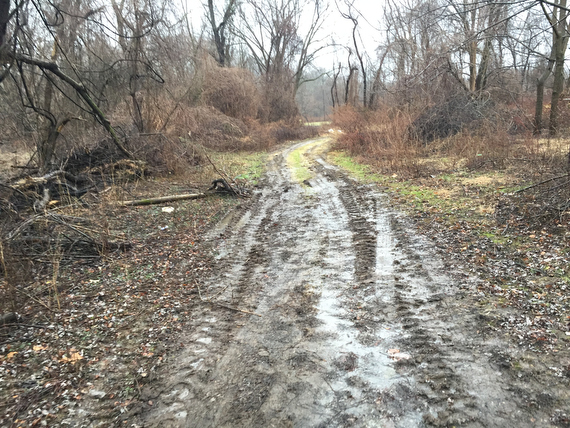 … while some are *very* muddy…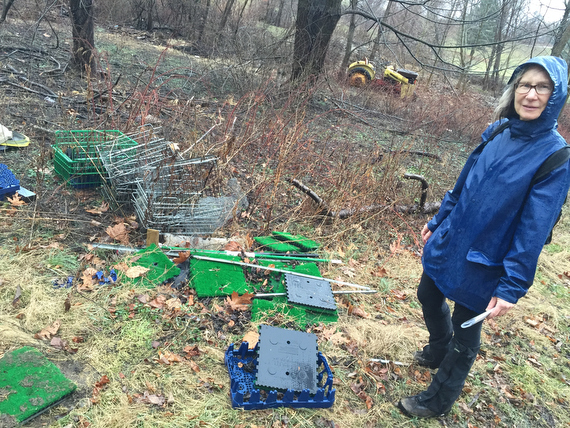 … and some parts are inexplicably littered with strange trash.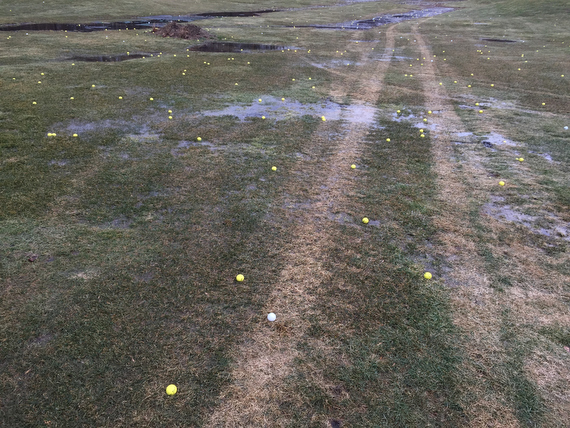 Here, the golf balls make sense. We've reached the end of the driving range for City Line Sports Center, which means that we're almost at the end of the first leg of our first day's journey. And we find a surprise…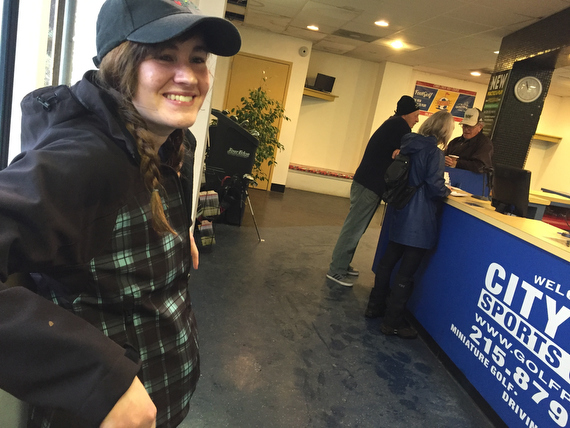 While it's somewhat deserted, the driving range is open. Apparently, people will come here later in the day to whack golf balls in the rain. That sounds pretty strange to me, but hey, I'm the guy who decided that it was a good idea to walk the entire perimeter of the city, so who am I to judge?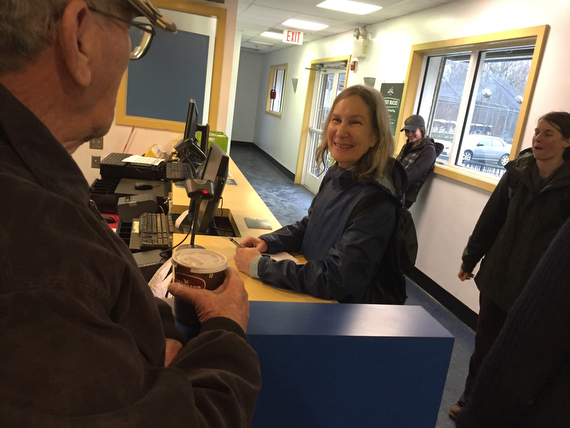 We took advantage of the facilities for a bathroom break, and met some lovely friendly folk.
This was also one of the many opportunities where we reflected a bit on the many privileged aspects of our lives. While I'd like to hope that any human being could come walking out of the park, traipsing through the golf course and get a warm welcome and easy bathroom access, I'm well aware that things don't always work out that way in our world.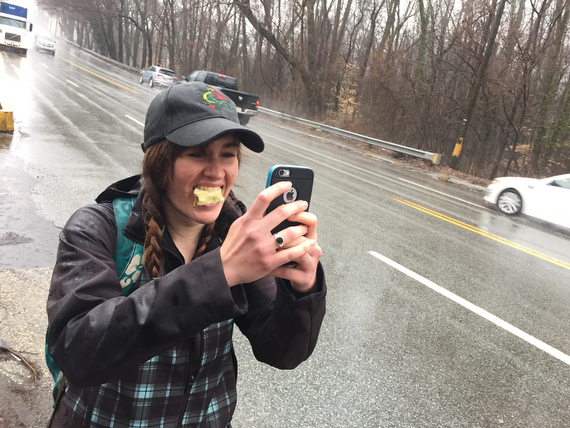 As we set out on the next part of our journey, heading East on City Ave, Sam does a great multitasking job of eating an apple while taking pictures and most importantly…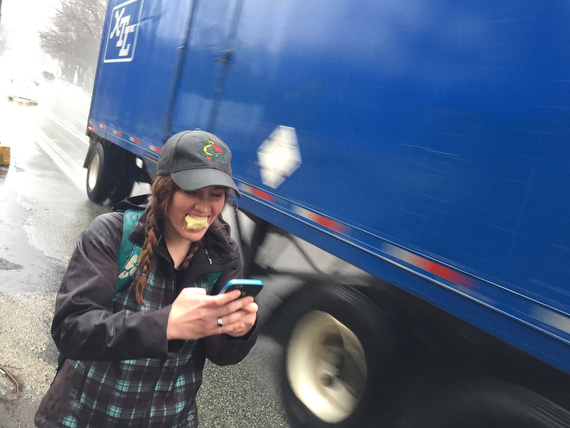 … not getting run over by the large (or small) vehicles that are whizzing by us.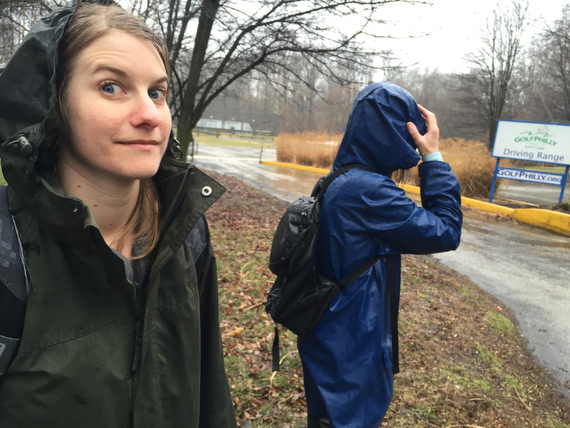 I don't have much to say about this picture except that I know that I have, somewhere in my archives, pictures of her making that exact same face at me during Fringe 2005 or so. I'd pull it up for a comparison which might be humorous, but I'm already spending a lot of time on this post, so…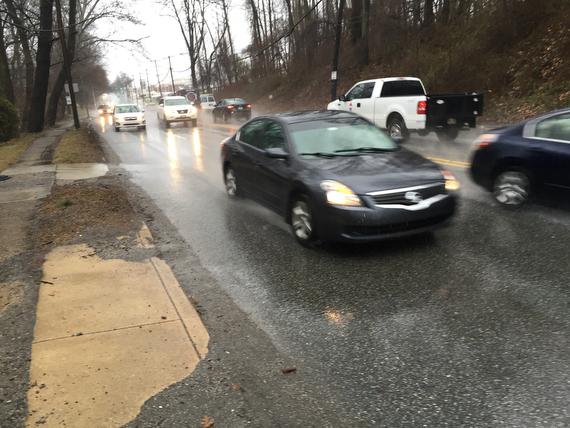 … back to City Ave. It's hard to ignore City Ave, because after the peaceful time in the woods, it is LOUD.
Also, this is the first time that we technically *leave* Philly, because the Philly side has no sidewalks, at least not right here.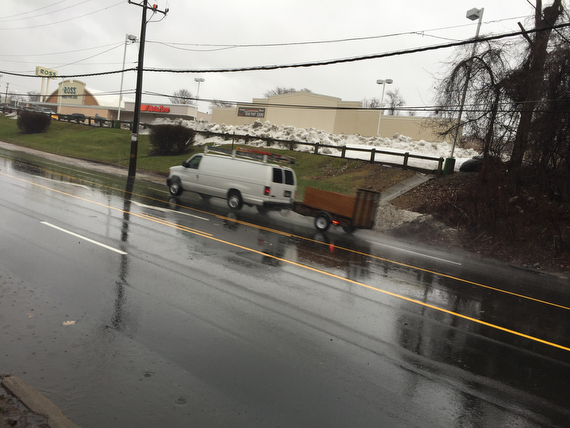 They actually start up again soon after, along with other signs of "civilization": a strip mall.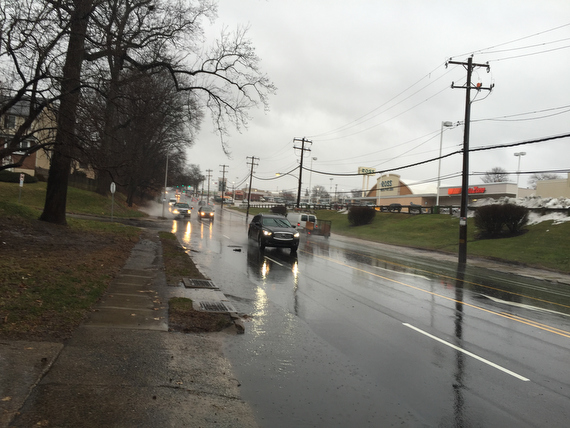 But for now, we're still walking on the "not Philly" side, when Adrienne issues a warning:
"I think maybe we should walk a little bit further from the road…"
[Here's where I missed the shot, because I was facing forward and not "actively shooting" the way I would another event (that would have been 5000 frames a day instead of 500) … but at any rate, this is right after a car drove through the puddle and sent a huge wave up which soaked Sam & Ann]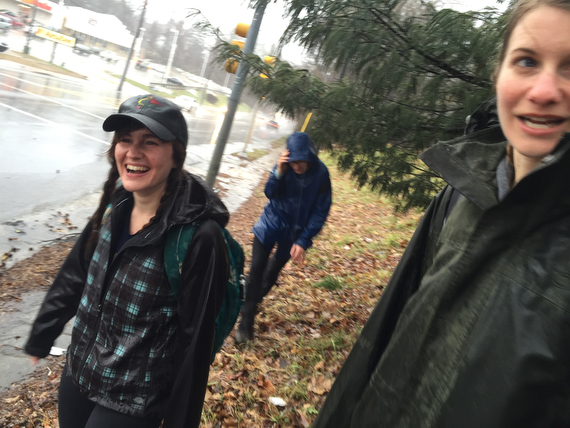 We're all pretty wet and cold at this point, but still in good spirits as we venture into the land of parking lots…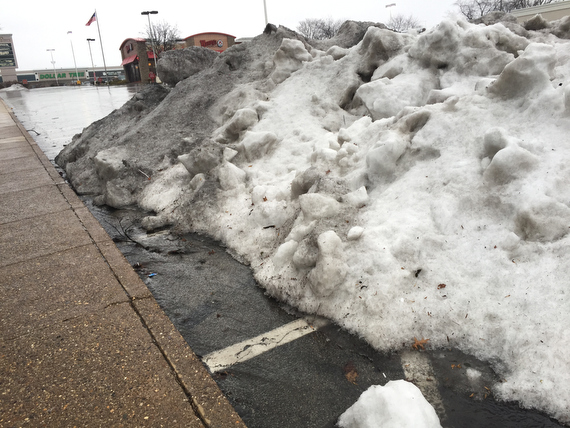 … where apparently snow gets piled up…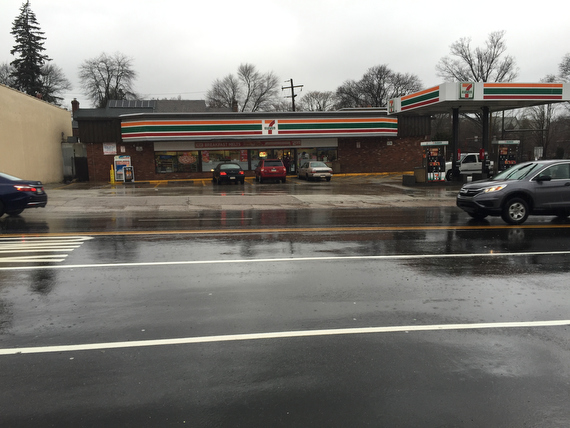 … and we see familiar corporate icons…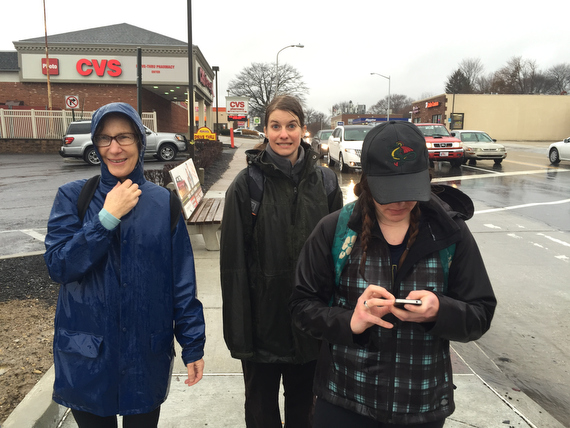 … it's funny how this very "ordinary" city intersection both seems not ordinary after our walk in the woods… and also kind of how special the experience of a strip mall is when it's part of a greater adventure.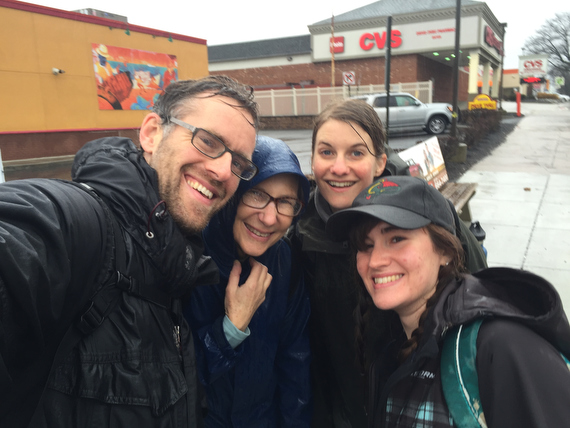 That's another theme that comes up again… how you can appreciate things like being cold and wet in a strip mall and stay in good spirits when you frame it as part of a larger journey of adventure. Ain't that a life lesson for, well, everything?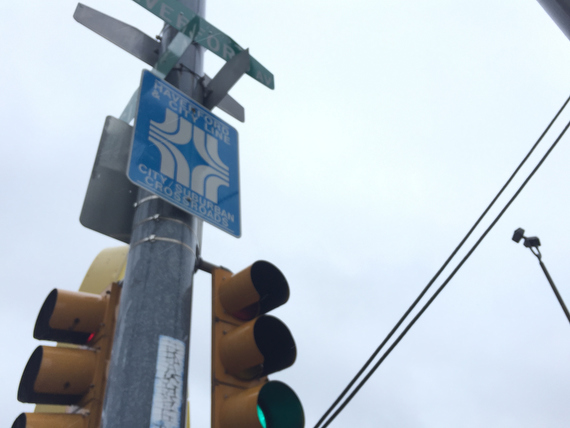 We've reached the intersection of Haverford Ave & City Ave. I'm a bit confused as to where it's called City Ave or City Line Ave, but either way, someone has decided that this intersection merits a sign labeling it the "City/Suburban Crossroads."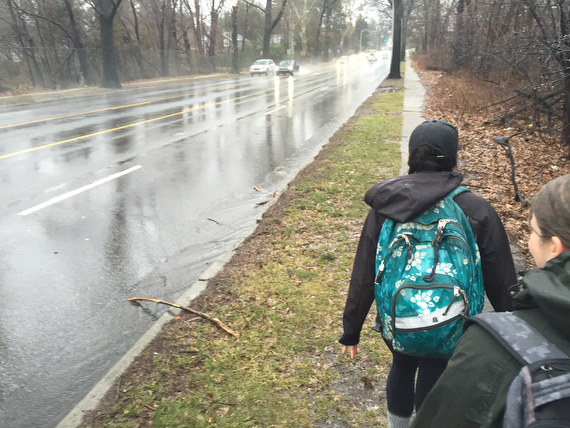 Continuing northeast on City Ave, we're now so wet…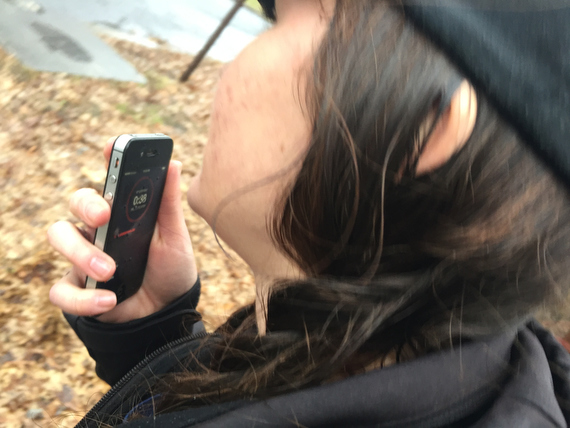 … that Sam is taking her notes by recording voice memos, because her phone's screen isn't working well enough to type on.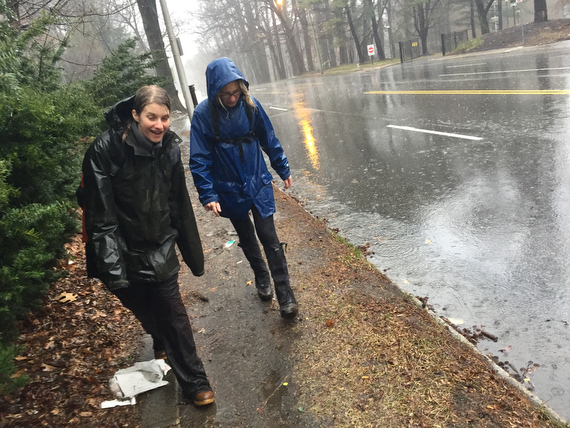 As we continue to make our way through the rain, we decide that it's finally time to stop for a little break…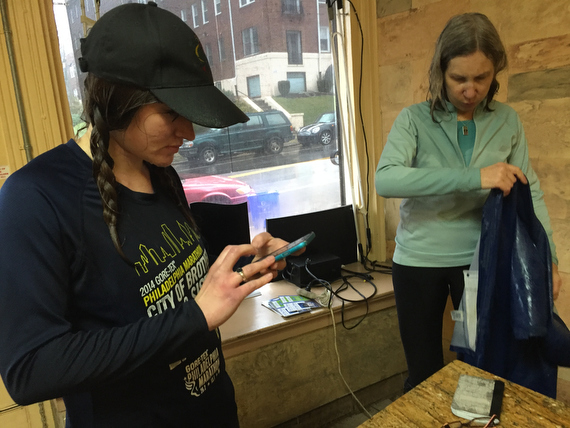 … where we can dry off for a second and enjoy some lunch…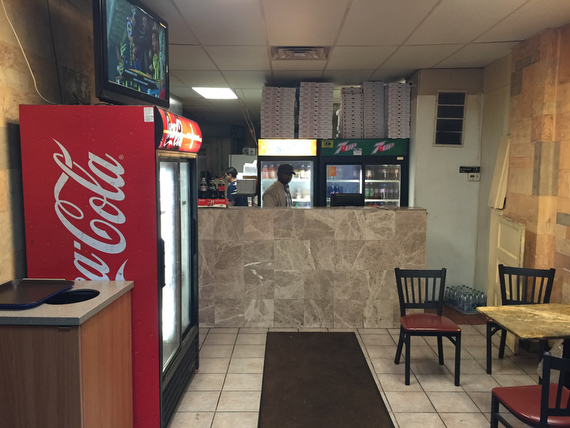 … at Mediterra, a little fast-food pizza + Middle Eastern food spot.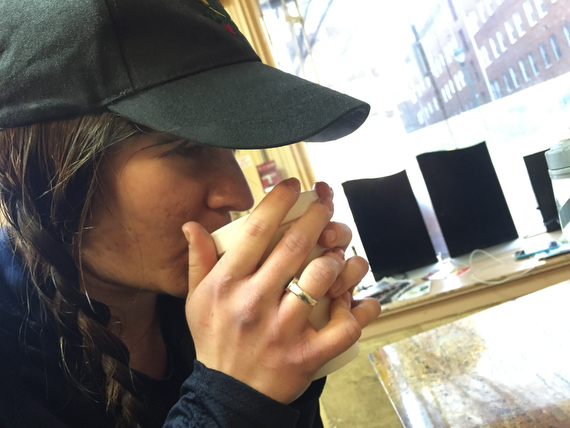 Conveniently, I've been carrying a thermos of hot chocolate to warm us up, which Sam & I mix with coffee from the market next door…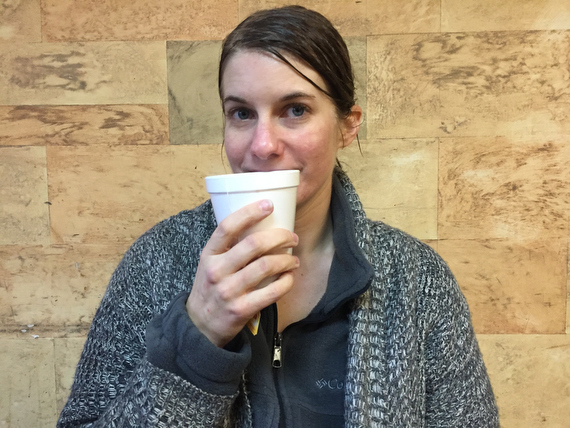 … while Adrienne prefers hot tea.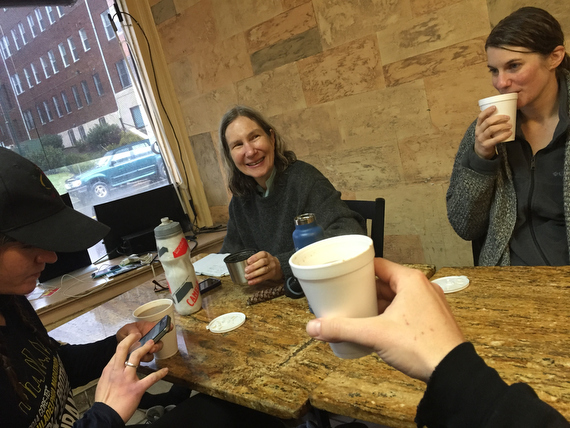 We toast our successful first half day…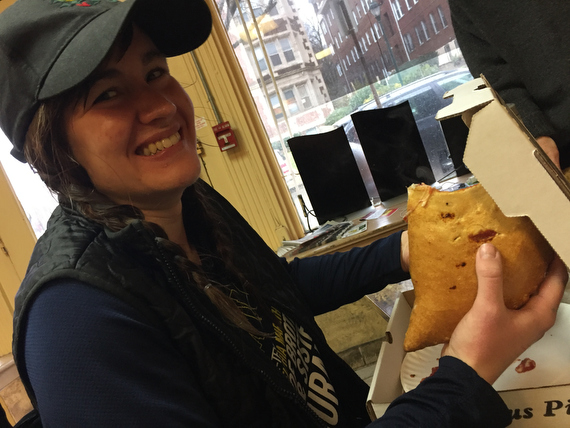 And fuel up for the remaining journey. Sam is laughing because the "small" stromboli that she ordered…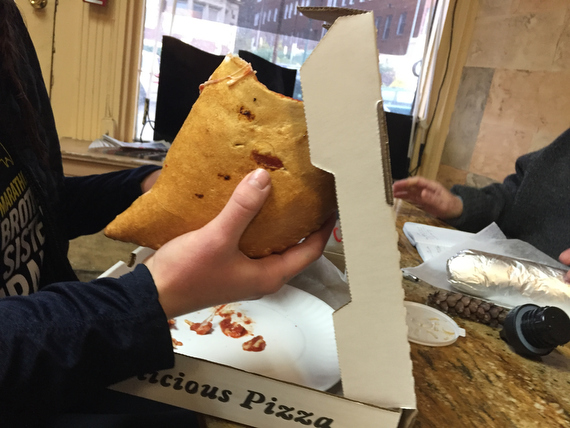 … is pretty darn big, which means that the large one that I ordered will be entirely too much. But we're not just blessed with an abundance of food, but also with impeccable timing…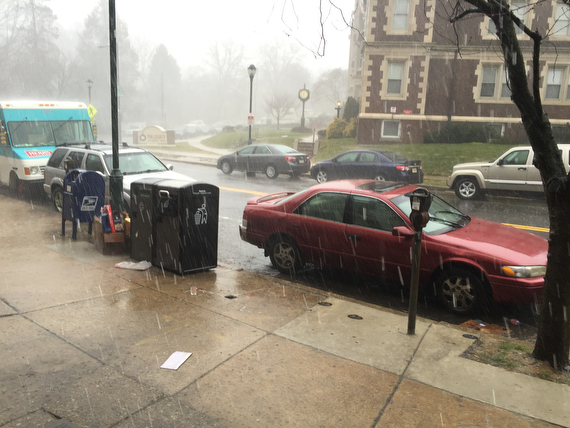 … because the heaviest wave of the rain rolls through during our lunch break, meaning we're spared the worst of the gales that would have left us even more soaked than we already were.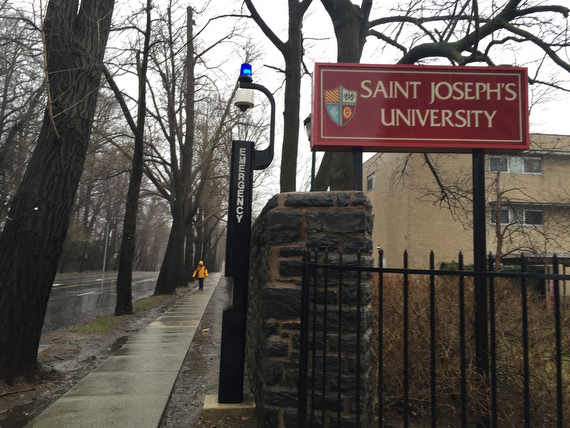 It turns out that there are several educational institutions out on the city limits. Saint Joe's is one of them.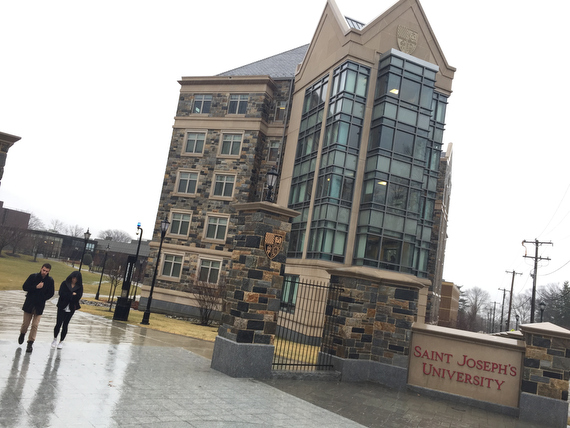 Notice the body language of these two walking through the campus in the rain: When we encounter rain or cold, we tend to close up…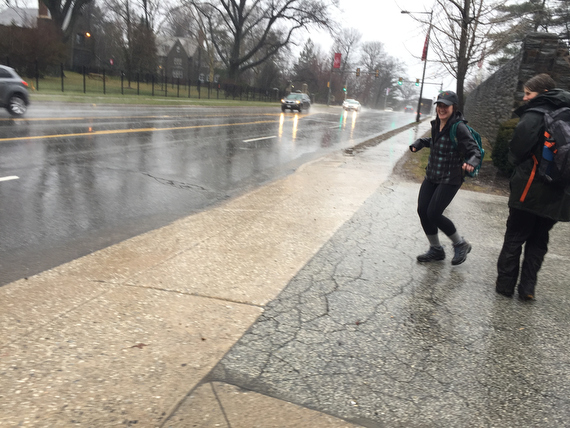 … but compare it with Sam here, who seems to be dancing in the rain.
(I've said this before: Fear not the rain.)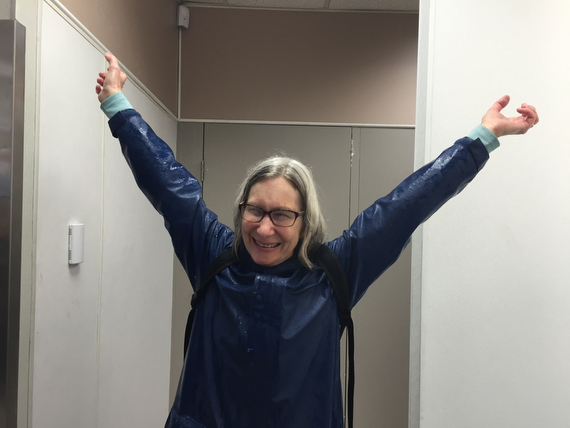 Here, Ann's taking advantage of a rest stop in a convenience store for a bit of stretching…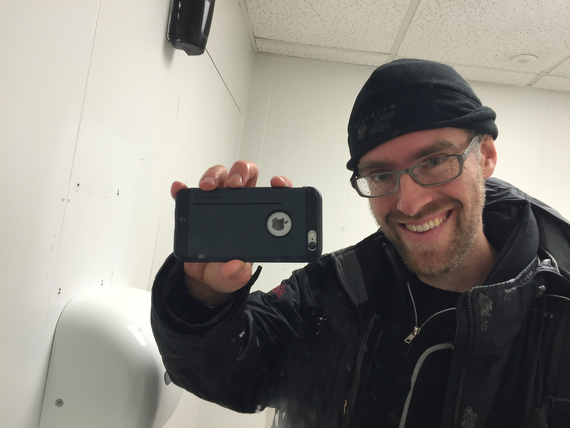 … while I take advantage of a bathroom mirror to include myself a bit more in this series.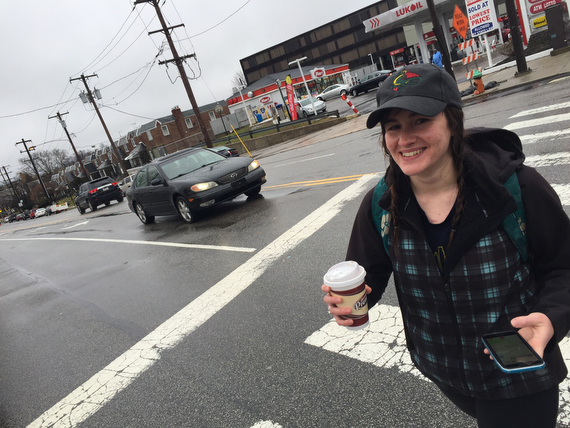 Now the rain seems to be easing off…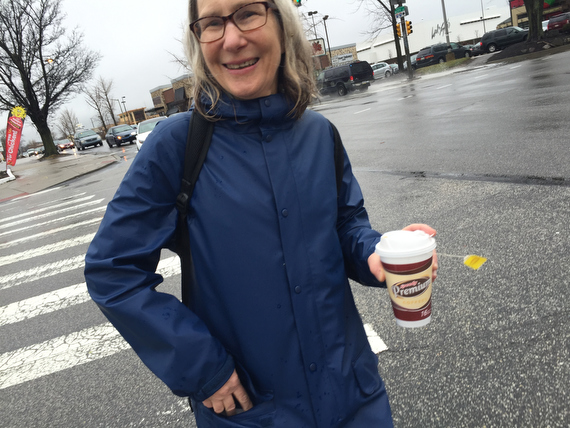 … and we've grabbed some beverages for the road…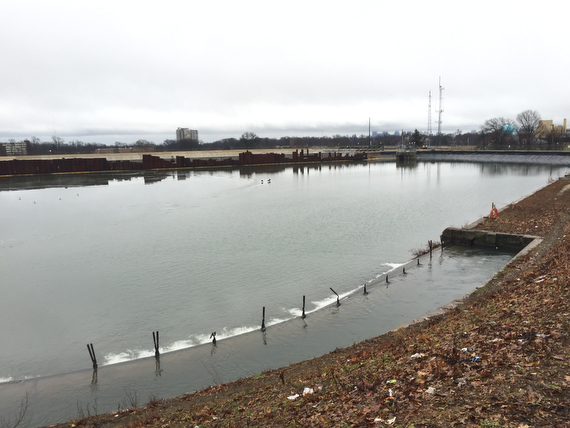 … just as we prepare to pass the Belmont Reservoir, where some of our drinking water comes from (I think.)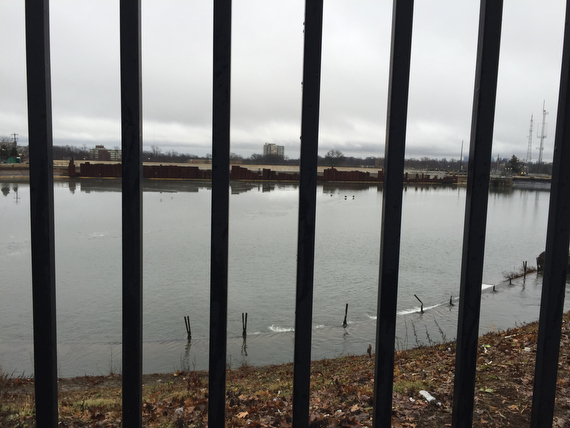 Perspective is a funny thing, isn't it? I barely moved a foot to create this image and the preceding one, but quite a different feel with all the bars, right?
That's one of my favorite things about picture making – how much you can change things with just a little shift of perspective. Maybe another lesson for life?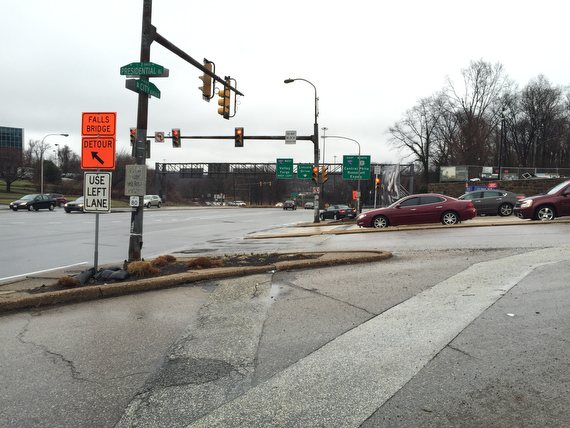 As we reach the end of City Ave…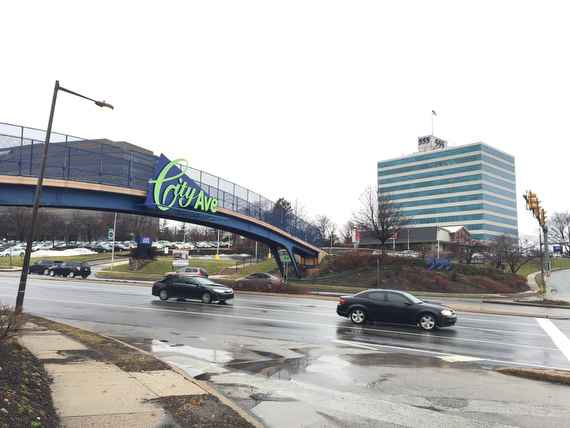 … (Or the beginning; it all depends on which way you're going…)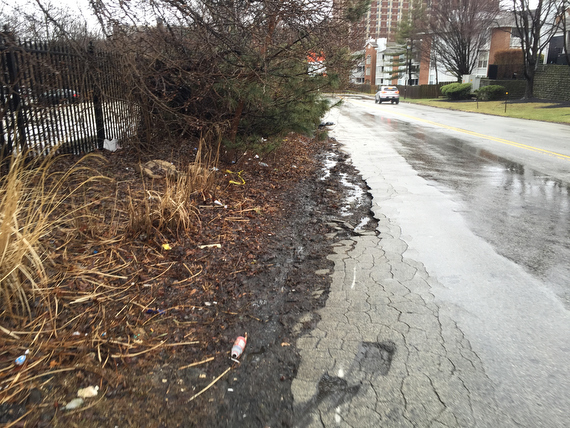 … we have to take a little detour because our route scouting via google maps seems to imply that the City Ave bridge is not exactly pedestrian friendly…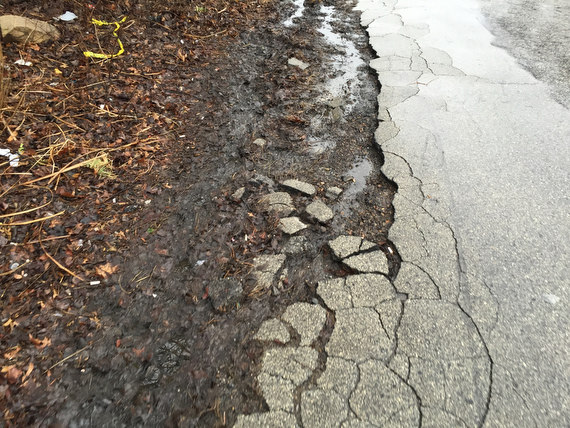 … not that this road is very pedestrian friendly either… but it's certainly less trafficked.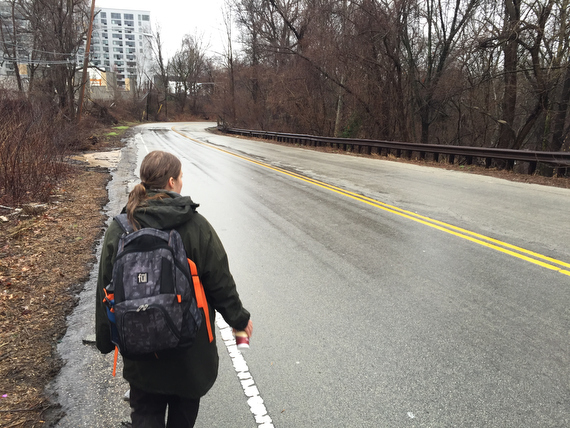 So in the interests of safety, we take a detour from our border path; we are now headed *into* Philadelphia.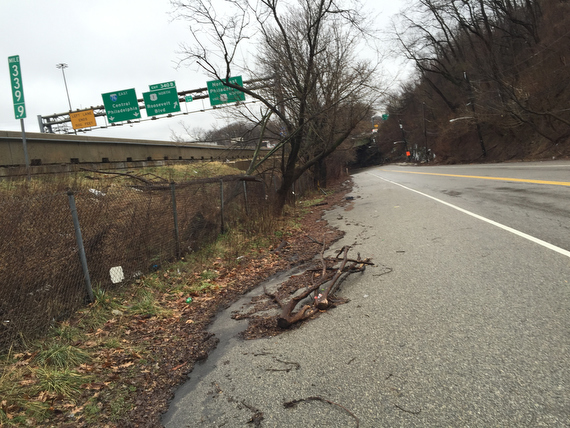 As we head down Neill Drive which becomes Falls Road…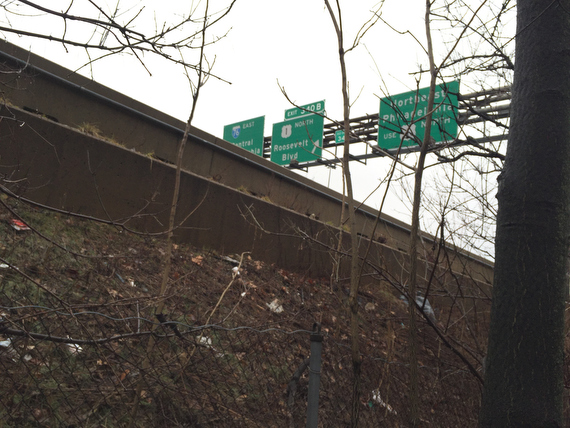 … it's strange to me to be just meters from I-76, a road that I have driven on so many times. So while those particular highway signs are quite familiar…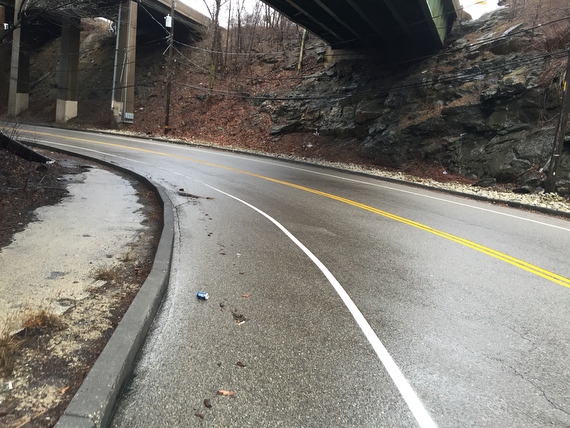 … this path under the expressway is undiscovered country for me.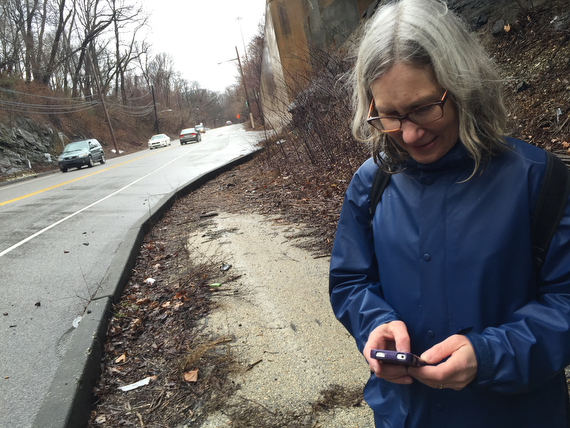 Ann got a really sweet encouraging text message from her daughter. I'd quote it to you if I could remember it… but sometimes it feels like my memory isn't in the best shape…
… kind of like these pipes.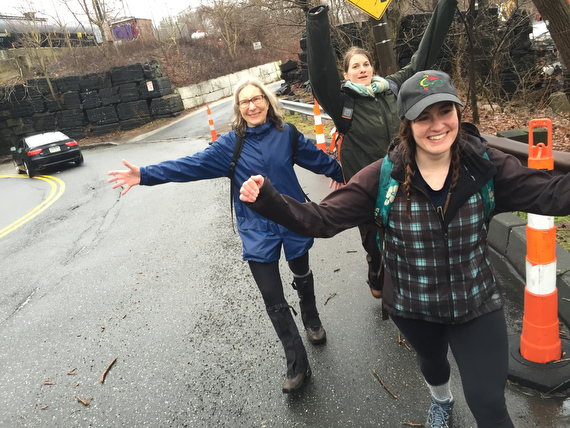 … I'm not quite sure what we were so excited about here… was it a glimpse of sunlight through the clouds? Or maybe that we were approaching Falls Bridge…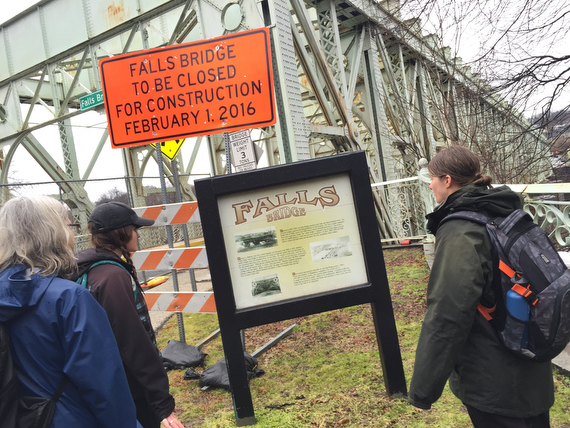 … which thankfully, while closed for construction, was still open to pedestrians. (I guess that makes up for the other bridge not being pedestrian friendly…)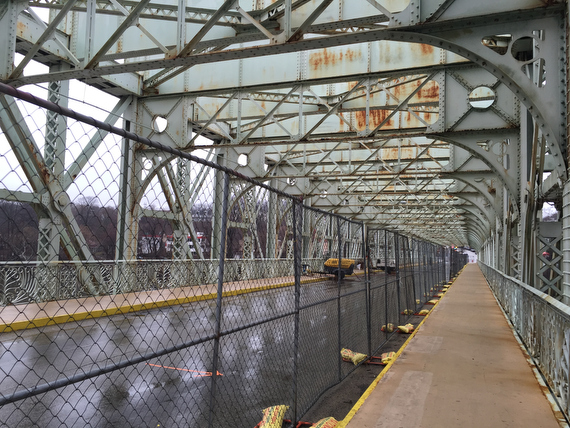 As we crossed this bridge over the Schuylkill river, it was time for…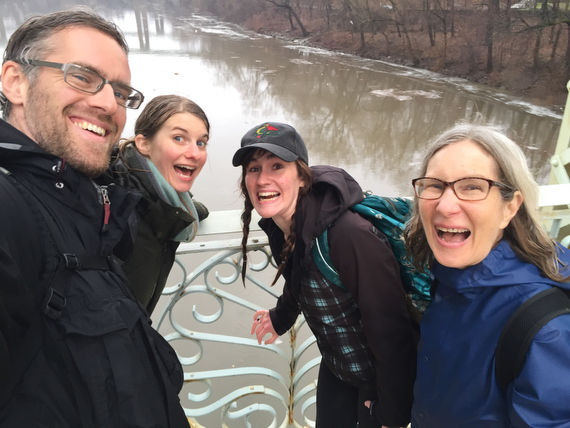 … another "bridge selfie"!
It's funny how things become "things". Like Bridge Selfies. We will probably take them every time we cross a bridge. Why? Hard to say. But now it's a thing. Which you can feel free to appropriate. It's not like we invented it. (Yes, I just did a quick hashtag search for #bridgeselfie. They're out there.)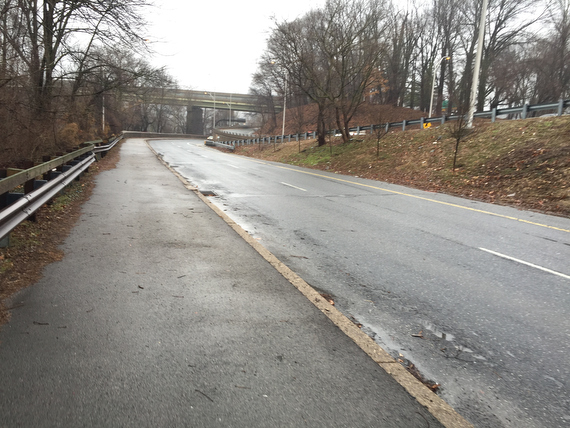 After our minor detour *into* Philadelphia, we're back on track on the border…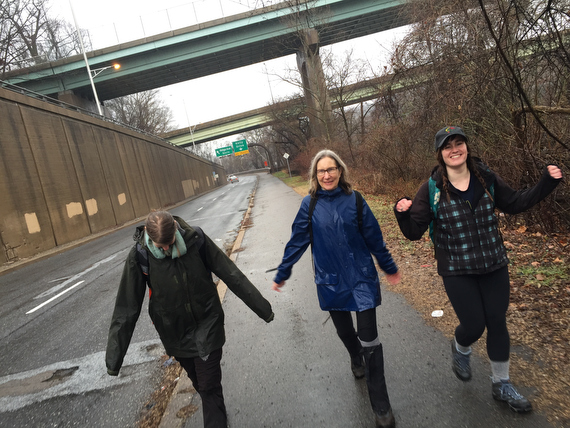 … or at least as reasonably close to the border as we can get on foot. Otherwise we'd be canoeing in the middle of the river at this point…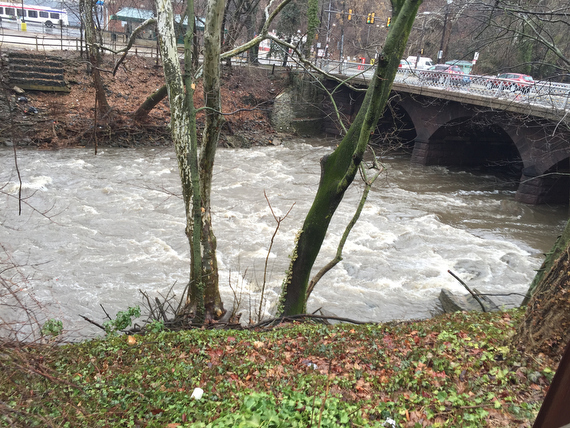 … where the Schuylkill is fed by these choppy waters from the Wissahickon.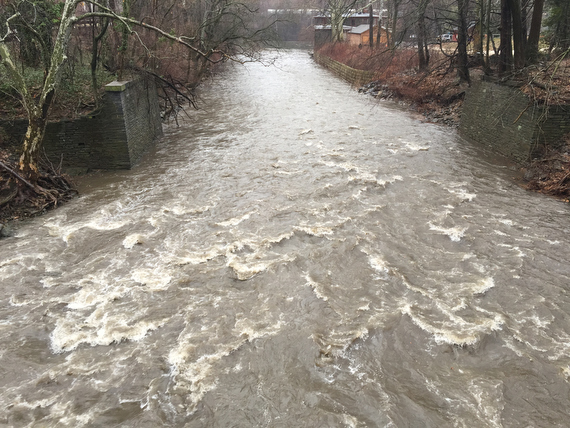 Crossing the Wissahickon means we're almost to…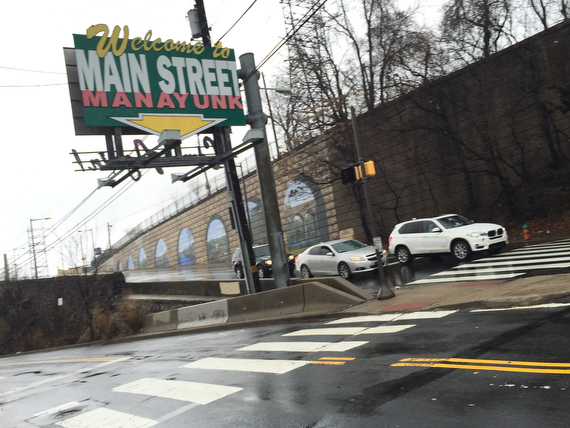 Manayunk!
That sign is somewhat deceptive… before you hit Main Street, there's still a ways to go…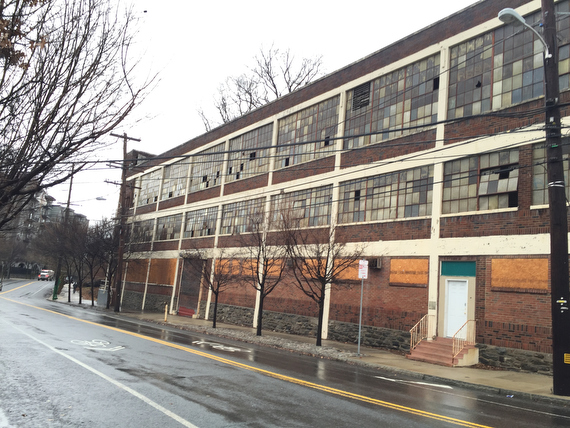 … past warehouses..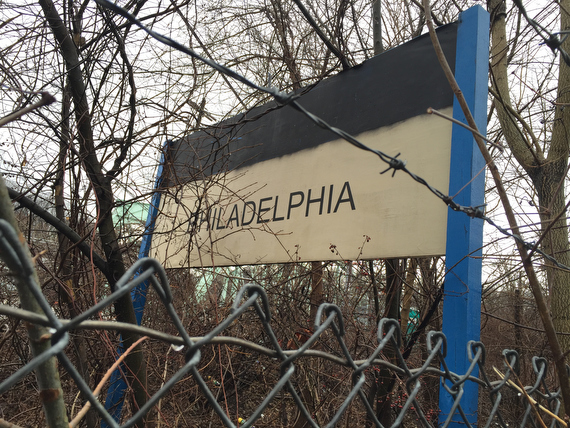 … and weird overgrown lots and signs. It could seem somewhat dreary…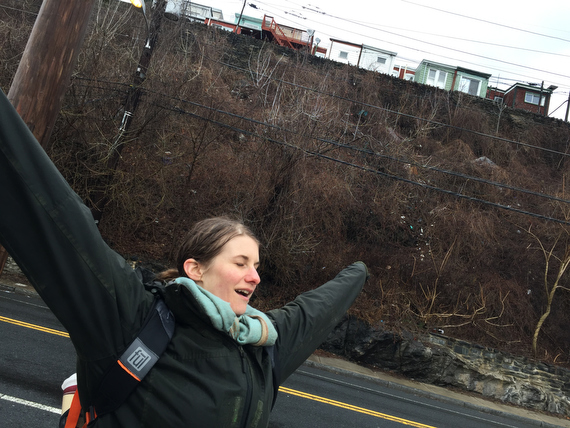 … but we were always looking out for the moments when it started to peek through the clouds.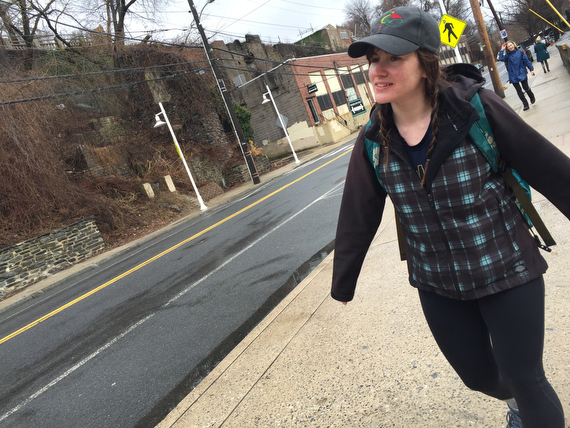 Here, Sam was looking out for a bathroom, and wondering if we might find one in the CVS up ahead.
I thought that she was crazy…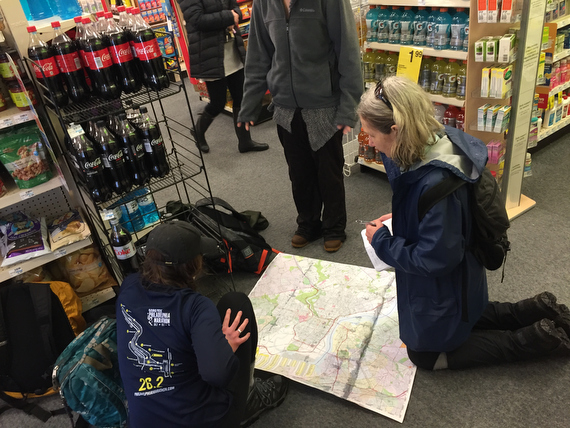 … but turned out that she was right.
So we all got time for a potty break, and time to review our map…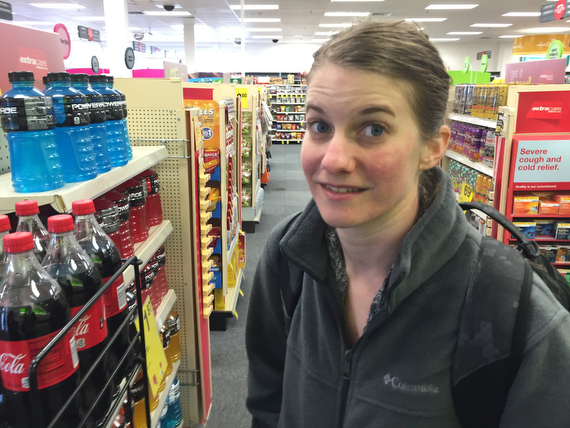 … and again to wonder at the privilege involved with the ease of access to customer restrooms, even when we might not be customers. (Confession: I did buy some small amount of sugary junk food.)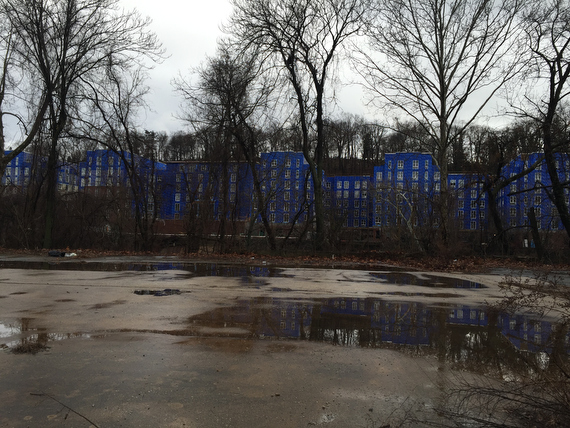 Along the way, we saw signs of recent development… loads of new construction up near Manayunk…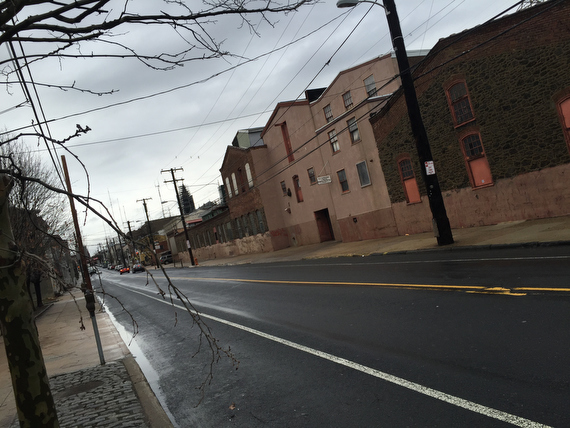 … and as we started to make our way up towards Main Street…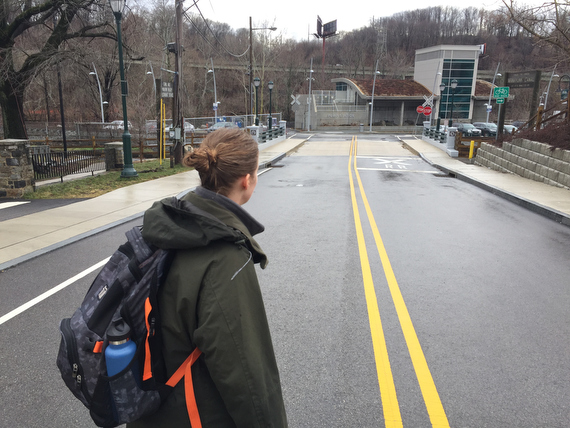 … we saw even more new looking stuff by the river.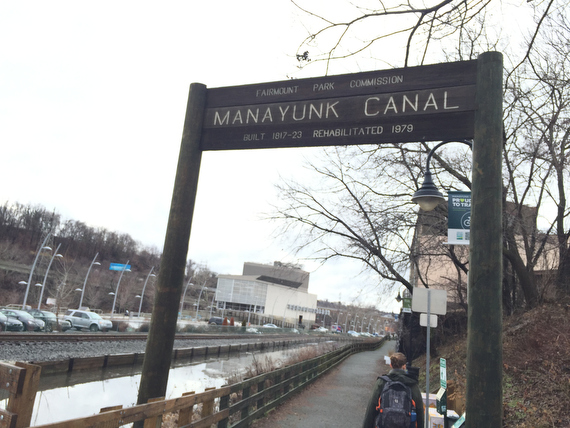 … As we turned off the road and onto the canal trail…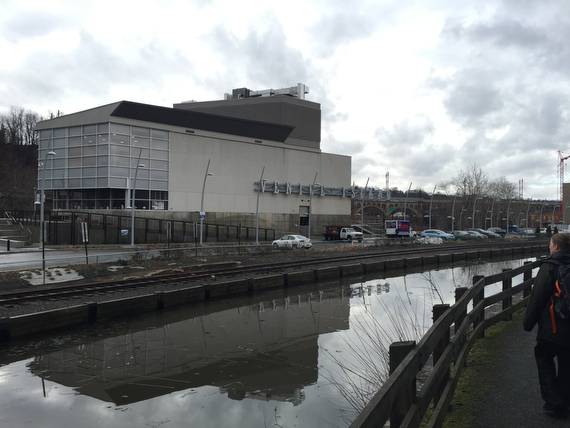 … some informational panels informed us that there were new projects by the Water Department, and that part of this new 'Venice Island' construction included a new performing arts center.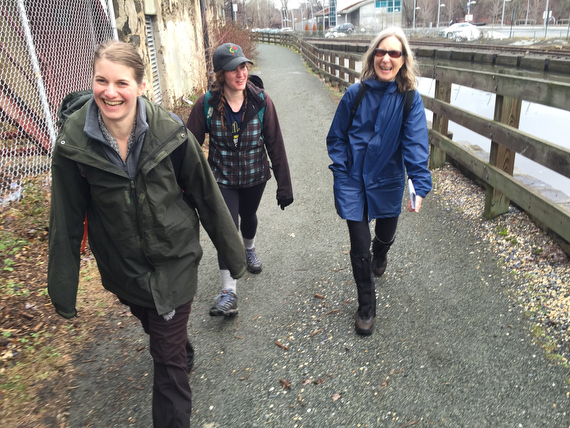 This immediately got Adrienne's wheels turning… she works primarily in the performance world, so a new performing arts center might mean new opportunities…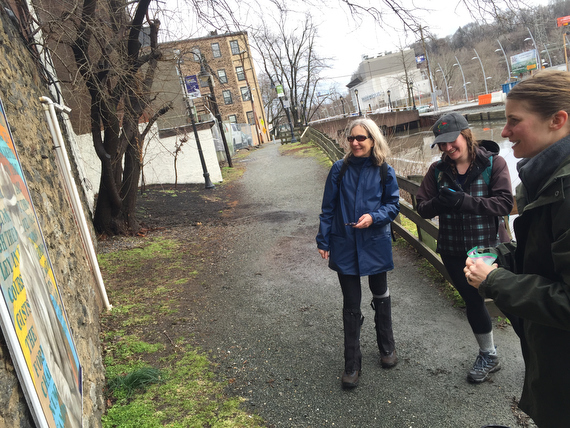 I won't tell you what we were laughing at here, because it's completely inappropriate.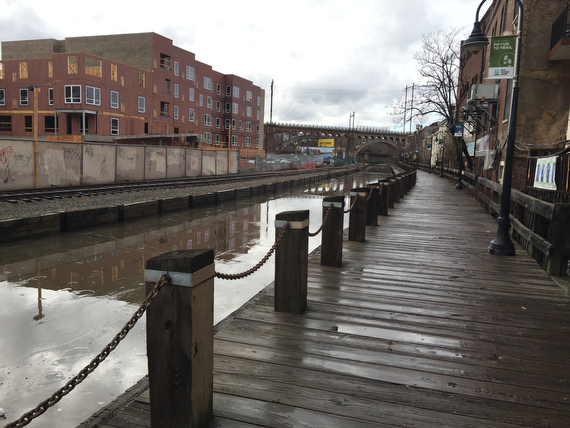 The canal trail in Manayunk makes for a lovely walk…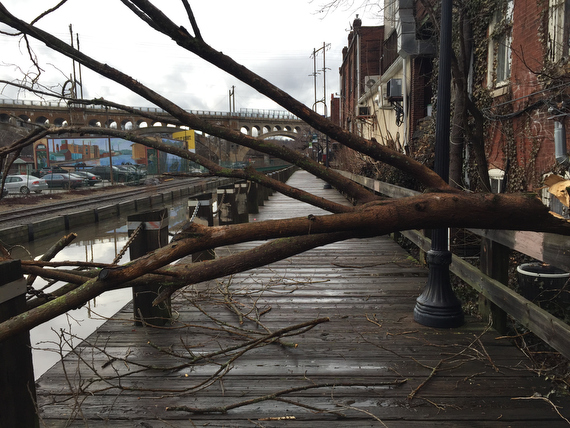 … and minor obstacles like these…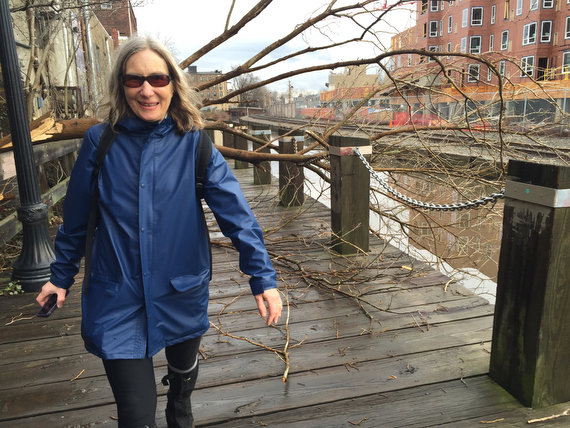 … were no match for these hikers!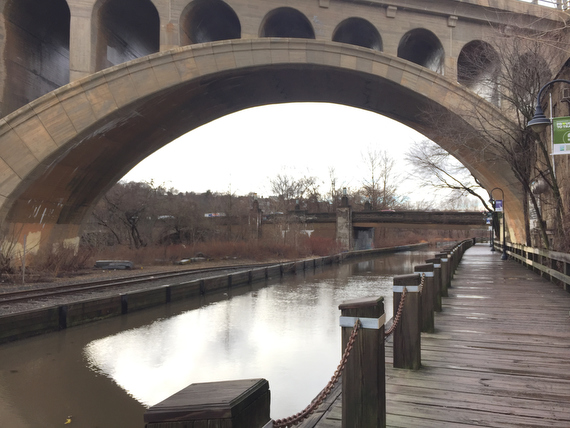 As we passed under this bridge, we had a moment of wonder that someone had actually designed and built such a massive stone creation. That's the beauty of walking… you have more time to take in and appreciate all of the details.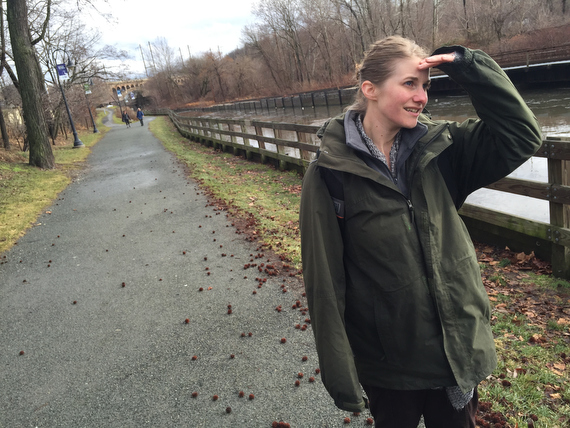 Looking ahead, we had some beautiful sightings of large birds (egret? stork?) – but I definitely was not carrying the gear nor in the mindset for nature photography.
The sun even came out of the clouds to greet us…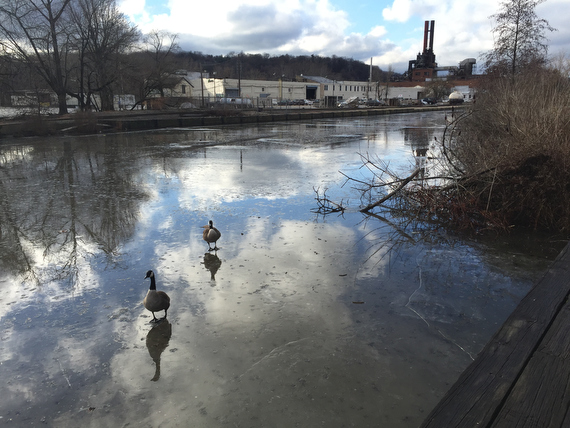 … as did these geese.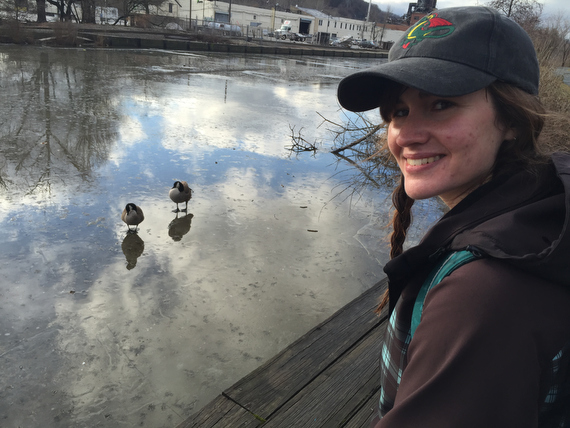 Earlier, on the first golf course, Sam had made it quite clear to us that she did *not* like geese…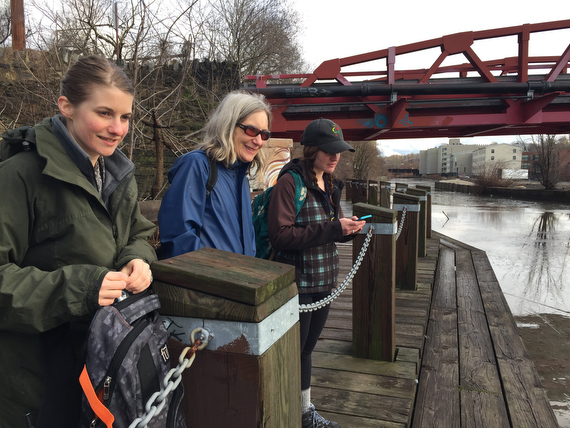 … but we still stuck around a bit to watch these guys…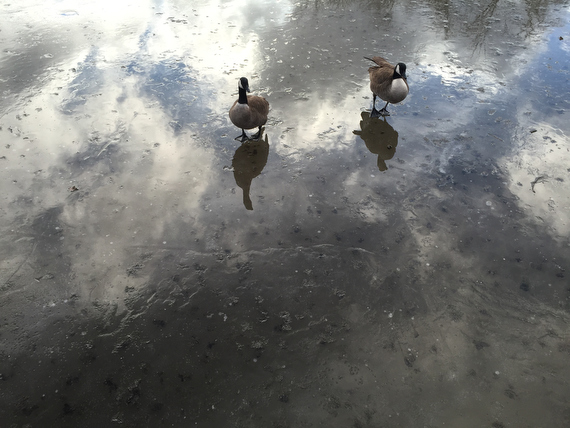 … because the way that they walked on the ice was quite amusing… almost like ice skating.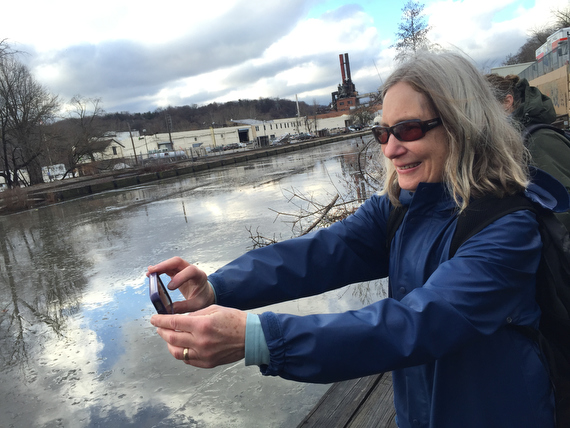 Of course, videos were made.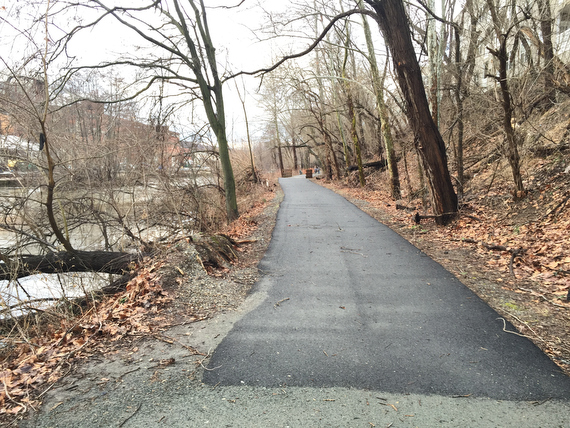 And we continued on up the Schuylkill River trail through the woods. It was pretty interesting to have set out to explore the city and to find both the beginning and end of our day spent in nature…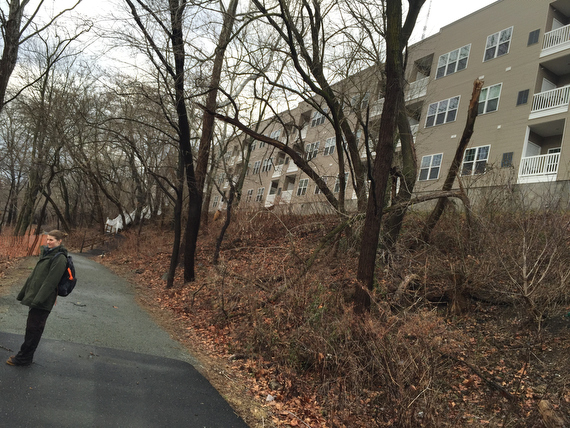 … although mankind does sometimes have a way of encroaching into nature.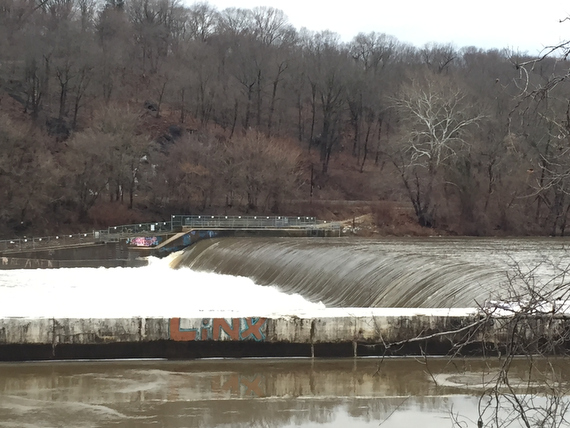 As we came by this beautiful curve of water rushing over these little falls…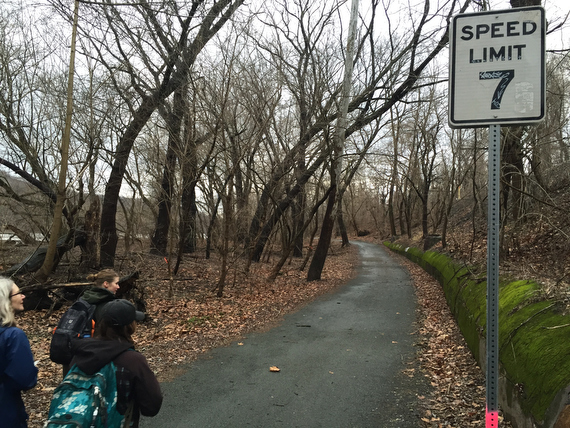 … this funny sign reminded us not to rush too much.
(In actuality, we were mostly going around 2mph… but do you think that cyclists get pulled over for speeding out this way?)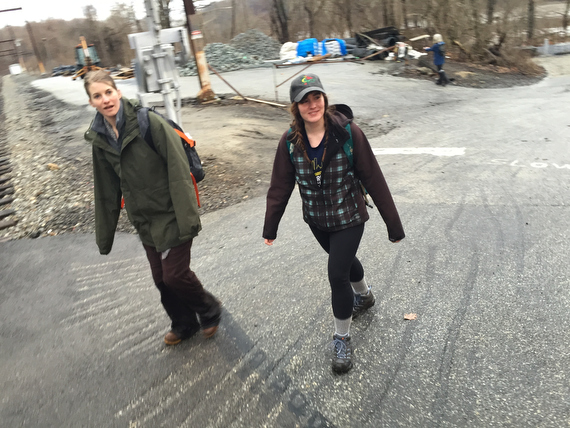 Here we found ourselves coming out of the woods…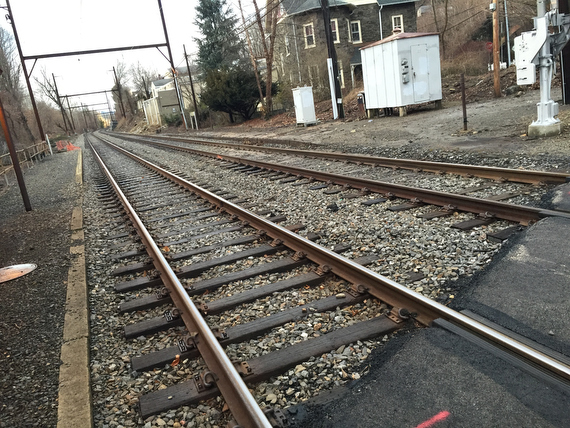 … and crossing the regional rail line tracks. It turns out that railroads are another thing that we'd be encountering several times along the way, as they often follow borders. (Or the borders have been drawn where the rails already were. Or both follow some of the natural landscape features like the edge of the river…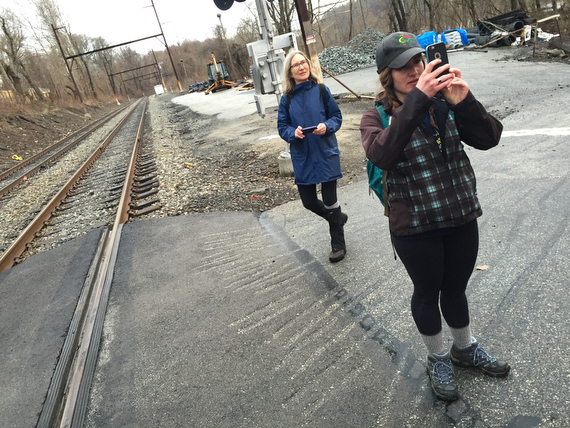 Here, we stopped to take more pictures…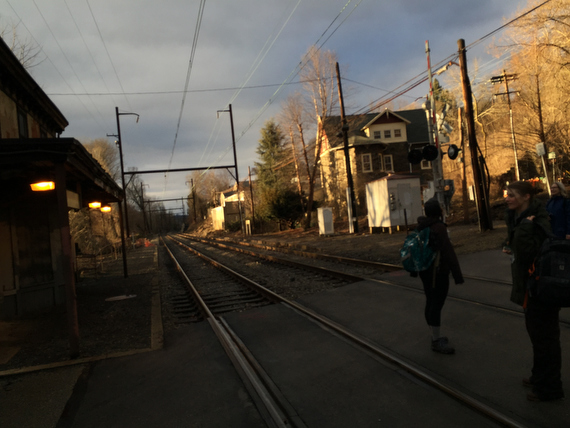 … because we saw this beautiful patch of sunlight quickly moving towards us along the tracks,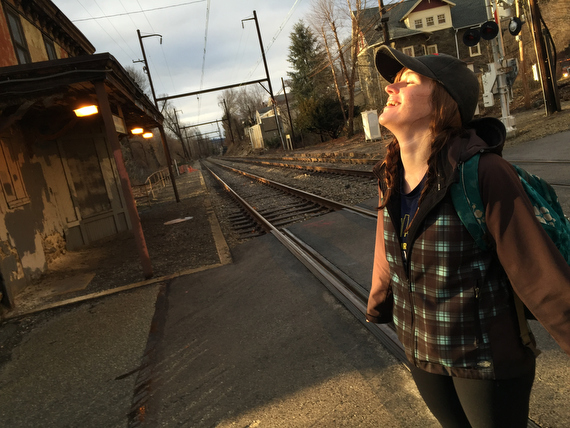 I tried to dial in some exposure compensation to catch Sam basking in the sun, but it flashed by too quickly, and while the cell phone point & shoot is great for relatively static shots, t's still not as responsive as my good old Nikons…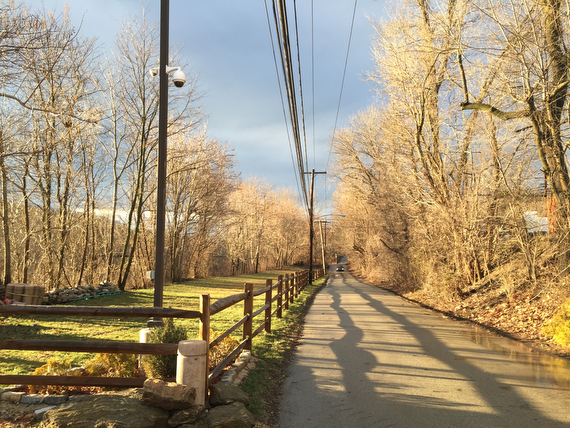 Further along the road, we caught more lovely evening sunlight…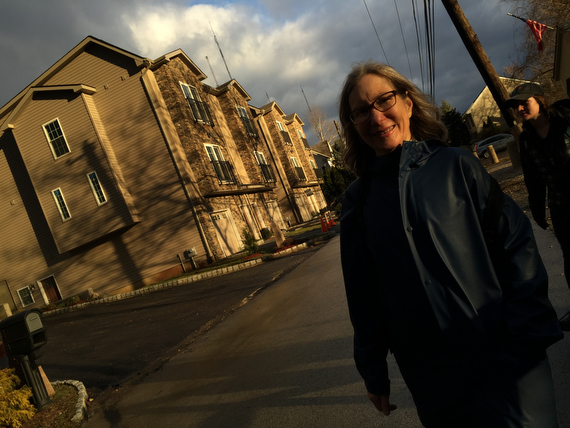 … and here Ann got excited, because she knew that we were in for one more special treat before the end of our day's walk.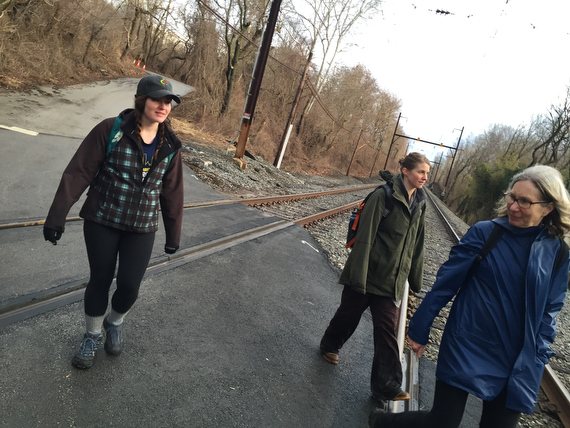 She led us back over the tracks, and down along River Road…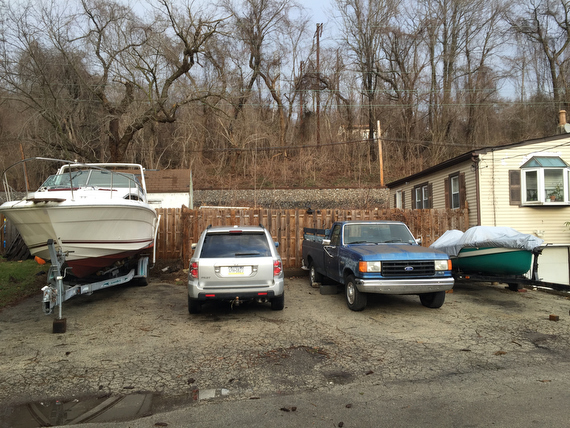 … where we were surprised to find a small isolated little community nestled in the flood plain between the train tracks and the river…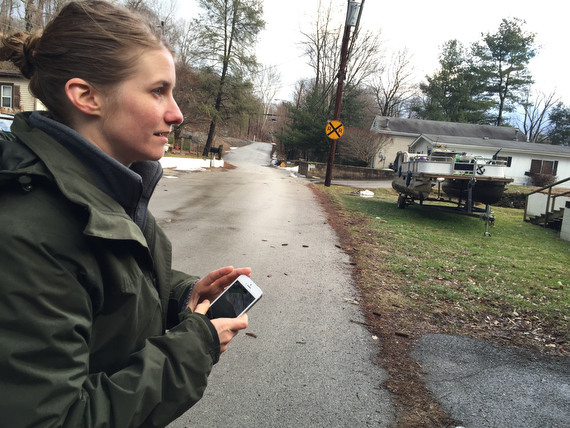 While Ann had already been here, Adrienne & Sam & I were completely astonished to find…
… cute little houses like this…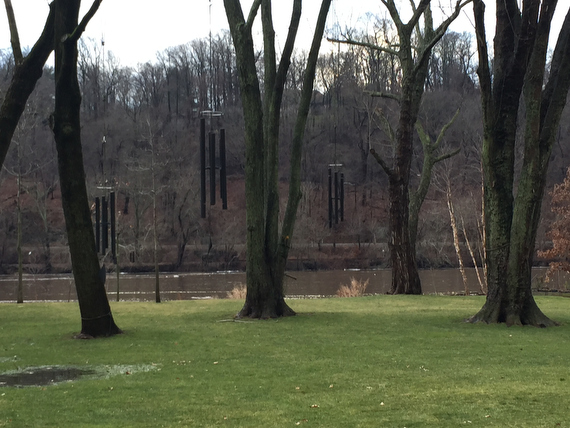 … not to mention a yard with giant wind chimes by the river (Site-specific-performance-venue, anyone?)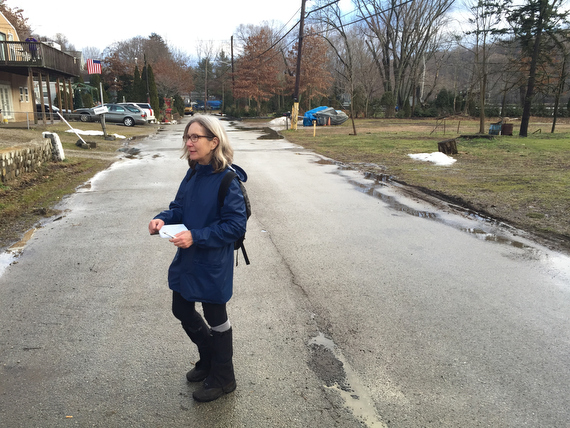 All of this here is still within the city limits…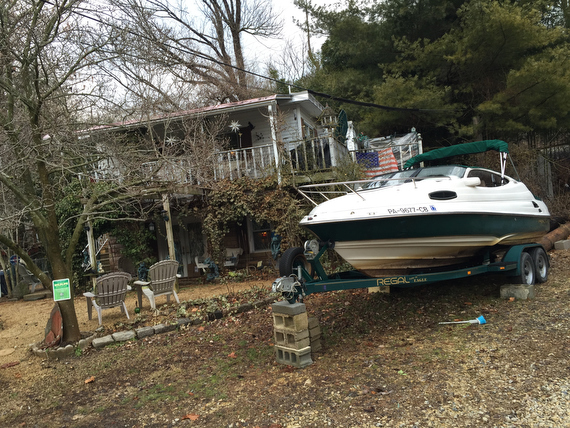 … so this little community with its boats is just as much a part of Philadelphia as my block is…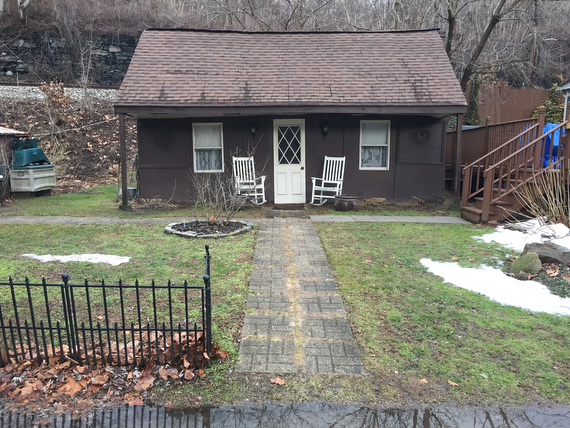 What a little treat to discover this unique neighborhood at the end of our long day's walk!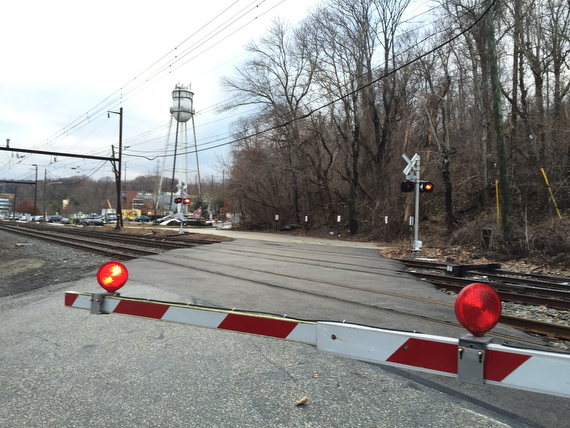 As we prepared to cross the train tracks again…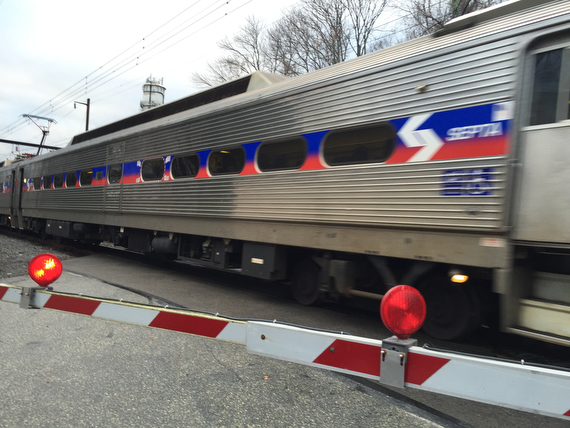 … a SEPTA regional rail train flew by, and we started to reconsider our itinerary and travel options.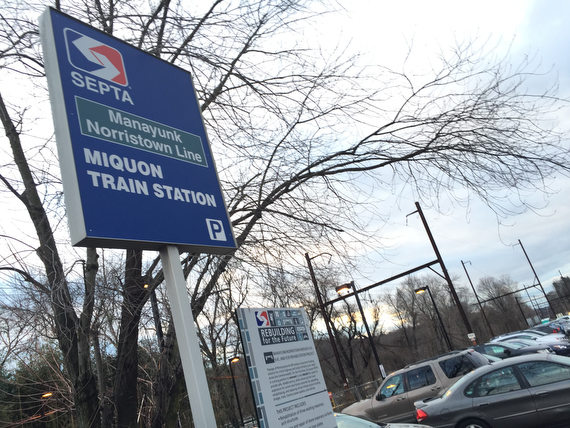 We realized that we were right by the Miquon station…
While our original plan had been to try to walk up Northeast past the Schuylkill Center for Environmental Education and catch a cab home, we realized that there was something more appealing to taking public transit home.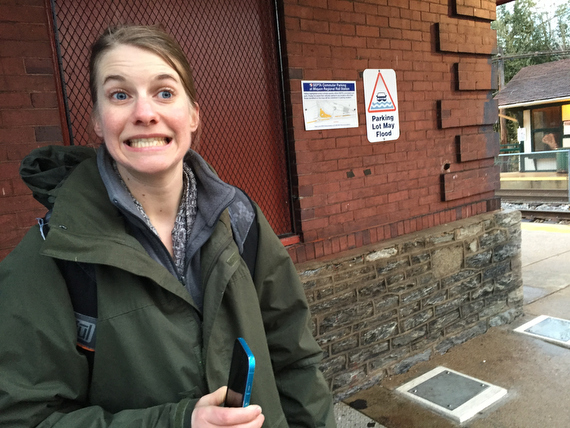 Deciding to stop here would also allow us to attend to other pressing needs…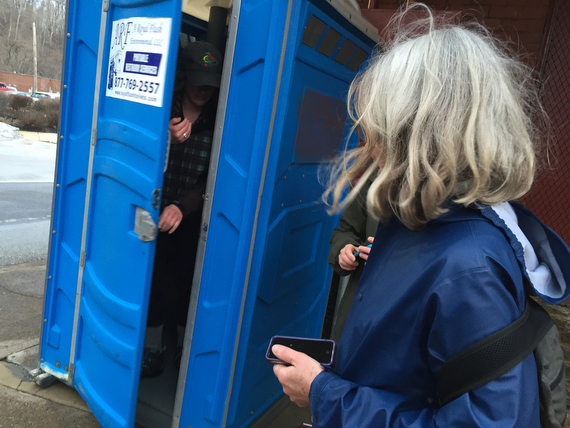 … like taking advantage of this conveniently situated porte-potty!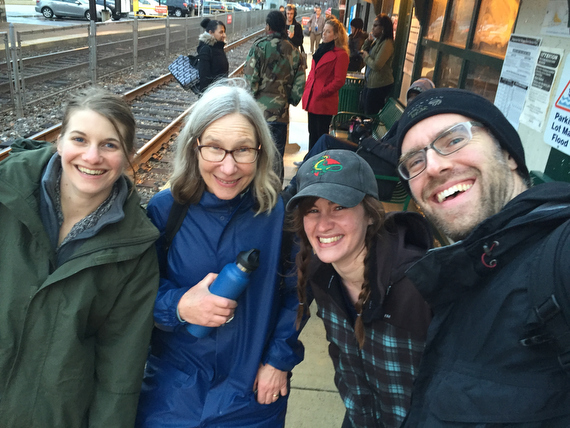 All in all, it was a great day. We walked from ~8am to 5:30pm, covering ~17 miles. Roughly this route.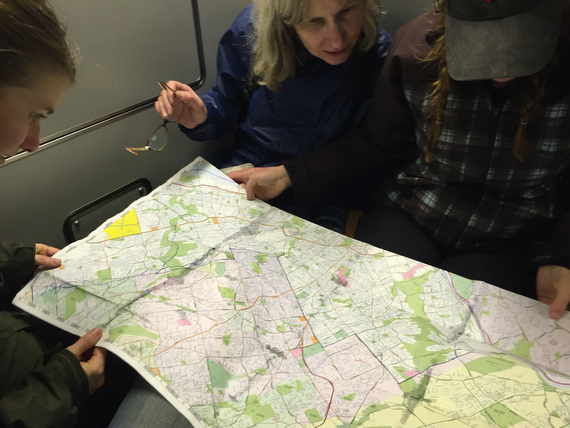 On the way back, we planned out our next day, which would end up taking us from Miquon all the way to Fox Chase. I was planning on including that narrative here, but come on, don't you think this post is long enough as it is? You'll have to let me know if you want to hear the rest of the adventures. Or just get out there and have some of your own!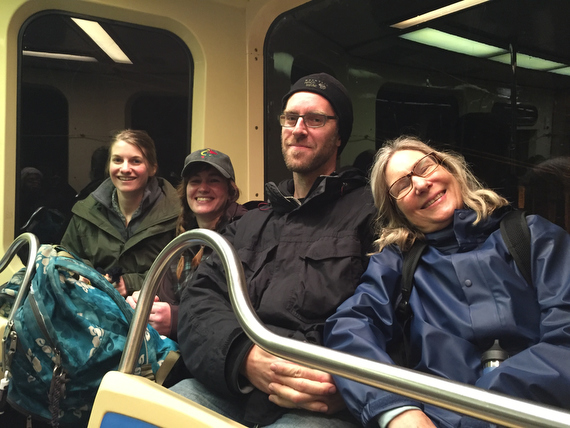 After a long day's walking, we were pretty exhausted, but happy.
I handed off the camera to a nice stranger on the trolley… She took this picture…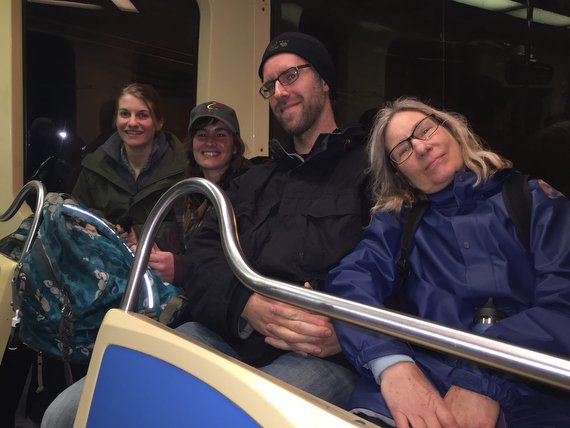 … and then she decided to turn the flash on and take this one. Which I think looks quite a bit worse. With very few exceptions, I am not a fan of on-camera flash.
Last part of the day was the hot shower and a bit of sleep before another 17 miles to Fox Chase.
Then we had Thursday off… I had a great day bookended by Morgan & Monica's classes at Studio 34, (7am early morning practice, 7:45pm restorative) which felt great for my body after all that walking. In between was a pile of admin work, and a conference call with Adrienne, Ann & Sam to plan the rest of our route out.
We realized that we were a bit over ambitious with our plan to pull off the whole perimeter in four days, so we planned to get up extra early on Friday to do ~20 miles from Fox Chase to Tacony, and then another ~20 miles from Tacony to the Airport on Saturday, and then finish it off with an early morning on Sunday from the airport back to 61st & Baltimore.
And then I had the bright idea to start this post… and then I realized it would take too long but I still got obsessive over it, and spent all night working on it, and now it's ~5am and I might get half an hour's sleep before getting ready to get back to the trolley to the train out to Fox Chase to do those 20 miles.
Whose bright idea was it to pull an all-nighter in the middle of these long walks? Mine, clearly. Whoops!
Part of the goal of this whole Cross Pollination residency is for us to learn from each others' practices… so this is a perfect example of a lesson that I've learned from mine, but am still working on. This digital medium lends itself to my manic & obsessive tendencies. I can stare at this glowing rectangle for a long time. That can be ok in moderation, but needs to be balanced out with time in the Darkroom of the Soul. Or time walking in the woods. But preferably some sleep in between the two!
It's so easy to get caught up in exciting creative projects, but so challenging to manage the time around it. For example, this residency was supposed to take up 40 hours. But if I just spent eight hours sifting through those pictures and typing up this post, then where does that time get factored in? (And how long did it take you to read it? Did anyone even read it? If you made it this far, even skimming, then thanks for your attention, and I hope you've enjoyed it.)
Because I've learned that I have this tendency to get wrapped up in creative projects like this, I've started to more actively schedule in down time & vacation time in my life. I'm still not great at it, but making progress.
So there'll be some serious rest days in my future. But for right now, it's time to go walk 20 miles.
And then do it again tomorrow.
If I survive today.
peace,
-jj