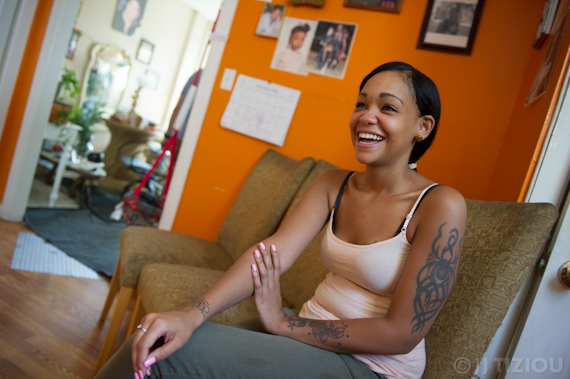 One of my favorite moments at this year's Philadelphia Live Arts Festival & Philly Fringe was getting to share in Headlong Dance Theater's dress rehearsals for "This Town Is A Mystery"… Such a beautiful set of pieces that I wanted to share a bit of it with you: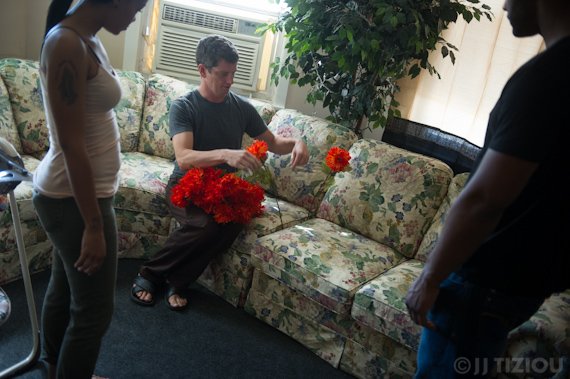 "This Town Is A Mystery" was actually four separate performances, taking place in the homes of four different Philadelphia families. Since we're talking about real houses rather than stage sets, there were all sorts of challenges with lighting and visual clutter for me to shoot without disturbing their process….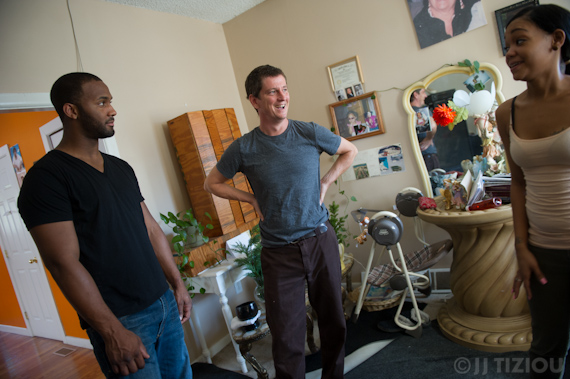 … of course the performance is less about the spaces than about the families that live in them…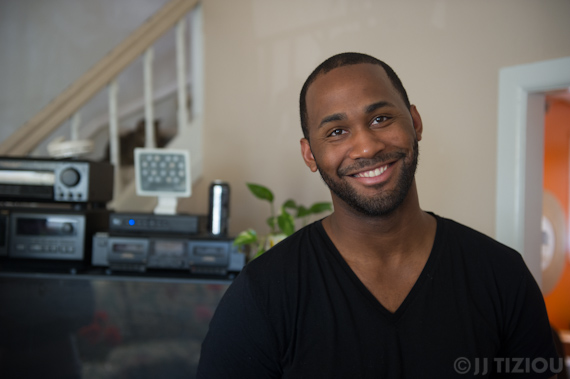 … Adam Bostick here being one of the photogenic Philadelphians who decided to participate…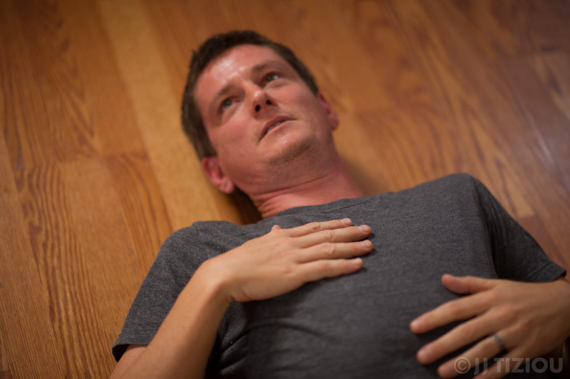 The families worked with Headlong to develop some new and unique dance theatre pieces…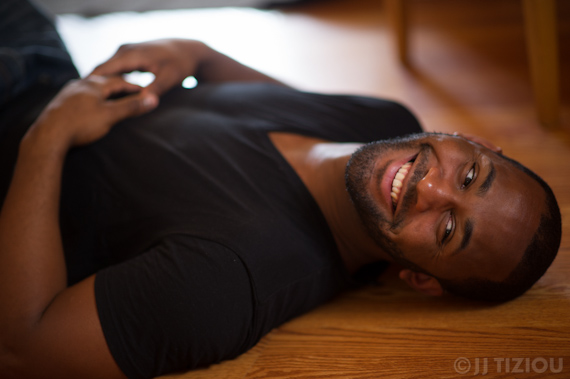 … sharing smiles and stories along the way…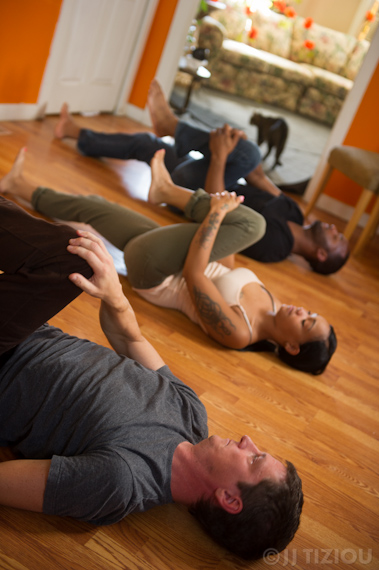 … not many performance venues have cats walking around in the background…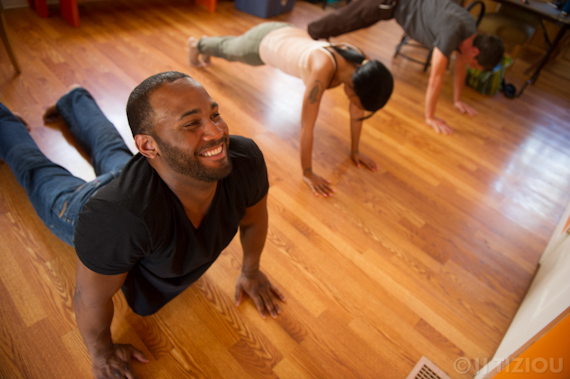 … while you're warming up…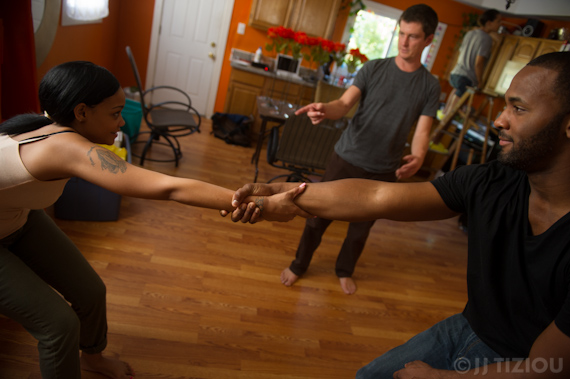 … to work on some movement phrases…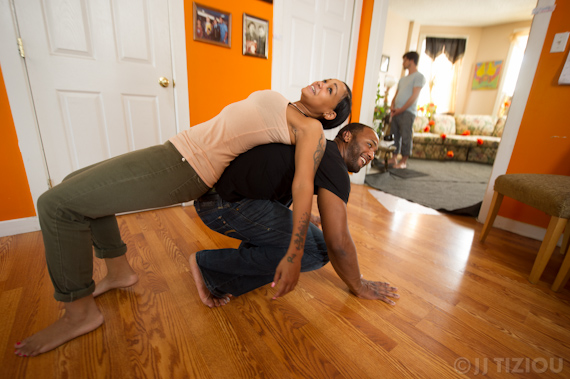 … to share your own family's story.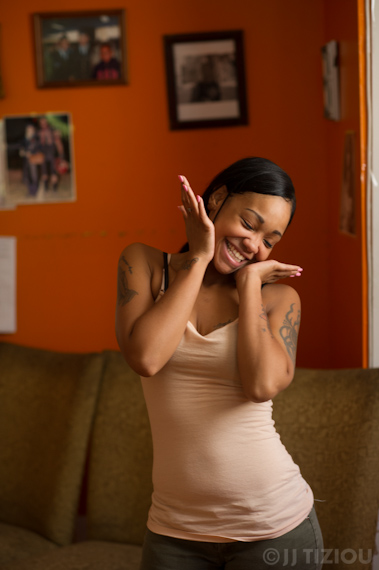 Adam's sister Princess participated in the piece too – it's the whole family together…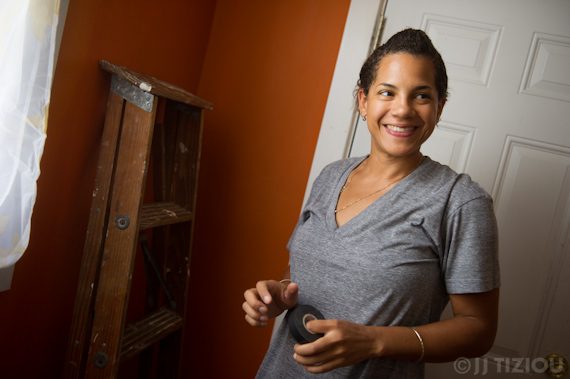 … while new friends like Rucyl work behind the scenes to set up the audio component of the piece…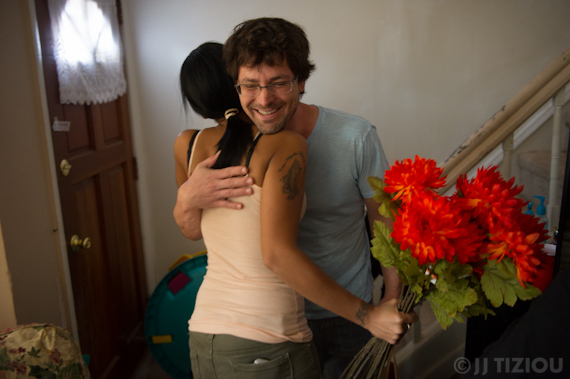 … and David from Headlong joins in the good vibes of the process.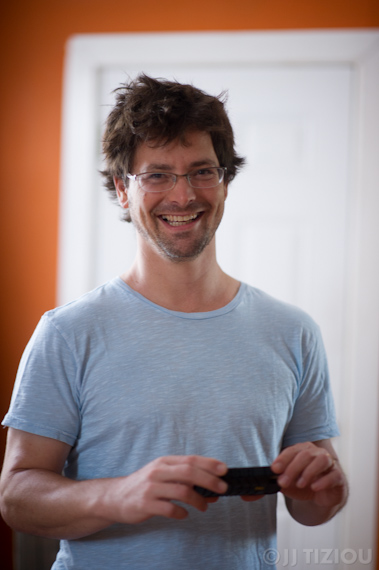 David also photographs a lot – we had an interesting conversation about the strange process of photographing dance, and it might lead to a collaboration of some sort at some point down the road…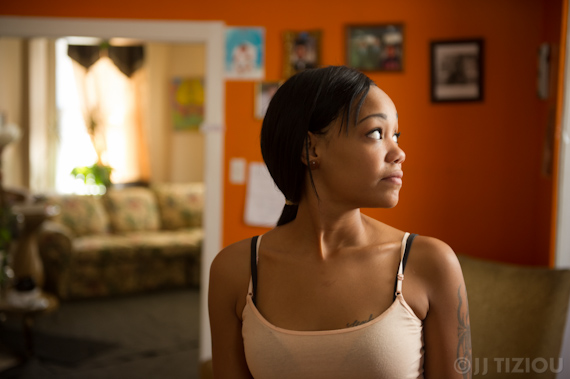 The piece itself has some heavy emotional moments alluding to challenges that the family has faced…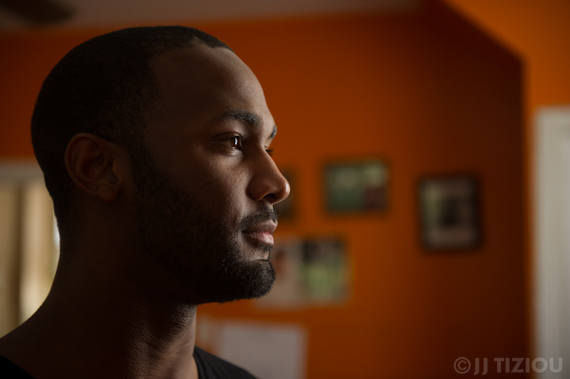 … and moments of strength and support…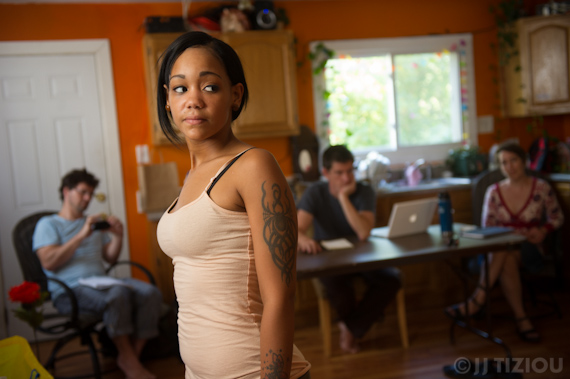 As Princess rehearsed her movement sequences,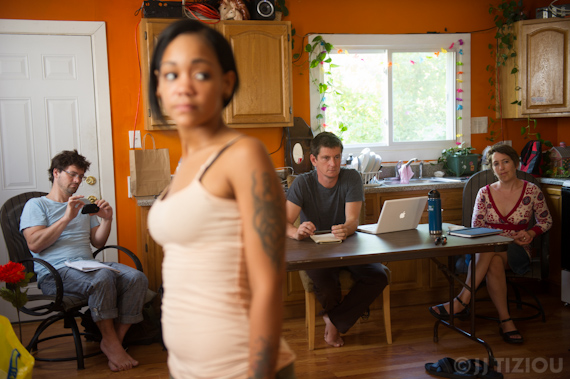 The Headlong crew looks on attentively…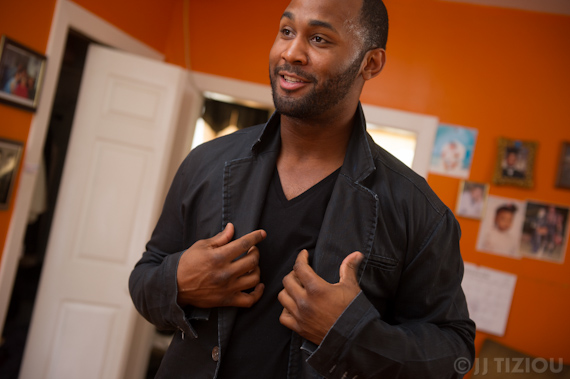 … and Adam begins one of his narratives about the time in life when he stumbled across a large wad of cash and, after sharing some with his family, took off for California…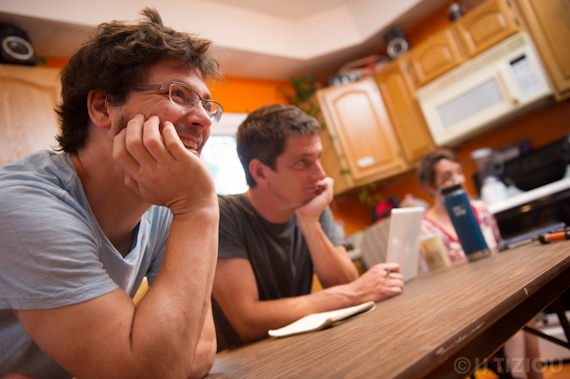 … it's a pretty comical tale, which gets laughs from the audience every time…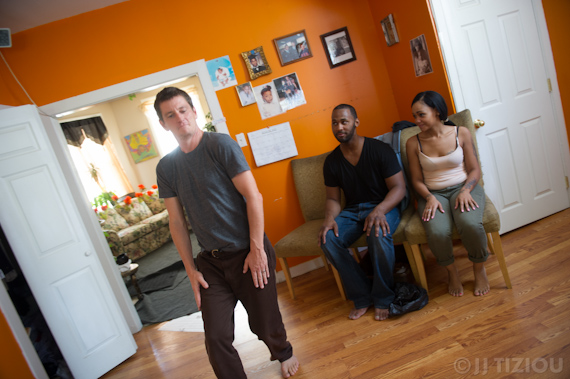 The third character in this particular Mystery is Leah, the mother of the Bostick family… but here Andrew's filling in for her as a back injury kept her out of this particular rehearsal.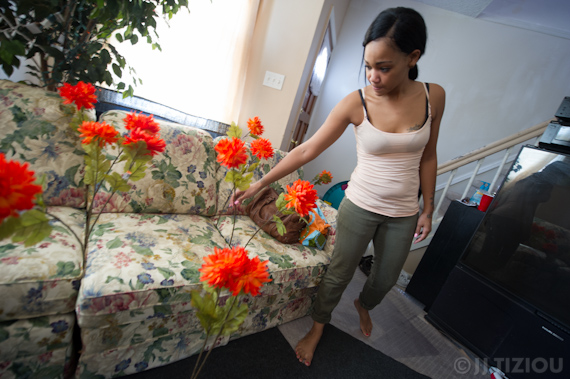 The simple set included some flowers that Leah slowly planted across the living room…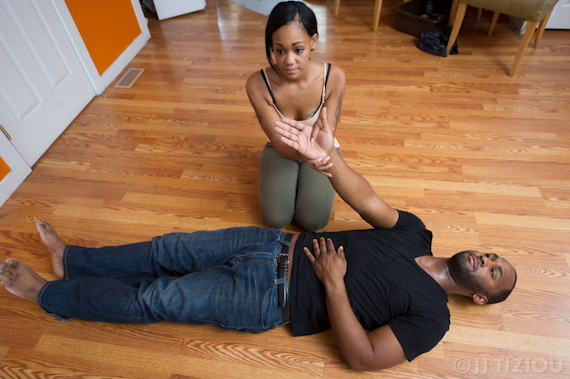 … but one of the most powerful bits of symbolism for me was when Leah combined her hands with her brother's…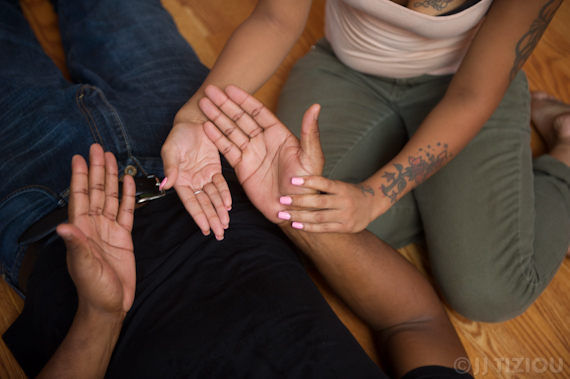 … to narrate the surgery that delivered her baby prematurely, and then the second surgery that was needed when it was discovered that the sick child's bowels were "liquified"…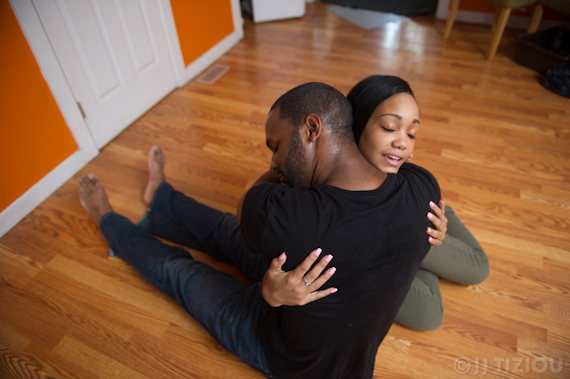 Princess shared her fear, initial hope, and then long courage in staying in the neonatal intensive care unit for months until she was able to bring her baby home. She longs for the day when she'll be able to hold her child without tubes or medication… That's when her life will begin for real, she said.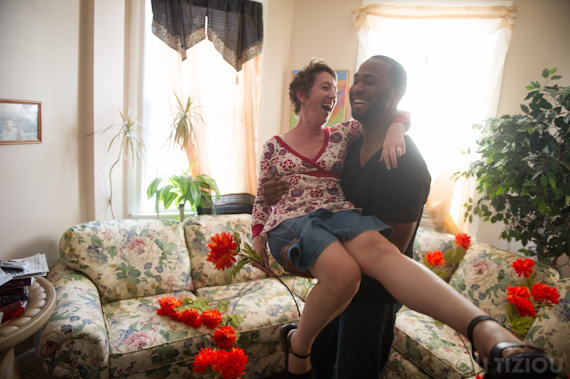 While parts of the piece are heavy, Adam can always be counted for a pick-me-up…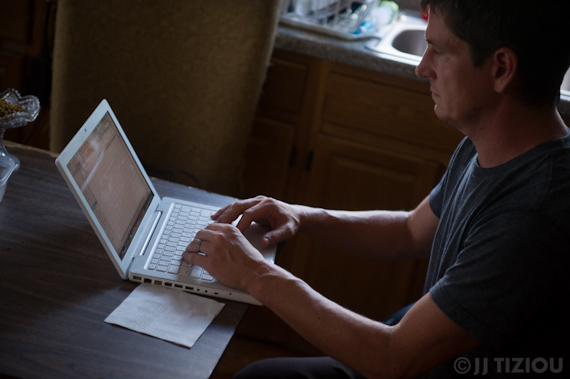 … and Andrew is ever attentive to details behind the scenes.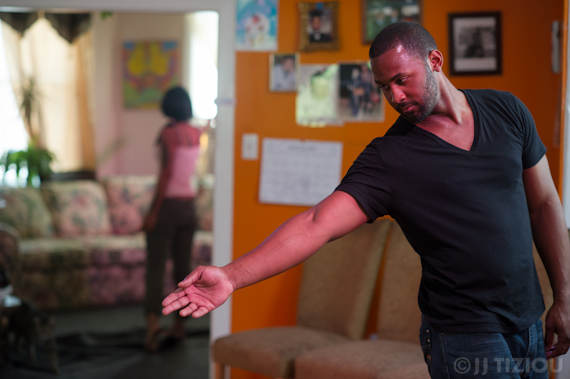 Headlong's work mixes both dance movements and theatrical elements…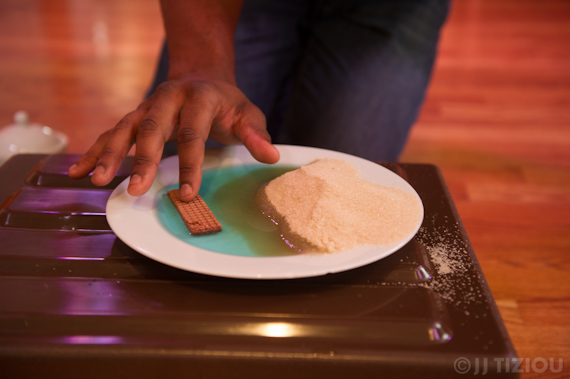 … like this little scene where Adam transforms the elements of his old job (dishes in a bus tub) into the scene of his new life in California by adding some sugar, a chocolate wafer and some blue Gatorade.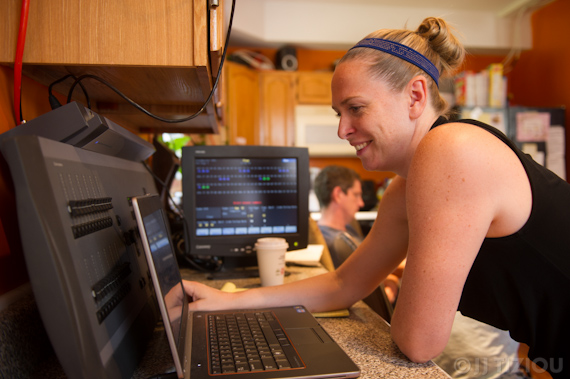 One of the challenges in working in homes is bringing in lighting equipment etc…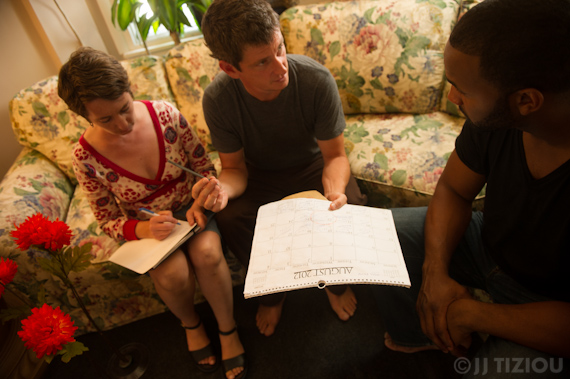 … but a bigger challenge is scheduling, as Headlong was working in parallel with four different families in four different spaces…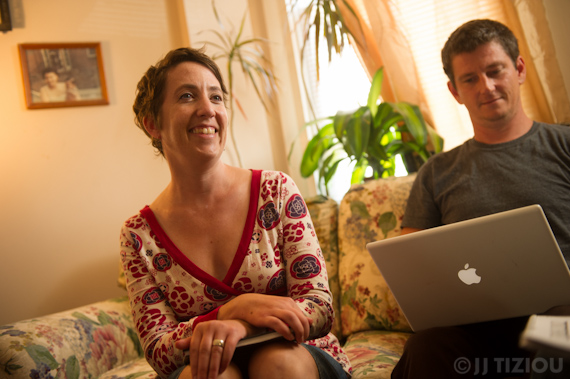 … but obviously Amy had fun with this.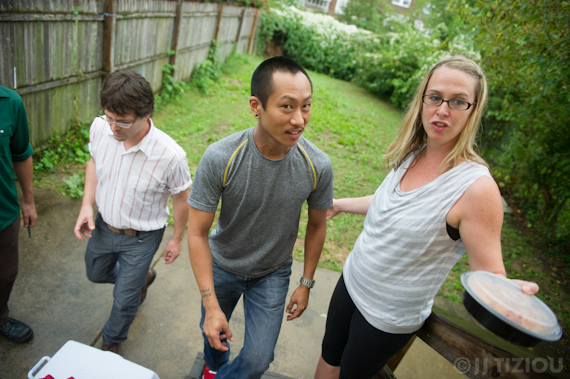 When the first invited dress rehearsals with audience started…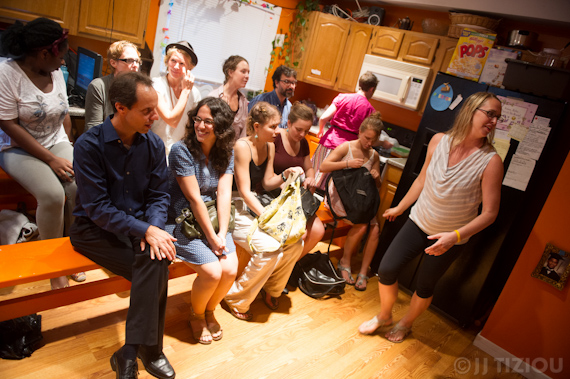 … it was time to squeeze into the kitchen…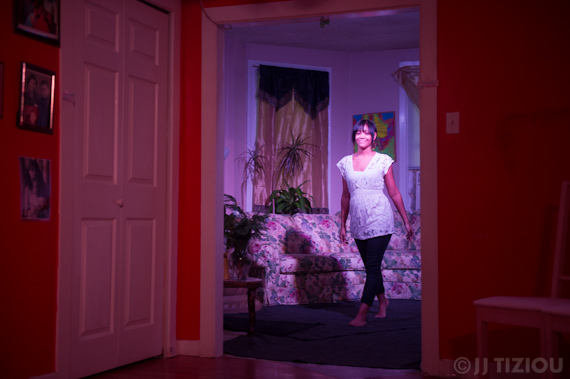 … as the performers made their entrances…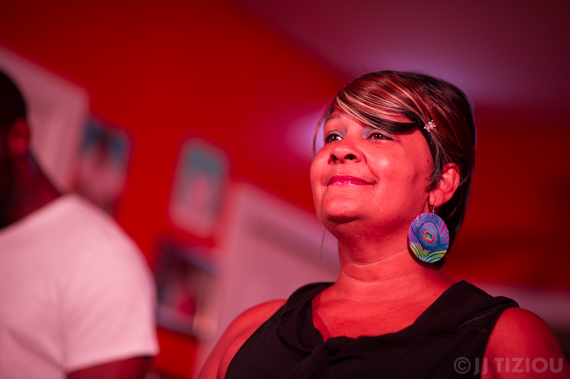 … this time with the full crew including Leah.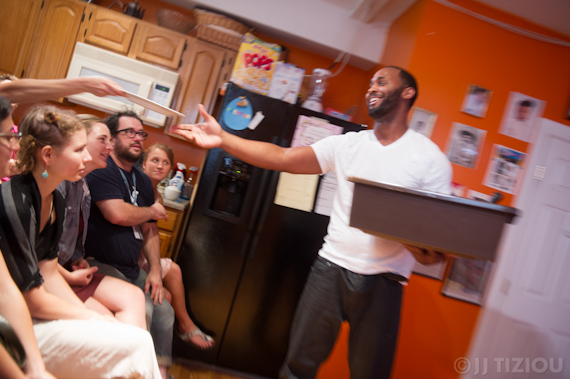 Adam entertained with his stories of bi-coastal adventures…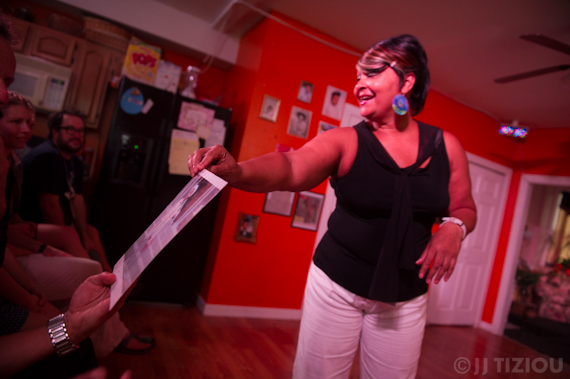 … while Leah used old family photos to share stories.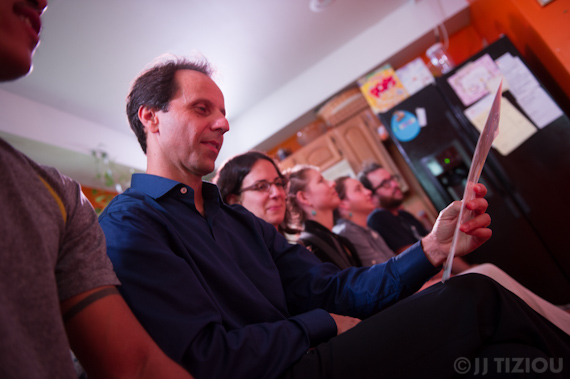 When you're only a few feet from the performers in their home, it creates an immediate intimate connection…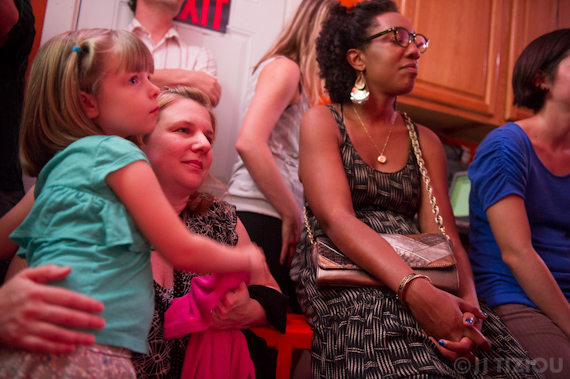 … for audience members of all ages…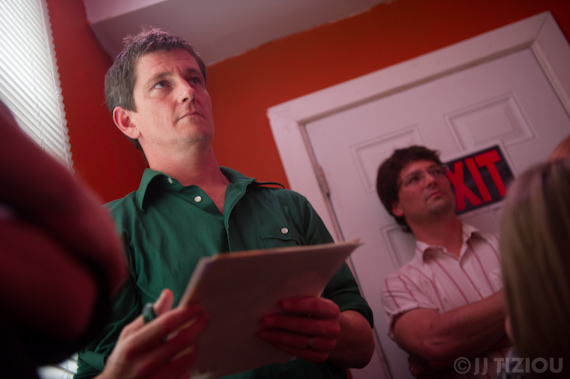 While Andrew keeps taking notes to refine the piece…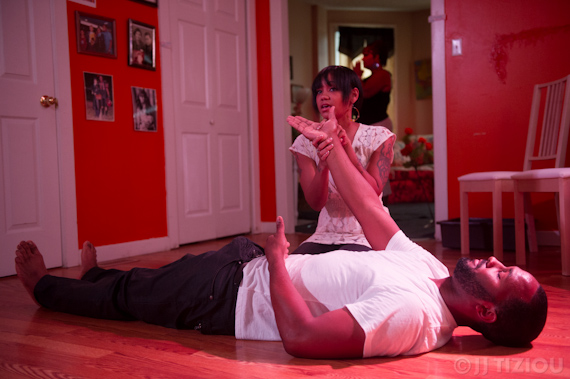 …Princess tells the story of her special little "medical baby".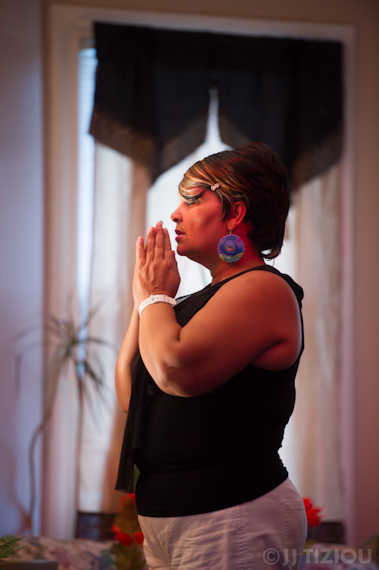 Earlier in the piece, Leah described how she had come to be a practicing Buddhist in the Soka Gakkai tradition…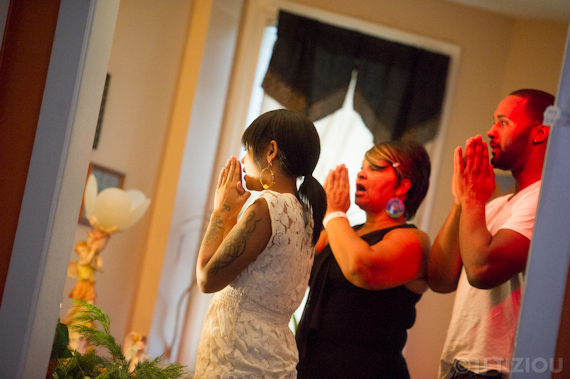 … and so we learned that the family chants together daily, praying for their community, you, me, and all living things.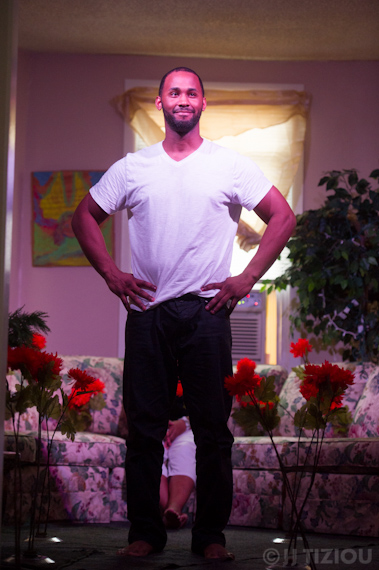 As we near the end of the performance, it might seem like it's all over…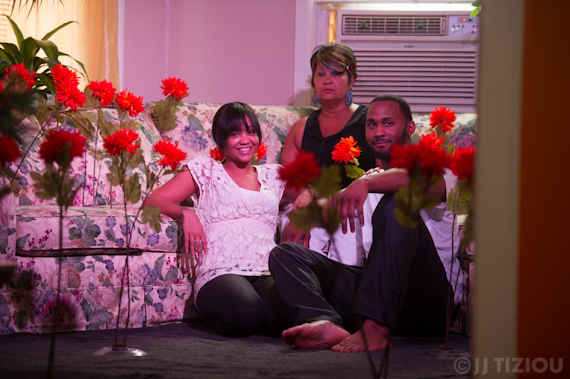 … as the piece seems to end…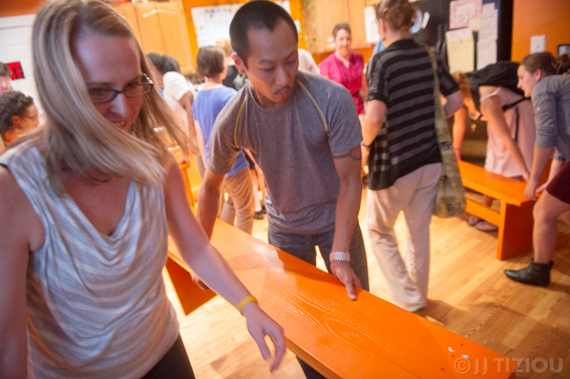 … but this is just the beginning where the audience get more involved…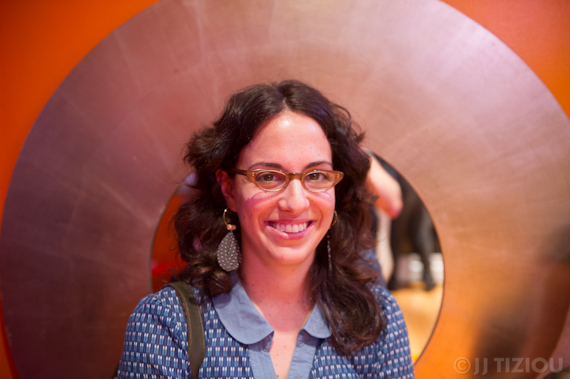 … and Debbie (the fantastic administrator who keeps things running smoothly behind the scenes at Headlong) wonders why I'm pointing my camera right at her (she just happened to be standing right in front of this great mirror, although I wish that I'd gotten my reflected elbow out of this frame…)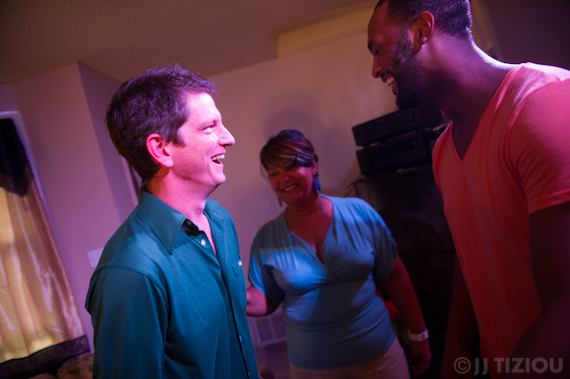 After the official performance, it's not just time for the Headlong crew to celebrate with the Bostick family…
… the entire audience joins in the celebration. So often in performance it can feel like there's a giant gulf between the stage and the audience, so this was a really special moment: where the performers and audience just naturally came in to start hugging each other when the piece was done.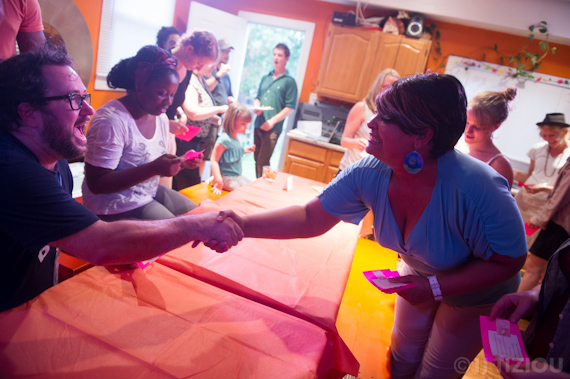 This was a really special opportunity for people from different neighborhoods to cross paths and meet. See, part of the deal with "This Town Is A Mystery" is that you don't get to pick which family's home you go to. You bought a ticket to "House A" or "House B", and then later where told where to go…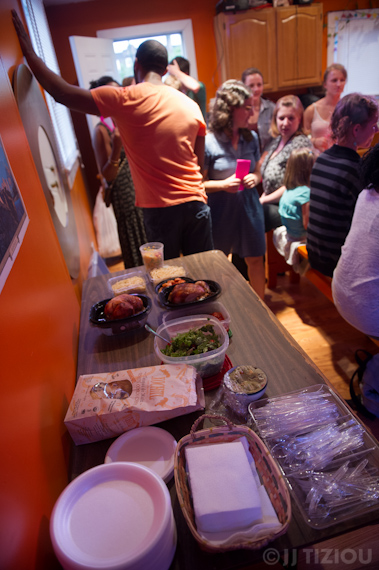 … and reminded to bring food. Much like my friends at Broad Street Ministry, Headlong knows that sharing meals is a great way to bring people together.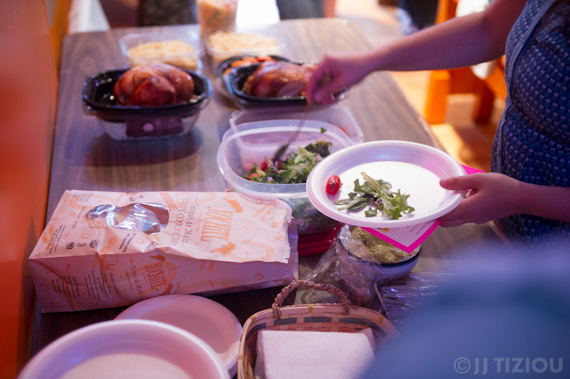 Everyone brought a dish, and the second part of the evening was a potluck dinner…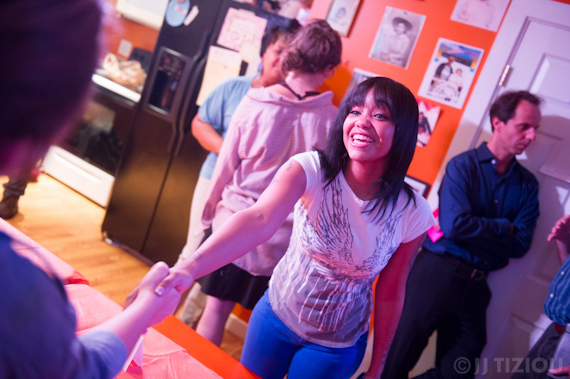 … where the community connections continued. (How's that for alliteration?)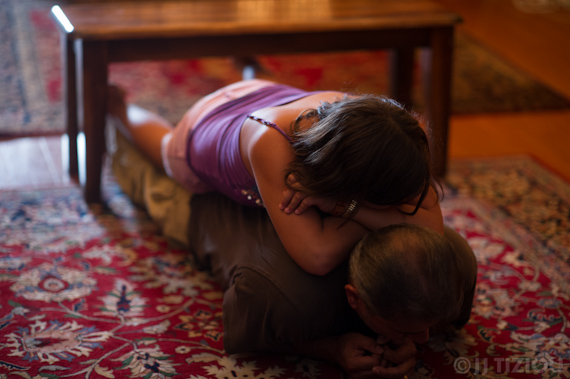 Of course, what I've just shared was one of the four pieces that made up "This Town Is A Mystery"… another facet of it was happening in S. Philly with the Aryadarei family.
This story included three children who were sometimes quiet…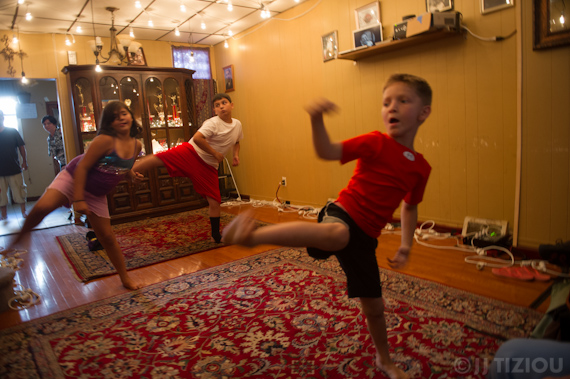 … and sometimes bundles of energy as they displayed their martial arts skills.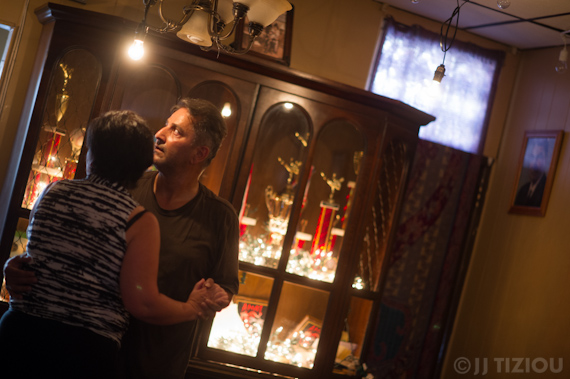 As I learned about the family…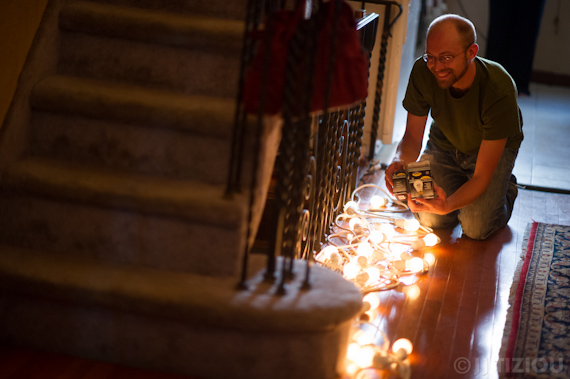 … and ran into an old friend who'd gotten roped into house managing for this show. If you'd like to get involved, the Live Arts Festival has volunteer opportunities year-round.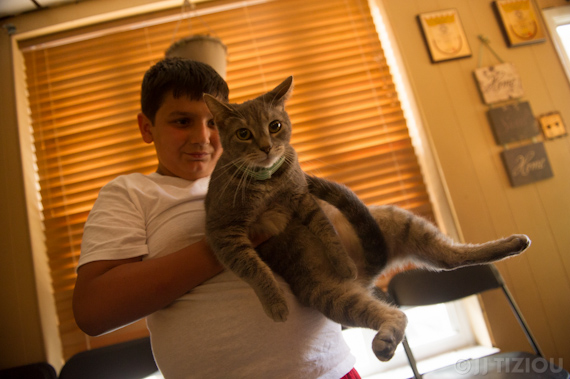 Again, I found myself in a performance venue where the family pets kept wandering into the way… not quite your traditional performance space, right?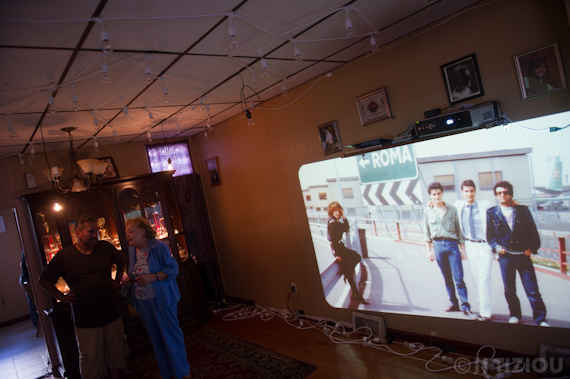 Each house was approached slightly differently… here old family photos were projected on one wall…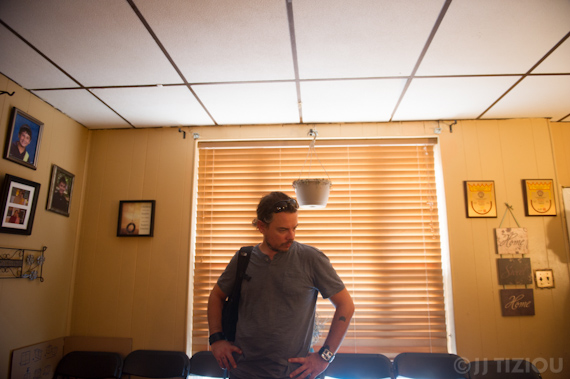 … while lighting and space designer Thom checked out the seating setup…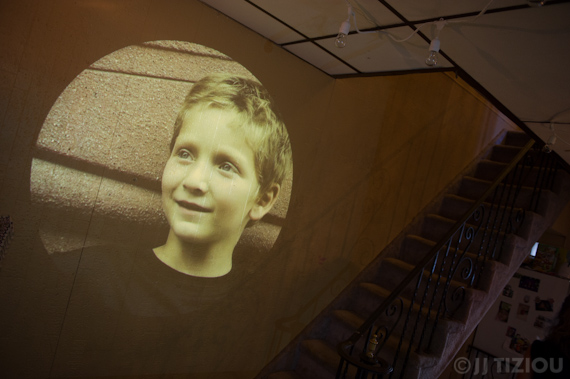 … and the other wall had video portraits of some of family.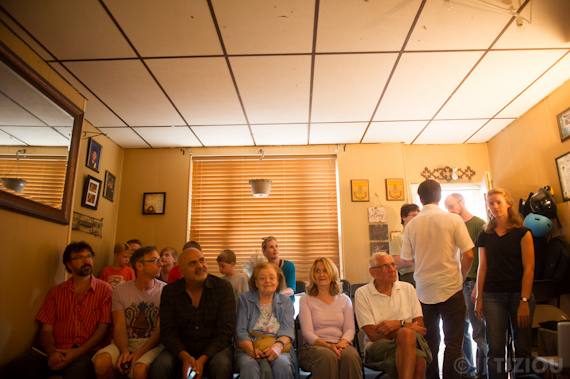 Again, the audience has to pack in somewhat tightly to enjoy the piece…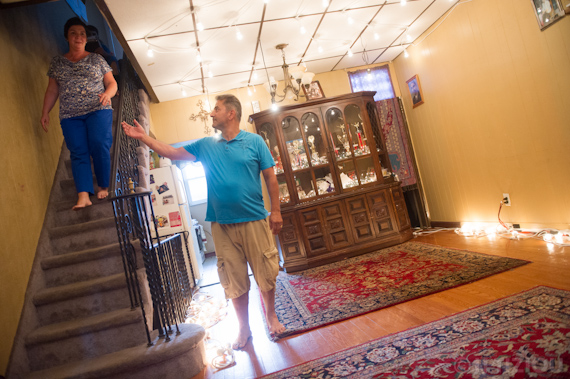 … which this time takes place mainly in the living room.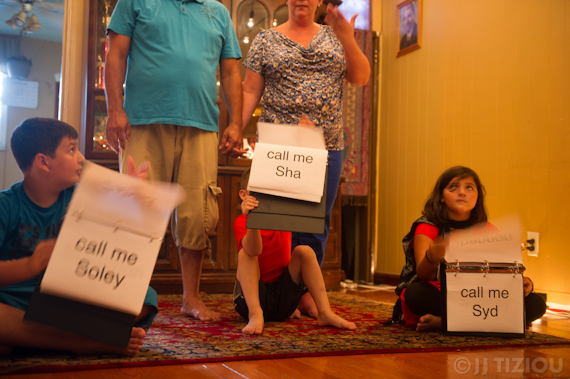 As the Aryadarei family introduces themselves…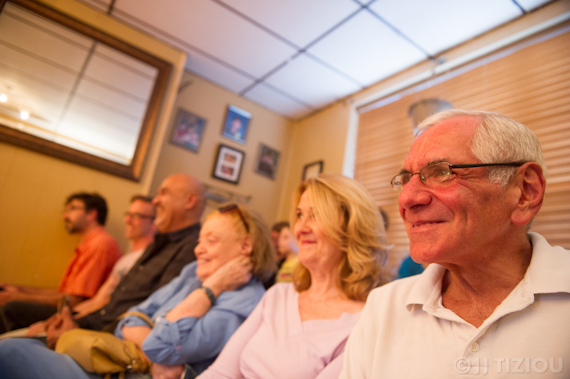 the audience immediately starts to connect.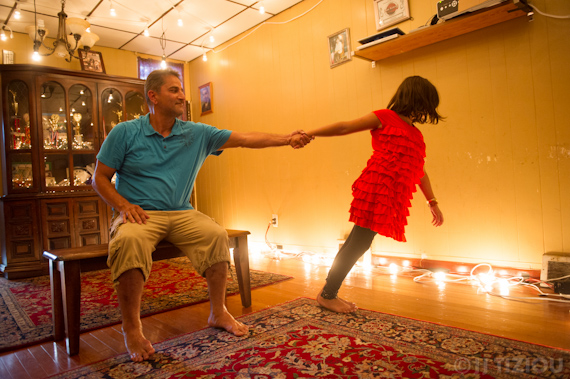 Some of the dancing is slow and sweet…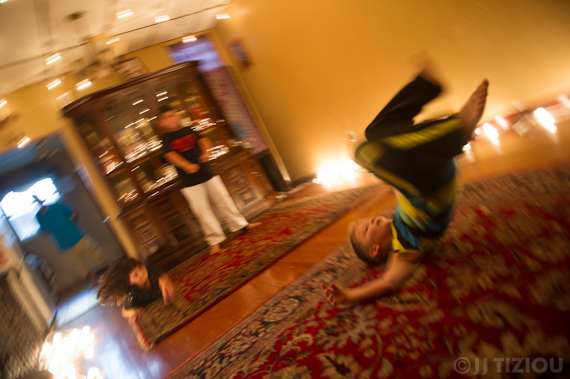 … while Sha clearly likes to flip around all over the place…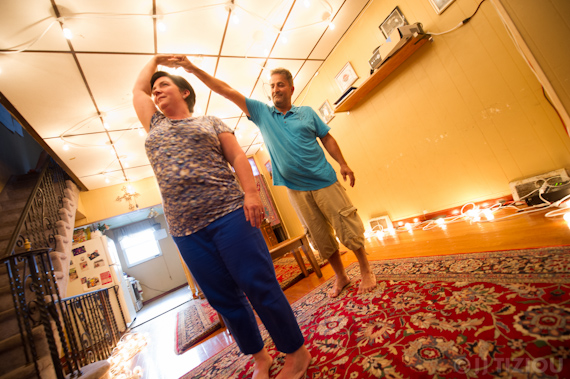 … this piece caught me by surprise, as most of it's content was somewhat light, giving the feel of an ordinary sweet family…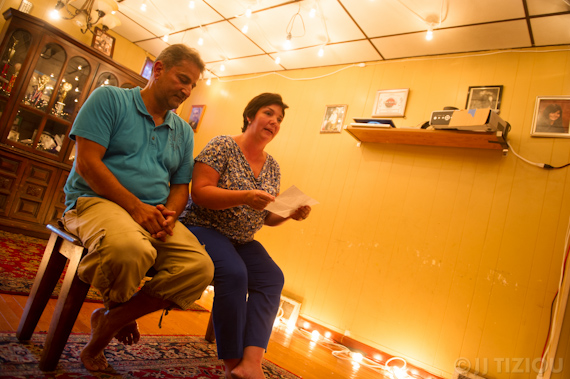 … so I was somewhat blindsided when the piece ended with an account of the long detention that their father endured in the post 9/11 immigrant roundups that took place. This was powerful reminder of how much our government's policies can affect the families around us, and how many amazing stories there are on every block of our community if we just make the time to seek them out.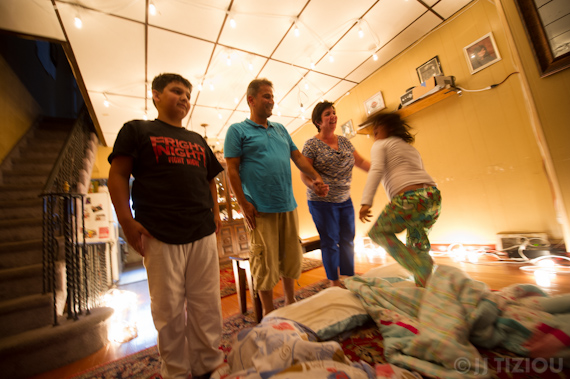 Again, after the performance was over and bows were taken…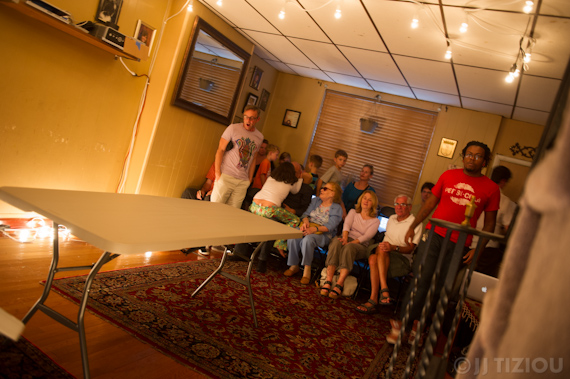 … the table was set for another potluck gathering…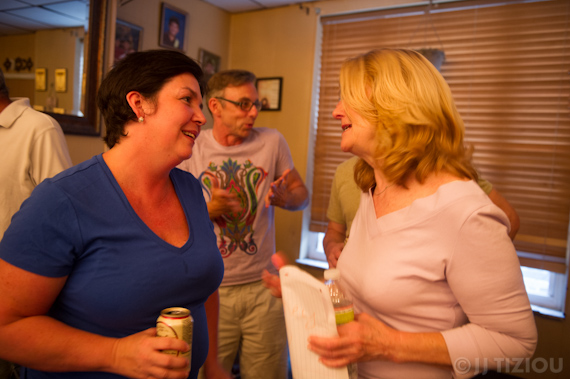 … and more time for conversation.
Of course the challenge with small intimate pieces like this is that there's a limited audience size. I felt quite privileged to attend two of the four pieces, as many could see only one, and of course many weren't able to get tickets at all.
If you want to be in the loop for future happenings like this, you can plug in via both Headlong's website and the Live Arts / Fringe. And of course, if you hop on my list, I'll do my best to give you a heads up on other special happenings in the future.
Thanks for visiting!
Share it if you dig it, and you can find more images from this series and order prints in the JJ Tiziou community archive.