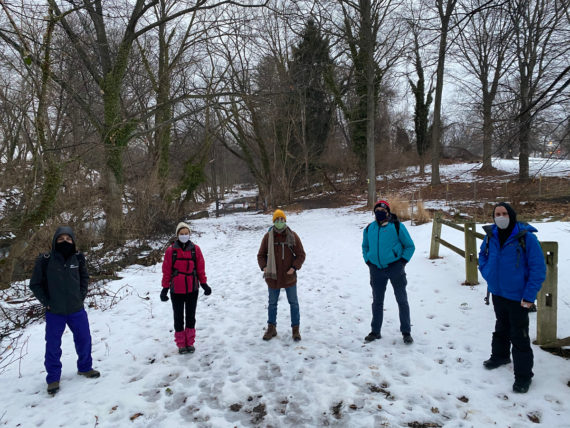 I set out on February 7th for my 6th annual (and 7th total) pilgrimage around the city's edge.
One week later, after ~110 miles through snow and ice, detours and discoveries, setbacks and surprises, challenges and connections, I found my way back to the beginning, yet again amazed by the wonder of this city, and of the kind companions who accompanied me.
A few notes about this iteration of the walk:
Walking long distances in a heavy snowstorm is intense!
The walk again rapidly forged bonds of friendship amidst folks who'd been strangers to each other just that morning, even while maintaining pandemic protocols and sociable distances.
One perimeter-walker had accompanied me on their first segment two years ago, and then walked more of it last year. They filled out their remaining segments this time around, and then spontaneously took another day off of work and joined for the last few days, so now they've done the perimeter 1.5 times.
One other walker who'd just done the last half day segment last year repeated the same segment this year, and found it was exactly what they needed for this dark pandemic winter. Their experience confirmed what I've seen too: this exploration can be attempted multiple times without ever getting boring. There's always more to discover, both through the terrain and our companions.
The next public iteration of Walk Around Philadelphia will be this summer / fall in conjunction with the Fringe Festival, and I'll be looking for both partners and backers to help make this experience even more accessible to others.
For updates and invites, hop on my email list.
See below for a recap of the whole adventure…
Day 1: Cobbs Creek, City Ave, the Schuylkill River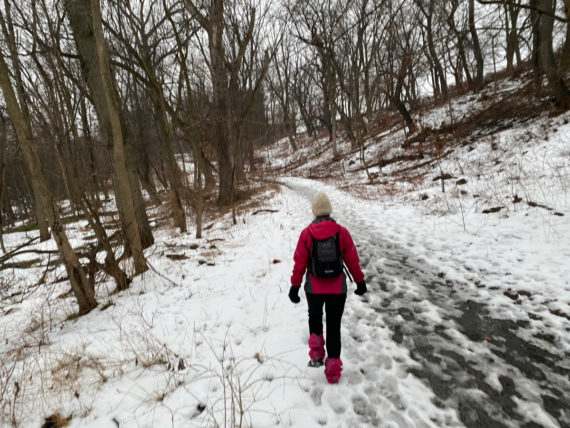 We set out early from our starting point at 61st & Baltimore…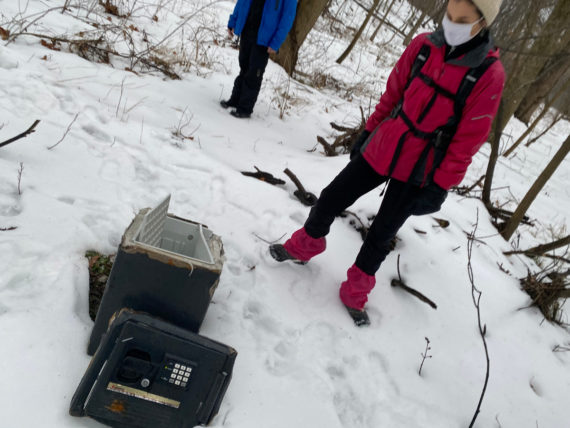 … but hadn't made it far before I caught sight of a strange thing just a ways in from the trail: it was a safe that had been dragged into the woods and broken into…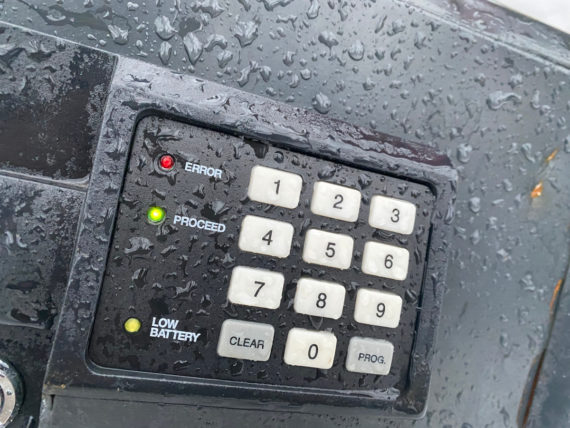 … recently enough that the keypad LEDs were still lit. I guess Cobbs Creek makes a good out of the way place to make some noise for your creative criminal ventures…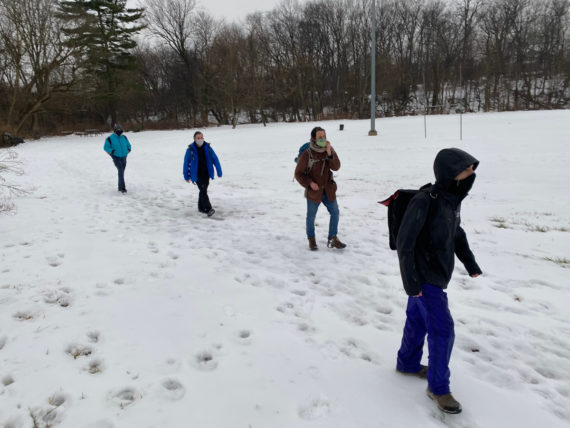 The trail carried us through athletic fields covered in snow…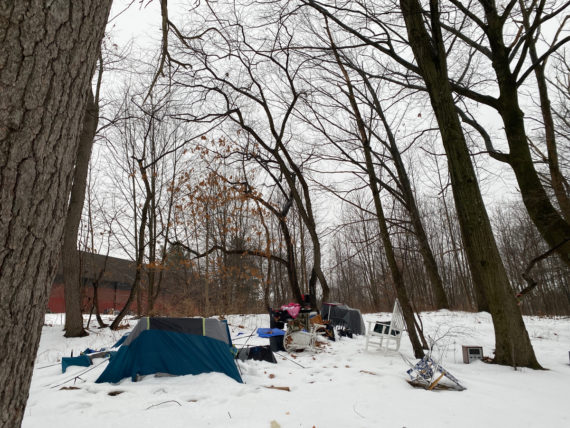 … and past the shelter of some of our more vulnerable neighbors, who we were careful to give space to.
(From this very get-go of encountering evidence of both those who are forced to resort to theft, and those who lack shelter, the experience of the walk is an opportunity to grapple with questions of privilege)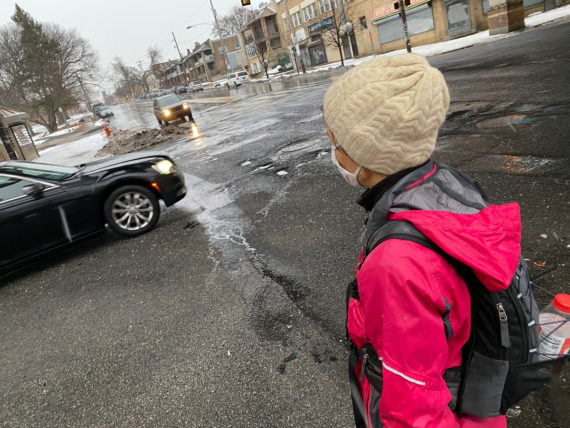 At Market Street, the perimeter brings us back to a more urban landscape for a moment as we pass under the El train…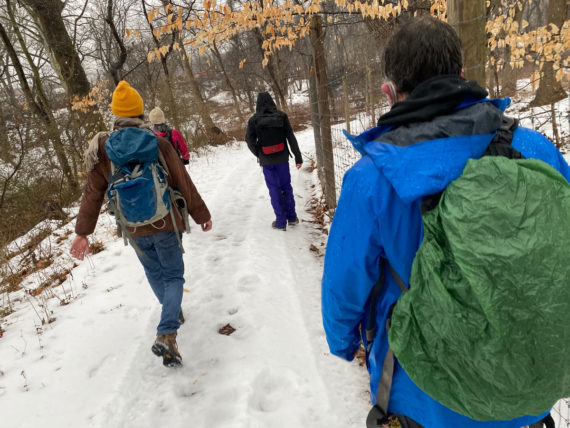 … but quickly takes us back into the woods, where the actual border is the creek itself.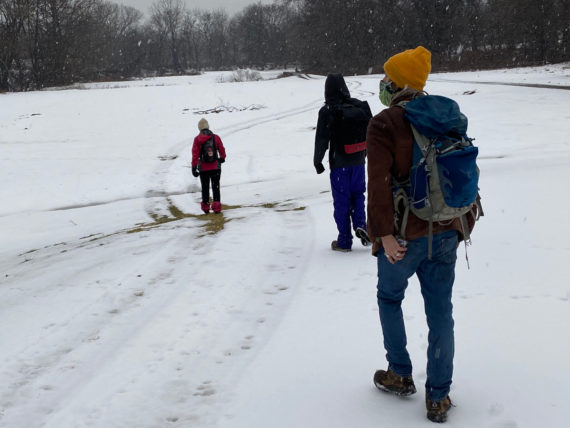 We encounter the first of many start transitions as we find ourselves on the golf courses…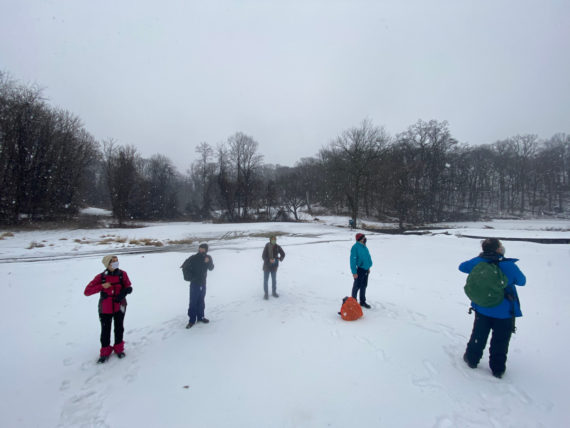 … where I lead a little contemplative exercise in panoramic viewtaking.
This is a sweet one that you can do anywhere:
Distribute your group in a circle & stand facing outwards
Take a good few moments of deep breaths, simply gazing out and taking in whatever is before you. (If you're well spaced, you shouldn't see your fellow group members)
Everyone takes a few steps to the left, moving to the spot last occupied by the next group member. (This is a moment of collective organic decision when the group listens for each others' signals and moves as one)
Repeat the breathing & witnessing & rotating until you've come full circle.
Optional: take a moment to share what you observed.
In non-pandemic times, this is a nice one to do shoulder to shoulder, but we kept some space, because, well, it's a pandemic.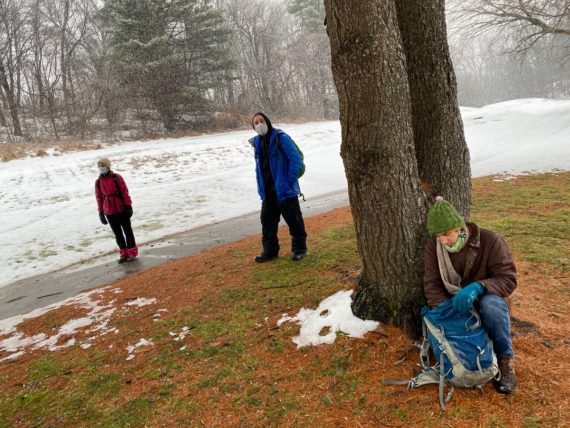 A dense bit of tree cover provides shelter from the growing snowstorm as we take a snack break before wrapping up the Cobbs Creek section of the perimeter…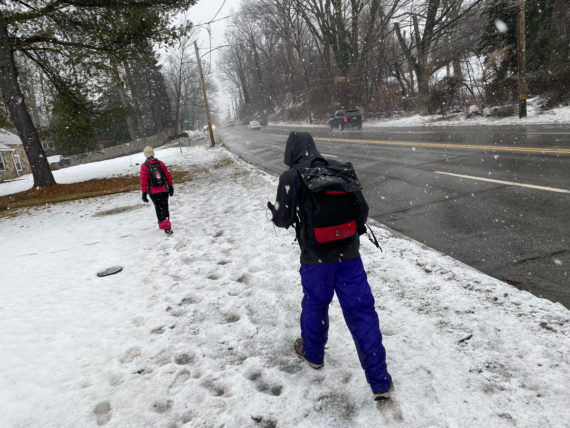 … and finding ourselves on City Ave.
This contrast, from the quiet woods to the roar of traffic is always a striking one.
Soon after, Delphine will leave us as she was only able to join us for the first part of today's journey.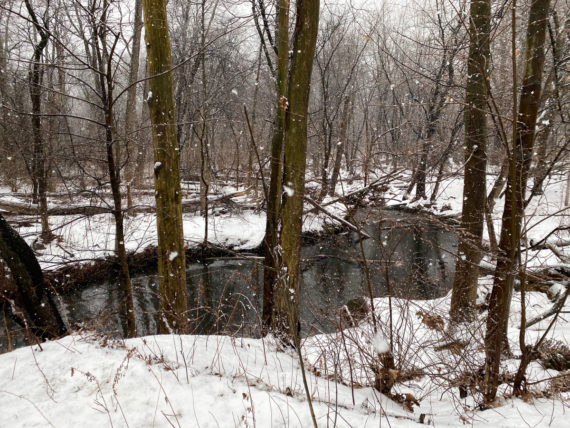 Then we'll catch a glimpse of the woods as we pass by Morris Park (twice!) …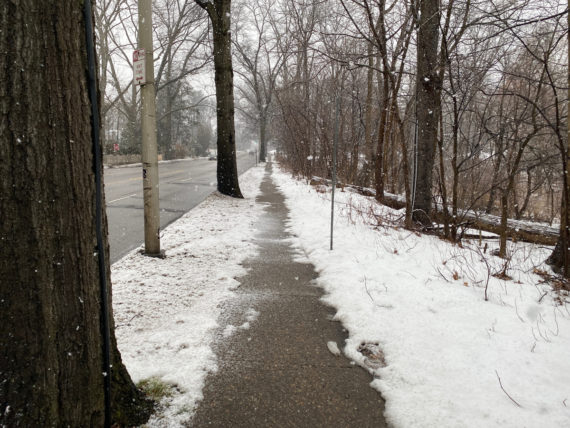 … but our path lies along the perimeter, which has us mostly following sidewalks. Some are plowed…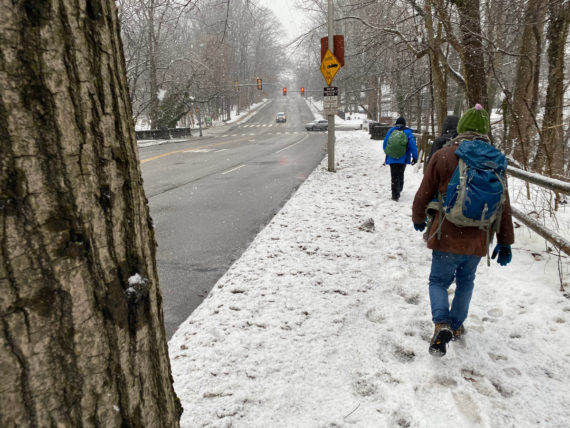 … and some are not.
(On the 2nd day, Greg will comment that this experience of walking the city's edge in the snow means that he will make sure to henceforth be extra diligent with snow shoveling…)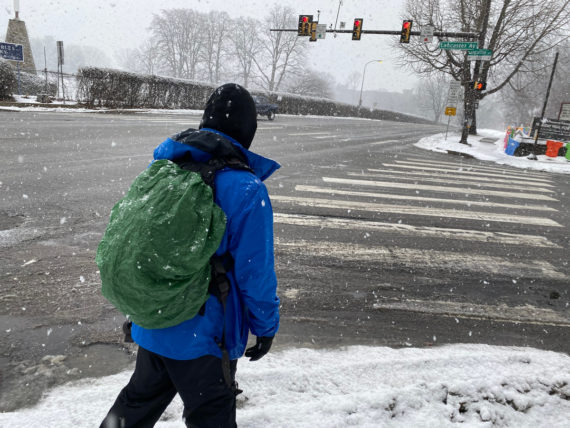 As we approach Lancaster Ave, we catch sight of a splash of color ahead of us: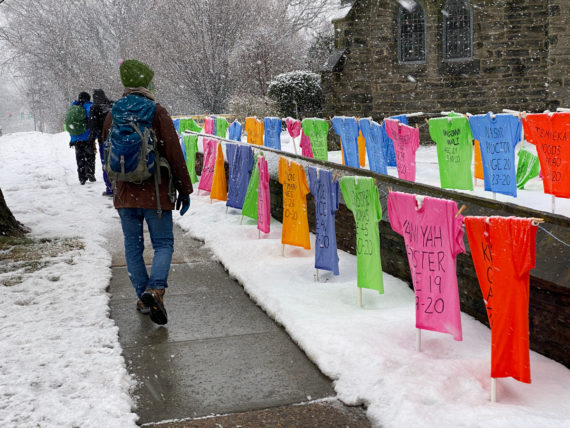 I'm familiar with these rows and rows of colorful T-shirts, as this installation is here every year outside of Overbrook Presbyterian Church, where…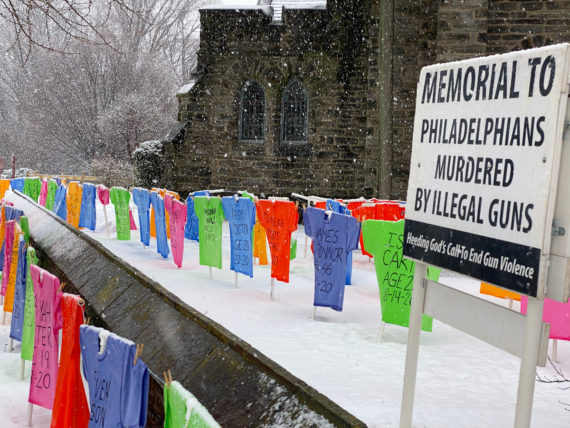 … in conjunction with the organization Heeding God's Call To End Gun Violence, this installation memorializes our neighbors who lost their lives to gun violence in the past year.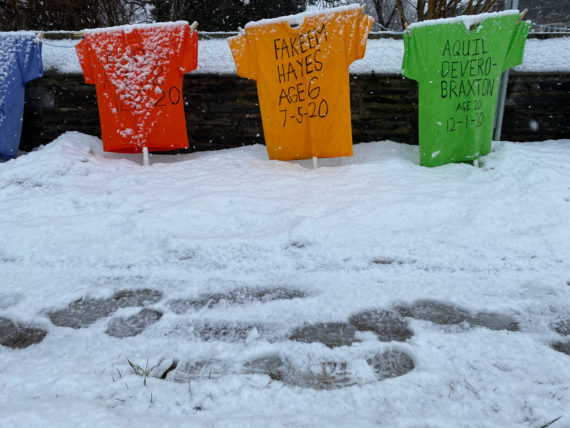 Each shirt represents a neighbor – many of them youth.
It's simply heartbreaking.
And somehow in the snow, it seems even more so… the contrast of the bright shirts against the cold snow evokes for me the stark contrast that comes when the playful energy of a six year old is suddenly, irrevocably, violently stilled.
Now might be a good time to take a pause from this narrative and go get involved with this organization, or otherwise reflect on these lives lost and our societal role in it.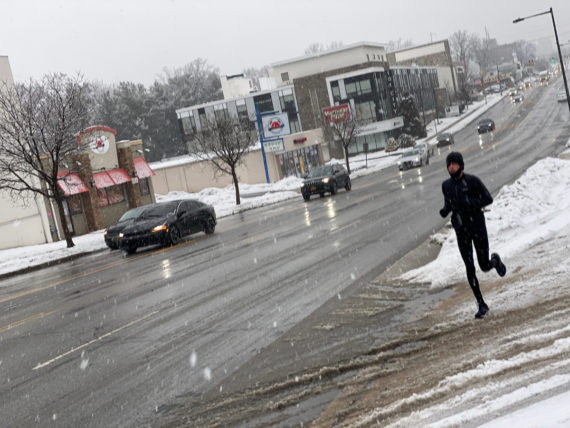 But life on City Ave continues on…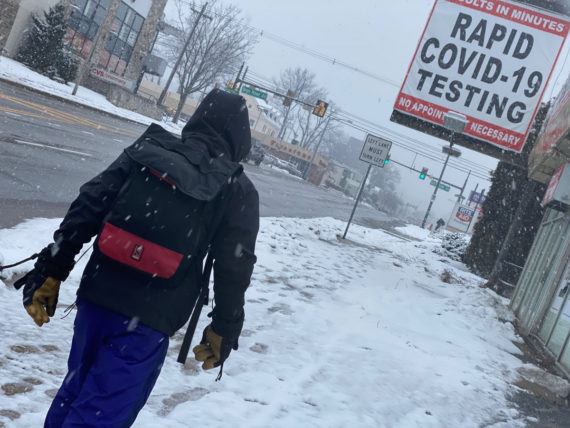 … although some things are obviously different than last time I did this walk.
At a rest stop in a gas station, we notice some new items on sale. We're already well geared up, not only with our masks…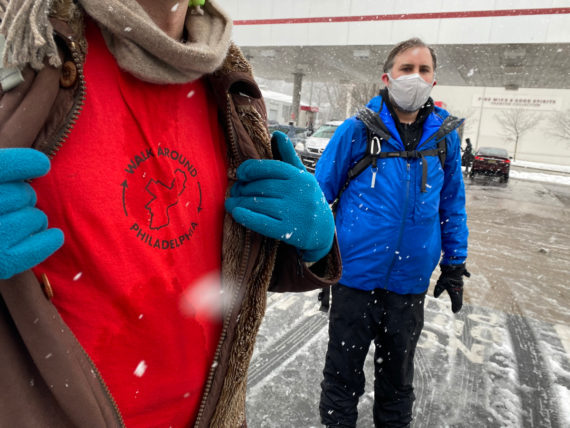 … but Ross who participated in the September Fringe Festival iteration of the walk is wearing a stylin' shirt…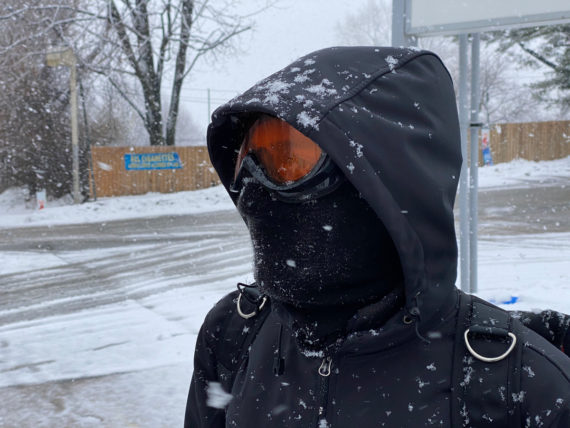 … and Rocky's come prepared with the goggles & all (did I mention that the snow keeps intensifying?)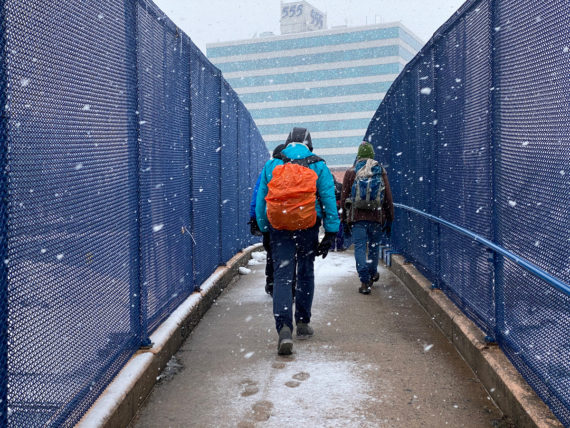 As we cross to the other side of City Ave…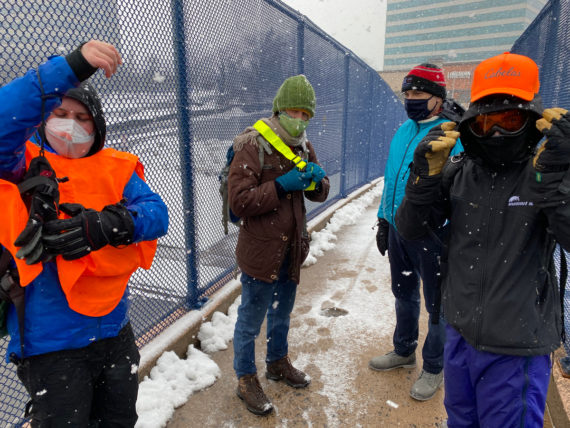 … we pause to put on some high visibility gear, knowing that the pedestrian walkway on the City Ave bridge can't actually be accessed in a particularly pedestrian friendly manner.
Safety first is one of the key principles of the walk.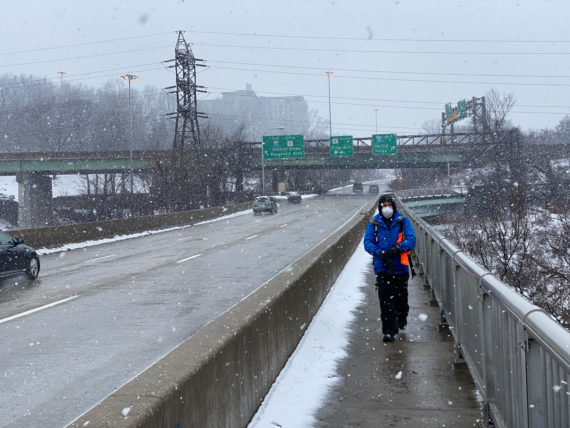 Once safely on the bridge, we can take a moment…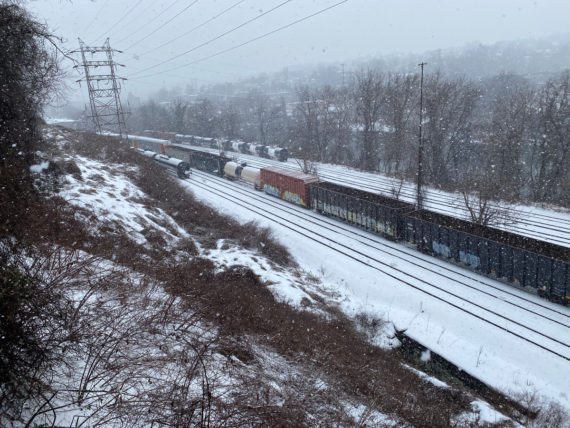 … to enjoy the view below us as we prepare to cross the Schuylkill River…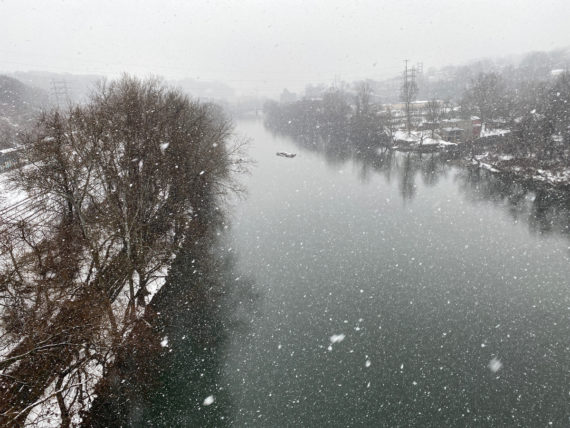 … as the snow keeps intensifying.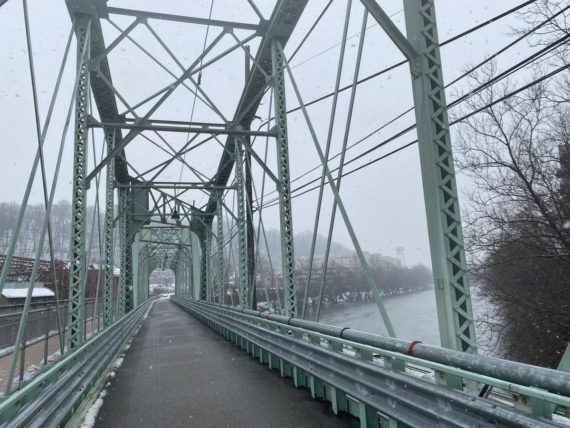 A short while later, we're crossing the river again though… opting, in what's a first for me, to follow this part of the perimeter on the "Not-Philadelphia" side…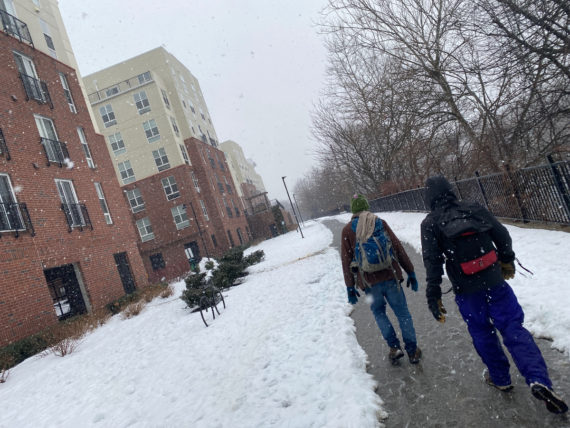 … where a new path leads us by new apartment developments…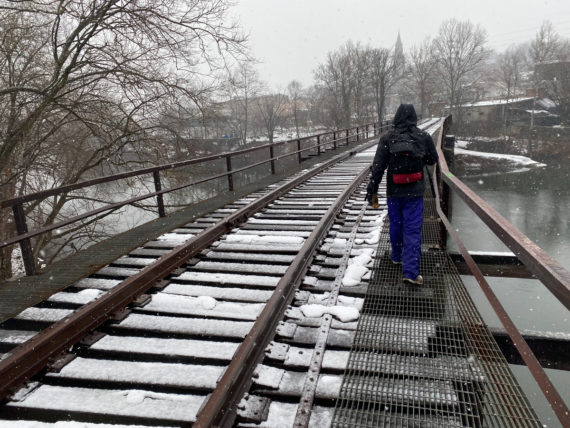 … and back across the river a third time along an abandoned rail bridge, which allows us to catch a glimpse of…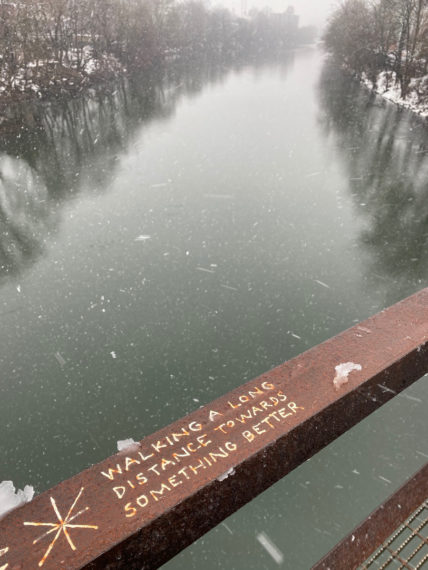 … this sweet and beautiful message left behind by some mystery being who couldn't possibly have been anticipating a bunch of perimeter-walkers, and yet – it feels like it's here just for us.
Once we're on the canal trail in Manayunk…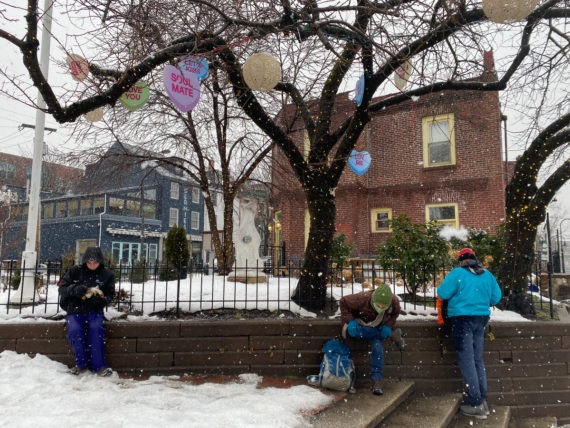 … it's time to pause for a quick lunch break.
We don't stop long, for the snow's quite wet, and the minute that you stop moving the cold sets in, so it's…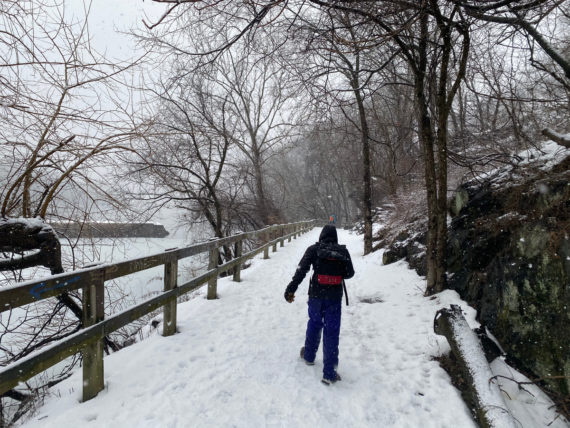 … time to continue on up the Schuylkill River Trail …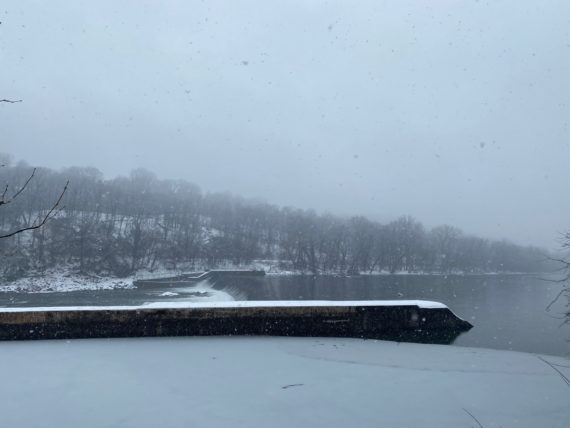 … past the frozen pool at the Flat Rock Dam …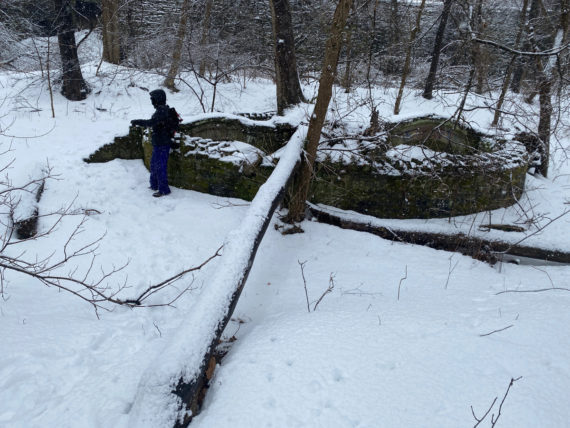 … and the mysterious little architectural folly in the woods just north of it…
(Does anyone know this little fairy castle garden thing's history? I'd love to know… )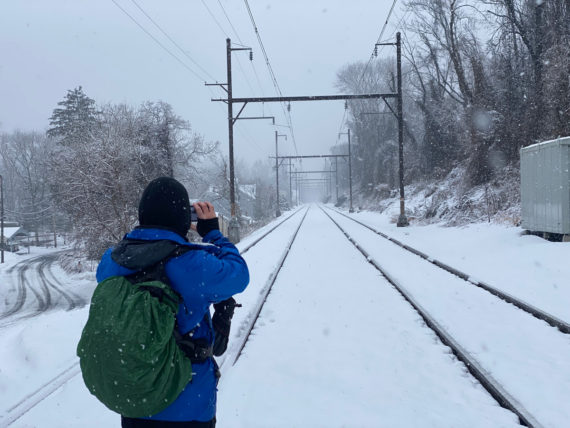 As we pass the regional rail tracks, we hope the train's running, because that's the way home for most of us.
We're also really hoping to make it in time for the next train, because the one after that isn't for two hours later, and we certainly don't want to be waiting still out in the cold for that long!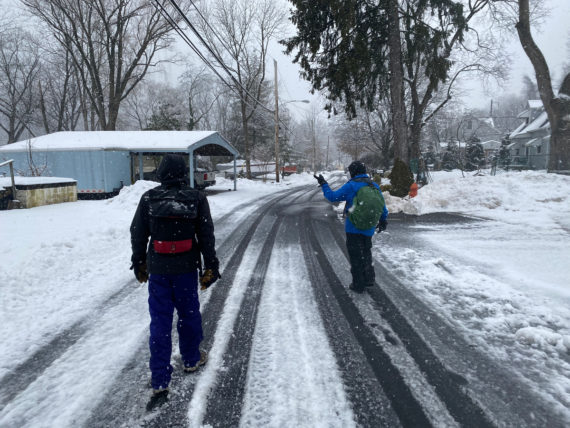 Luckily, we seem to be on schedule, which gives us unhurried time to enjoy River Road.
This strange and magical little stretch of Philadelphia seems nestled in the Schuylkill's floodplain and…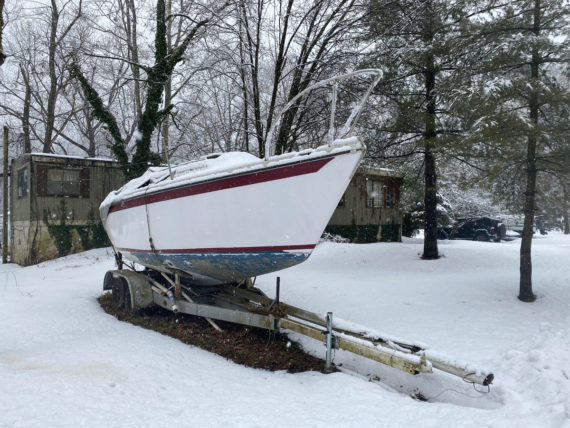 … includes lots of boats and …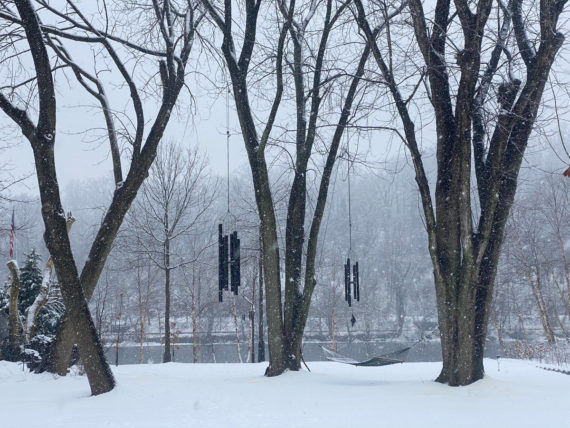 … a really cool tree nursery with giant wind chimes kind of situation …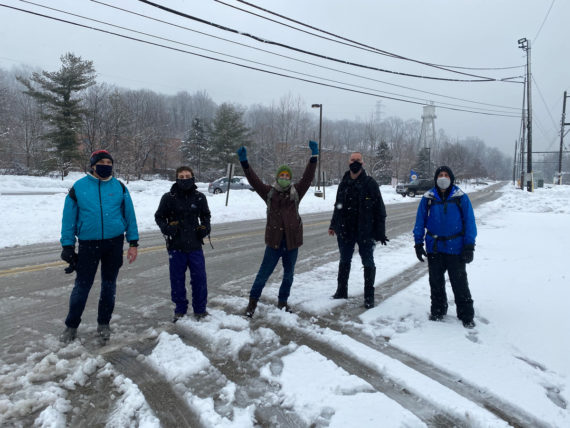 … and before we know it, we've made it to Miquon, our end point for the day!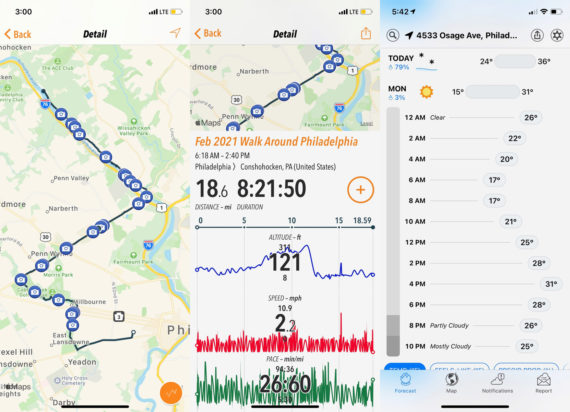 Nearly nineteen miles in (if you count the ~2 from my house to the perimeter) – and the forecast for the next morning looks like a positively chilly start!
Next segment:
Day 2 – Chestnut Hill zigzag, Cheltenham Ave, Tacony Creek to Fox Chase