I've walked around the full perimeter of Philadelphia (seven times!), been named one of the city's "Creative Connectors" by Leadership Philadelphia and been honored with the Spiral Q Artist Activist award. My 85,000 sq ft How Philly Moves mural at PHL International Airport was recognized as one of the nation's best public art projects by Americans for the Arts.
But it all started with a passion for photography, which was instilled in me at a young age…
I was born into a family of photographers.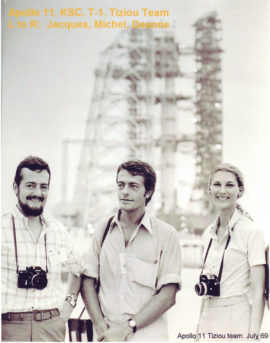 My father (on the left) was an aerospace journalist who moved to the States to cover the space program. His brother (middle) worked with him and then opened up a commercial photography studio in Paris.
I was raised in the Washington, D.C. area by two French parents. My mother is an educator who taught at the international school that I then attended.
With most of my family living abroad, I was raised with an appreciation for multiculturalism & the complexity of different ways of being in the world.
I'd planned on being a biochemistry major, but fate had other plans for me.
Through my university's student newspaper, I got more and more invested in image-making. I interned with Darrow Montgomery at the Washington City Paper and had fantastic photojournalism classes with David H. Wells & Eric Mencher along with summer gigs interning in a commercial photo studio and scanning film for the Philadelphia Inquirer's photo department back when they still used 35mm film.
When I graduated with a degree in fine arts, I was already showing a tendency towards prolific creation and an appreciation for diversity. Rather than show off a few images in a thesis exhibit, I built a custom lightbox installation to display 288 images from different series of work side by side.
It was a time of exciting changes and uncharted paths…
When I was selected for the prestigious Eddie Adams Workshop in 2001, I was a member of the first "digital team" – the first group of these up-and-coming photojournalists to be offered digital SLRs to use while the rest of the participants still worked with film.
I remember how unwieldy that old Kodak unit felt – like a Nikon F5 with a  brick strapped to the bottom of it. We never could have imagined then how drastically that technology would evolve over the coming years…
Two parallel careers…
Weddings & events
I hadn't planned on becoming a wedding photographer after college, but sort of stumbled into it as my friends began getting married and inviting me to document their celebrations.
Over the years, I found myself photographing weddings in 18 U.S. states & four other countries. It's probably just as well that I found myself taking this path, as the newspaper jobs that I'd dreamed of were in the process of vanishing as the media industry was transformed by technological changes.
Arts & Activism
I used the revenue from my wedding photography to support my documentation of the work of artists & activists around me.
In my mind, these two fields are two sides of the same coin: people actively engaged in creatively building/shaping the world that they want to live in rather than passively accepting the status quo.
I launched myself into documenting the Fringe Festival, which led to many more collaborations with Philly's performing arts community.
From there, I found myself photographing cross-country protest tours for human rights in the agricultural industry, medical missions in Central America, and the building of community radio stations in Florida, Oregon, Illinois & Kenya, among other things.
Back then, digital photography had yet to become so all-pervasive; by documenting these events that would otherwise have gone un-photographed, I helped these communities reach new audiences and build excitement and support for their efforts.
Check out a few of my favorite moments from this work:
Stories & Series
Stepping back, thinking big picture…
Somewhere along the way, I realized that in my excitement around the newfound creative possibilities of digital photography, I'd been rushing headlong without taking time to step back and look at the big picture of my life.
The quiet, contemplative space that had been built into my practice through the darkroom had vanished, and it was time to start building that back into my life.
For more on this, read Susan Richardson's interview on WHYY's Newsworks:
"Finding work/life balance in the darkroom of the soul"
Taking a step back from photographing everyone else's projects gave me the space to contemplate creating my own.
It's at this point that I launched How Philly Moves, not dreaming that this series would one day come to grace the facades of the parking decks at PHL International Airport, becoming Mural Arts Philadelphia's largest project.
When the airport mural project was announced, it felt like I'd finally found my calling: while my training was mostly in editorial & commercial photography, public art is what really resonated with my values and inclinations.
I've been continuing to move away from commercial photography and working to focus fully on community projects and my own artwork.
To that end, I've been cultivating new work that brings people together across perceived boundaries– and sharing what I've learned via talks and workshops along the way.
The Million-Picture Giveaway
For a long time, I'd been torn between the copyright-centric commercial models that I'd been taught and the realization that my work is most powerful when shared freely.
In 2015, I launched my Million-Picture Giveaway, making my images available as free high-res downloads to the communities that I've photographed.
Read more
New partners, new horizons…
The last few years have been pretty exciting with the help of both individual backers and institutional partners: work exhibited in the state capitol, a major museum residency, a corporate sponsorship, training as a massage therapist and a lot of personal growth.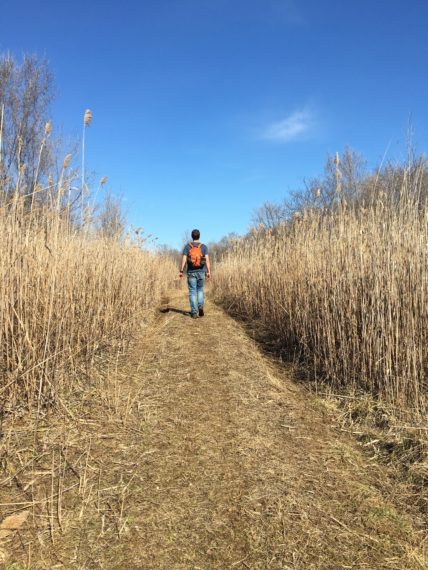 What's next?
Find out about the services that I offer and maybe I can be of use to your community.
Work with me
Top portrait by Adachi Pimentel for Swim Pony Performing Arts  •  Baby pictures courtesy of my parents  •  Photographing wedding image by Dennis Hwang  •  Photographing band image by Urszula Pruchniewska  •  Photographing in stadium photo by Ann Kinyanjui  •  Hanging off of truck photo by Danilo Balladares  •  Walking through tall grasses image by Risa Waldoks  •  All other photographs © JJ Tiziou