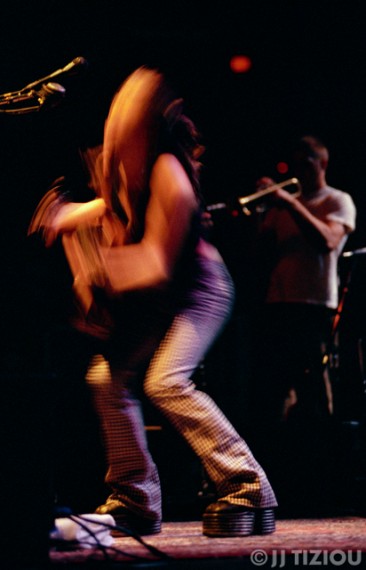 This image of Ani Difranco is from a concert at Temple University way back in 2000, when I shot it on… (you'll never guess…) this stuff called "film."
While that concert was great, one of my favorite Ani moments goes back even further, to a concert in DC when I was in high school. It was a great show, and she taught me a simple, yet powerful lesson…
Here's the scenario:
Ani is playing to a big crowd in one of those large theater type venues with fancy folding seats. The room is full of excited fans, tons of great energy, but there is to be no dancing: The venue staff insist that everyone remain in their seats. Big tough bouncer dudes make sure that if anyone is moved to by the music, they are quickly encouraged to sit down.
During a quiet moment in-between songs, a voice calls out from the balcony, almost pleading…
They won't let us dance, Ani!
… to which she responds, after a bit of a pause with a bit of a smile …
Well… you know…
They say there's strength in numbers…
… and the entire audience jumps up dancing, flowing joyfully (and quite safely) into the aisles. It doesn't last forever, but it's a beautiful moment of people coming together to jointly accomplish what any one individual wouldn't be able to do alone.
This story is a setup for my own plea…  I am asking you to be my strength in numbers to launch the next round of community photo sessions for How Philly Moves.
You don't have to battle the tough bouncer dudes all alone… I'm not asking for huge contributions here. The minimum pledge to support the project through the Kickstarter campaign is $1. Thanks to the internet, we can all just join in the dance however we are able, and accomplish great things together through our strength in numbers.
So please, check out the video below, head over to the Kickstarter site and contribute as best as you are able. But most importantly, help build this strength in numbers by taking 20 seconds to tell your friends about it too. If you and ten of your friends each pledge $10, that actually works out better for the project than if you gave a whole hundred on your own. Of course, if you're able to pledge more, then there are some nice little bonus rewards… find out more.