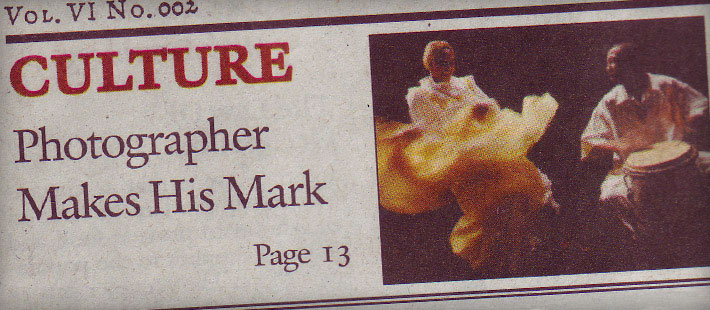 Temple News
"Artists Jacques-Jean "JJ" Tiziou, Ann de Forest, Sam Wend and Adrienne Mackey all could have "just sat in the studio and drawn" for the week-long project they wanted to complete together, said photographer Tiziou. Instead, they ended up walking 103 miles—the entire border of Philadelphia." read »
—Chelsea Zackey, May 3, 2016
Philadelphia Inquirer
"So it was that four Philadelphia artists gathered to launch an epic trek – epic thanks to its arduous length, difficult terrain, and mystical purpose – at 61st Street and Baltimore Avenue." read »
—Stephan Salisbury, April 12, 2016
Newsworks
"When photographer J.J. Tiziou describes his recent project of walking the perimeter of Philadelphia in under a week, it sounds like he's talking about life itself. But then that's how conversations with Tiziou usually go." read »
—Susan Richardson, March 23, 2016
METRO Philadelphia
"It's not about how you look in pictures. It's about how you let that light shine, how we illuminate others," he said, looking up at his portraits of people with intellectual disabilities from state centers and sheltered workshops. "When people live in segregated settings, our world is deprived of the light they can let shine." read »
—Sam Newhouse, March 23, 2016
Philadelphia Inquirer
"The faces were photographed by Jacques-Jean Tiziou, an artist known for his "How Philly Moves" mural commissioned by the Mural Arts Program." read »
—Robert Moran, April 2, 2015
Generocity
"For the first time since 2011, JJ Tiziou has returned to his photography project How Philly Moves. The project, started in 2008, invites any self-identified Philadelphia dancer to participate in community photo sessions." read »
—Kristen Gillette, Dec 23, 2014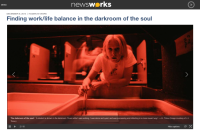 Newsworks
"…Tiziou makes a beautiful analogy between what he does in his inner 'darkroom' and what he does in his work that makes him so effective as a photographer…" read »
—Susan Richardson, Dec 9, 2014
ThinkingDance
"Careful to foster a judgment-free zone, Tiziou, his staff, and volunteers contributed generous verbal support to the dancers being photographed as they used their time to tell their story." read »
—Gregory King, Dec 23, 2014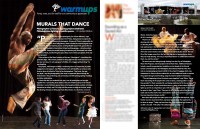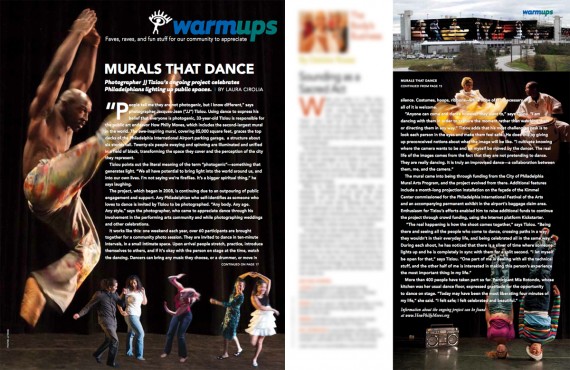 Conscious Dancer Magazine
"…Twenty-six people swaying and spinning are illuminated and unified in a field of black, transforming the space they cover and the perception of the city they represent." read »
—Laura Cirolia, November 28, 2012
City of Philadelphia Mural Arts Program
How Philly Moves Public Art Project Recognized as One of the Nation's Best
by Americans for the Arts read »
June 8, 2012
The Philadelphia Tribune
"…what art does is it inspires, it enlivens, it connects us to all that is human." read »
—Jane Golden, October 21, 2011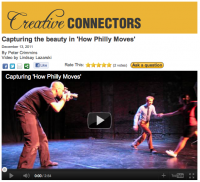 Newsworks
"His method: Create an environment where a person feels enough at ease to be joyful; therein lies beauty." read and watch video by Lindsay Lazarski»
—Peter Crimmins, December 13, 2011
Recent interviews & blog posts:
Kickstarter blog — 10 project tips read »
Photoshelter blog — interview by Lauren Margolis read »
ArtSlant / GeoSlant (Amsterdam) — article by Andrea Alessi read »
Urban Artcade (Los Angeles) — interview by Katrine Knauer read »
thINKingDANCE (Philadelphia) – interview by Amelia Longo read »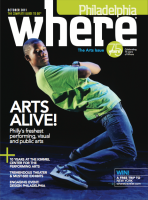 WhereTraveler
"The mural does a superb job of representing Philly's essence – its colorful mix of cultures, strong arts scene, animated urban population…" read »
—Kristina Jenkins, WhereTraveler – Philadelphia, October 2011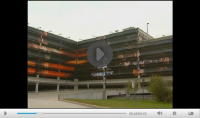 CBS News – Jane Golden Talks About  How Philly Moves
In this interview on Eyewitness News, Jane Golden discusses the 85,000 sq foot mural at the Philadelphia International Airport featuring JJ's images and design.
watch interview »
Delco Daily Times
"…a diverse range of luminous dancing figures unified…the energy of movement is unmistakable." read »
—Bette Alburger, October 25, 2011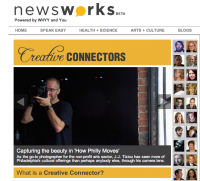 Newsworks: JJ Named 'Creative Conector' by Leadership Philadelphia
"Leadership Philadelphia compiled a list of the top 76 Creative Connectors, members of the local arts and culture community who are the glue that binds it together. These are the folks who seem to know everyone, connect for the common good, and get things done without worrying about getting credit for it. That's leadership." read »
—Liz Dow, President of Leadership Philadelphia, October, 2011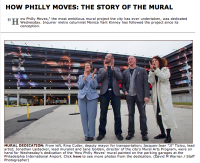 The Philadelphia Inquirer
"…the most ambitious mural project the city has ever undertaken…" read »
—The Philadelphia Inquirer, October 2011
The Philadelphia Inquirer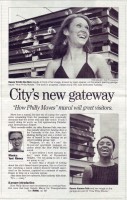 "City's new gateway…Mural designer Jacques-Jean "JJ" Tiziou took 18,000 photos of 174 dancers – pros and amateurs, preschoolers and grandmoms. A team of muralists then spent months bringing the figures to life…" read »
—Monica Yant Kinney, April 27, 2011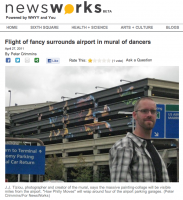 Newsworks
"Flight of fancy surrounds airport in mural of dancers…Tiziou chose the 26 images based on the way the figures harmonized visually rather than any particularly spectacular dance step. Tiziou said the point is to show the diversity and exuberance of the people of Philadelphia."
read »
—Peter Crimmins, April 27, 2011
The Philadelphia Inquirer
"Capturing the energy that makes a city move…" read »
—Lewis Whittington, April 21, 2011
Philadelphia City Paper
"When he's working, Jacques-Jean "J.J." Tiziou is intensely physical, bordering on acrobatic. He bounds around in a flurry of motion and has even hung backward off moving vehicles. It seems difficult, even strenuous, considering what he does: He takes photographs."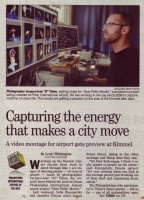 read »
—John Vettese, April 7, 2011
JUMP Magazine
"He flies back and forth, weaving his way through the performers, throwing himself into the midst of the fast-paced music. Like a magnet, he spots where the center of energy is, fully saturating in the power of the moment." read »
—Cary Carr, March 10, 2011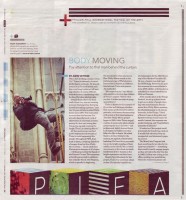 The Philadelphia Inquirer
"The subjects of How Philly Moves will star in Philadelphia's most audacious mural yet, a supersize visual gateway befitting the city's status as having the largest public-art program in America." read »
—Monica Yant Kinney, October 7, 2010
Campaign Monitor
"…a welcome and unique approach […] to emphasize some of JJ's important endeavors." read »
—Jason De Santis, October 26, 2010
Shareable.net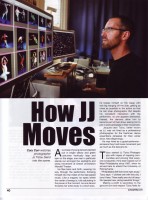 "We need people like JJ to continue doing this work, just like we need magazines and websites as vehicles to tell these stories." read »
—Jen Angel, September 23, 2010
Philadelphia City Paper
"Shucks." read »
—Carolyn Huckabay, August 19, 2010
The Pennsylvania Gazette
"To some observers, he almost appeared to be dancing with his subjects." read »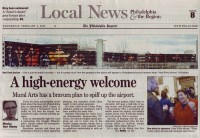 —Rachel Estrada Ryan, May, 2010
The Philadelphia Inquirer
"Sipping strong coffee at his computer, Tiziou scrolls through photographs of the young and the wrinkled, the round and the taut, falling in love with all of them." read »
—Monica Yant Kinney, March 24, 2010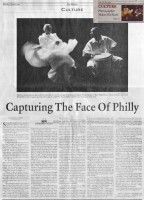 The Philadelphia Inquirer
"…following the vision of local photographer Jacques-Jean "JJ" Tiziou, the nation's largest mural program set out to erect one of the world's largest murals." read »
—Monica Yant Kinney, February 3, 2010
Phillyist
"Long-time readers of Phillyist perhaps know how much we respect, admire, and yes, even love local photographer and man-about-town JJ Tiziou." read »
—Jillian Ashley Blair Ivey, February 2, 2010.
The Philadelphia Bulletin
"Some photographers have the gift of capturing a subject's spirit in a single frame. Others have the ability to reveal beauty in the unconventional. A rare breed finds a way to serve their neighborhood while reaching out to the world with their talent. Jacques-Jean 'JJ' Tiziou does it all." read »
—Andrea Hammer, Jan 5, 2009
Philadelphia Live Arts Festival & Philly Fringe Blog
"It was as if he had trained with the dancers, just so he'd be ready to shoot the show." read »
—Ellery Biddle, Sept 11, 2008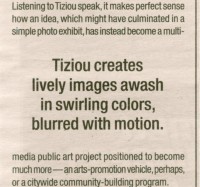 UWISHUNU

"A first-call freelance photographer and avid community activist" read »
—Martin Brown, July 28, 2008
Philadelphia City Paper
"The man approaches his subjects with comfort and zeal" read »
—John Vettese, June 17, 2008
The Philadelphia Inquirer
"You shouldn't miss photographer Jacques-Jean Tiziou, known for his brilliant photos of the Fringe Festival"
—Matt Blanchard, Oct 19, 2007
Philadelphia City Paper Choice Awards
"He's the go-to photo credit for every arts-related shot in this town" read »
—Patrick Rapa, November 2, 2006
Philadelphia City Paper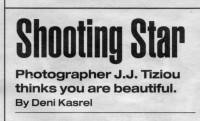 "…he firmly believes you can take an attractive portrait of anyone." read »
—Deni Kasrel, October 4, 2006
Phillyist
Phillyist Interviews JJ Tiziou read »
—Jill Ivey, October 6, 2006
Philadelphia Weekly Exhibit Preview
read »
—Kirsten Henri, April 11, 2007
Philadelphia Weekly
"A 'get your knees dirty' movement piece inspired by documentary images by Fringe legend Jacques-Jean Tiziou" read »
—Leo Beletsky, March 8, 2006
Philadelphia City Paper
"Fearless but unintrusive…" read »
—Lori Hill, September 8, 2005
Philadelphia Weekly Editor's Picks
read »
—Leo Beletsky, August 10, 2005
Omaha World Herald, "Seeing the World Through a Lens"
"This itinerant photographer's itineraries aren't always planned far in advance, but he likes being out on the road."
—Michael Kelly, February 19, 2004
The Daily Pennsylvanian
"Photos capture trek across Mongolia" read »
—Courtney Schneider, February 5, 2003