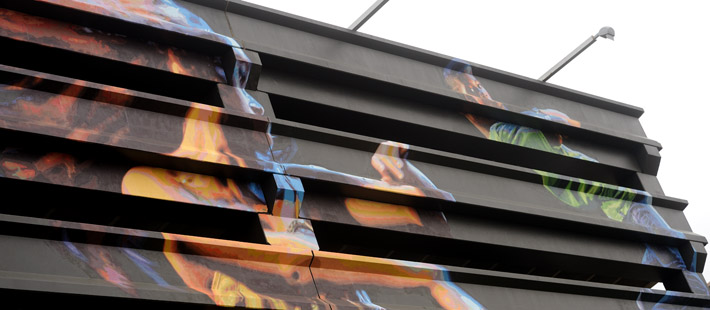 Sharing images is powerful.
Using photography to celebrate community is at the core of my practice.
PERMANENT INSTALLATION:
'How Philly Moves', a mural project based on the photo project of the same name, will celebrate Philadelphians through the universal languages of dance and photography in a half-mile long permanent installation spanning the decks of the parking garages at the Philadelphia International Airport. I'm thrilled to be working on this with the City of Philadelphia's Mural Arts Program. For more on the project, visit www.HowPhillyMoves.org
PROJECTIONS:
JJ Tiziou Photography has a long history of creating public art. Through digital projection installations, I have shared images to a packed-to-capacity crowd at Chicago's House of Blues to celebrate the victory of the Coalition of Immokalee Workers, put dancing Philadelphians in a storefront on 36th street, and celebrated the city's performing arts community through constantly-updated slideshows at the bar/cabaret space at the Philadelphia Live Arts Festival & Philly Fringe. This spring, the How Philly Moves projection project came to the Kimmel Center, as part of the City of Philadelphia Mural Arts Program's collaboration with the Philadelphia International Festival of the Arts. The three hours of randomized content included every single dancer who has participated in the project to date. The projections featured How Philly Moves images alongside stop motion animations and video masterfully edited by Ellen Reynolds.
ON THE WEB:
My public art practice extends into cyberspace by making my entire photographic archive available to the communities that I photograph. This practice creates thousands of experiences like the one below, brightening the world one Facebook profile at a time:
"So, one of my friends got his picture taken by you and he's using it as a default. I saw it and thought, 'That is the happiest I've ever seen Aaron look! What a great picture!!' So I checked out some of your archives and albums, and I just want to let you know that I think your photographs are amazing. You have a real knack for seeing the true beauty in people/situations. I appreciate it very much. I'm no photoexpert or anything, but I think you are wonderful. Thank you."
—Joanna Doberstein
If you appreciate this work, you can help sustain it by contributing to my dream.