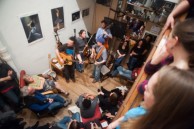 The cold winter days are a great time to gather together with friends and neighbors to share in an evening of music… I'll be hosting another one of my house concerts on Friday Feb 21, and you'd be most welcome.
This lineup will feature West Philly's own Honey Watts, as well as Little Silver and Mesiko, both down from New York.
RSVP via Eventbrite
Share via Facebook invite
Sign up… for updates on future house concerts.
A
Posted Feb 14, 2014 in: Events
Share: